Seychelles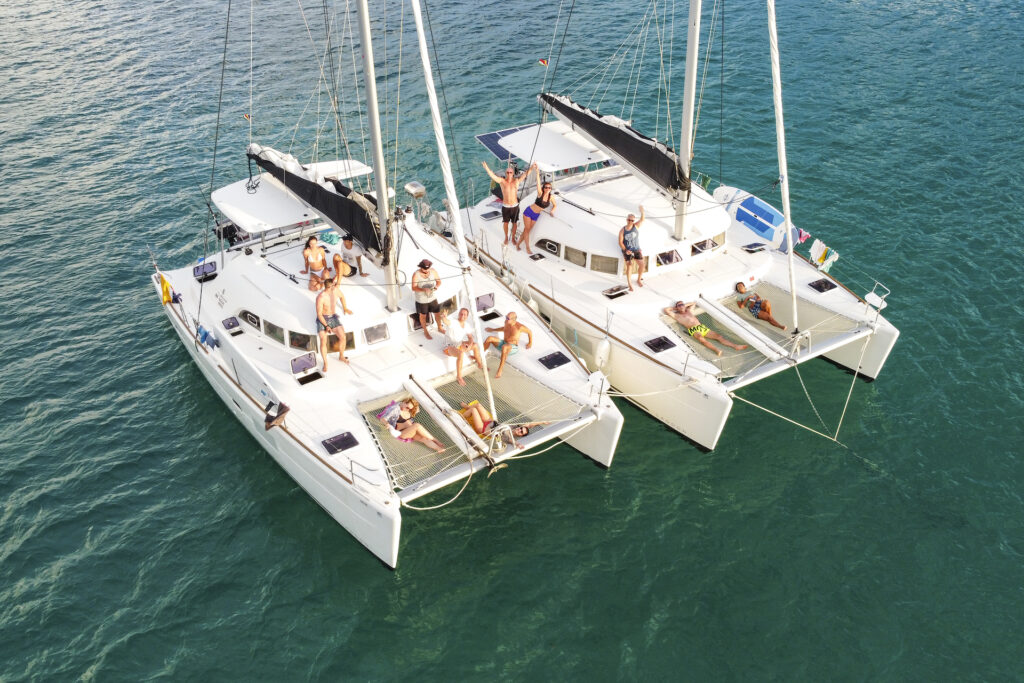 Seychelles, an archipelago of 115 islands in the Indian Ocean, is a true paradise for those seeking adventure and relaxation. From crystal clear waters and white sandy beaches to lush forests and abundant wildlife, Seychelles has it all.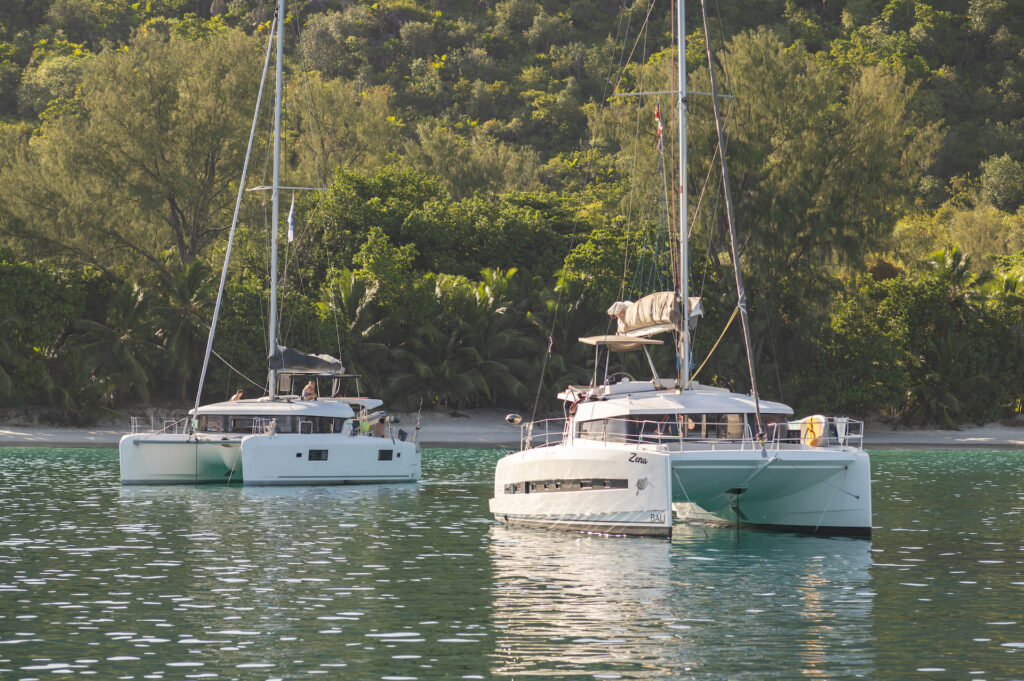 Arriving on the island on November 20th, we went through quite a long customs process and our transfer to the marina was delayed. However, we were able to get cash and sim cards while waiting. Upon arrival at the marina, we enjoyed a delicious lunch and take a refreshing shower before boat check-in.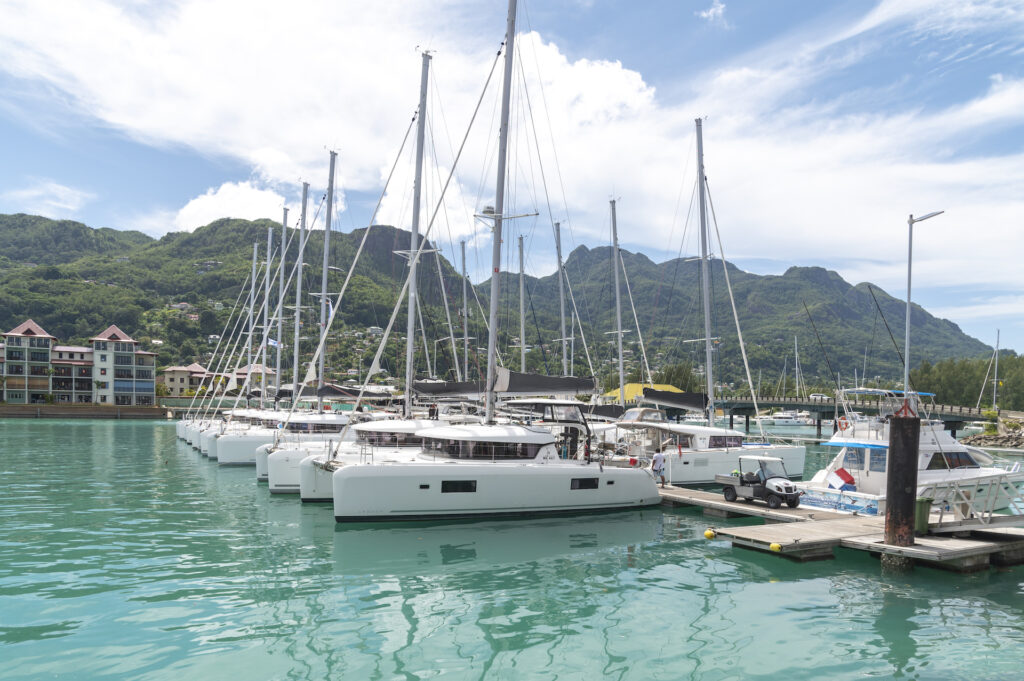 Our first destination was Saint-Anne Marine National Park. After anchoring there we encountered some issues with our dinghy engine, it was not starting, at all. Despite this setback, we had a lovely dinner on board and some drinks and engaging conversations till late at night.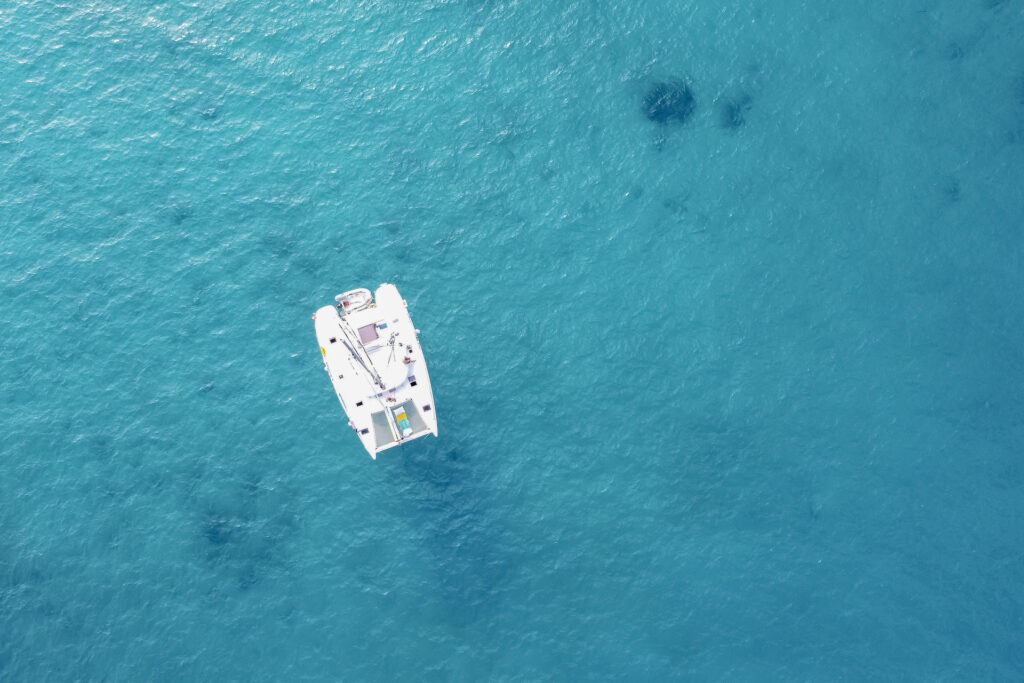 The next day we set off for Anse Lazio, a stunning beach on the island of Praslin. A 25 nautical miles passage was easy but our engine related problems goes on, and now our starboard engine overheated, and we had to arrange for repairs before going to the beach and relaxing.
The following day we met Jurgun, owner of another charter company who helped us a lot and fixed our starboard engine but the dinghy engine refused to start. We had one dinghy for two catamarans, not ideal but manageable. We also had two SUPs as an alternative way to get to the shore.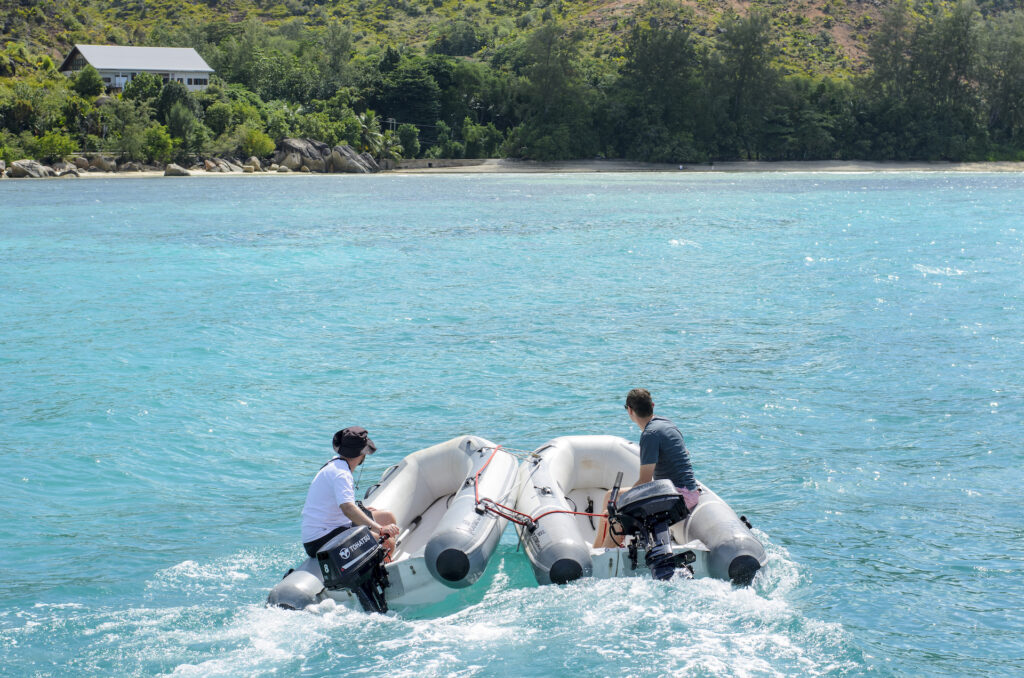 After repairs, we enjoyed a coffee and a very pleasant chat with Jurgun who told us a lot about the local way of life and also promised to repair one of his old outboards and give it to us the next day.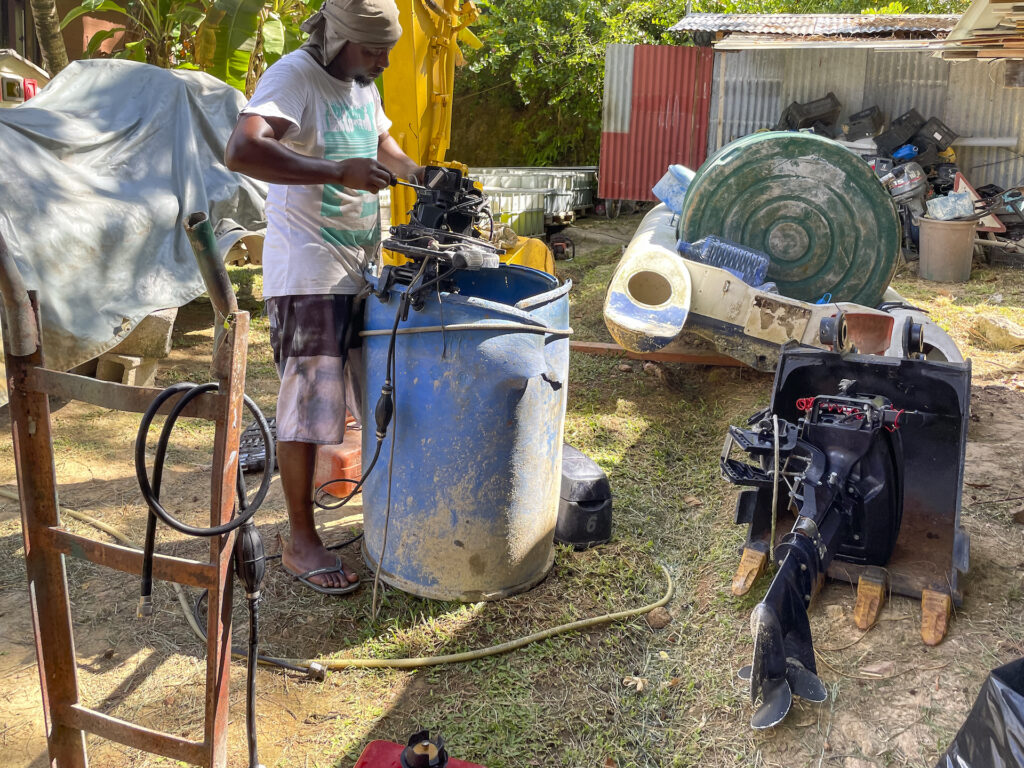 Next, we sailed to Curieuse Island also known as turtles island. We went ashore and met rangers who are taking great care of the turtle sanctuary. We were amazed by the size of those turtles and how friendly they are.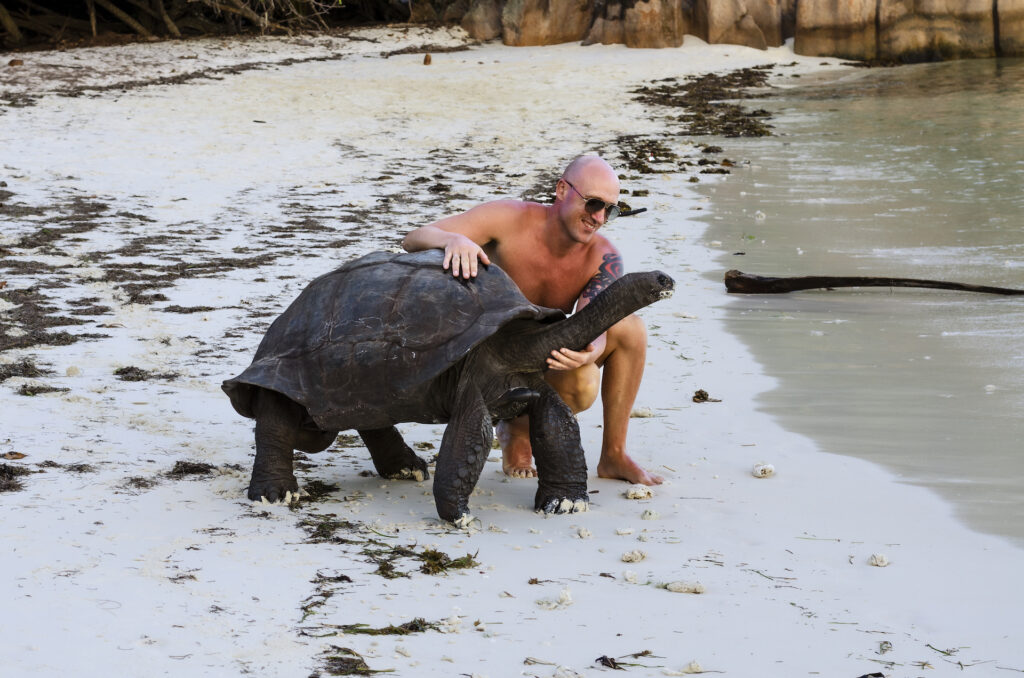 November 23rd was a bit of a slower day for us. We have only a few miles to go to pick up a new outboard and then sail to our overnight stop – Anse Volbert. This bay is great, it has a couple of restaurants, a variety of shops, and most importantly for us dive center. The evening we spent in one of the local restaurants.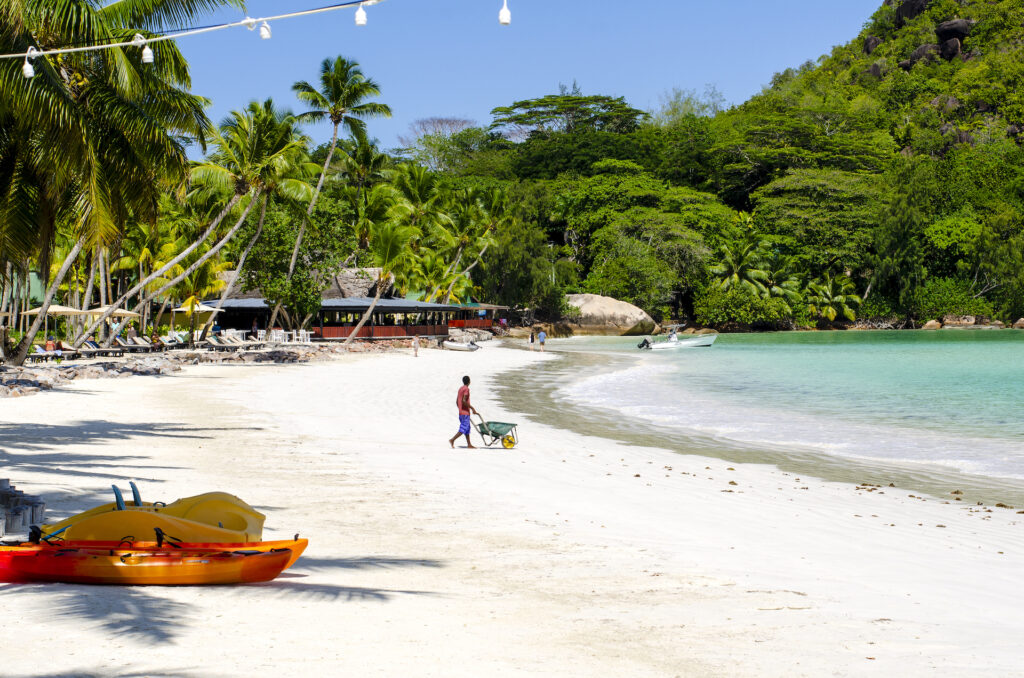 November 24. Diving day. We started at 09:00 at Whitetip Divers base after the paperwork is done and the equipment is checked dive boat brought us to two different dive sites with amazing underwater life and interesting topography.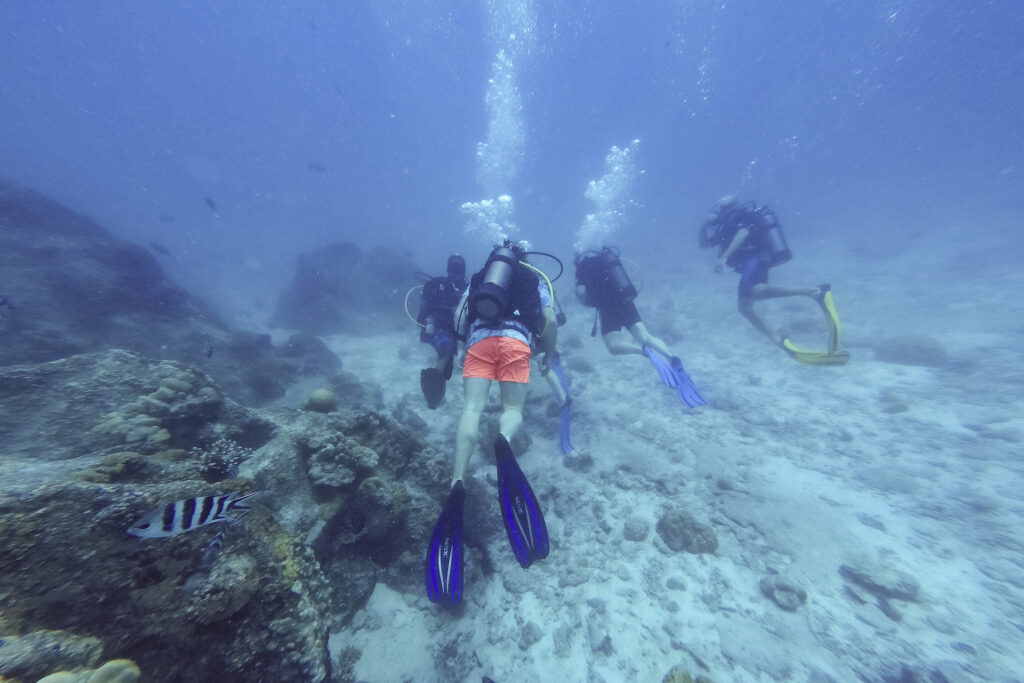 After returning back to the catamarans we had a quick lunch and sailed to Anse La Farine. We rafted both our cats together for a group photo and some drinks at the sunset.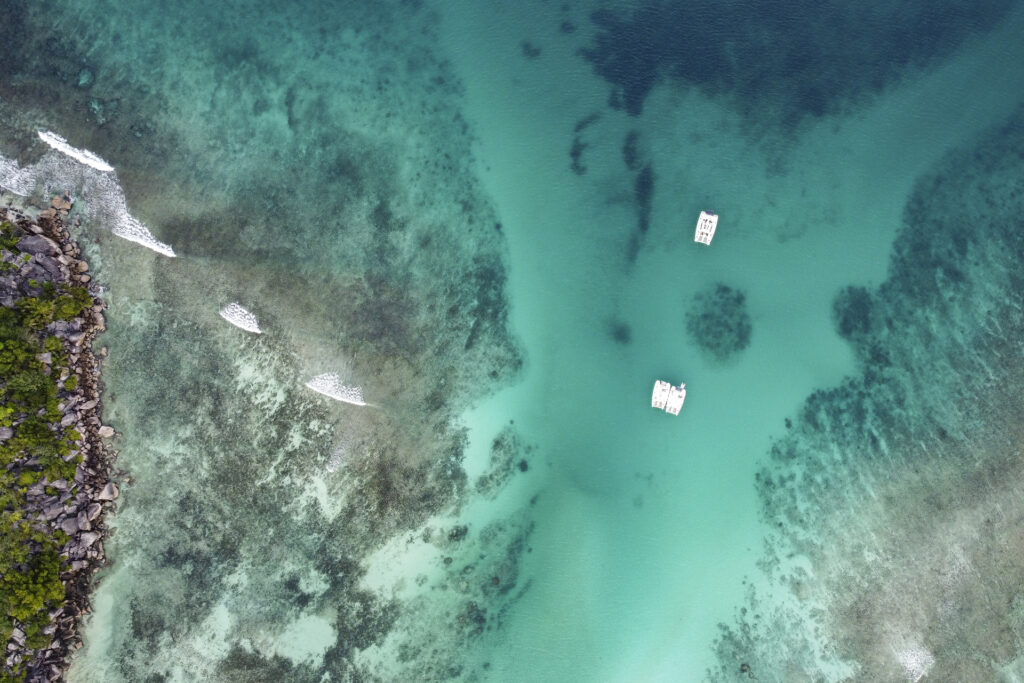 On November 25th, we headed to the marina to take care of some essentials, such as refilling fresh water tanks, thriving away, trash, and doing laundry. After lunch, we had to La Digue.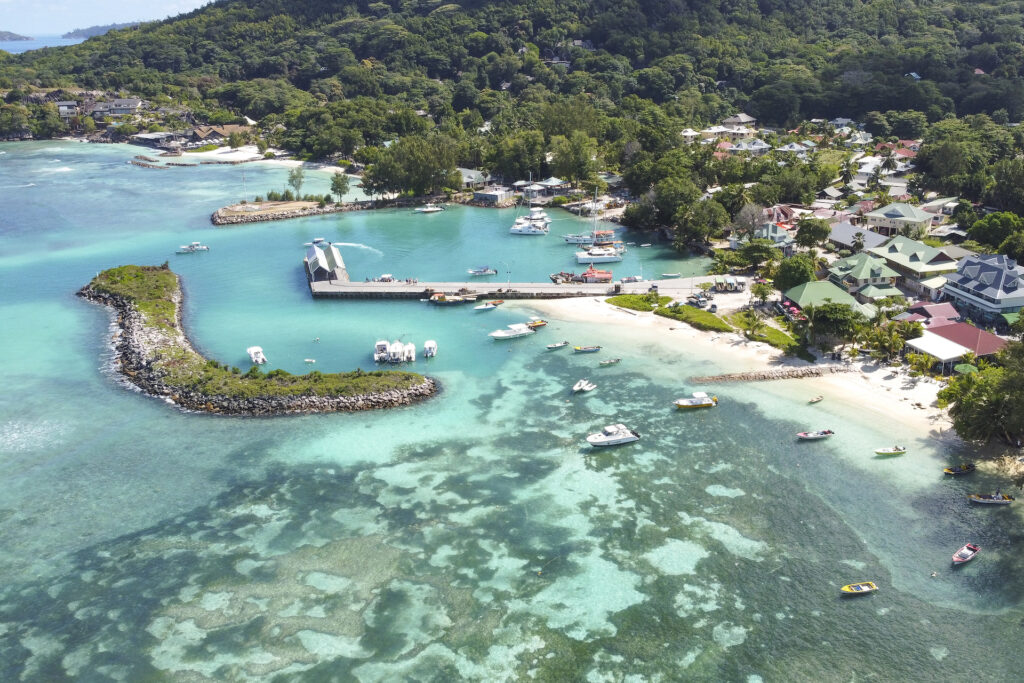 La Digue is one of my favorite places in Seychelles, it has a very cool vibe to it. There is a good anchorage close to the shore, a small marina for a couple of boats, and a lot of things to do on the shore. During the working week, there is a fish market where you can buy fresh fish for a few euros, if you not feeling like cooking you can visit one of many restaurants. There is a bike rental as well for those who would like to explore the island.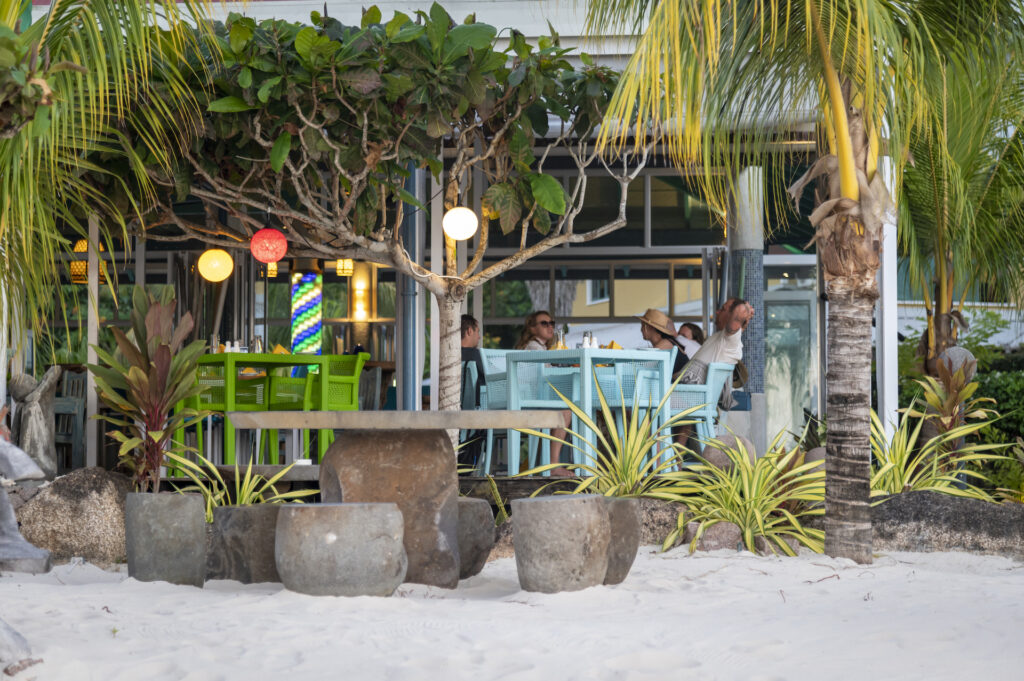 On November 27th we sailed to Grand Anse Beach, a place famous for huge waves building up close to the shore. We learn this a hard way, one of our dinghies capsized, but we were able to carry out a successful rescue operation and carry on with no damage or injuries.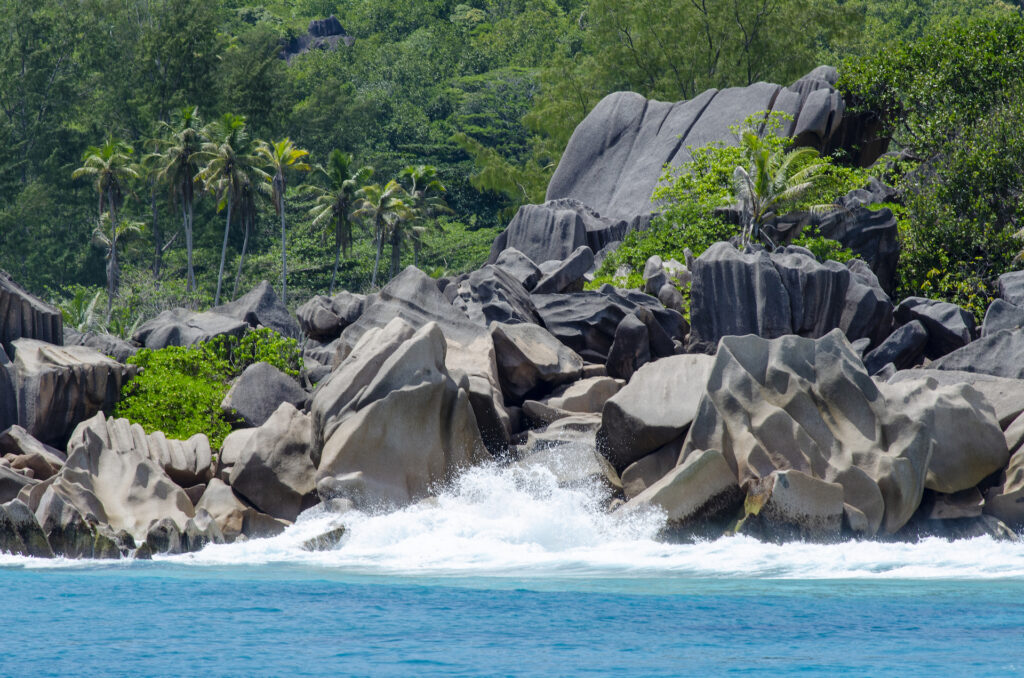 The second part of the day we spent anchored next to Félicité, the most beautiful island to observe from the water. Home of the most expensive hotel in the whole of Seychelles, guests are being brought there by helicopter and the most expensive room will cost you more than 100 thousand euros per week, insane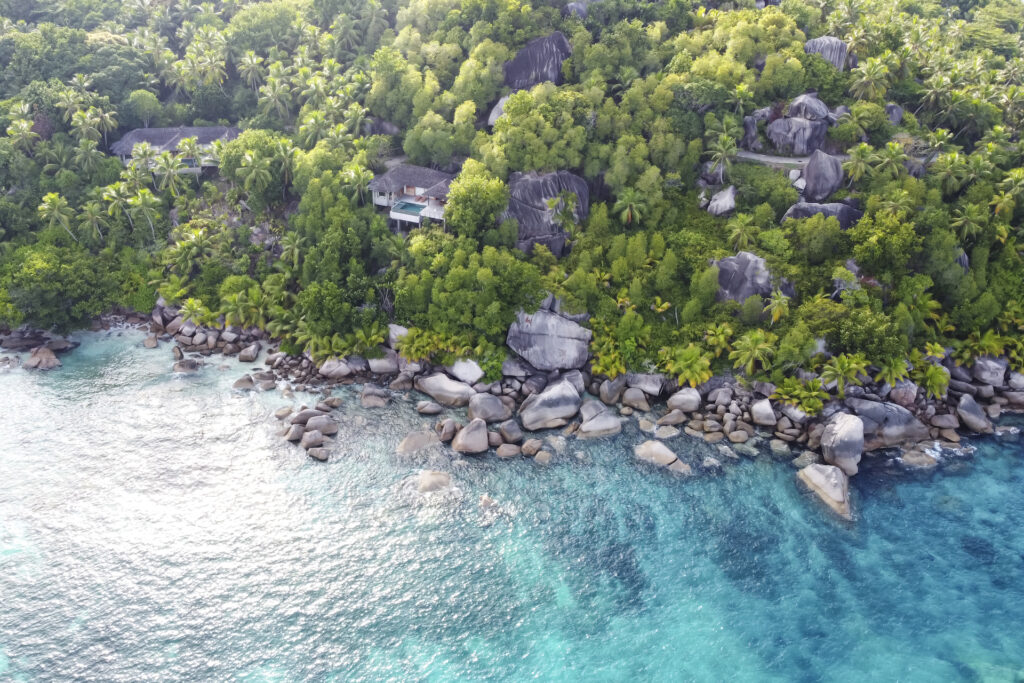 November 28th we spent sailing. It was time for us to go back to Mahe to stay overnight closer to home base. The passage was quite easy and we arrived at our overnight anchorage way before dark. Upon arrival, we experienced a true tropical rain for an hour or so, a great experience after a full day of sailing and a clean boat as a bonus.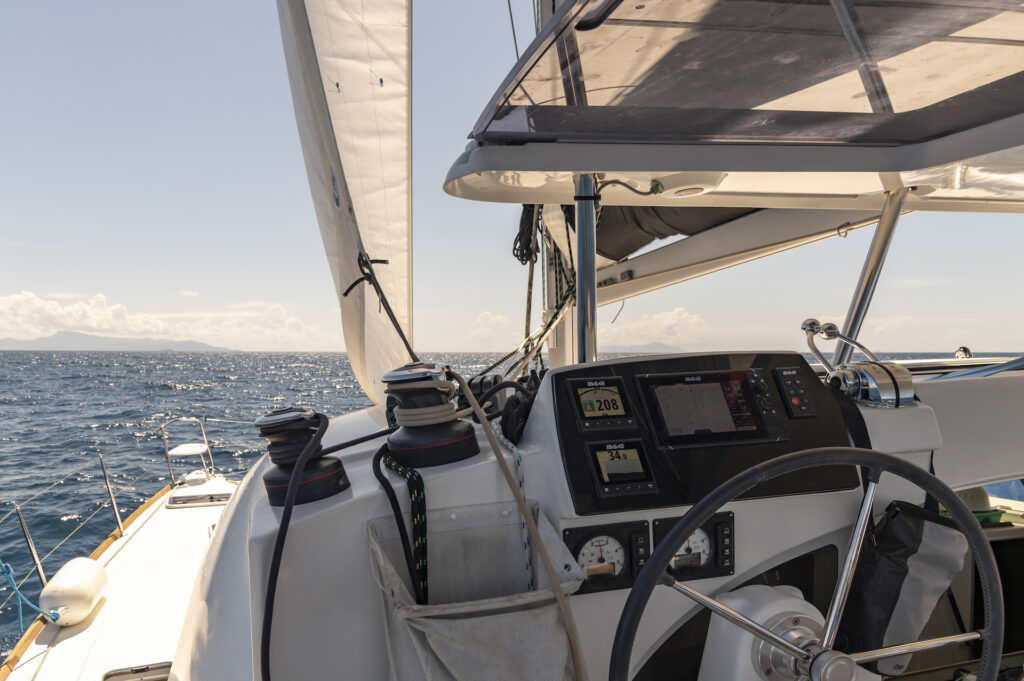 November 29th is the last day of our voyage. Before heading to the marina we dropped by a very chill beach bar Jolly Roger at ILe Moyenne. Great place to enjoy one last beer in this tropical paradise.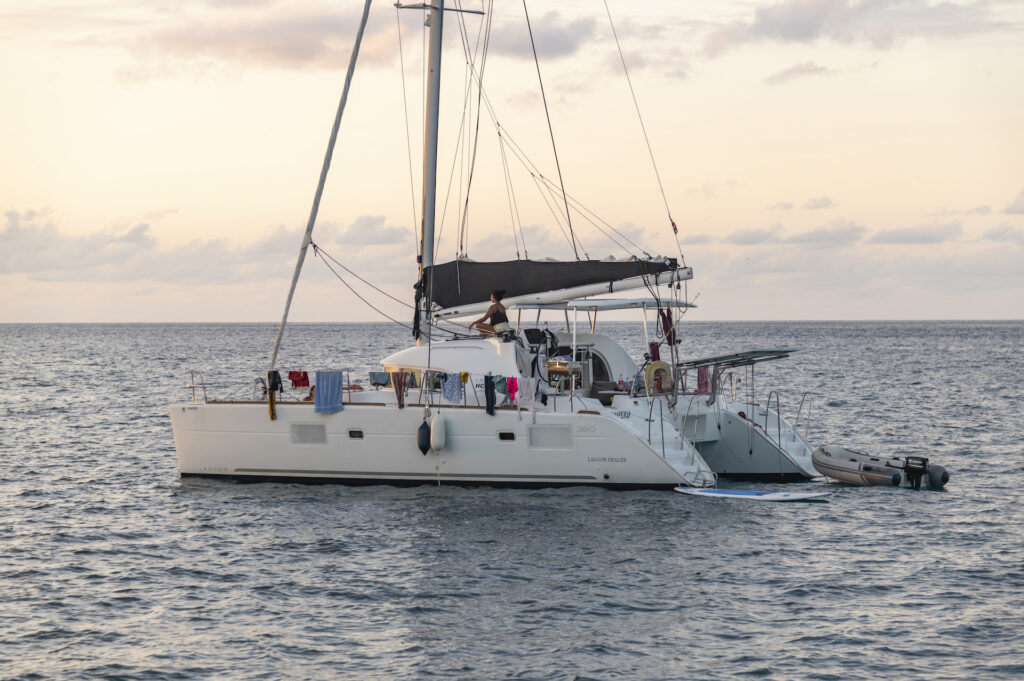 Our Seychelles adventure may have had some challenges, but it was an unforgettable experience filled with stunning landscapes, abundant wildlife, and great company. We hope to return here someday.