A yacht running under full sails is a spectacular sight to see but let's take a moment and discuss how comfortable it is to travel on board a modern yacht.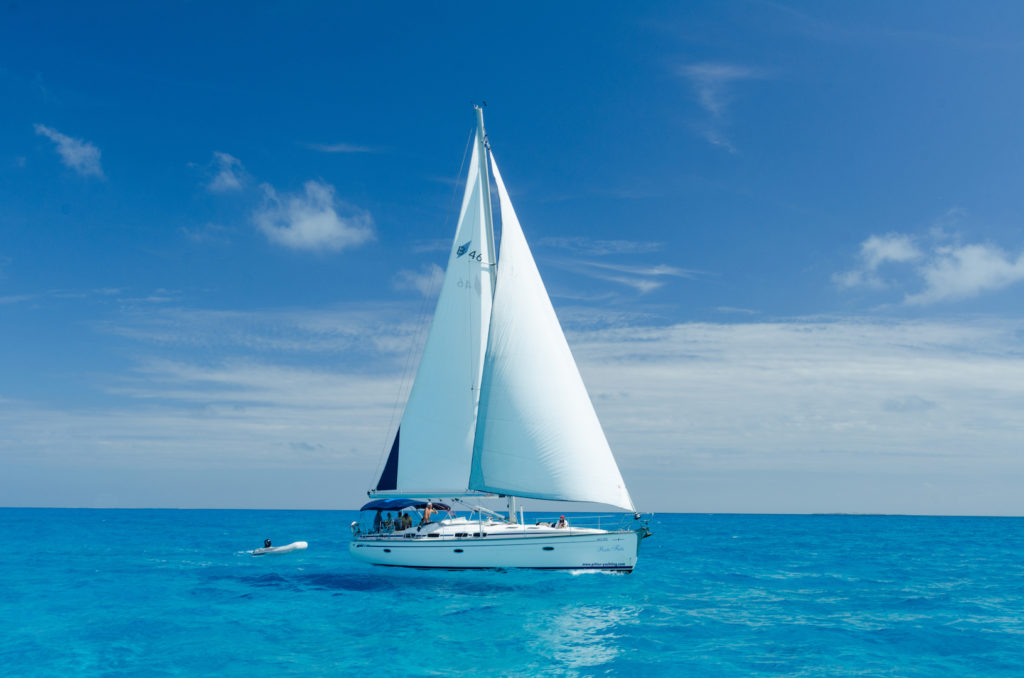 Modern yachts are built with crew comfort in mind and can provide a lot of enjoyment for the people on board. All the yachts we sail have a very similar design and arrangement but can vary in number of cabins and therefore can accommodate a different number of crew members. Charter companies offers two, three, four and five cabin yachts. Each cabin is suitable for a maximum of two people. Let's take a four cabin yacht as an example as the most popular and most comfortable in our opinion.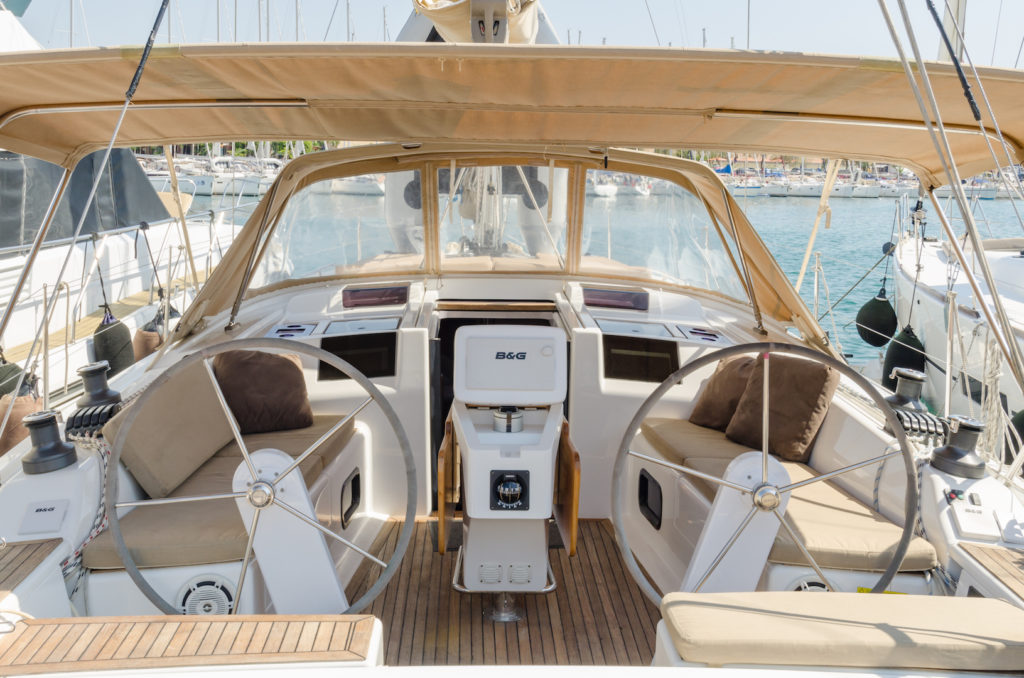 The main outside area is the cockpit, here you will spend most of the time on board and it's also the main entrance to the yacht both from a dock or from the water. In the cockpit, you will find all the main yacht controls, like the steering wheel, the throttle (gear shifter), winches, navigation, etc. All cockpits have two benches big enough for the whole crew to sit on comfortably, also two people can sleep there on hot summer nights. A foldable table is installed in the center. For sun and rain protection the cockpit is covered with a bimini (a foldable roof) and a spray hood. Both can be raised or lowered on demand in a few minutes.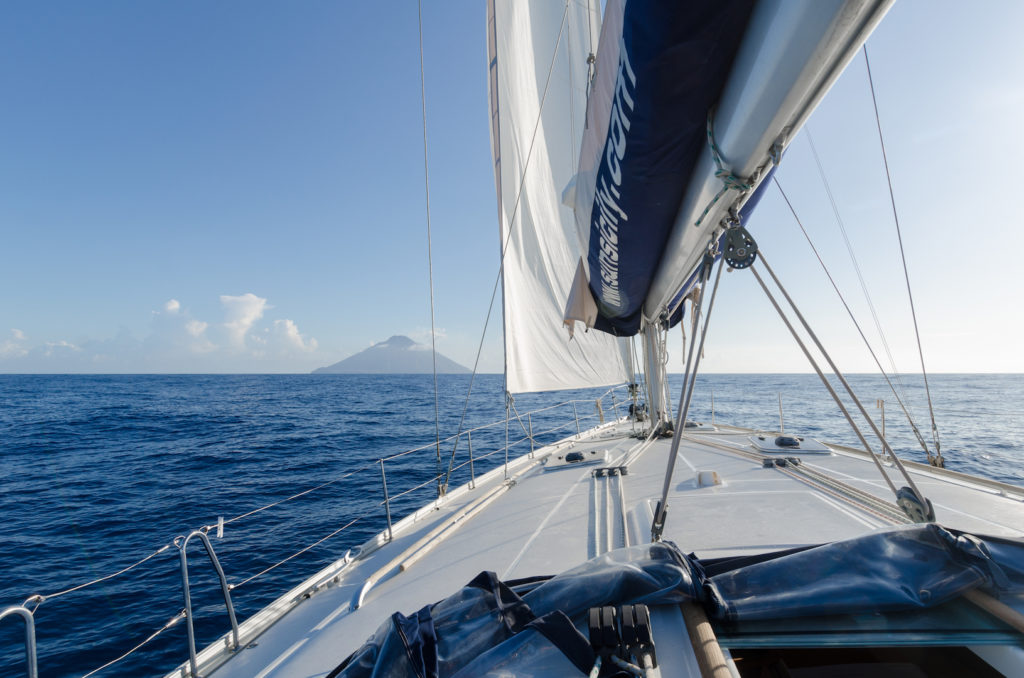 In the front of the boat (bow), there is plenty of space for you to sunbathe or just chill enjoying the fresh sea breeze. This area is also used to store some extra gear like the tender (inflatable motor boat), kayaks, SUP or floaties while on the go.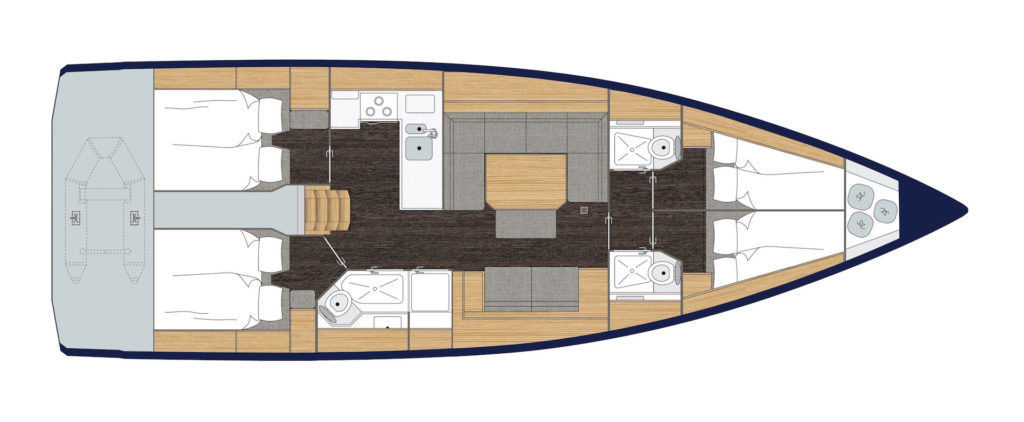 Let's take a look at the yacht interior using the example of a very popular charter yacht Bavaria 45. It has four cabins, a kitchen, and three combined showers and toilets. In the center of the saloon, there is a table with a sofa and armchairs, providing enough space for all 8 crew members to spend time together. This is very useful on trips to northern regions.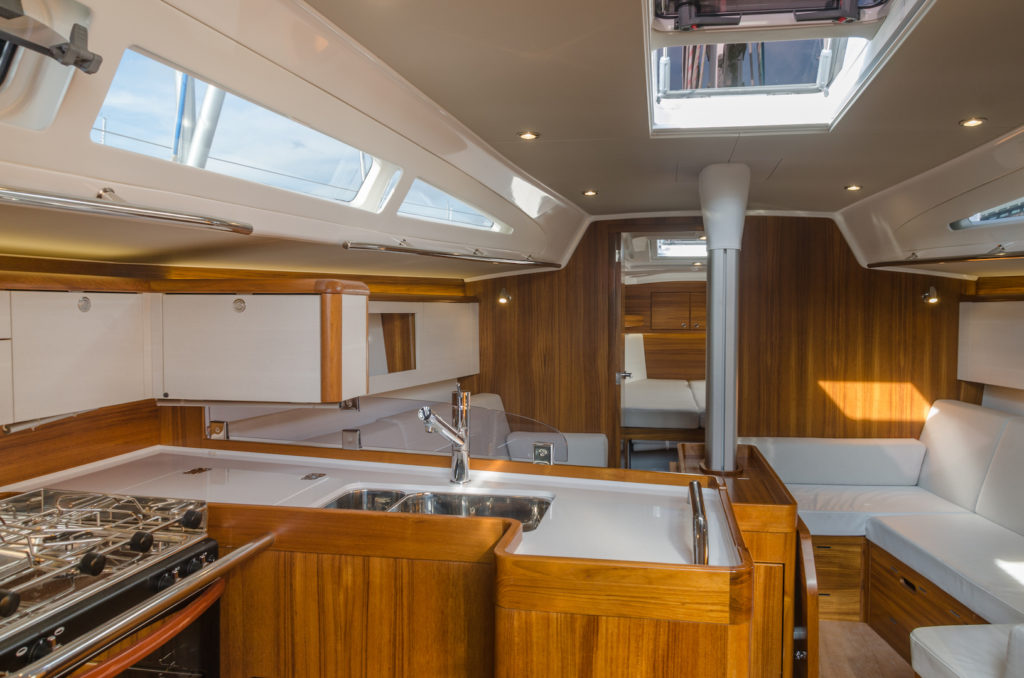 Below the deck you will find a very smartly built kitchen (galley). It has all the features your normal kitchen at home has: a gas stove with two burners, a gas oven, a fridge with a freezer, two sinks with running water and a lot of storage. All yachts are equipped with a full set of cooking and dining accessories: pans, a kettle, cutting boards, dishes, cups, glasses, forks, knives, etc. Our favorite dish is fresh fish baked  in the oven and it's even more delicious if you catch it on your own.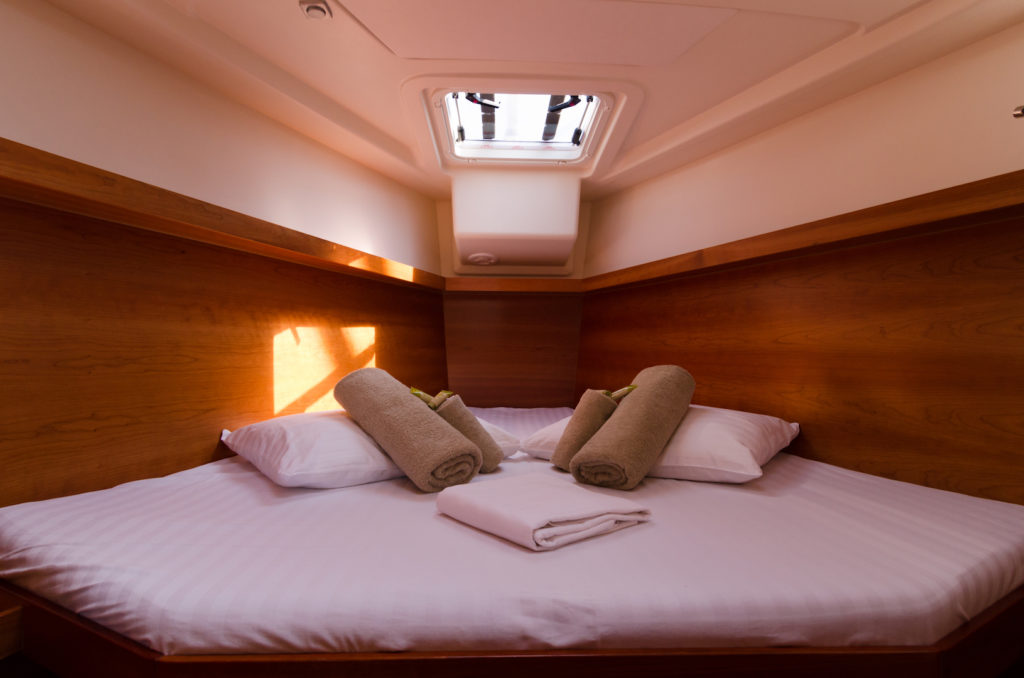 After a long day sailing, swimming, partying and exploring islands it's very important to get enough rest. For this purpose, you have your own cabin. We will be honest with you it's compact but it has a full-size double bed and enough storage for your stuff.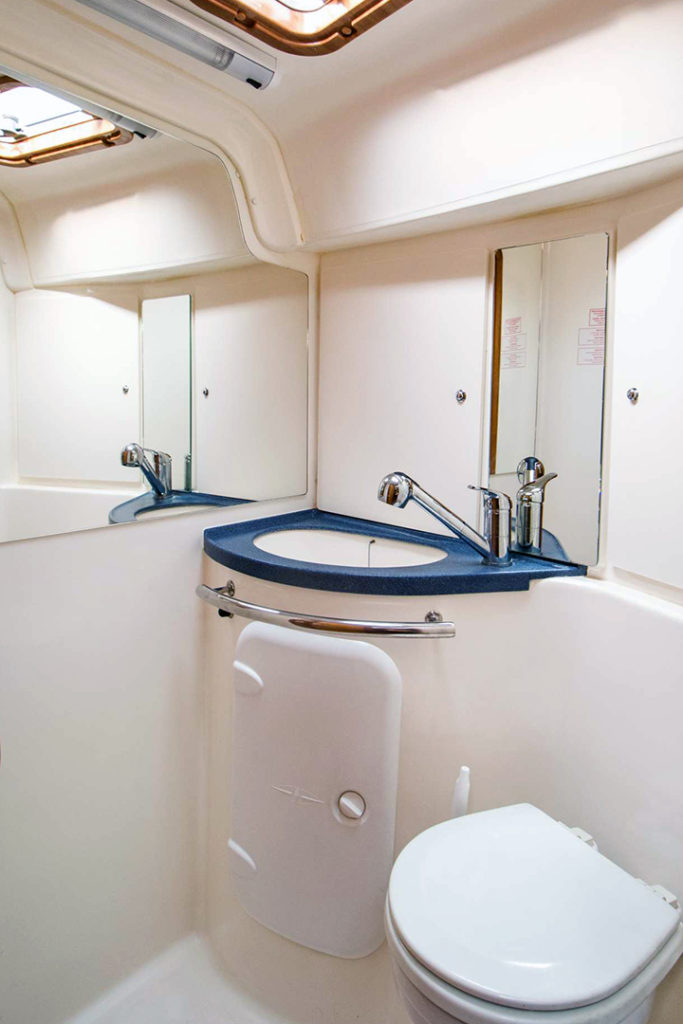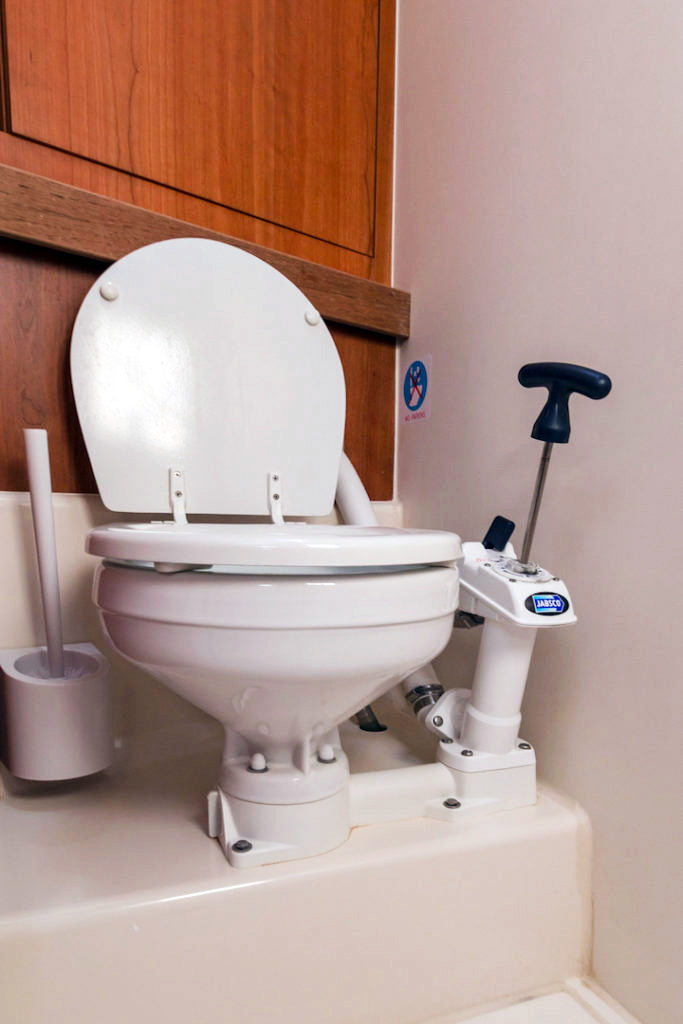 Each yacht is equipped with a shower and toilet, depending on the size of the vessel you can have up to four shower cabins on board. There is a limitation though, the yacht can carry a limited amount of freshwater  and depending on the region, route, and size of the boat you need to calculate the amount of freshwater each crew member can use per day. Your skipper will do the math for you, it's approximately 25 liters per day per person. It's not much but it's enough to keep you clean and fresh each day during the trip. The toilet differs a bit from your toilet at home. They do not have a traditional flush bowl and you need to use a special manual or automatic pump. No worries it's very easy to use, your skipper will explain details on the spot.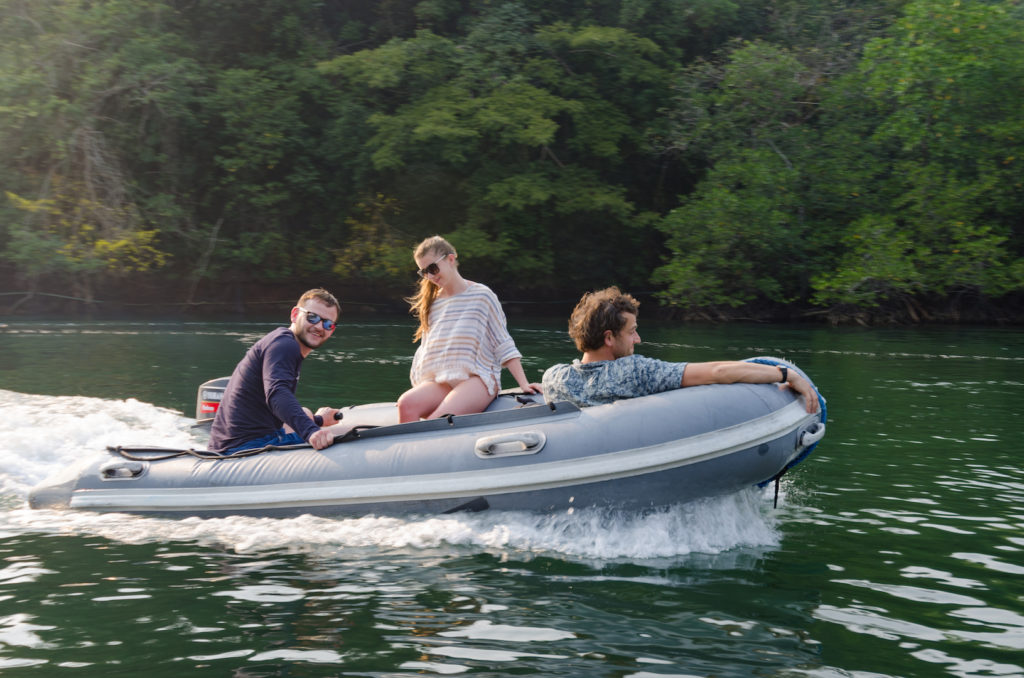 Last but not least is a tender aka dinghy. It is an inflatable rubber boat with an outboard engine. Basically, it's your taxi to and from the shore and a great way to get to another boat in the fleet to hang out with your friends.