Second visit to Andaman Sea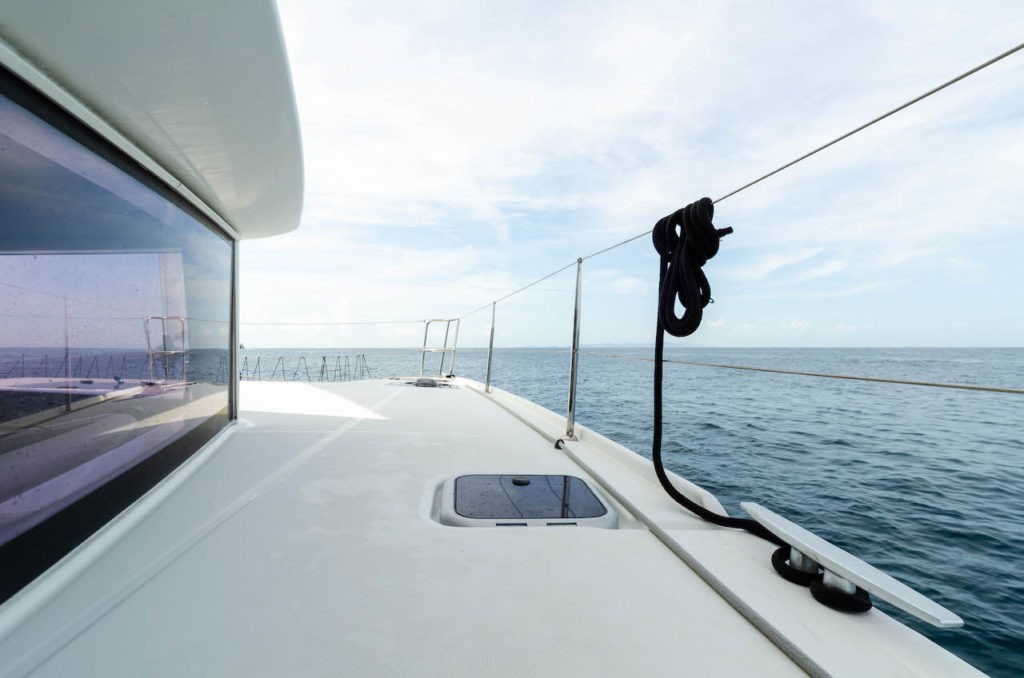 Day one 
We depart on Friday evening with a direct overnight flight from Amsterdam to Bangkok to arrive in Thailand next morning. Upon arrival you can clearly see a huge drop in tourists in the airport relate to corona virus and China's travel ban. Everyone is wearing masks and using hand sanitisers, that's good. We manage to exchange money and buy a local SIM card in no time, when normally it would take an hour or two. This gives us extra time before the next flight and we are not really keen on staying in the airport for too long, so we grab a taxi and go to the nearest city to look for a restaurant or bar. To find an open bar appears to be a challenge because today is a huge religious holiday – Nirvana Day and alcohol usage is restricted for a day, but we do find a really nice restaurant and have a great lunch. After returning to the airport we catch our flight to Phuket and arrive at the island around five. After a half an hour taxi ride we reach our hotel. This time I decide to stay as close as possible to the marina and now I can actually see it from my hotel room window.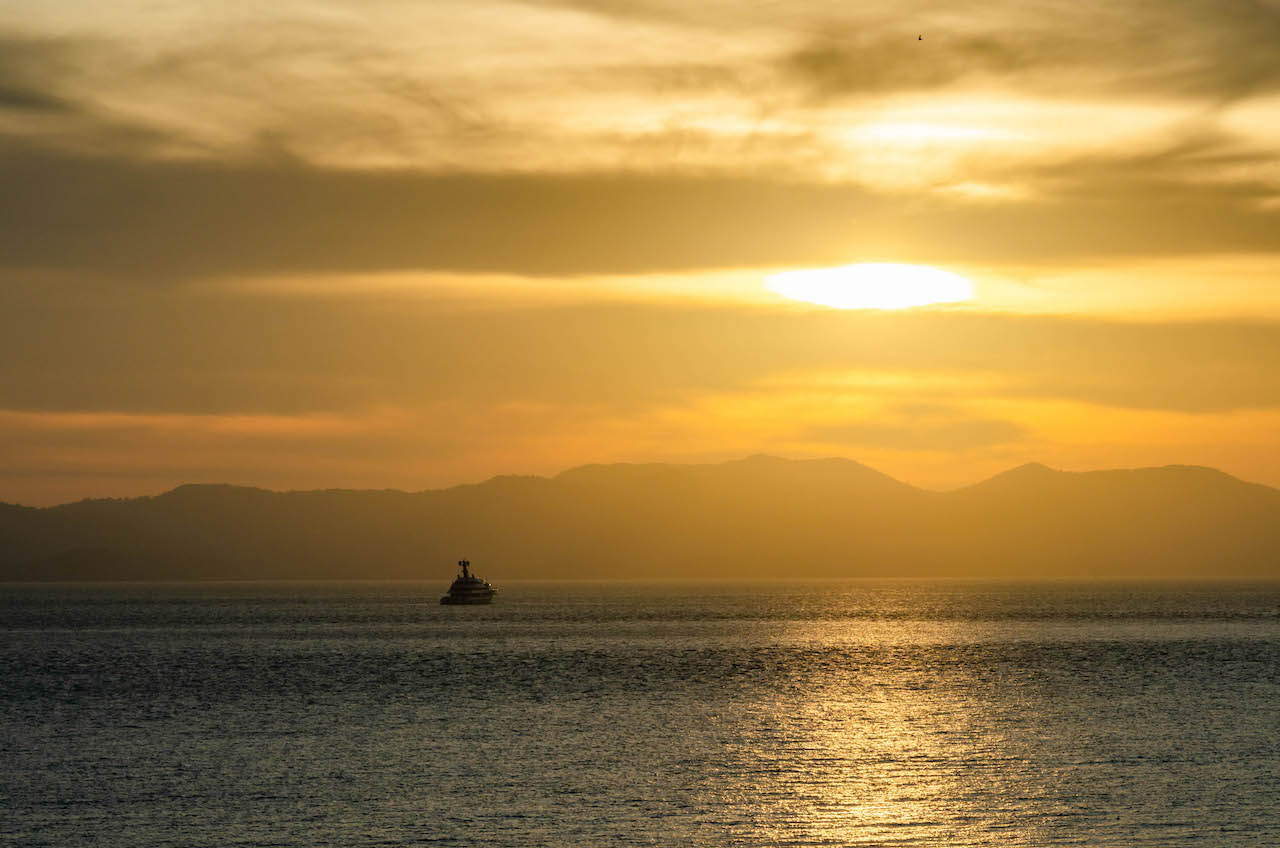 Part of our crew is staying in a hotel just next door so we decide to meet for dinner and drinks, seems like the no drinking rule is much more relaxed on the island. 
Day two 
Due to jet lag I wake up at sunrise around five in the morning. I am totally ready to go around eight while obviously the rest of the crew is still sleeping. I need to find something to do, luckily my hotel has a scooter rental and now I have means of transportation to get to the marina and see our boats. Scooter rides through the islands in the morning are especially charming, locals are busy with day to day tasks and the air temperature is nice and cool, the best time to explore an island. The marina looks really fancy, there is a very good looking restaurant with a pool, residential housing, several yacht management and charter companies. What is missing is one of our boats, the catamaran is standing next to the pontoon ready to go but the yacht  can not be seen anywhere. After asking around I figured out that it is not in this marina as agreed  on but in another one located 40 kilometres away. Not the best news in the morning. The crew and provisioning is expected to arrive only in a few hours.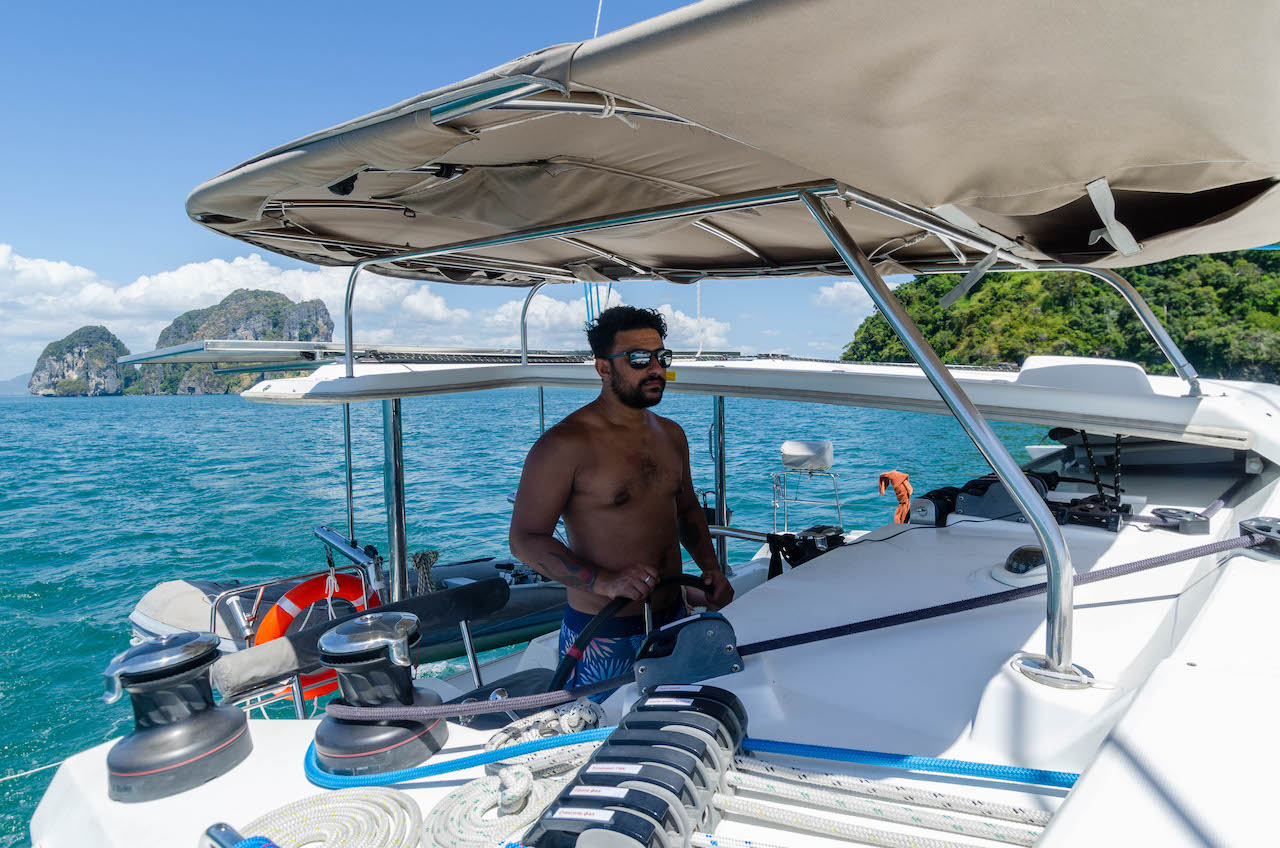 After some discussion the decision is made, all the food and all 14 crew members will depart from the current marina on board the catamaran and we are going to rendezvous with the yacht at sea in the evening. To do so we need first go to another marina with a skipper and one of our crew members who is also a licensed skipper to our lost yacht, check it in, and then deliver it to the overnight stop.  After all the paperwork is done and luggage, food and both crews are on board we are ready to depart. We reach our destination in two hours and now need to arrange the transfer of goods and people to their yacht, keep in mind we have a provisioning for ten days including freshwater and beers for everyone, so it's quite a lot of stuff. But it should not be a problem with our huge, powerful dinghy, it shouldn't be if the engine doesn't die after like five minutes and refuses to start at all. Provisioning transfer is postponed till the morning. Not the easiest day for skippers but definitely worth celebrating the start of our trip with drinks onboard the catamaran. 
Day three
First thing in the morning we repair our beloved dinghy, the problem was in the fuel system and as soon as normal fuel flow is restored we have a beautifully running engine. And after we deliver all the food and drinks to the yacht, where it belongs, we decide to go around the nearest island on the dingy, it's a very pretty island, totally worth it.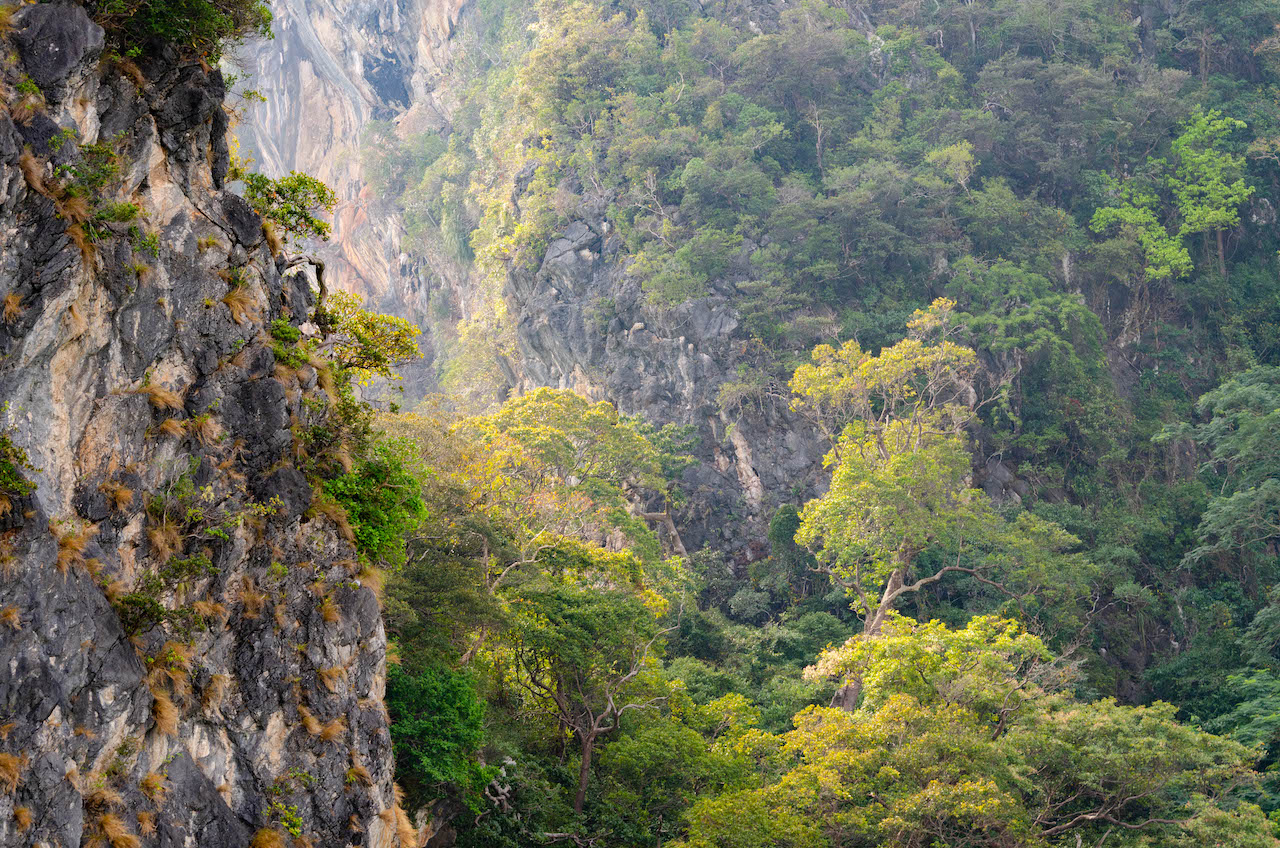 Time to leave our anchorage and head to the Sea Gybsy village, it's a famous settlement in the river delta built entirely on poles. Basically it's a huge market with a couple of restaurants in a very unusual settlement. After lunch we leave this place and head to our overnight stop at Ko Roi but we encounter another problem,  it's not deep enough for our yacht to navigate. Due to a spring tide, the Northern part of the Andaman Sea becomes too shallow and we need to wait for high water. Well it's not a problem in general but slows us down for a couple of hours and we arrive at the anchorage after dark.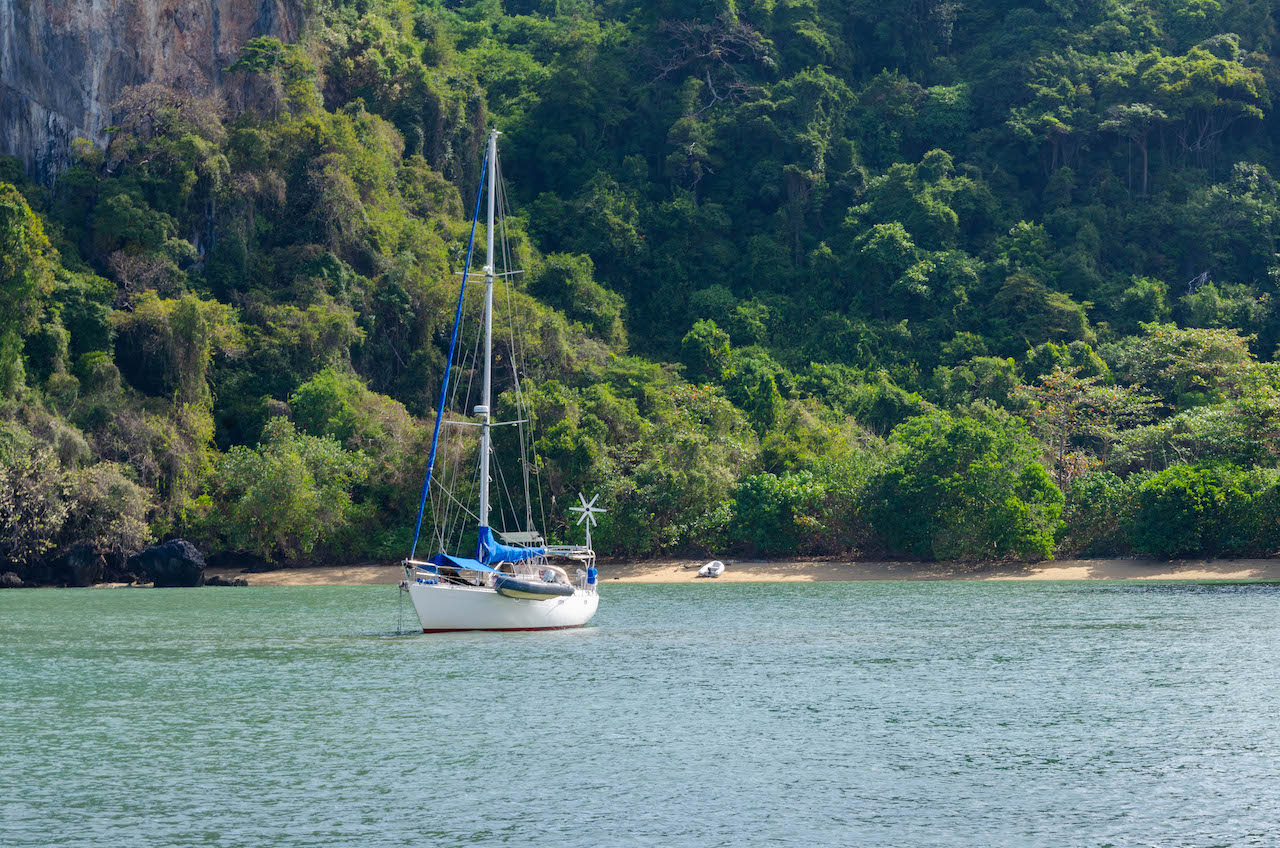 Day four 
Today the more relaxed part of the trip begins, we leave shallow waters off the Northern part of the Andaman Sea behind and are ready to explore the most amazing locations in the region. The destination for today is Krabi and it's world famous Railay Beach. On the way there strong winds build up and even starts raining. It's a good opportunity to test how the catamaran performs under sails. Well,  it's running great with the broad reach wind. So we decide to visit one more spot on the way to Krabi, it's a popular tourist destination – Koh Hong. It is crowded with speed boats but we still manage to find two buoys and spend an hour or two swimming and eating lunch.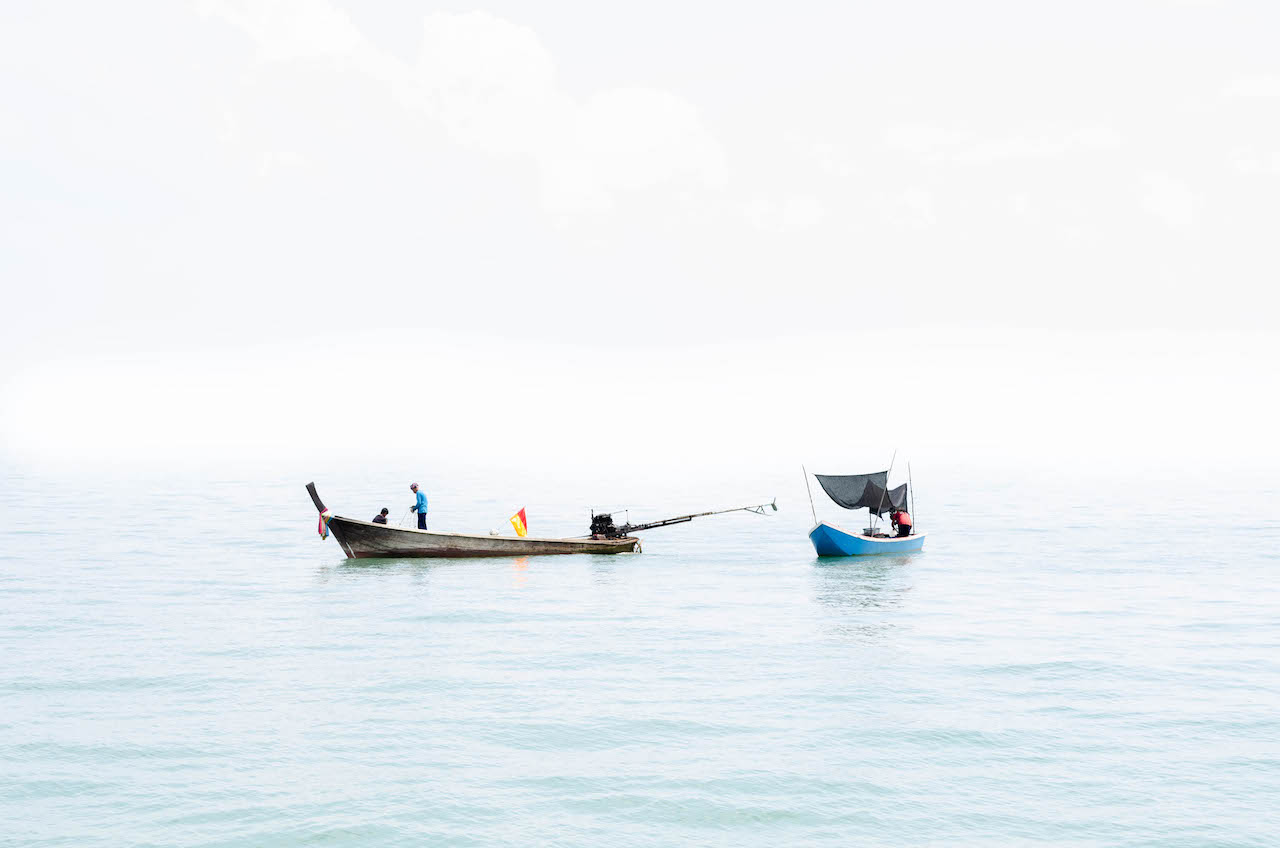 After a nice meal we continue our way to the overnight stop but the wind is still strong and the anchorage we know is not suitable for tonight, so we drop an anchor just in front of the Railay Beach. The view is great but there is a problem, the beach is really shallow and getting to the shore with the dinghy on the low tide is not that comfortable especially as we need to get everyone onshore. First of all, this place is just awesome and second of all we are going to have a party in one of the restaurants tonight because it's my birthday.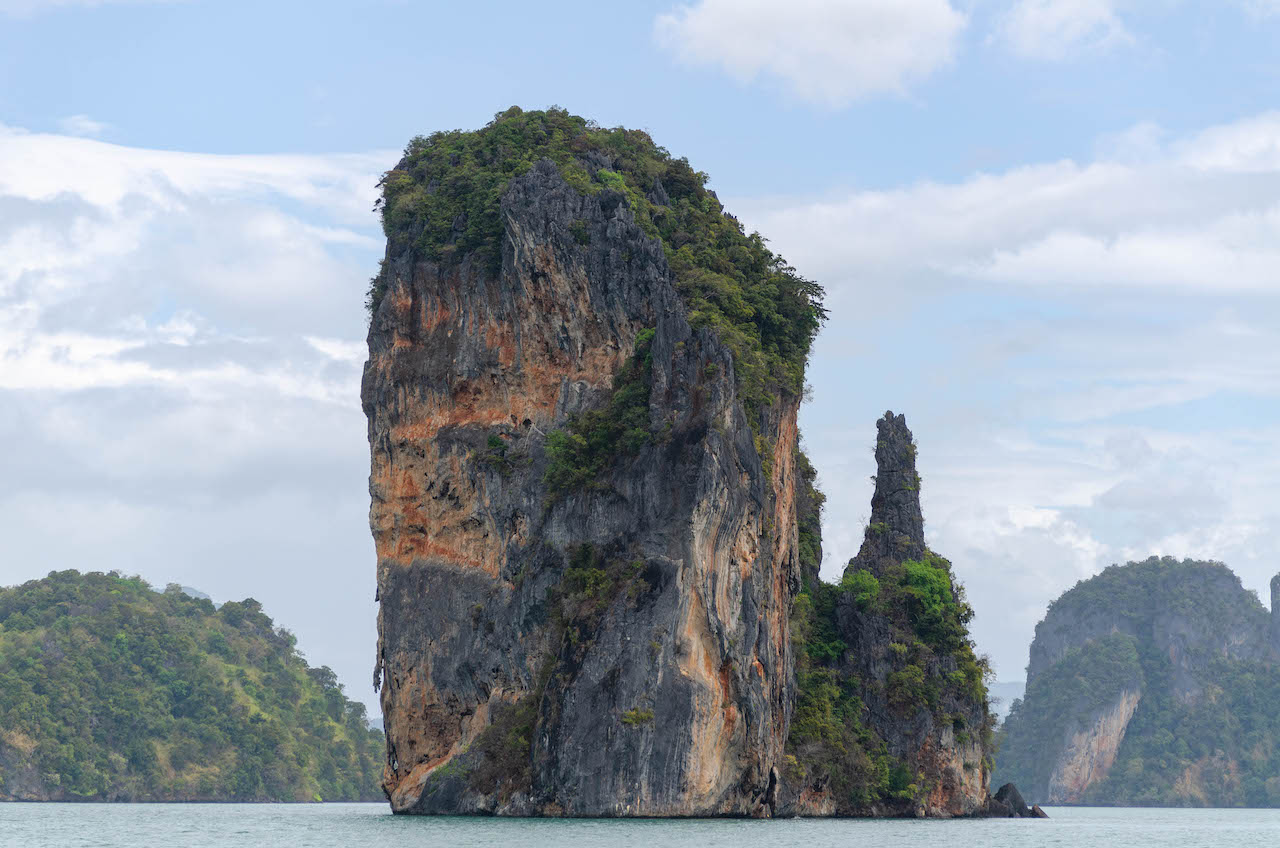 Before going to the shore we need to replenish our water supply, this time we have a 220 volt generator on board and a water maker capable of producing 150 litres per hour. Really impressive technology, one just needs to drop a hose in the sea and enjoy fresh and delicious water right away. The first attempt to reach the shore was semi-successful and super crazy. Getting to the shore with our dinghy was not possible from the beach side but we know that on the other side there is a convenient floating pontoon, so I decide to bring part of the crew there. After all, the dinghy is really powerful and can go up to 15 knots. Eventually we reach the pontoon but the journey is not comfortable, high waves make it extremely rockie. This is obviously not an option for getting the rest of the crew to shore and then back and it's getting darker. But we find the way, one of the sailors on the pier knows some English and we manage to make a deal to taxi everyone to shore and back with his long tail boat. Now I need to guide our savior to the boats, it's totally dark already, I do have a powerful torch and VHF with me just in case, the wind is strong and the waves are high. It is definitely an exciting but scary trip, especially when we lost each other at sea for a moment but eventually we find our catamaran and manage to get everyone on shore in one go. We book a table in a cute place called Tree House Bar & Restaurant. We have a nice meal and a couple of drinks there to celebrate my birthday and then go to explore the island and end-up in a really cool place with a small stage where everyone can go and play the instrument of their choice. Well, a lot of our crew members are really talented and can play guitar, bass, drums and sing, it's jam time! 
Day five
Today is a very lazy day, we are staying one extra night near Krabi and have a very short to-do list: re-park boats closer to the floating pontoon, find a laundry and get massages. The wind dies out and the sea becomes calm. The laundry service is also available just near the pontoon as well as many options for massage. We pick up a very fancy place with quite high prices but it's really worth it. The massage is great, I actually fell asleep during it. After dinner in one of the restaurants on the beach part of the crew head back to boats to chill and others go to a nightclub to keep the party going.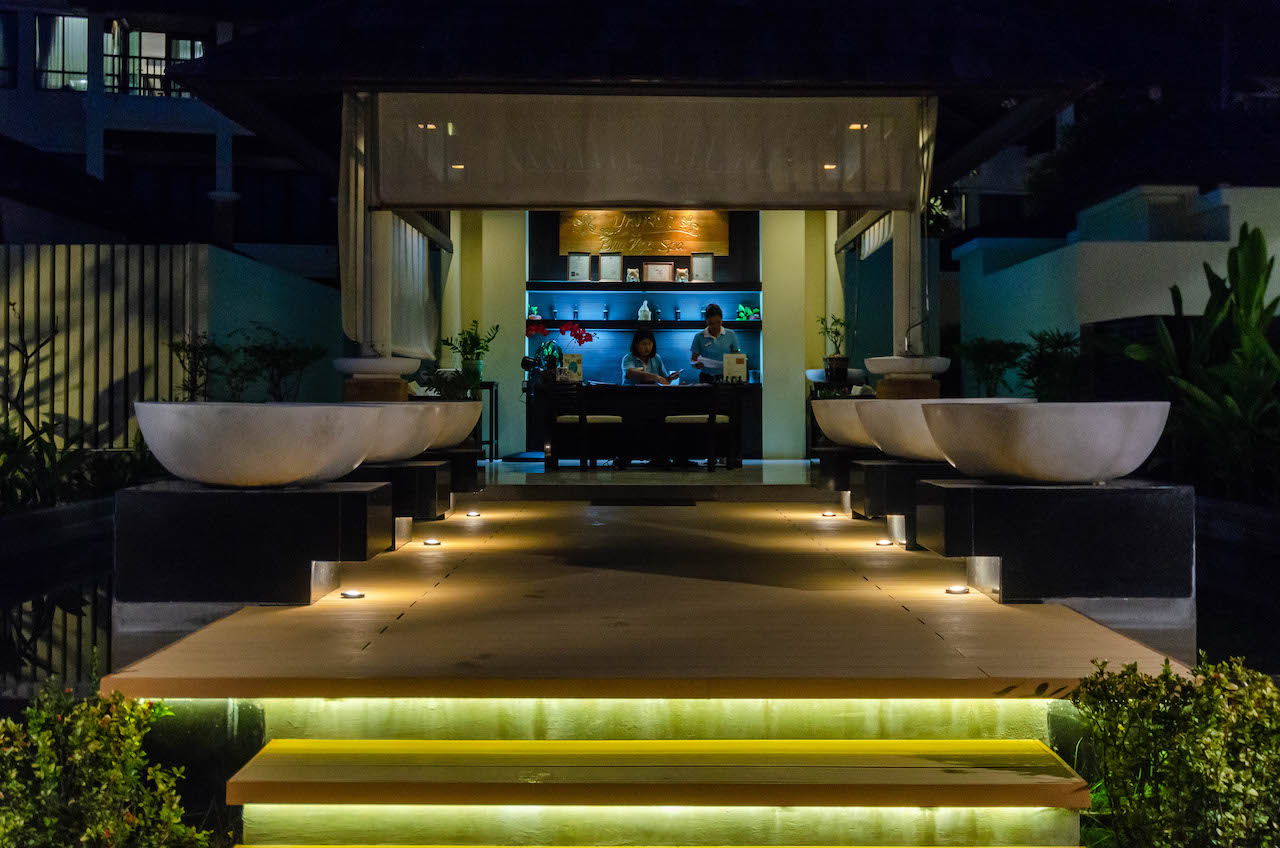 Day six 
Our day starts with another unwelcome adventure, one of our props catches a rope and we spend an hour to free it up. It is nice that we are still anchored and the weather is calm. If such a thing happened a day before we would be in some trouble. Anyway I am glad to get new experience.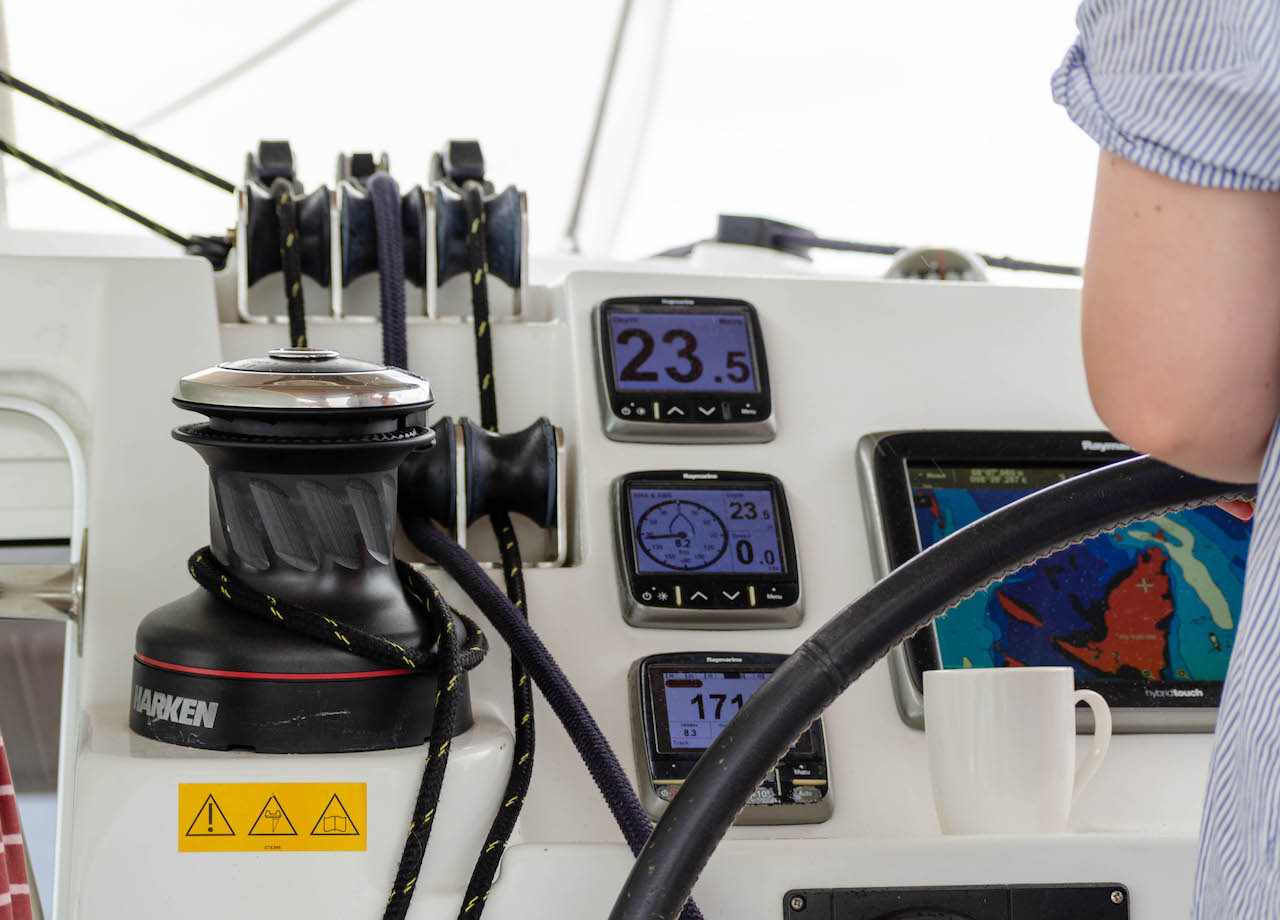 After we gain propulsion again we head towards our day stop on the way to Phi Phi. It's a charming small island in the middle of The Andaman Sea, a great spot for swimming and lunch. We arrive at Phi Phi around five in the evening and head to the shore to meet our dive instructors. The island looks a lot different than I remember.  Near the main pier you can find Mcdonalds now! And in general, streets look much tidier and not that crowded, maybe COVID-19 is to blame.  This time we decide to go on a diving tour with a company called Blue View Divers, they are using long boats as dive vessels which I find quite cool. After all formalities are settled we can split up and explore the island. Instructors also recommends an area to look for good food. It's hard to find a place that can accommodate 16 people at once and will suit everyone's desires so we scatter around the food market. My group finds an extremely nice restaurant with amazing food and a very cozy interior. We like it so much that we will come here again next day.  The rest of the evening we spend in the best place in Phi Phi – Banana bar. This is a rooftop bar with a chill atmosphere and great cocktails. We were here in 2014 and the place has become even better.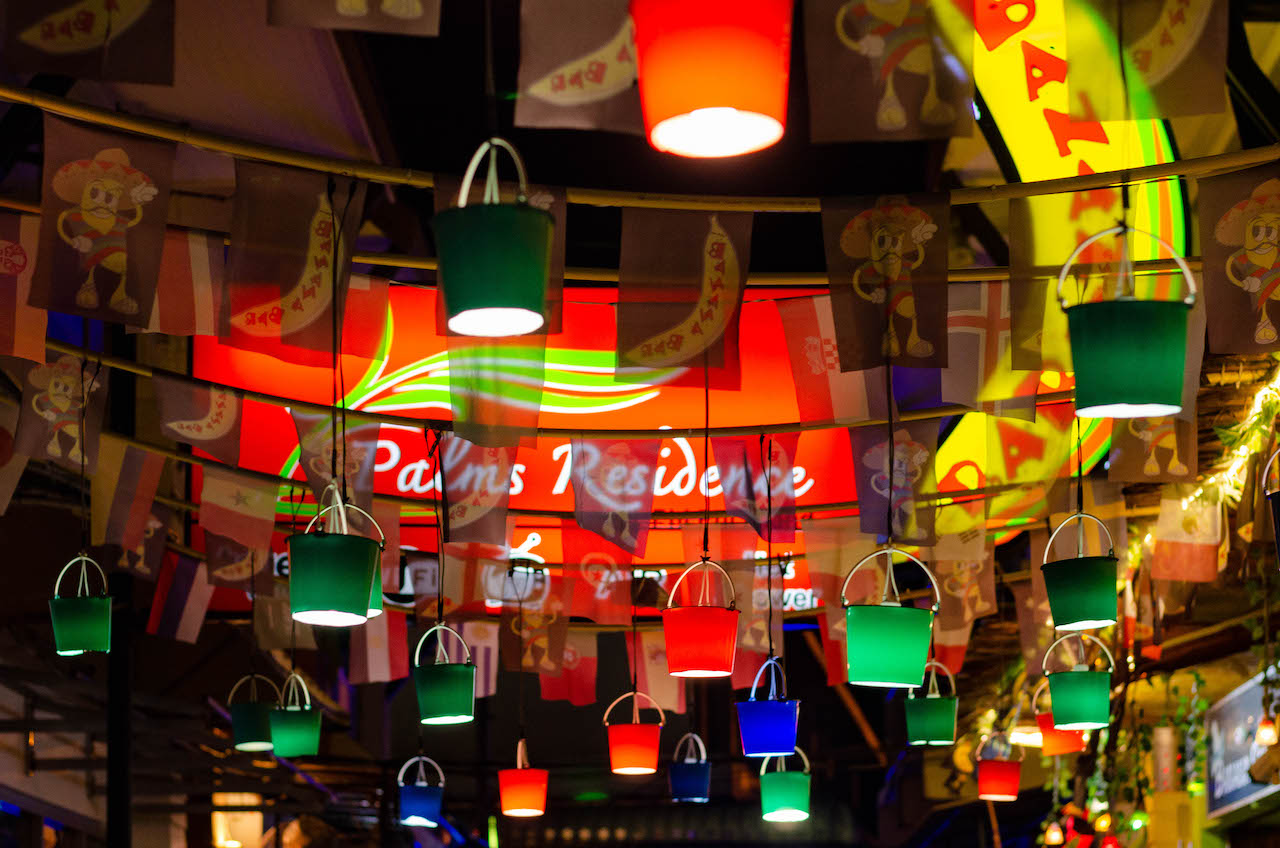 Day seven 
Before going on the dive tour we need to get fuel for our dinghy, we are running very low already, all because of my irrational love of navigating the dinghy at the highest possible speed. Not an easy task around here, finally I find a nice old lady who sells me 10 liters of gas out of a barrel. Now I need to get something for breakfast but I am walking around with a jerry can full of highly flammable material, not a problem in Thailand as I figure out. I was allowed inside with a dangerous load and served iced coffee and breakfast in an Auzzie–style cafe.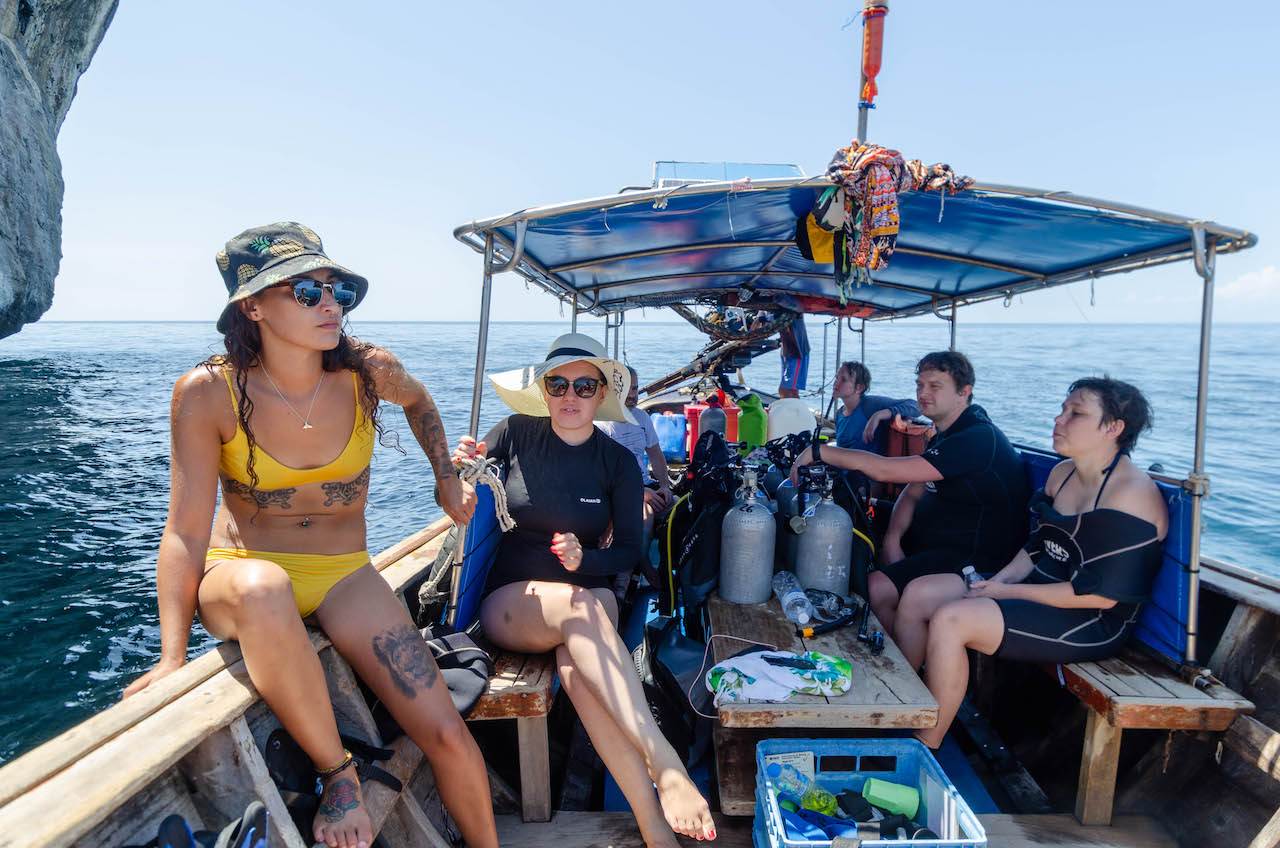 Arround 11 o'clock dive vessels meet us on our anchorage, they pick us up directly from the catamaran, very convenient. After half an hour we arrive at our first dive spot. Here we split into several groups: licensed divers, beginners and snorkelers. Each group has their own unique experience, PADI divers go to see artificial concrete bases for coral reefs placed by the government and volunteers, snorkelers swim with a shark and her babies, no worries neither sharks nor snorkelers are put at risk. When everyone surfaces we are taking lunch to some magic place, it's a well protected lagoon with very shallow though very warm water. Maybe one of the best lunch spots I have ever been to. 
The second dive spot is only a few miles away and we get there in no time, the long tail boats are quite fast. We reach a speed of 25 knots at some moment, I am eager to ask to steer it for a bit but later on abandon the idea. The second dive goes smoothly. We see a ton of colorful coral and schools of different fish. Diving in Thailand is the best! After a short rest onboard the catamaran we head to the island to have a nice dinner. We already know where to go, it's Anna's kitchen restaurant which we visited yesterday and for a drink obviously – Banana bar.  
Day eight 
We start our day with a simple task of refilling our fleet with freshwater but like last time the process becomes very hectic and takes a couple of hours. While the skippers and part of the crew are busy with boats the other half of the crew go to the shore to resupply food and alcohol.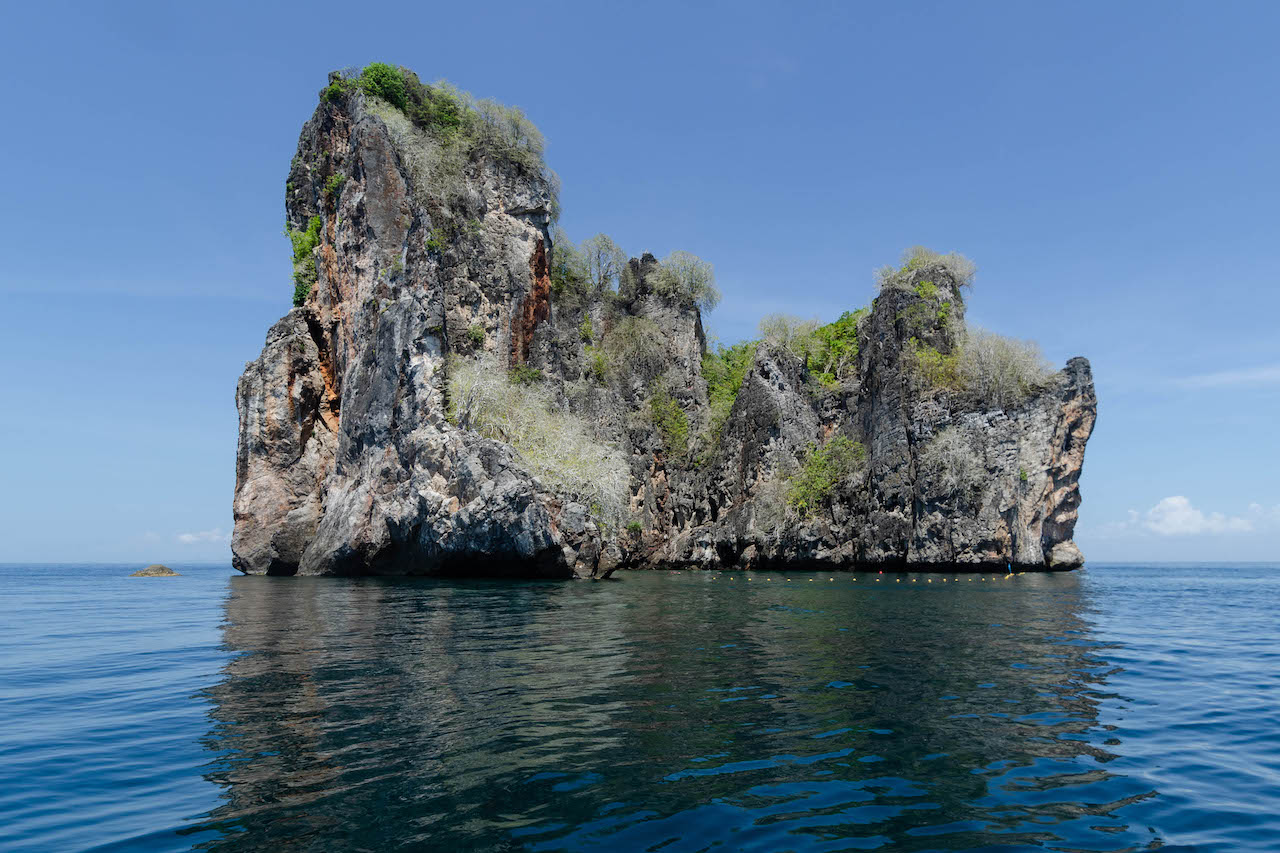 Today my good friend Josip who is also a licensed skipper is taking over and will bring us towards our overnight stop. This means I can relax and open a cold beer. We arrive at the anchorage at the South part of Ko Yao Yai also known as Muslim Village at dusk. We spend the rest of the day cooking dinner and chilling on board. 
Day nine 
The anchorage we spent the night at is a nice stop logistically but there is absolutely nothing to do here so we decide to check out a popular snorkeling and diving location at Hin Mun Sang. We drift around the spot in zero wind while the crew goes on a snorkeling mission with the dinghy.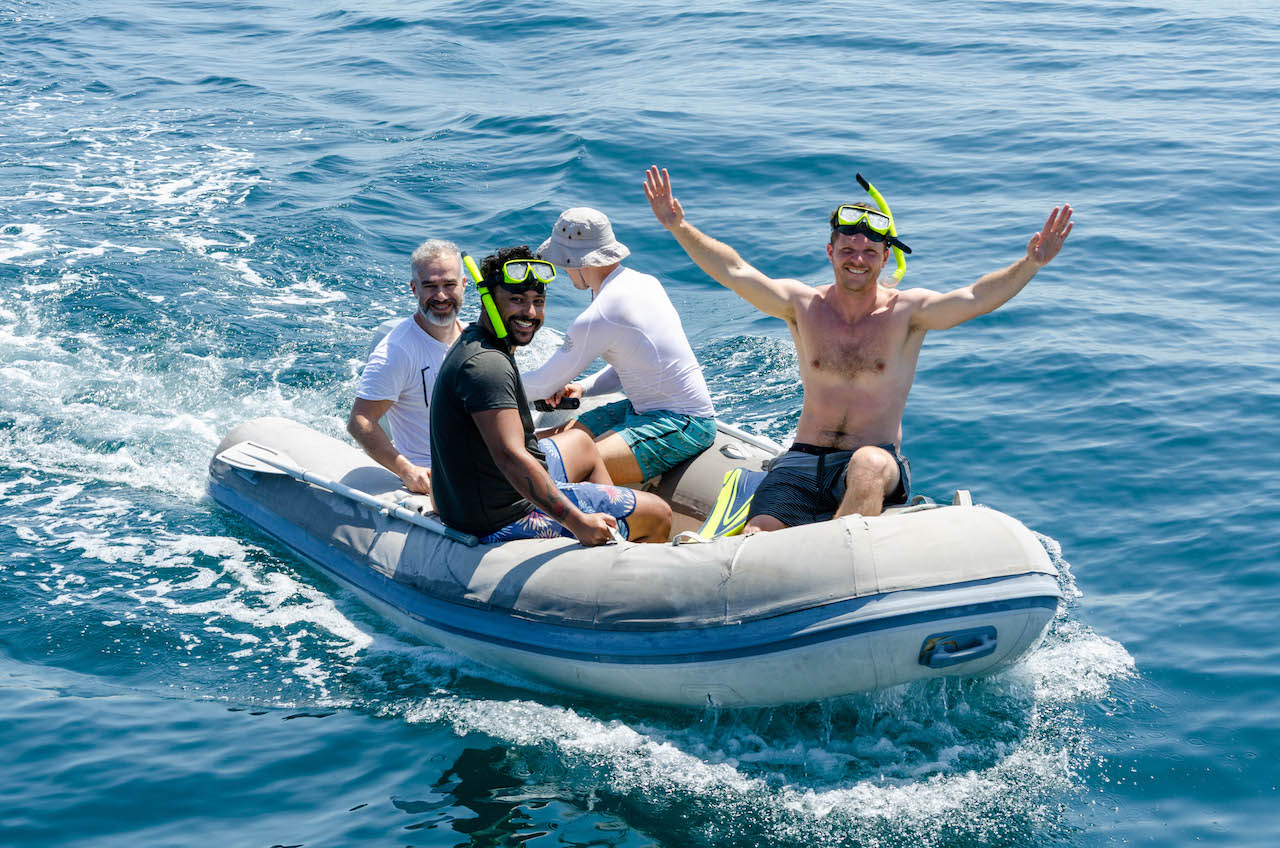 The next destination for today is Ko Rang Yai, a lovely small island with a beach bar and restaurant and no accommodation for tourists, meaning that we can have the islands to ourselves for the whole evening and night. There is still no wind and we need to motor there.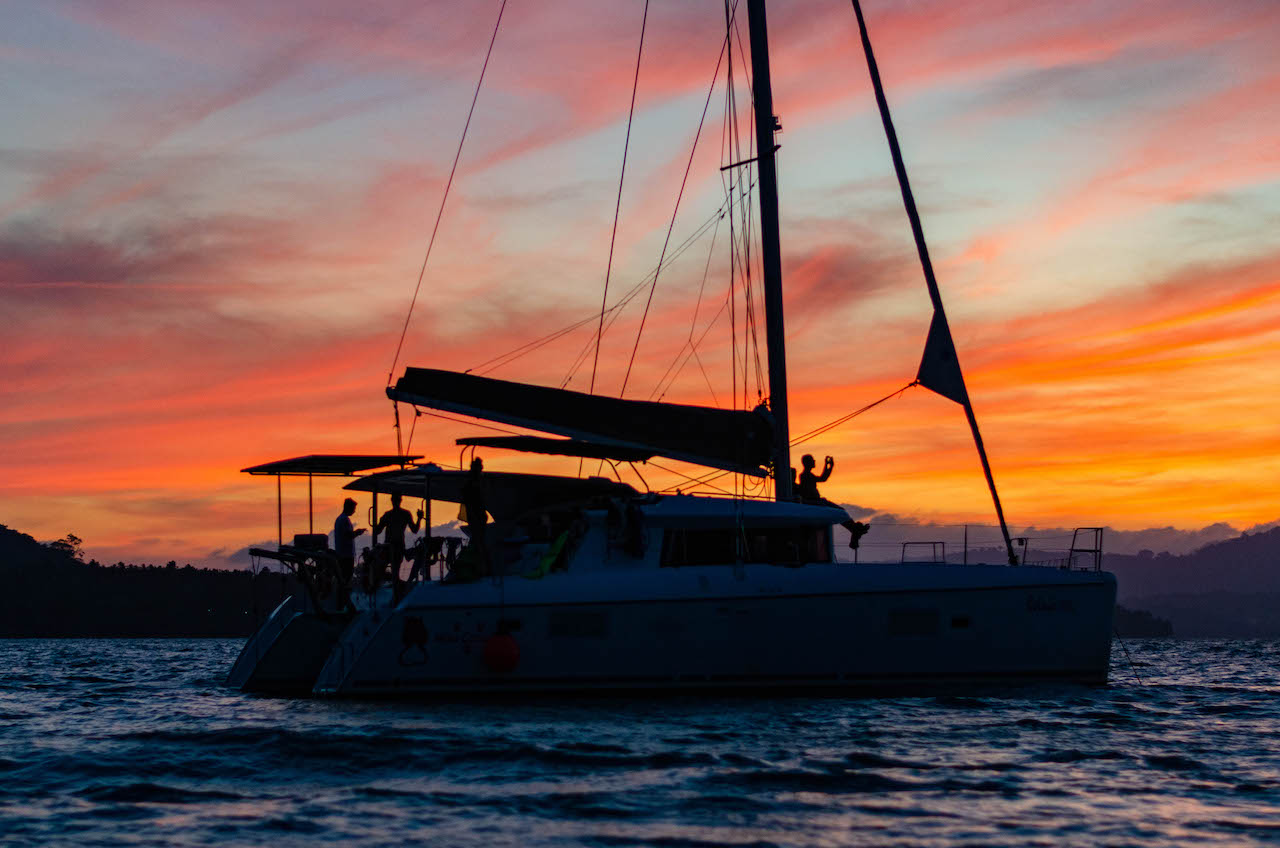 After arrival we get to shore to get something to eat and chill in the shadow of the palms.  In the evening we enjoy an extremely nice sunset and the evening seems to be relaxing and quiet but the situation changes very fast and we find ourselves in a bit of trouble. The dinghy gets loose and washes out to sea. It's already quite dark and we do not have too much time. We lift anchor as soon as we can and start steaming toward the last seen location of the dinghy. In a couple of minutes we can clearly see it but it's too shallow to pick it up with the catamaran and swimming at night against two knots of current is not a good idea. Luckily the skipper of our second yacht catches up with the catamaran on his own dinghy and helps us to recover our loss. 
Day ten 
This is our last day on the water and we spend the morning taking group pictures and having breakfast ashore. Around twelve we head to the marina.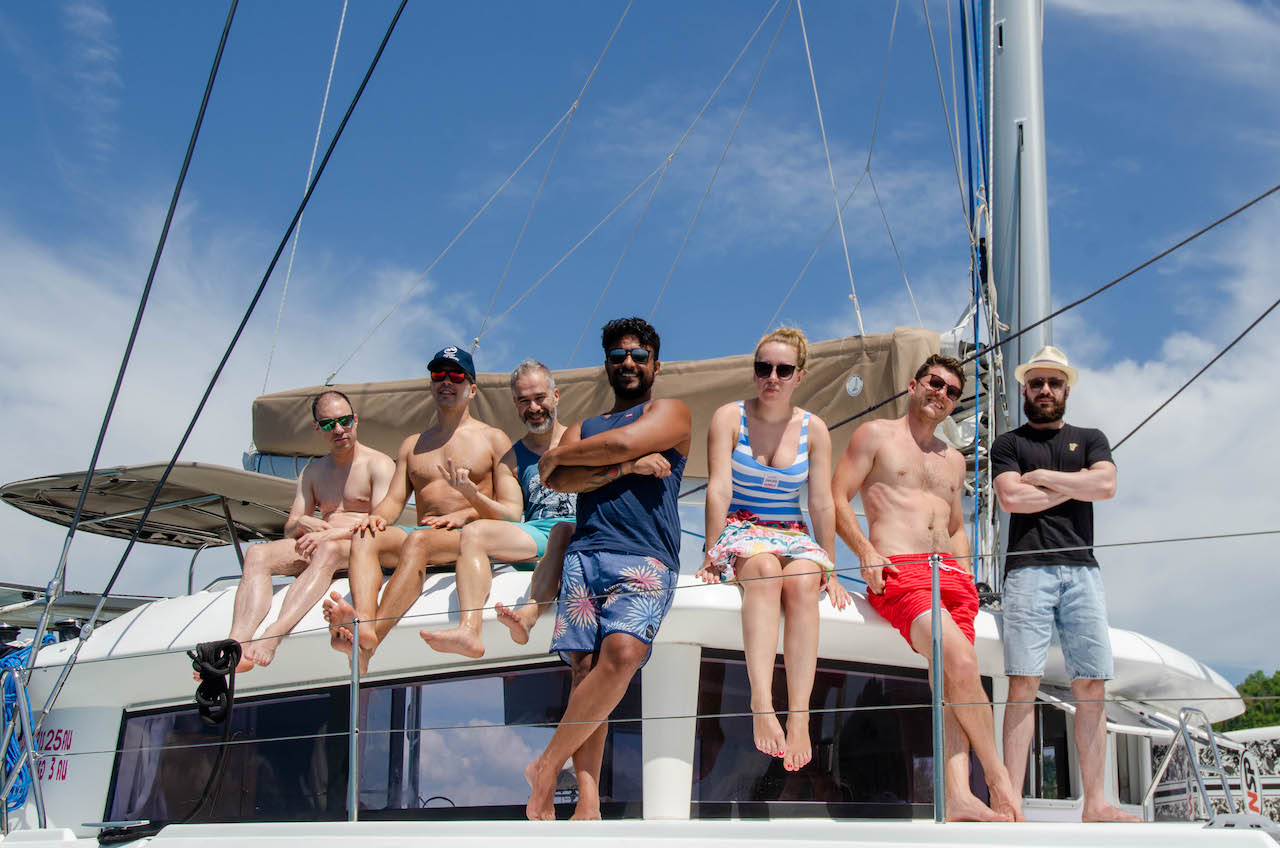 The first thing we need to do is refuel our catamaran, the guys did not believe the numbers on the fuel pump when they discover that we used only 73 liters of fuel. It's surprisingly low indeed, taking into account that we run the generator, the watermaker and the aircon daily.  Here my skipper duties end, the guys from the charter company take over and bring us to the pontoon. We have a boat till the next morning, the sailing part of the trip is over.  In the evening we have dinner in the restaurant in the marina. Before that we can chill in the pool with a drink. I am very pleased with how the trip is going so far and we are now looking forward to exploring the North of the country. 
Den eleven 
We start our day very early, we have a lot of things ahead. We need to check out from the boat and drive to the airport, catch a flight to Chiang Mai, rent a car and get to the hotel. Everything goes smoothly and easily and around four we arrive at the point of our destination. The whole group is staying in the same place, it's very convenient and the hotel is quite good with a tiny pool and bar. 
We decide to go for dinner at a rooftop bar recommended by my friends who visited the city a few weeks ago. We decide to walk there and check out the city on the go. The first discovery pleases everyone, finally, we are in Thailand so very well known for its low prices. We paid quite a hefty sum for everything we bought for ten days. The south is super popular among tourists nowadays and this bumps up prices to the level of Amsterdam and sometimes even higher. But finally, we can get a nice iced coffee for the price of one euro.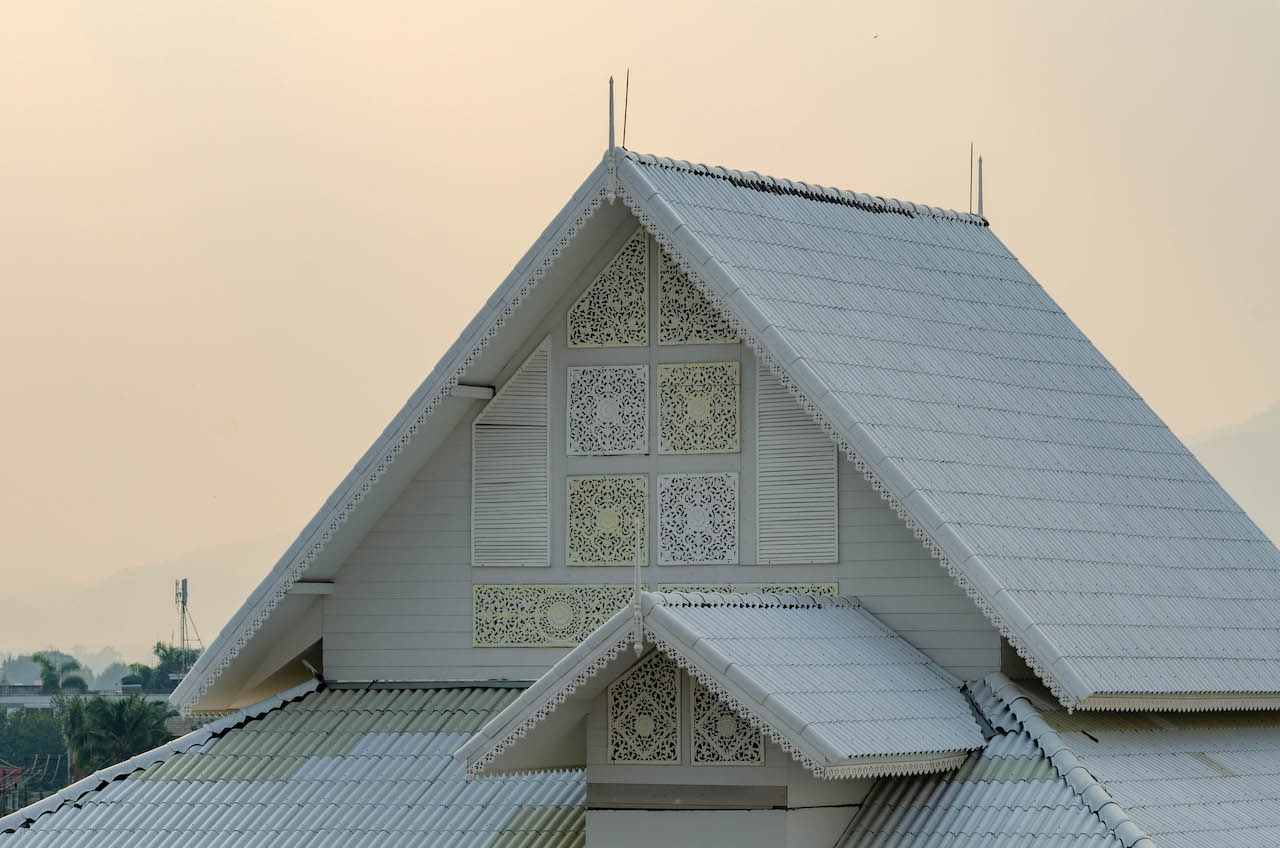 The rooftop bar looks really great, the view, the interior, the music, it is a great recommendation. And the food here is different from the southern part of Thailand but still delicious and spicy. After a couple of hours spent there we head back to the hotel. After a long day we want to get a nice massage, and we find one and actually it's the best massage place I have been to so far. It's called The Home Massage and Spa. And I highly recommend this place if you ever visit Chiang Mai
Day twelve 
We wake up at 04:30 in the morning, all thanks to the neighbors' roosters. They start crowing all together way before sunrise. There is no way to sleep with such an accompaniment. Horrible isn't it but actually we were really grateful in the end because we decide to drive to the nearest temple. We choose Wat Phrathon Doi Suthep, a huge complex on the top of the mountain, a magical place and it is so nice to be there alone.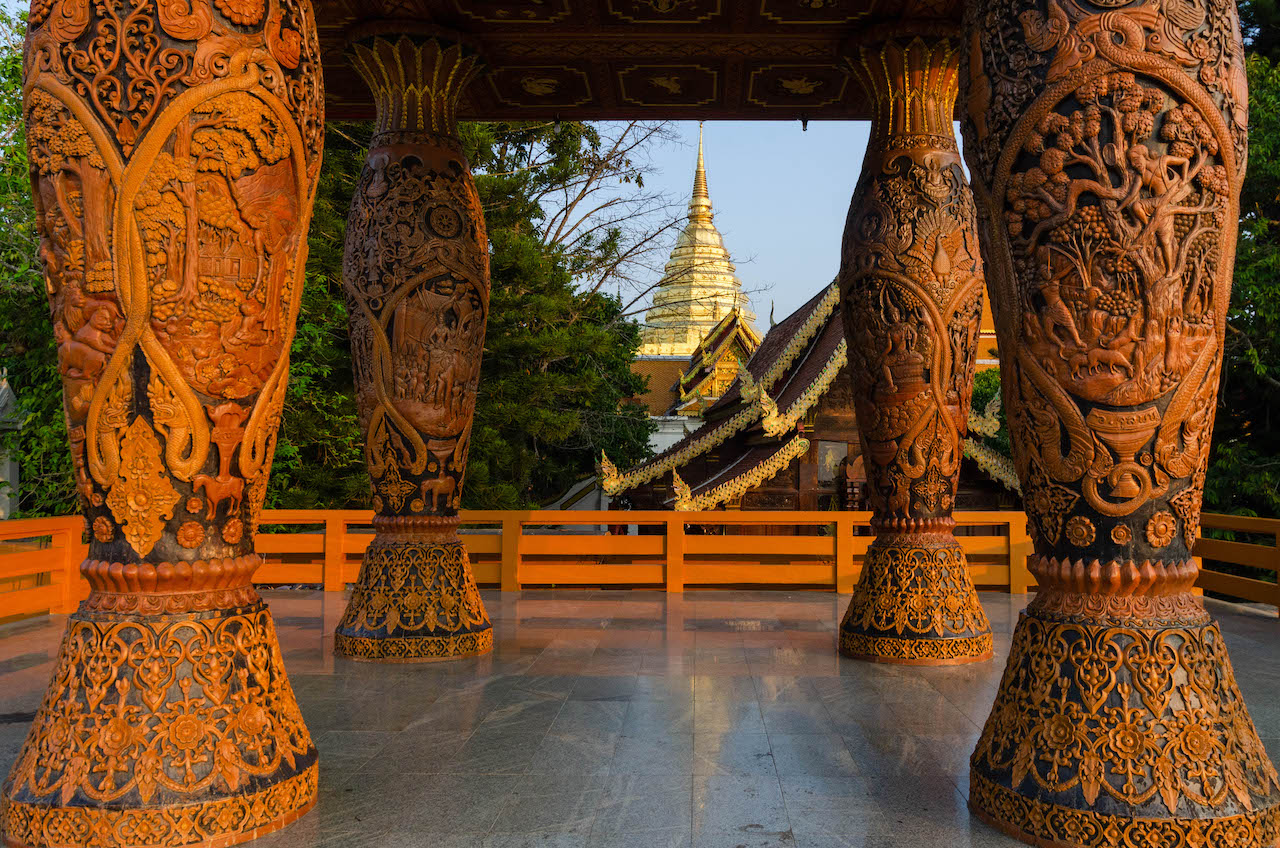 We are back at the hotel just on time for breakfast. We are going to Doi Inthanon today, the highest point of Thailand, it's two hours drive one way and for us it did not work out that great to be honest. We spend 5 hours in the car and the location was not that impressive for such a long drive but part of the group goes on a hike and enjoy it a lot.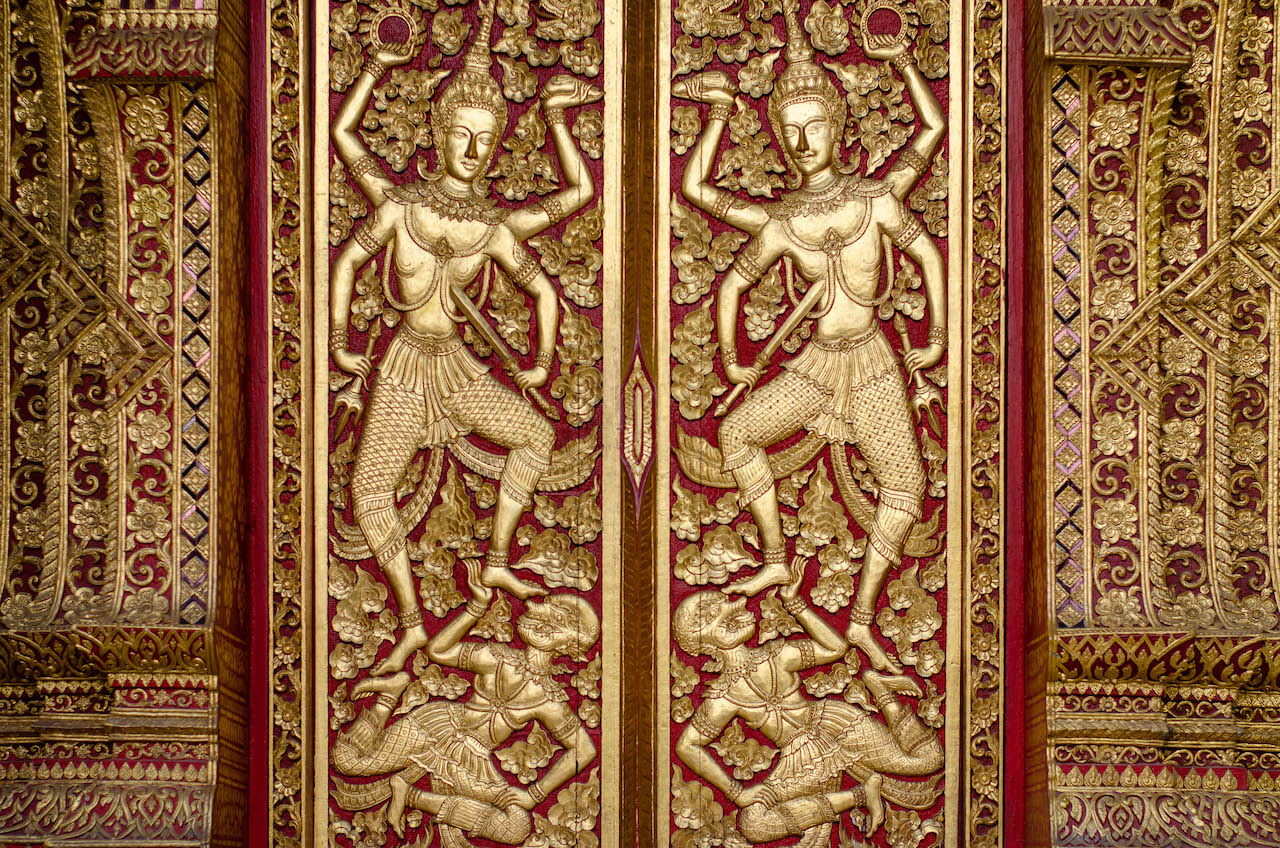 We arrive in Chiang Mai very hungry and immediately go to find some food. And here our day turns even worse, we manage to find the worst restaurant in the whole of Thailand, the food is not edible at all, the cocktails were terrible as well. We paid and left immediately, this was the first time I put a one-star review of the place. When the whole day is not going well the best option is to finish it asap so we do and go to the hotel to get some sleep. On the way home we drop by a seven eleven to get some earplugs to get some proper sleep.  
Day thirteen 
After a good sleep we have our adventure mode back and after breakfast we hit the road and drive to Pai. It takes three hours and 762 turns to get there. For drivers it's ok and even interesting but for passengers it can be quite tough. To make the trip easier we have a coffee break in the middle of the route in a lovely place called Witch cafe.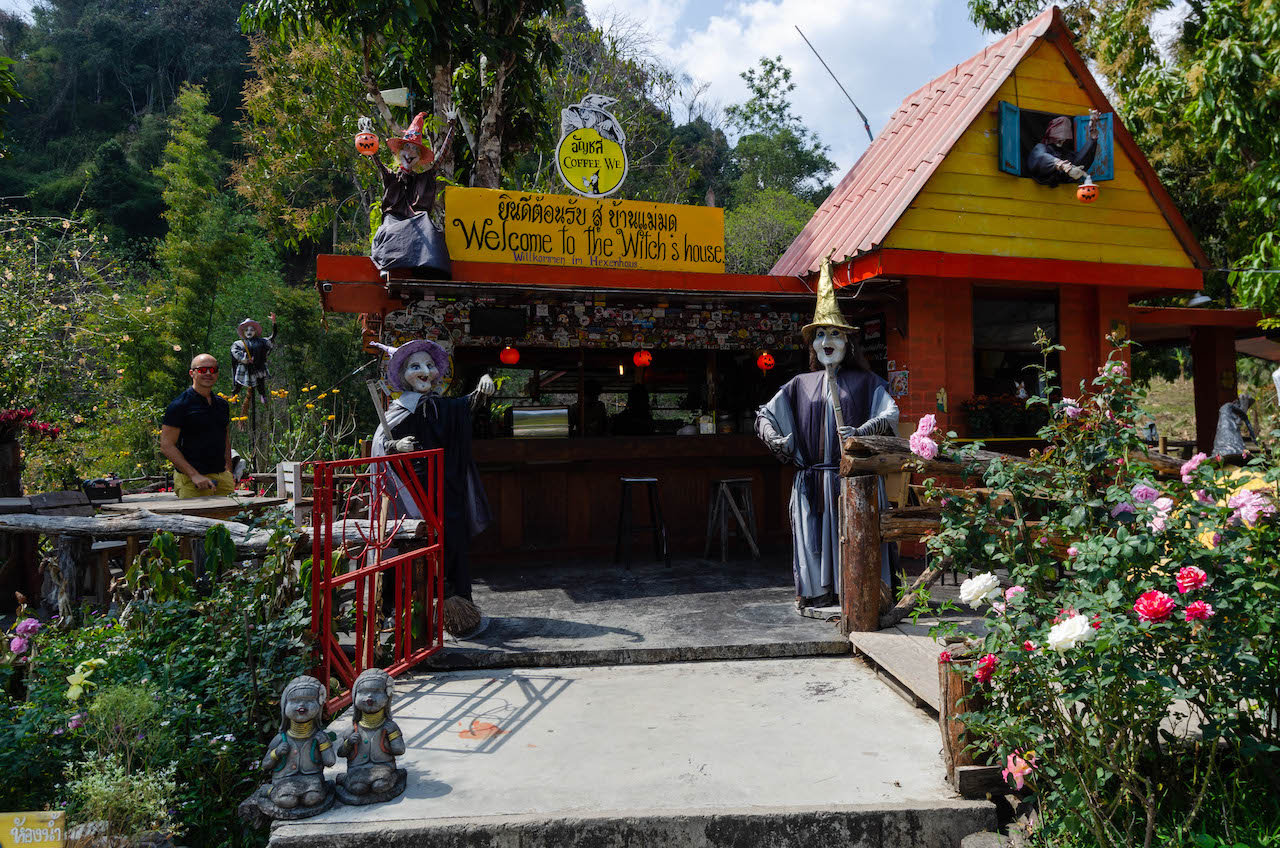 Yai looks completely different from what I have seen in Thailand before, a small and cozy village hidden in the valley between the mountains. Officially only 1000 people live here, but I would guess that it's three times more touristy, mostly students traveling across Thailand.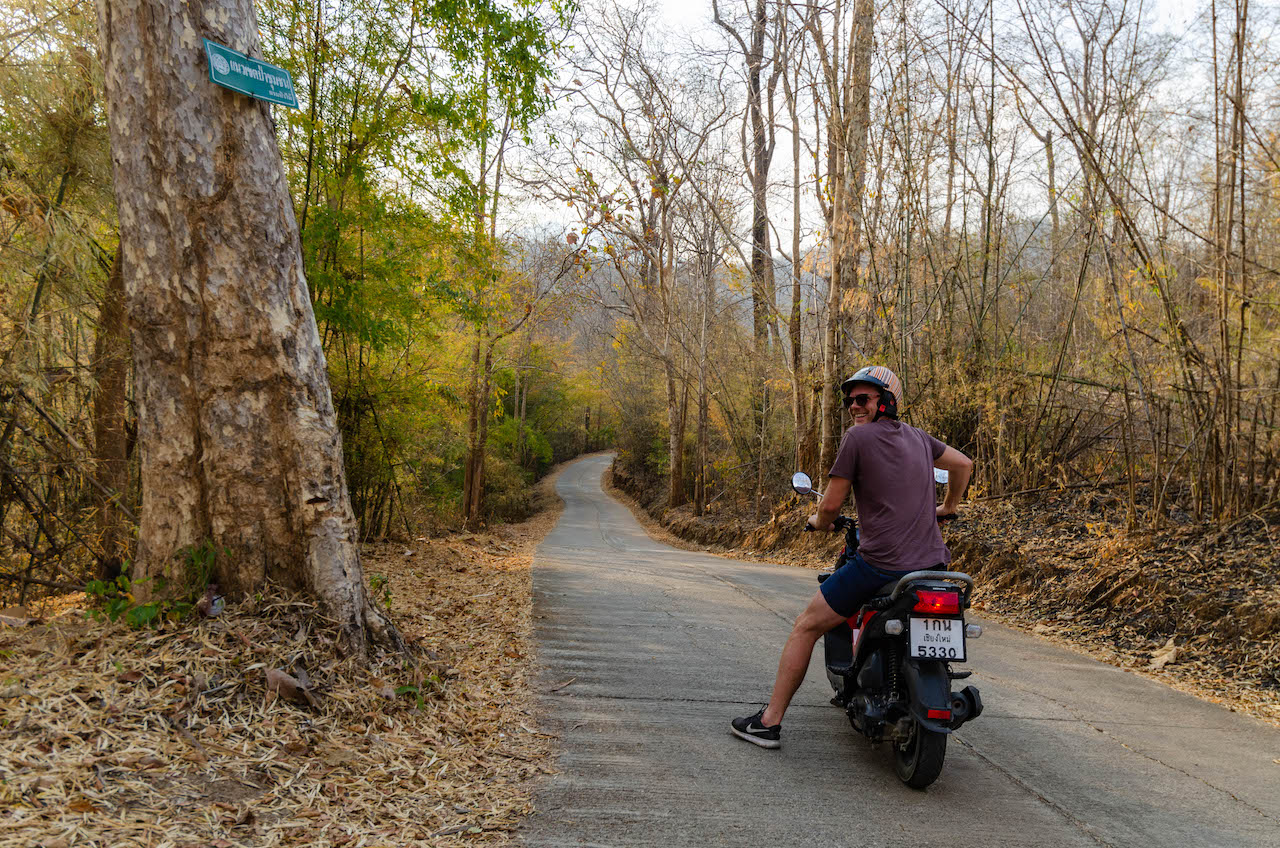 The first thing we do is to rent a scooter,  the only way to get around in this area. Someone already found a lovely place to get some food after a long ride, it's called Om and looks really good. Decorated with enormous amounts of plants and even a small pond with coy fish. I would say the whole village is super cute and looks like a perfect getaway, a lot of people find it similar to Bali.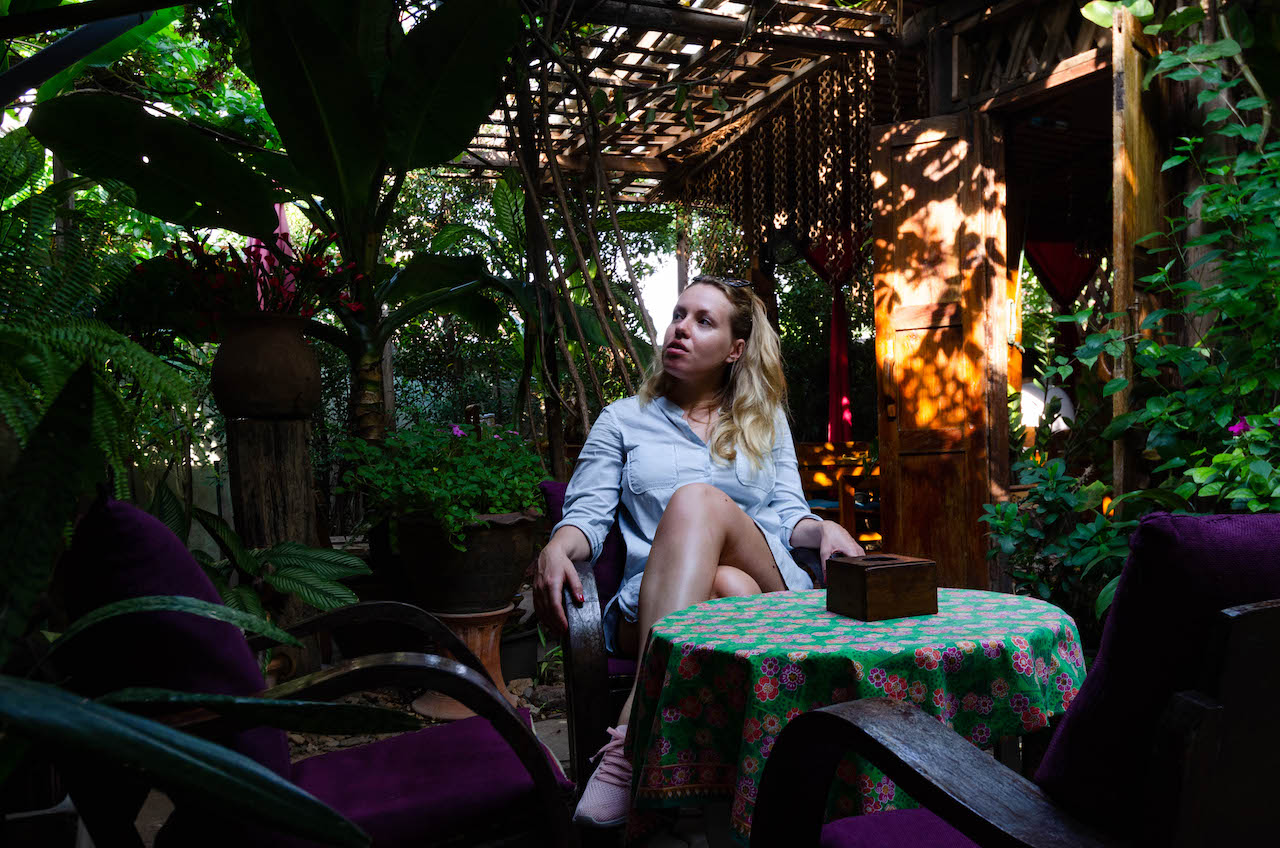 After food we decide to visit one of the points of interest close to the city – Bamboo Bridge. It's an open air museum of local culture and way of life, and it's a great place to see the sunset.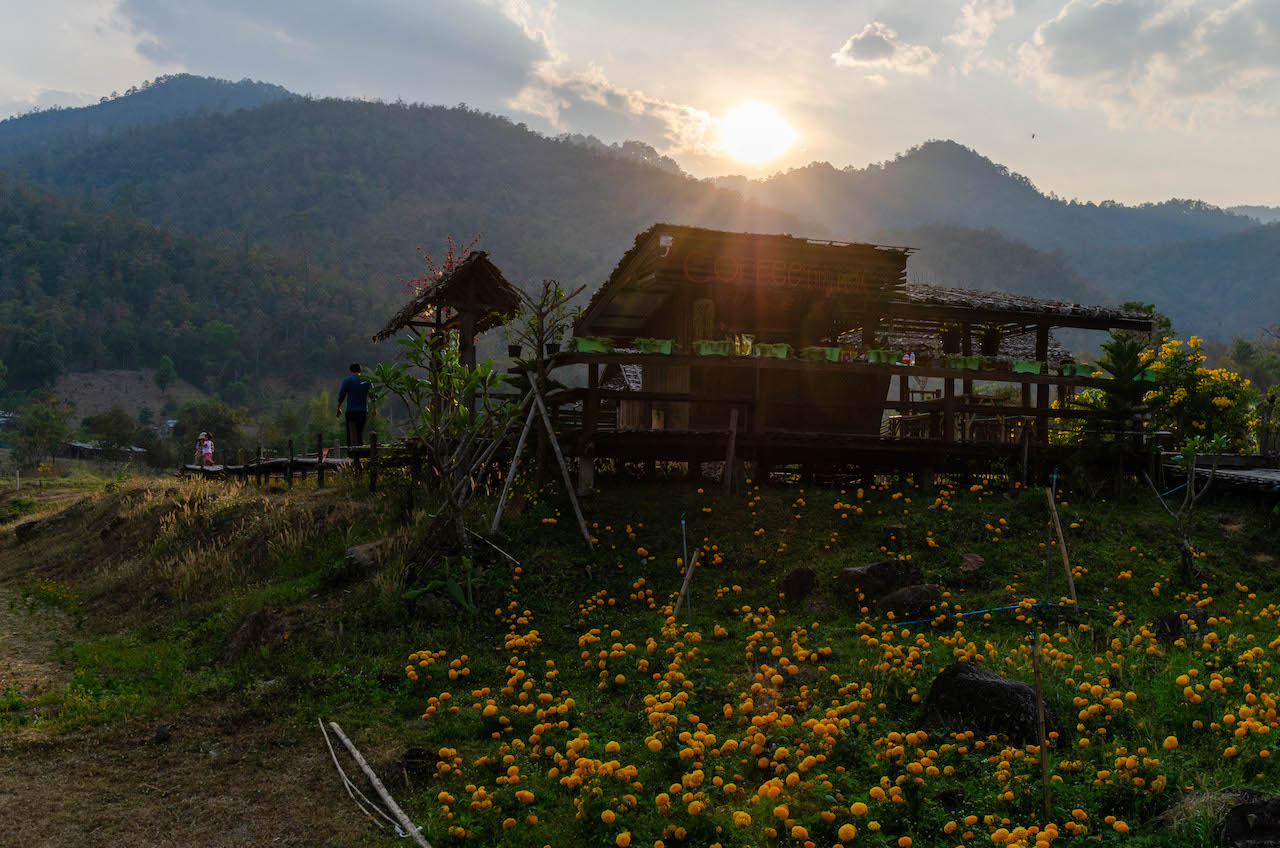 We came back to the city quite hungry only to find out that the kitchen is closed almost everywhere and it's not that late even. We are frustrated but not for long because we find a restaurant with the best food I have eaten in Thailand. It is called Air and it looks very simple and not really attractive but I am very happy that we decide to stop there. Best green curry ever. 
 Day fourteen
We start with breakfast at the already mentioned Om cafe and head to the closest waterfall. Well it's nice but after the waterfalls of Island every other waterfall does not have the same kick. After the waterfall we drive to Yun Lai viewpoint, on the way there we lost part of the group and reunite at the destination point. The view is nice but the highlight of the spot was a tea that is grown here on surrounding hills.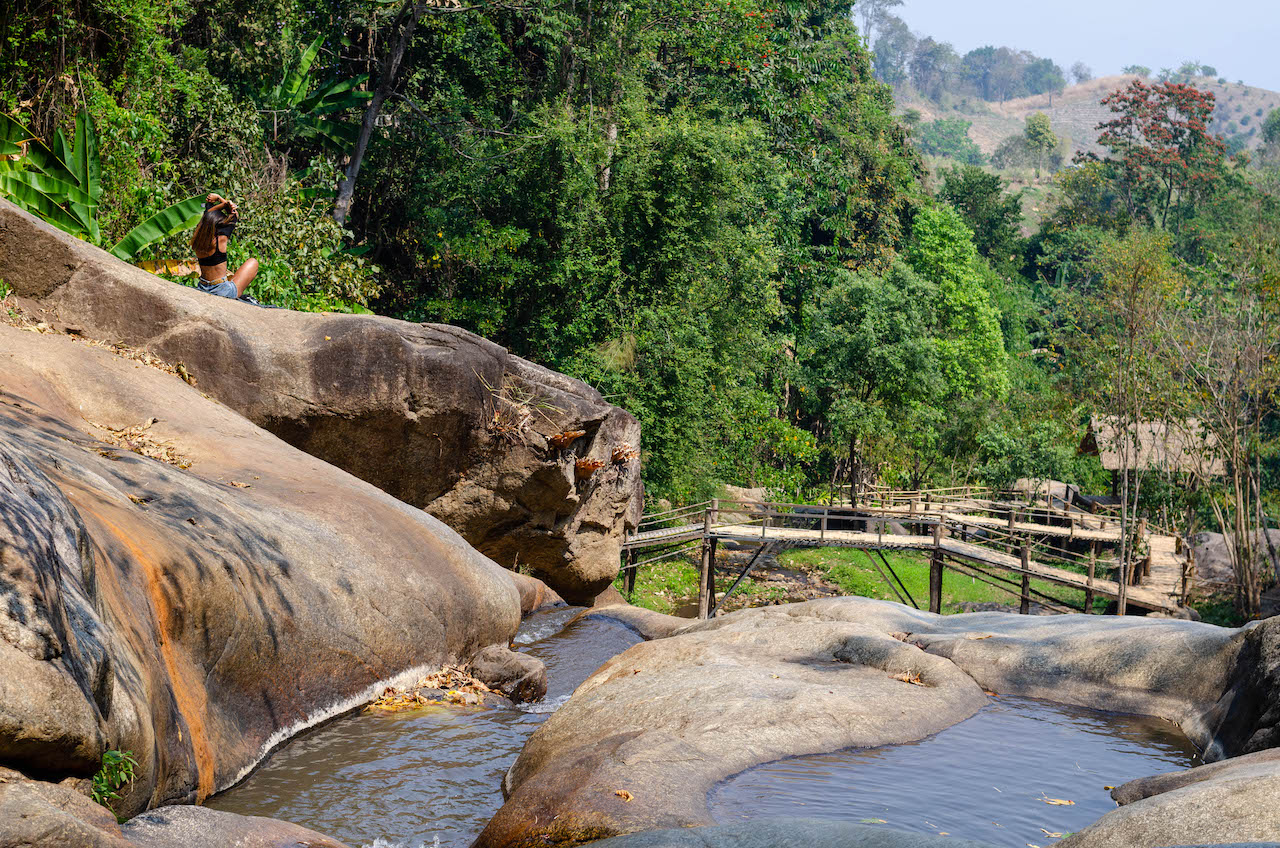 For lunch we go back to Pai and enjoy a meal at Air restaurant again, it's that good!  For the sunset we have a plan to be at White Buddha but we spend too much time drinking coffee in a really charming road cafe with a small pond and a cozy terrace. We arrive too late but still enjoy the dusk and night city view. The mood is a bit down, tomorrow we need to go back to Chiang Mai and then through Bangkok back home, the trip is almost over. 
Day fifteen
Well I was not really happy that I missed the sunset yesterday so I decide to wake up earlier and drive to see the sunrise at the same spot. An Interesting thing about Pai is that it's super cold at night, around + 10 and during the day the temperature rises up to + 35. So I get all my warm clothing and drive to White Buddha.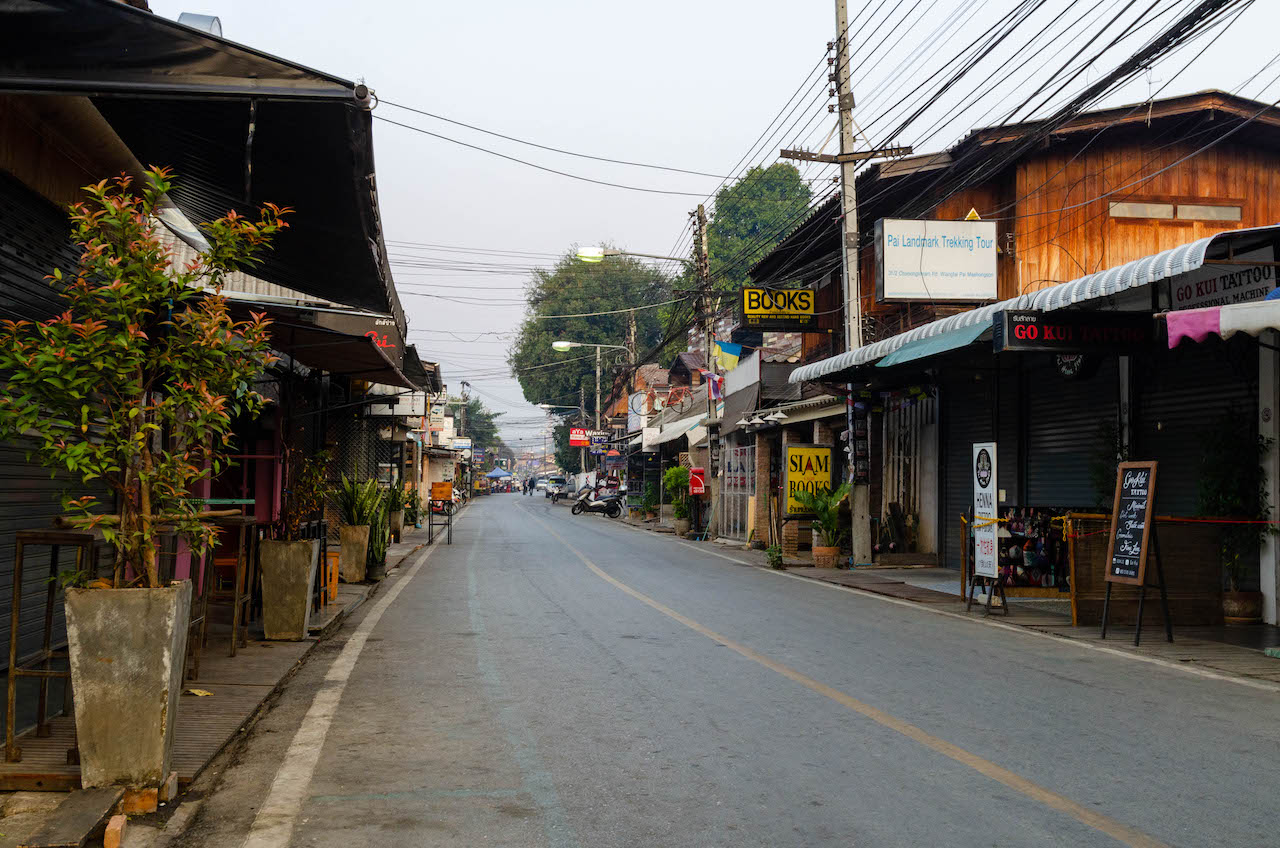 After that,  I decide to visit one last attraction that I have in mind – Long neck village, famous for the unusual appearance of women and local crafts. But on the way there I find something that I like even more – the Mae Yen Waterfall hiking trail, I am unable to explore it thoroughly due to the lack of time but even the part I see was very impressive. 
It's time to go back to the hotel, we still need to drive through all 762 turns back to the airport. Going back actually feels easier somehow and we do not even stop for a coffee. After the car is safely returned we have an hour flight back to Bangkok. The plan is to chill in the hotel close to the airport till the morning but the situation develops differently. People want to see this rooftop bar I mentioned many times. Well, almost the whole group decide to go so we spend the evening partying but not too much, we have a flight in the morning that will bring us back home.