Menorca, Spain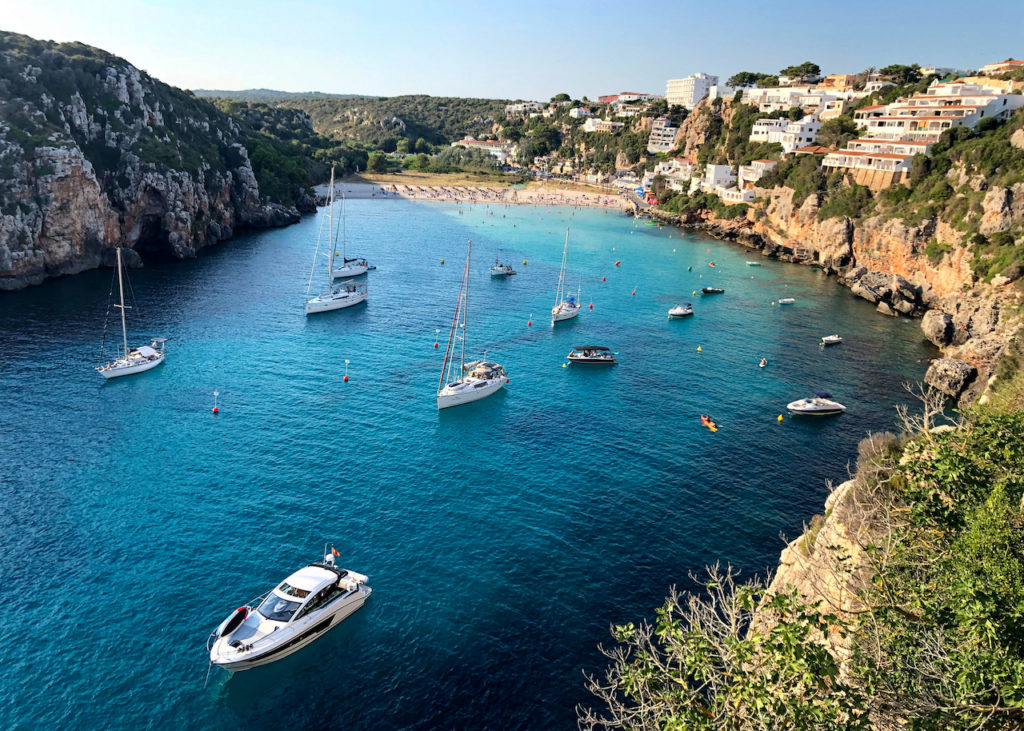 Sorry, this log will be mostly text, all photos from DSLR were lost due to my laptop malfunction, only a couple of photos from the drone and phone survived. This is our first trip during corona and I am definitely not encouraging anyone to disobey the "stay at home" call but we were just plain lucky and rules were relaxed a little bit at the time of our trip.
Day one
To get to the Minorca we are waking up early in the morning and going to Schiphol. This is a very apocalyptic scene to see, the deserted streets of Amsterdam and a totally empty airport that used to serve 200 thousand passengers daily is just surreal.
After a short flight we arrive at Aeroport de Menorca we have the most hilarious taxi ride, basically, our driver just disagrees with the destination all the time. Like, No you do not want to go there. Drop me in the center please – No. After some struggling, we manage to convince him to go where we want. While the crew goes to the vila I am getting the car in one of the rentals. The place is still closed and I need to kill some time and just across the street, I see the cutest coffee place with a wide selection of pastry run by two sweet old ladies. I will come here again many times.
After I get a car and get to the house I have a very pleasant surprise, the house looks even better than on listing photos. It's a very fancy house with a private pool and an enormous amount of space. It's a bit pricy but worse everything we paid for. With a car, we have mobility and a lot of freedom but first thing first we need to go get some groceries. And boy, Spanish supermarkets are amazing, the selection of fresh fruits, all kinds of jamon, and super low prices make the day-to-day chore a delightful mini gastronomical adventure. The next spot on our agenda is a dive shop. The master plan is to get a set of diving gear and a couple of tanks to dive daily, spoiler, we were too lazy to dive each day, but the plan is good. We have a grill next to the pool and it would be unreasonable not to use it right away. For dinner, we have all possible kinds of grilled meat and sausages. To finish the day we watch some inspirational TV show called "Seaman" from The Grand Tour.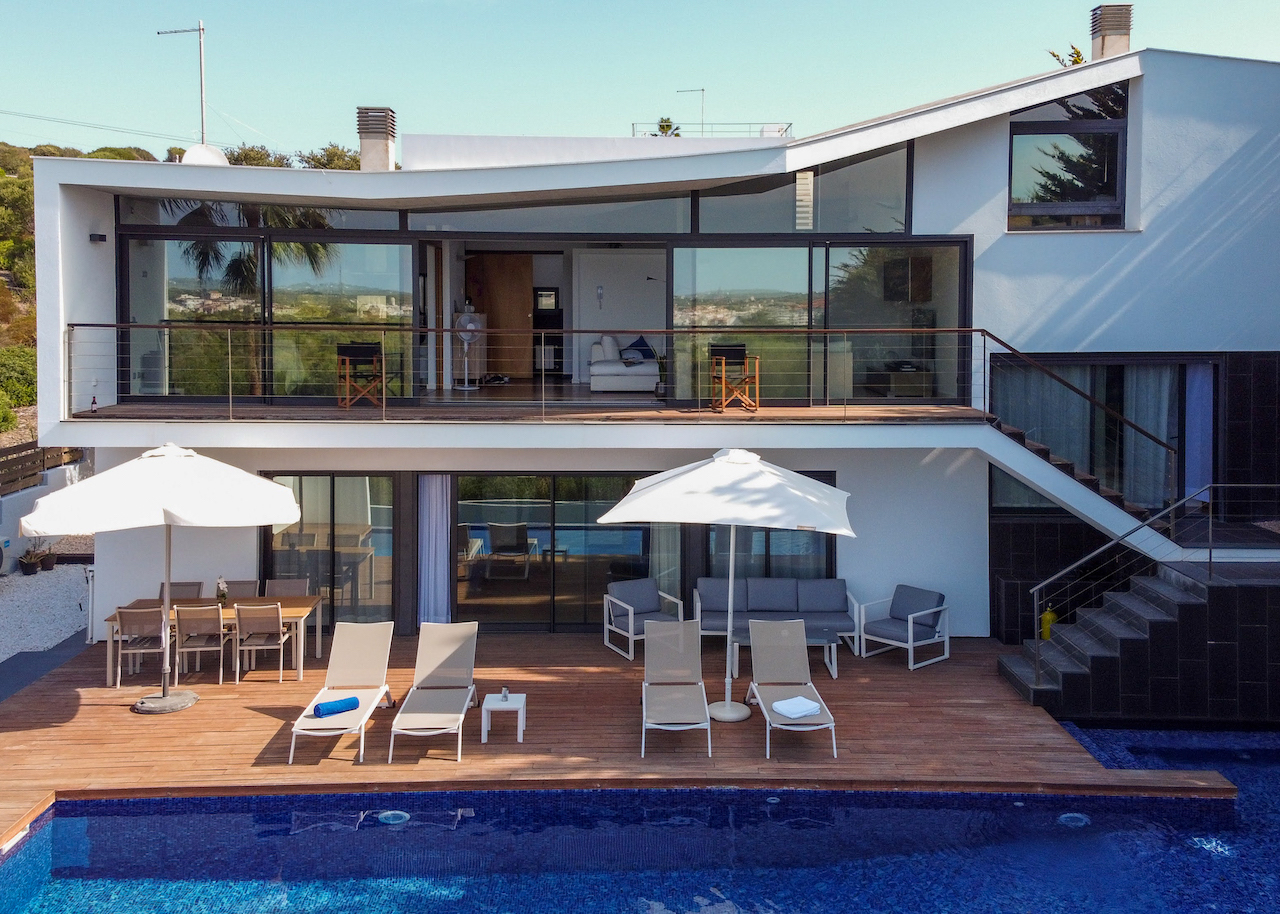 Day two 
First thing in the morning I grab a car and pay a visit to the second part of the crew, we meet on a scenic beach early in the morning and head out the nearest cafe for a cup of coffee. After such a beautiful morning we need to work the whole day, hail remote work. During lunchtime, we have some time to practice diving in a swimming pool and have some fun with the drone. Best lunchtime ever! In the evening it's time to visit the charter company and check our boats out. We got two yachts this time Oceanis 41.1 and brand new Oceanis 38.1 build this year, we are the second customers on board. It has some drawbacks, some systems are not tested and tuned and we need to fix them with help from the charter company. The rest of the evening we spent stocking provision for both yachts and bringing it on board. After a long and existing day, it's really nice to chill at home and finish the Seamen episode.  
Day three
Today our vacation starts, first we need to check out from the villa, return the car and get to the boats. Around lunch, we leave the marina and head towards our first anchorage. The wind is quite strong so we decide to go for a sailing exercise. It's wavy today and seasickness kicks in. Alright, enough of sailing, let's chill. We head back to the main channel and drop an anchor near the hospital Llatzaret de Maó, which for years was used for quarantine, what a coincidence. It's a super popular spot among cruisers and you can spot a couple of Youtube famous yachts. The evening is chill and we enjoy swimming, SUPing, and some drinks and diner afterward.
Day four 
We need to pick up a ding gear at the dive shop today, it's easier to get them on board by dinghy. After this is done we head to the Calla Alcaufar and man it's an amazing little bay with a charming city on the one side and bird-populated rocks on the other. We go ourselves a very cozy mooring, maybe our boats are a bit out of place here but no one objects and buoys look strong enough to accommodate even bigger yachts. We arrive at the spot first, the second yacht is sailing and having fun. I need to meet them and guide them to the bay, need is a strong word but I can not miss a chance to use our dinghy as a pilot boat. I meet Josip near the bay entrance and we head to another set of buoys just next to our boat. After both boats are safely parked we head to the shore and enjoy a cold coffee. After that, we decide to hike a bit to the opposite side of the bay and mark a good spot for drone flying the next morning. Dinner is served on board alongside some gin and tonics.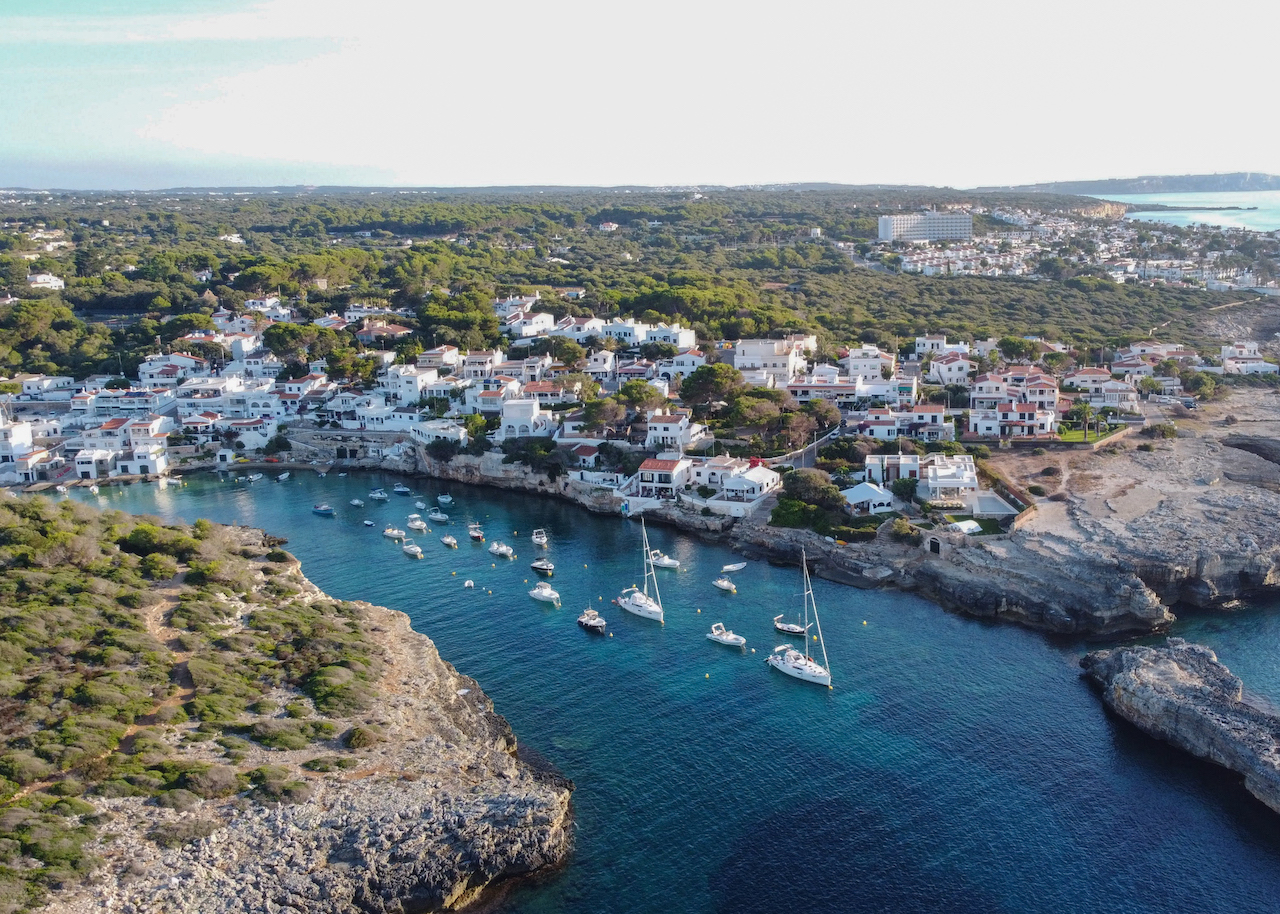 Day five 
Today we sail to calla Trebaluger in the hope to explore some forest on the sore. Bay is just perfect but swell is not. It's bearable through the day but in the evening some problems start to build up, looks like we are dragging anchor…shit, we need to re-anchor. The night is going even worse, rolling and picking. Sleepless and taught night, what a shame, looks like we are skipping hike and leaving first thing the next morning.
Day six 
Waking up at five in the morning and raise an anchor at sunrise, leave immediately. Cool place on the map but in reality not so great. After some motoring, we are able to set sails and go around the scenic lighthouse to the next spot – the city of the Ciutadella. We manage to get a very protected space just next to the channel leading to the city. The only couple of boats can feet in here. We are lucky, there is enough space for us.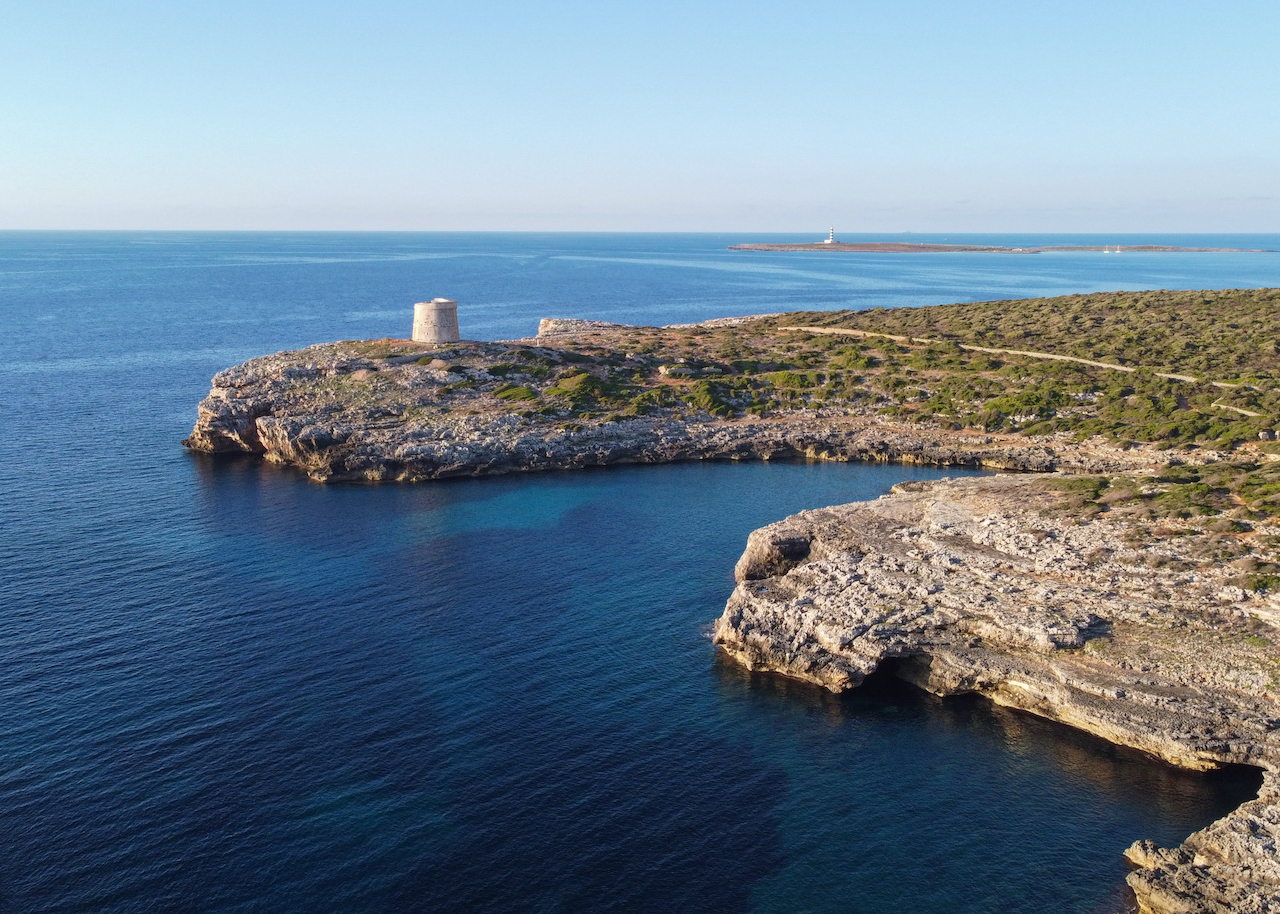 After setting anchor and springing to the shore we are ready to go explore the city. The dinghy is a way to get there. The city looks so nice from the water and full of sailing boats. In general, we try to stay away from the cities and spend most of the time close to nature. Ciutadella is the only city we plan to visit. According to regulations, everyone is required to wear a mask outside and this is pretty annoying but feels safer at the same time. We stop in one of the restaurants for a cup of coffee and proceed with a short walk around the city. After returning to the boat we set up our diving gear and enjoy a short drive. In the evening we decide to return to the city for another round of city exploration and even have a beer in a bar! After getting some supplies from the supermarket and head back to the boat to spend an evening away from crowds.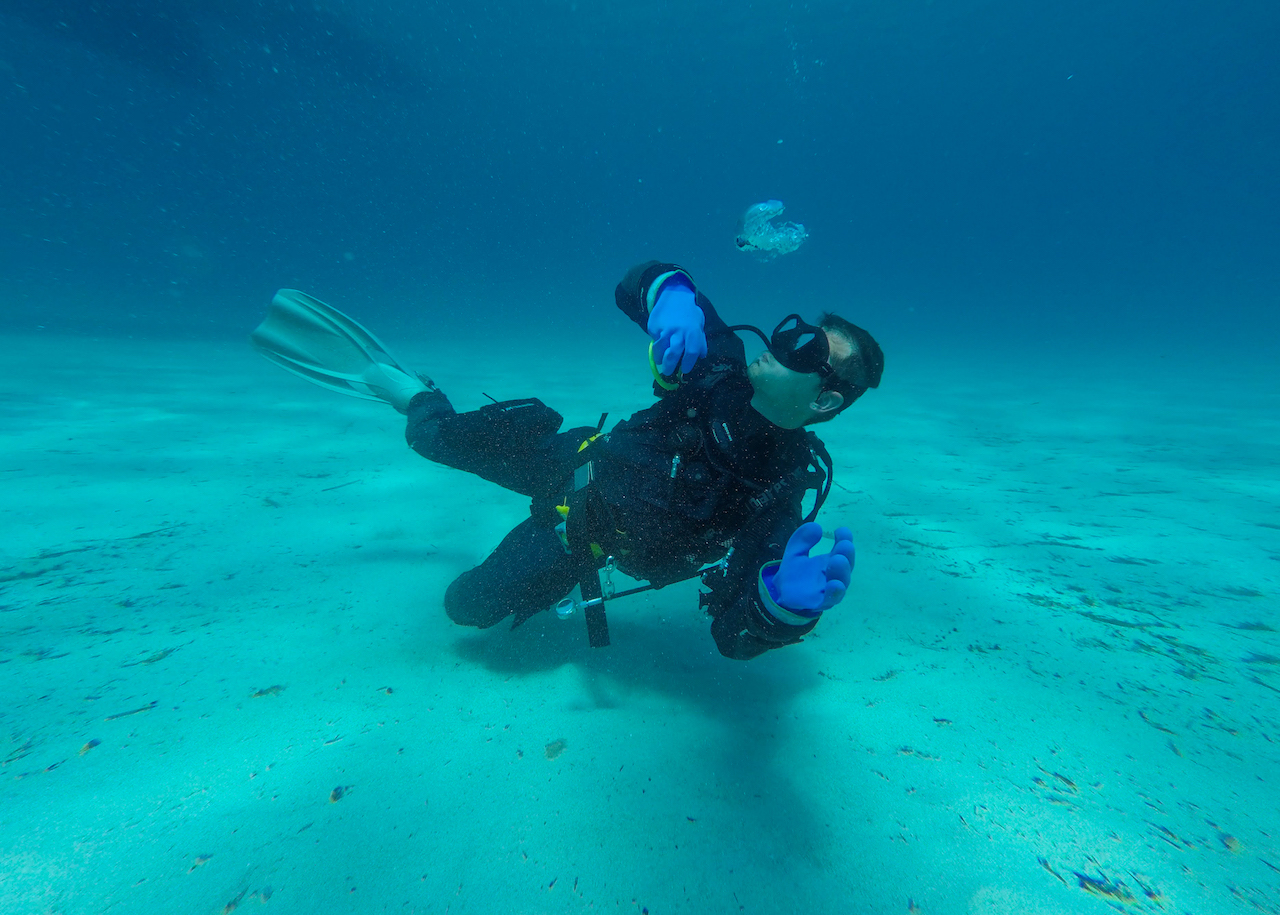 Day seven 
Classical charter sailor problem is constant need to resupply ice, it's a very needed commodity to keep your fridge cool and reduce electricity usage and of course, you need it to make a decent cocktail. So first thing in the morning we dinghy to the city to get a couple of bags. Another recurring need is to refill freshwater tanks. After both needs are covered we are ready to continue our voyage. Today Taras and Emily taking over so I have some time to read my advanced diving theory. The wind is nice and steady and we are sailing towards Cala Algaiarens. An extremely beautiful place filled with boats of all sizes. And a very suitable place to use our SUP. After we got enough swimming, SUPing, and snorkeling it's time to raize sails again and sail to our overnight spot at Fornells. It's a huge bay with a lot of boats in it but water is not that attractive, all because of protected seaweed covering the whole bay. We got ourselves a nice buy and have a calmest night ever. The boat is not moving at all. This is a great place to sleep and refill our energy meters.
Day eight 
Bay is not that interesting to be honest so we decide to leave early after breakfast. We sail for only five miles to arrive at our next spot Cala Pudenta. This bay is much more scenic and the water is so nice, we are staying here overnight. Today I have a chance to sail a bit on our second boat together with Josip while his crew chill on the shore. She is built in 2017 and sails so much smoother than my boat, the same company made both of them and it's actually the same series, weird. The second part of the day we dedicate to diving and chilling onboard afterward and in the evening both crews meet ashore for some icecream and hiking
Day nine
Today we need to arrive at the marina so we use our last chance to dive and swim in the crystal clear water of Cala Pudenta. We need to sail quite some today and it's a nice way to end up a trip. After arrival at the marina, we pay a visit to the fuel dock and safely moe our yacht in the harbor. Checkout is done and we have an evening to ourselves. I decide to get a scooter and have some fun driving around. At night we went for a walk through the capital city and I spotted some cool places to return to with a camera the next day. What a shame that all photos are gone now.
Day ten
We need to leave the boat at 09:00 and we have one more day on the island that I am going to use to explore inland by scooter. Menorca is a cool place and very underrated among other med islands. I would love to return here again. Afterward, we have only seen an only small fraction of what this island has to offer.