Lofoten, Norway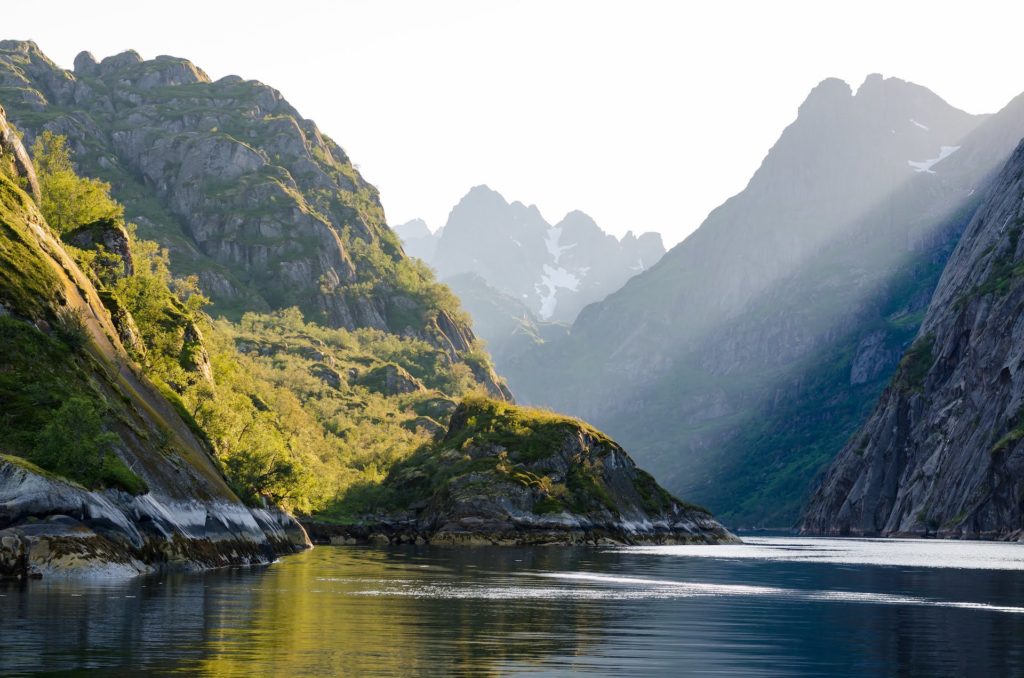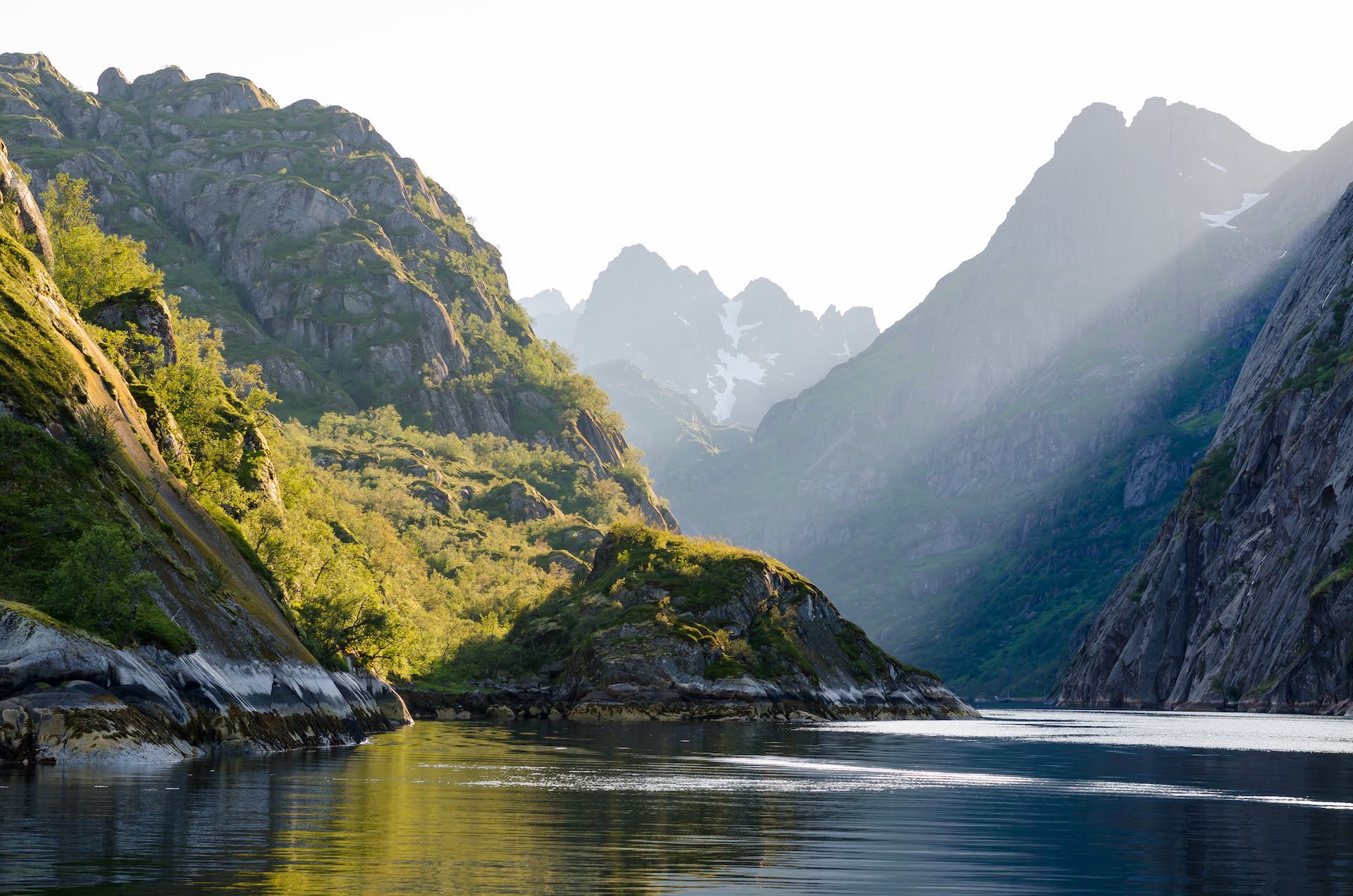 This is our second visit to Norway. We love this country, nature is extremely beautiful and wild, moorings are easy and almost always free, and polar day makes it possible to cover long distances.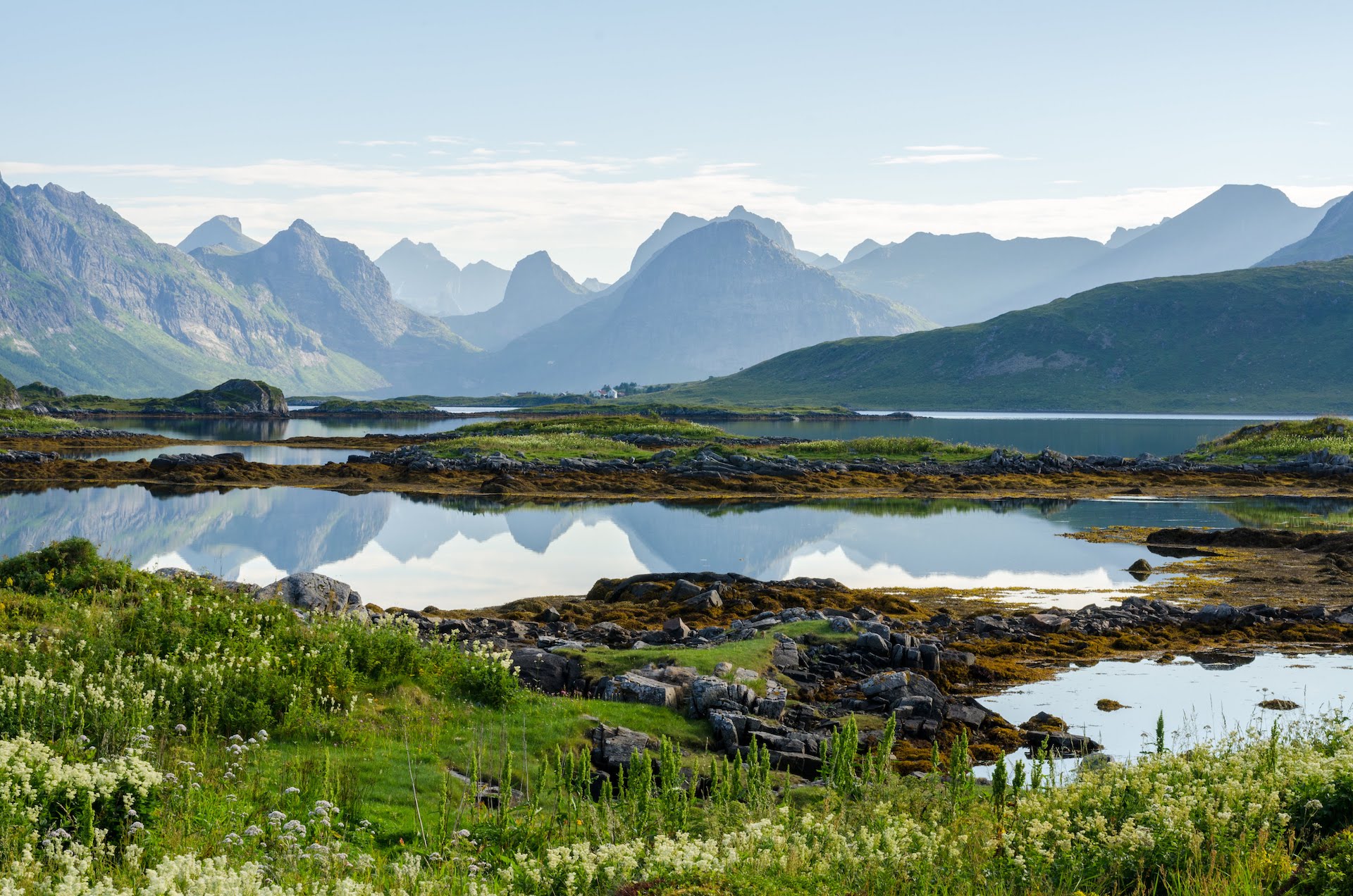 Thursday
This trip is way different from the many others we had before. We are going above the arctic circle to face a challenging environment of high latitude sailing and rough North seas. At least it was the plan. The crew is also unusual for us, we have 5 licensed skippers on board and 3 people who sailed with us many times before.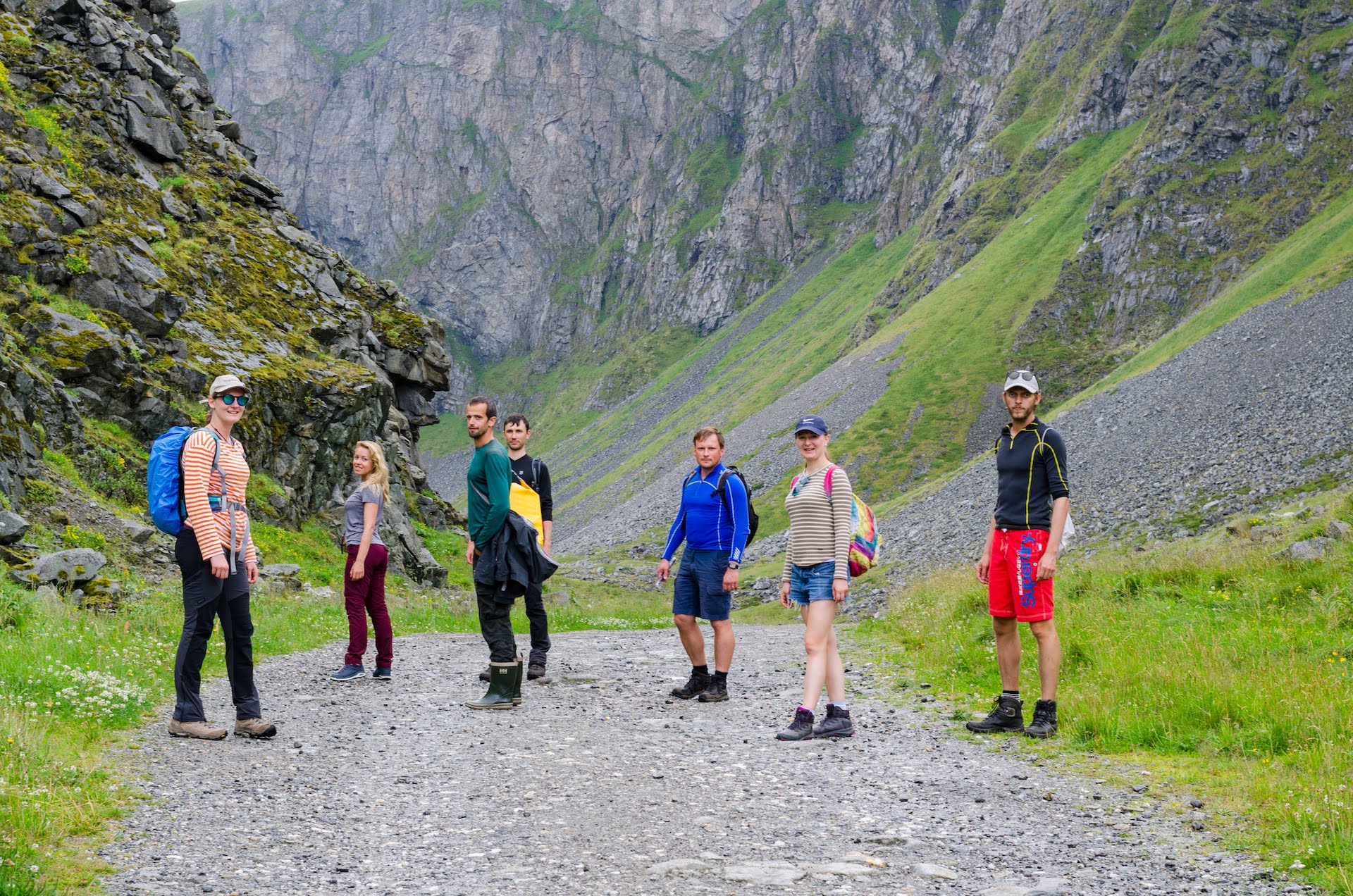 A few hours before departure we got a very worrying message from our skipper. Charter company just called him and informed that the yacht we booked is no longer available due to technical reasons and they are looking for a replacement. We are waiting impatiently.  In a few hours we got a confirmation, we are getting another yacht – Wauquiez 43 PS.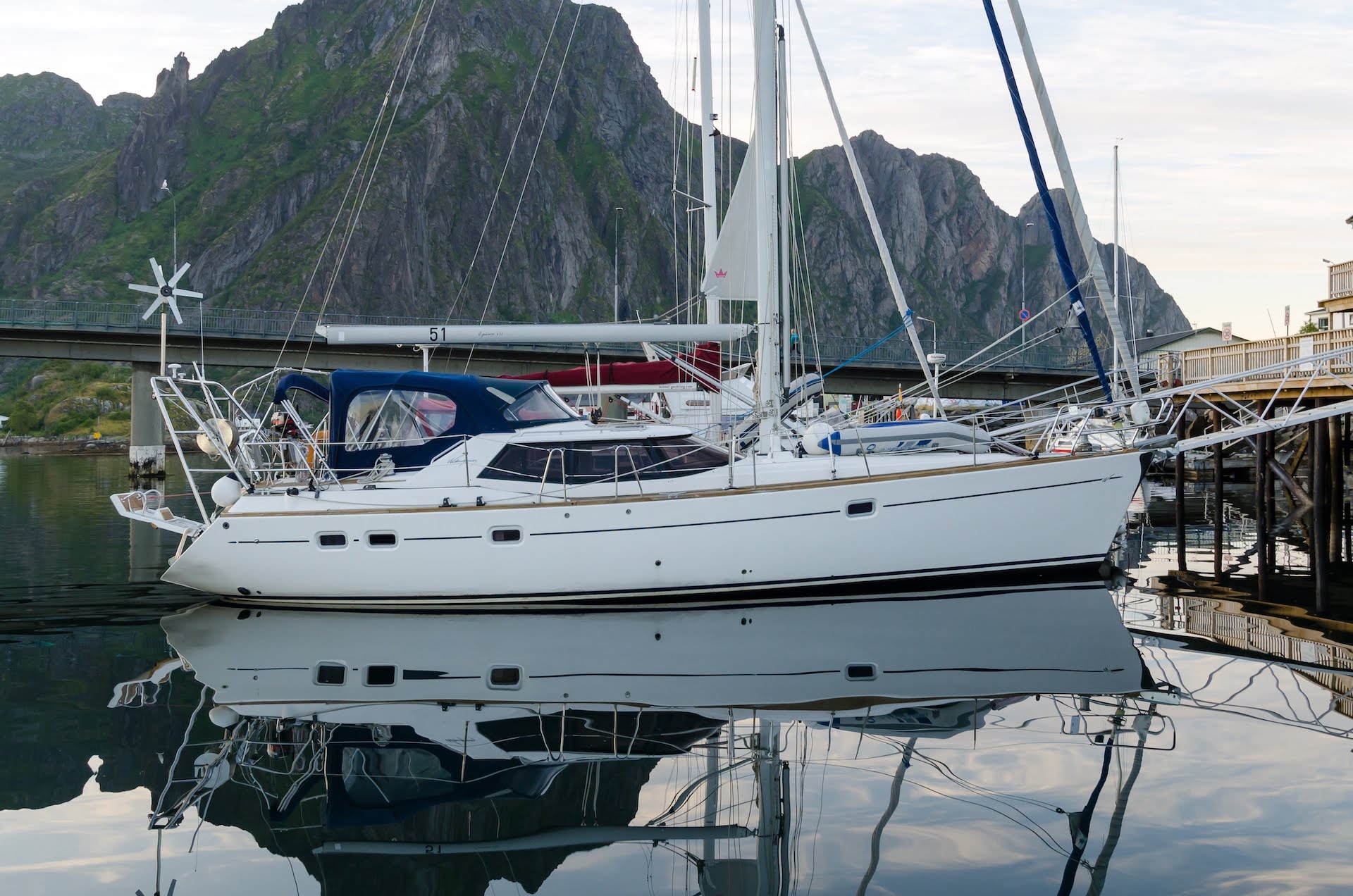 Getting to our home base is yet another challenge and we need to check-in our yacht on Friday morning which makes things a bit more complicated. We start our journey from Svolvær, small and cosy town with a population of only five thousands people. To get there we need to take 3 connected flights with an overall travel time of 12 hours. The most impressive was the last short flight from Bodø to Svolvær.  It took only 25 minutes on a tiny twin-engine plane and the view was just amazing.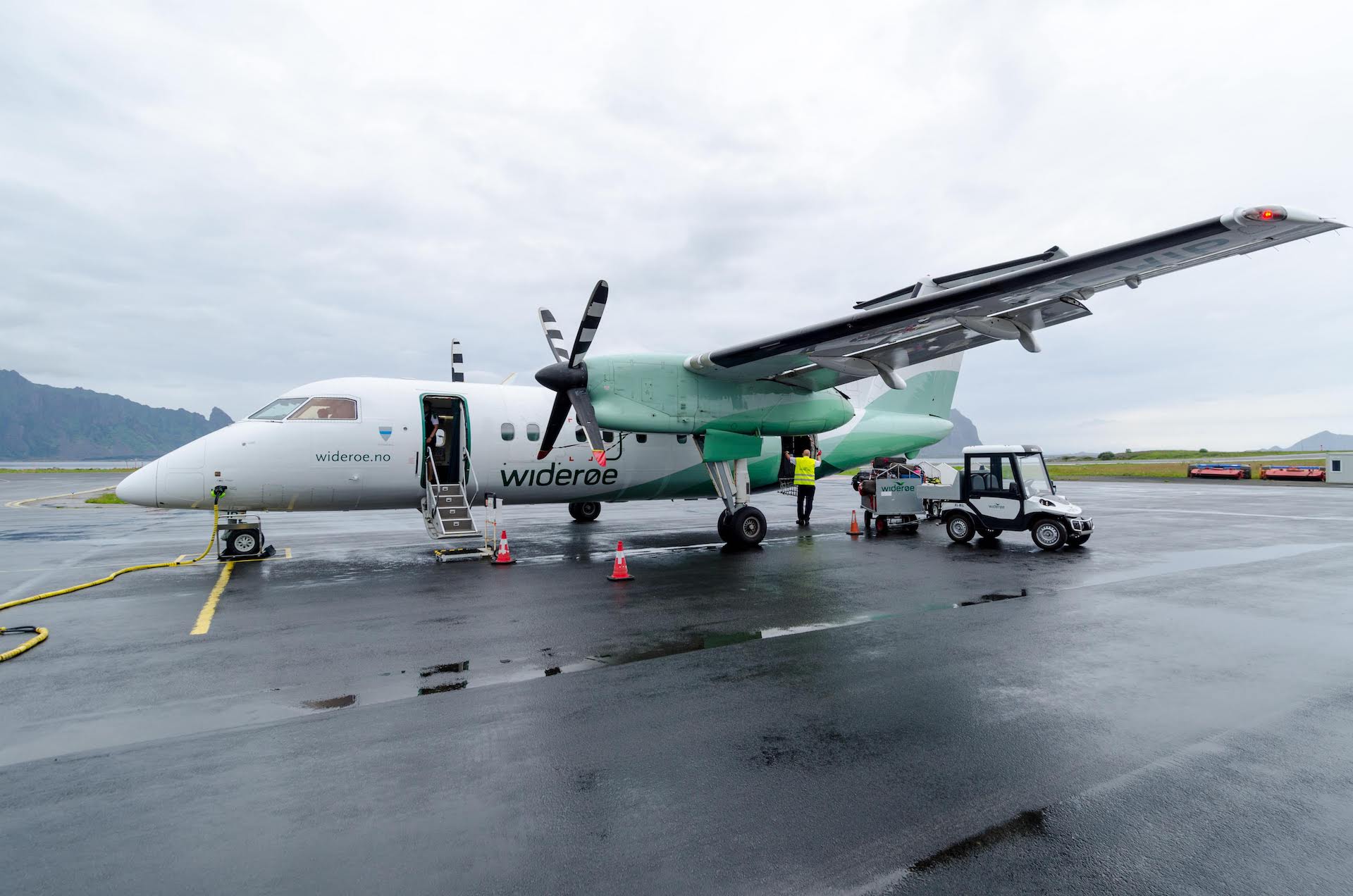 There is no public transport available from the airport but some locals offer us a place in their bus and we get to our hotel in 15 minutes. The hotel itself is very Nordic, there is no staff at all, they just send us a pin code to the doors in advance.  We drop our bags there and rush to see the surroundings and, of course, check out our new yacht.  Firstly we found our new yacht. It's gorgeous, it's one of the coolest yachts I have sailed on. Then we found a yacht that we booked originally. It is dismasted, the headstay connection is reaped apart and the boom is bent in the middle. Something very serious happened and we hope that the crew is all rightю Rest of the evening we spent in a very authentic bar. It's a former fisherman shop and now home to restaurant, bar and head office of a company renting fishing cabins around Lofoten.
Friday
First thing in the morning I went to the biggest supermarket to check it out and get something for breakfast. The supermarket is huge and has everything we need, and they have a delivery to the yacht service. Awesome! At the same time, our skipper arrives so we can start provisioning while the rest of the crew is still on the way. We were done around 12:00. Everything is bought and delivered to the boat. Next step – yacht check-in.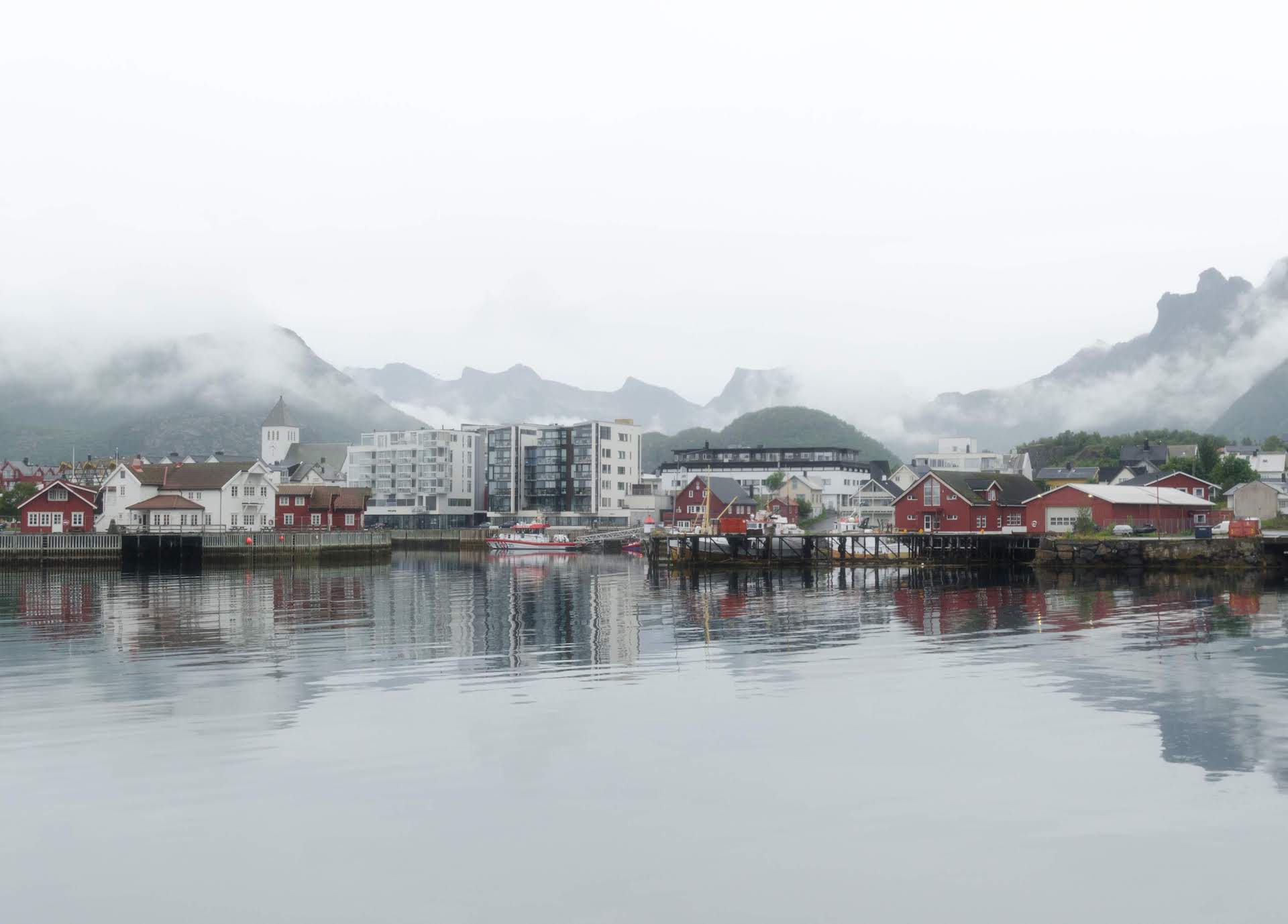 It is indeed an unusual one for the charter yacht. It's a French build, ocean ready yacht with a lot of cool features like a 220-volt diesel generator, watermaker, electric winches, and twin headsails. Also, it's an "owner" version. Meaning instead of 2 cabins astern there is one huge owner cabin with a lot of storage and walking shower. This is all cool and nice but we are a crew of 8. We need to figure something out, it wouldn't be fair if someone will occupy this luxury suite for the whole trip.
The yacht is checked in, food and our belongings are stored on board and the rest on the crew just arrived, we are good to go. And what is happening with the weather? It's is not what we expect at all! it's +25 outside and a nice breeze.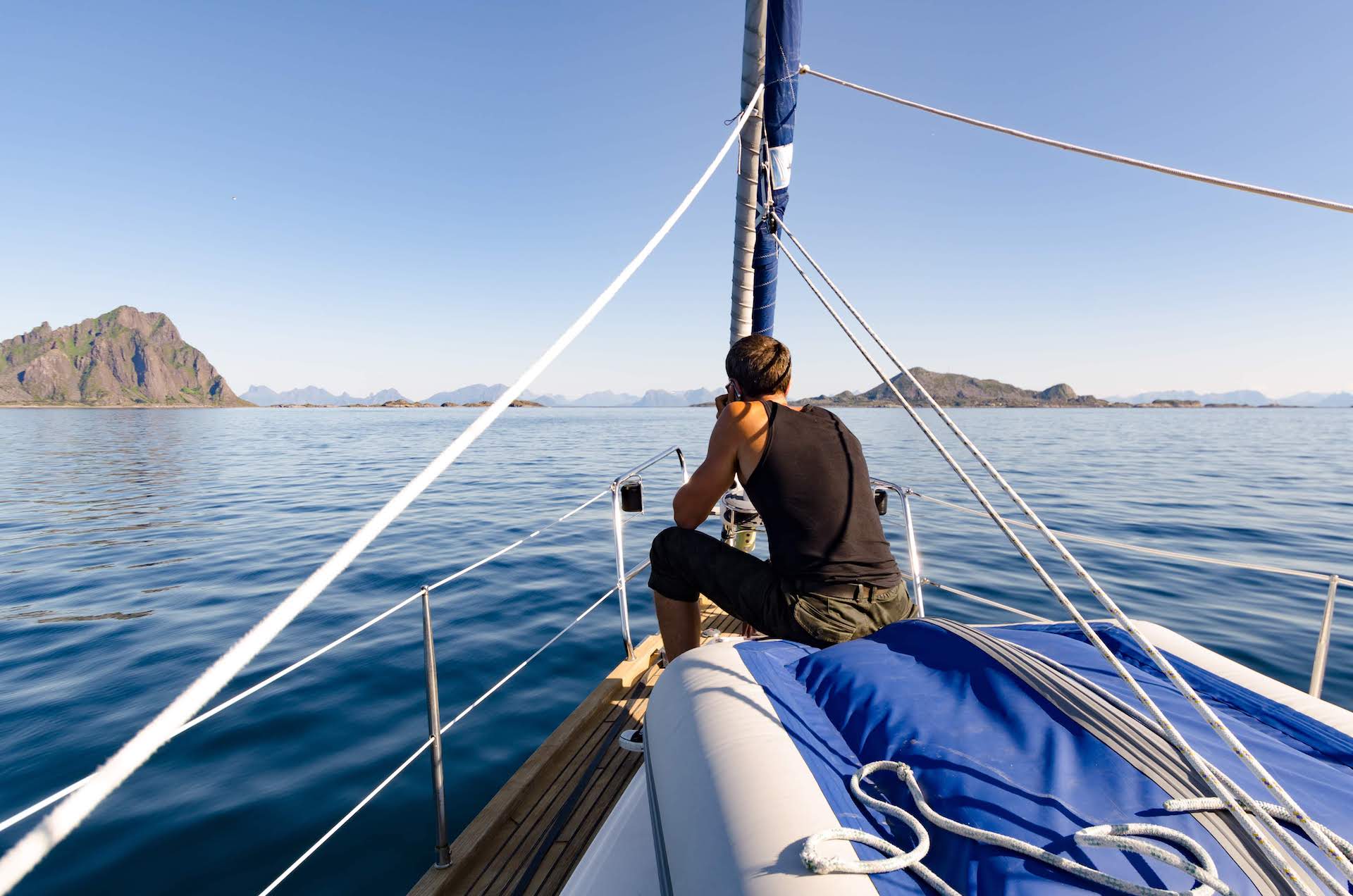 We navigate out of the harbor and set our course to Trolfjord. We have sailed in fjords before but were not expecting such a beautiful scene and, with the right light, I manage to take a few photos I am proud of.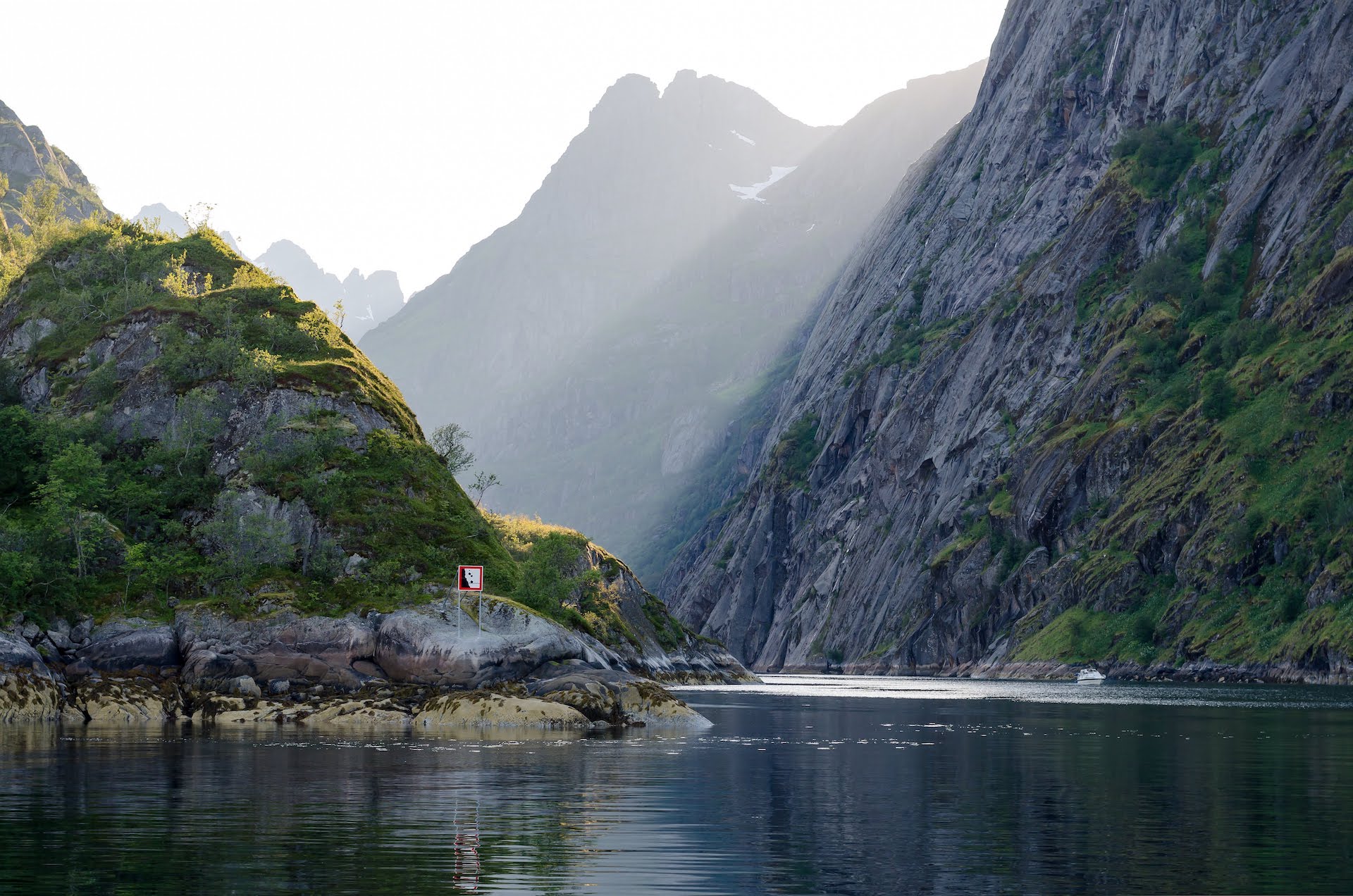 It's a 20:00 but it does not feel like an evening at all because of the polar day. But we still need to get some rest and found a suitable marina in 10 nm from our current location. With a 75 hp engine and a cruising speed of 7 knots, we are getting there in no time. An interesting feature is that there is no marina office or harbor master, you just leave mooring fee and your boat details in the metal box on the pear.
Saturday
We are leaving at 06:00 and after we get off the pontoon I get back to sleep again. It's one of the benefits of having such an experienced crew. Our destination for today is Stø, small harbor in a North of Lofoten. Famous for a scenic hiking route – The Queen's Route. To get there we need to motor through the channel several hours.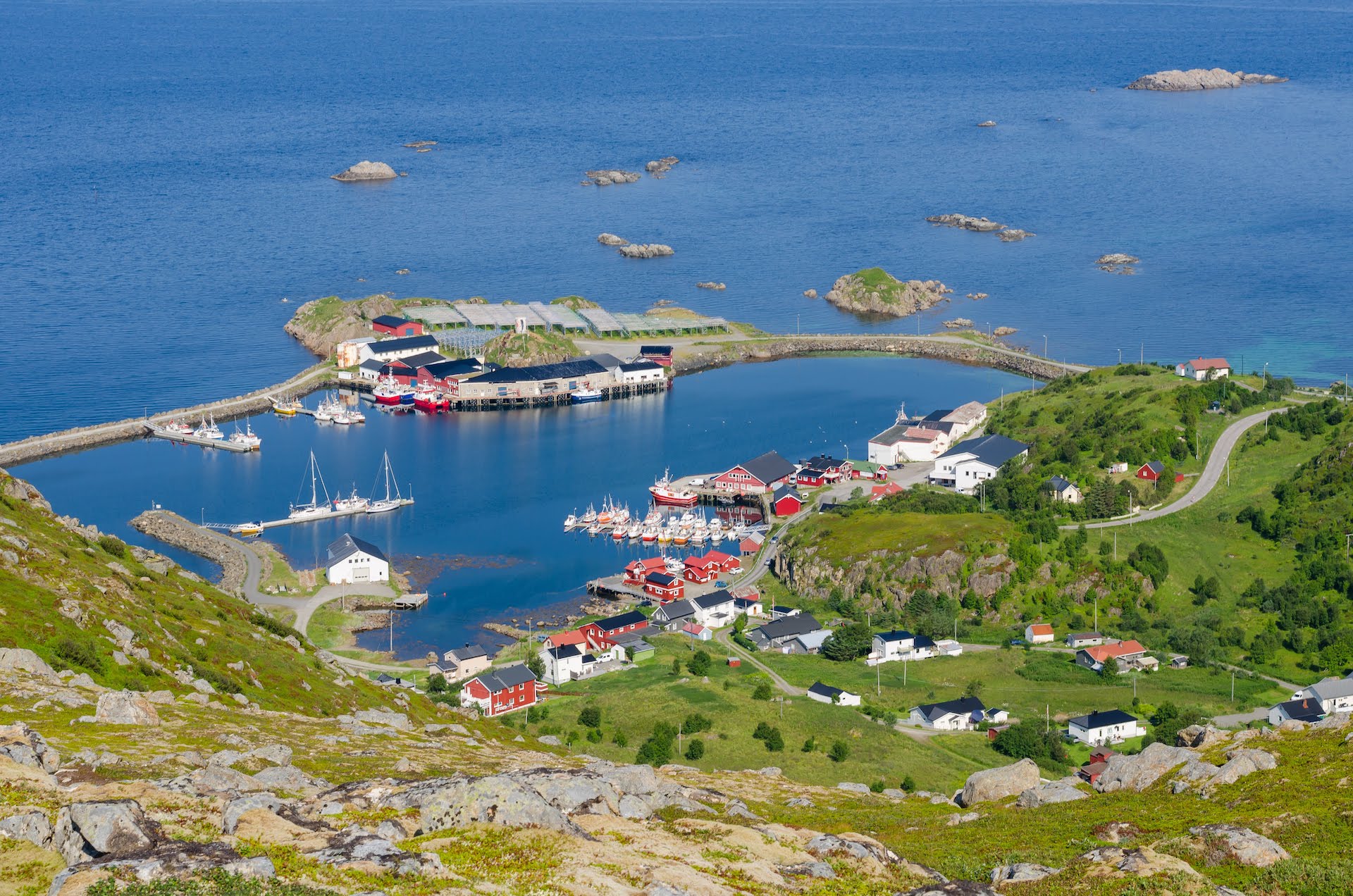 In the harbor, we met several sailors who spend their summer sailing around Norway. Got some good advice and had a pleasant chat overall. We hike to the top of the closest peak and split into two groups: the majority decided to take the whole route and two of us decided to check out surrounding and chill on board. From the top of the mountain, we spotted cool beach nearby and decide to check it out.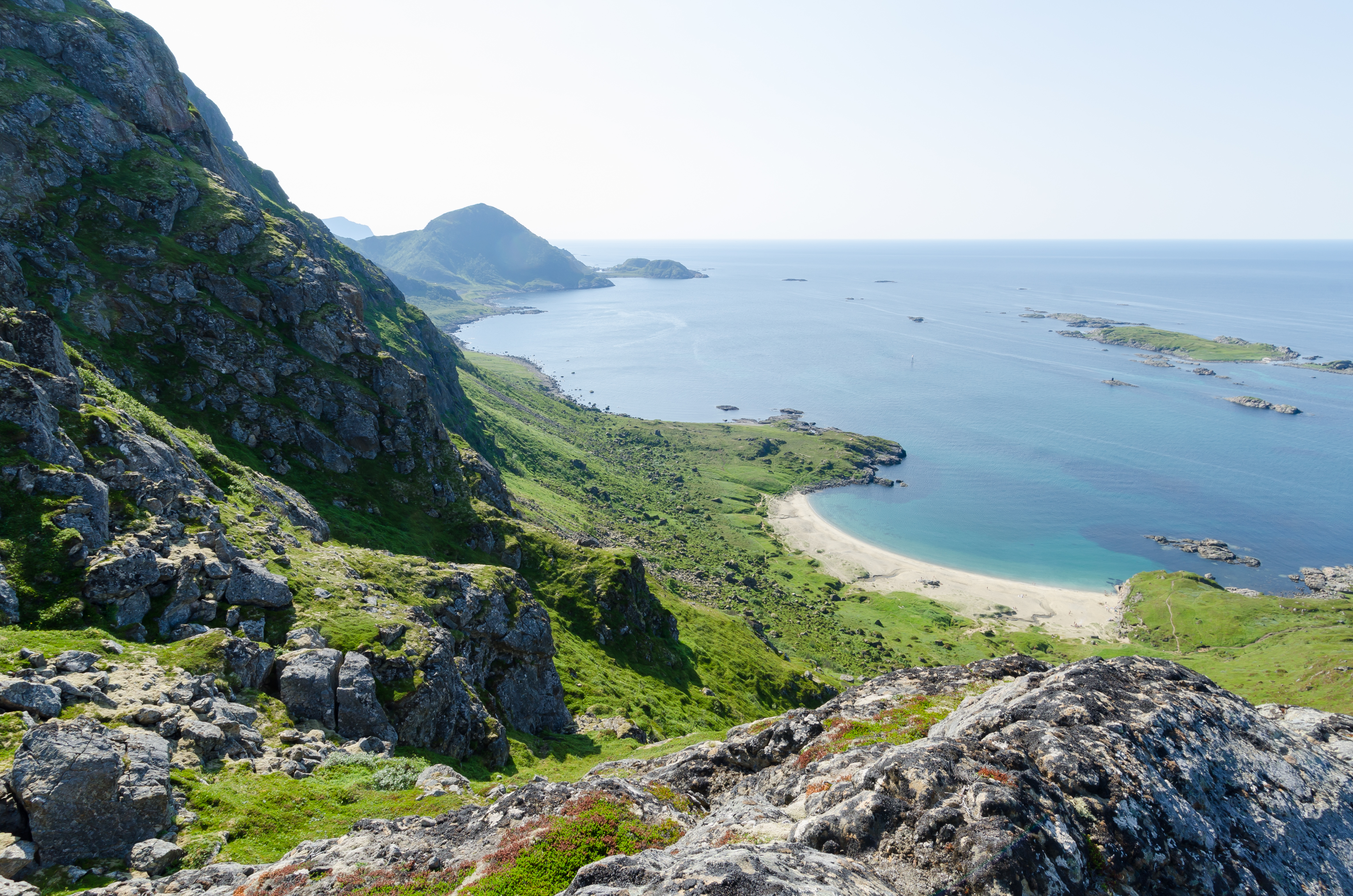 It's nice to have a whole boat for only two of us for a couple of hours. And we had plenty of time to cook a nice dinner for everyone. After dinner, a big question was what to do next? It's not much left to do in Stø, why not sail back to the Lofoten overnight. Technically it's not a night sailing because of the polar day but we still need to arrange shifts. Wind is doing around 10 knots and it's time to open our biggest sail – Code 0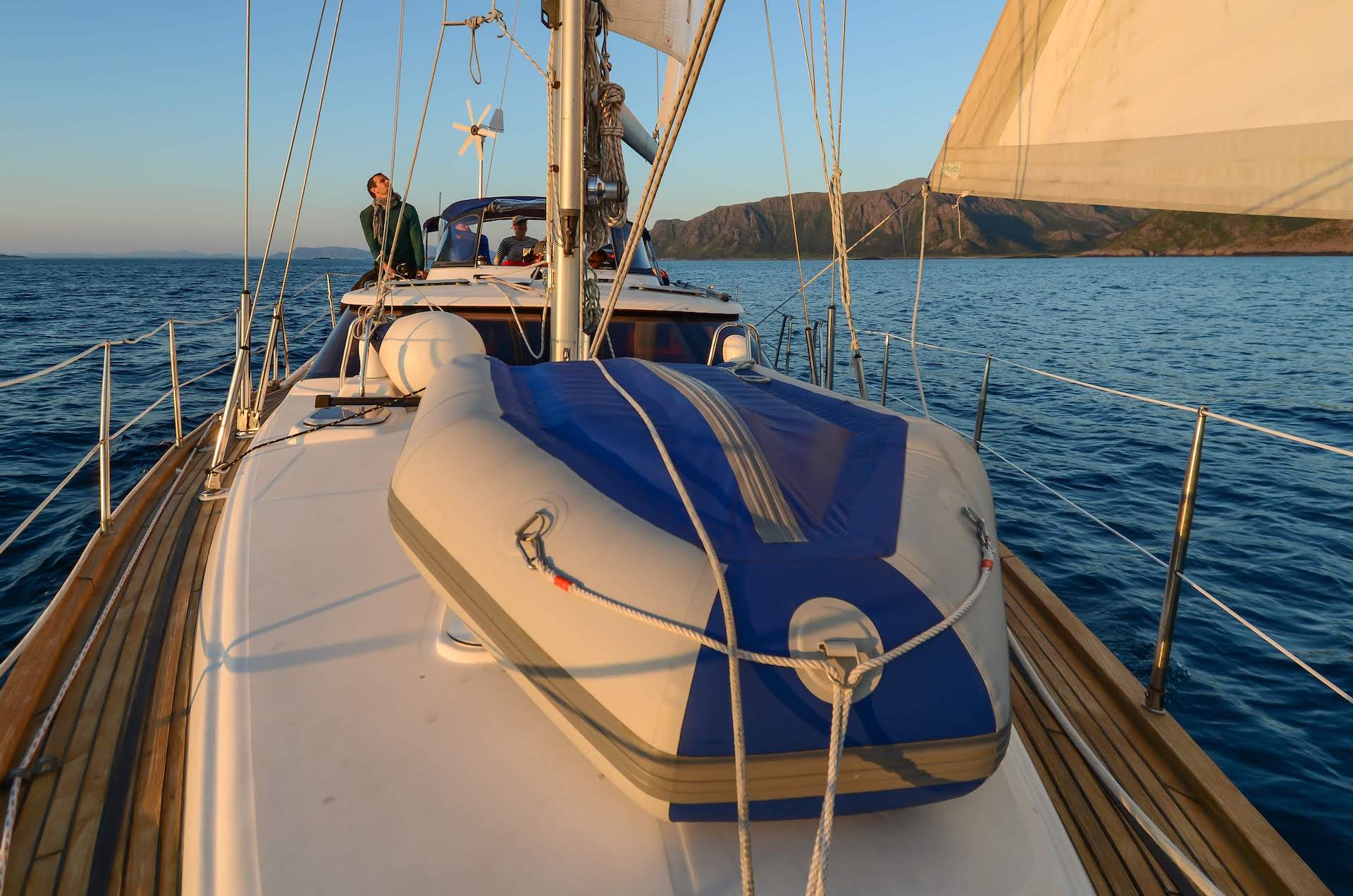 Sunday
My shift is first because I am well rested and full of energy and guys who hiked for the whole day can get some rest. Autopilot is doing all the job and we are chatting and telling stories in the cockpit, nice time.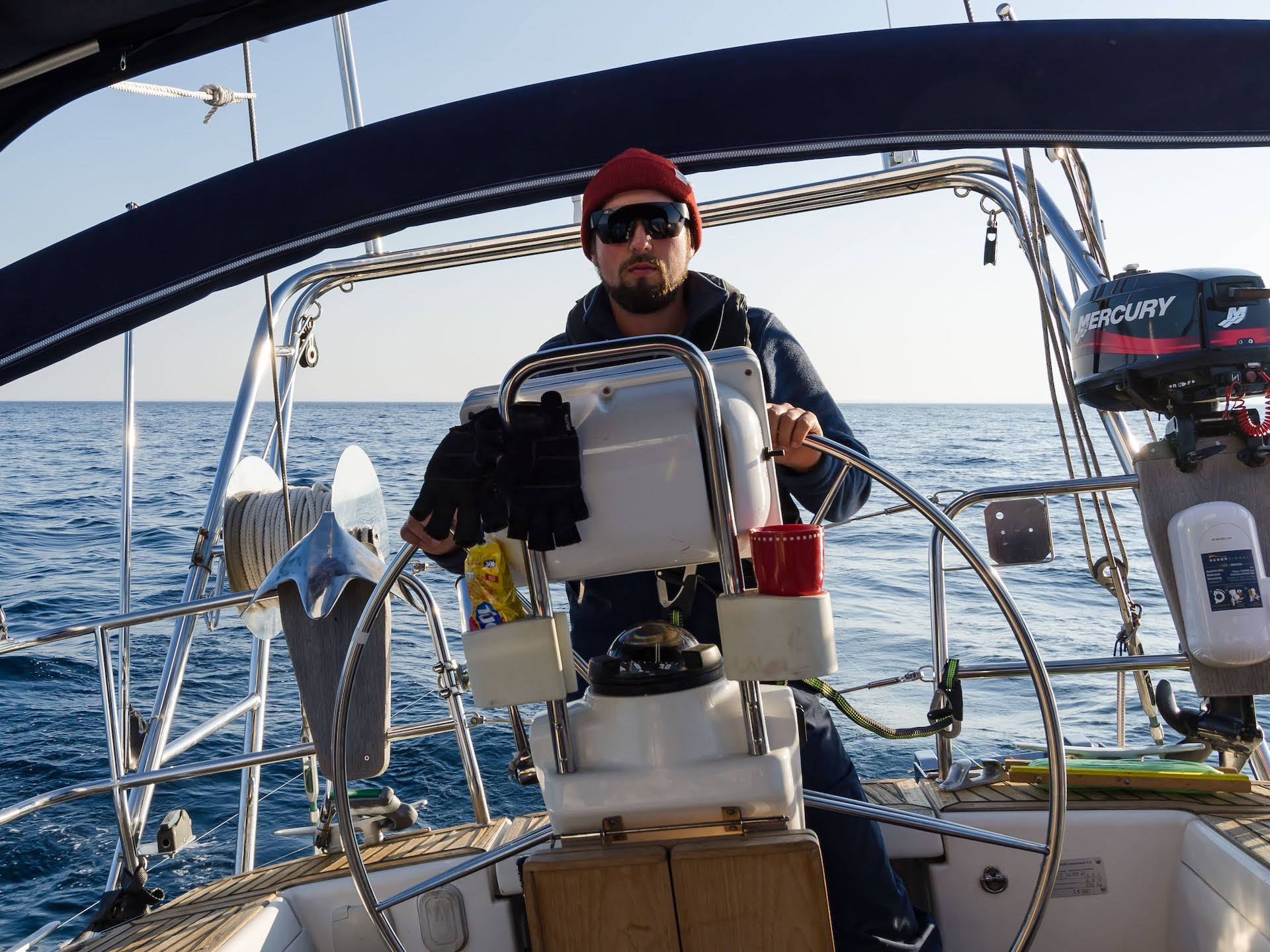 Next shift starts at 06:00. Wind builds up and the boat is doing 8,1 knots, very enjoyable. Wind getting much stronger in the entrance to the channel leading to the point of our destination. It's time to change headsail to the self-tacking jib. Our skipper takes the wheel.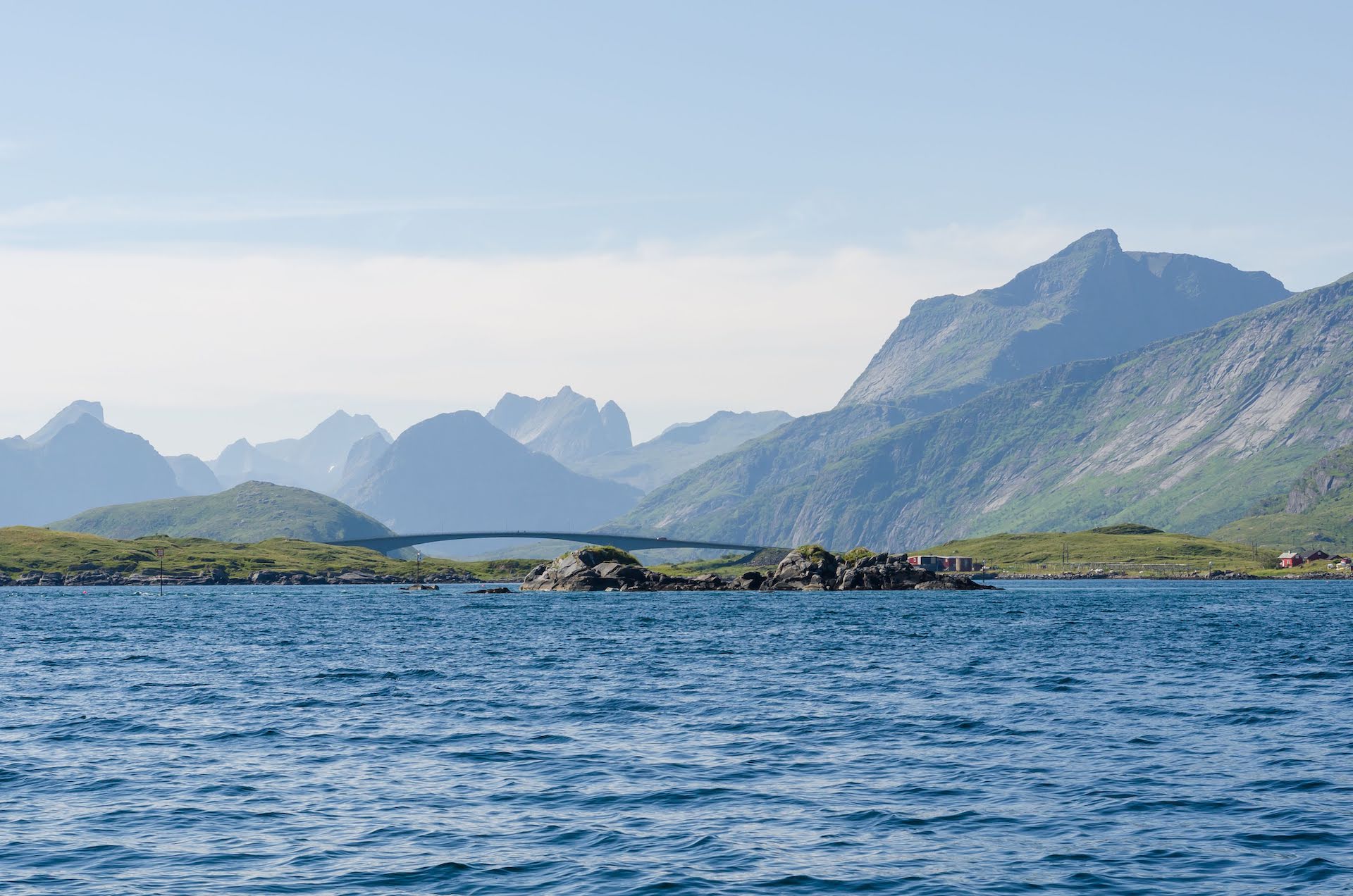 When we arrive at Ramberg wind is still very strong and it is a fishing harbour with no pontoons for pleasure crafts. We need to moor to one of the pontoons for a "big boys" with a height of 3-4 meters above the water. Fun stuff. Local fisherman's working on pontoon notice our doubts and kindly recommend the best place and took our mooring lines from the shore as well.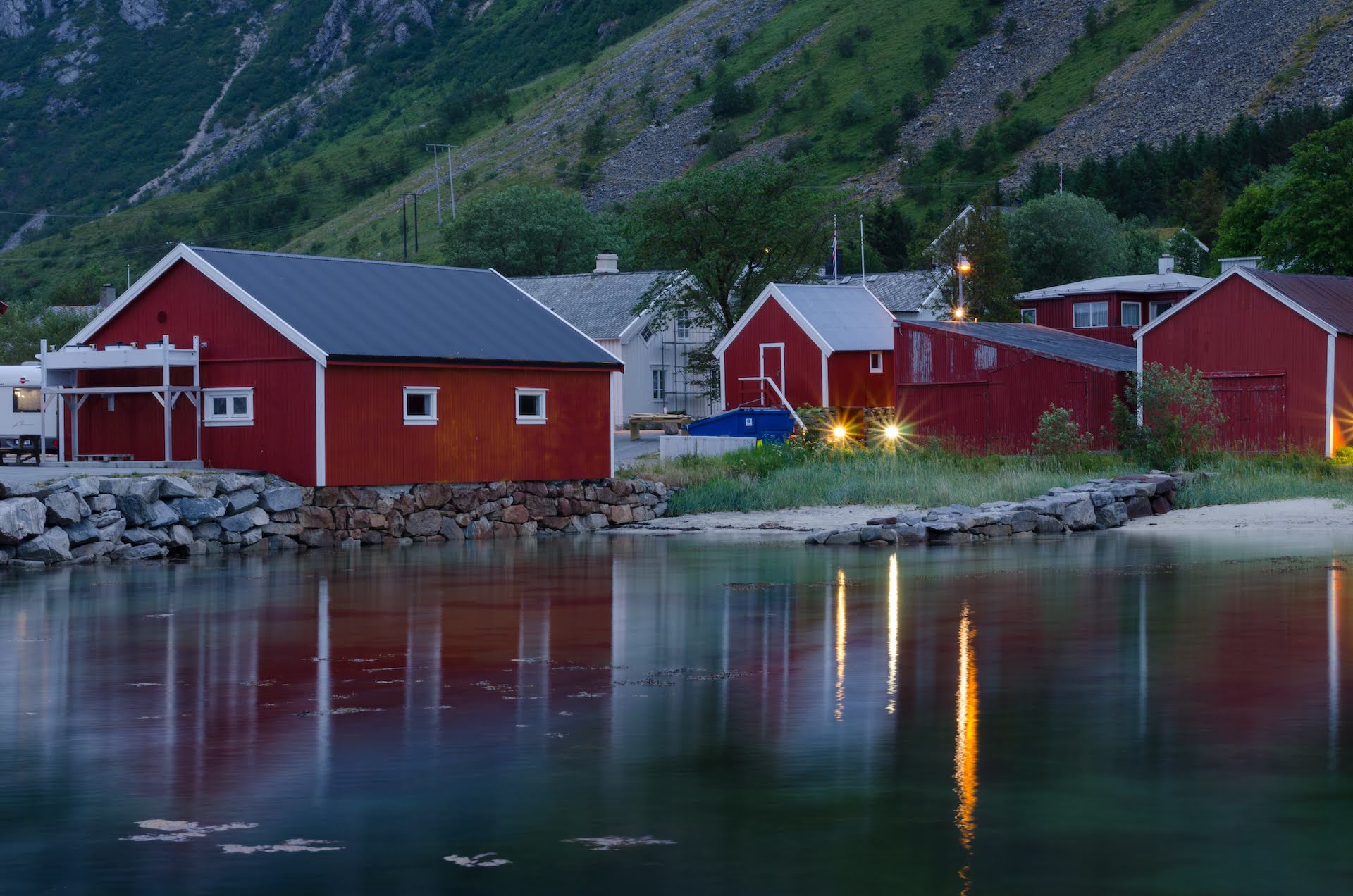 There is a big supermarket and a nice little cafe nearby. Interesting fact that you can not buy any alcohol in supermarkets on Sunday in Norway, only in bars. Late In the evening a couple of Dutch sailors arrived on their aluminum sailing yacht.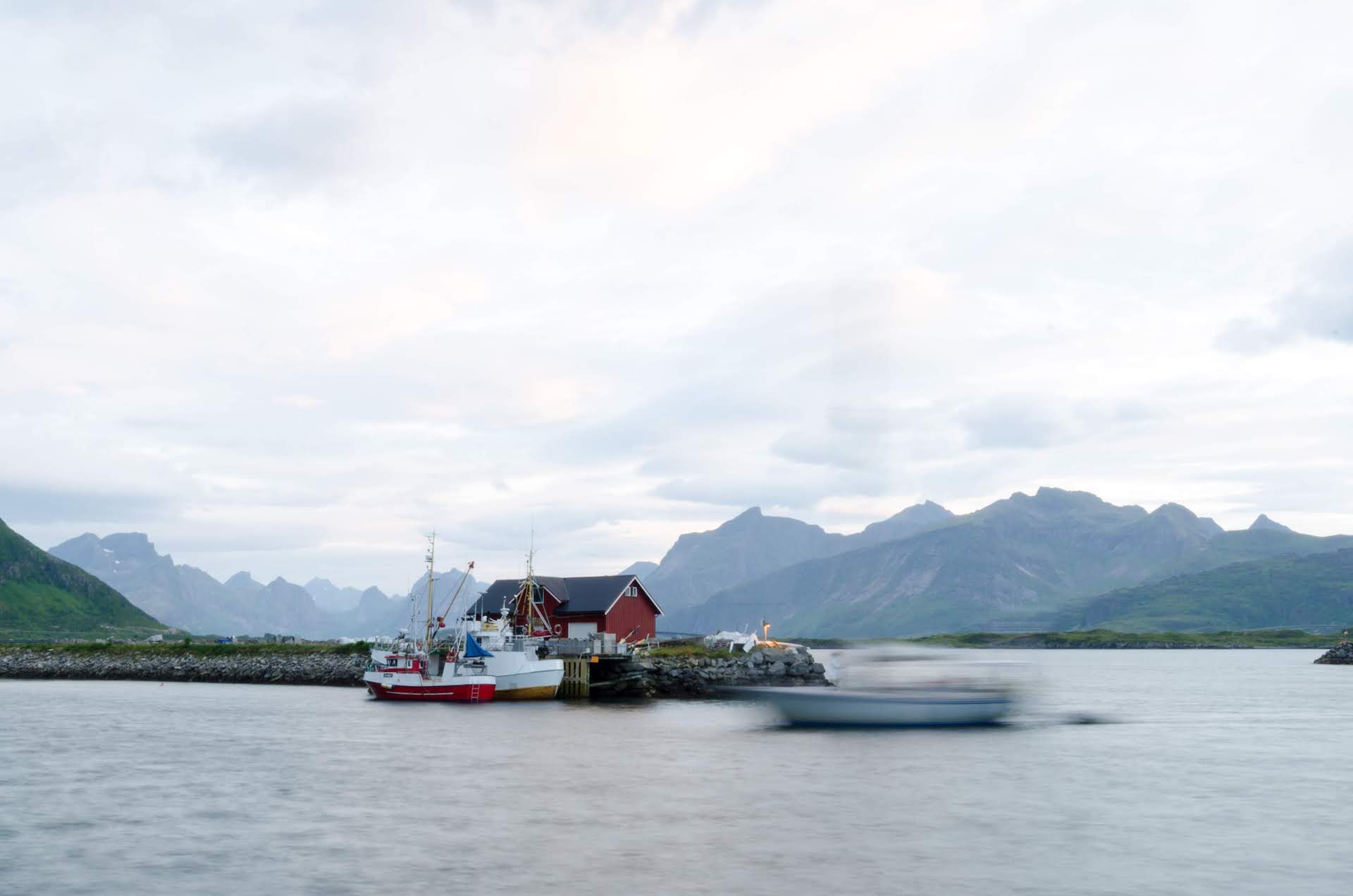 You know for sure that they are Dutch when you see a full-size Gazelle bike tied up to the mast. We helped them to moor and went to sleep.
Monday
We left early today, there is not much to do left here and we need to get to Hamnøy. We are going there through the channel with the tide, boat speed over ground 10,7 knots.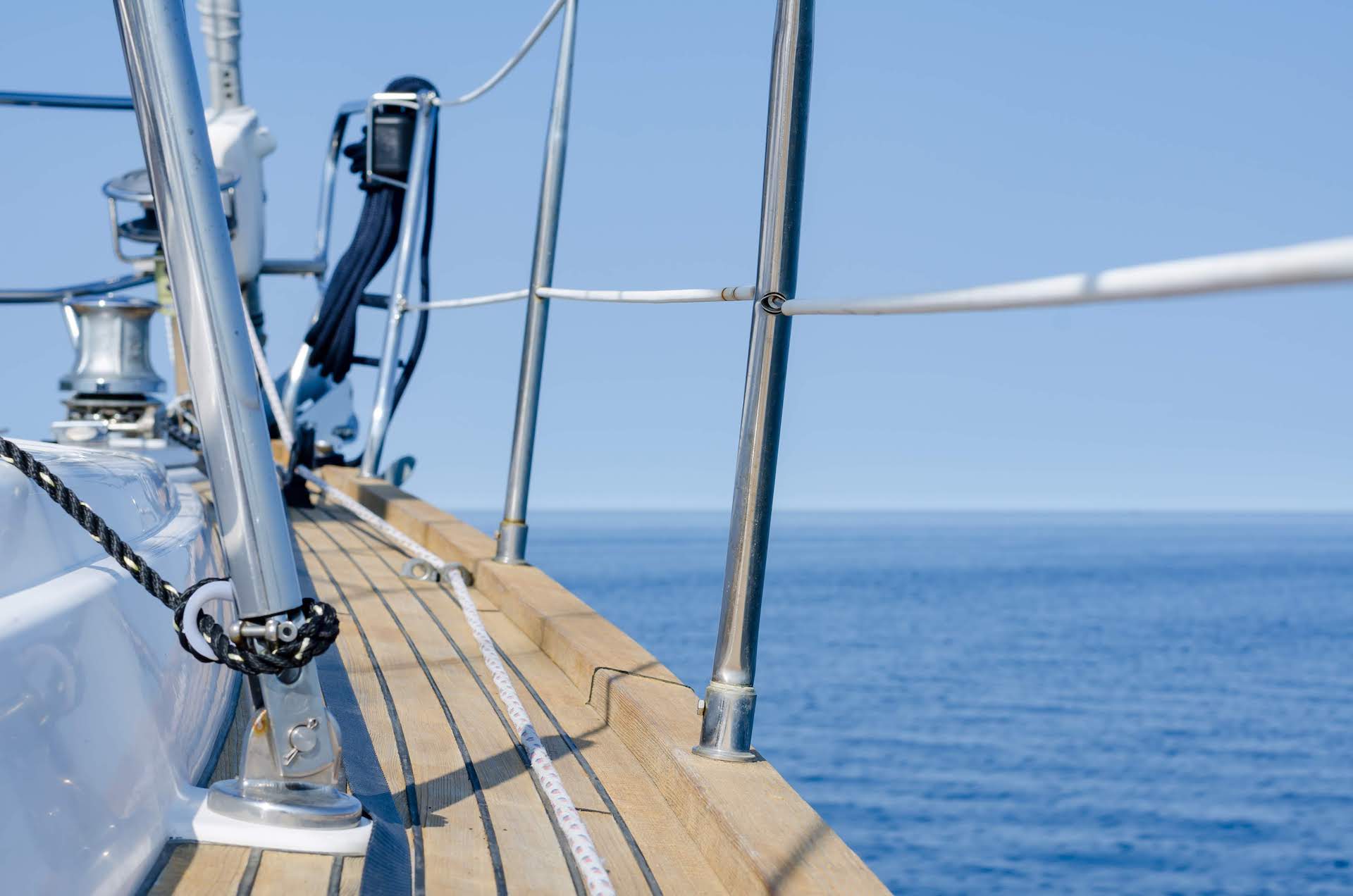 Harbour and surrounding look astonishing. And the facilities are also good, we have water and shower on the pontoon, supermarket and most importantly a car rental. Also, it is a good spot to make use of our dinghy. For me, it's a great way to make pictures from water level and guys who like fishing are happy to have mobility as well. On the way here we already called car rental and booked a car. Unfortunately, some kind of overbooking situation happened and two people need the same car but the owner solves this problem by offering his own car. Volvo with 250 hp diesel engine, it's a bit of the shame that speed limit is only  90 km/h here.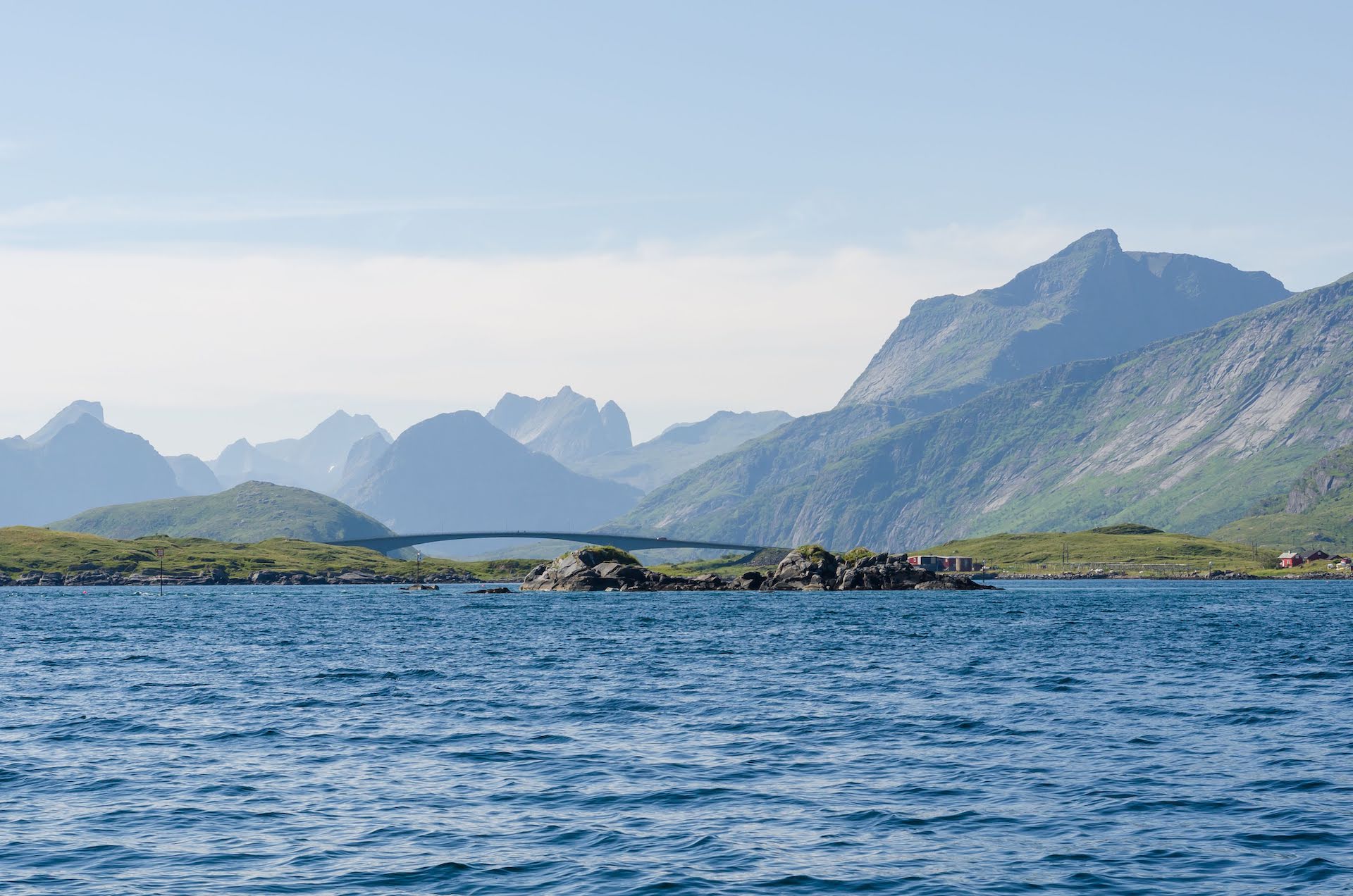 We decide to check a village with a laconic name Å. Charming sailors village that became a popular tourist destination. And for the dinner, we are going to an awesome restaurant "Underhuset", recommended by the owner of the car rental. The place has a great view, fish dishes are delicious and the prices are good.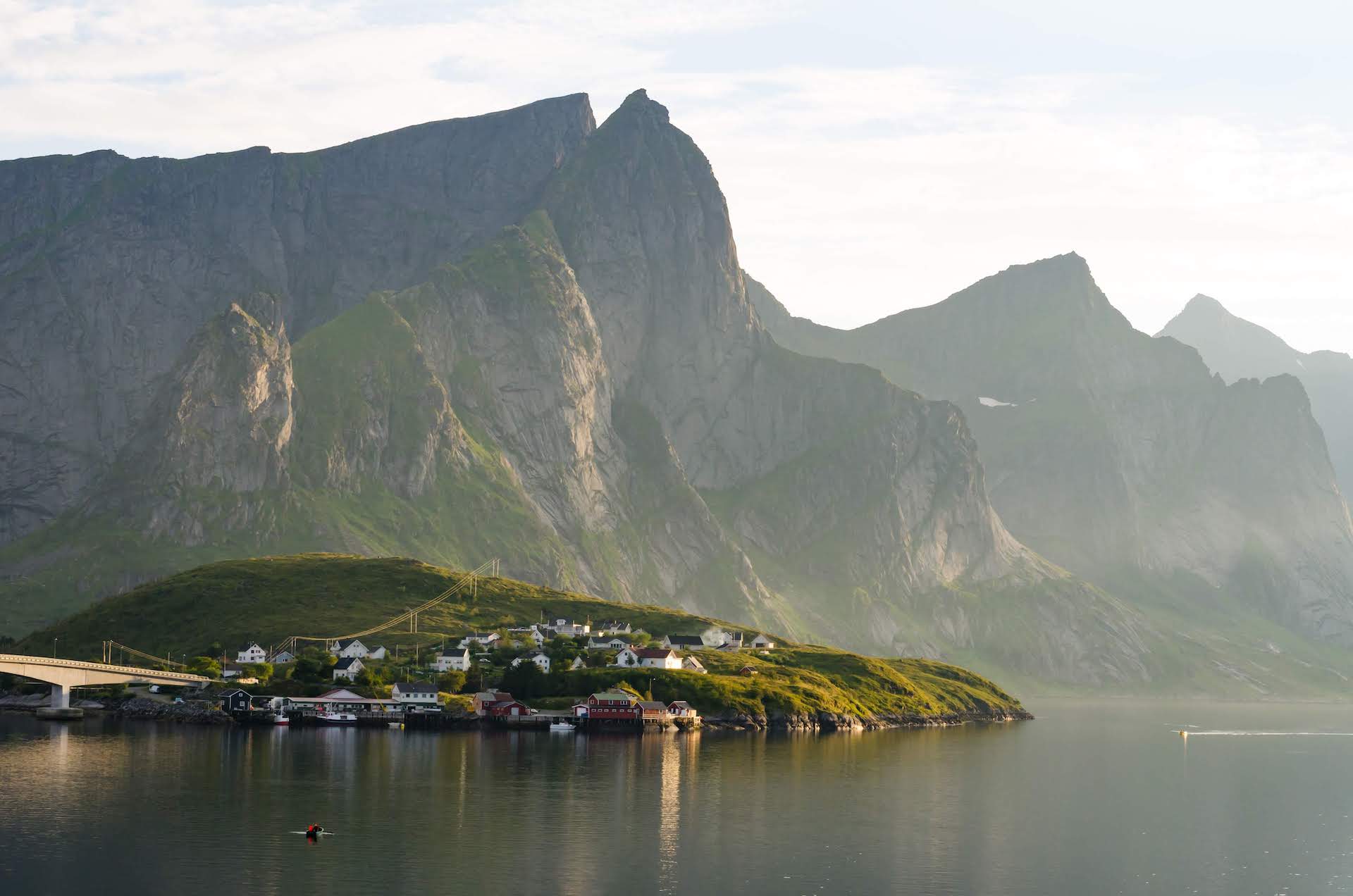 On the way to the marina we "catch golden" hour which is much longer than an actual hour.
Tuesday
Plan for today is to visit a Viking museum. It is two-hour ride one way so we need to start early. After coffee and a quick breakfast, we hit the road. The museum is huge, you can find traditional Viking house that looks like a capsized boat, practice archery, axe throwing, visit blacksmiths or sail traditional Drakkar. We had tons of fun. On the way back we drop by to a famous fish shop and got ourselves a very nice fish for dinner.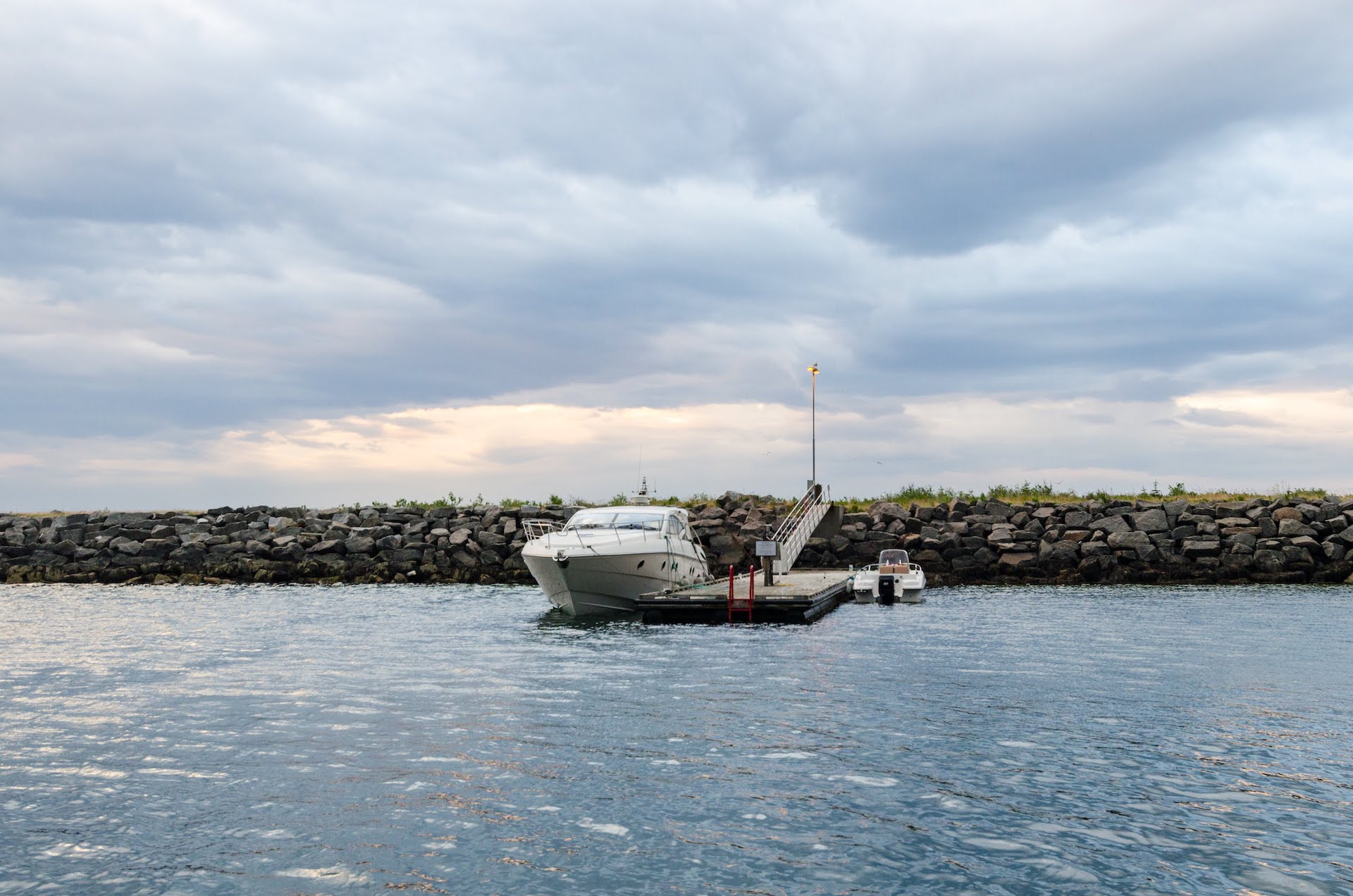 We need to do some grocery as well and who uses an available car for that? Definitely not us, we are going shopping on the dinghy. It is much more interesting, it is faster and it's also fun to see people's reaction when they see us in full sailing gear and wearing a life vest in the supermarket. Yes, we take safety very seriously.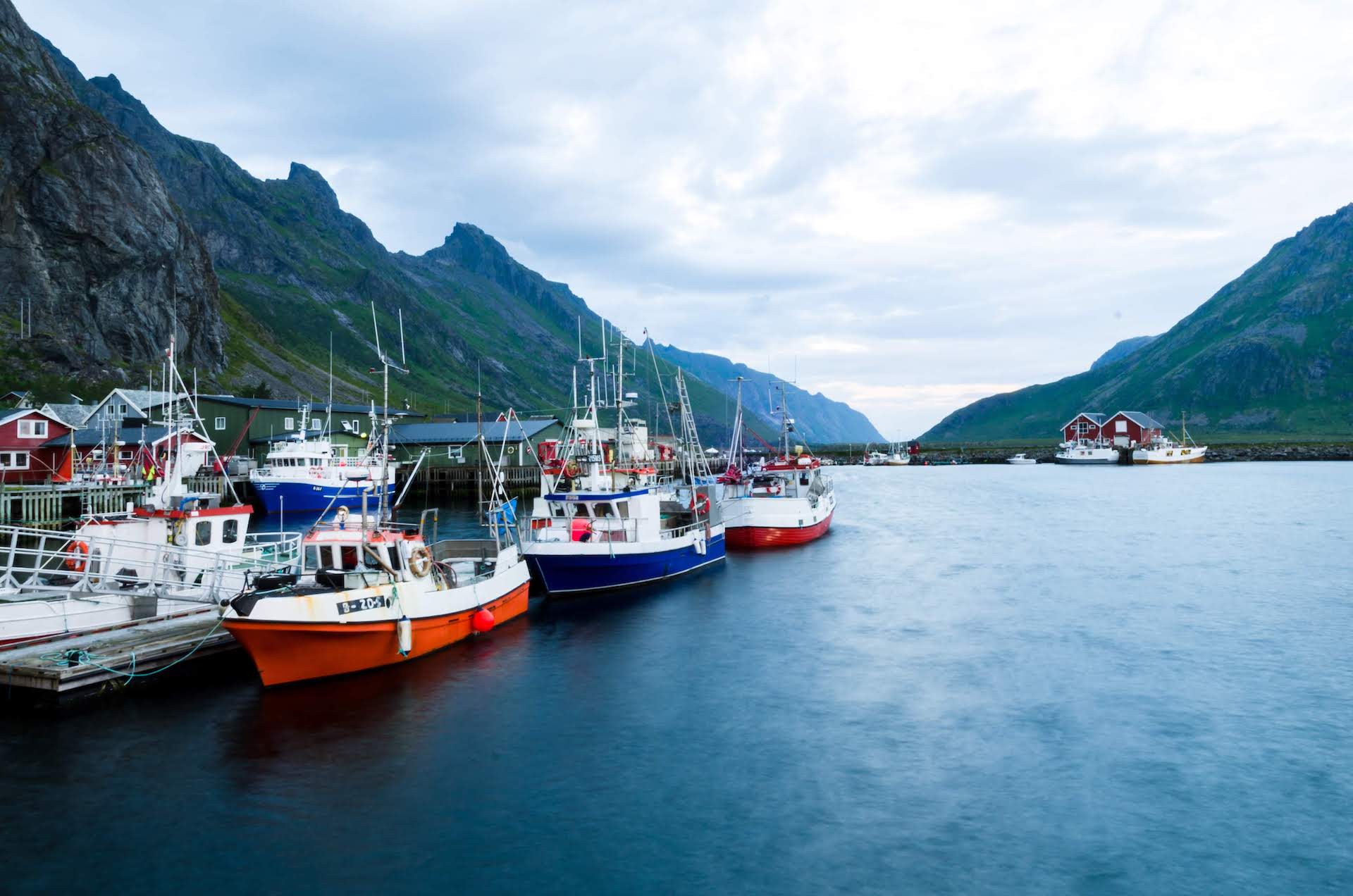 Today is time to swap rooms and move to the owner's cabin. Oh my, it's a whole new level of comfort. Huge bed, tons of storage and your own shower.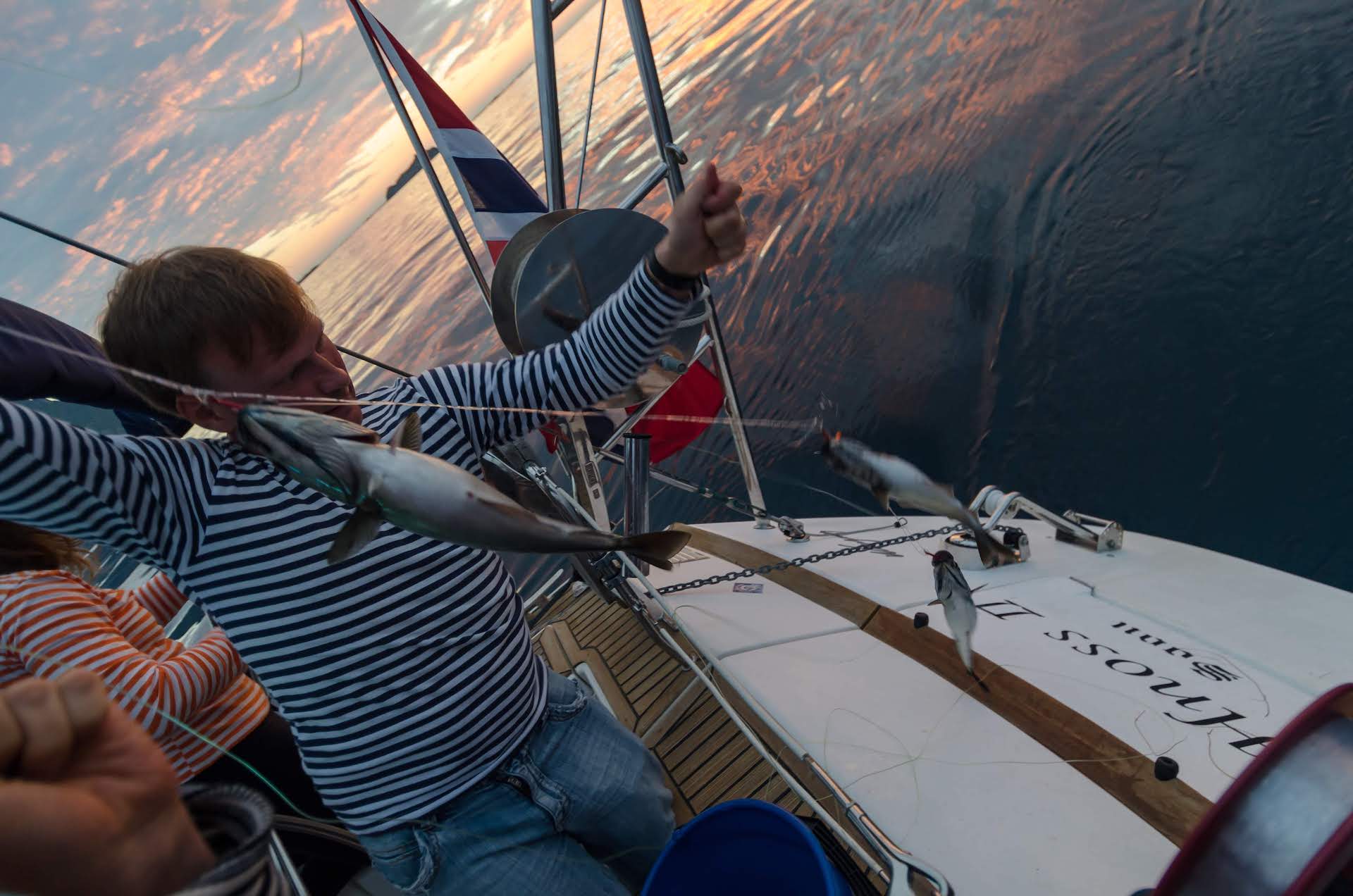 We are done here and ready to move forward to the island – Sørland. On the way there fishing was a great success, we caught enough fish to feed us till the end of the trip. Just to give a perspective – we stopped cooking any side dishes and only ate freshly caught fish. It is so nice to have passioned fishermen on board.
Wednesday
Island has one interesting hiking route to the cliff at the end of the island were military observation base is located. To check it out is one and only plan for today.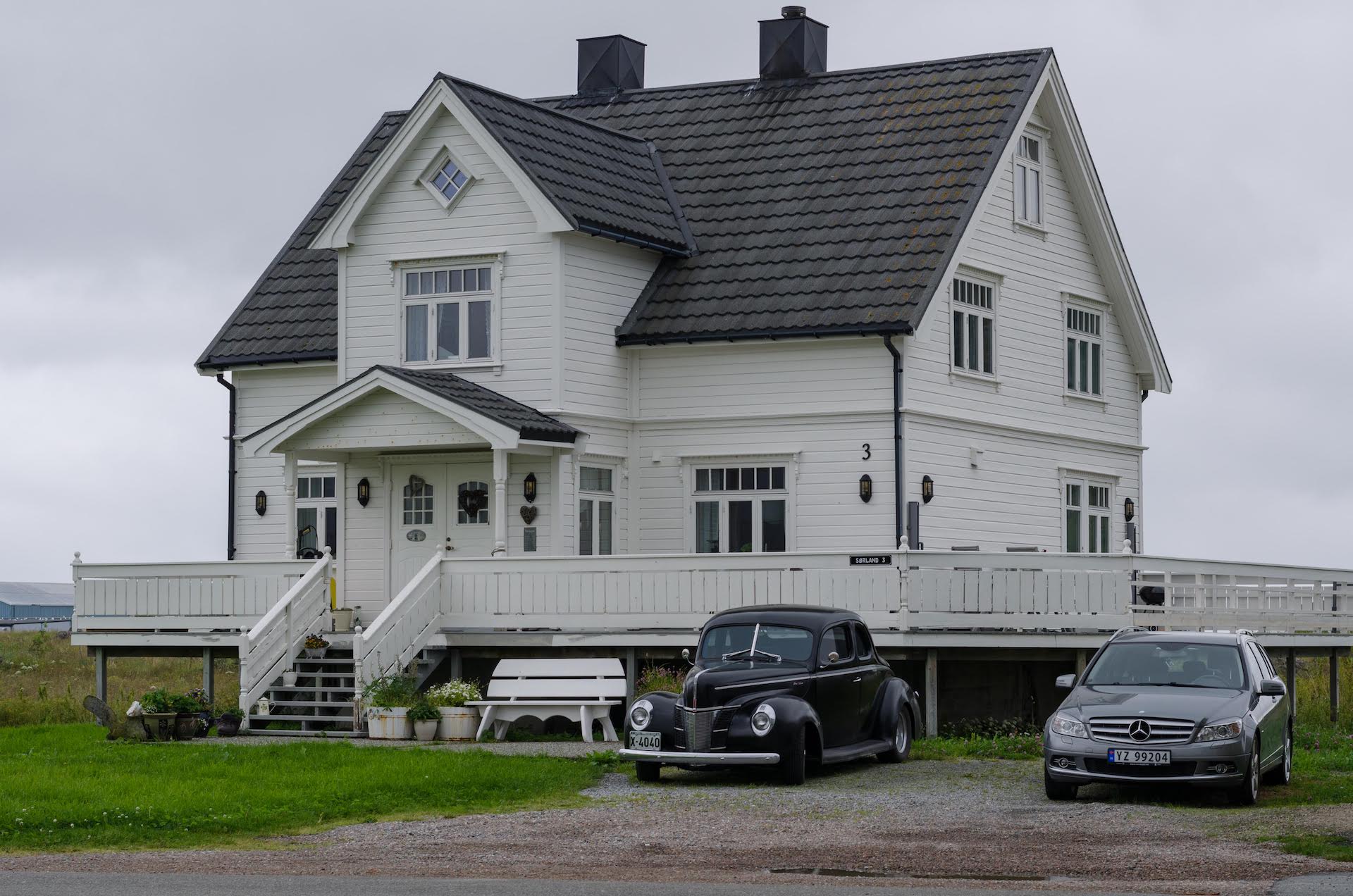 The weather forecast is not that great, heavy rain is expected. First, we decide to check out the city center and then go for a hike. And the moment we approached only one cafe on the island rain starts. Looks like it's time for lunch and coffee.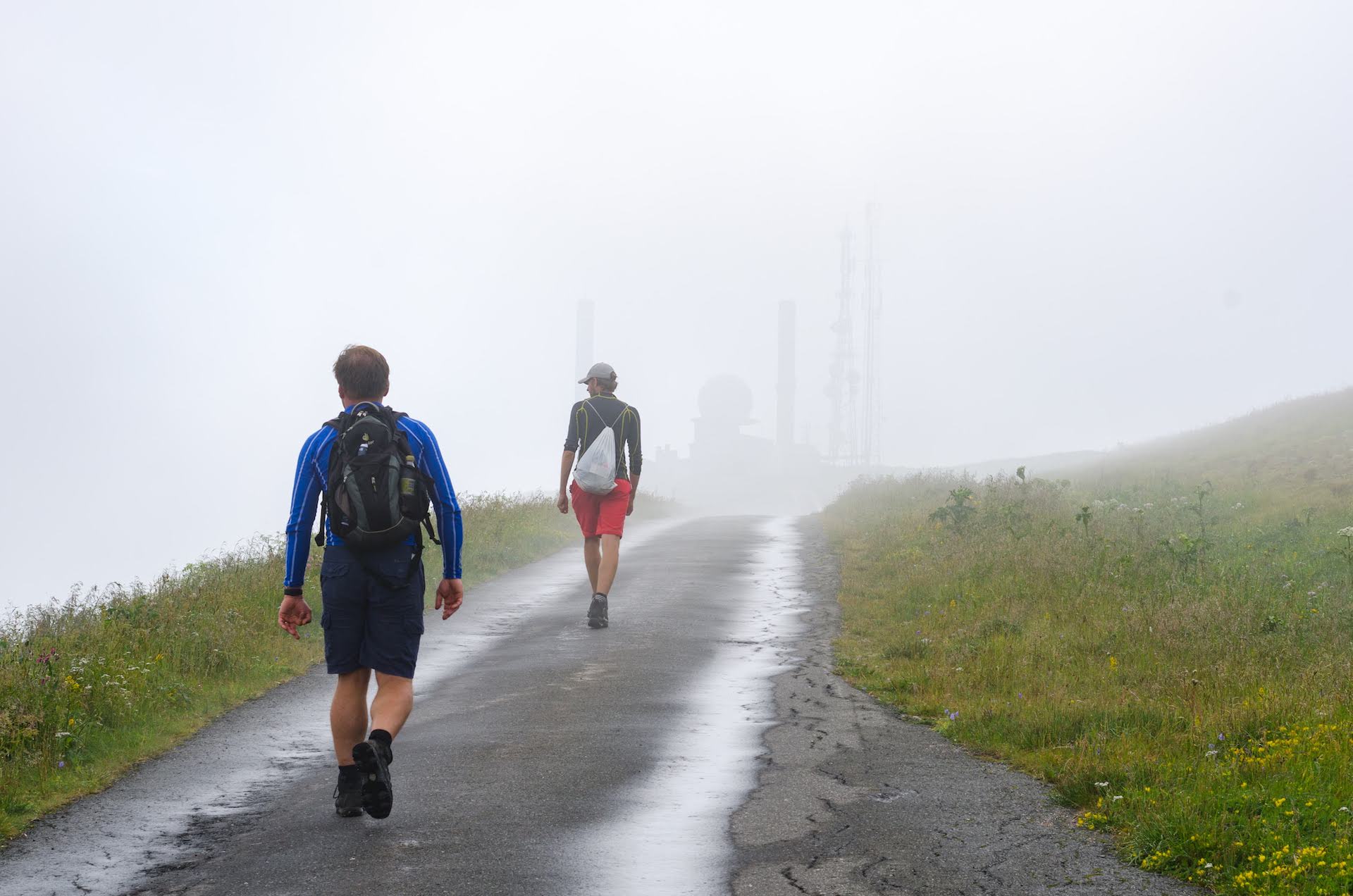 In an hour rain stops completely and we continue our journey. It's a relevantly easy hike with an amazing view in the end. And actually, you need to go through military observation post.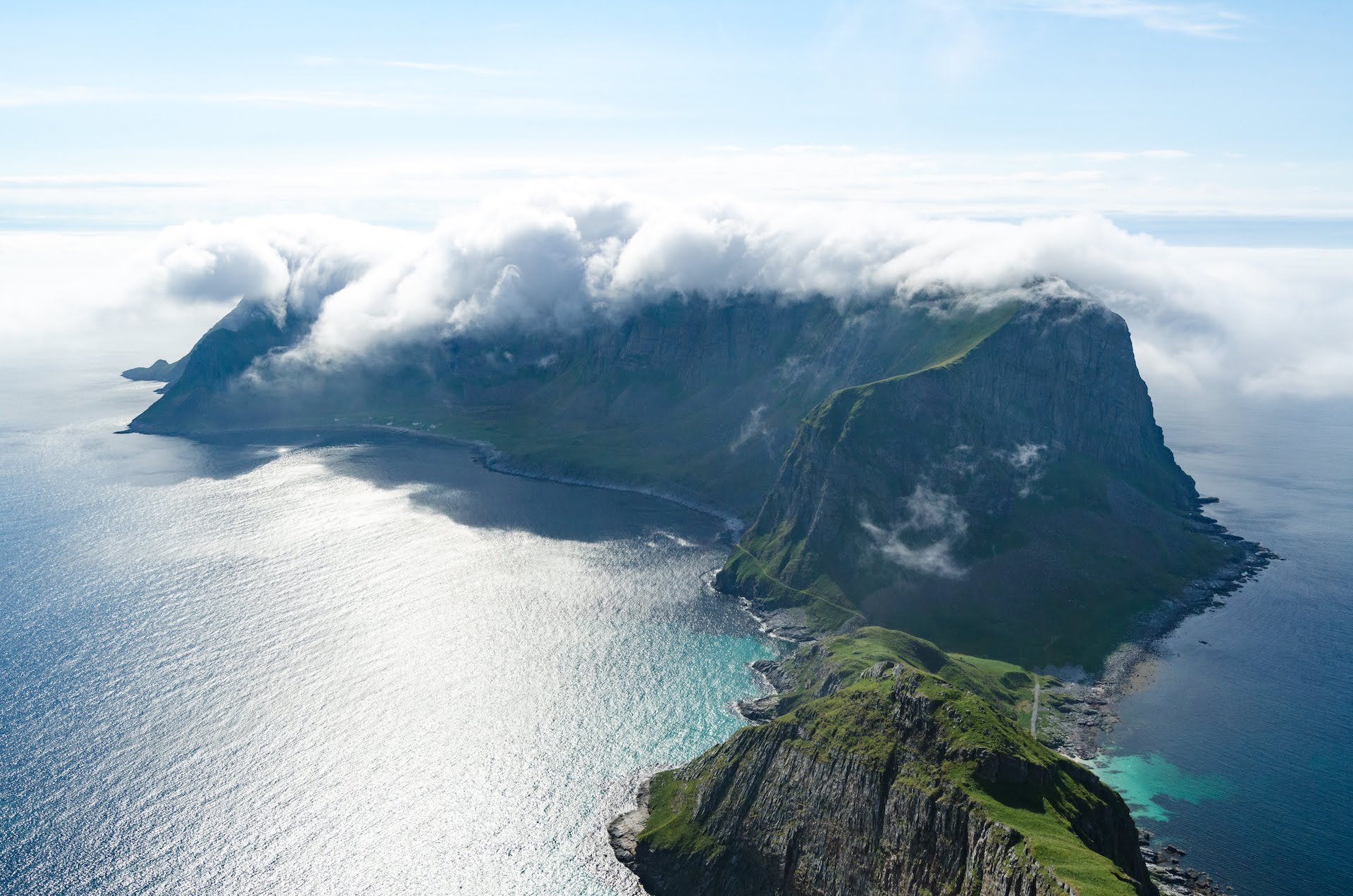 Tomorrow we need to be back to the base but we want to check one more spot on the way back – Skutvik. To do so we need to sail over "night". My shift starts at 04:00 in the morning, so I went asleep the moment we get back to the boat.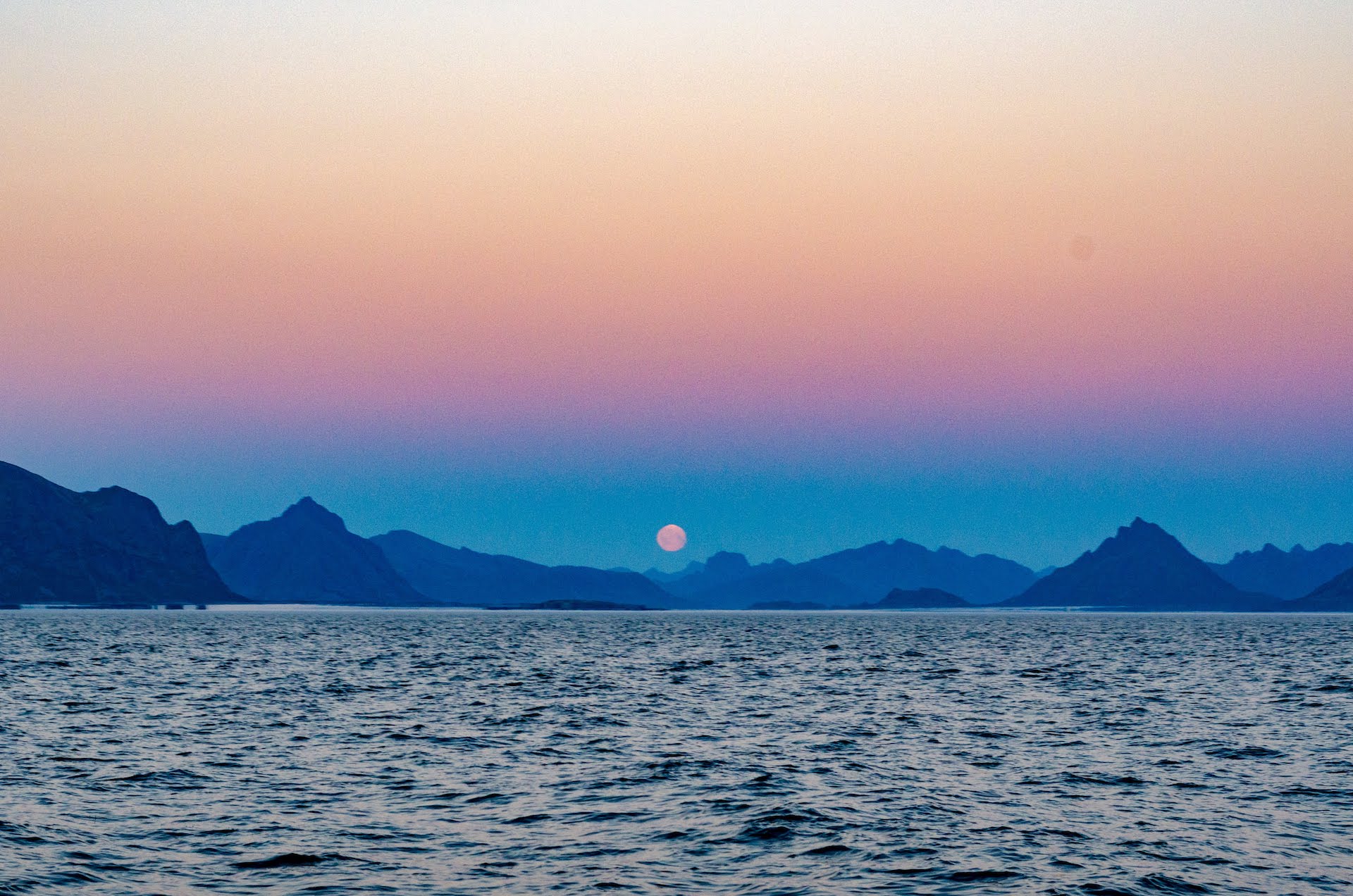 Thursday
My shift starts at 04:00, we did a lot of progress during the night and almost reach our destination. We step off to the pontoon at 07:00. Everyone looks tired so we have a beer and went for a few hours nap.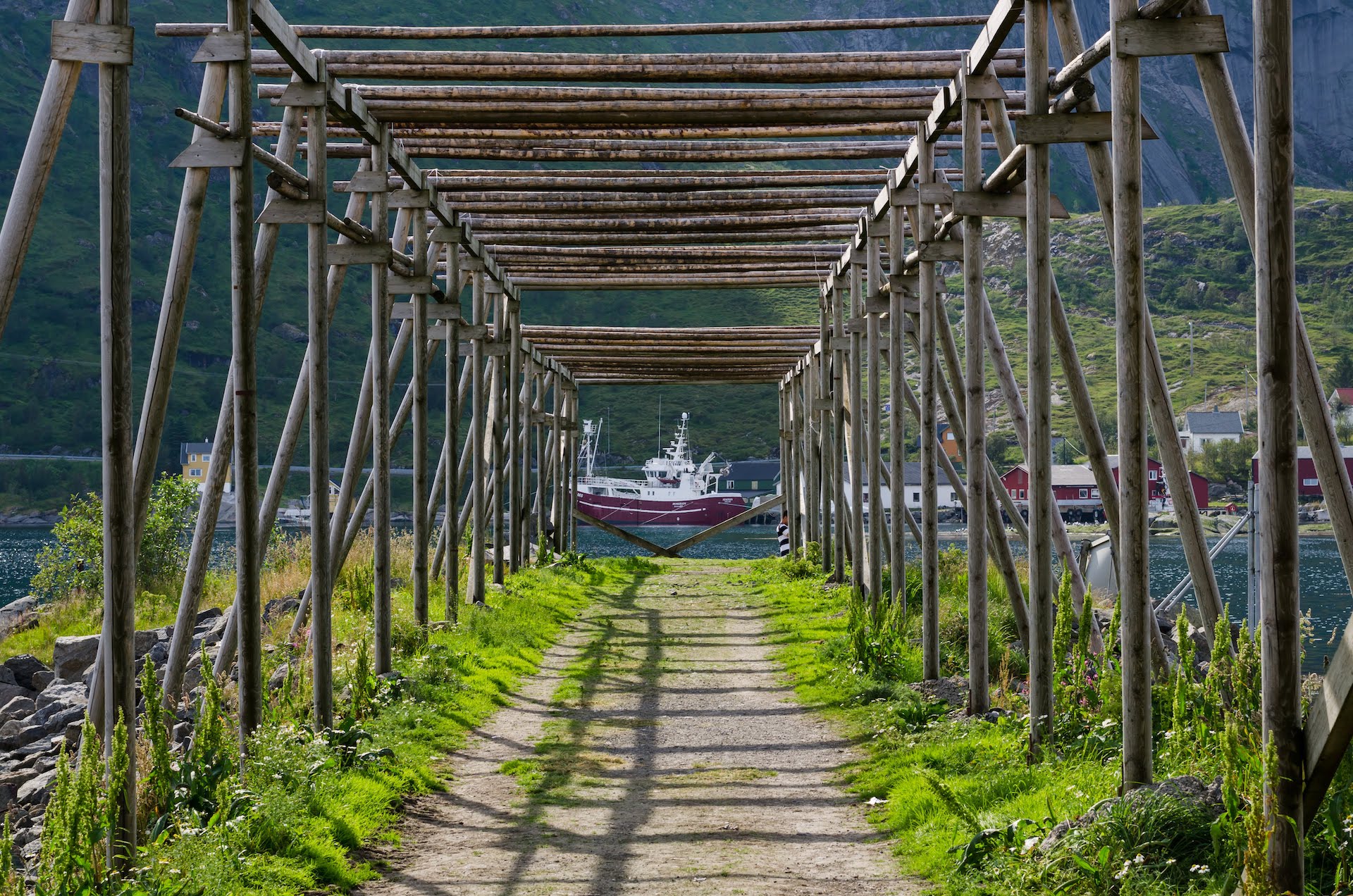 We still have to things on our todo list, go for a walk in the forest and go for a swim. Today is the last chance to do so. First, we head to the closest forest we can find and it is totally worth it. Nature in Norway is so amazing.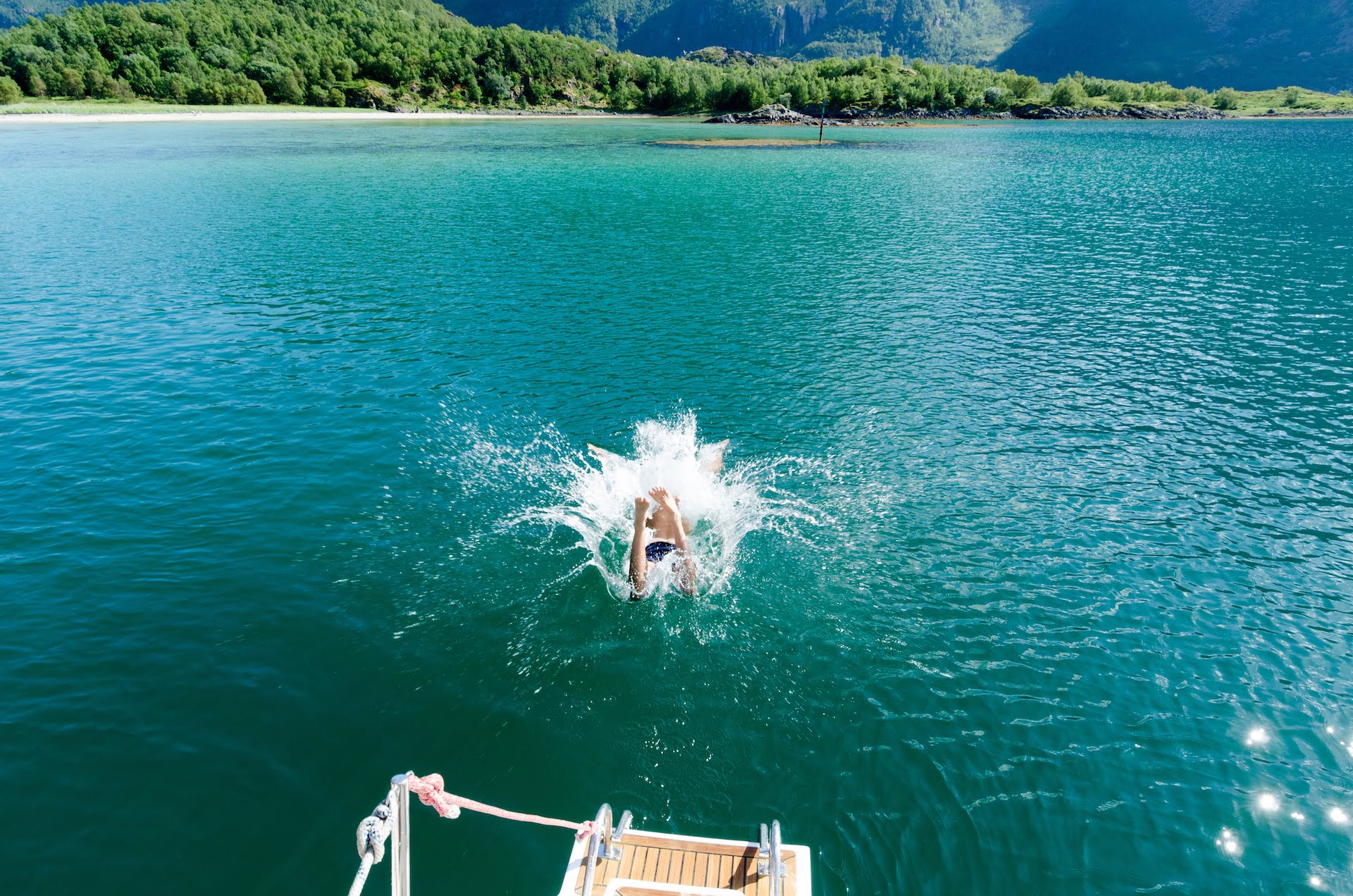 Next and the last objective is a find a nice to swim. Local sailor pointed out a very suitable place a few miles from the marina. The water there is shallow with sand seabed providing good holding for anchoring. Water is still freezing cold but we did it. With the feeling of achievement, we set sails toward our home base in Svolvær. Where we celebrate the end of our journey in a local bar. We did 365 nm in 7 days and see a lot for such a limited amount of time. Tomorrow we fly back home with the hope to come here again.