Koh Chang, Thailand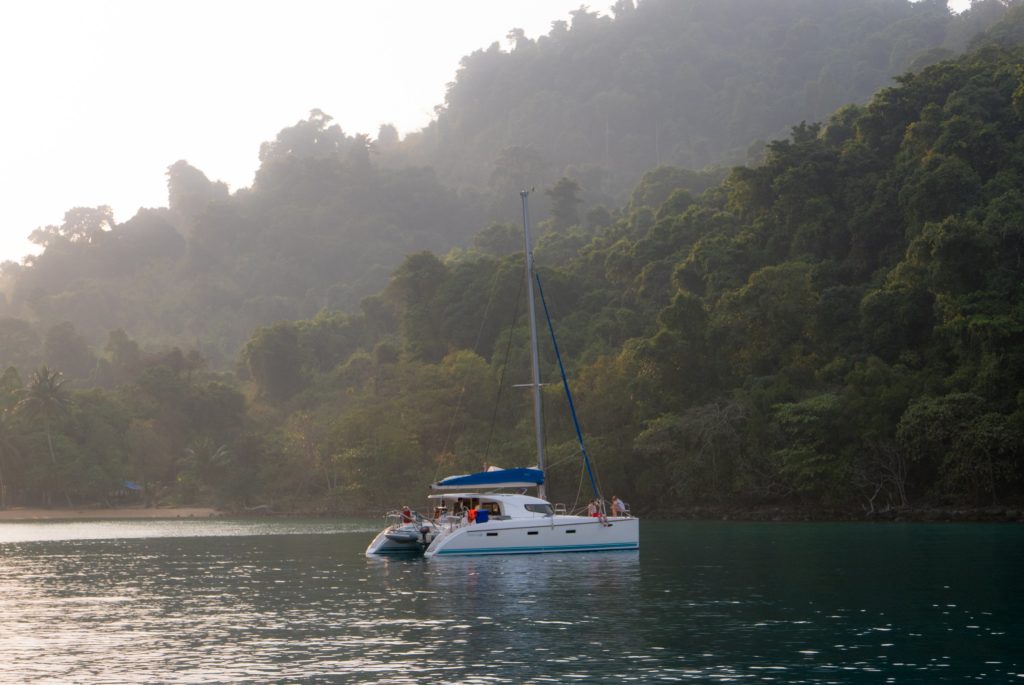 Thailand is known as one of the best travel destinations in the world. Flourishing nature, delicious food, and very friendly prices attract travelers from all over the globe.  Check out our sailing adventures described in my travel log. Sail, chill, dive, party and explore amazing Koh Chang archipelago on board of a yacht with a group of friends.
Travel log:
Saturday, Day 1 
The first day of the trip is always the hardest. This time it was no different. After 11 hours of flying, we got straight to the police office for bringing to much of alcohol to Thailand. Apparently now it's forbidden to bring more then one liter of any alcohol beverage per person to Thailand, no meter is it beer or whiskey. This Is a brand new law, in operation since the beginning of 2018. We learn about in a hard way, hope you will learn from our mistake.  After spending 2 hours in the police station and paying 600 euro fine we were ready to start our Thai adventure. After everyone safely landed at Suvarnabhumi Airport airport and pass border control we meet all 15 crew members who arrive today at the meeting point.We have two important tasks at the airport: buy a sim card and get enough Baths for the whole trip. If buying a sim card is a straightforward task, exchanging money is a bit trickier. There are many different exchange points in airport and exchange rate are way different. Best rates are on the lowest floor of the airport, where you would find the best rates and longest queues. But wait a bit longer worth it, you will win around 80 euros on every thousand euros you want to exchange. Multiply it by 15 crew member and you will see the clear benefit of waiting extra 10 minutes. After all important meters are settled we board two minivans, kindly provided by our charter company – Gulf Charters Thailand. We are a bit of a hurry, the last ferry to  Koh Chang island leaves at 19:00 and we have 350 km to go. Our drivers did a great job and bring us just in time for the last ferry. Many thanks for that!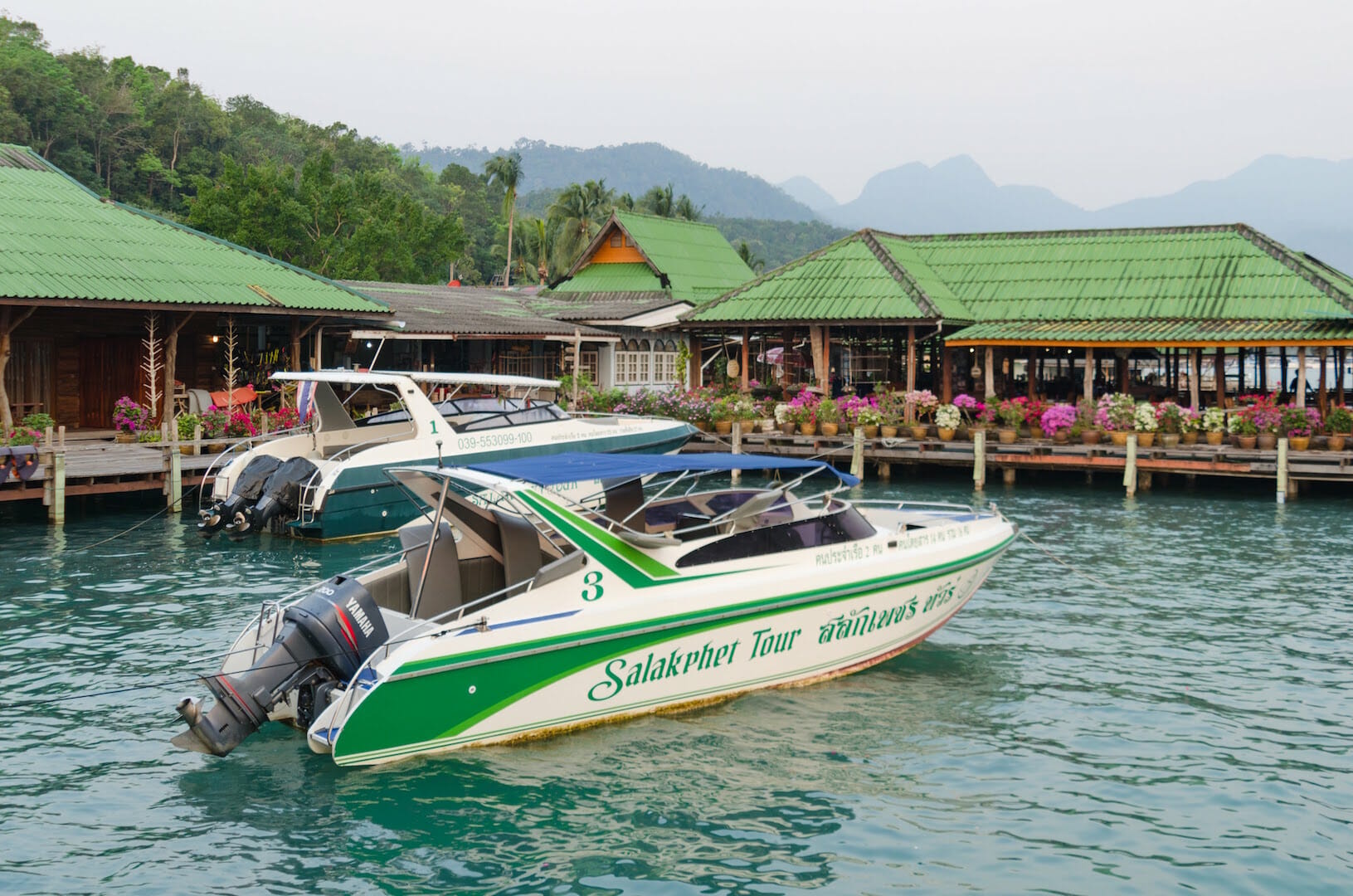 We are staying today in Salakpet Seafood resort which is also a home base for our charter. After having our first Thai dinner together and celebrating successful arrival to the base with several drinks we went to sleep. It was a long but successful day.
Sunday, Day 2
I woke up on a sunrise, my room has an amazing view of the bay where few yachts are moored. I went for a walk to check out resort, it's even better than on pictures. After a coffee with a few other friends who woke up by now, we went to check out yachts.  Our fleet is already moored to the pontoon.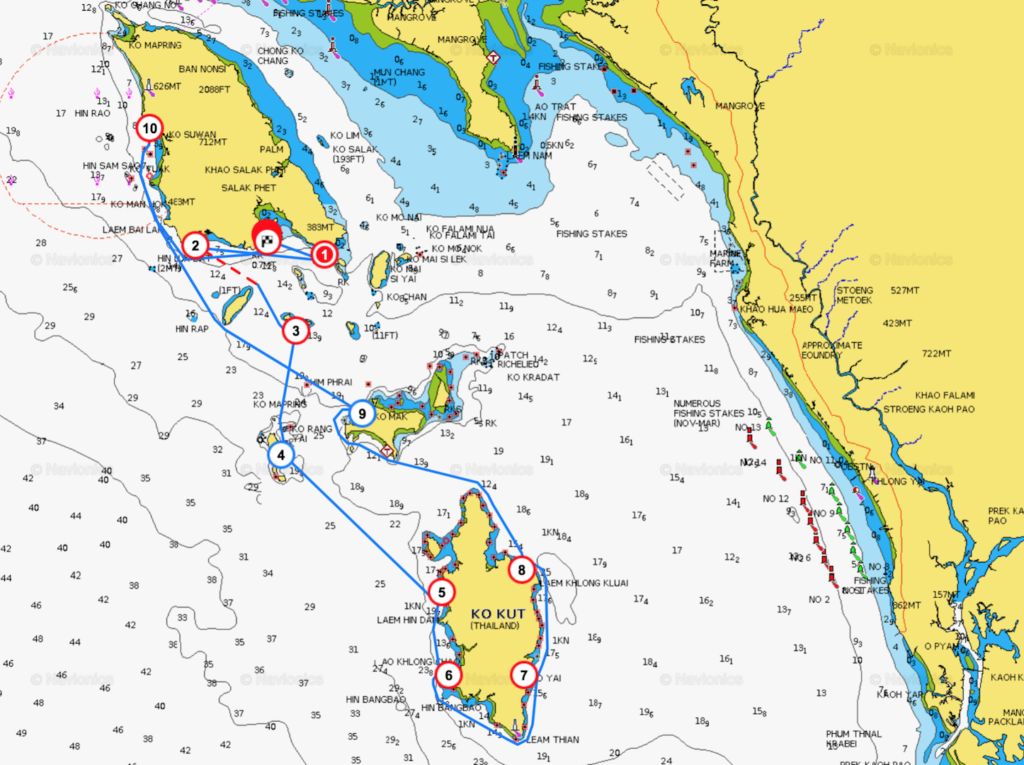 We are sailing on three weasels this time. My boat is very well maintained  Sun Odessey 36i with a set of new full buttoned sails, very light waited. Beautiful and well-equipped boat, love sailing it a lot. It's a first time I am skipping owner version of a yacht only with 2 cabins and extended shower cabin and huge storage space.Taras is a skipper on Cyclades 44,3. Big and fast boat equipped with the dinghy lifting mechanism and huge bimini. This is a big boat for a crew of 6 people, for example, each cabin has it's private toilet and shower, and the galley is just huge.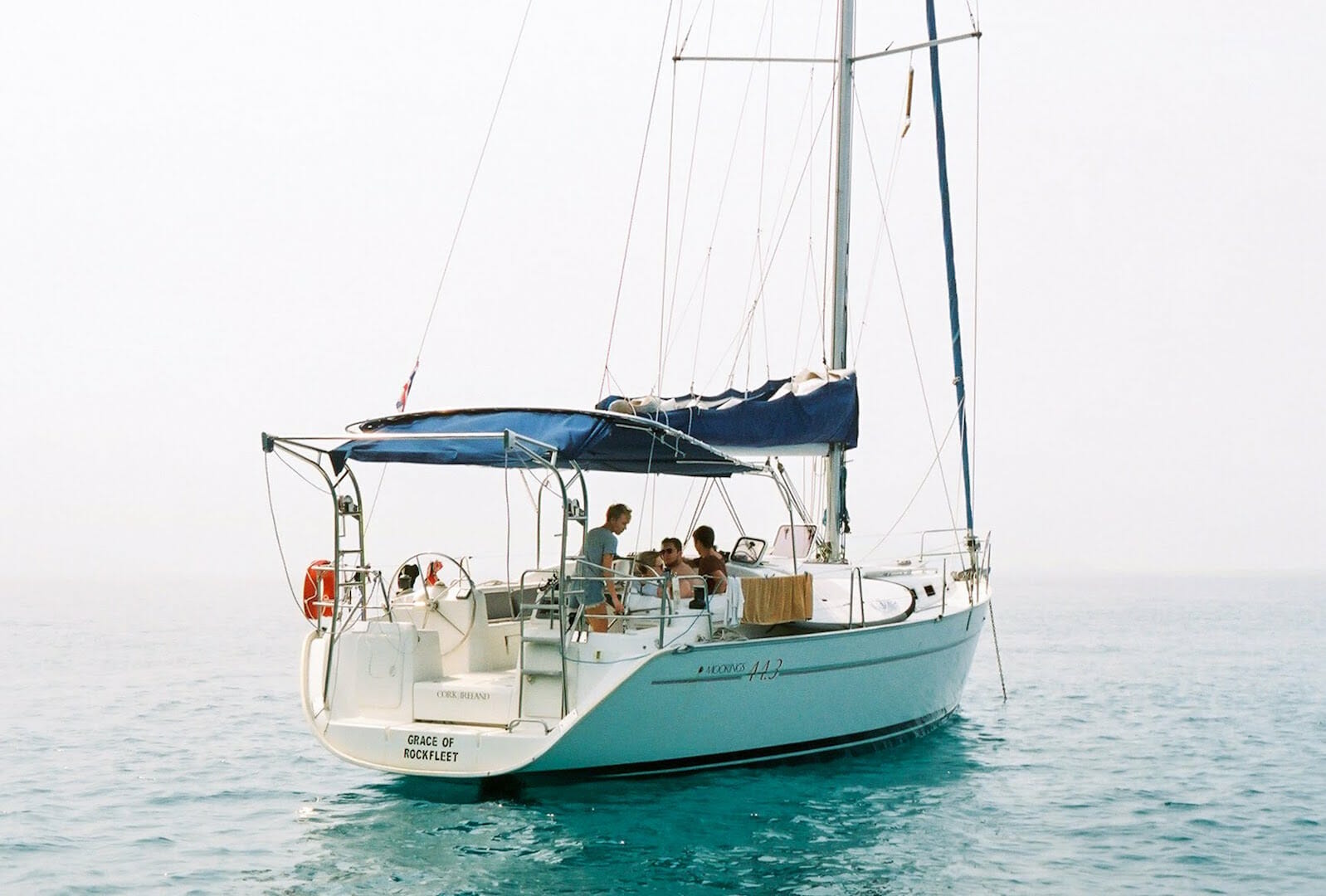 Alexander is in charge of the catamaran – Nautitech 40 and a crew of 9 people. The catamaran would be a home to many parties we would have in upcoming 9 days and is the best option for people new to sailing due to its stability on the waves.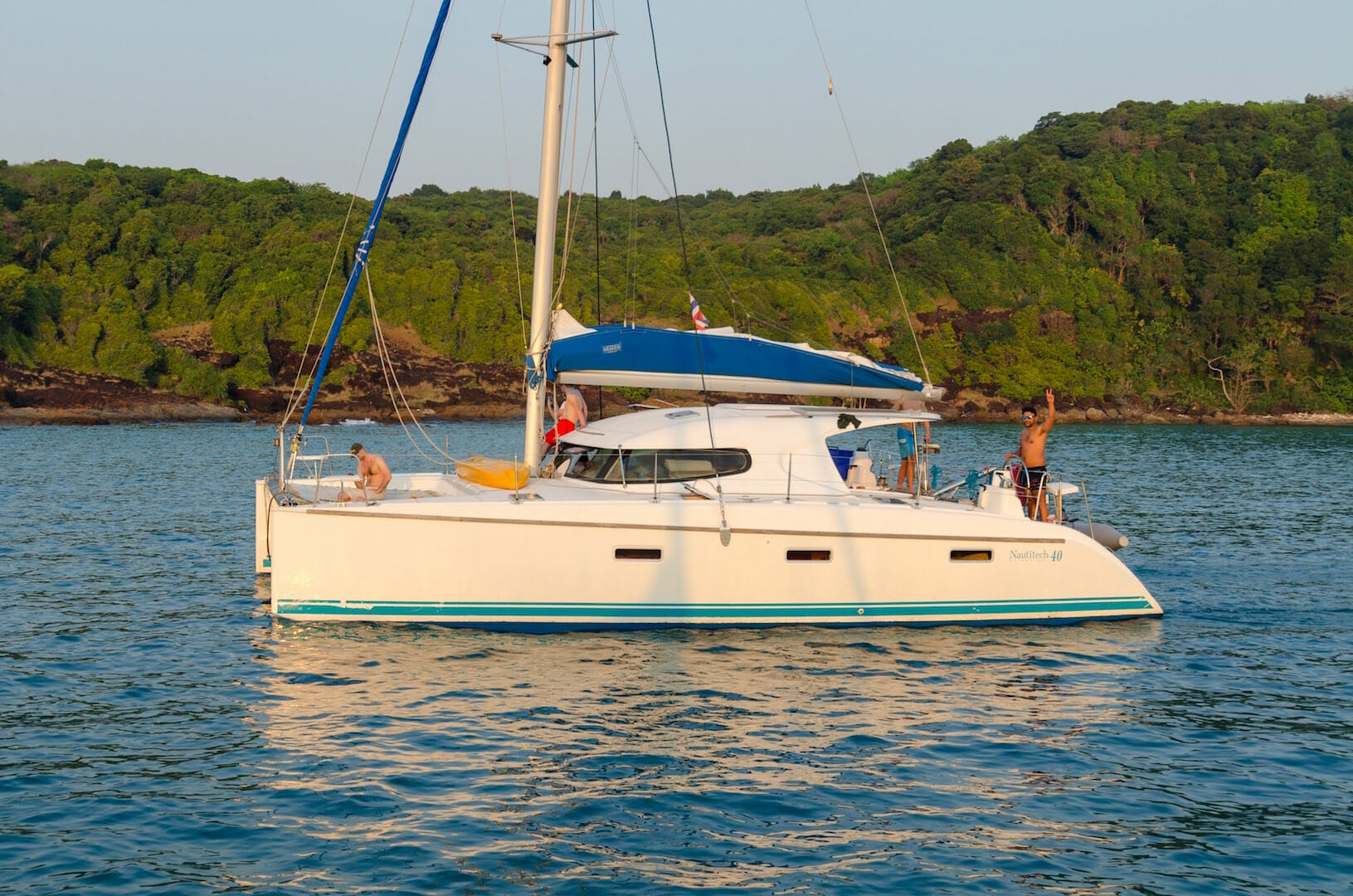 This time we skip all the hassle if self-provisioning and ask the charter company to do provisioning for us. It went extremely well our food was loaded to the boats before our arrival and we need only to put it into the lockers. After making ourselves at home on board we are ready to leave pontoon and explore diverse islands of Koh Chang archipelago.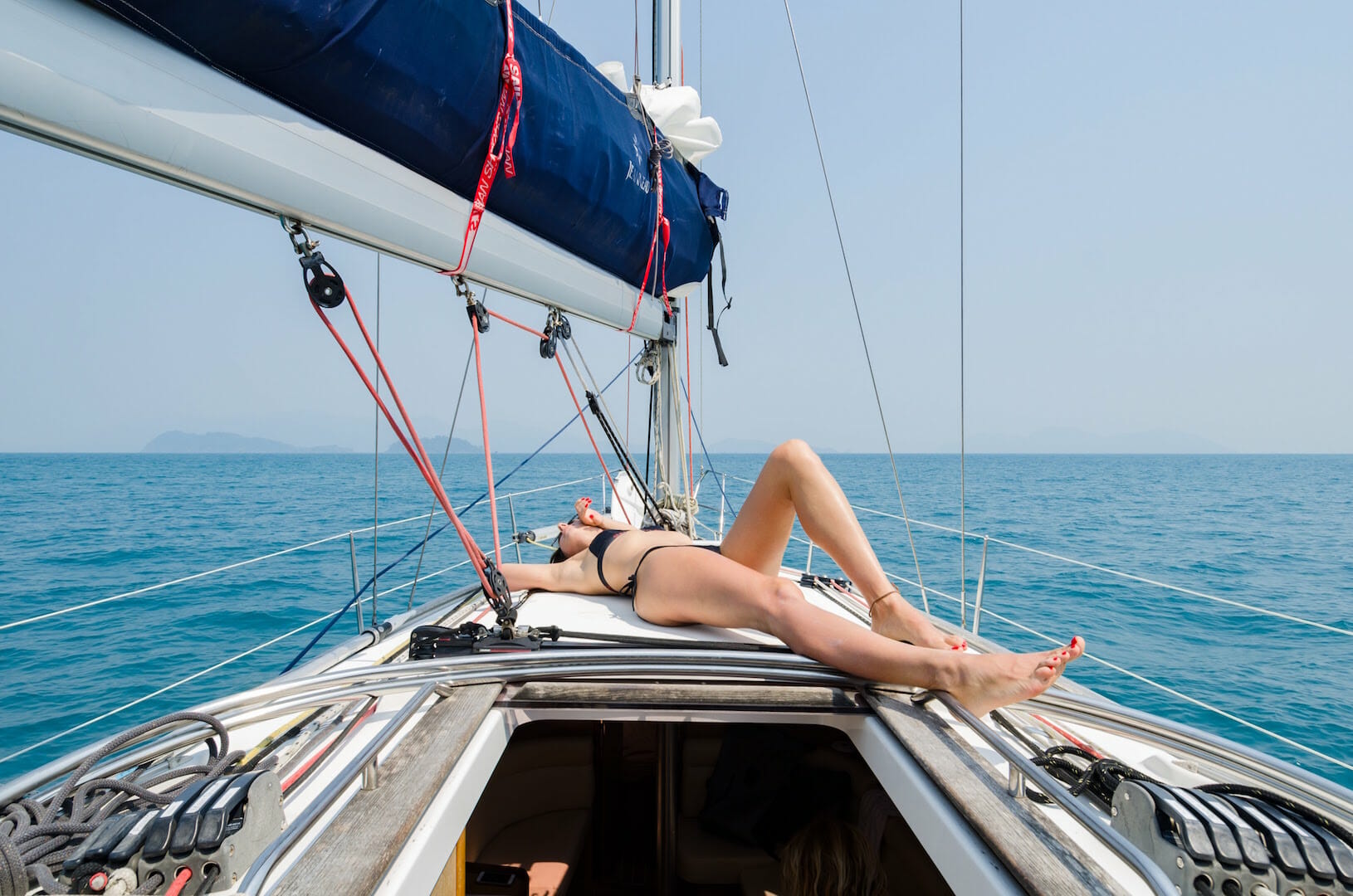 Today we need to sail only 5 nm to our overnight destination – the Long beach. On our way there we stopped for a swim and a test ride of a SUP we rented out together with a kayak. SUP can go quite fast but before going fast you need to practice balance for some time. After reaching our anchorage my crew pays a visit to catamaran crew where we start degust alcohol we have brought with us. Not everything was confiscated. Degustation turned to spree. The one that lasts till 4 in the morning, when very important subjects are discussed. Like the meaning of life, where we humans come from and what the future will look like. Despite huge hangover in the morning, it was a good bonding activity
Monday, Day 3
Waking up was not an easy part but around 09:00 in the morning we manage to leave an anchorage and set sails towards Bang Bao. Wind is good, around 18 knots which are perfect for sailing. In a few hours, we arrive in Bang Bao. It's a very busy area, besides being the biggest port on Koh Chang it is also surrounded by many fishing traps set by local fishermen. We drop anchor close by to the pier and get ashore on dingy. Pier itself is a combination of restaurants and tourist-oriented shops, also you can find well-stocked 7eleven and ATMs there.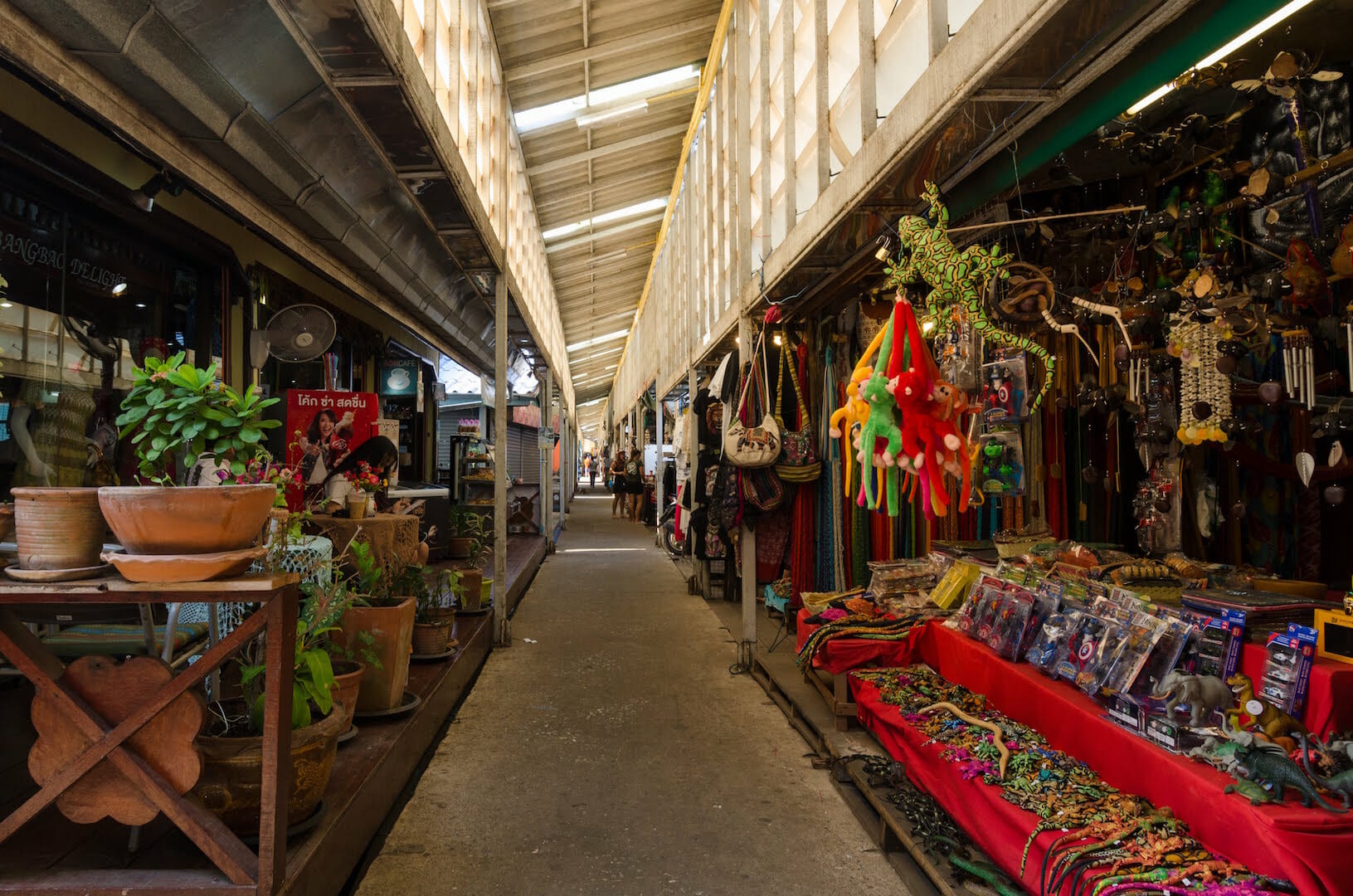 After buying some sunscreen, sim card and a few other important things we were ready to leave but the heat was at its peak so we decide to stay in a restaurant called Buda View. Moreover, it was time to eat something. On our way back to boats we drop by to the catamaran for a beer and a quick fix of the jammed jib. There was no wind at all so we have no choice but motored all the way to our overnight stop Koh Wai.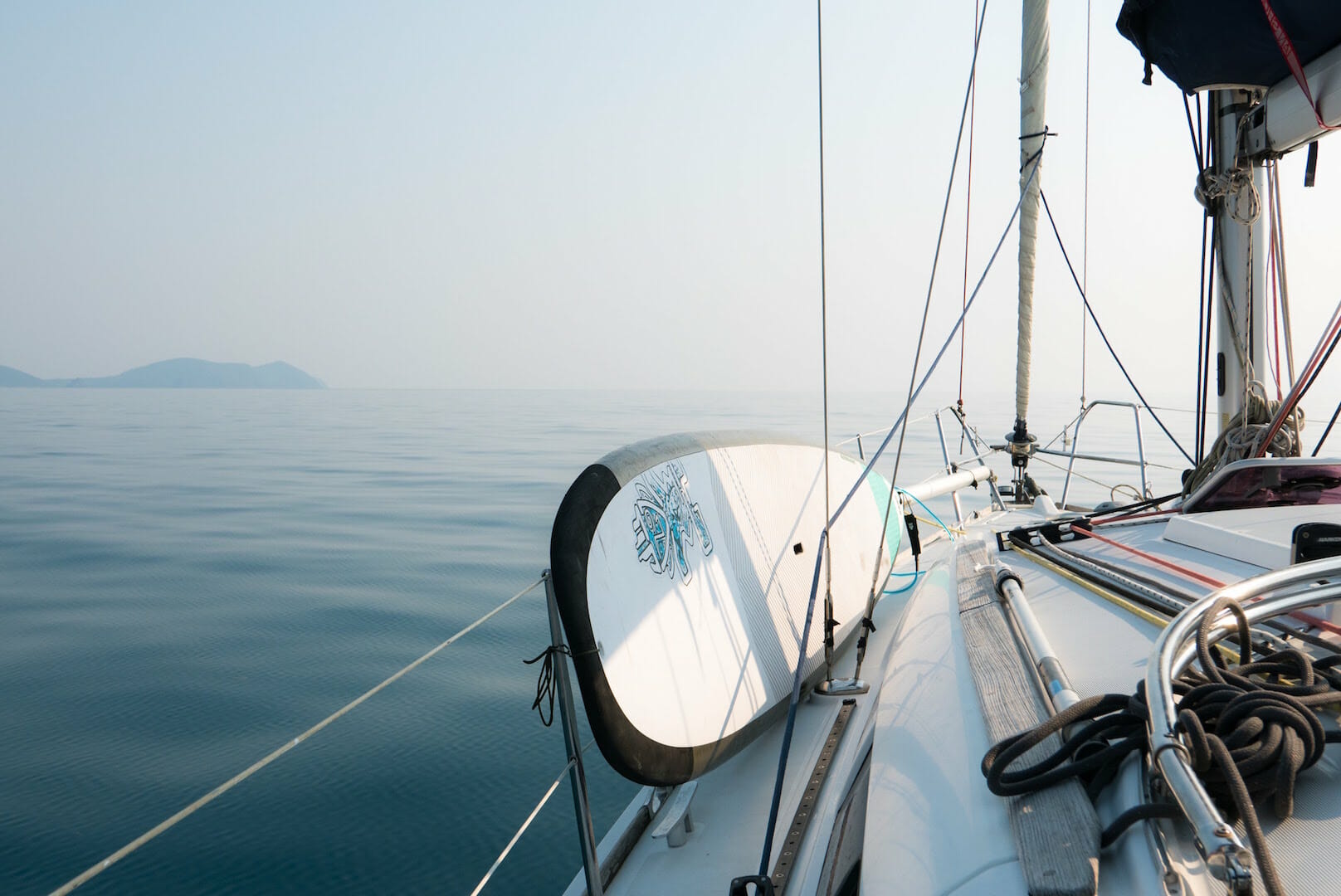 A lovely island that offers good overnight protection and featured one of the best beaches in the area. Upon arrivals, we decide to visit Taras boat. While I was approaching the yacht on the dingy my engine stopped and refuse to start again. To make it work again keeps me busy for the whole evening.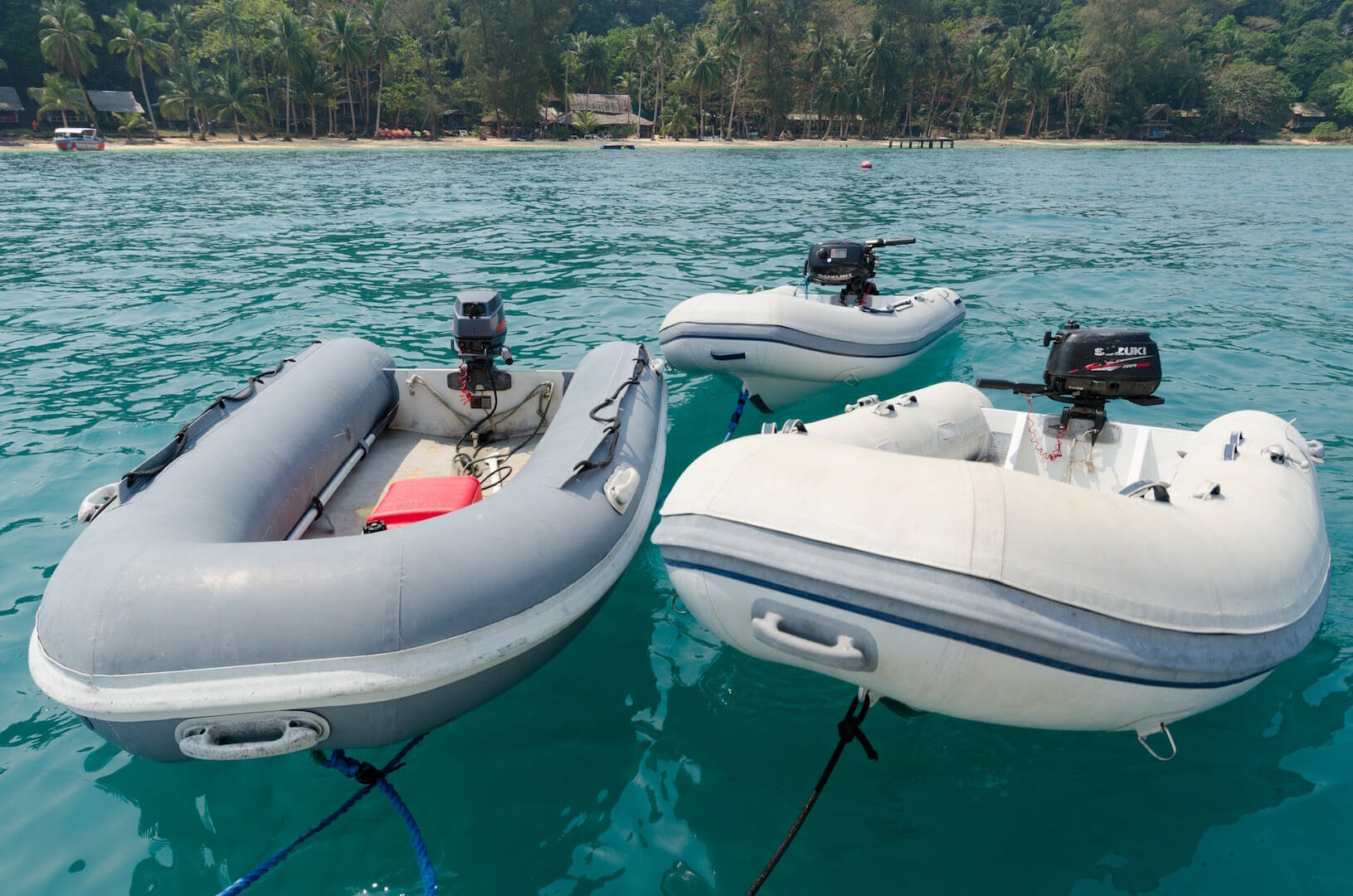 I got very detailed instruction by phone from the charter company and with their help git engine run again. It was an airlock in the fueling system. A good thing is that now I know much more about repairing a dingy engine. While I was learning this vital skill crew enjoys drinks on board of Taras yacht and people on the catamaran can get some rest after last busy night.
Thursday, Day 4
The morning was windy and wavy but according to forecast it should be getting calmer and calmer and wind should be gone completely around lunch. We make a short run to the other side of the island. Beach I mentioned before is a must see point indeed. White sand, clear water, and palms trees combined give you truly paradise picture.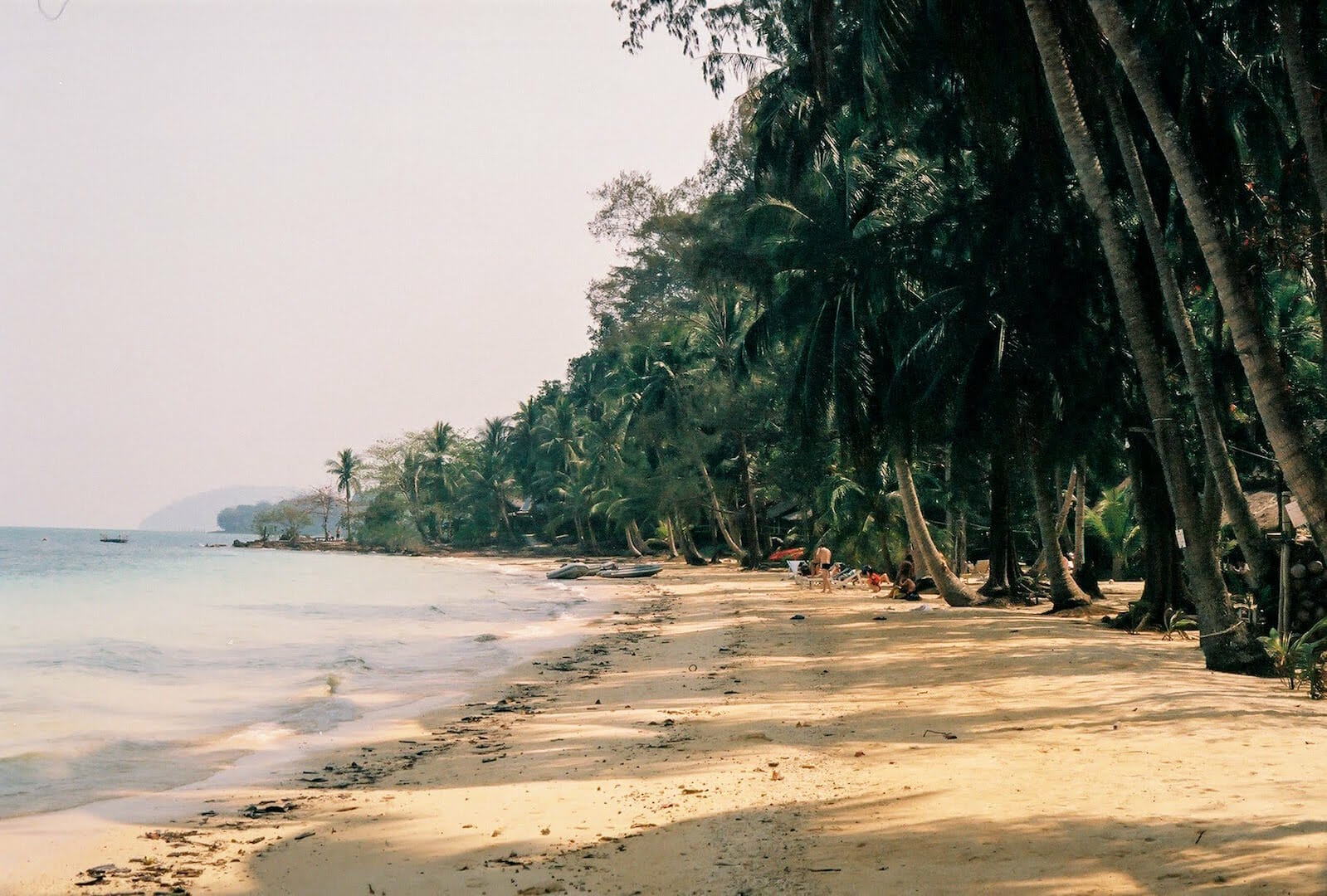 On top of that, there is a nice small bur with great iced coffee shakes. We decide to stop there for a couple of hours and chill. The crew keeps them busy with yoga, swimming, snorkeling, and photography. After lunch, we set a course to ganger station on Koh Rang. It's a head office of Koh Chang national park and a good spot to refuel our water tanks. Live onboard demand reducing water use comparing to live in the normal apartment. Especially it is hard for people sailing for the first time. But after few days of the sailing crew always learn how to make most of limited water supply. Few tricks to save a significant amount of water: always do your dishes in salt water, take a quick shower on deck after washing with salty water, take shower on the shore as much as possible. Each restaurant or resort provide shower to passing buy sailors if you ask nicely or order food or drinks there. Anyways, we got ourself full tanks of fresh water from the pontoon with help of friendly rangers and put an anchor just around a corner where we spend an evening on board. Discussing different stuff and drinking homemade cocktails.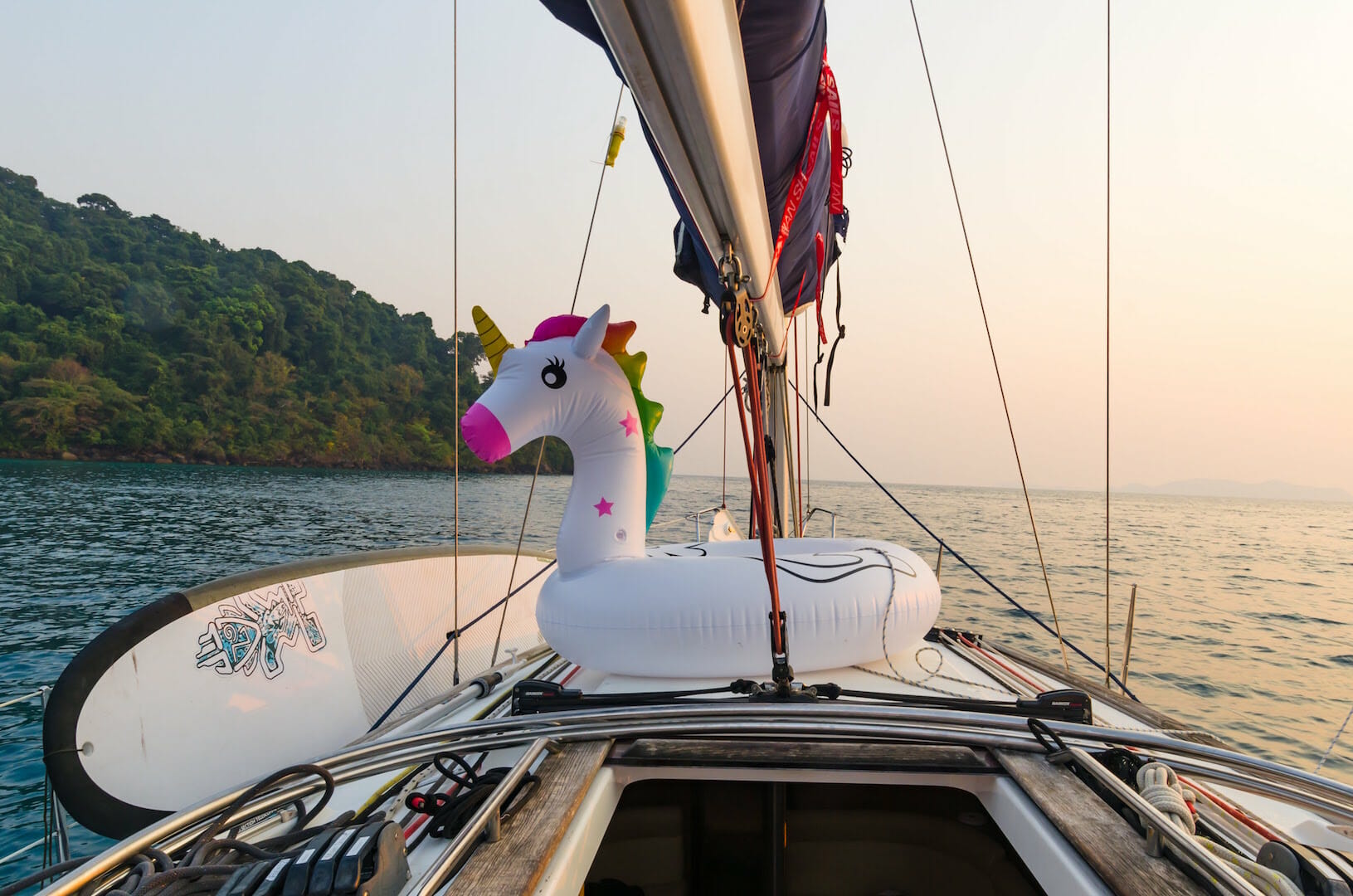 Wednesday, Day 5
First thing in the morning we are going back to rangers base on dingy to take a shower on the shore. You see saving water is easy. After that, we have lunch on board and decide to check out local underwater life. Ko Rang is famous for its diving spots so we took our snorkeling sets and head to one of them on the dingy. Underwater life is indeed diverse and beautiful and we are getting a much closer look next day when we are going on a scuba diving tour.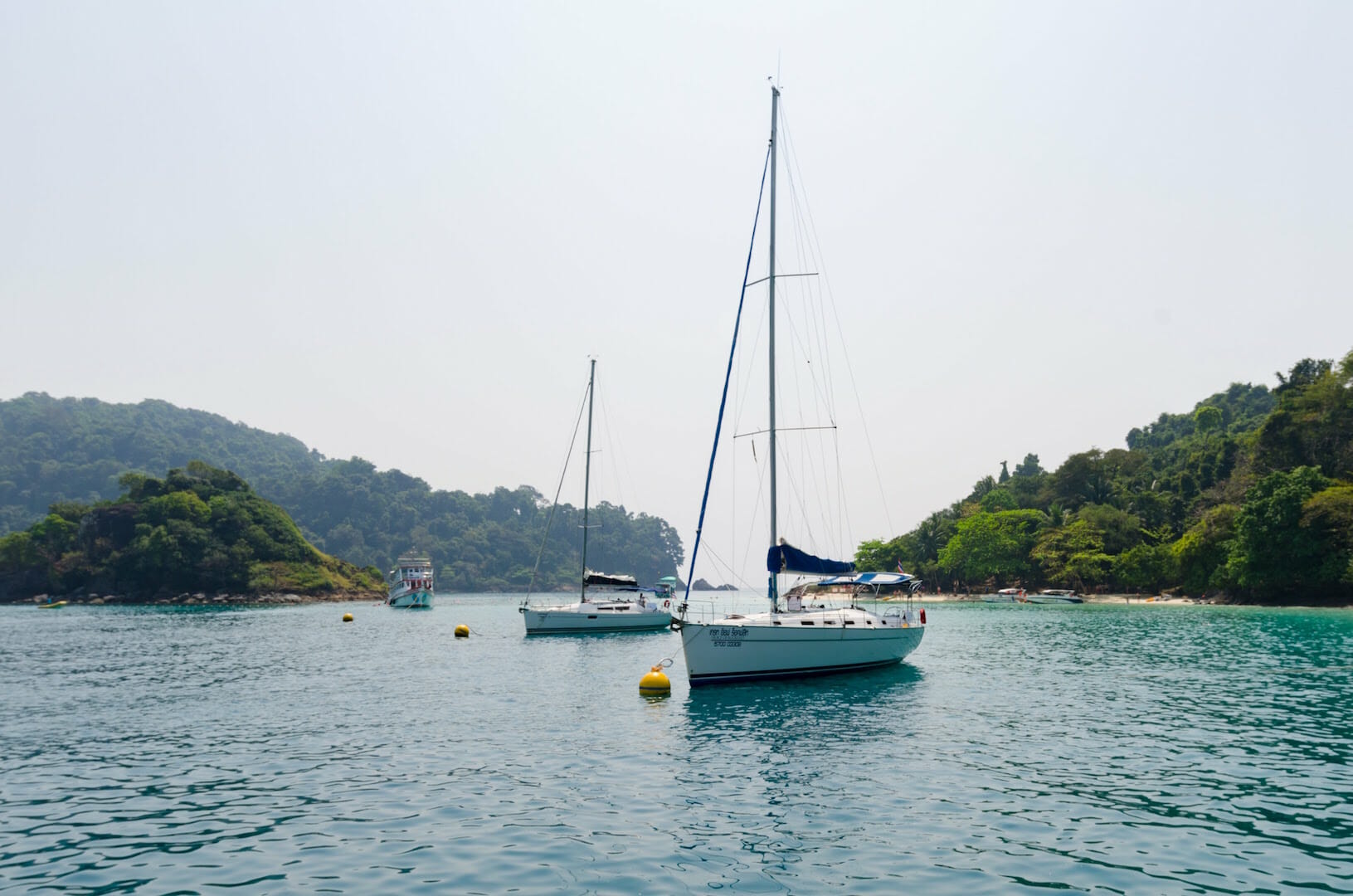 Closer to 12:00 boats with tourists start arriving that means is out time to leave. One of the many awesome things about sailing is that you can easily avoid people if you like. Our next stop is  Captain Hook on Koh Kut. Lovely bay with a big but quite resort and river going into the island.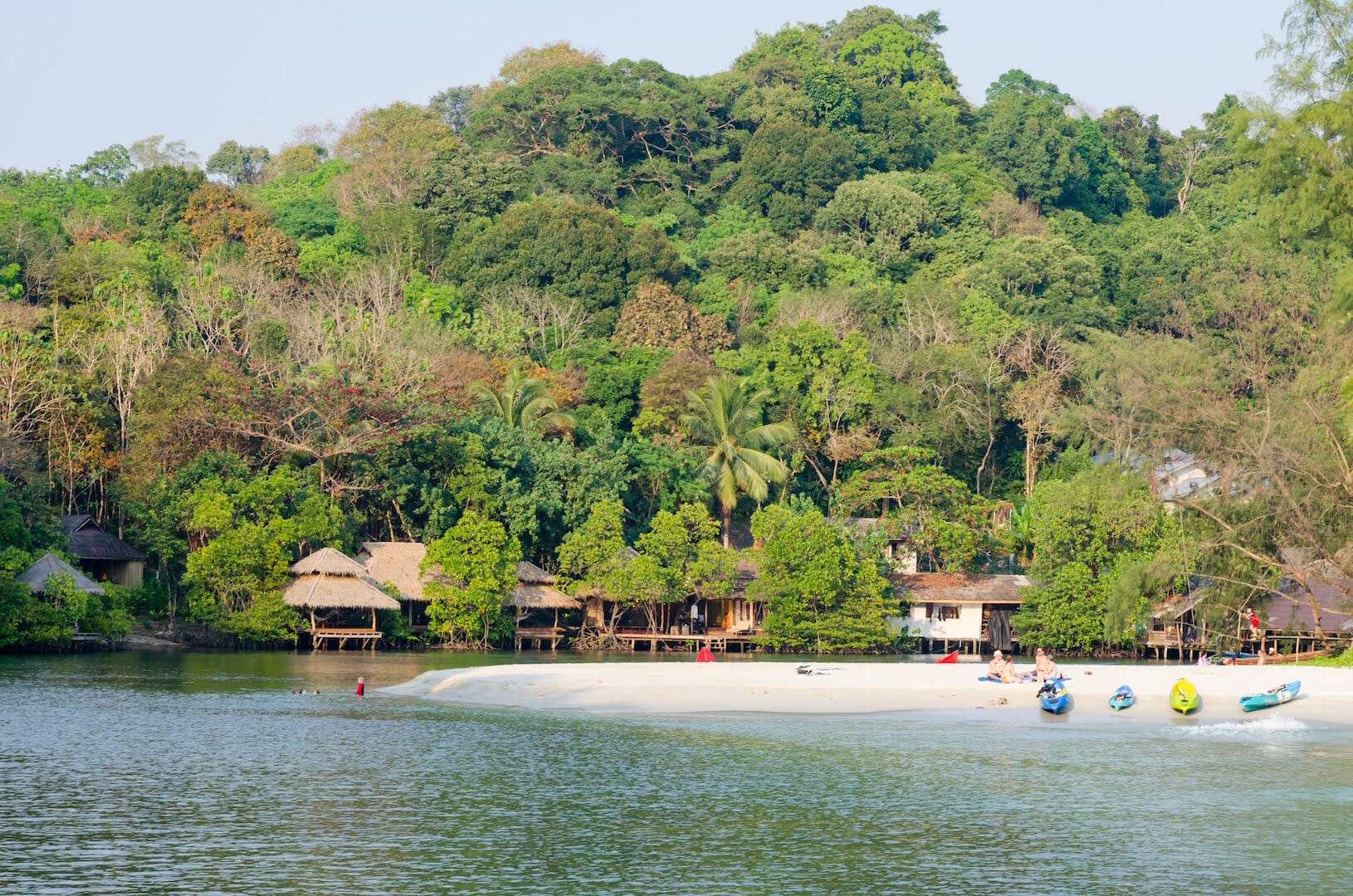 Here we are going to stay for two nights. We arrive there very hungry so the first thing we have a good lunch, it's always nice to have a meal altogether. After lunch some people order famous Thai massage and the rest of the group decide to explore the river on two dinghies.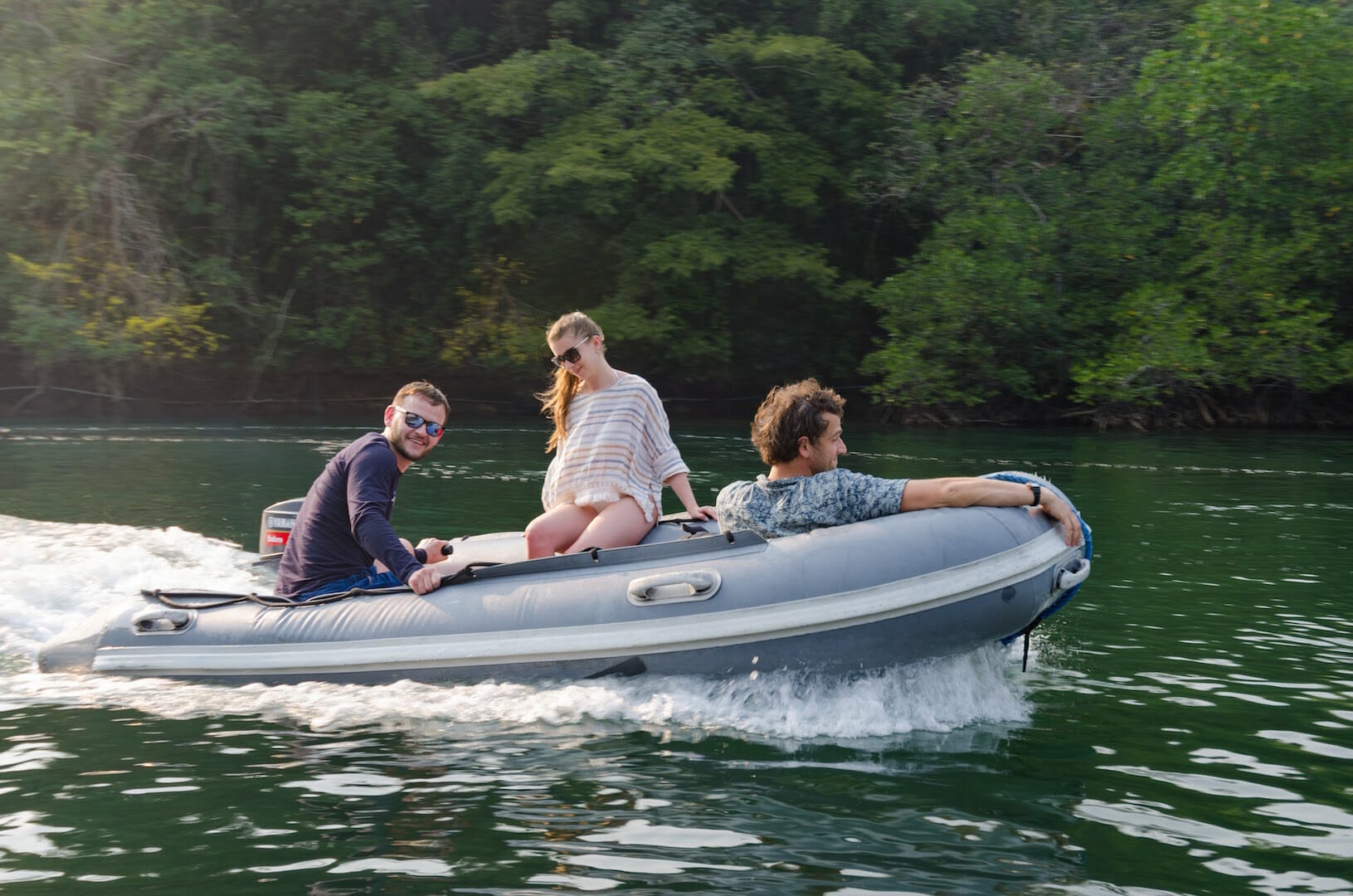 Apparently, we miss a place recommended in the guide and end up in the most expensive restaurant on the island and one of the most expensive in Thailand. Just to give you a hint 10 euros is a lot for coffee even in Amsterdam. But such high prices have a reason behind it. Place and service are amazing so we decide to stay at least for one cocktail. With our drink stuff offer us a very nice snack completely for free. Snack worth more detailed description it's a leave in which you put some dried shrimps, lime, garlic, onion, nuts, Chile peppers, and some souse. It tastes amazing and is fun to make and on top that we were complimented with a dessert made out some fruits that grow underwater in a mangrove forest. After such a treat I was happy we made a wrong turn.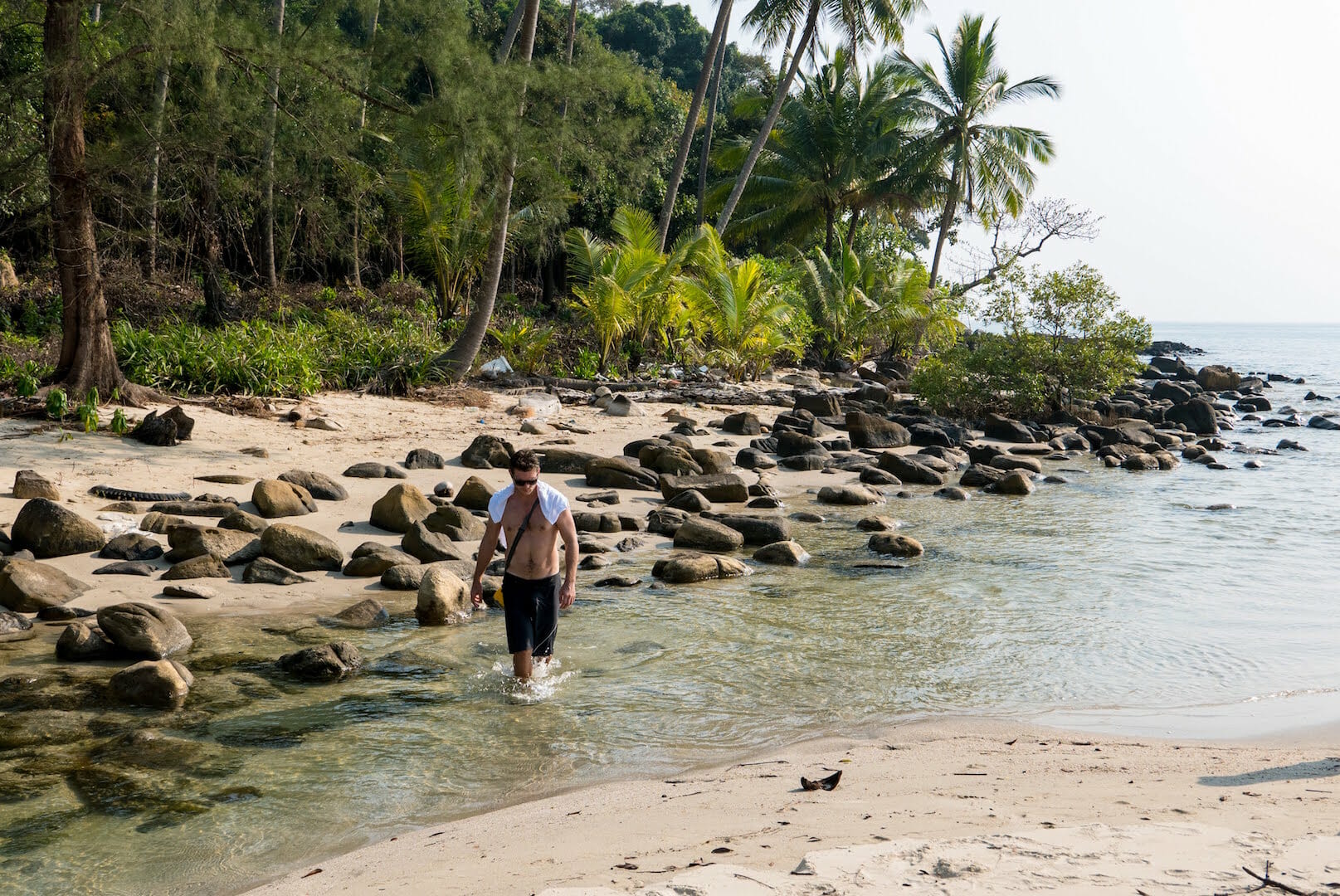 On the way back our engine stops and we found ourselves floating in the middle of the river in complete darkness. A situation I find adventurous, but not all my crew find it the same. Fortunately the second dingy can tow us to the pontoon in no time. There we fix the engine in a few minutes and decided to celebrate it with cocktails in the local bar. It was only 22:00 but resort was completely empty, besides us, there was only a few people and crew of another catamaran moored in the same bay.
Tuesday, Day 6
Today our main activity is scuba diving. Diving tour with BB Divers was booked a long time ago. This company was recommended by my friend and colleague who did several dives with them and charter company as well. BB Diver,s is the oldest diving center in the archipelago and has a base on each big island. A day before we asked our contact to pick us, up from yachts and now we are waiting for dive vessel. Two deck vessel appears on the horizon at around 10.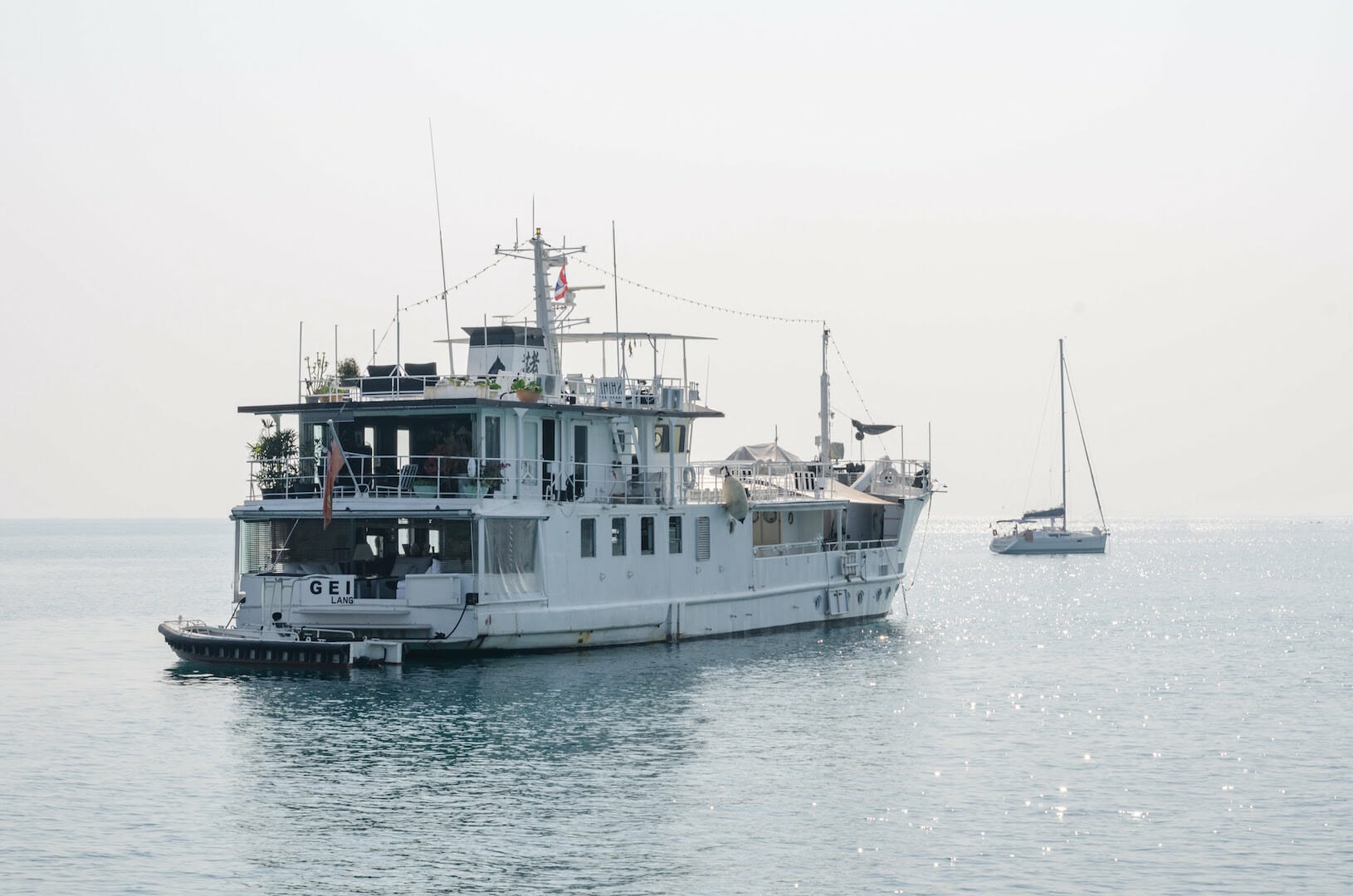 I was asked to help to bring people from yachts to diving ship on one of our dinghy, not a problem, I never miss a chance to navigate dinghy around. After all crew members were on board we were introduced to dive master team. After we fill in all needed documents and pass safety briefing we were divided into smaller groups. One divemaster and two divers. I was diving together with Vitaliy. Russian speaking diver master who lives on Koh Kut and interested in sailing.When we put our gear on and adjust it was time to get into the water. Before going down all beginners was practicing basics: how to clear your mask, how to find your regulator if you lost it, how to communicate under water, etc. When everyone fills comfortable breathing underwater we deflate our BSD and go down to explore local underwater life. Several things are amazing for me in scuba diving, first of all, it's ability to survive in airless environment and experience weightless. Also, I really like to observe humans underwater, people look so out of this world. And of course, I find scuba gear itself very interesting from a technical point of view. I didn't mention underwater life so far and it's the main reason most of the divers go in such hostile but beautiful environment. And indeed it worth it, diversity of corals and different kind of fish make a 40-minute dive pass like it was 5 minutes only. Lucky we are going to have two dives today. During first one people are getting used to the new environment and start looking around a bit. The whole time we are accompanied by our dive master. The second dive is more independent if first one was good and divers fill comfortable on their own, divemaster just lead the way and indicate points of interest. Between the first and second dive crew is offered a nice Thai lunch and a cup of coffee. While we are enjoying lunch dive vessel is going to the next dive site. And it's only half a mile from our yachts. This spot has a lot of submerged statues, elephants, idols and some other stuff that I did not recognize was decorating a temple back in the days and now are cowed in corals standing on the seafloor. Time passed by fast and our dive master showing us "go up" sign. In few minutes are on the dive vessel exchanging emotions and discussing what have we seen down there. After diving, we exchange contacts with our new friend Vitally. Most desired thing after a day of scuba diving is a nice tasty dinner. This time we decide to visit a restaurant on the river recommended in the pilot book.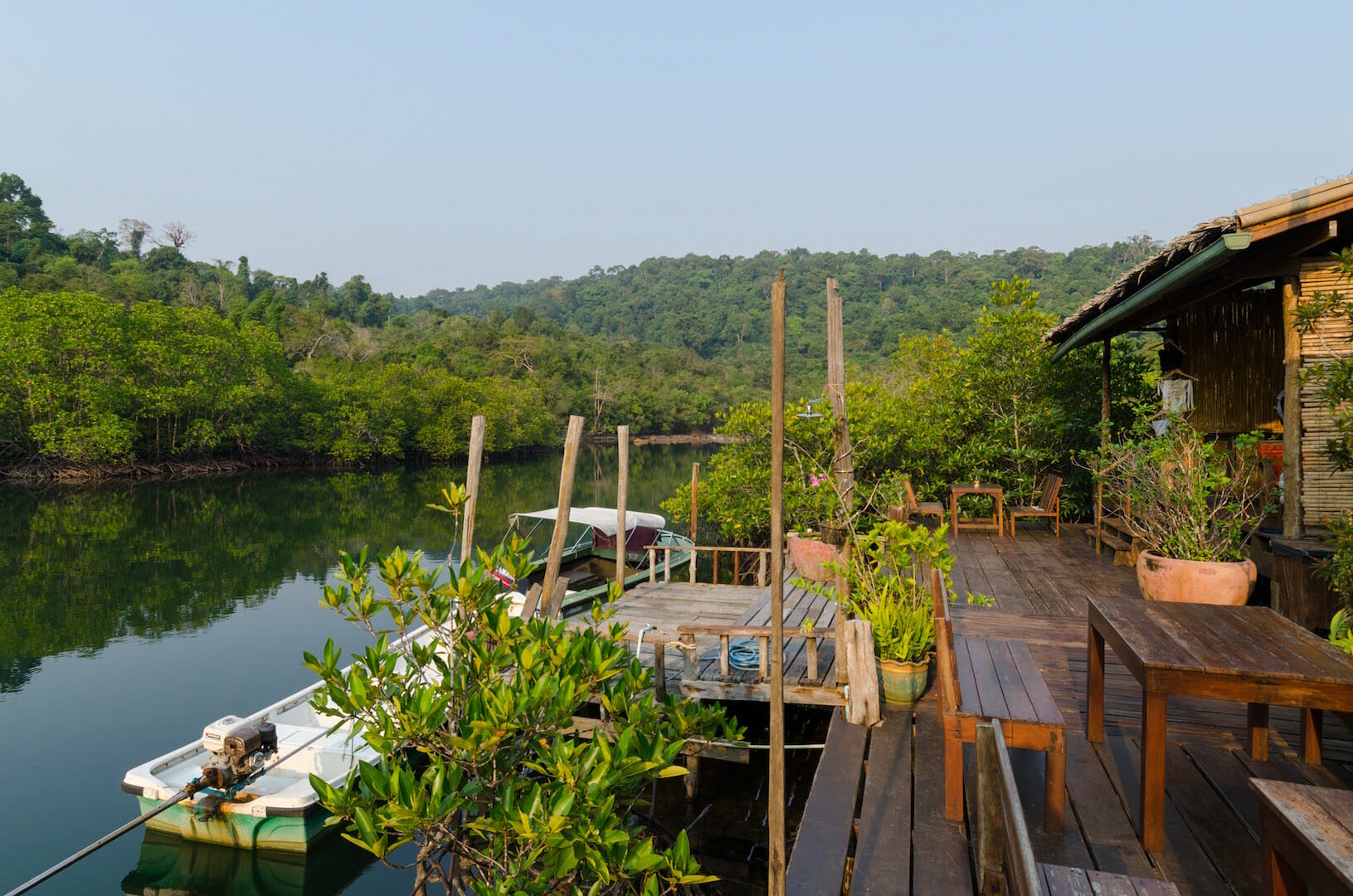 And it's there for a reason, a lovely small wooden resort on the river bank serve extremely delicious dishes and strong and tasty cocktails. After a few of thus, I decided to call it a day and went back to my boat to get some rest. Before getting too bad I received a message from Vitally, he has a day off tomorrow and suggests to show us an island. I gladly accepted his offer.
Friday, Day 7 
I woke up fresh and rested. Two other yacht was about to leave anchorage so did I. We hoist an anchor and set course to Ko Klum bay, home to BB divers base and several resorts. On the way there we catch some wind and sailed a bit. After putting anchor we meet Vitally and his girlfriend on the shore. There are few points of interest worth visiting. Some peace decides to rent scooters and the rest get into the big pick up taxi Vitally arranged for us.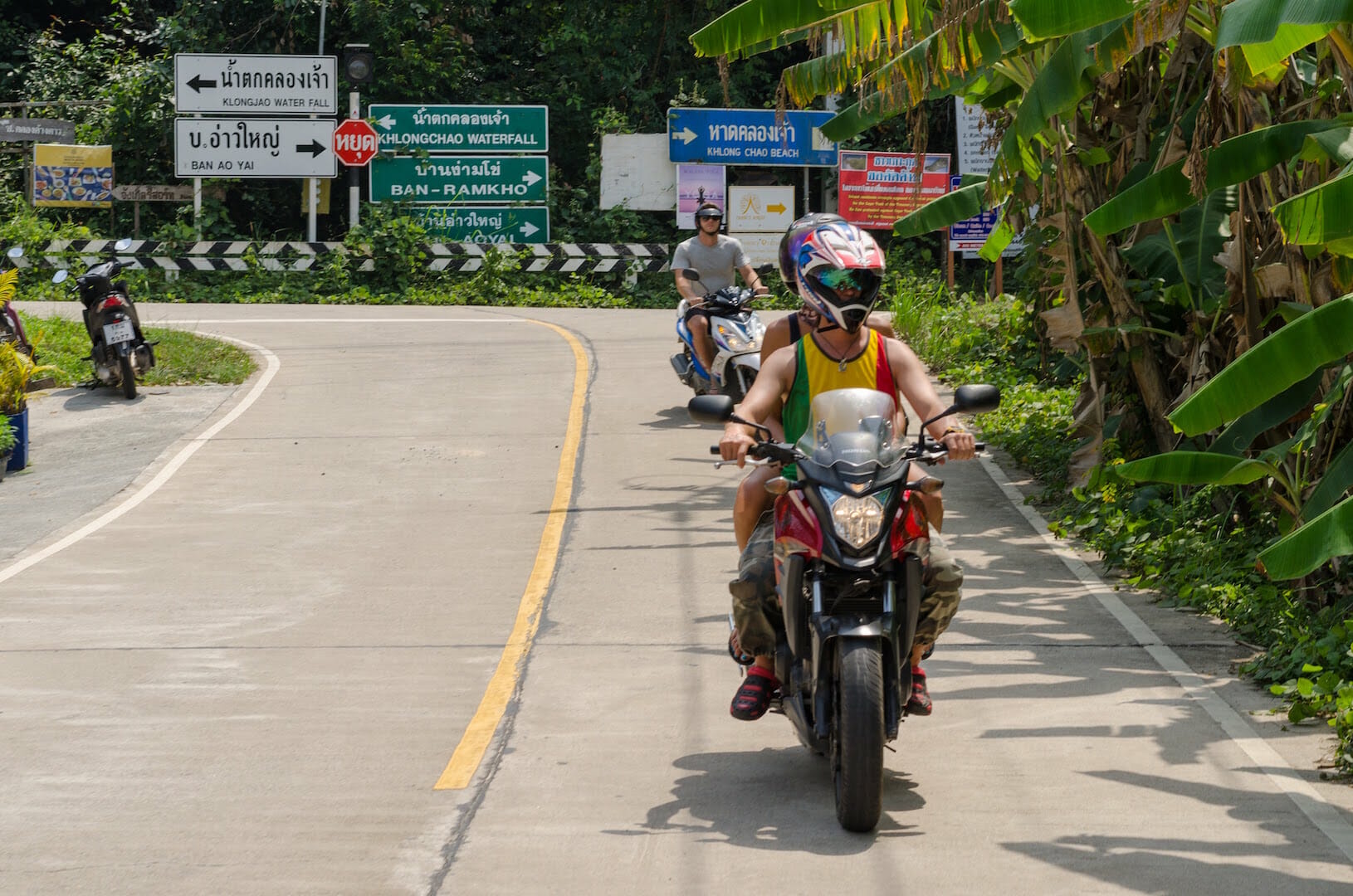 Part of the crew decides to stay a bit in the resort on shore and catch up after lunch. First stop is Klong Chao waterfall.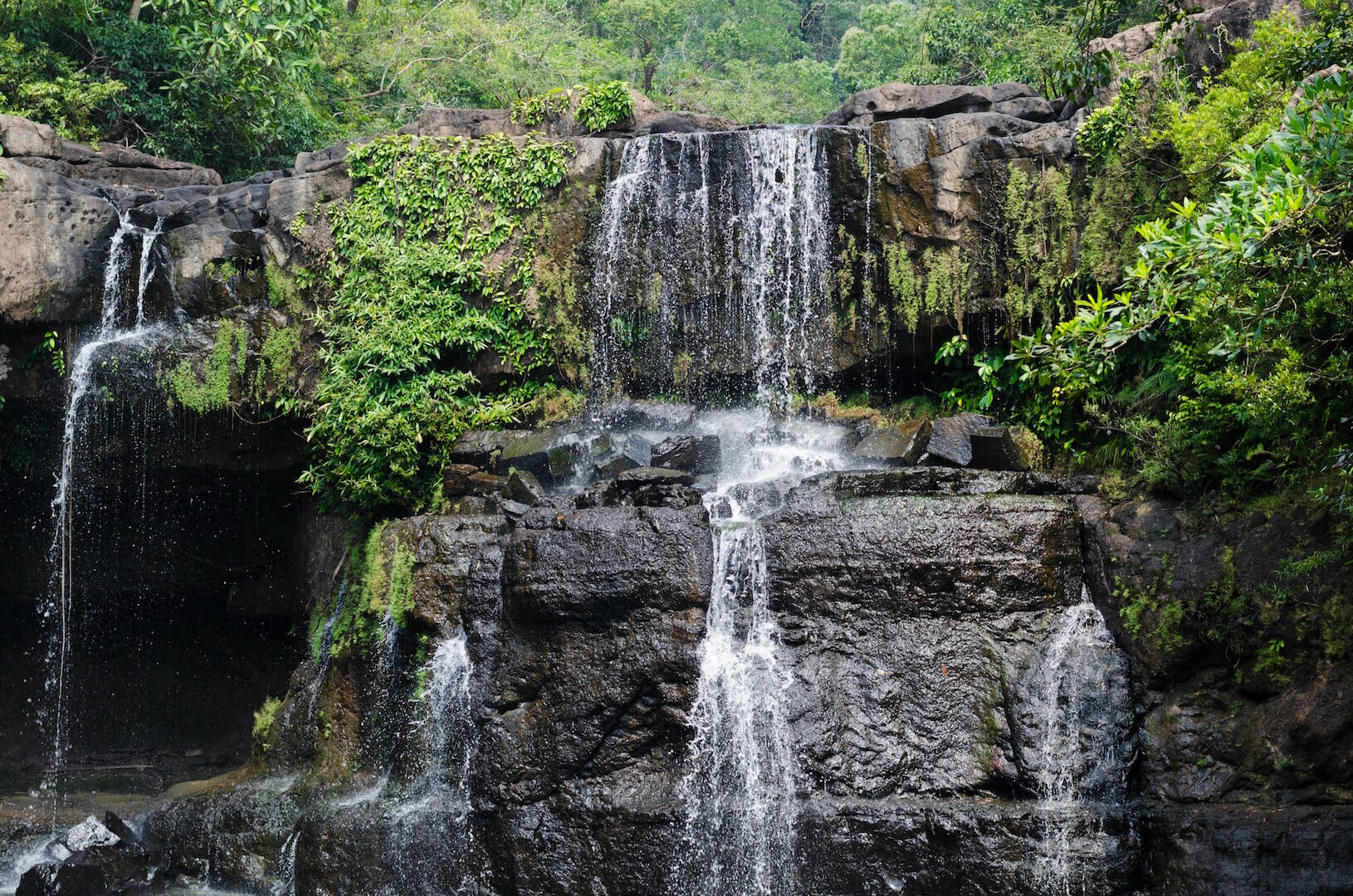 What a great filling to swim in cold fresh water during the hot sunny day. Next stop is jungles which cover the central part of the island. After a short walk, we reach the second waterfall. Also, there was a quiet little shop serving fresh coconuts and selling pineapples.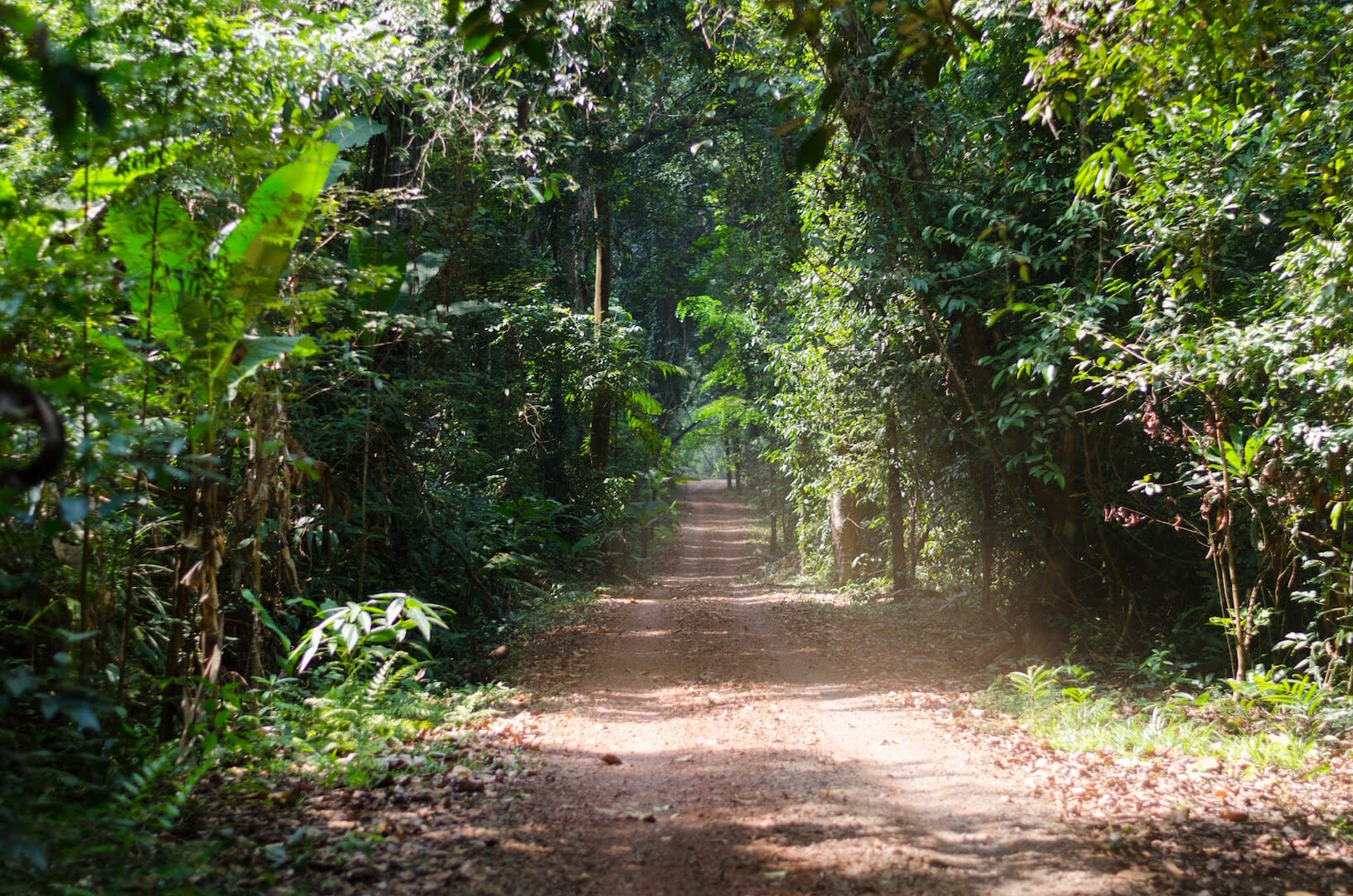 On our way back we stopped to see one of the oldest and tallest trees on the island. It's been there for 300 years another one was even alder around 500 years old.  Time passes quickly and people are getting more hungry, it was time to eat like locals.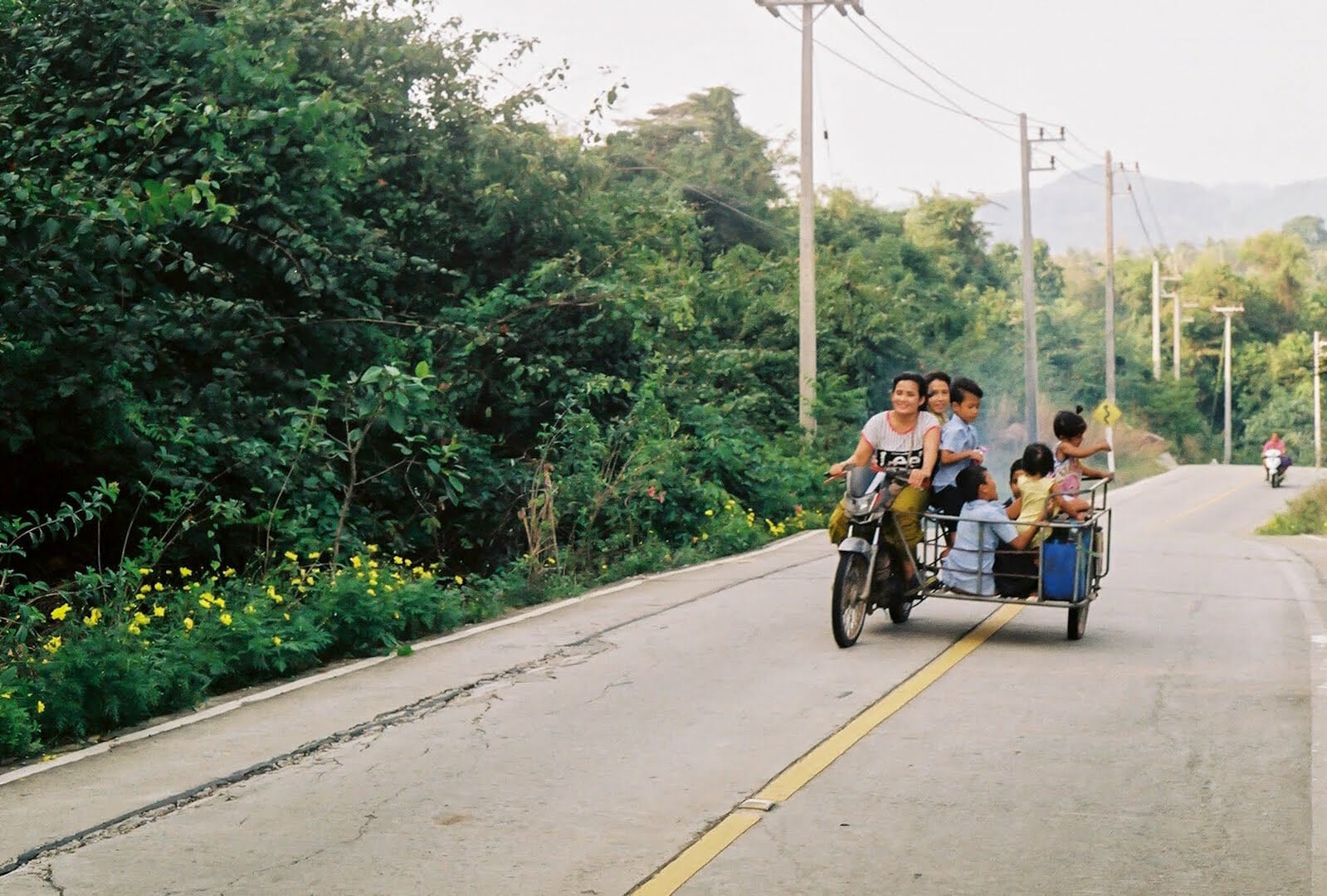 Our new friends bring us to the place where they eat after a long day of diving. Small restaurant close to the road with very spicy and delicious Thai food. Especially I like self-serving beer if you want another one just go and pick one from the fridge. Prices, of course, is much lower than in any restaurant or resort. We end up paying something around 10 euro for a huge portion of food and couple of beers. Unexpectedly disturbing news arrived from the second part of the crew that should catch up with us at that moment. One of our friends broke his leg while swimming in the waterfall and now they are in the hospital waiting for x-ray results. We get back to boats. While waiting for our injured buddy we invited Vitally to Taras yacht to discuss sailing and different systems on board. Soon our friend arrived at the resort on the shore with a cast on his leg. Now it's time to think what to do. Basically, there are several options: go back to the main island by speedboat, go back to the mainland by car and ferry or continue the journey with us. After some consideration, we decided to try to bring him back to catamaran next day on the dinghy. This night it's safer to stay in hotel ashore.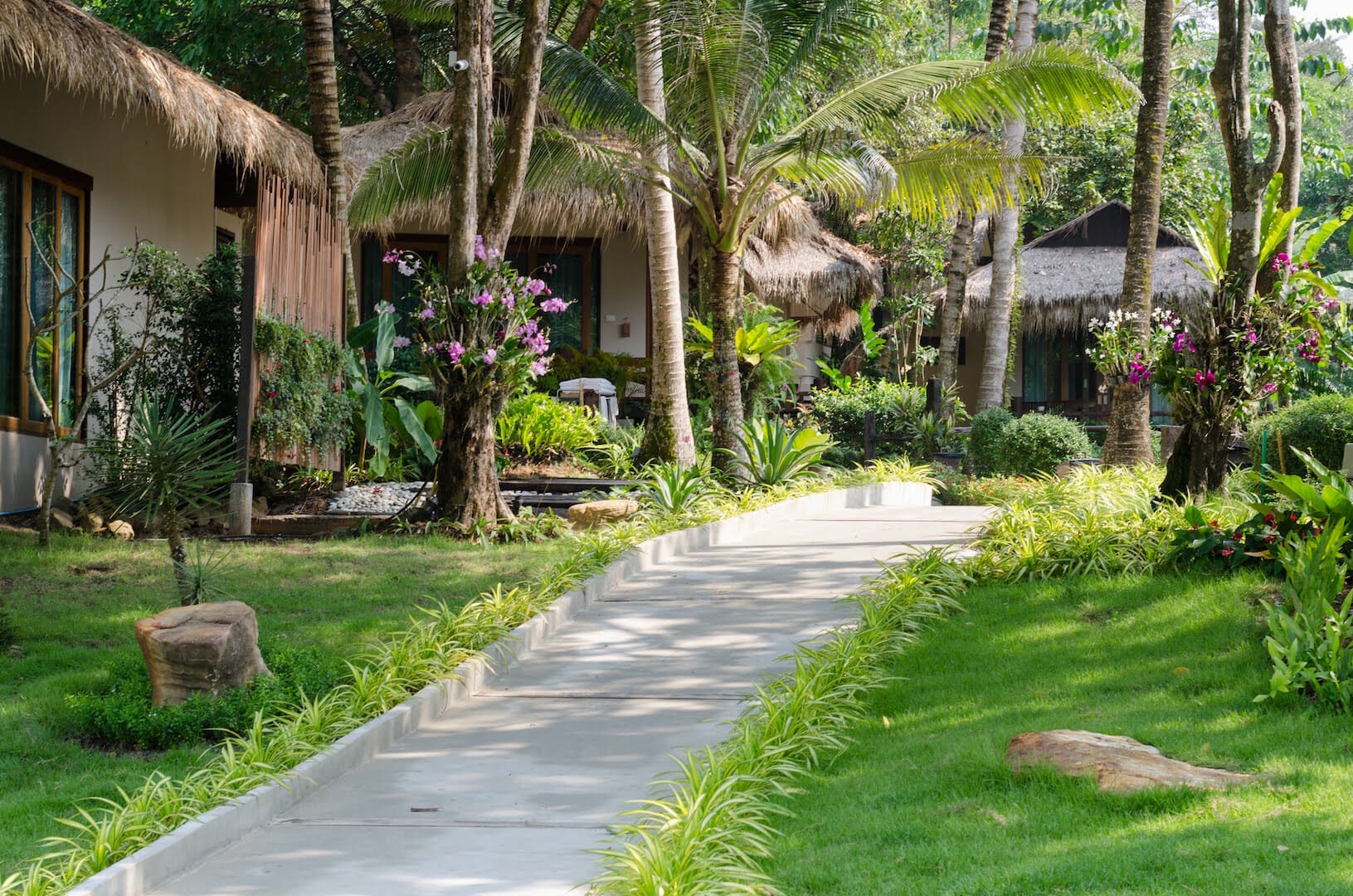 Rest of the evening we spend in the restaurant on shore all together and later on moved to the Taras boat for few gin and tonics.
Saturday, Day 8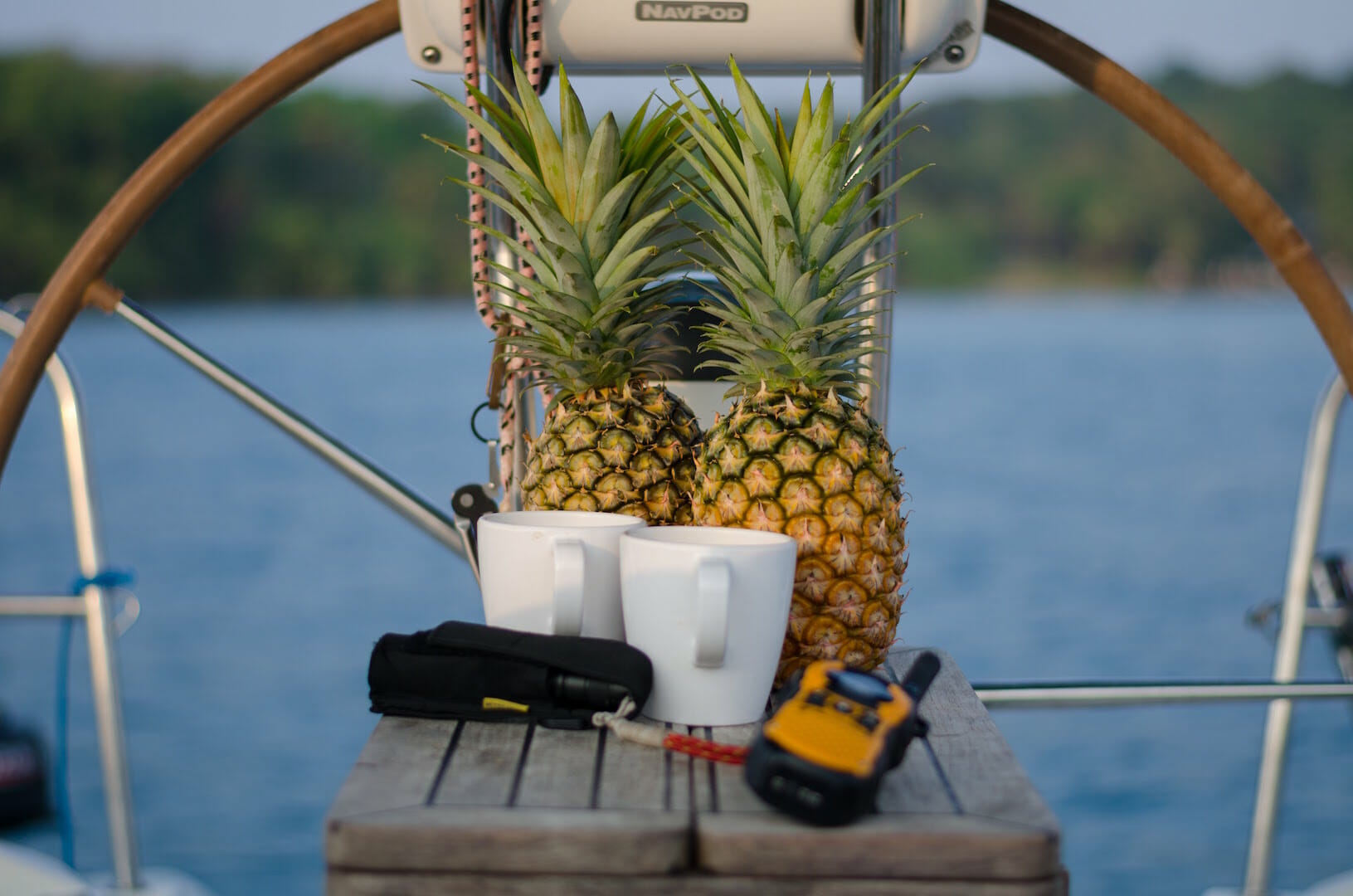 Waking up at 06:00 in the morning was a big mistake, the zombie-like condition does not help to perform important tasks. A good thing was that we have time to refill water tanks on the catamaran and discuss how we are going to bring crew member with the cast on his leg on board. It's the first time we were doing something like that but eventually, the solution was super simple. Bring dingy to the beach, help our friend to get in and then safely bring him on board of catamaran. Aground lunch we leave Koh Kut and set course towards Koh Mak island. There was no wind and so we motor all the way to a southern part of the island.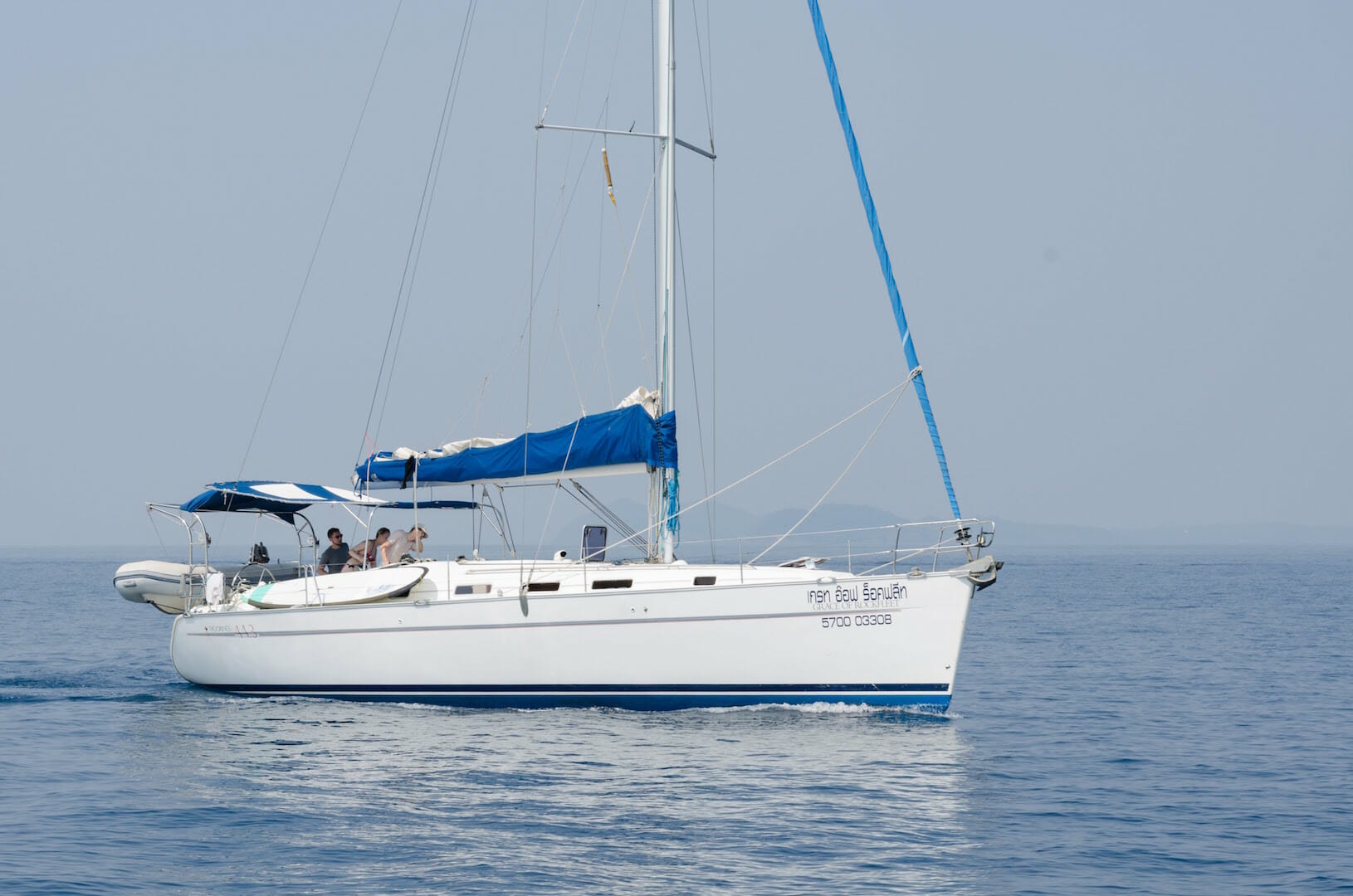 I was not expecting much from Ko Kot but found one of the most amazing places I have ever visited. There is small island Ko Kham, very close to Koh Mak.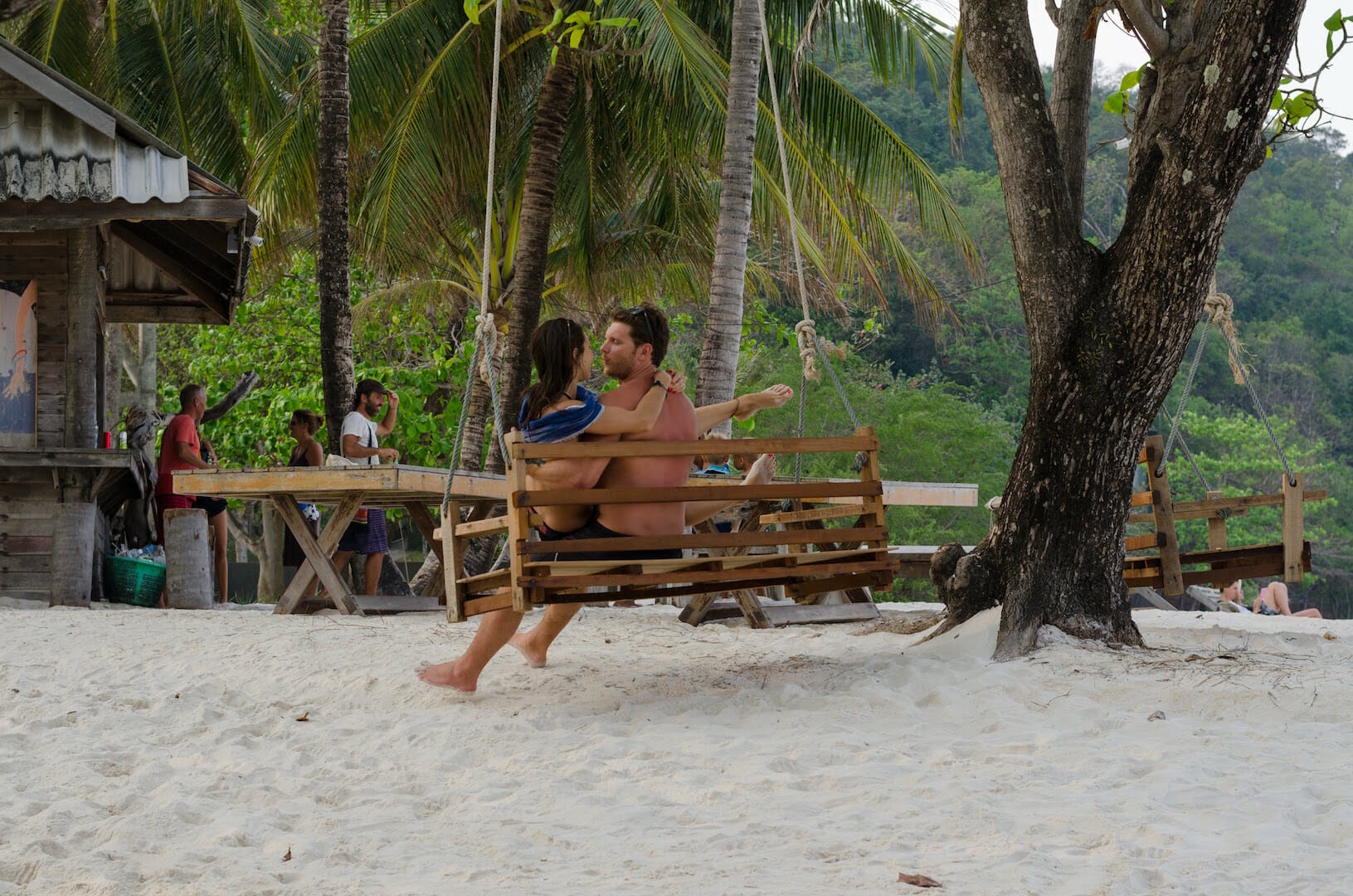 On this island located an abandoned resort. It's a luxurious resort was almost finished and then abandoned on the last stage of construction.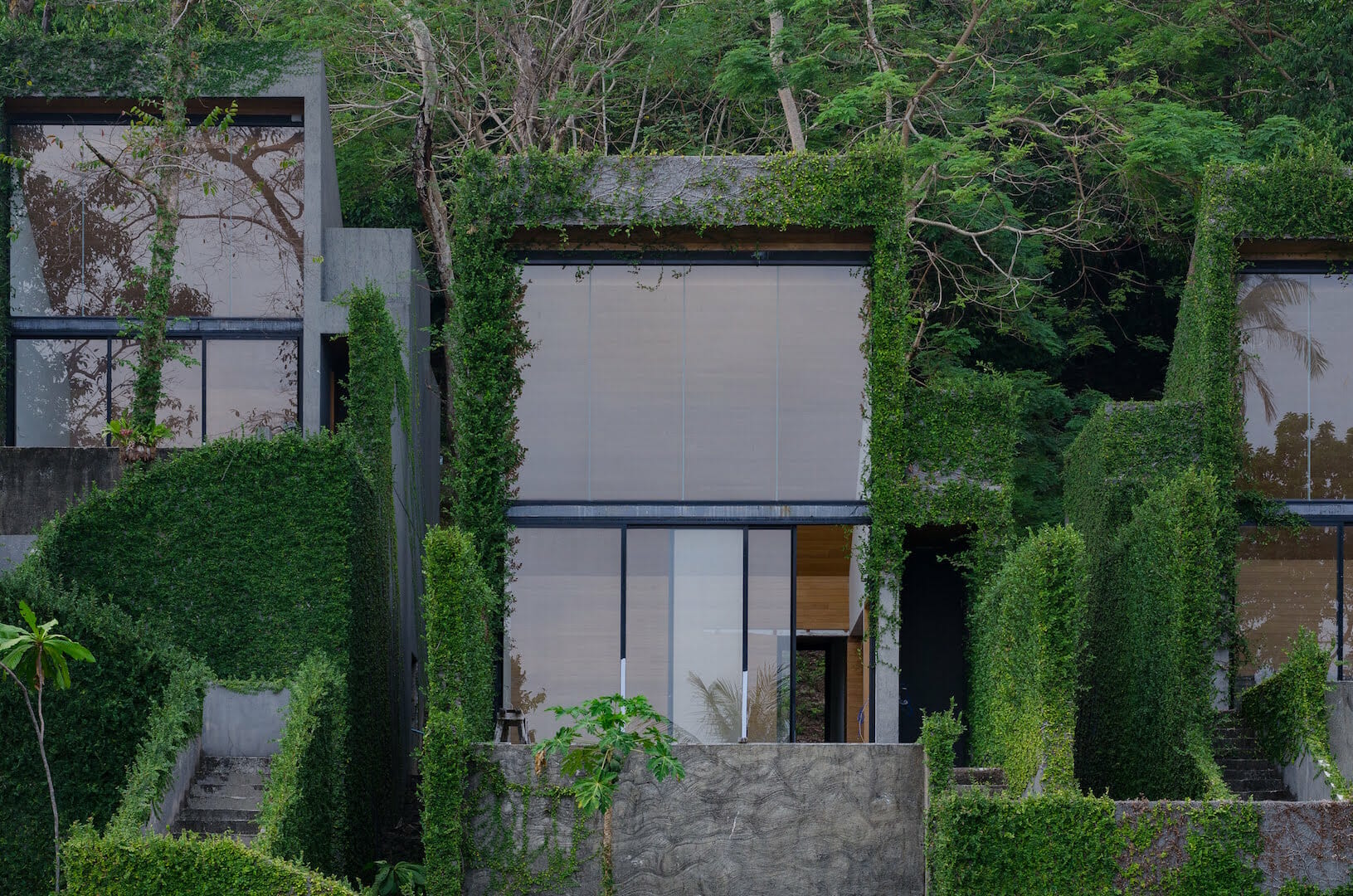 The original idea is amazing, there are only a few houses all facing sea, build in the way that guests would not see each other, just the white sand beach, palm tree and see. Each house has its own infinity pool and enormous windows.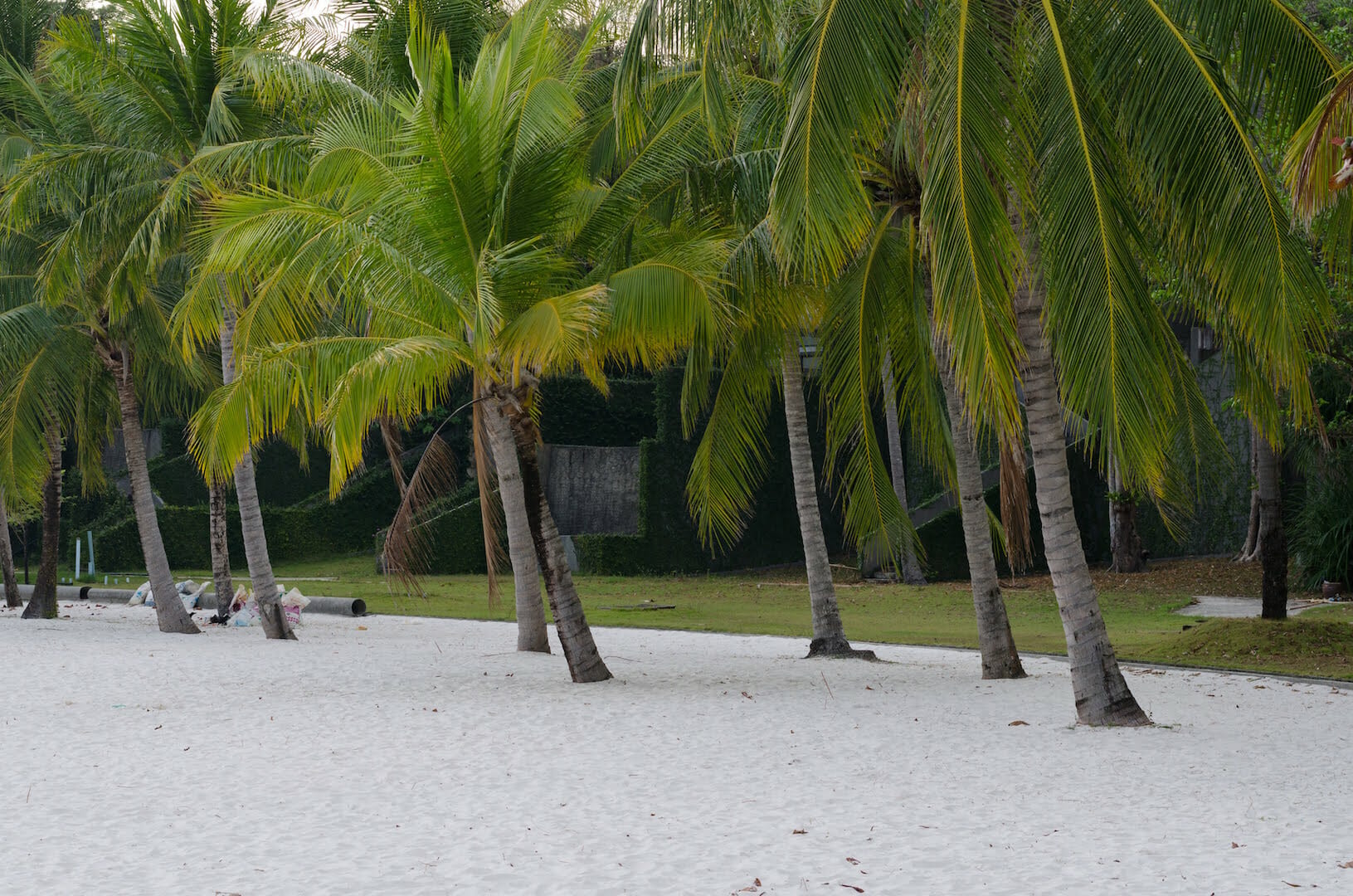 Main material is concrete and glass, but concrete is covered with ivy masking building in the surrounding jungle.  An approximate cost is 50 million USD. Finished on 90 percent it most likely newer will host rich guests looking for some privacy in remote Thai island. But if you are around I would strongly recommend visiting this unfinished architectural masterpiece.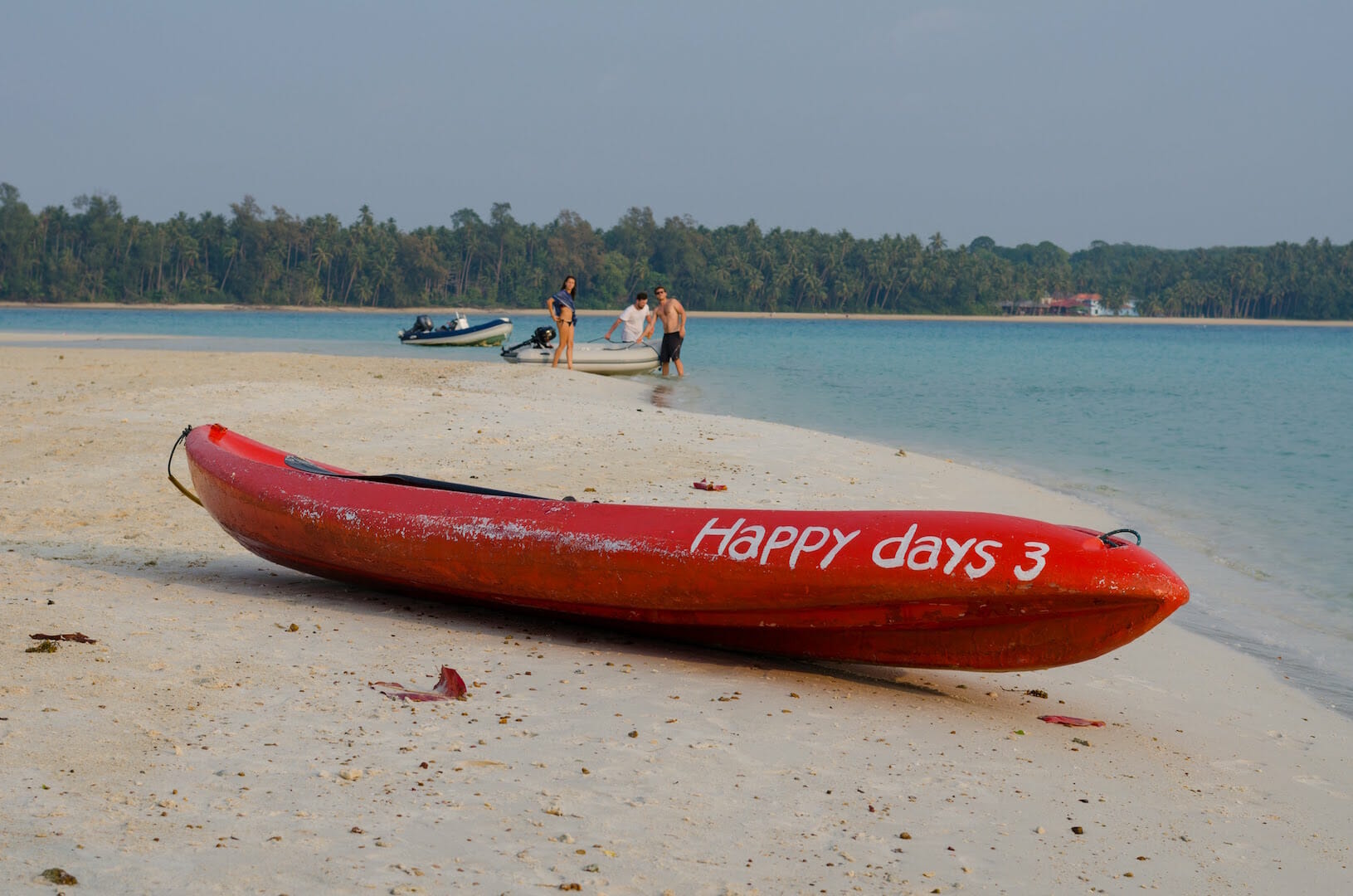 Inspired but very hungry we went to explore local restaurants located on the shore. And it was "happy hour" so we not only get a nice dinner but also try a lot of new cocktails. Rest of the evening most of us spend on catamaran partying. It was a long day.
Sunday, Day 9
It's my Birthday. A plan is to sail towards Koh Chang and have a party in the restaurant on shore. But it would be boring, we need a little bit of adventure. So I got them.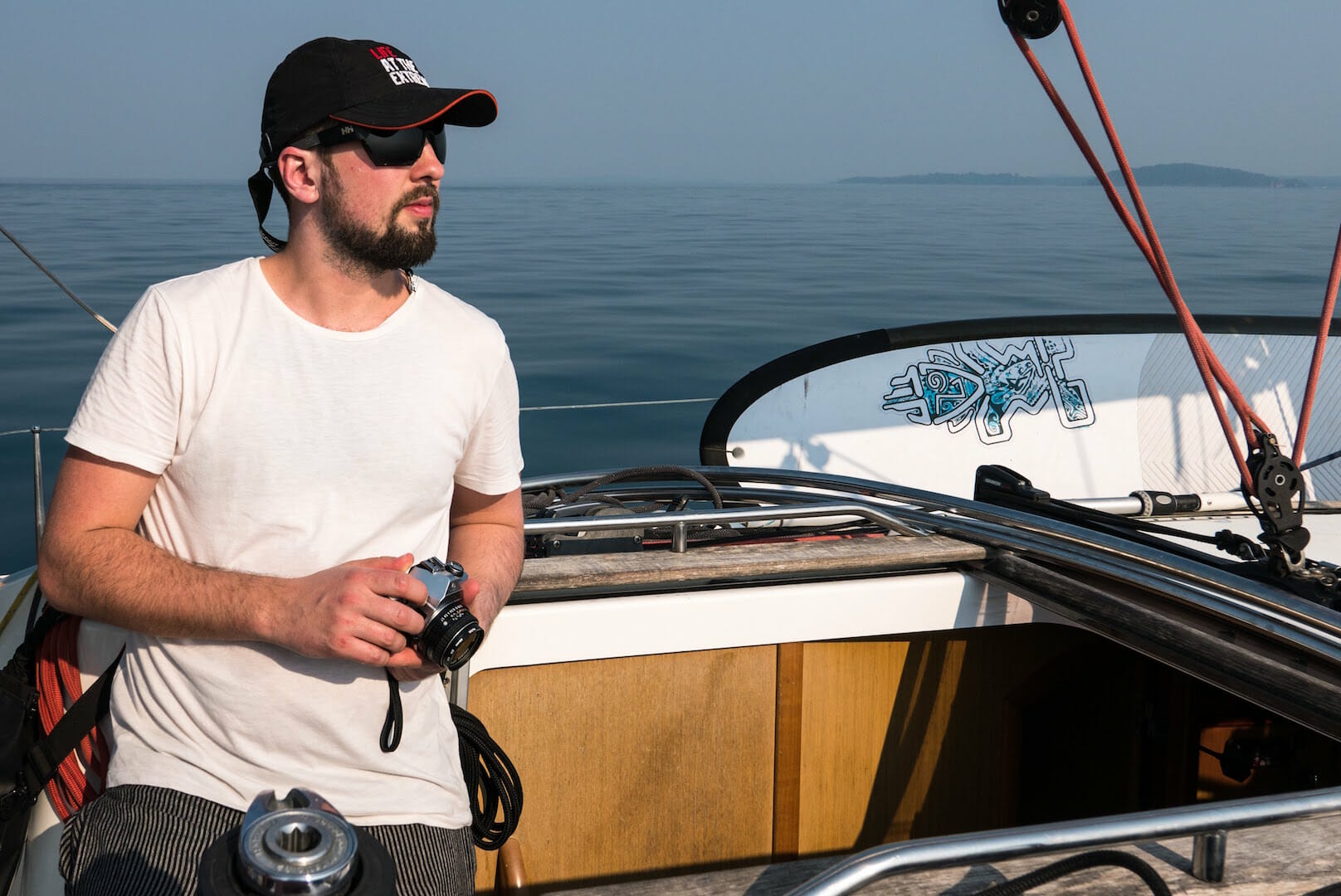 First thing in the morning I figure out that my domestic battery is dead. The second thing I figured out that my domestic battery is not changing. And also that all my instruments are dead too. All these things are not critical besides depth sounder. Without it, I am half blind and anchoring becomes a bit difficult. Of course, I can ask Taras to tell me depth by radio and just follow him but it's not the way to go.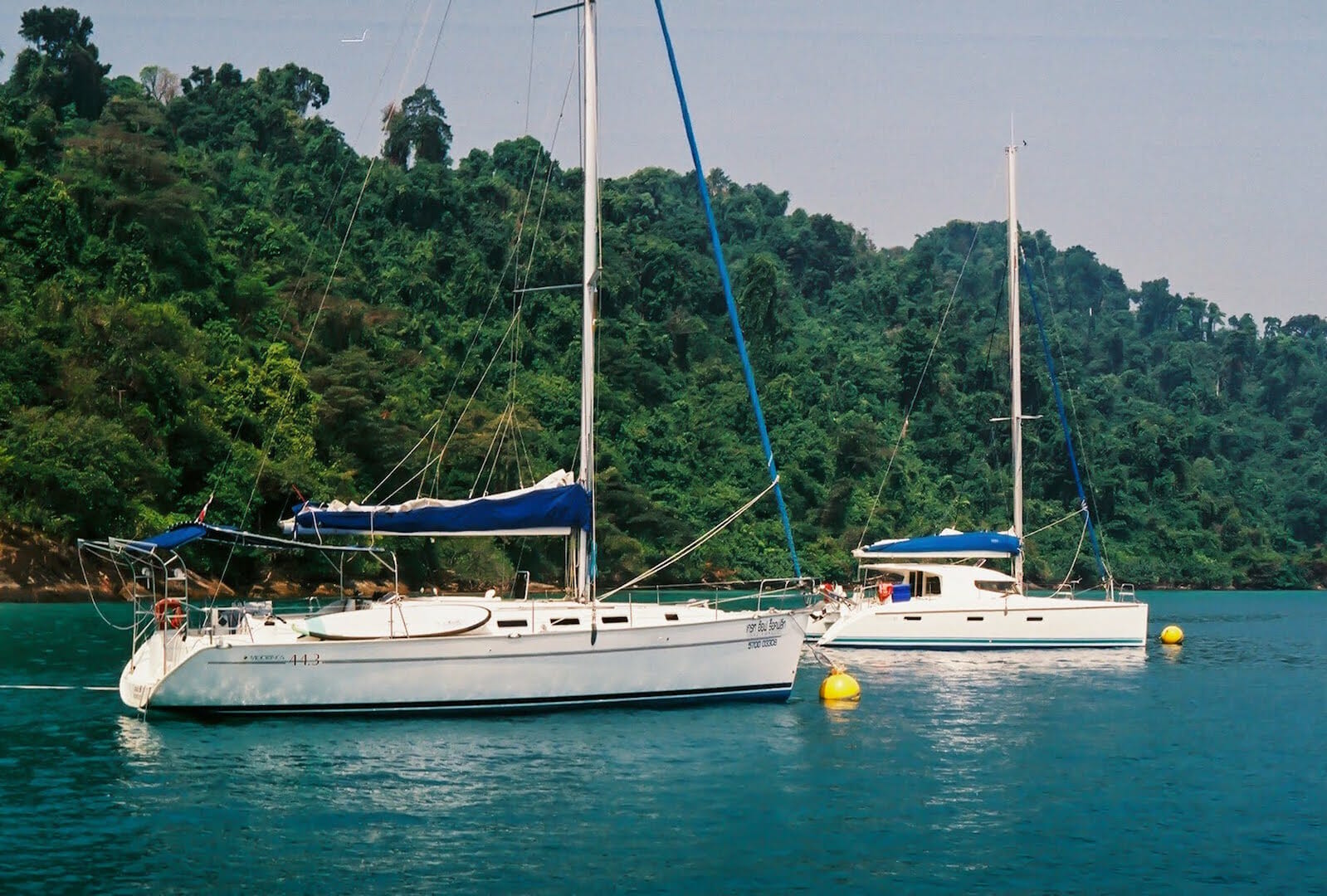 It's important to understand there always something wrong with charter boats. It's very heavy working boats, 180 days a year they are out in the sea, skipped by random skippers and not always high skilled. Most important is how the charter response to on water problems. This time we get excellent support. First, we try to fix the problem on our own with on-call support form charter company. After some time it becomes clear that we need a help from a professional electrician. We were offered several locations when we can meet up with the charter boat. The best option was to go to Ko Wai island. Taras lead the way and we set course to a rendezvous point. Charter company already was there on a beautiful catamaran called "Vesna", as we figured out they actually build it themselves. In an hour or two problem with instruments and battery was solved and also we get two packs of ice and was ready to go to our next waypoint – Coral resort at Koh Chang.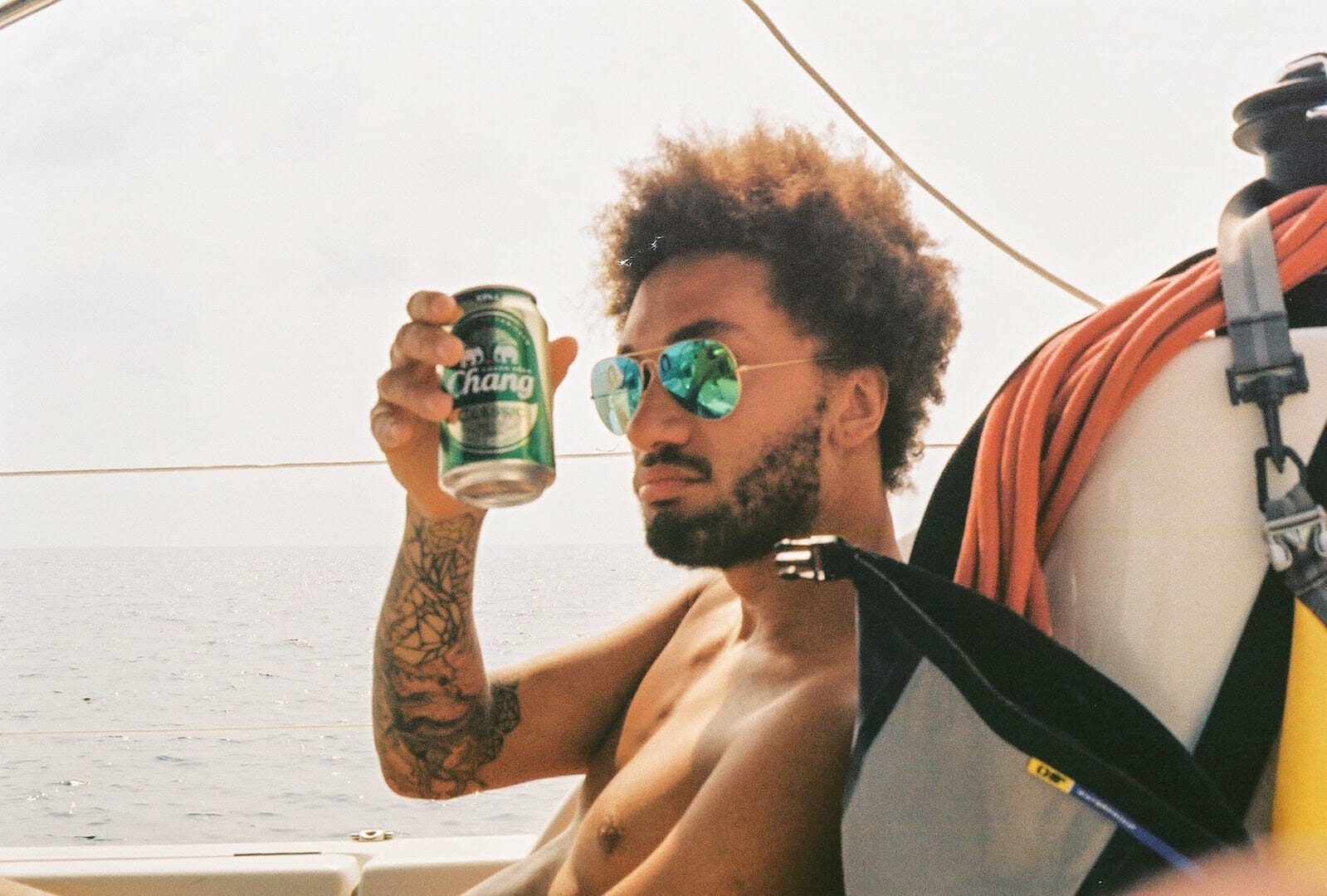 While we were busy with fixing electricity on my yacht, catamaran sailed back to home base to drop off our friend with the broken leg, he needs to visit a hospital in Trat to double check his leg. Around 16:00 we reached our overnight stop and drop anchor close to the famous elephant camp. I have a reservation in a nice looking place called Salt. It was a long day but now it's time to party and celebrate my birthday with few drinks. My friends arranged a birthday cake with candles and I got a lot of cool presents including hammock which I can use for next trips on board. Later on, our friends who went to Trat join us and bring good news that everything is fine and cast can be removed soon. Afterward, we moved to Catamaran when I got another one surprise party, we spend the rest of the day on board enjoying cocktails. It was a great birthday, probably the best one.
Monday, Day 10 
It was a very relaxed morning, we woke up late and a bit hungover.  The first half of the day we are staying on the same spot so people can go swim with elephants (that's a real thing yes), have some nice breakfast ashore or practice paddling on SUP or kayak. After lunch, we decide to go closer to the home base but not to dock to the pontoon but stay one last night on the mooring ball in front of it. This way we can enjoy yacht life a little bit more but also meet our friend who is now staying in the hotel we spend our first night in. The first part of the way we motored but closer to the base wind build up and we sailed few last miles and moored at sunset.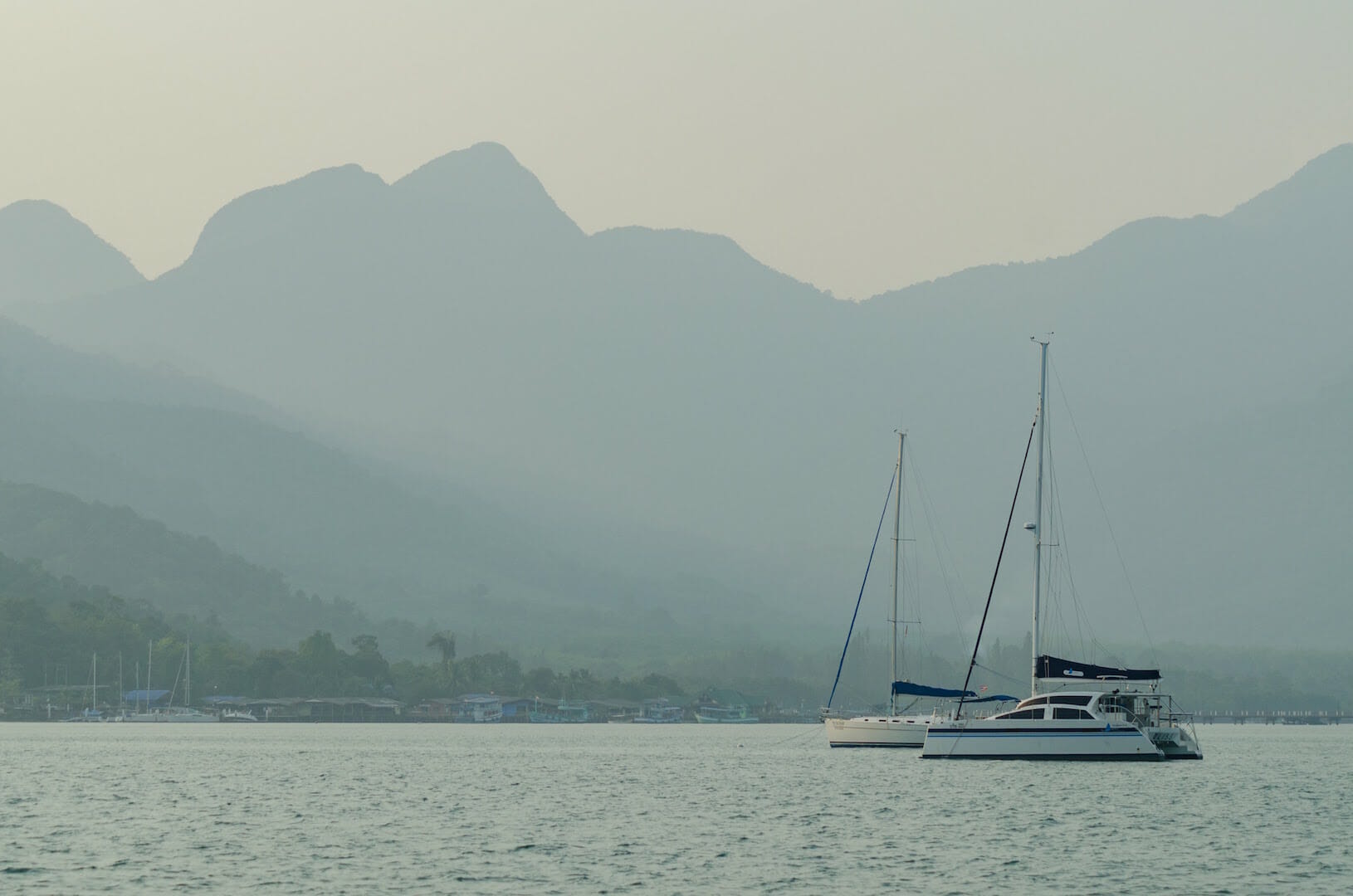 It was an awesome sailing trip, safe and fun, with diverse activity and visiting a lot of beautiful islands. In the evening we had a group lunch at the seafood restaurant.  Our sailing trip was over but we still have two days on Koh Chang and another two days in Bangkok.
Tuesday, Day 11
We woke up early and after breakfast pack all our staff. Around 09:00 charter stuff assist us to move our fleet to the pontoon to unload all our bags and do yacht checkup. When all paperwork was done I ask our lovely base manager Kim to make another briefing for us, about other sailing grounds – Ko Samui. I was impressed, basically, Ko Samui is a combination of Koh Chang like islands with a lot of sandy beaches and jungles, and vertical rock formation so well known feature of  Andaman sea, add amazing diving experience and you will get extremely interesting sailing ground. We will explore this area on our next trip to Thailand. It's time to say goodbye to our boats and head to the hotel close to Bang Bao Pear. How are we going to get there? By boat of course. This time it's a speedboat capable to do 35 knots and more.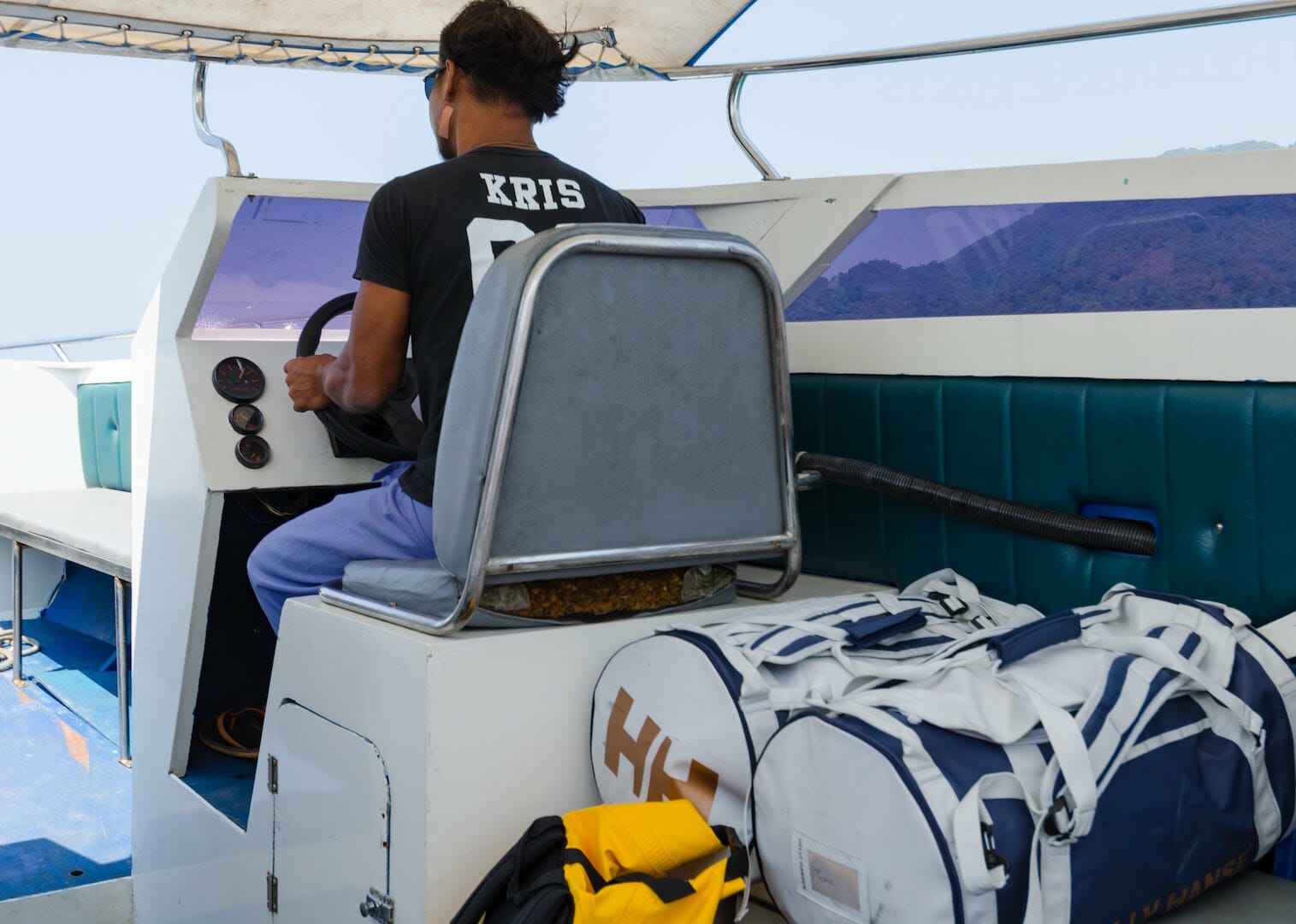 We get there like in 20 minutes or so. Most of the group stayed in Resolution resort, a quiet place far away from main touristic areas with nice pool bar and restaurant with a view to the bay.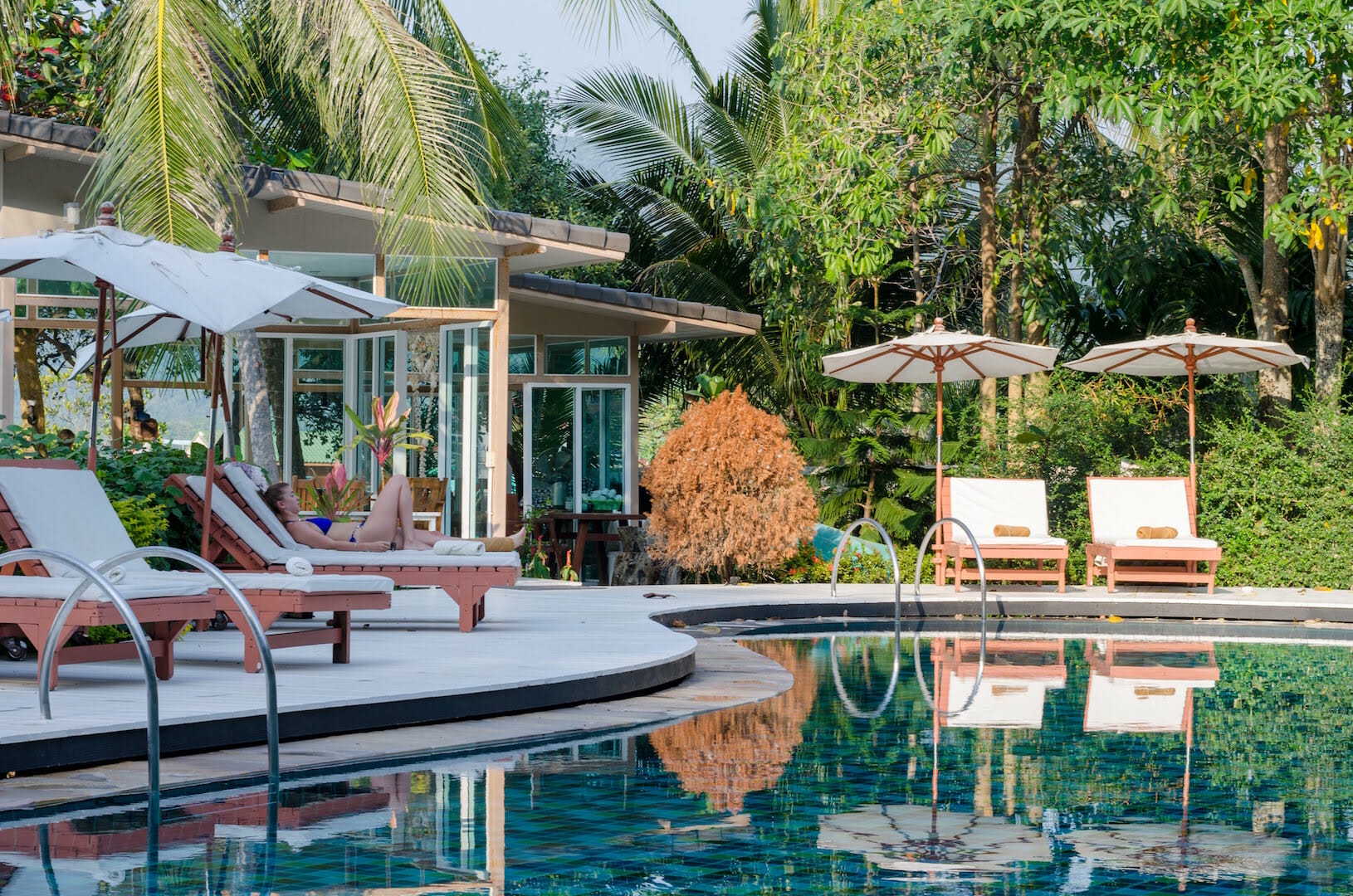 I would be frank with you, being a skipper is not an easy thing to do, super fun and interesting but also tiresome. So I spent a rest of the day near the pool getting some rest.
Wednesday, Day 12
After breakfast we decide to explore the island and absolutely the best way to do this is to rent a scooter. Hotel manager arranged delivery of scooters right to the hotel for us. It was my first time riding a scooter and also driving left side traffic. Surprisingly it appears not complicated at all, first few hours we were going slow and easy but after lunch, I was comfortable enough to go up to 60 km/h.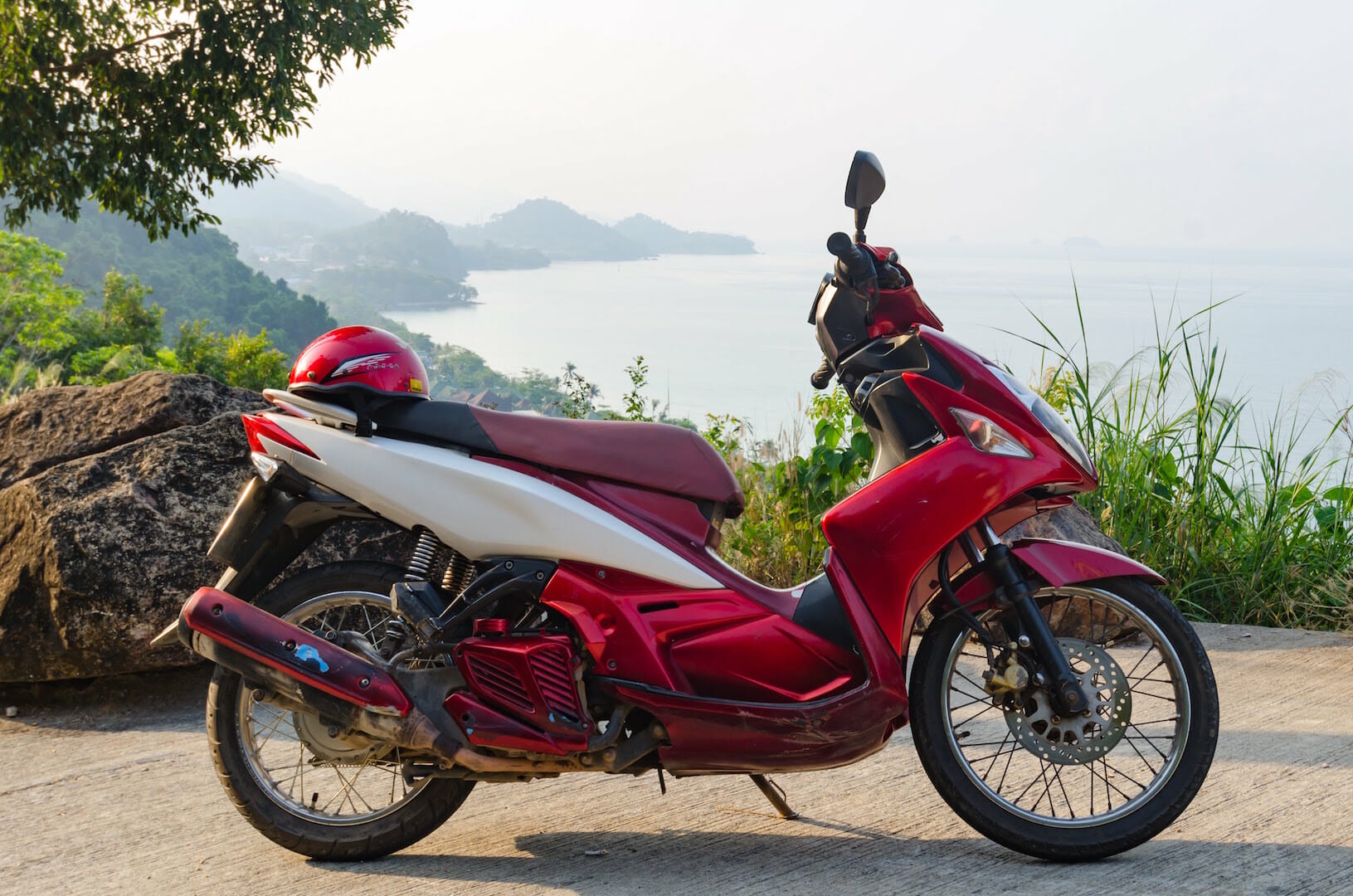 It's time to tell a bit more about the main island of Koh Chang, it's an old fishing town and also well-known trade post between Thailand and China. Now tourism is on the rise here but on another hand there is only one way to get to the island – by ferry, meaning that there is no crowd here.
I would say the island has a healthy balance between tourism and local life. In the center of the island, there is a mountain completely covered in jungles. Settlements are located only on coastal line. All of them are connected by the main road, approx 80 km long. We start our trip on the south-west end of the island and head to White Sand beach – main tourist area. The road is curvy and goes through tiny local villages and jungles, with no heavy traffic, spectacular road to drive. In an hour we stopped for lunch in of the many restaurants at White Sand beach. After lunch our group splits, ladies decide to stay in some fancy spa and gentlemen and one lady decides to improve their marksmanship and went to the shooting range. It's very well equipped shooting range with a wide selection of firearms including pistols, assault rifles, shotguns and even sniper rifles. We have and a lot of fun, my weapon of choice was AR-15  in 223. caliber with collimator scope.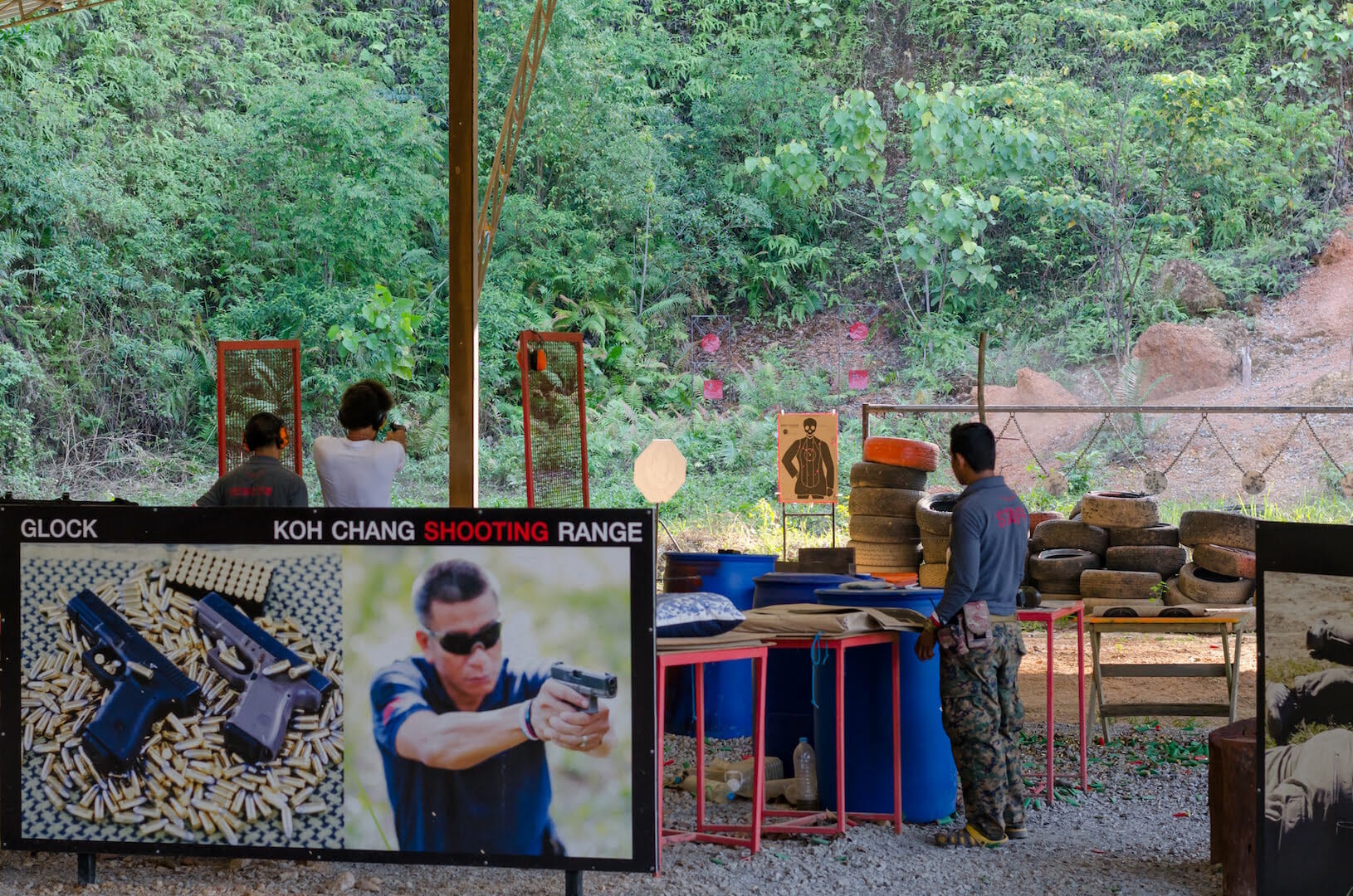 Would love to spend more time shooting there but time was limited and prices bite too. Moreover, it's a good idea to avoid driving at night especially when it's your first day on 2 wheels. We head back to the hotel and spend the evening dining in the restaurant there. But there was a problem, I want to drive more. So I decide to wake up on sunrise and explore the island on the scooter a bit more, on our way back I spotted a viewpoint that looks interesting to me.
Thursday, Day 13
As planned I got up super early pack my camera and head to the viewpoint located on the hill after White Sand Beach. It's something around 07:00 in the morning, the island is waking up: kids are getting to school, people are praying in temples and there is no tourist at all. I was very happy to see another side of Koh Chang.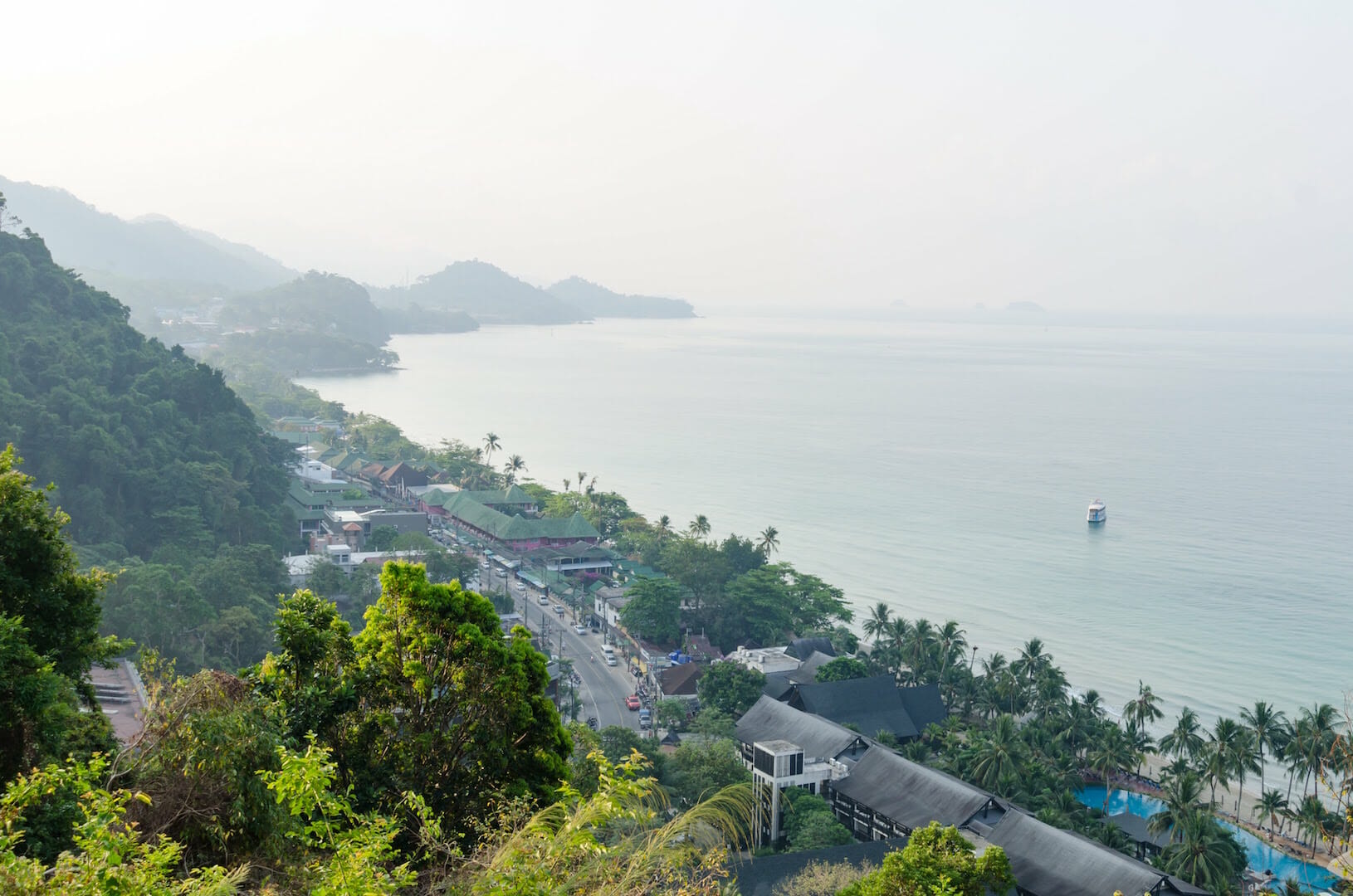 In about an hour I reached my destination point, the view is great in dead, you can see the coastal line and part of the mountain and endless sea with a few yachts on an anchor. I need to be back in the hotel soon we have a long trip on minibus today. Leaving at 10:00 in the morning we are going to check in the hotel in Bangkok only at seven in the evening. It's pointless to describe a bus ride, it's just a bus ride. Maybe even I would consider taking a flight from Trat next time. We arrived in Bangkok on sunset. The city is huge and the traffic is massive, totally opposite environment that we used to during the last 10 days. But on another hand the city is alive and looks very interesting, there is stuff to do for sure.  After check in we meet near the pool in our hotel for a few bears. Today we celebrate a birthday of Alexander Kostenko – skipper of the catamaran.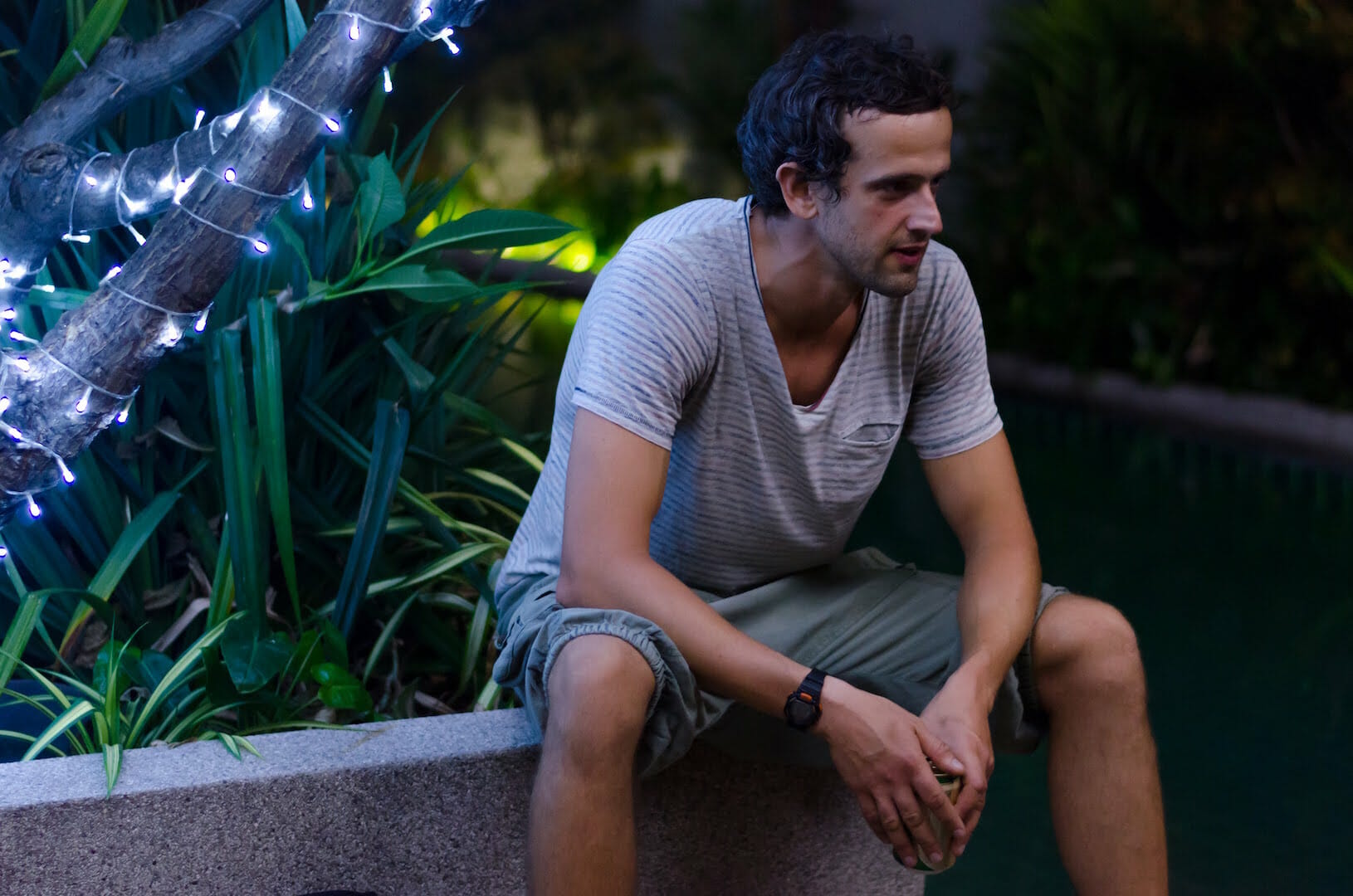 The first stop on our route is rooftop bar Above eleven. Popular among tourist and expats it has a great view and very friendly staff and lives music. Prices are corresponding. Another interesting feature is security, men are not allowed inside of the bar in slippers. But! you can buy a pair of shoes for around 5 euro right there from security. The place is great we stayed there till closing hours. Now it's time to see another side of Bangkok – red light district. What I really really love about Thailand it's contrast, few minutes walking from a fancy central area with luxury hotels and restaurants and you will find yourself in a much darker place. I myself is leaving in Amsterdam and it's is famous for its red light district. In fact, I am leaving only a few hundred meters from it but it's a very different kind of red light. The one in Bangkok is I would say more true one, it looks like you would imagine it.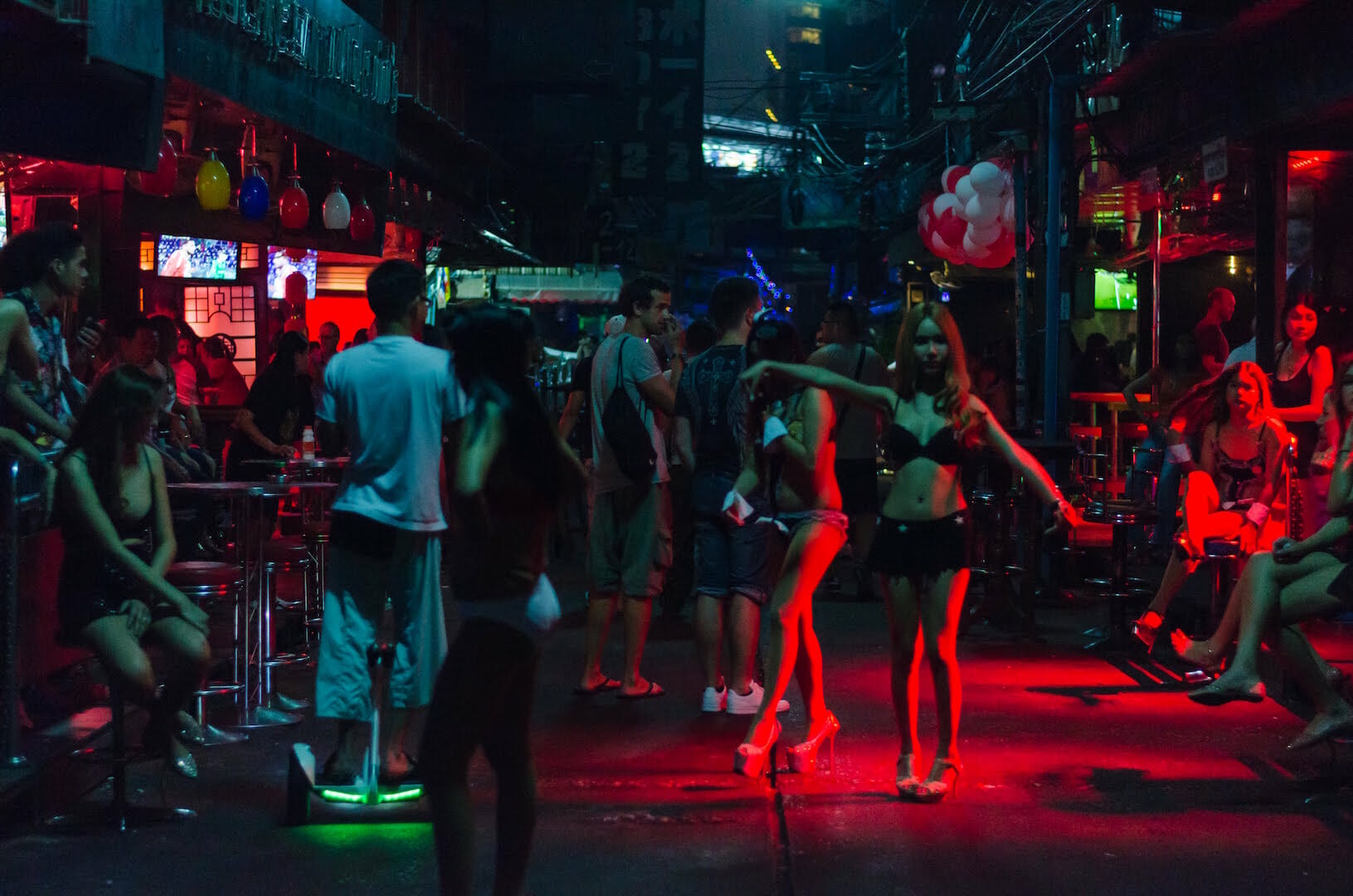 Almost naked women inviting you to visit "ping-pong" show. What we actually did. I would not describe our experience in details but the last word you can use to describe it would be sexy. It's more shocking I'd say but I am not judging here.  It's a way for many many women to feed their entire families. I would rather describe another side of it. We ware leaving close to three in the morning and a lot of places was closing at this time. And many local girls were going back home, one of them was walking right in front of us, in a nice looking red dress with matching purse on high heels she was carrying a small plastic bag with part of her dinner she got from "work". She gave it to the first homeless kid she met. The kid was living on the street with his mother. We got to the hotel very tired and with a lot of impressions. It's become clear that waking up early in the morning to see a floating market is not a good idea.
Friday, Day 14
We did our best and actually managed to woke up not that late, around ten in the morning we left the hotel on a car provided by hotel staff. We are going to see one of the oldest floating markets in Thailand still operating.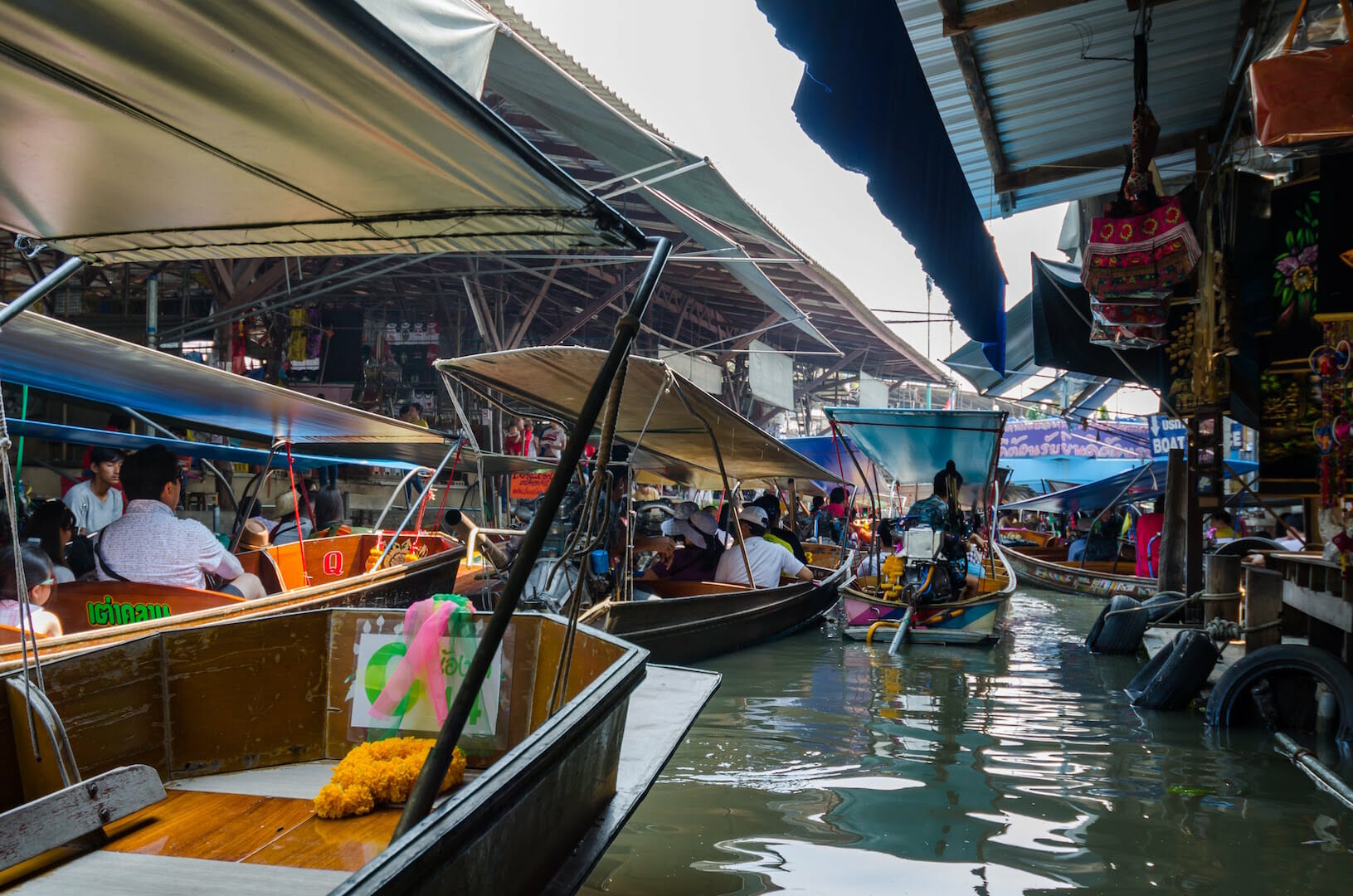 Nowadays it's mostly tourist attraction but back in the day, it was one of the most important trade points. In about two hours we arrived at the destination point. It took us about another half an hour to get a boat. This is one very unusual boat, very narrow with a car engine and a very long shaft to be able to navigate throw narrow and shallow channels. The market itself is basically a complicated network of channels. On each side of the channel, you can find small shops with diverse but mostly tourist-oriented stuff.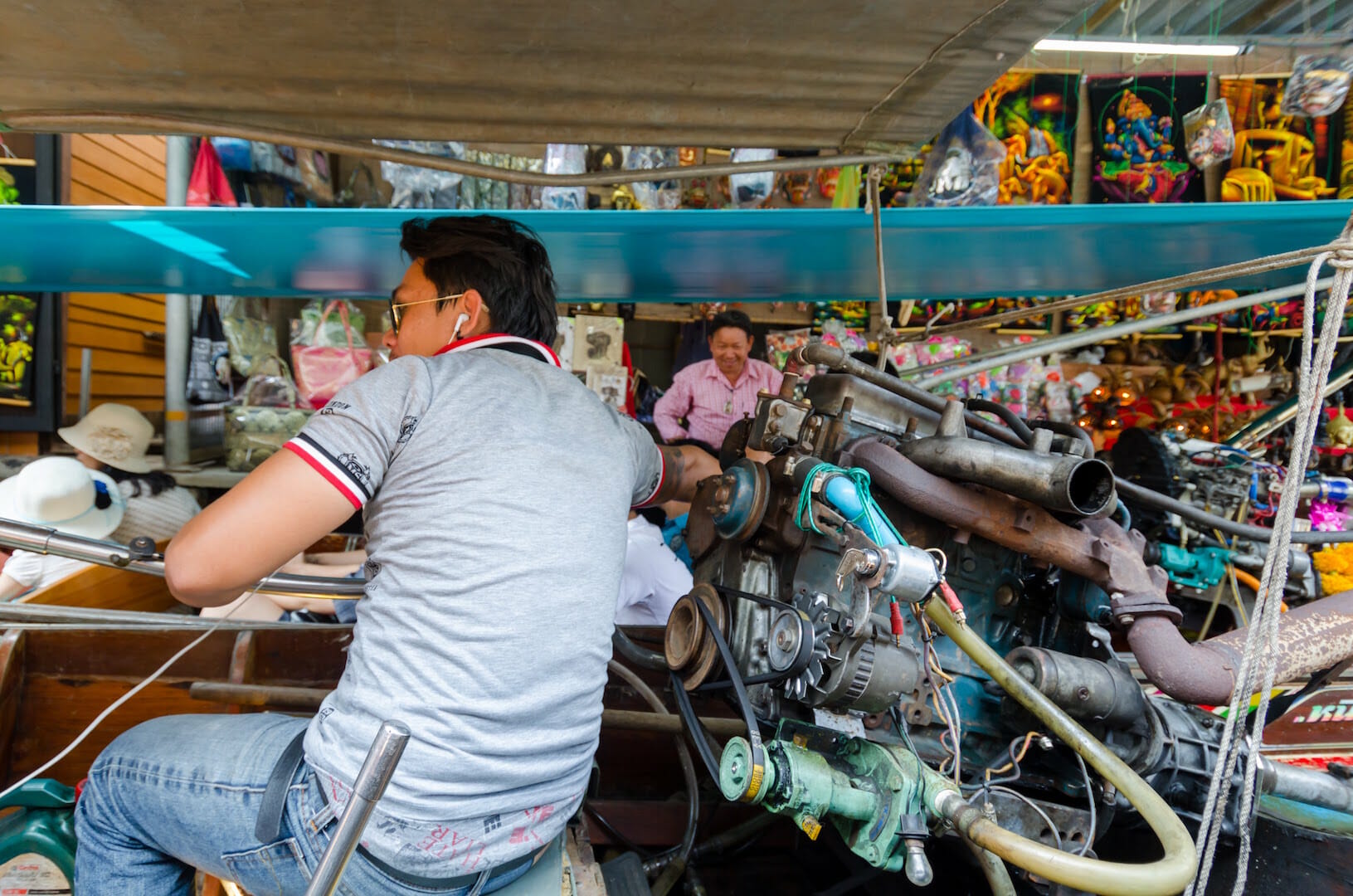 Merchants also leave here in a house located on land. The place is definitely popular, hundreds of boats are sneaking both ways and creating serious traffic jams. One hour is enough to get to get a taste of this place and make few cool pictures. It was our main activity for today. it's time to get back to Bangkok. The second part of the day we spent exploring the streets of Bangkok.It's a huge and diverse city. Imperial palaces and hundreds of Buddhist temples are mixed with shopping streets and quiet rural areas.
Saturday, Day 15
it's the last day of our trip. Early in the morning we arrive at the airport and board a plane that will bring us home. I am leaving Thailand with a strong desire to come back again. And now I am busy to plan two more sailing trips. One to the well-known area of Andaman sees and another to explore Ko Samui.