Greece, 3 weeks at sea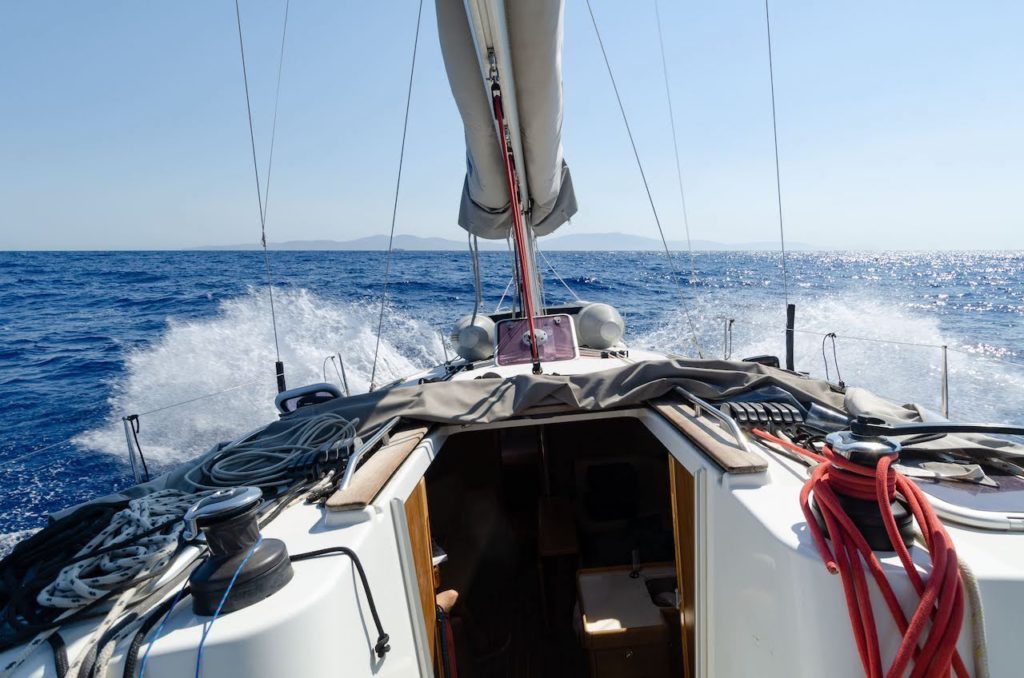 This is the second trip during Corona times and this one is way different from our classic trips. We are going to sail in Greece for three weeks, with a very small crew. Half of the time it is only two of us on board. This trip is a pick on what cruising is all about and is it a good fit for us. It is an unforgettable experience and a true test of my skills and dedication. This text will be too long if I keep it in the usual day-to-day format so I'm going to divide it by places we visit.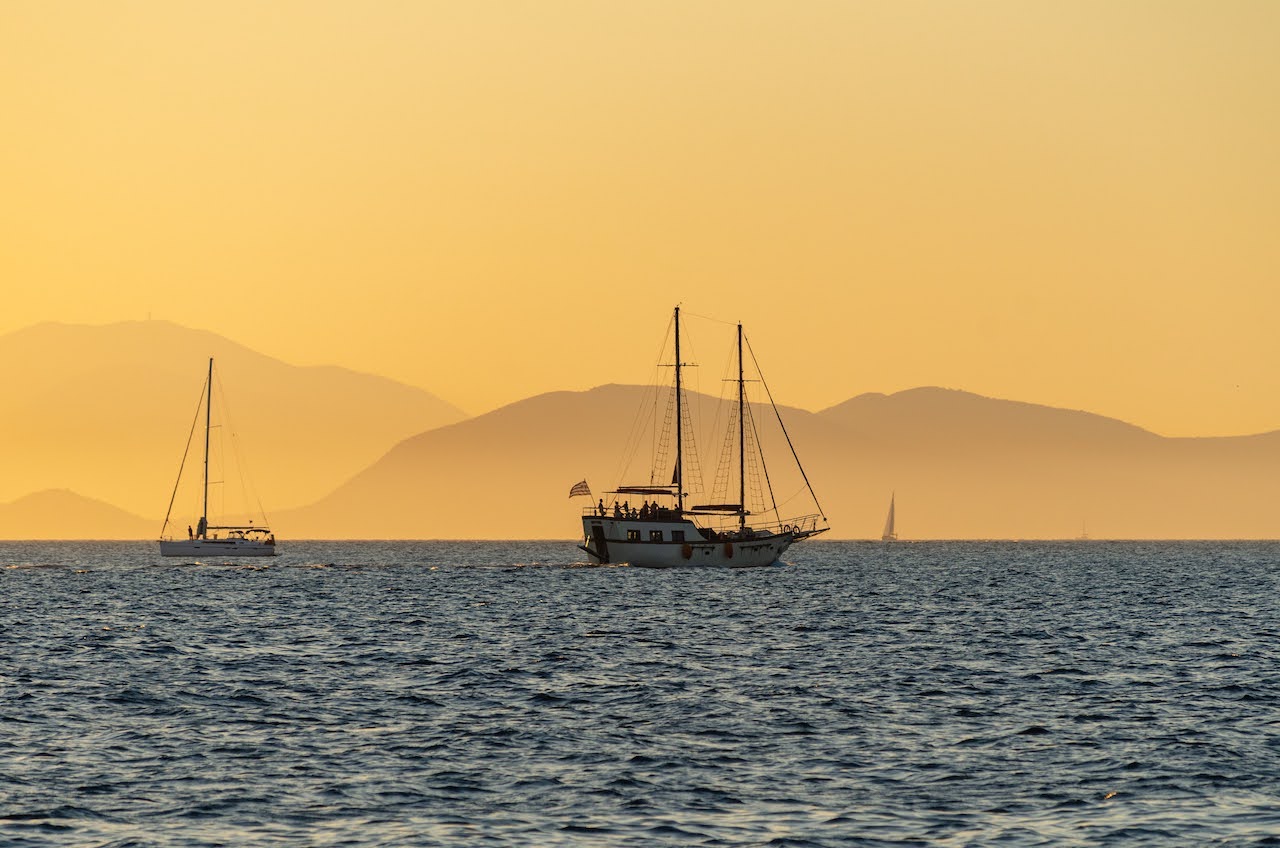 Preparation
I have been planning this trip for more than a year, way before Covid and all the restrictions. The original plan is to go to Spain and explore the Balearics. Two months before the trip Spain is heavily hit by Covid and it's no longer looks safe to travel there. Plan B is to go to Corsica and Sardinia but charter prices are the main problem and sailing conditions can be rough for the small boat we can afford. Last minute we decide to change a destination to Greece. And maaan, this is the right choice. Covid cases are insanely low here, there are only 40 thousand cases in the whole country. Charter prices are extremely low. We got a very well maintained Sun Odyssey 42i for 4000 euros for 3 weeks. If we had had  a full crew the price would have been 32 euro per day, that's insane! There are some drawbacks though, the first one is that we have been to Greece many times, and it's Meltemi season and sailing conditions can be rough but it's much better than cancelling the trip completely. 
To prepare for 3 weeks at sea you need to bring kinda a lot of stuff, a good life vest with a lifeline is a must, a backup VHF is important to have as well, and having one more phone with nautical maps installed is a good idea. Besides that, I pack quite a lot of tools, shackles, zip ties, and so on. The range finder is a good addition to my kit to avoid guessing how far that boat over there is and are our swing circles colliding. Yacht, flights and PCR tests are in order, looks all good and I am ready to go. 
Athens
The yacht is located in Athens in Alimos Marina. I get myself a hotel just in front of it and arrived one day before the charter period started. Alex and Andrew are flying to join me, together we are going to bring the boat to Mykonos, where the guys will leave me and Alena will join me instead. This should take us about a week.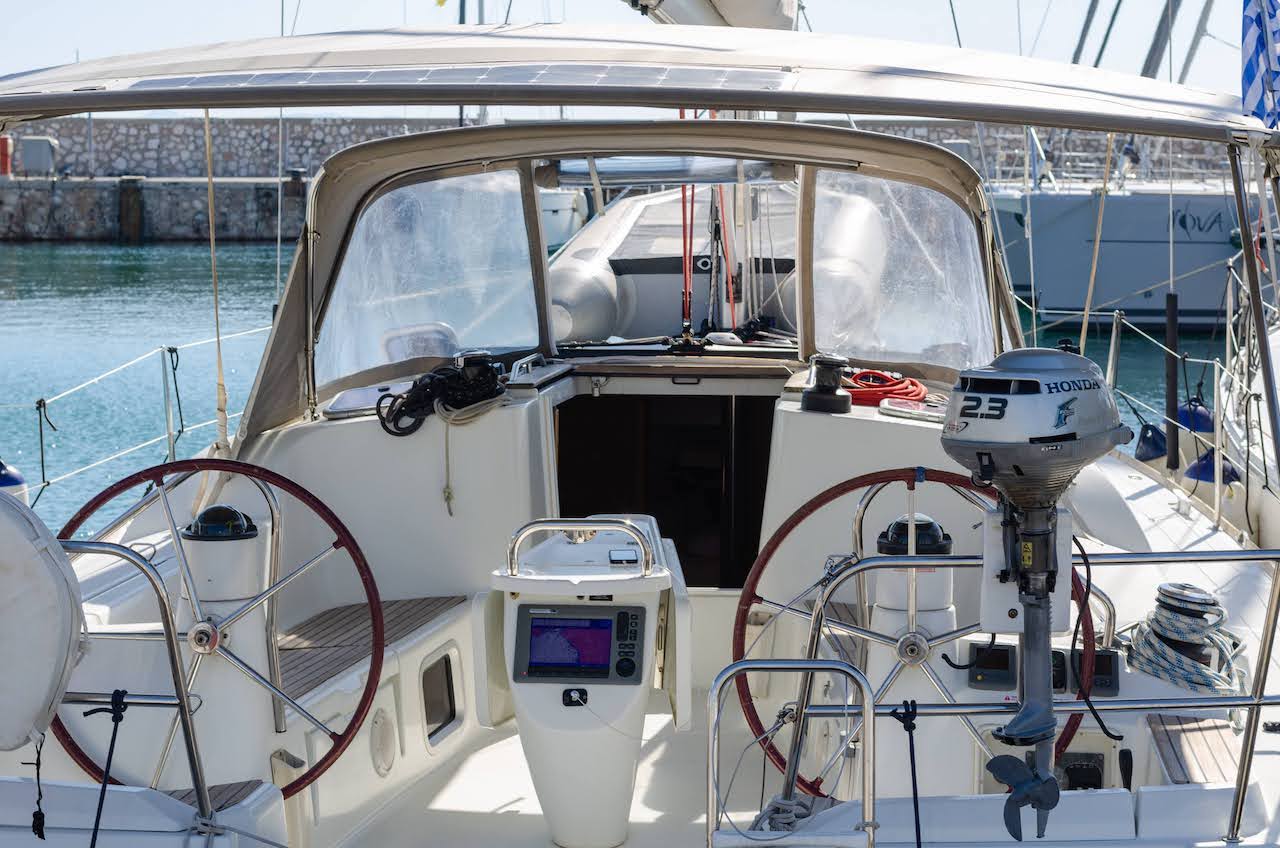 It's time to check out the boat and I am very happy with her. She was built in 2009 and has a great balance of comfort on board and sailing capabilities. The people who designed this boat are sailors for sure. It has the right hull shape and tons of smart small features, and sails and performs under power well. I would love to own this boat. 
The charter manager is a bit nervous since we are a small crew and apparently we are the first ones to rent a boat for 3 weeks. I am surprised, it's a huge charter company. They have like 200 boats in two locations in Greece. I was even asked to undergo a small quiz after the checkout to assure that I get everything right.The boat is ready, the crew arrives as well, it's time to depart! The boat is fast, she can do 9 knots under power with only 2200 RPM, I am kinda happy because we have a very long route ahead and it's nice to know you can go fast if needed. 
Athens cost 
The first night we went close to the Nautical Athletic and Sailing Club of Voula, that was a mistake! Around 12 at night all the bars on the shore start playing super loud music as a result we barely have any sleep and in the morning decide to leave asap. What we should have done do is to sail a bit further to the Temple of Poseidon.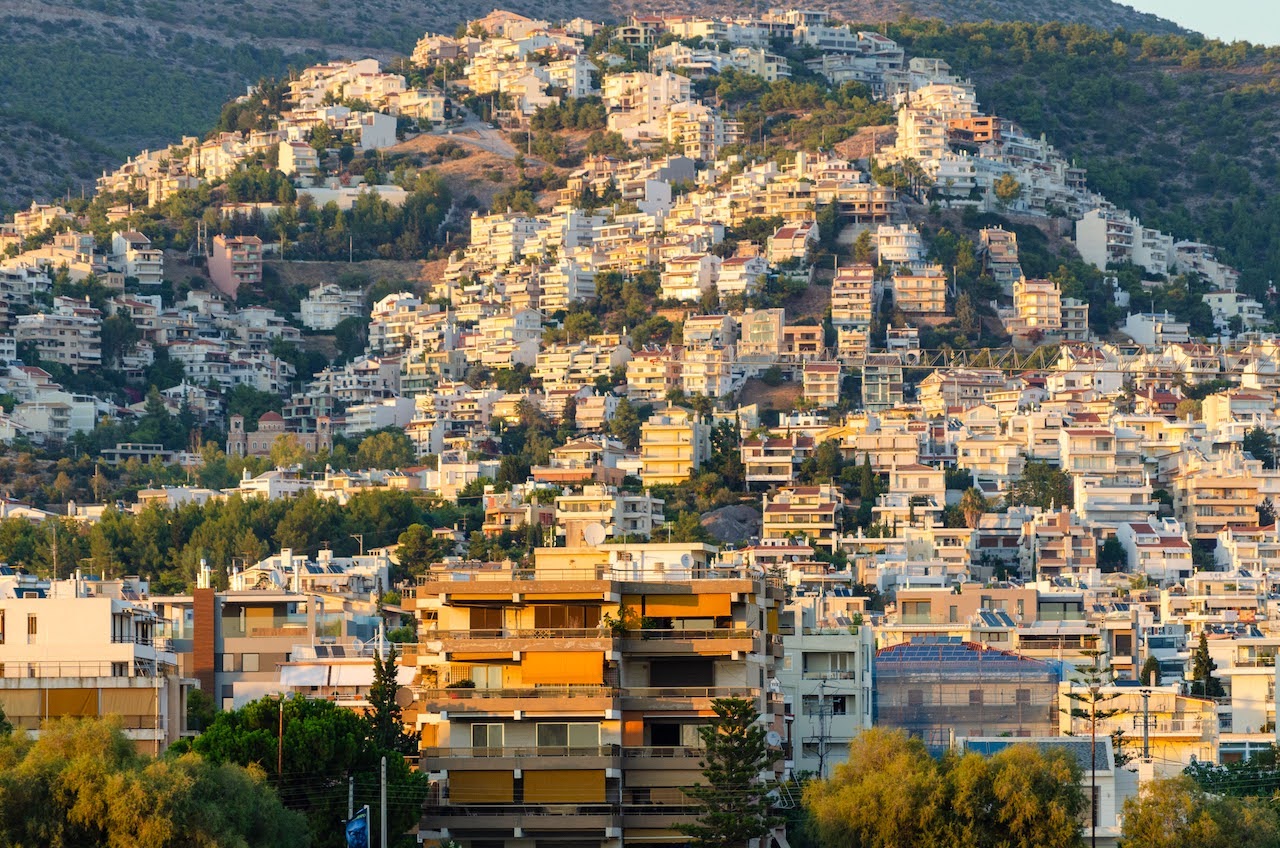 Temple of Poseidon
One of my favorite bays in Greece, besides just being a nice anchorage in a well-protected bay you can also visit the Archaeological Site of Sounion and Temple of Poseidon itself. There are a couple of restaurants on the shore and in general, it's a very cool place to be. We have some fun here and decide to continue the passage to the next spot – Porto Rafti.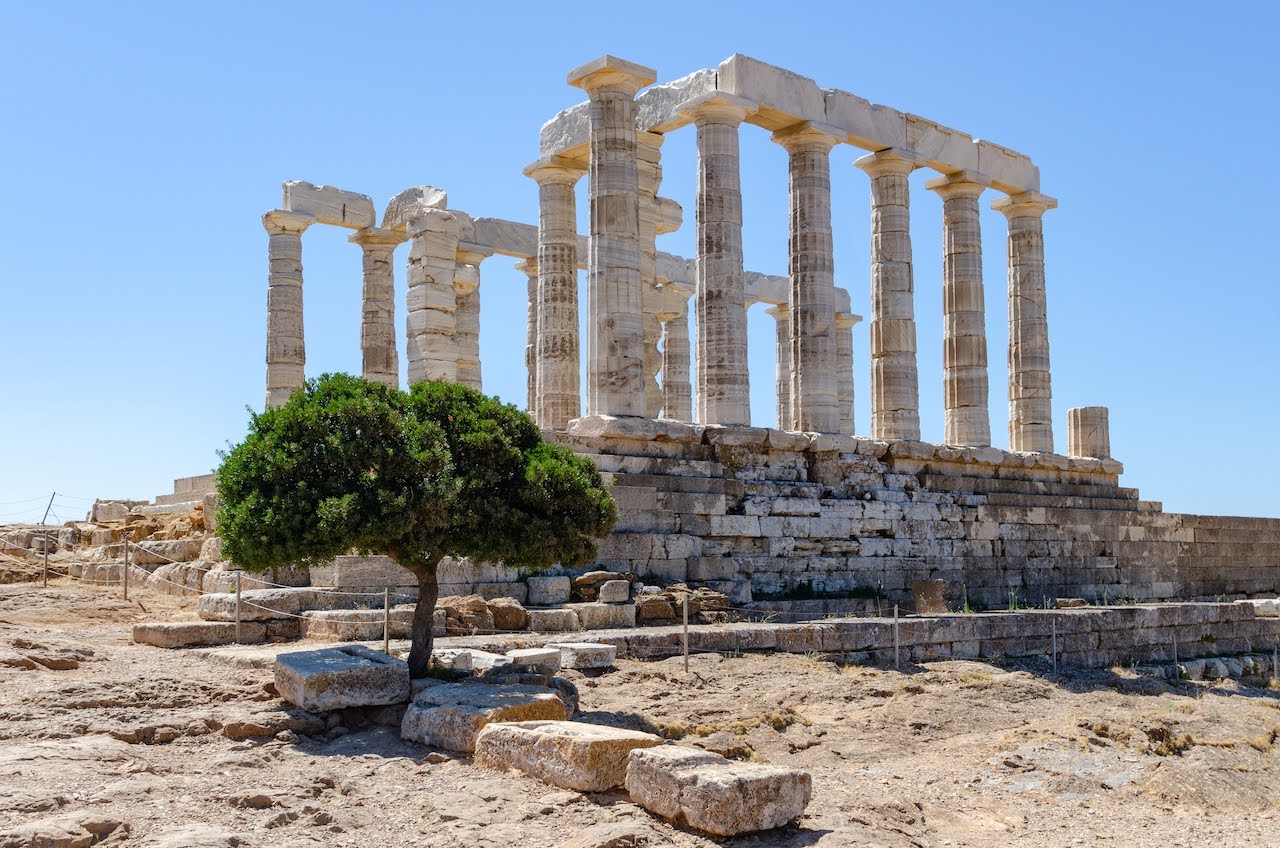 Porto Rafti 
A weird place to be honest. Not sure if it's a popular stop for yachts passing by. There are some restaurants on shore though. We ended up in a very inexpensive meat place with a simple look but very good food. There are some shops to resupply but besides that, it's not much. 
Gavrio, Andros
On the way here wind starts to build up and we need to reef our sails but finally some good sailing. It's the first island in the Cyclades we are visiting and it did not go super smoothly. We pick a Gavrio as an anchorage for tonight and the closer we get the more wind we have. On the map it looks like a very protected place, in reality it's not. On top of that it's a ferry port with a huge ferry coming and going quite often. The wind is strong , even with our powerful engine it's hard to go faster than 4 knots with 2000 rpm. It is not an easy anchoring and we even get grounded in one moment of time, but the wind is such a force that it just blew us away from the shallow spot. After some struggling we are relatively safely anchored. After only 10 minutes we are being called by port authorities, they are telling us to leave immediately. Due to strong winds and a dragging operation happening in the port it's not safe for us to stay here. Fuck my life, alright we need to leave but lesson learned from now on I am requesting permission to enter any port that is regulated, they rarely reply to me though. I am quite tired already and we need to find a new port of refugee. Plan B is to go to Batsi.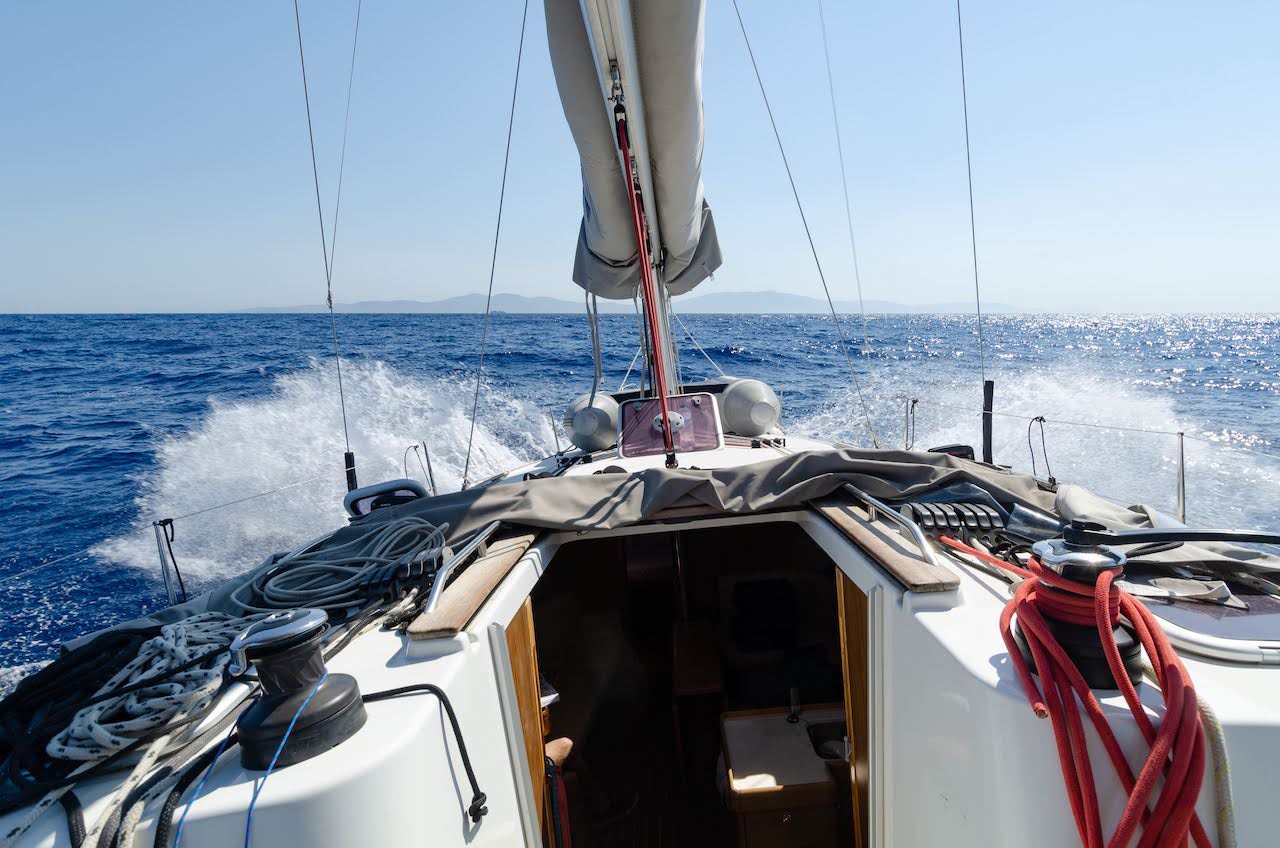 Batsi, Andros
This bay is so much better than Gavrio. We manage to get a spot on the pontoon that is really easy to approach, just what we need after all the hassle at Gavrio. The bay is beautiful, full of restaurants and has a nice shallow beach. Glad we ended up here, we liked it so much that we decided to stay for two nights and explore Andros. To do so we rent a car from a small family rental company and now can explore inland properly. And there are some places to see: the city of Andros itself,  some excavation sites, caves are great places to hide from the heat and do a little bit of speleology and many good places to eat out and have a drink.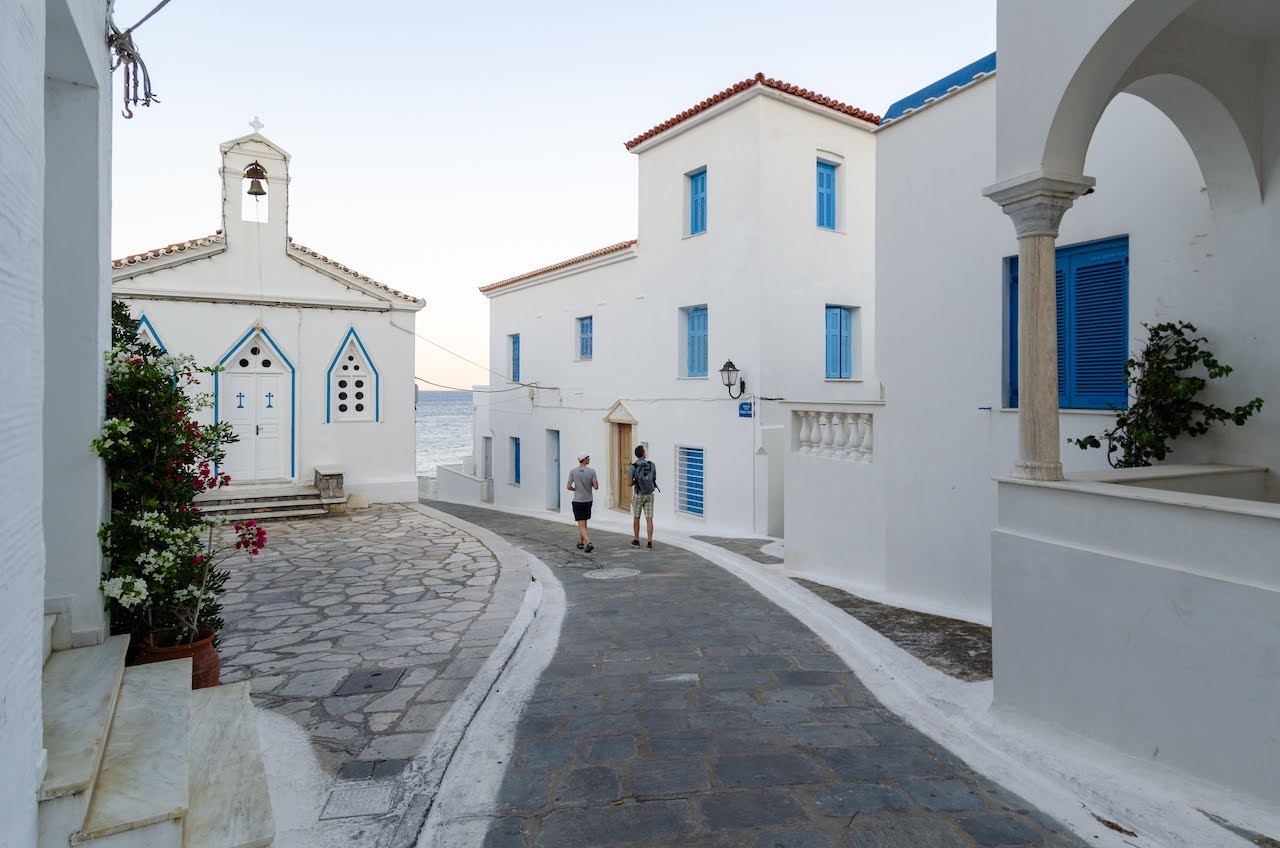 Tinos
From Andros we sail to Tinos, to the town with the same name. It's a good place to stop for one night and refill the freshwater and fuel tanks. On this trip I prefer to refill both tanks as often as I can, I have spare diesel but prefer not to take any chances. The city itself is alright, there are some good places to eat and some cultural aspects like Panagia Evangelistria. We spend an evening in a fancy restaurant called Μικρό Καράβι, recommended, it's a good shift from classical Greek tavernas.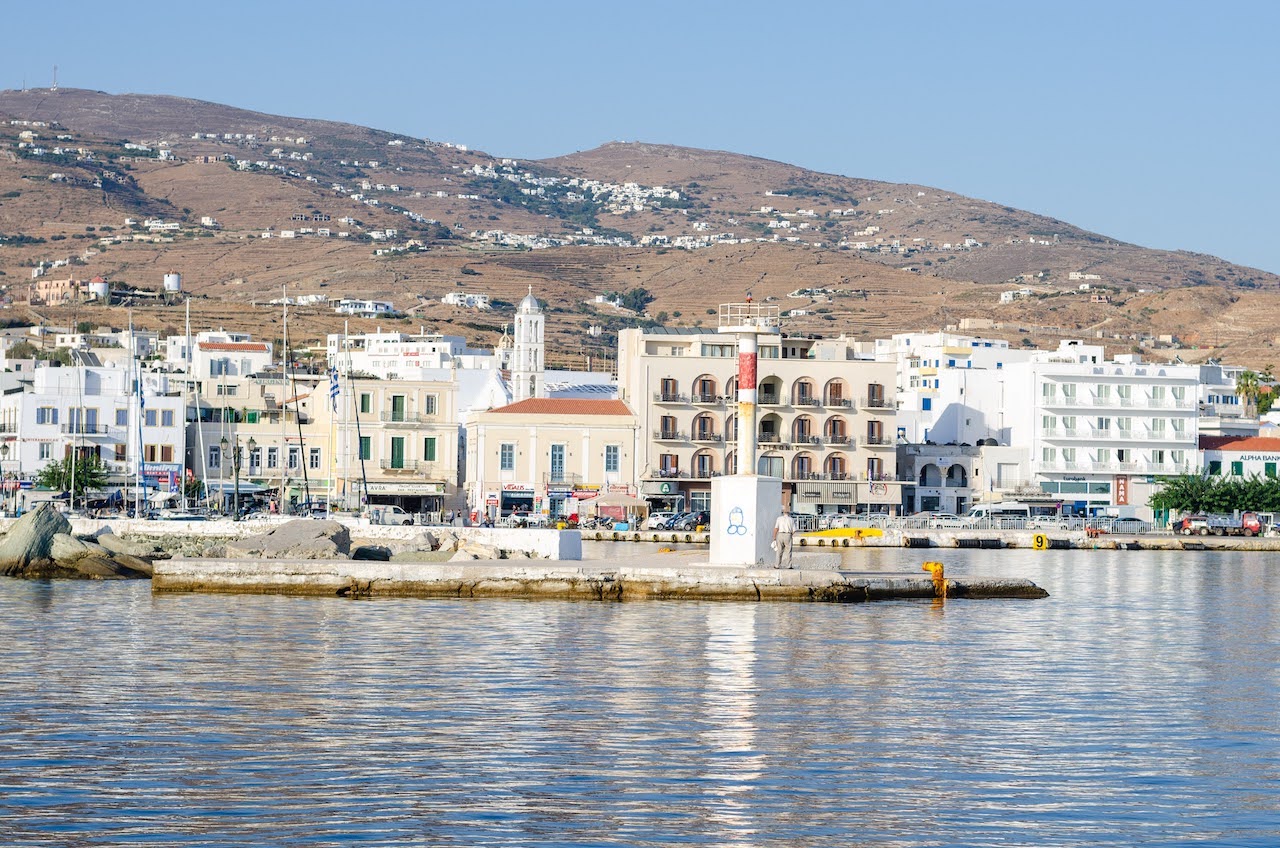 Delos
This is a very special place and one of the coolest islands I have visited in Greece. It's one of the most important mythological, historical, and archaeological sites in Greece, basically an open air museum and a monument to thriving Ancient Greek civilization. The island has been inhabited since the 3rd millennium BC and used to serve as a treasury in Ancient Greece.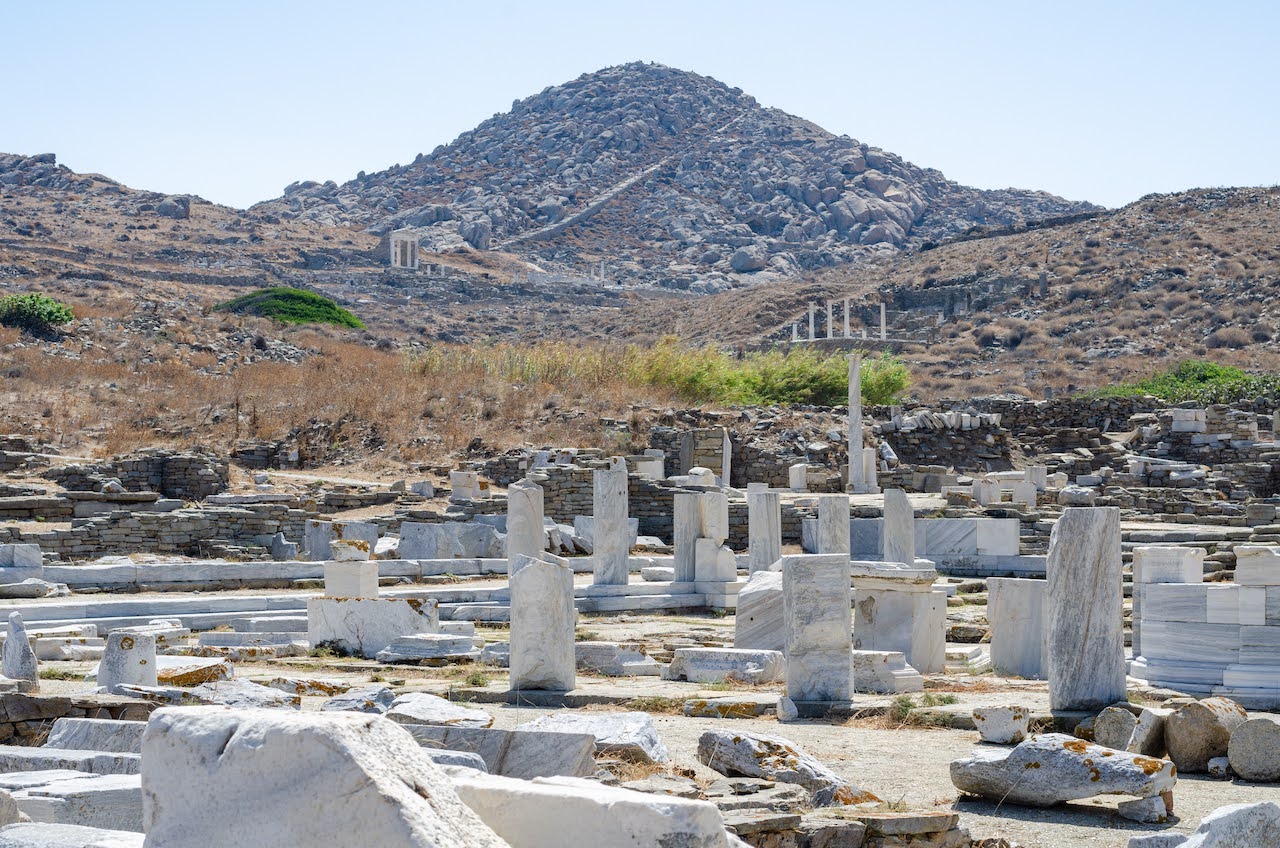 Nowadays it's full of ruins and statues you can explore with or without a guide. I spend many hours admiring the craftsmanship of ancient architects, stonecutters and sculptors. A must see place if you are into history.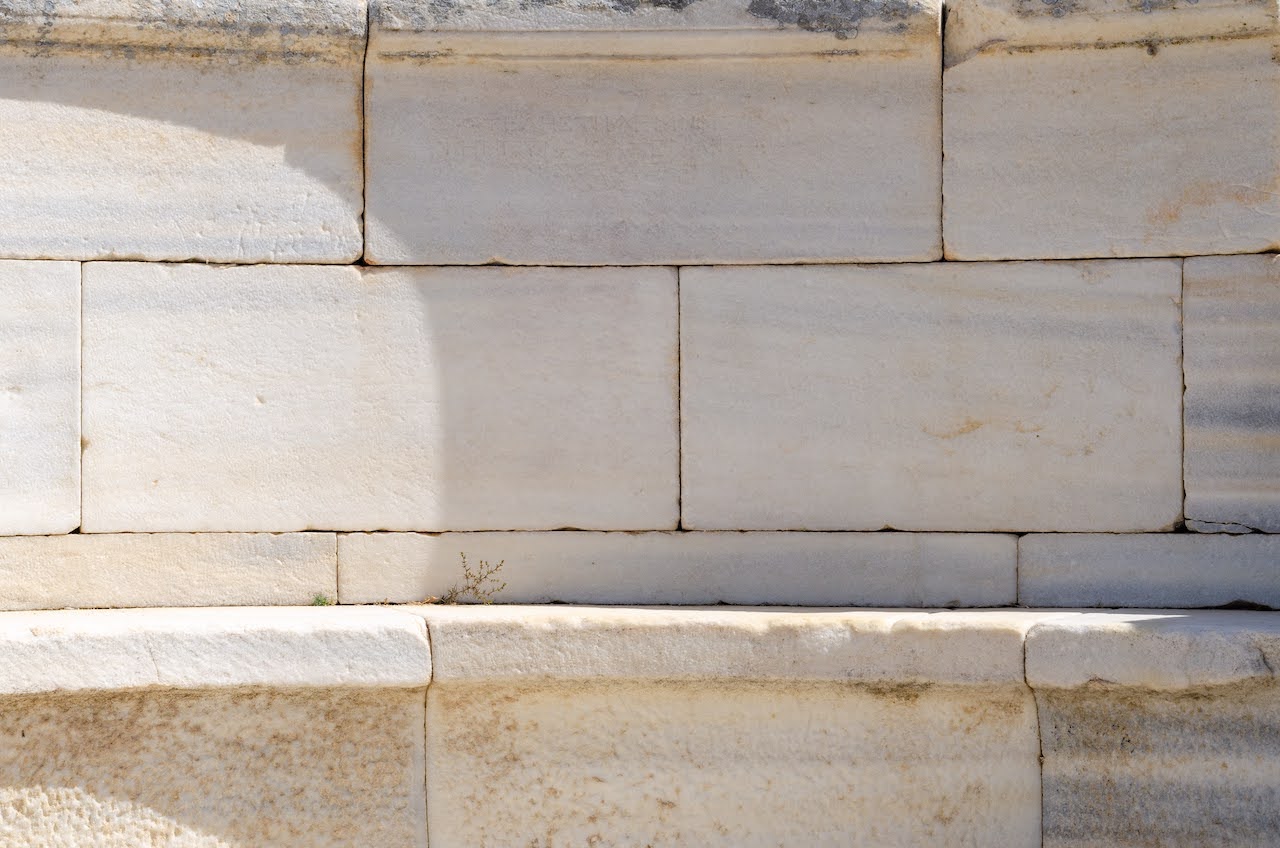 Anchorage around  Delos can be tricky but due to covid, traffic here is almost gone and we have no trouble finding a good spot and taking a dinghy to the shore.
Mykonos 
One of the major stops on our route and a tourist hotspot. We get ourselves a nice place in the local marina. The marina is not fancy at all but has electricity, water and a very nice restaurant next to it. We definitely need a car to get around the island since we are staying here for a couple of days. It's the first place with a construction, nautical and photo store and there is a laundry. We need to pay a visit to all these places.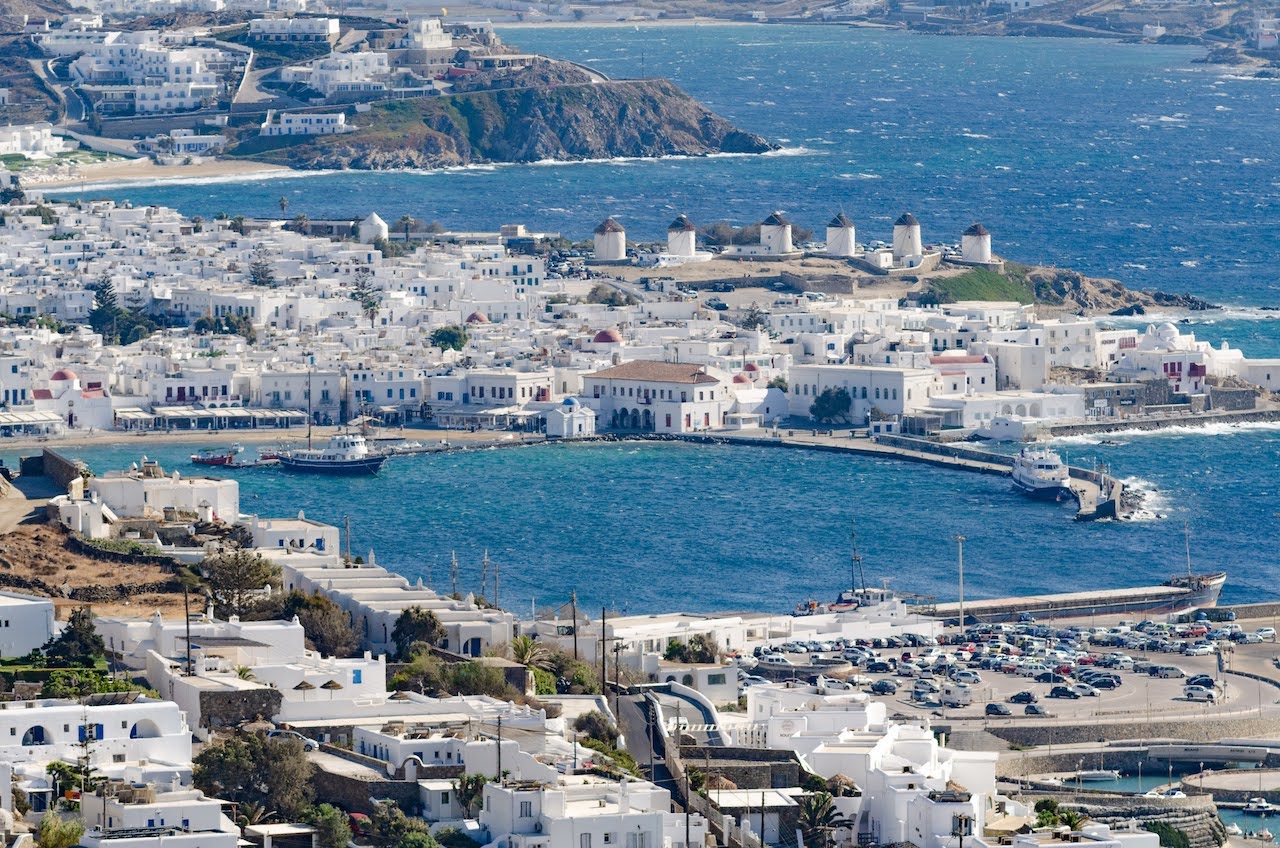 Mykonos is not like other Greek islands, it's definitely much more expensive and full of people, shops sell expensive clothing, art and a lot of crazy expensive glasses. The crowd also differs from other places we have visited, most of the visitors are younger and you can see that they are people with money and you need to have some fun here, prices are higher than Amsterdam for example.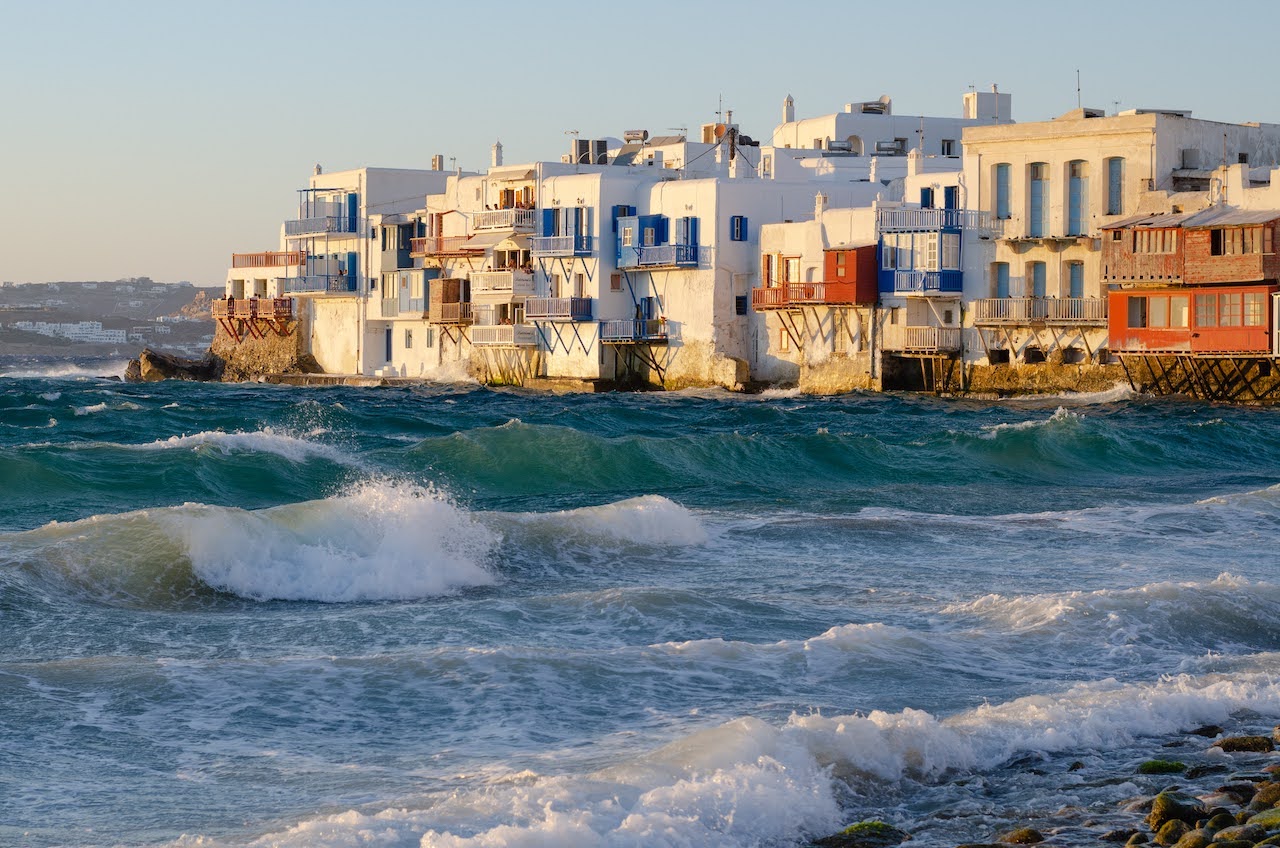 Personally, this place is not that attractive, at least during this visit, since we are not going to party and besides eating out, there is not much to do here. It's a great watersport location too but I guess you can find cheaper places in Europe. The restaurants are cool though, we visit quite a few and had a good time.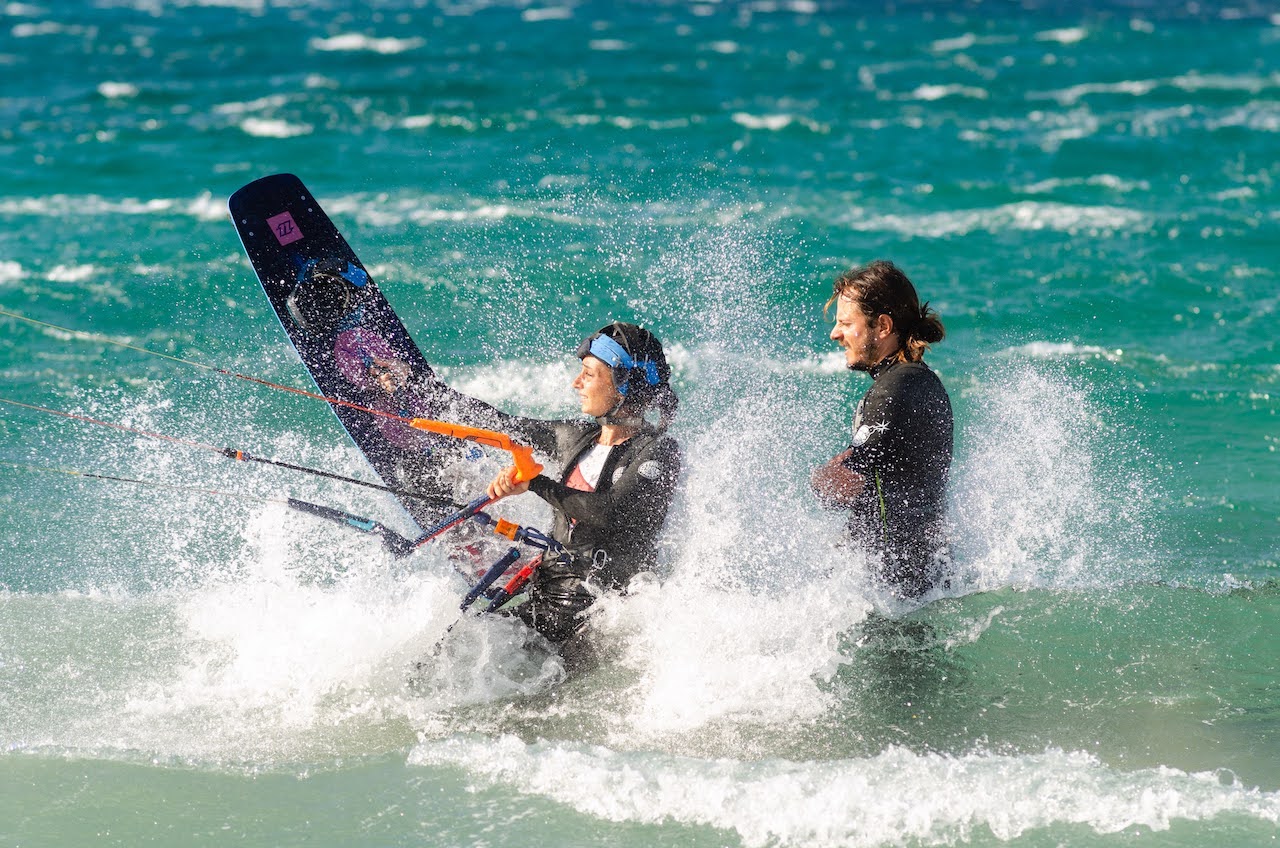 This is the place where we need to say goodbye to Alex and see you soon to  Andrew. We will meet soon and sail together on the Saronic gulf. He is chartering a boat in Lavrion in a week. After Alena arrives we get some troublesome news. A strong storm (bft 9) is coming to the area and we need to make a decision, we can wait it out and continue exploring the Cyclades or we can try to leave before the storm and head to Saronic gulf. It's only the two of us and we might get stuck here for a week or more since the wind is too strong to handle with just the two of us.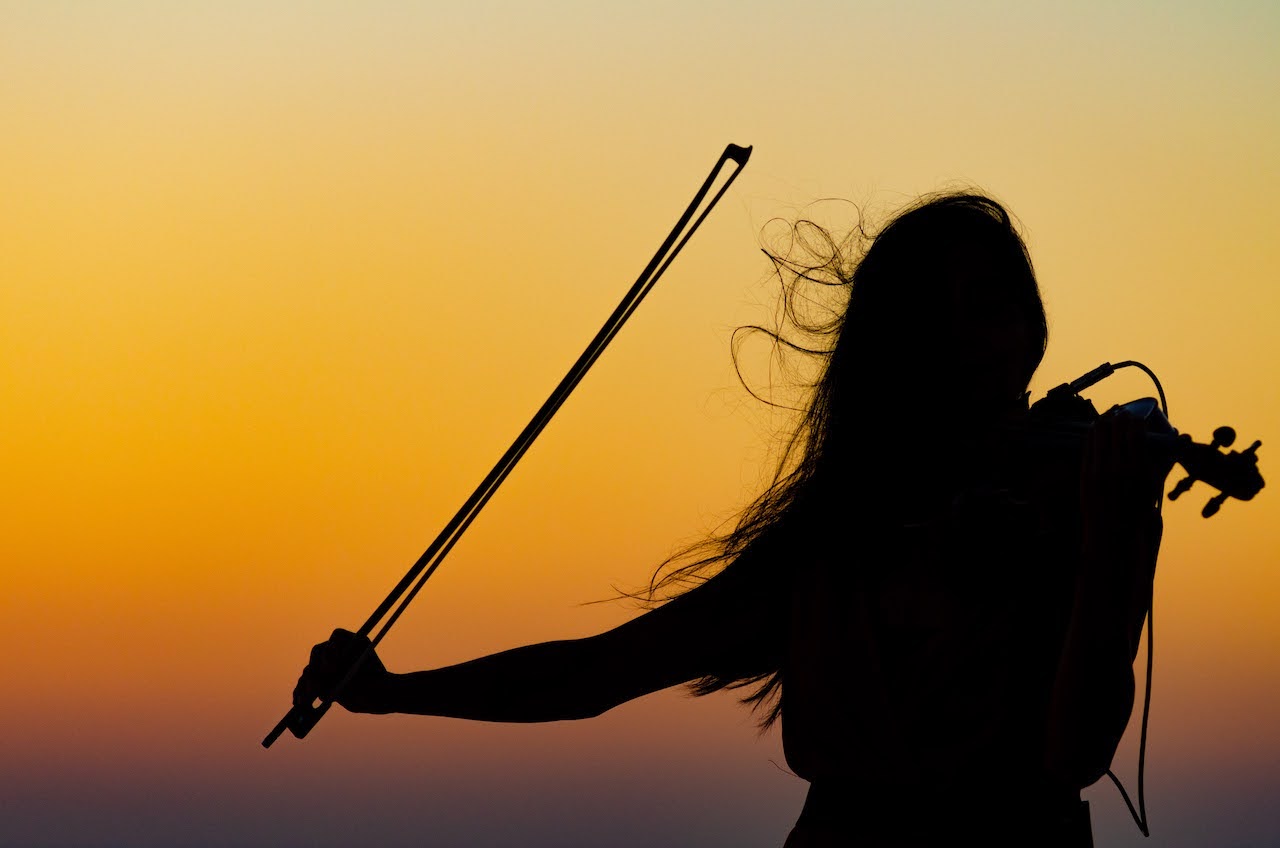 The decision is made, we are going to run for it and depart first thing next morning.  The wind is already quite strong and the marina is not that protected.  Well we need to try. Leaving the berth is the easy part, we depart quickly and without any troubles. The fun part begins after we enter the channel between Mykonos  and Tinos. The forecast was up to 28 kts of wind, in reality it's much stronger, it averages around 40kts and gusting up to 52kts, what the hell. We need to do 115 miles in two days with a overnight stop next to Kythnos.
Kythnos 
We have been here before that's one of the reasons we chose the island as the mid-stop in our run to the calmer part of Greece. There is a very well protected bay on the west of the island with a lot of space for anchorage. We arrive here quite late and just before sunset. Drop the anchor and open a bottle of whiskey, it has been a very long day.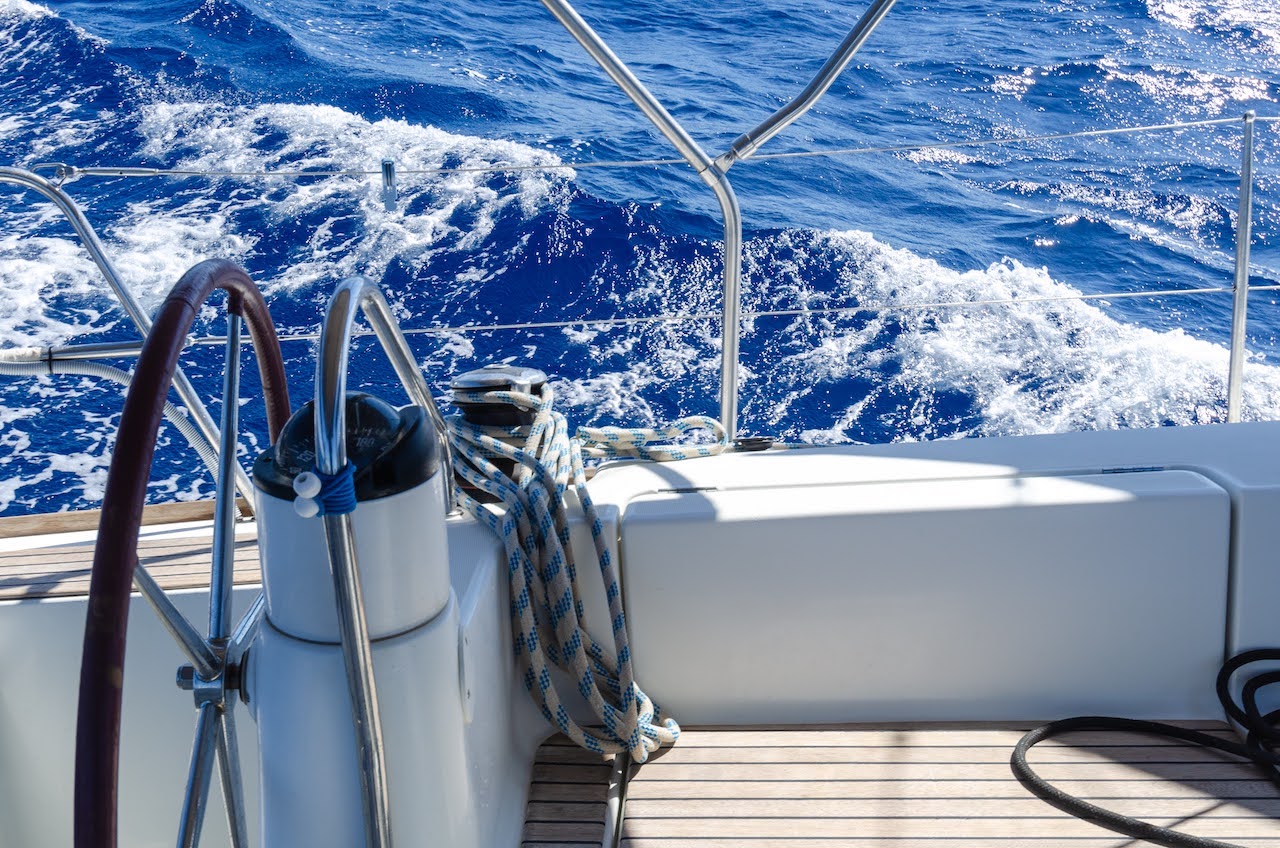 Our boat is covered in salt due to a combination of strong wind and big waves, I will take care of her upon reaching a safe harbour. We spend a quiet night near Paralia Kolona and prepare to depart at sunrise. It's our first night alone on the boat, it's so huge for only two people. I start to understand why some people prefer to travel this way.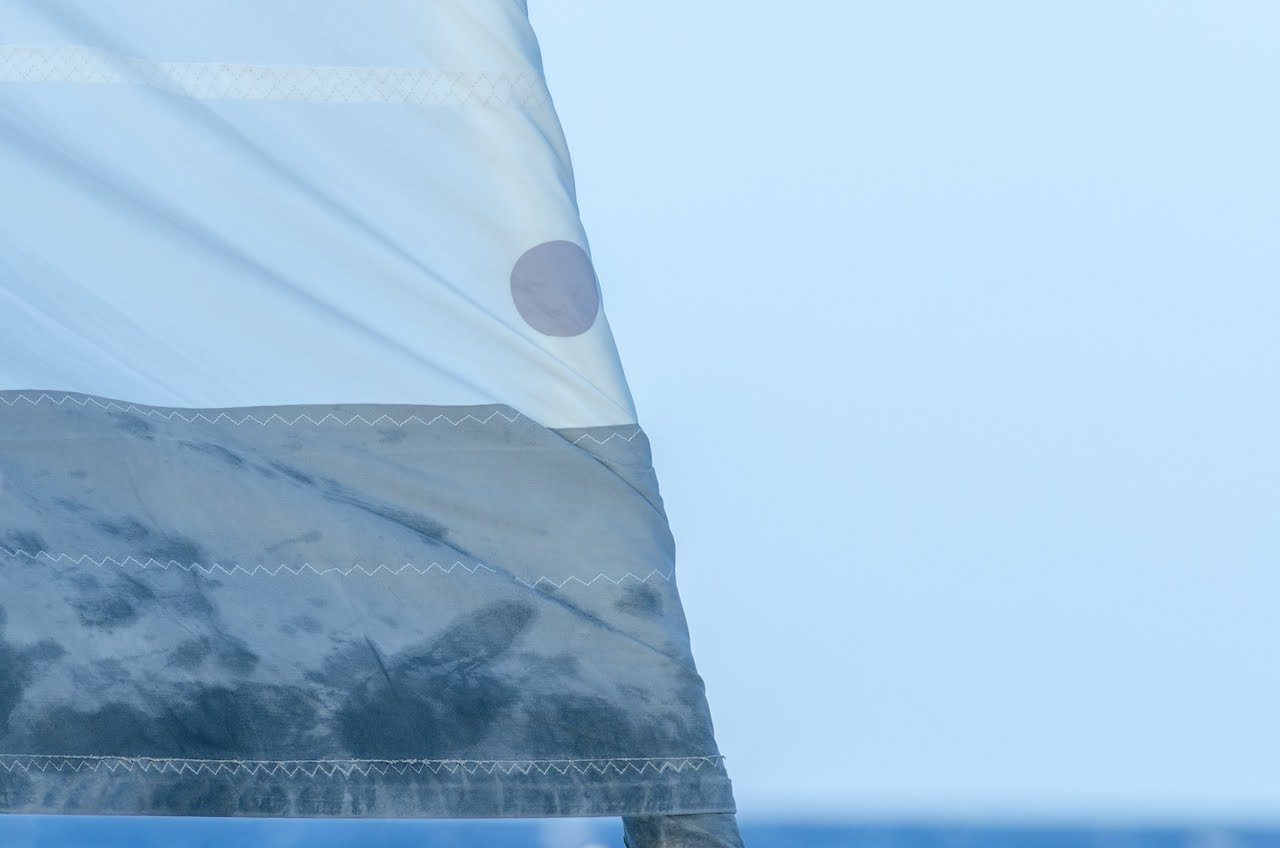 Porto Cheli
We still need to sail 65 miles to get here so we depart at sunrise, we successfully escape Meltemi and strong winds give way to a gentle breeze, the last 20 miles we even need to use an engine to save some time. We approach Porto Cheli and we like what we see. Extremely protected surrounded by green forest with the small town and hundreds of boats of all sizes anchored here. We do not have any energy for exploration left therefore we spend the first night here cooking dinner and celebrating our small victory.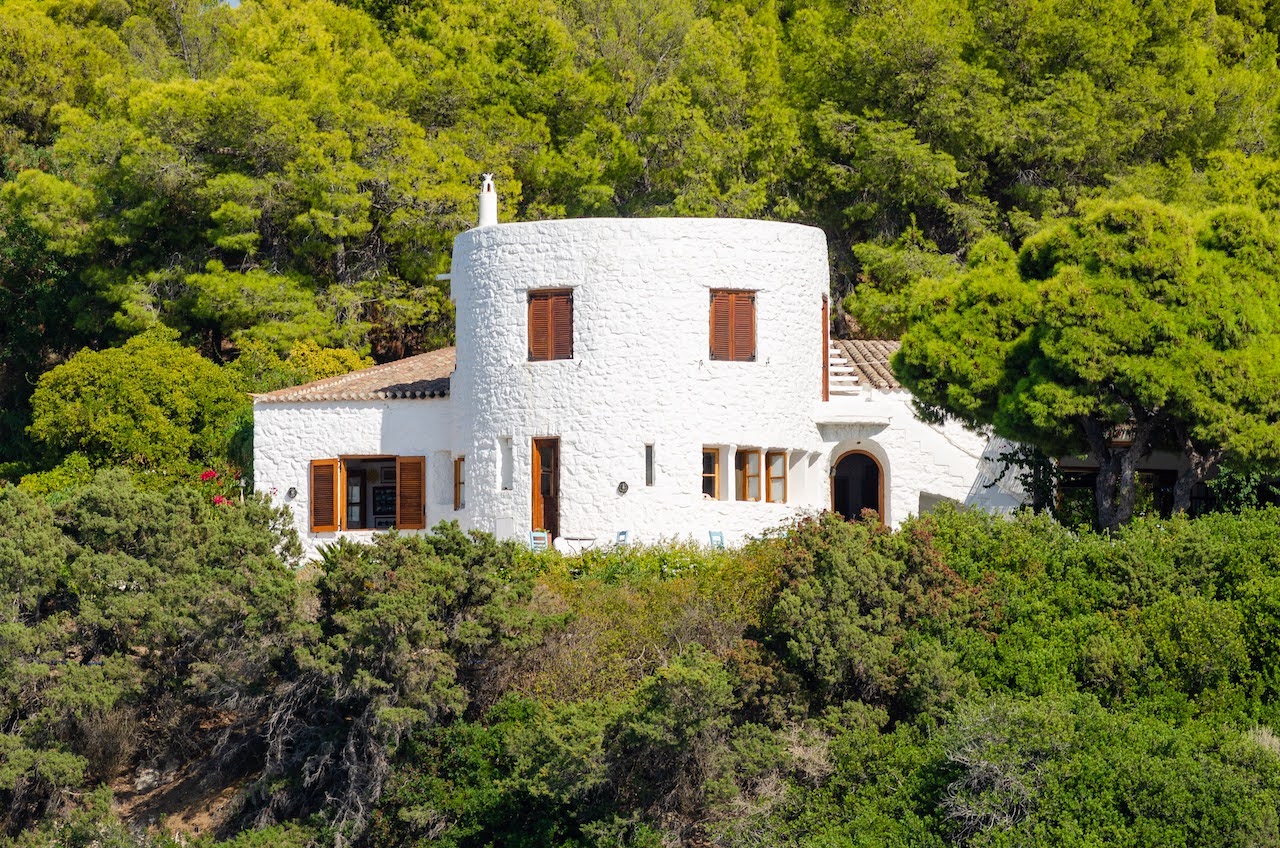 The next day we go ashore and find the best restaurant in the whole of Greece called "Salt and Pepper". It's a family-owned restaurant with a charming owner in his fifties who used to be a DJ and actually a really good photographer. We have lunch and dine here all the time. On the day of our departure, the owner gives us 16 (sixteen!!) CDs of his favorite music. If you ever reach Porto Cheli pays a visit to his restaurant, his wife is a great cook and everything on the menu is super fresh and delicious.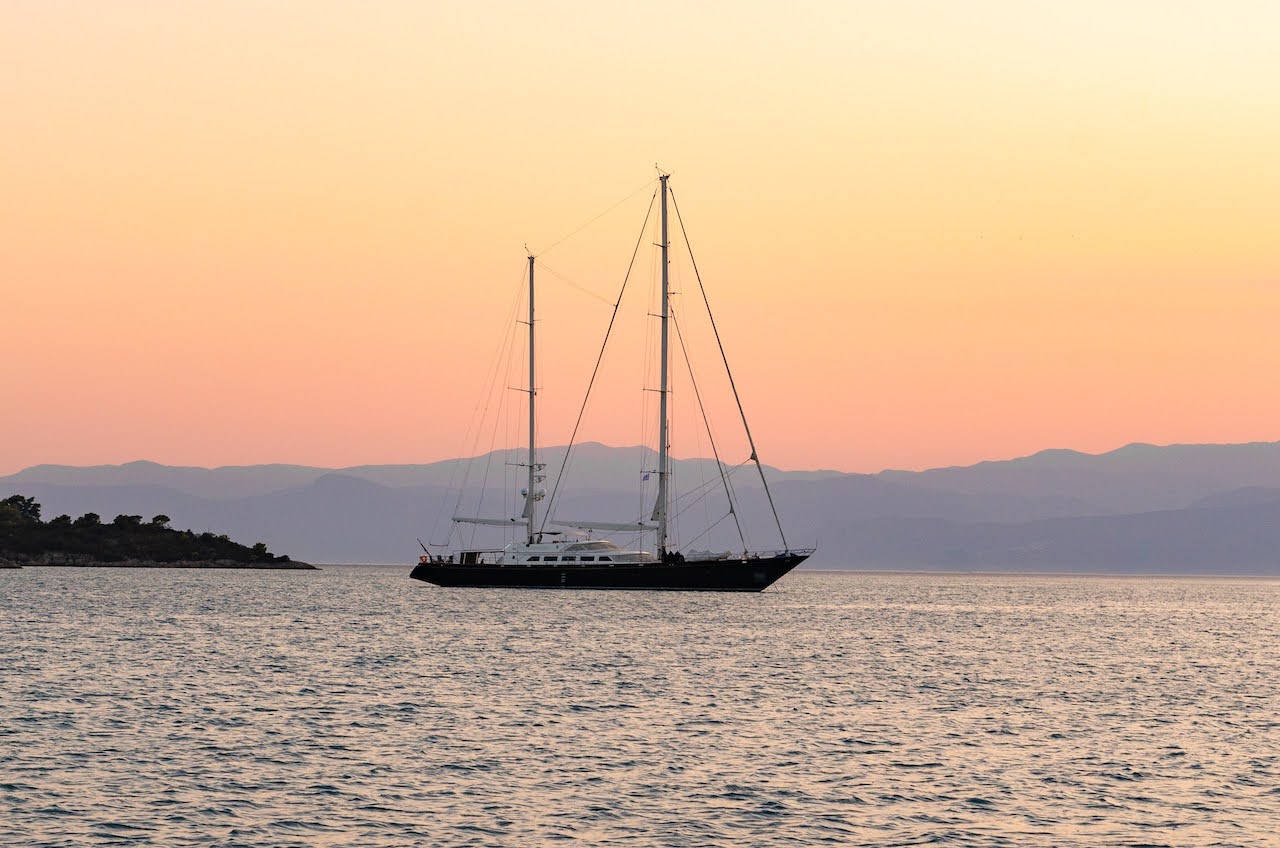 There are some interesting places around the bay, to explore the area I get myself a scooter. I really recommend a  beach called Spiaggia Kranidi. It's a really small, well-hidden place where you can find yourself completely alone, the water is extremely clear and the surrounding scenery is gorgeous. There are a lot of olive plantations and pretty roads to drive around. We really liked the place and spent three nights here overall.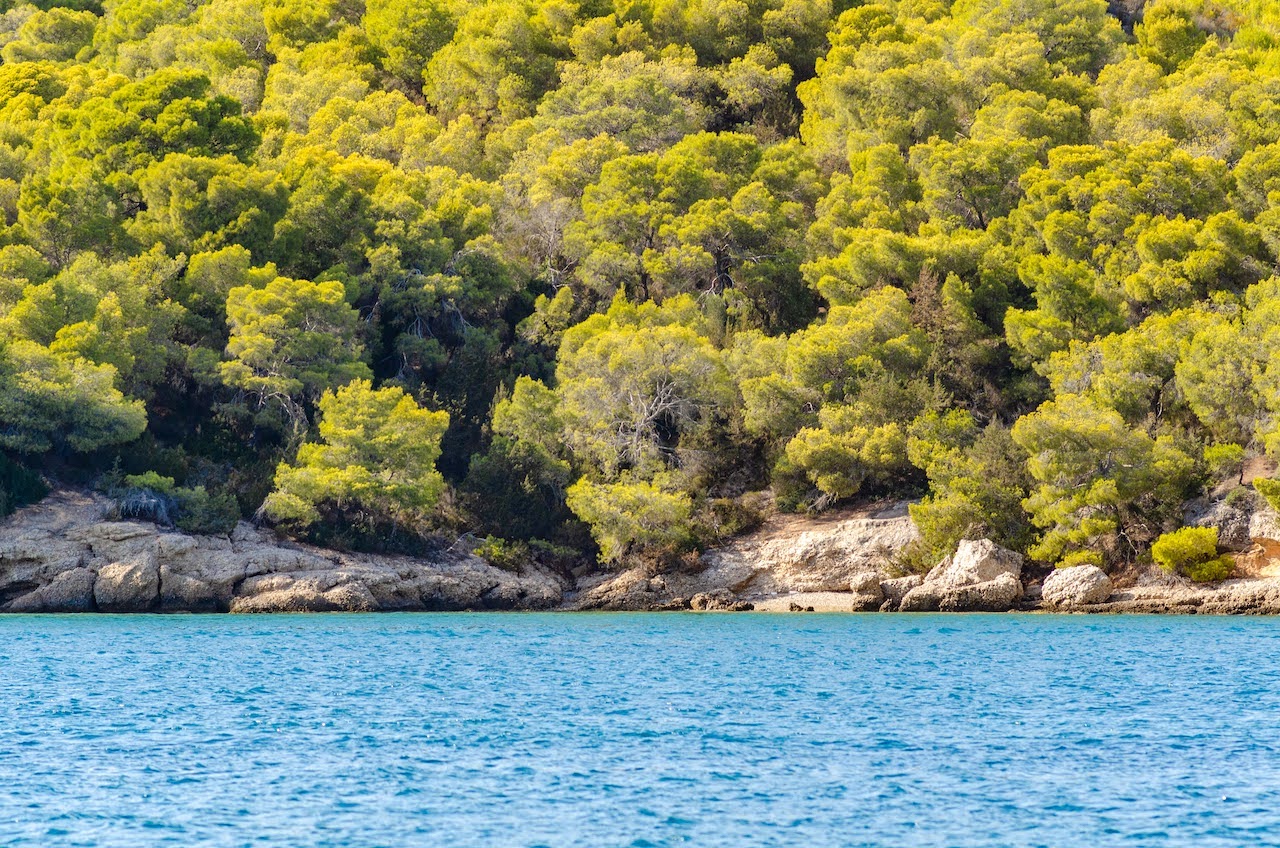 Ermioni
We need to move closer to Ydra because we got news from Taras and Emily that they can join us for some sailing and we need to pick them up there. Ermioni looks like a good place to move to next. It's a small city with an amazing park called Άλσος Μπίτσι. There are pontoons you can medmoore to on both sides of the city, unfortunately on both sides it opens to bigger water with no protection from wind and waves.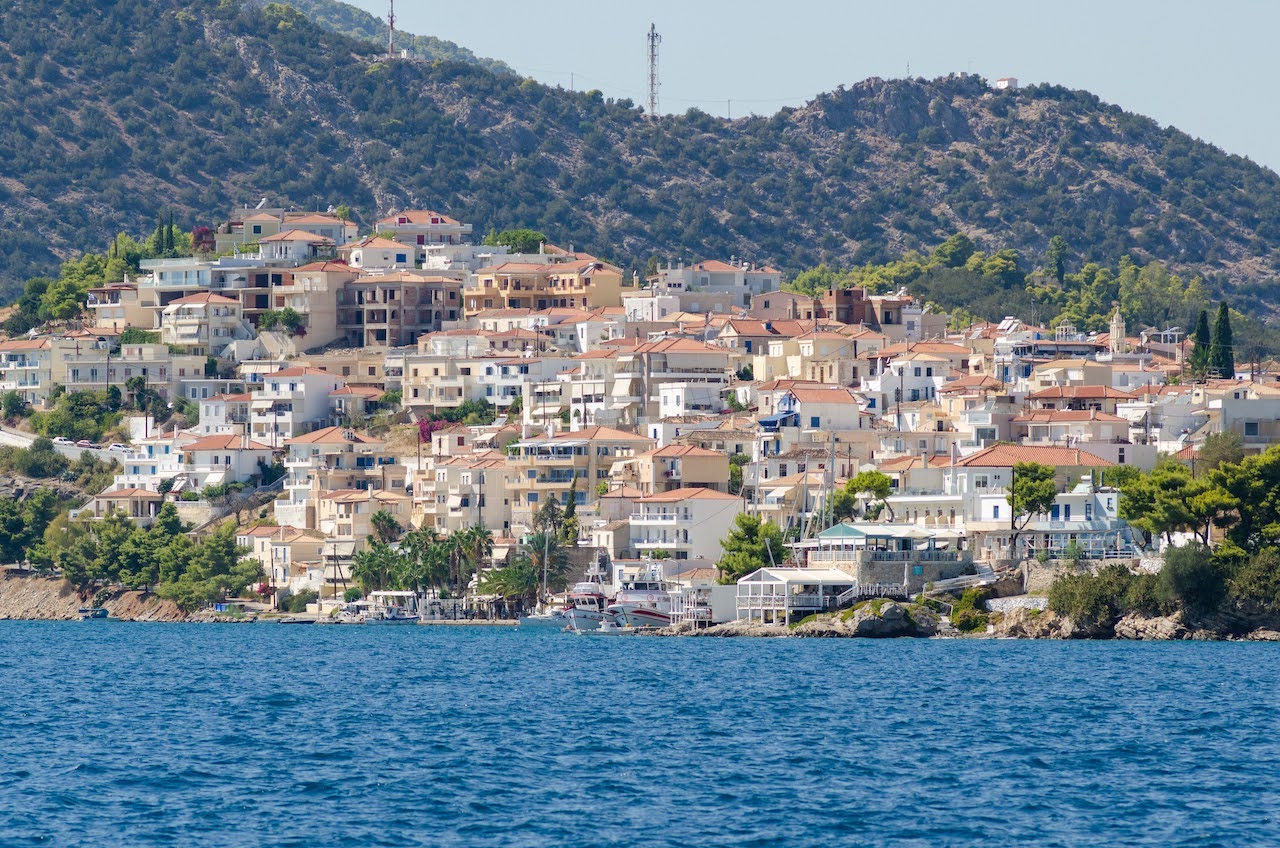 On one side you need to park astern to a restaurant that can be very noisy at night, on other side it's a stand-alone pontoon but the ferry arrives here. Basically none of the options is really chill. We decide to stay away from the restaurant during the pandemic and pick the pontoon near the ferry terminal. There is a very good but a bit expensive restaurant just next to the pontoon, actually the waterfront is full of them, so you have a lot of options. There is a car rental just next door, pharmacy, grocery and so on. Overall a good spot to visit but beware of the swell it can be rocky at night. The highlight of this place is park called Άλσος Μπίτσι. Perfect for evening walks you can swim there too.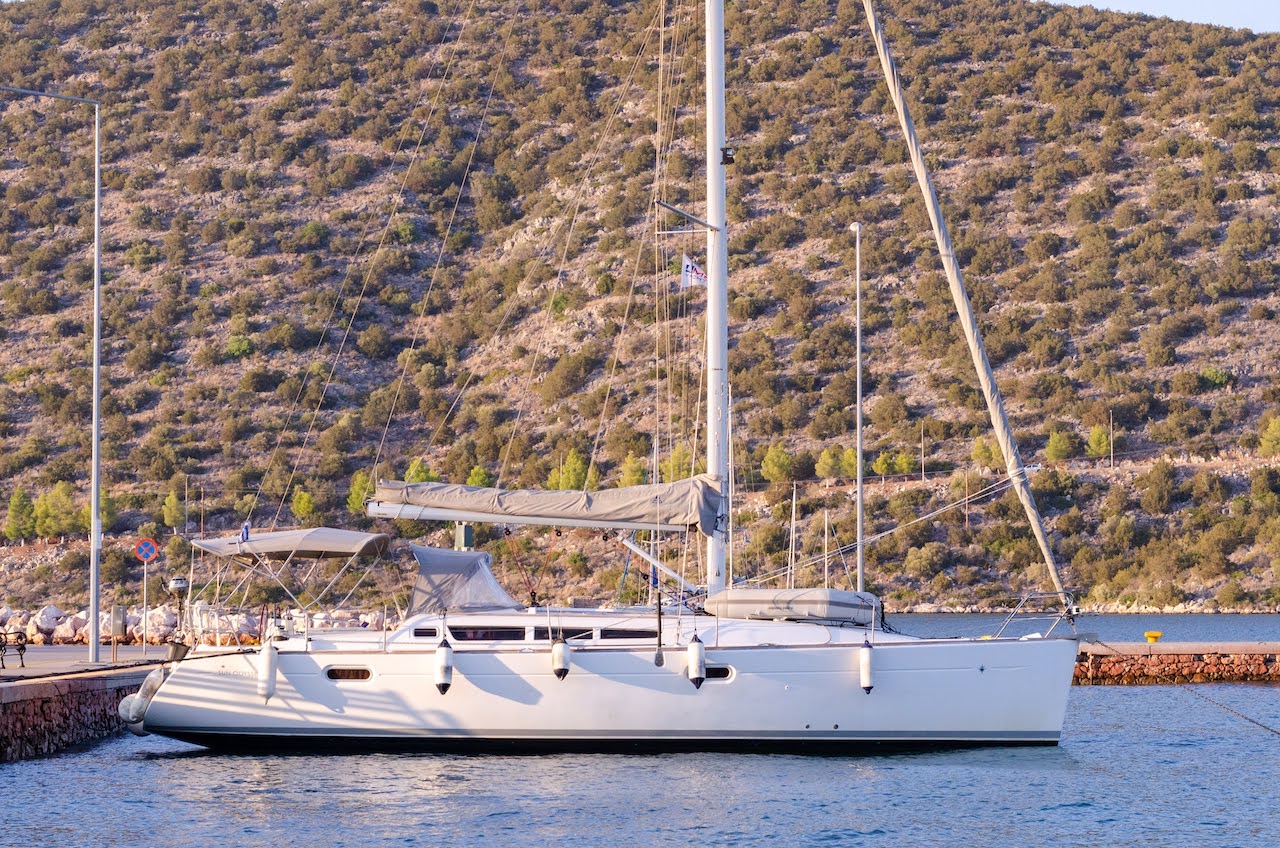 Dokos
One of my favourite places in Greece. An uninhabited island next with very well protected anchorage. A great place to chill far away from crowds and a good option for some hiking. It's a popular spot among charter sailors and not all of them are careful when anchoring, keep an eye on your neighbours and put some fenders out if you stay overnight but this applies to almost any place in Greece. 
Ydra 
We have been here before during our first trip to Greece in 2015. The place has changed a lot, it used to be a small town with the signature feature of having zero cars. All the transportation was done by donkeys. A lot has changed since then, now to a booming tourist destination with boutique stores and fancy restaurants.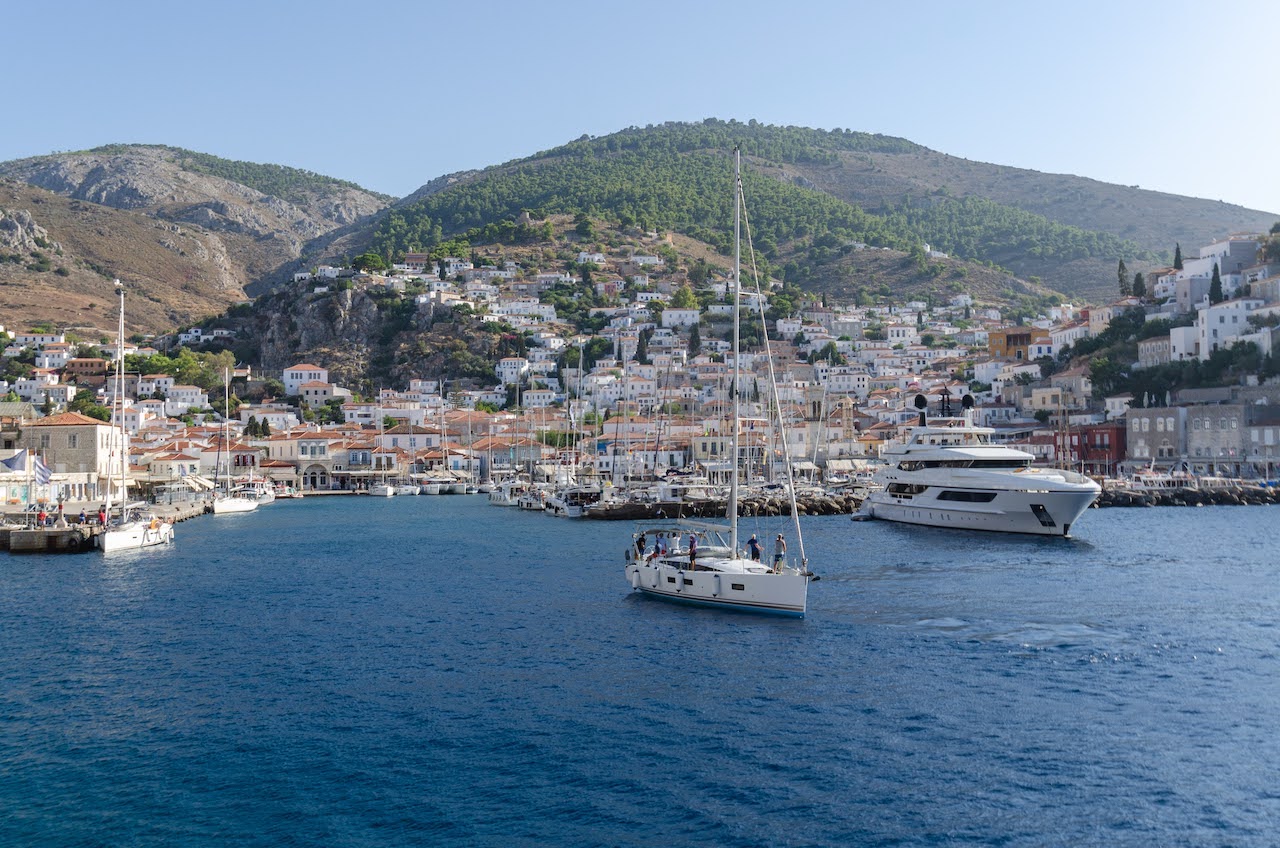 You can still find an authentic Ydra if you wander far enough from the waterfront. Mooring here is a story in it's own. Basically you have multiple boats med moored to each other. Looks fun but it's a nightmare to depart when you need to and it's super loud at night.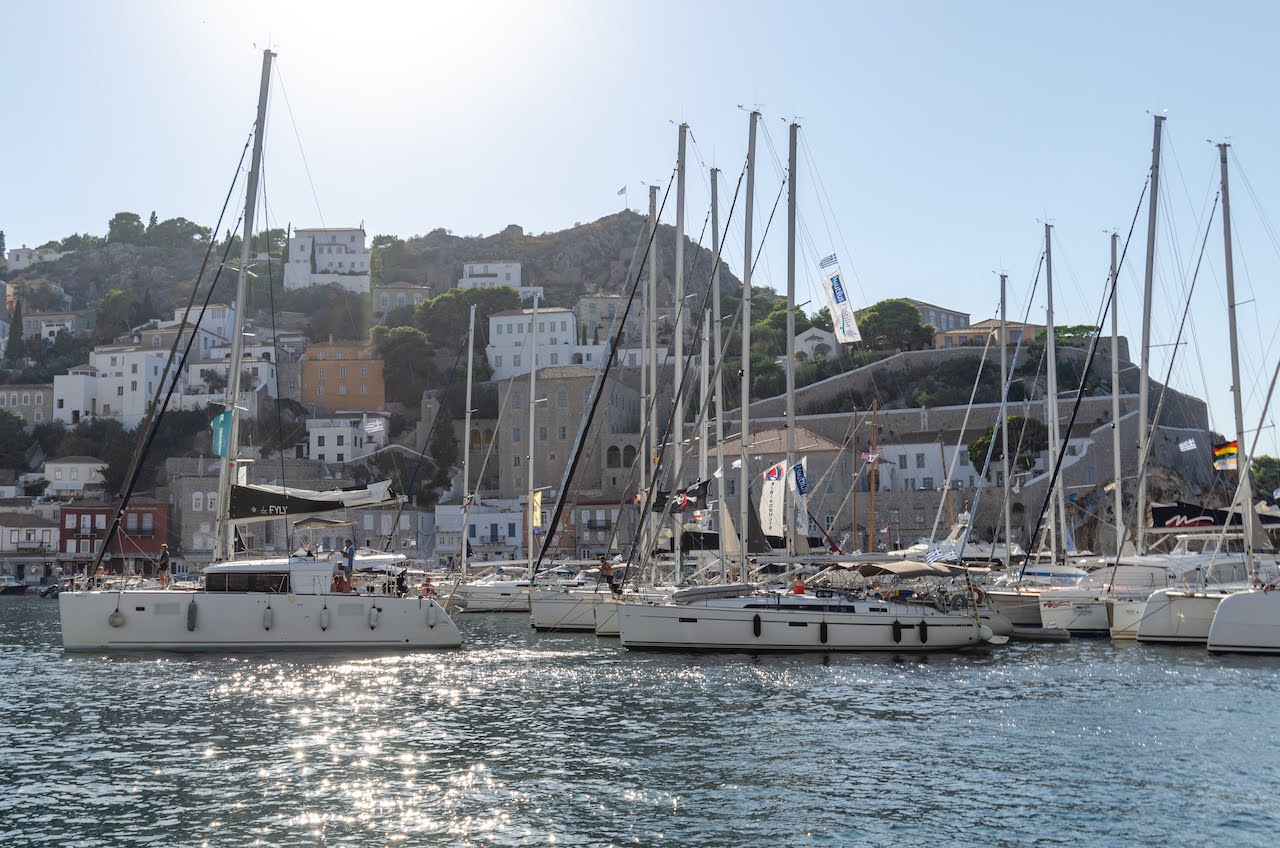 We decided to skip it this time and head to Mandraki bay. It's still very crowded but at least you can leave whenever you want.  There is a water taxi you can order to pick you up right from the boat and bring you back on request and water is much cleaner here. 
Poros 
A good last spot to visit before going back to the base. This place also has become  a tourist hotspot but mostly for sailors, you can spot very fancy yachts around here.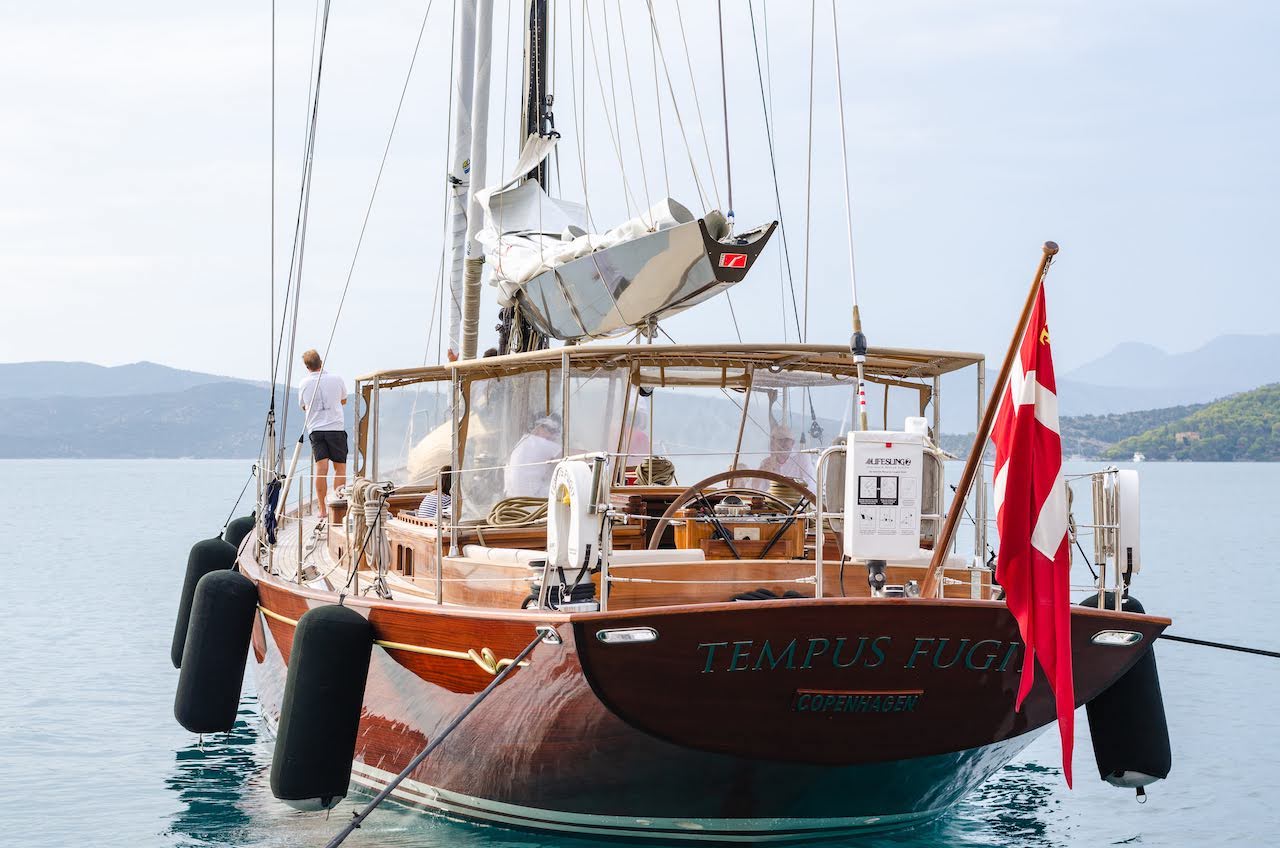 Mooring is easy and the island can accommodate hundreds of visiting yachts and even more can be anchored around. It's a good stop for a day to get some rest, refill freshwater tanks and so on. There are a couple of good places to eat out, I like Poseidon Restaurant in particular. The Clock Tower of Poros is definitely worth visiting, the view from here is breathtaking.