Dubrovnik, Croatia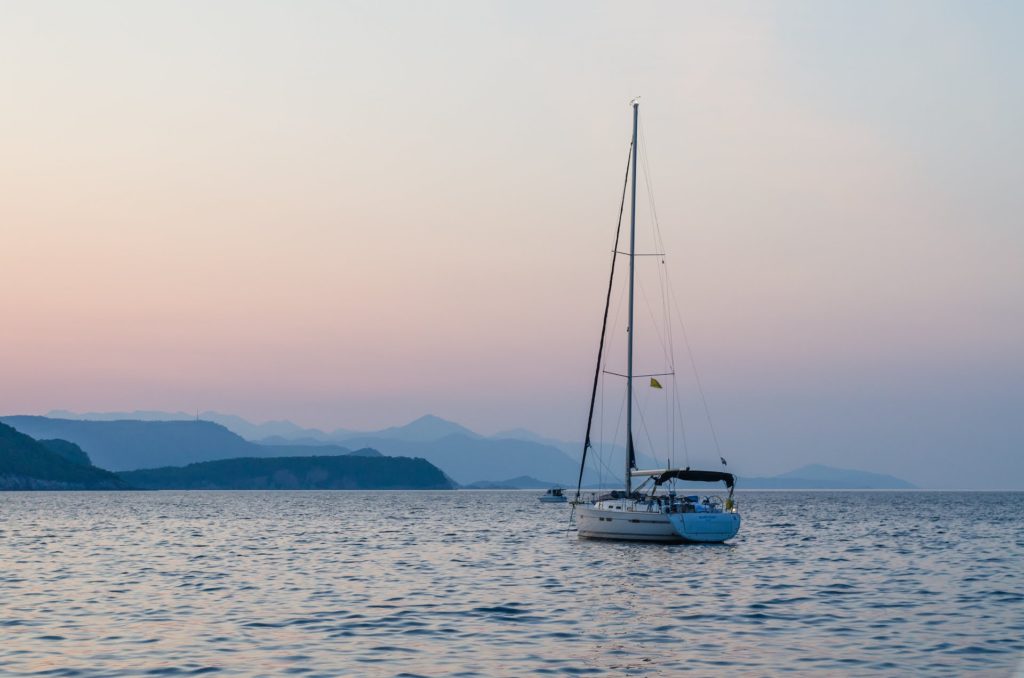 Day one 
This adventure starts really early, I wake up at half-past four in the morning and head to the airport. A big part of our crew is flying from Amsterdam with the same flight so we meet in one of the airport bars in need of a cup of strong coffee. After a short and easy flight we arrive at Dubrovnik airport. You can get from the airport to the city in half an hour by taxi, not the cheapest option, but the fastest for sure.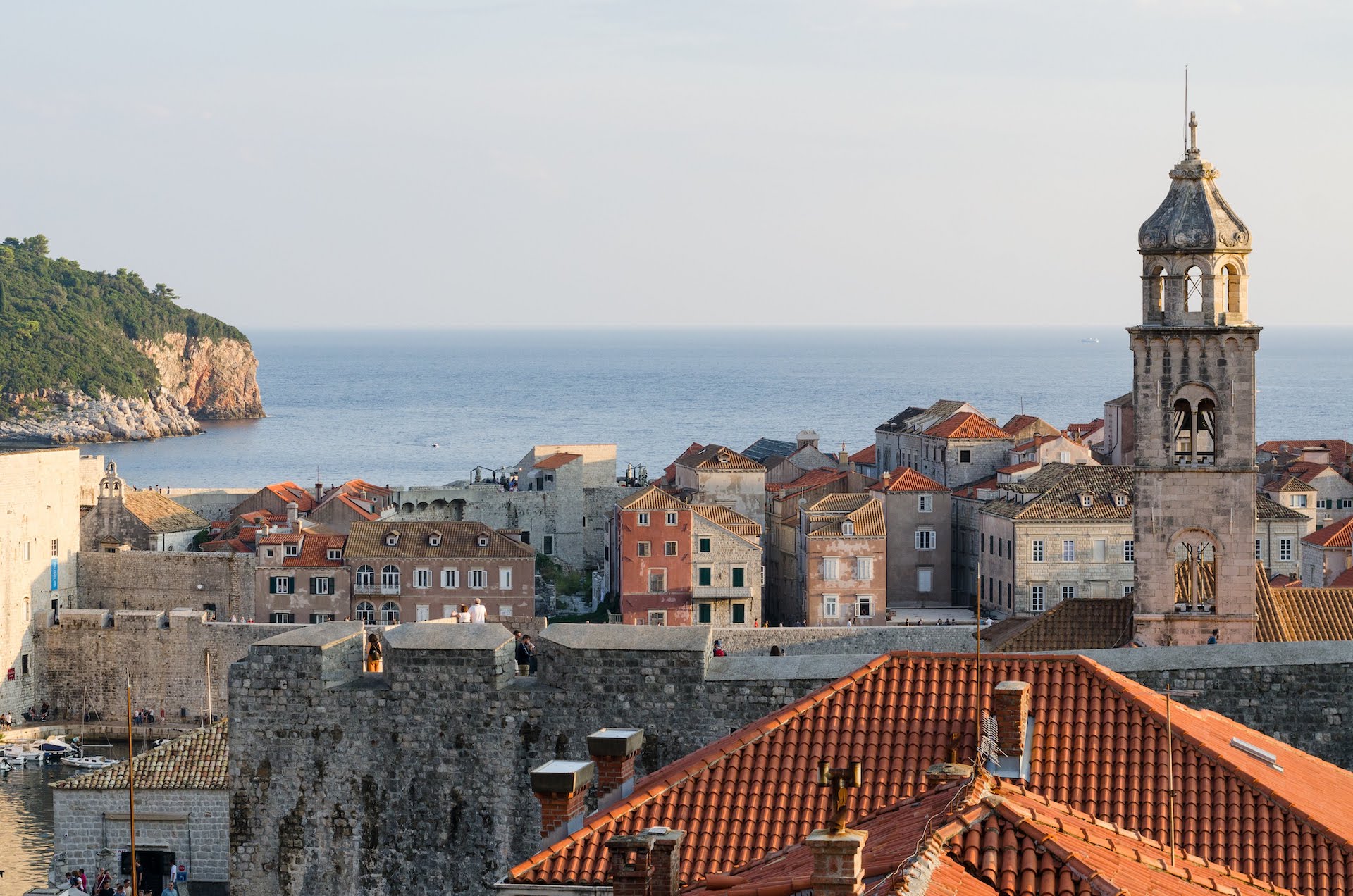 In the city we have a few important tasks: first of all breakfast, then we need to exchange some cash into the local currency and go to the supermarket.The skippers are going to the marina a bit earlier to check in, while the rest of the crew can explore the city. Dubrovnik is a crazy-busy city, full of tourists and getting a cab is not an easy task.  After several failed attempts to call an Uber we manage to catch a minibus with a very friendly driver. He waits for us twice, while we are in the bank and in the supermarket and takes us to the marina.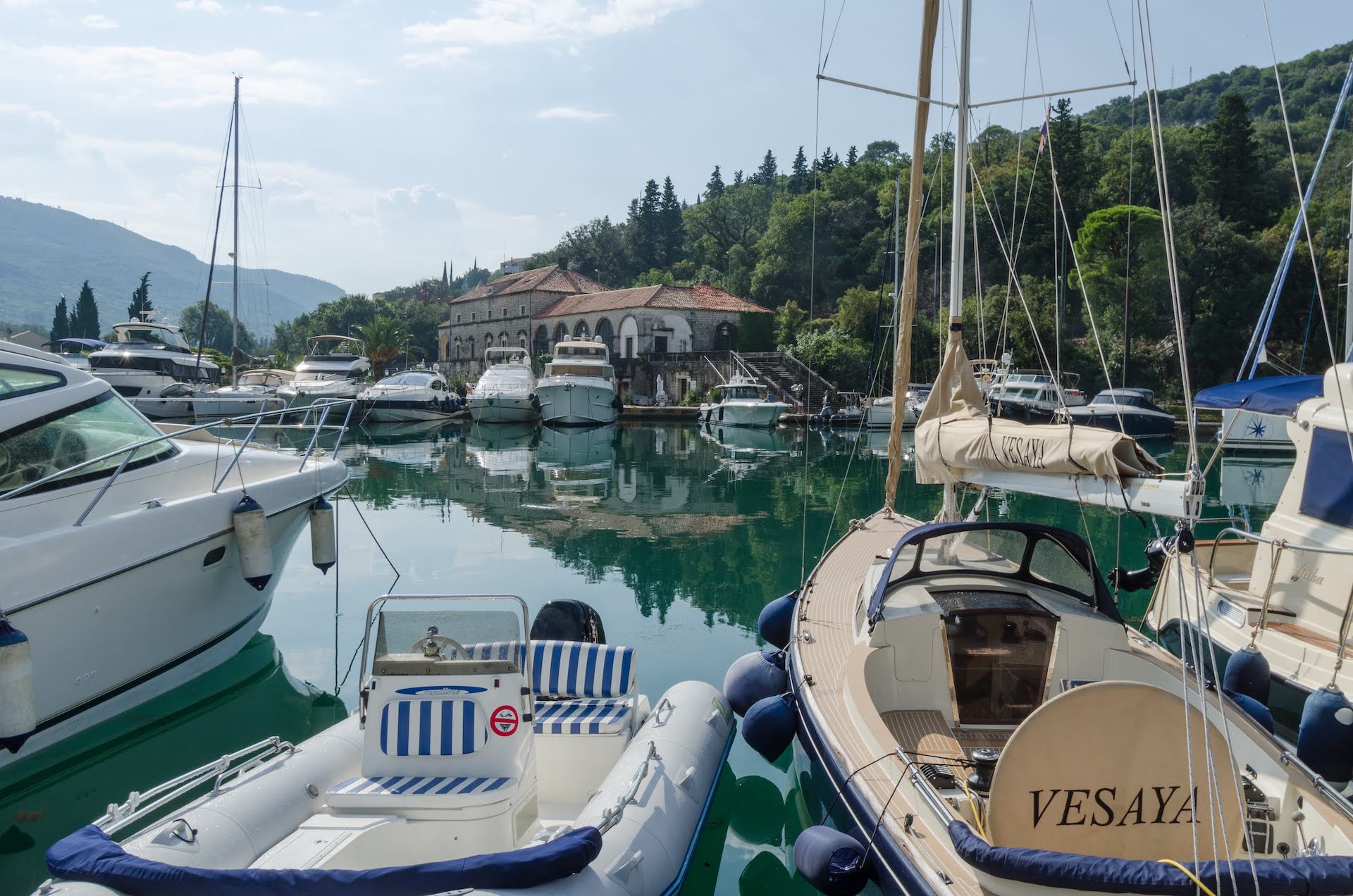 The marina looks awesome, it is located at the end of the long channel surrounded by high mountains. Besides charter companies there is a supermarket, a fueling station, and a few restaurants. One of them is our meeting point but first we need to check the boats and be done with the paperwork. This time we are sailing on Bavaria 45, Hanse 445 and Oceanis 40 yachts. After a few hours of preparation we are ready to leave the pontoon and head to our first overnight stop in the East of Lopud island. It's a quiet and not crowded anchorage with a sandy beach ashore, Lopud is covered in forests and the air around the island smells of eucalyptus.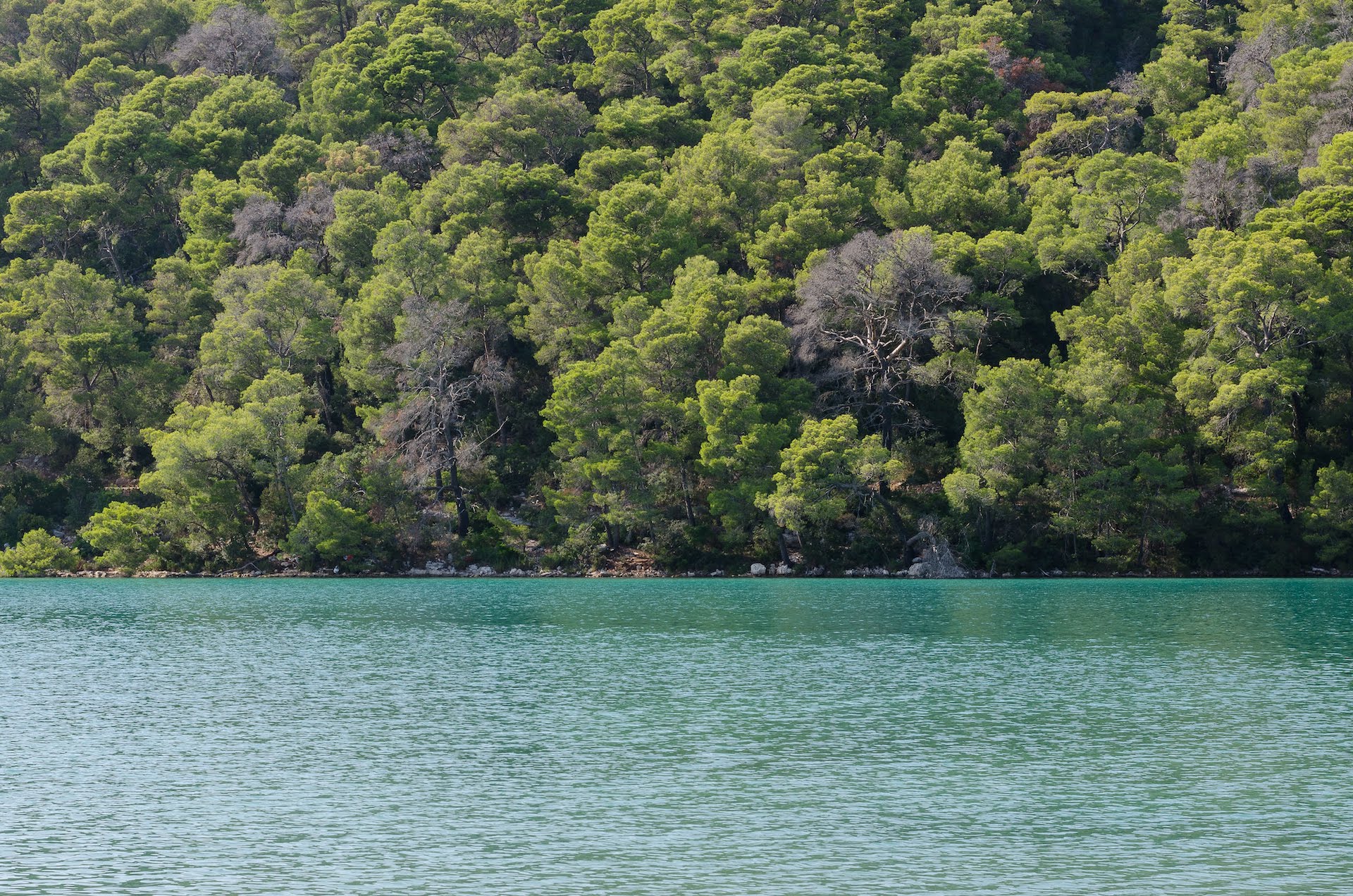 While anchoring we notice that the windlass on one of our boats is not working right and after a short discussion with the charter company, we agree to meet their repair crew at the marina on our route. Looks like we have a plan for tomorrow morning. Meanwhile we can enjoy the evening, dinner and drinks with friends. 
Day two 
I wake up with the sunrise and go to practice my SUP skills while the crew is still asleep. In an hour or two, when everyone is awake, we have breakfast and our morning coffee before departing for our day stop at Luka Slano.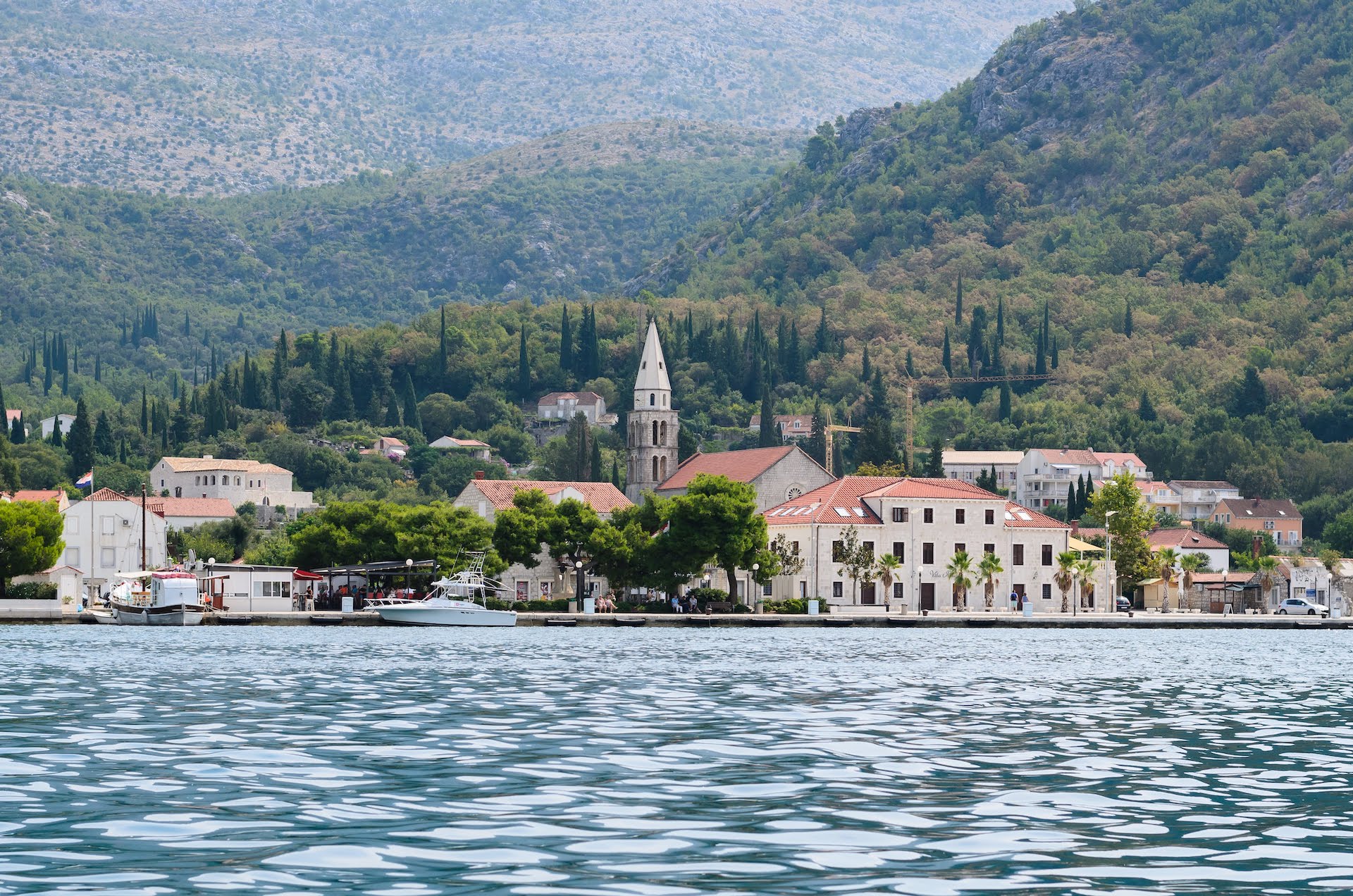 It's a small charming town with a modern marina where we agreed to meet the repair crew. One very cool detail about Croatia is that close to the towns and even in the marinas the water is crystal clear, you can actually see the bottom all the time. So first thing upon arrival we go for a swim. It's 12 o'clock and it's time for lunch. At the seafront we find a small shop and cafe where we decide to wait for the repair team. One of my friends recommended that I try the famous local dish ćevapčići, a grilled dish of minced meat, usually served as 5–10 pieces on a plate or in a flatbread, often with chopped onions, sour cream, kajmak, ajvar, feta cheese, minced red pepper and salt. It is amazing especially with a glass of cold beer. In general Croatian cuisine is very diverse, Croatians know how to cook delicious dishes from seafood, fish and meat. You can start your day with a burek, have an octopus salad for lunch and have a huge piece of meat for dinner. Such diversity suits me very well. Meanwhile the engineers from the charter company arrive at the marina and quickly fix the problem. We can continue our journey to Zuljana. The wind is not strong enough to sail properly so we decide to motor. It is an easy and enjoyable passage, the weather is just right and the sea is nice and calm. We arrive at the destination point before sunset and chill on board for the rest of the day.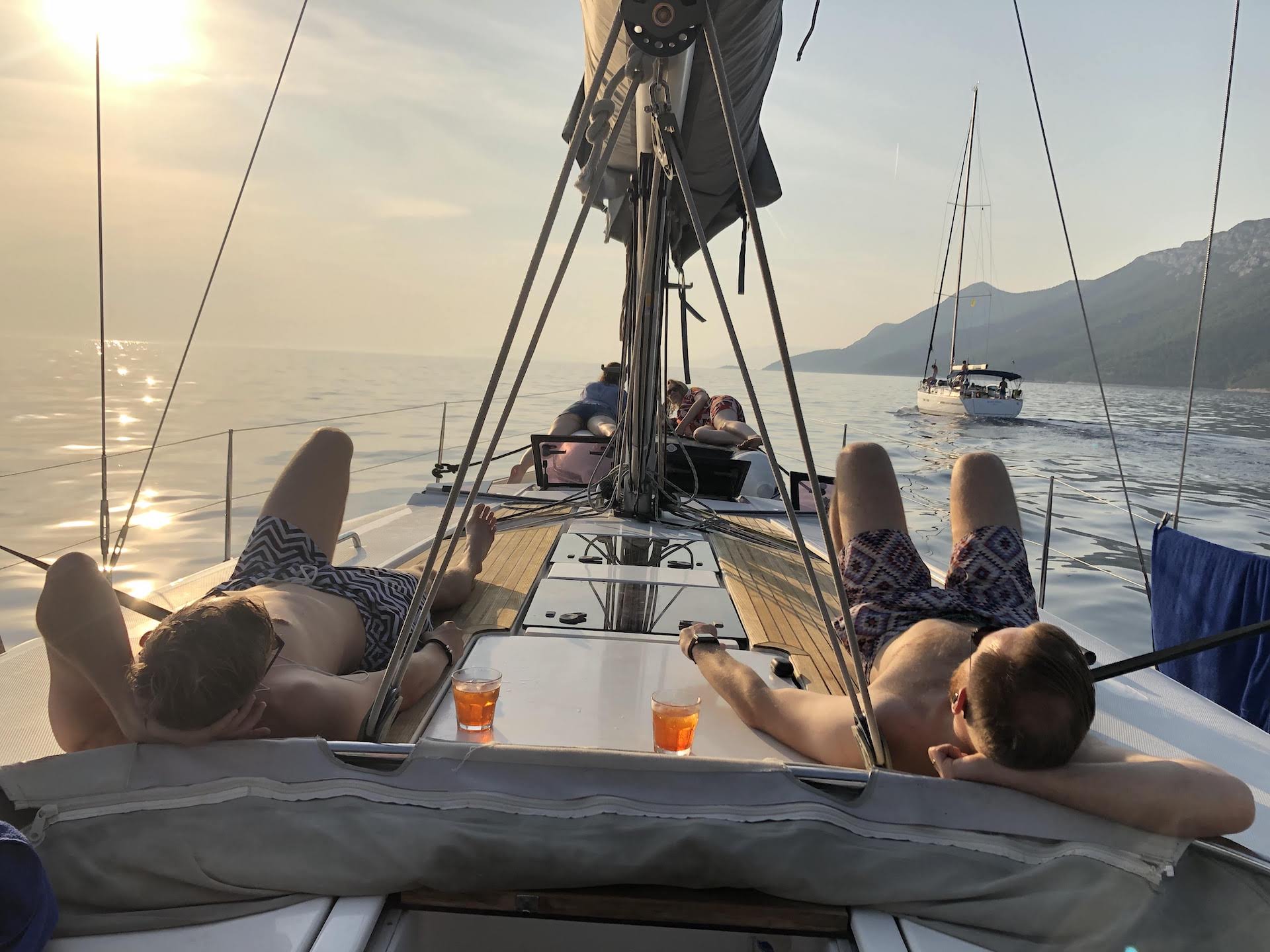 Day three 
After the morning routine, swimming, breakfast, and a coffee, we are ready to go to the next island. The destination for today is Lastovo. It is an island with an interesting history it was open to visitors only in the sixties, before that the whole island was а military base. To get there we need to make a 25-mile crossing. On the way there we receive a troubling weather warning. A storm is forming in the North of Croatia. We need to keep an eye on the weather more closely from now on.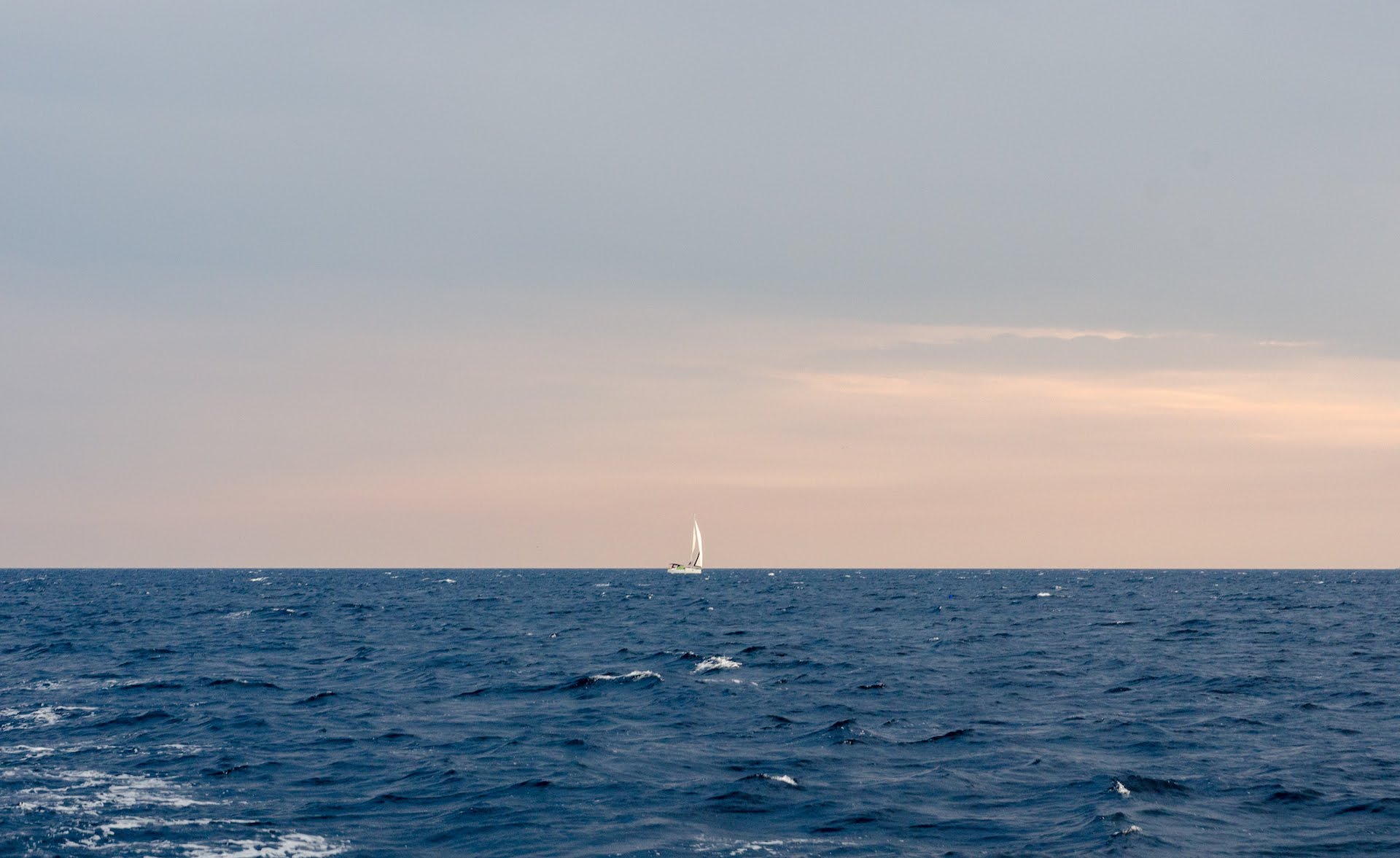 The charter company recommends a nice overnight stop in the northern part of the island, to get in the bay we need to navigate through a narrow channel between two massive rocks. It is a very well protected bay, with multiple buoys available for visitors. There are several restaurants onshore, a bike and scooter rental and a diving school. One of our boats decide to park at the pontoon and two others pick buoys. In this particular location you need to pick not one but two buoys one from the stern and another from the bow, this provides a nice sense of safety even in the highwinds. The weather meanwhile is still Ok. The sky goes a bit cloudy and dark but now there is no sign of a major storm. For dinner we go to a restaurant ashore where we discuss plans for the next day. One of the options is to go on a guided tour around the island, but spots are limited there. Well we will see tomorrow and for now we can enjoy the evening. After dinner we head back to the boats and in time. The weather starts getting worse, it's going to rain soon. We prepare the boat for the night and get to bed. At the same moment I put my head on the pillow an enormous downpour begins. This is the kind of rain you expect in the tropics, massive and heavy but no wind at all. Looks like we got a tiny part of the storm, things are much worse in the north of the country. 
Day four
The rain lasts through the night and the whole morning but now it's just a drizzle. Some of us decide to stay on board to chill with a cup of hot tea in our hands and the rest are going on a guided tour on jeeps through the island. The guide is a journalist who spent years researching local military history. He took us to see several abandoned military bases, a speed boat shelter, at the end of excursion we visit the city of Lastovo. After a delicious lunch in a local inn we head back to the boats. The weather is getting better and it's time to leave the island and head to the next destination – the city of Korcula. We booked three spots in the marina there and we are looking forward to spending a night with all of the benefits modern marina has to offer. To reach Korcula we need to sail for another 25 miles and arrive before sunset, mooring a 45 feet yacht in a crowded marina can be challenging especially with a strong wind. On the way we have a good chance to practise steering and sail handling, this time tacking is a piece of cake because our yacht is equipped with a self-tacking jib, so let's do as many tacks as we can, just for fun.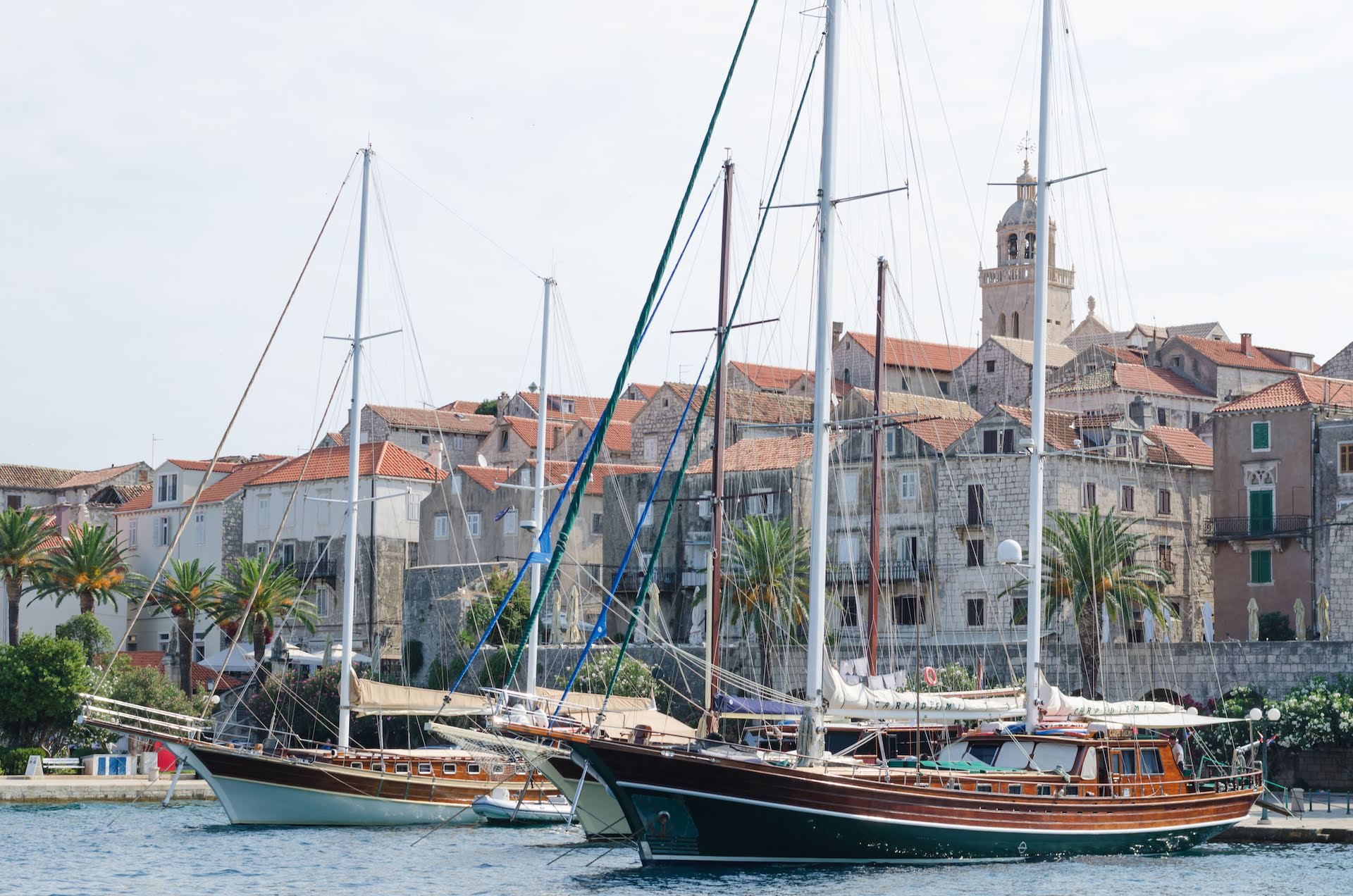 We arrive on time, just before sundown and after mooring our fleet we have some free time. The city of Korcula was founded in the 12th century and was a major trading port for hundreds of years, now it is a popular tourist destination. The city center is full of bars and restaurants but is not as crowded as Dubrovnik. During the summer the city holds several medieval festivals and is a popular stop for sailors. We spend the rest of the evening eating out in a cozy restaurant. 
Day five 
No rush today, we can sleep till late. We need to cover only 10 miles and have enough time to explore Korcula before departure.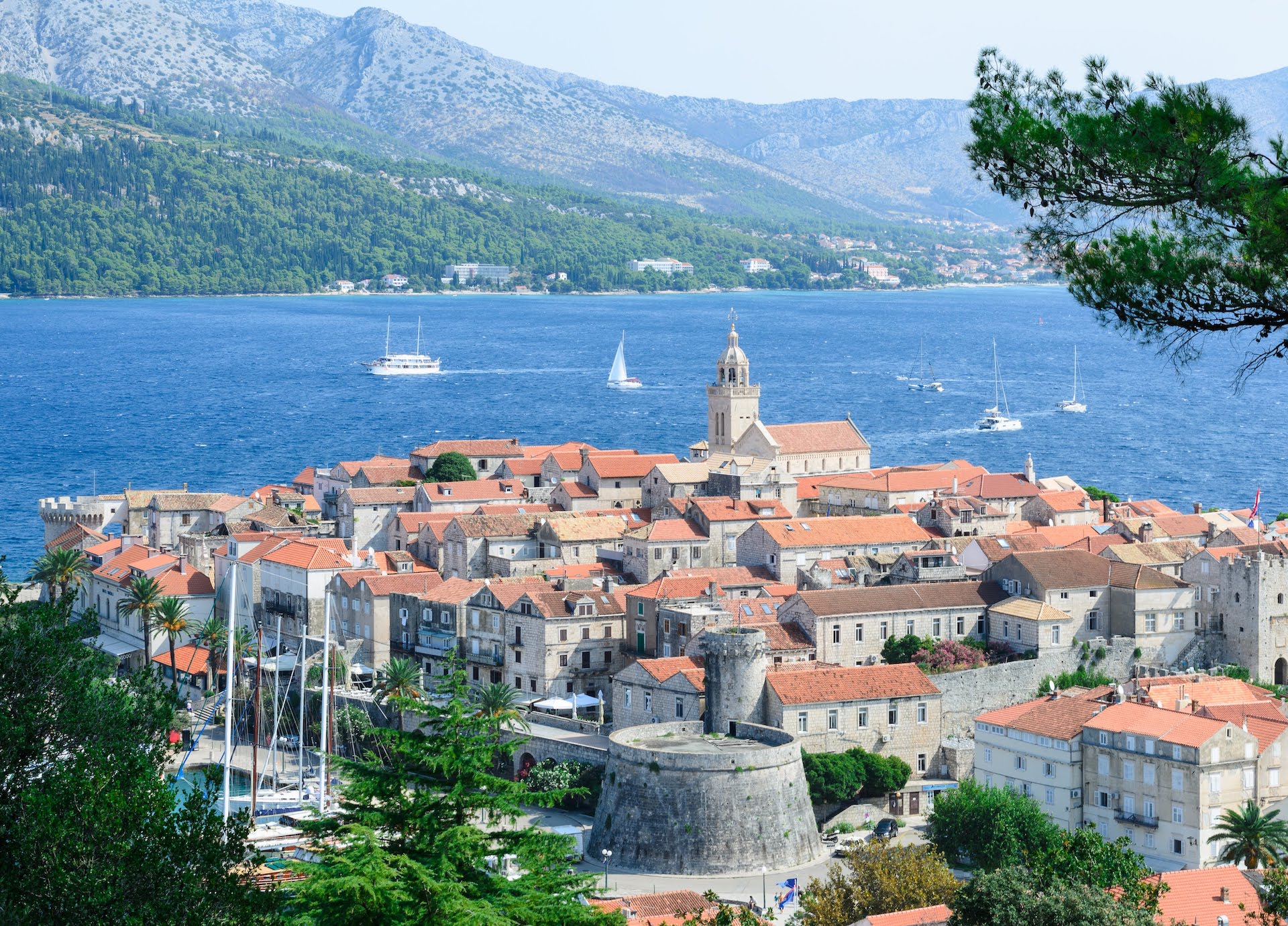 It's a good opportunity to rent a scooter and check out an island outside of the city limits, moreover there is scooter rental just outside of the marina and they also offer bikes. This island is definitely worth visiting if you are sailing in this region.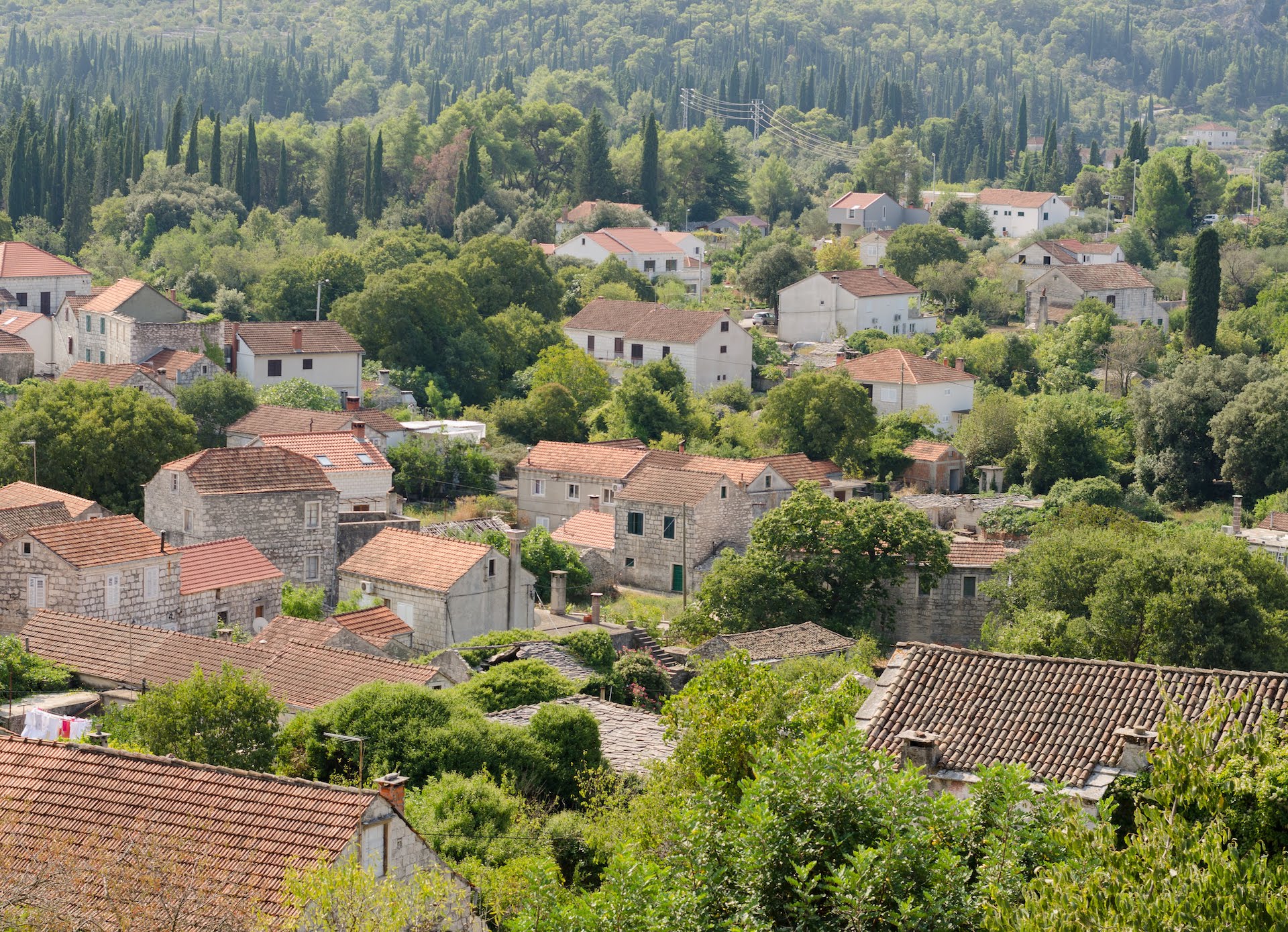 It's an awesome combination of nature, bays and small towns scattered across the cost. Before departure we need to do some provisioning and get a few packs of ice. Around three we are ready to leave and head towards Miljet. After the short crossing we drop anchor in a protected bay close to Polace.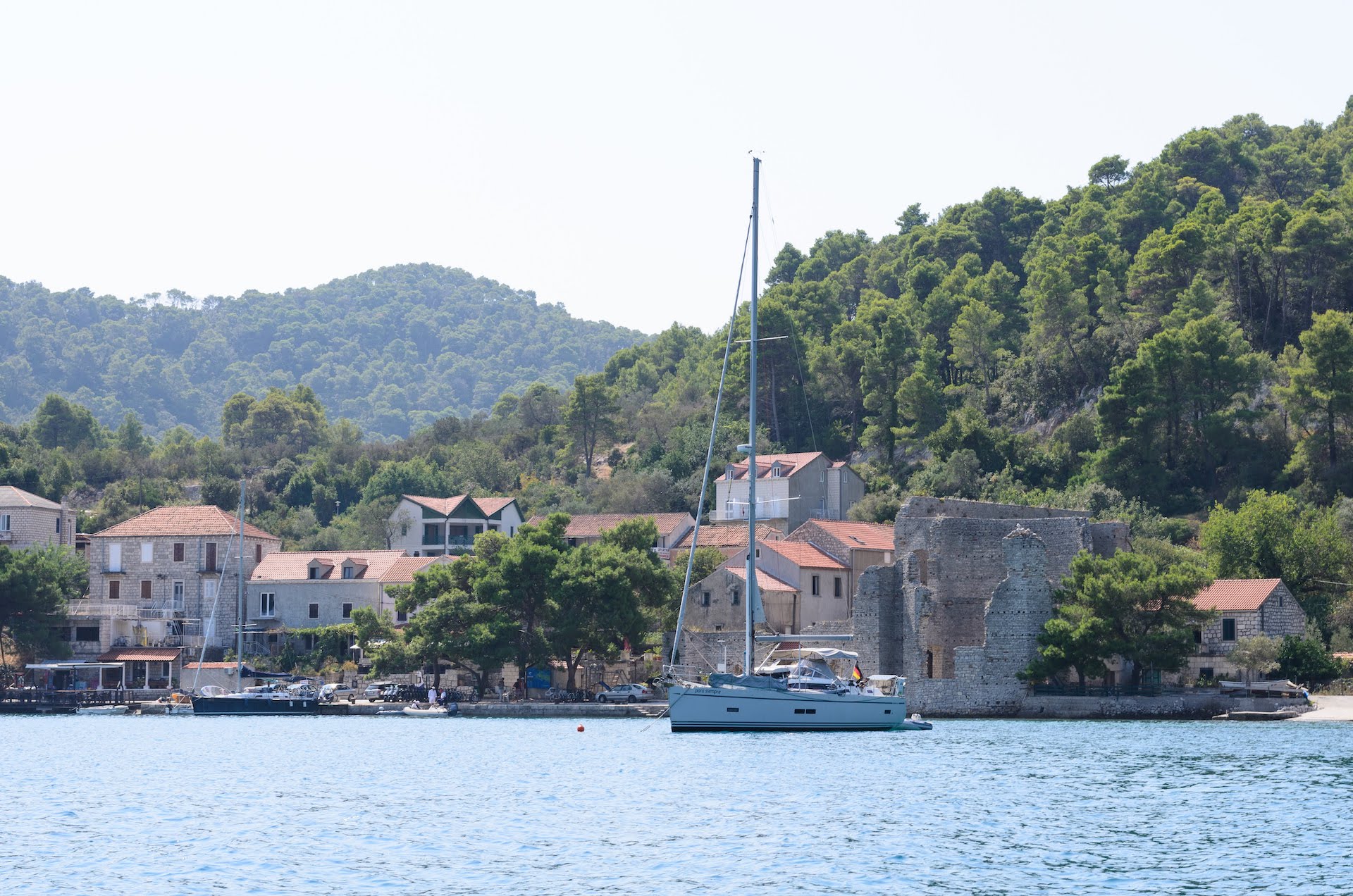 This is one of the two main accesses to Mljet National park that we are planning to visit tomorrow. And for today we have the idea to throw a party onboard one of the boats. To be honest catamarans is much more suitable for a big crowd but it's okay we still manage to have a blast and the party goes on till late at night.
Day six 
We start the day early today, we have a lot of plans so we rush to shore to get breakfast and buy tickets to the national park and rent some means of transportation. There are a few options like cars and scooters but you can not drive them through the national park, which is logical, and we need to park them near the entrance. Another option is a bicycle or an even better option is an electric bicycle.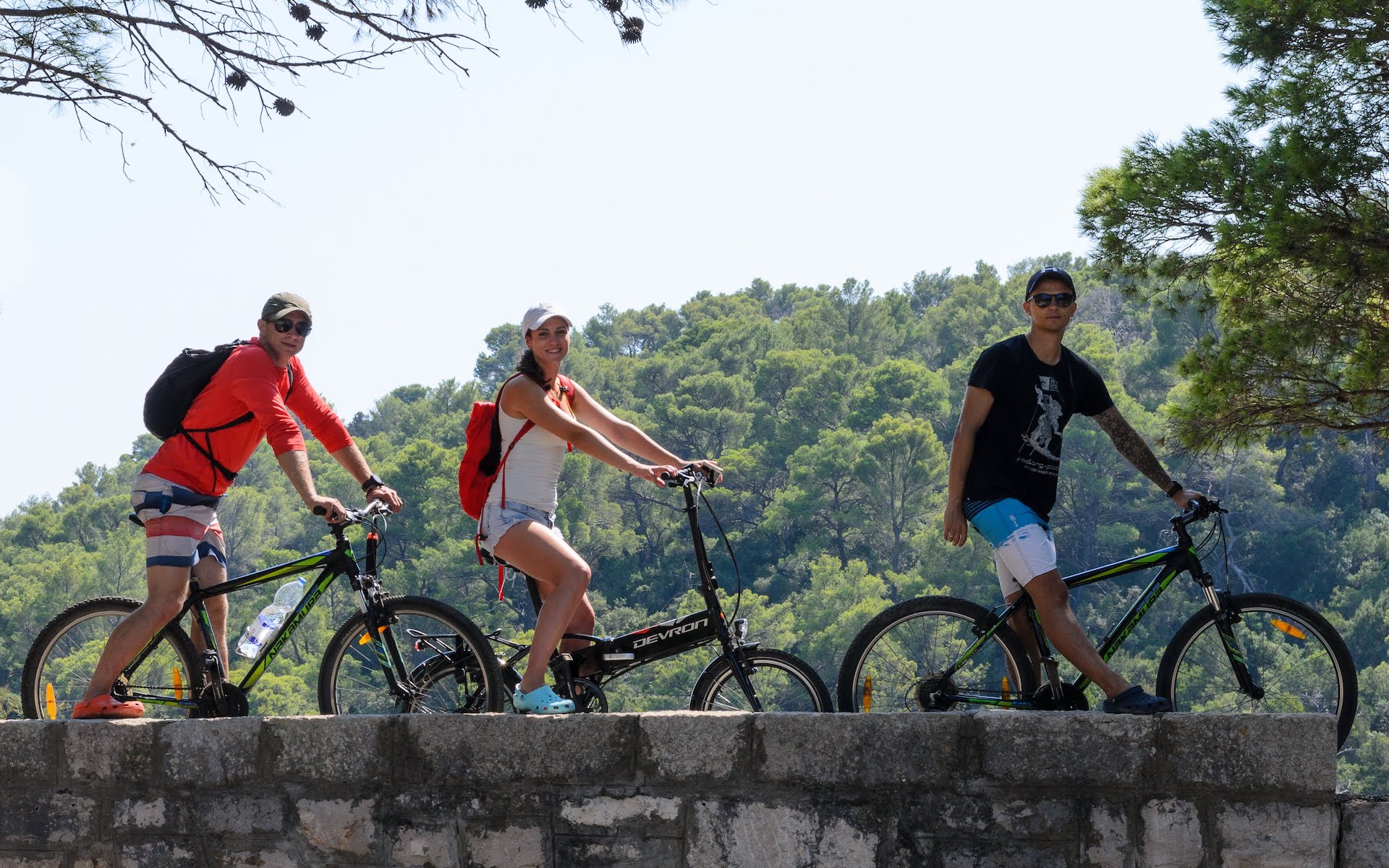 After everyone gets a bike of their choice we head to explore lakes in the center of the park, and oh boy are they beautiful. They are saltwater lakes with a small island in the center of one of them, surrounded by a coniferous forest. It is a very pleasant ride in the shade of the trees.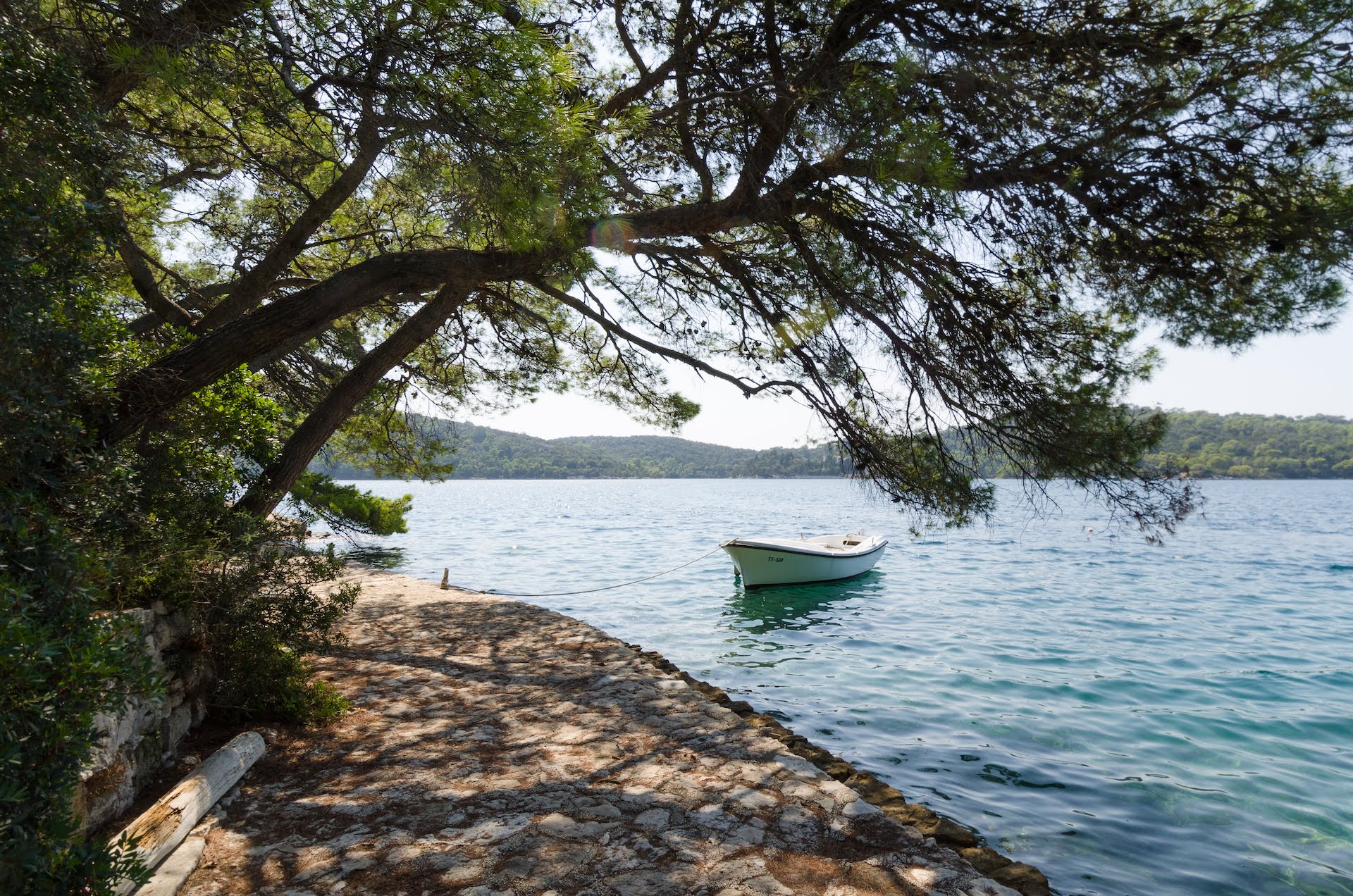 For lunch we stop at one of the former manors now a restaurant where we enjoy the delicious octopus salad and a beer. This island is the chillest and most interesting among others we visited so far, next time I sail in this region, I would love to stay for two nights here. We decide to spend more time here and leave closer to the sunset. It means we are going to have a few hours of night sailing.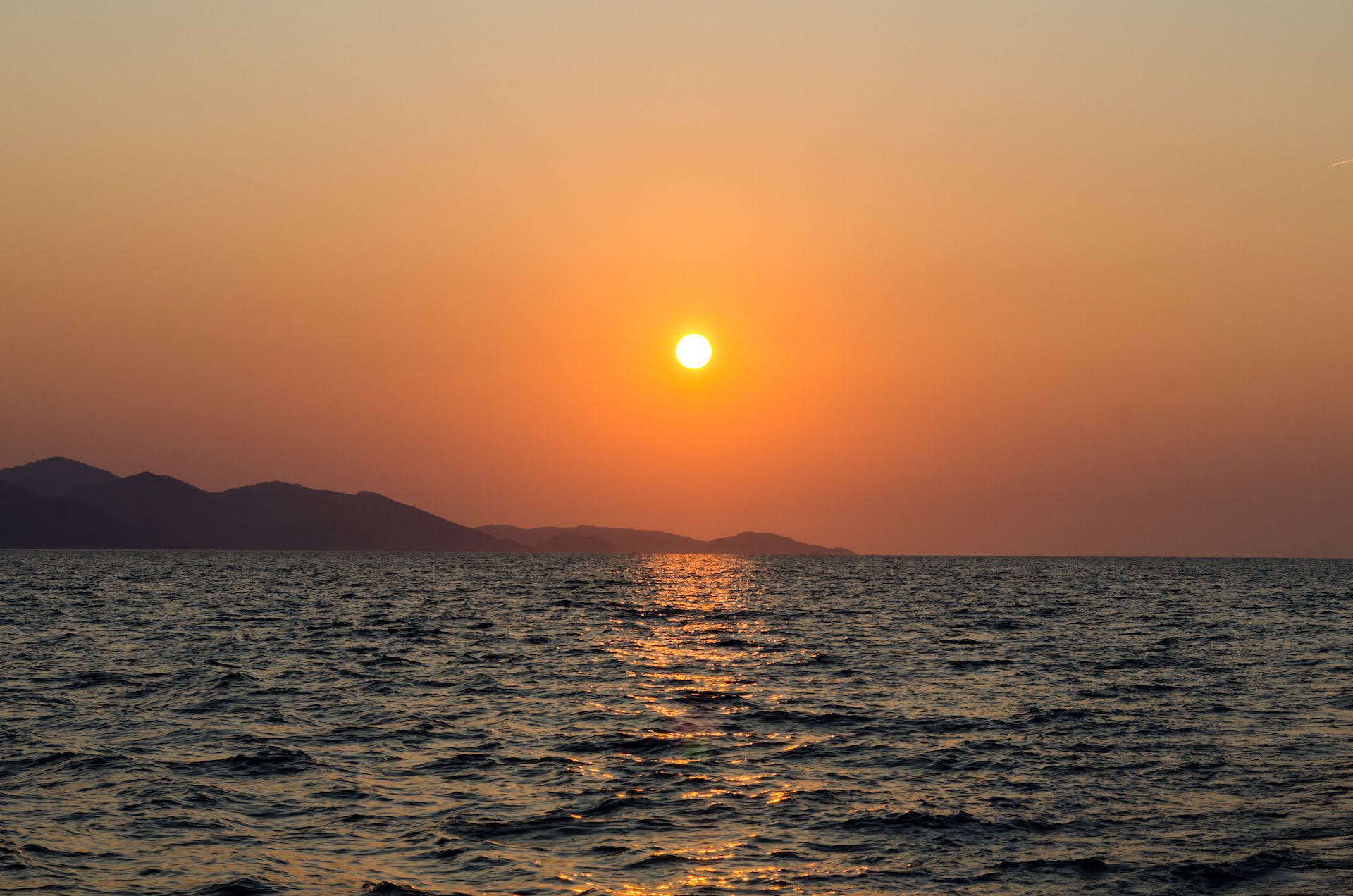 We leave this charming island and head to a small town called Šipanska Luka. After a beautiful sunset we sail for two more hours to a well-protected bay and cook dinner on board. The rest of the evening we spend ashore. The town is super small with a few restaurants and a bar that is open till late at night.
Day seven
This is the last day of our sailing trip, we need to be at the marina around 15:00, refuel our yachts and pack our stuff. But we still have a little bit of time so we decide to make a day stop in the east part of Lopud. It's way different from the part we spend the night six days ago. On this side of the island where you can find a lot of restaurants and hotels, a fleet of luxury yachts is moored close by. Some of us decide to explore the island a bit and the rest stay on board to get some more quality swimming before we return to the port.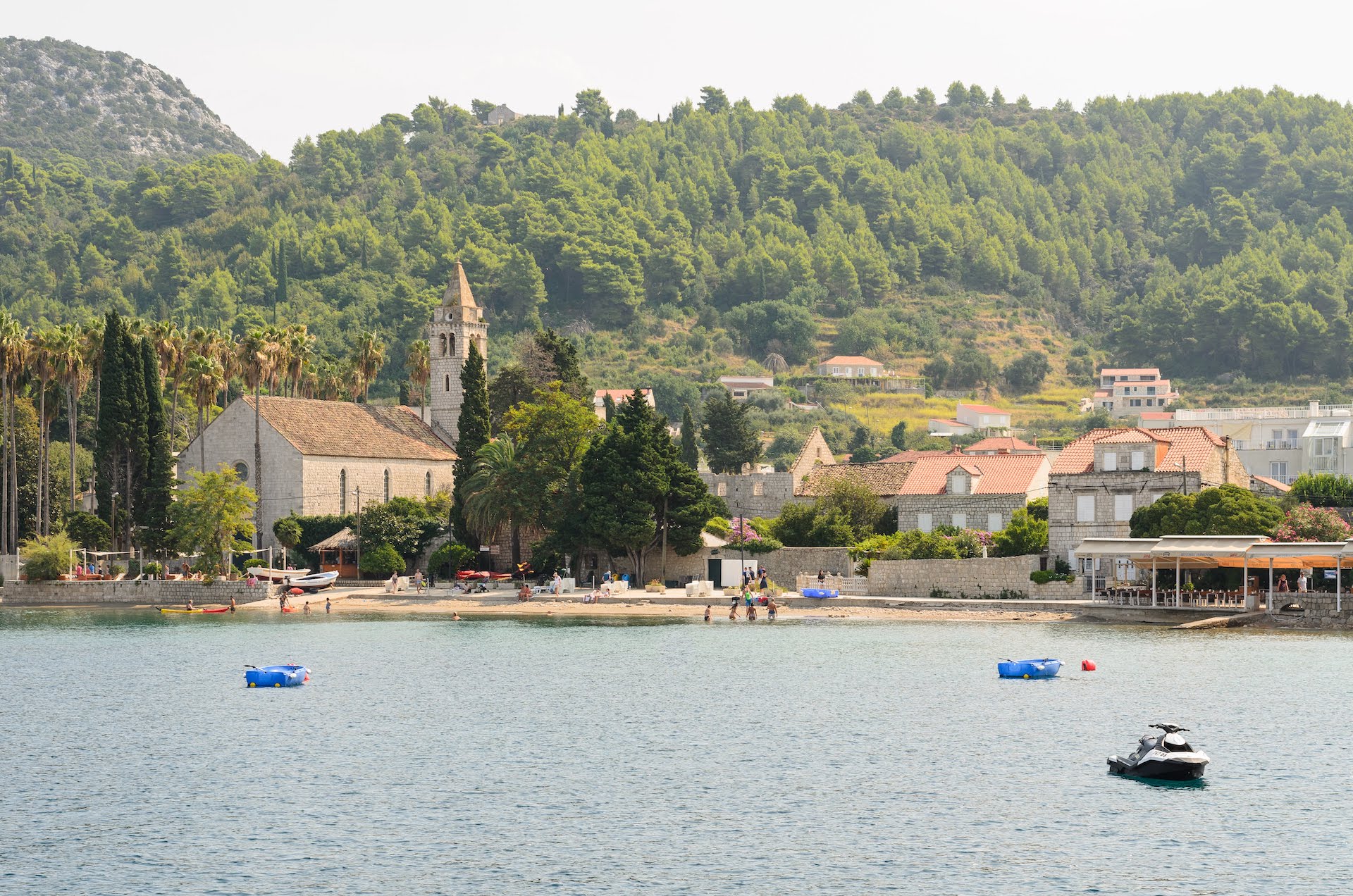 After we reach our home harbor and take care of the boats we have some free time to shower and get ready to go to Dubrovnik. The plan is to have dinner together and then explore the city by night. Tomorrow morning we are leaving our boats and going to spend the weekend in this amazing city. 
Dubrovnik 
The first thing we spot on the way to the city is a yacht with a very distinctive look anchored near the city harbor. It's famous and so far the largest sailing yacht in the world with a very short name A.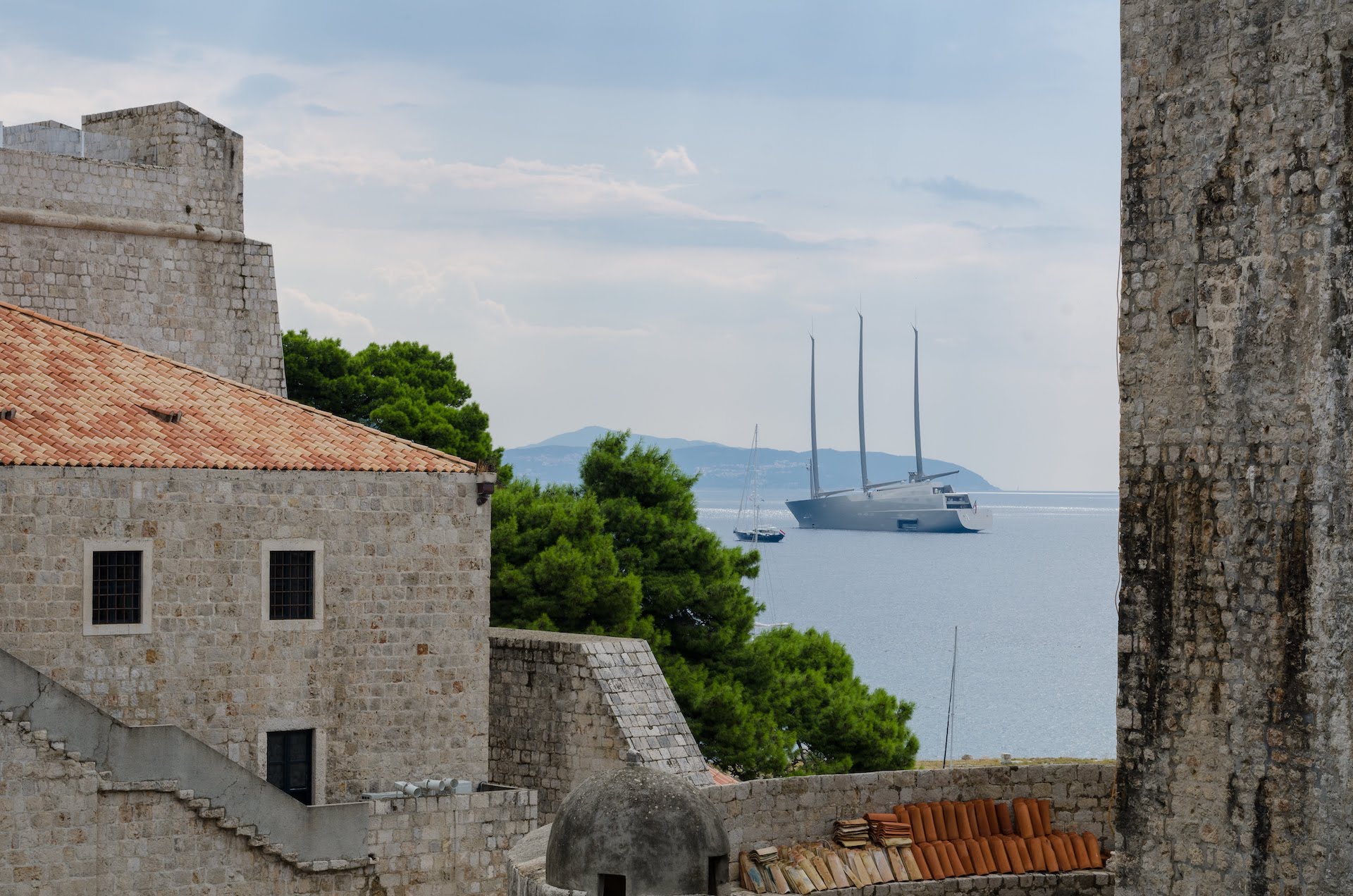 This city was already quite popular before it was featured in Game of Thrones and now it's just booming with tourists. Despite the very rainy-day the streets are full of visitors. The main attraction is an old city surrounded by tall city walls. The wall itself is a very popular attraction, a lot of people are willing to wait in line to see the city from the top.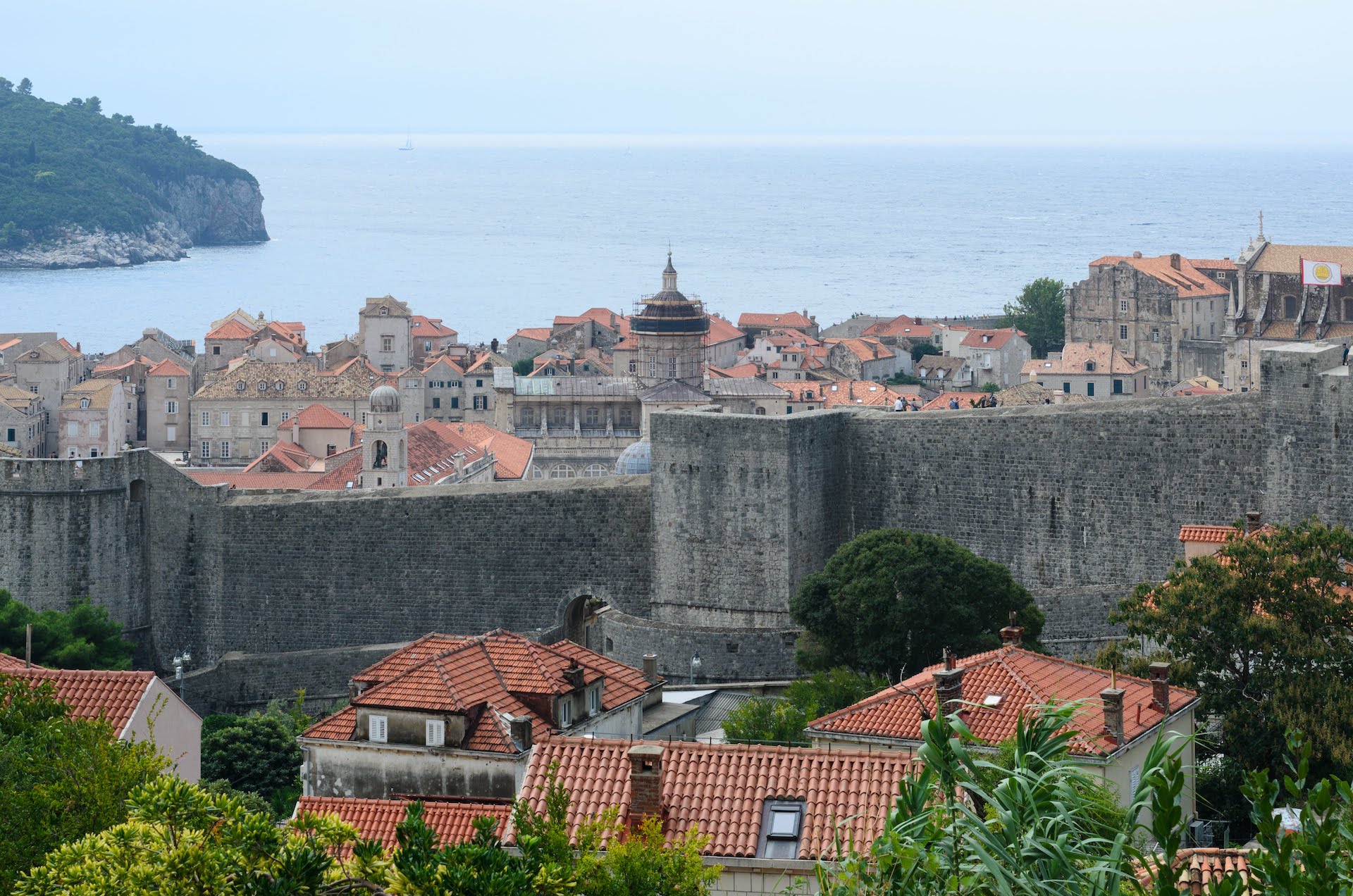 Another option to see a city in its full glory is to go to the top of the close-by hill by cable cart to enjoy the sunset and then have a drink in a restaurant with a gorgeous view.