Cyclades, Greece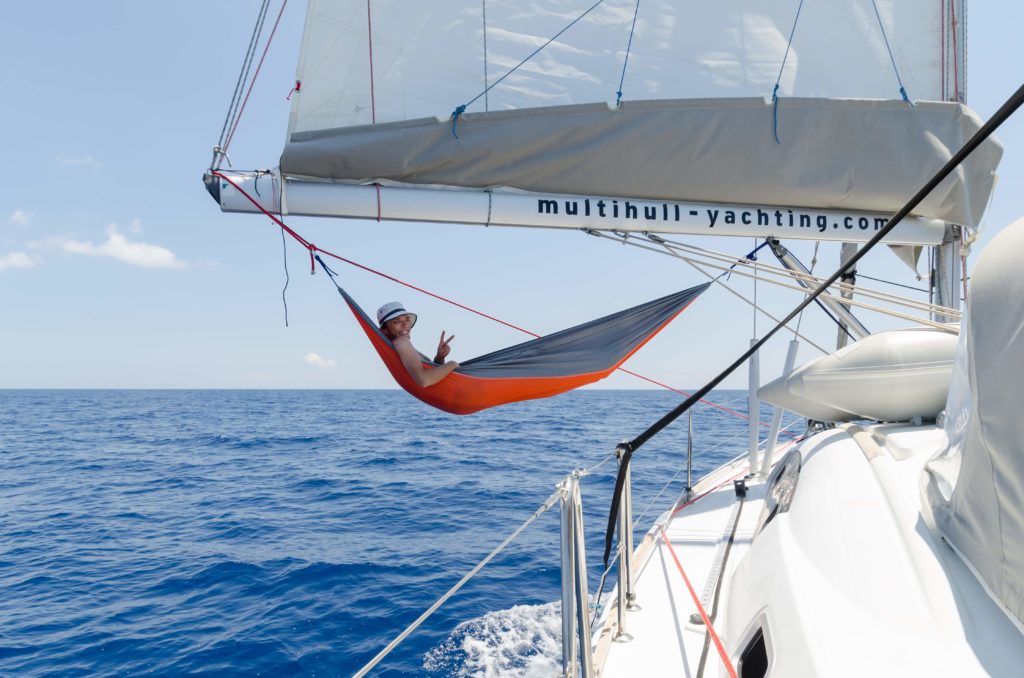 We prefer to start our adventures as early as possible therefore straight from the office we rush to the airport and take a flight to Athens. Tomorrow our flotilla will leave Lavrion harbor and go on a seven-day voyage to explore Cyclades islands. We are a big crowd this time, 30 people on five yachts, the biggest group we had so far. It is challenging and exciting.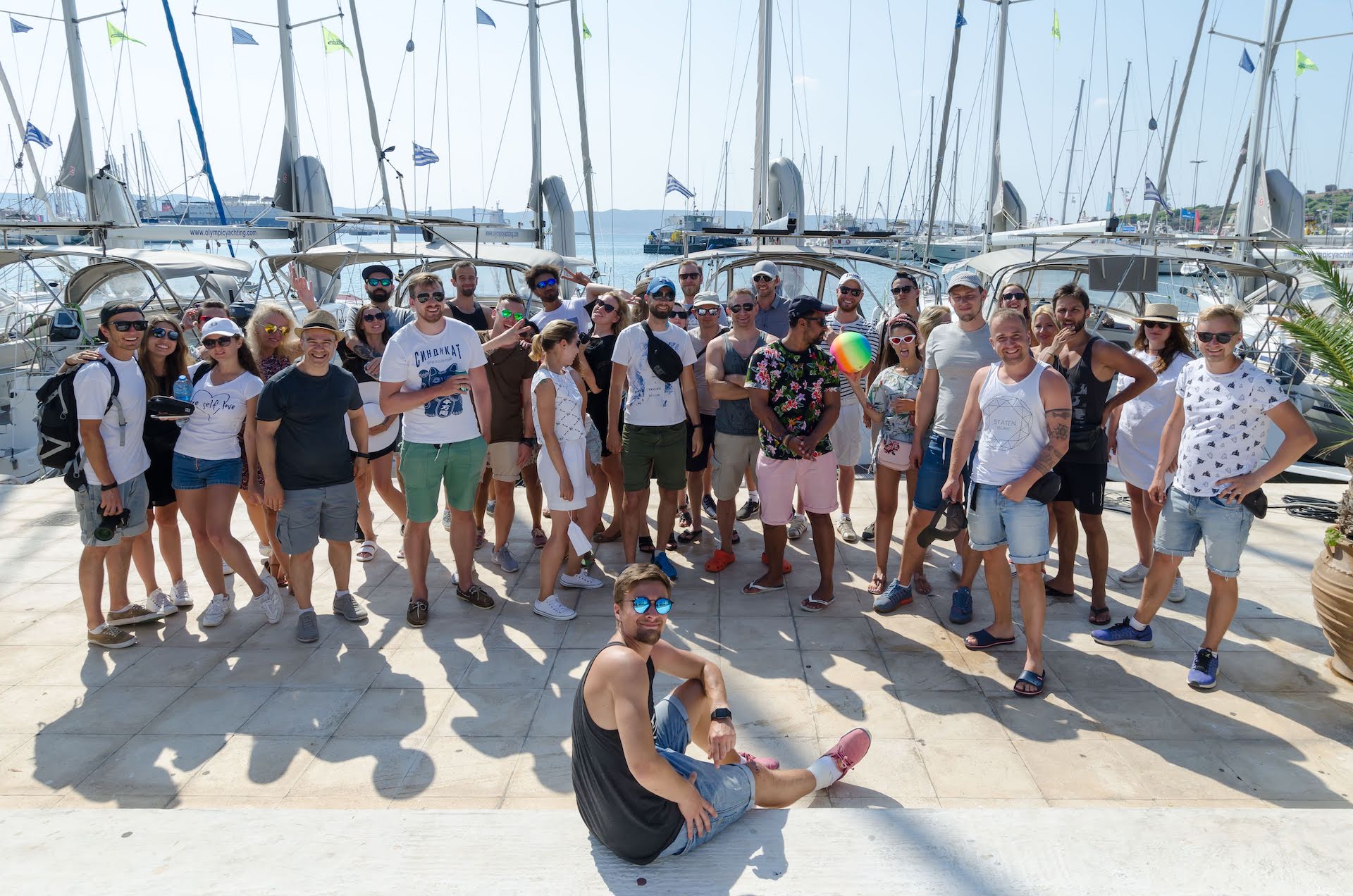 Saturday
Morning start early for skippers, we have a busy day today. In the morning we need to check in yachts, arrange provisioning and we need to leave harbour no later than 15:00 to have enough time to reach our overnight anchorage at Kea island.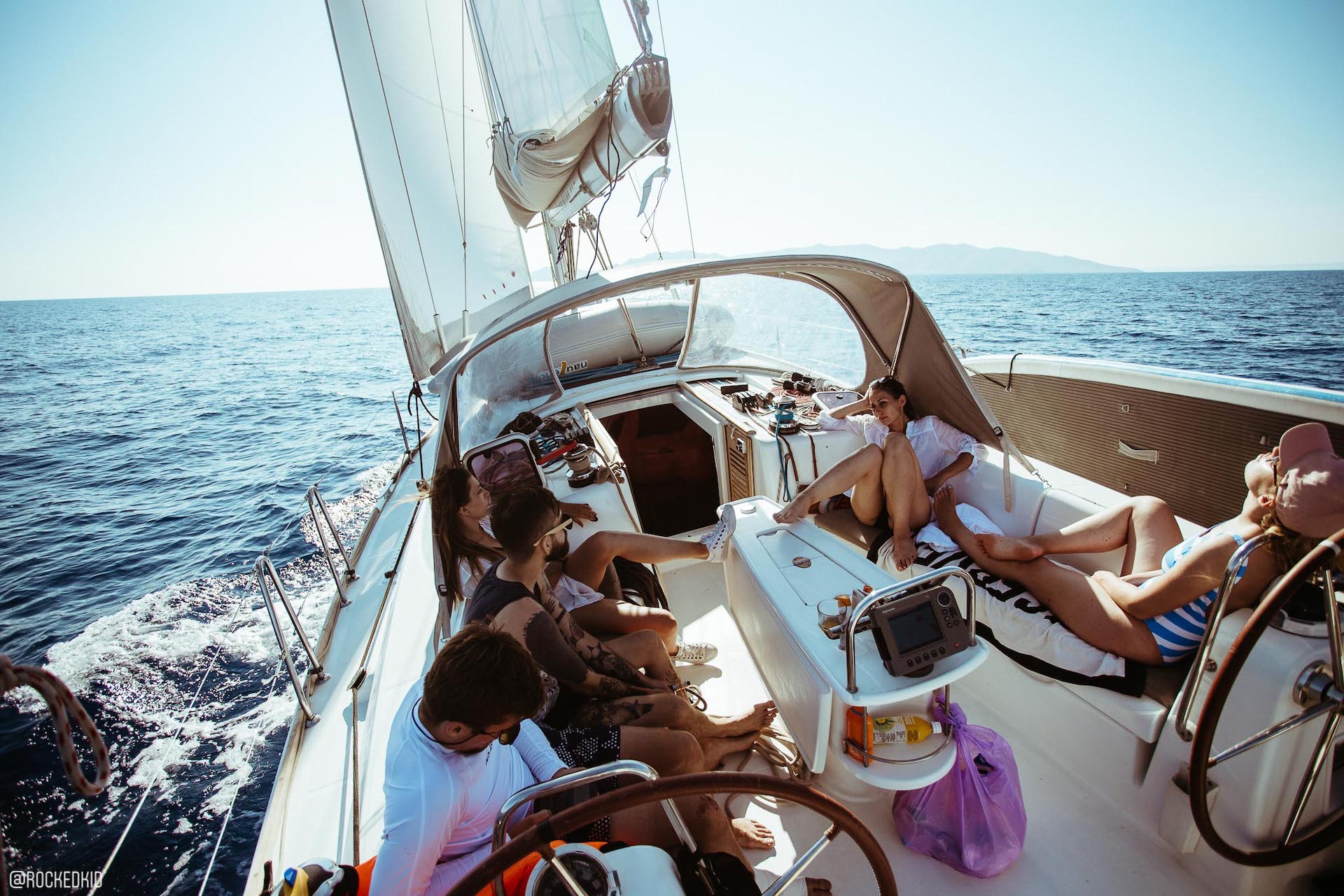 But first, we need to meet the crew. We agreed to meet for breakfast in a restaurant just in front of the main harbor. After a short briefing, we split into five teams and went to prepare our fleet to departure.
Few words, about our home base – the city of Lavrion.  It is a town in southeastern part of Attica with a reach history founded in 3200 BC and famous for its silver mines.  Nowadays it is a big port with a huge charter base, around 250 yachts are available for hire here. Location is also very convenient, only half an hour drive from the Athens airport and an hour drive to Athens. It is not very touristic though only a few hotels and Airbnbs are available here. And the majority of foreigners in the city are sailors. There are plenty of restaurants around. Provisioning is also easy, there are several big shops just a few hundreds of meters from the harbor.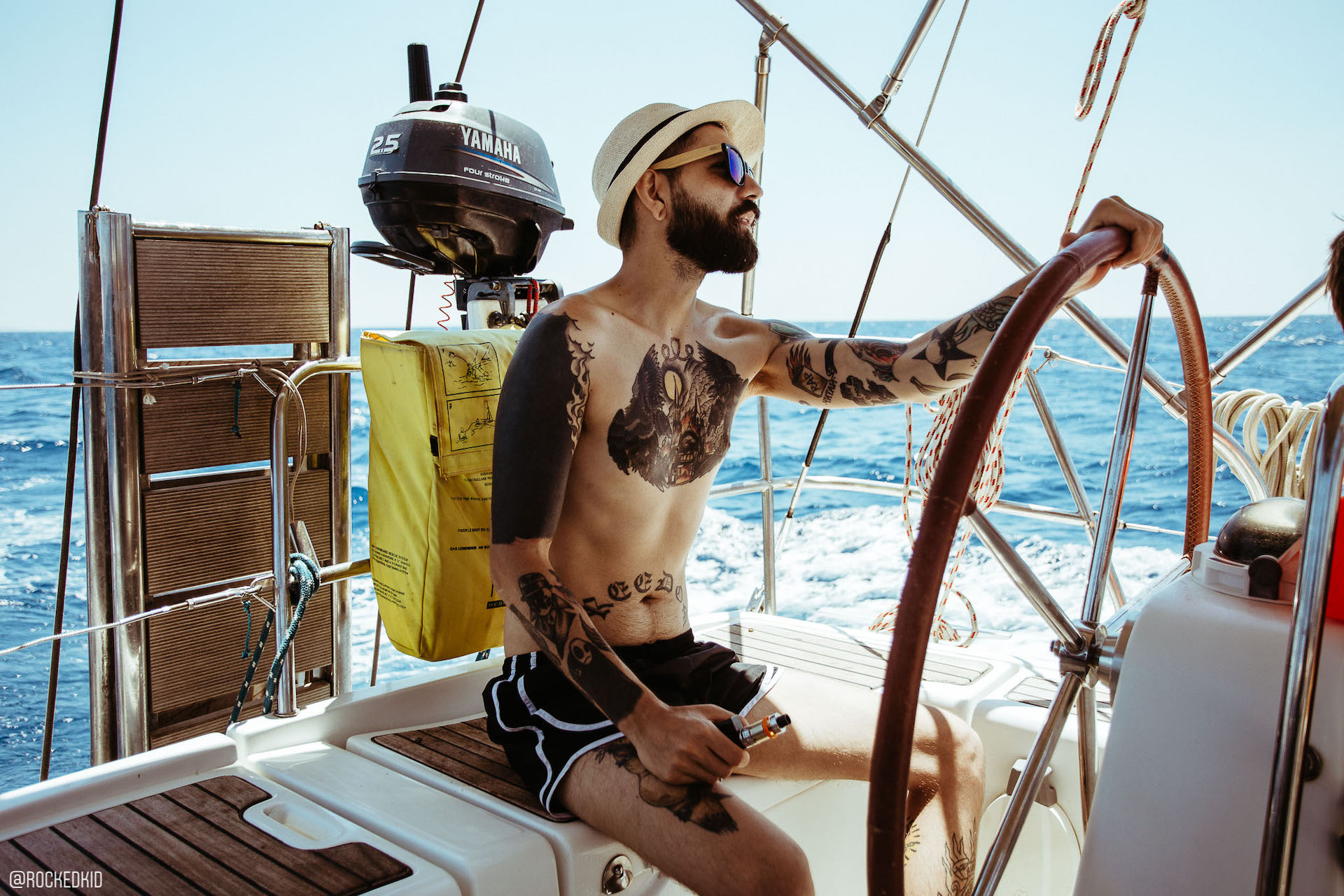 After all paperwork is done and all our stuff is loaded on board we are ready to leave the safe waters of the marina and sail to our first overnight stop. This trip we have a diverse fleet:  Hanse 415, Bavaria 41, two Oceanis 40 and Oceanis 34.  We need to cover 15 nautical miles today. It's a short distance and it took us about 3 hours to get to our destination point. The small and well-protected bay is full of yachts and it took us some time to find an available spot for anchorage. We spent evening cooking dinner and chilling on board.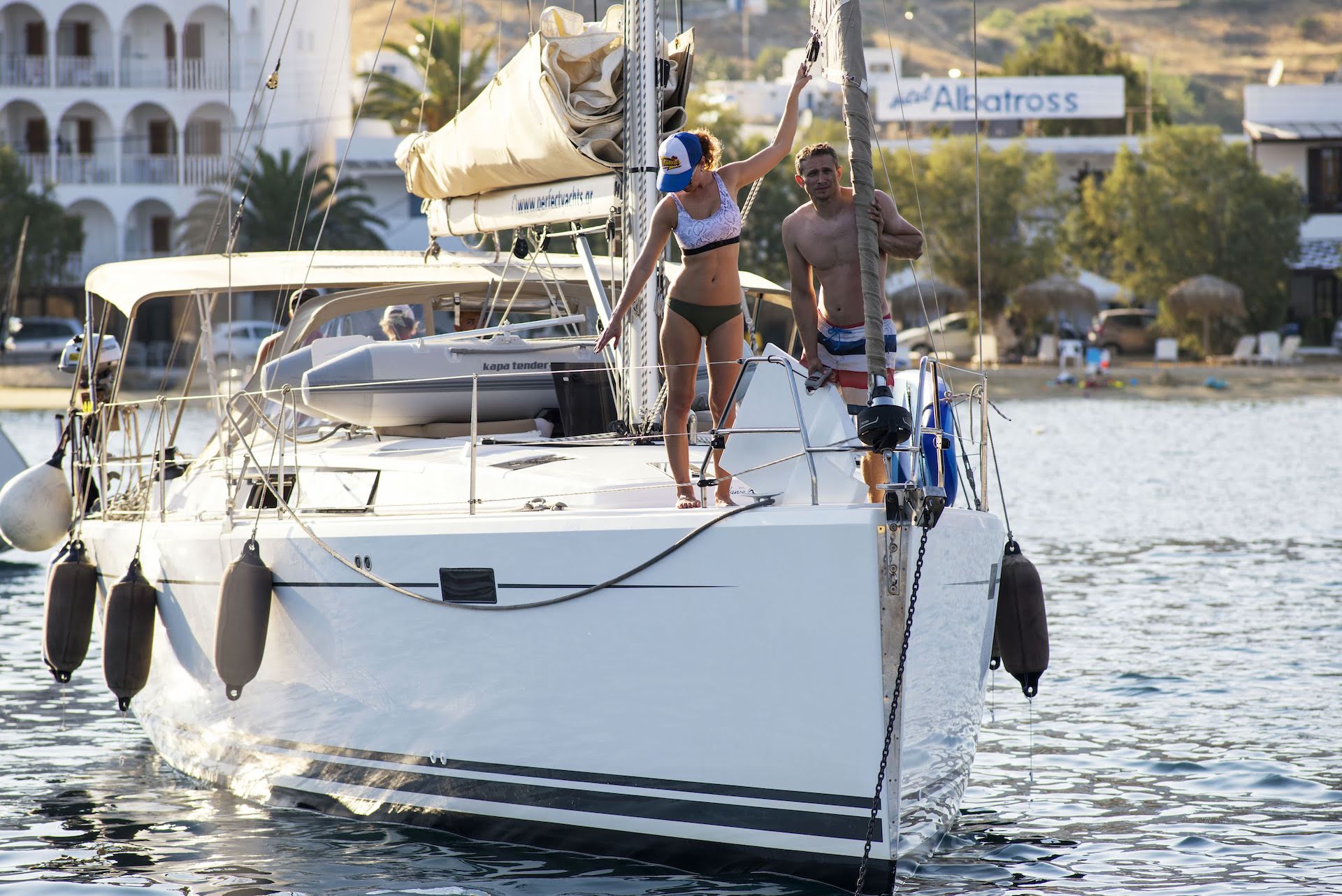 Sunday
There are multiple ways to get your morning coffee while sailing. You can brew one yourself in the galley, you can drop by to one of your friend's yachts for a cup of hot coffee or you can go ashore by dinghy to get one from local bars or restaurants. This morning we decide to go for the last option, moreover, we need to buy a several packs of ice. Ice is essential in hot climate sailing, and not only to make cocktails. It's important to keep a pack in the fridge, It helps to keep a low temperature and not to drain a domestic battery.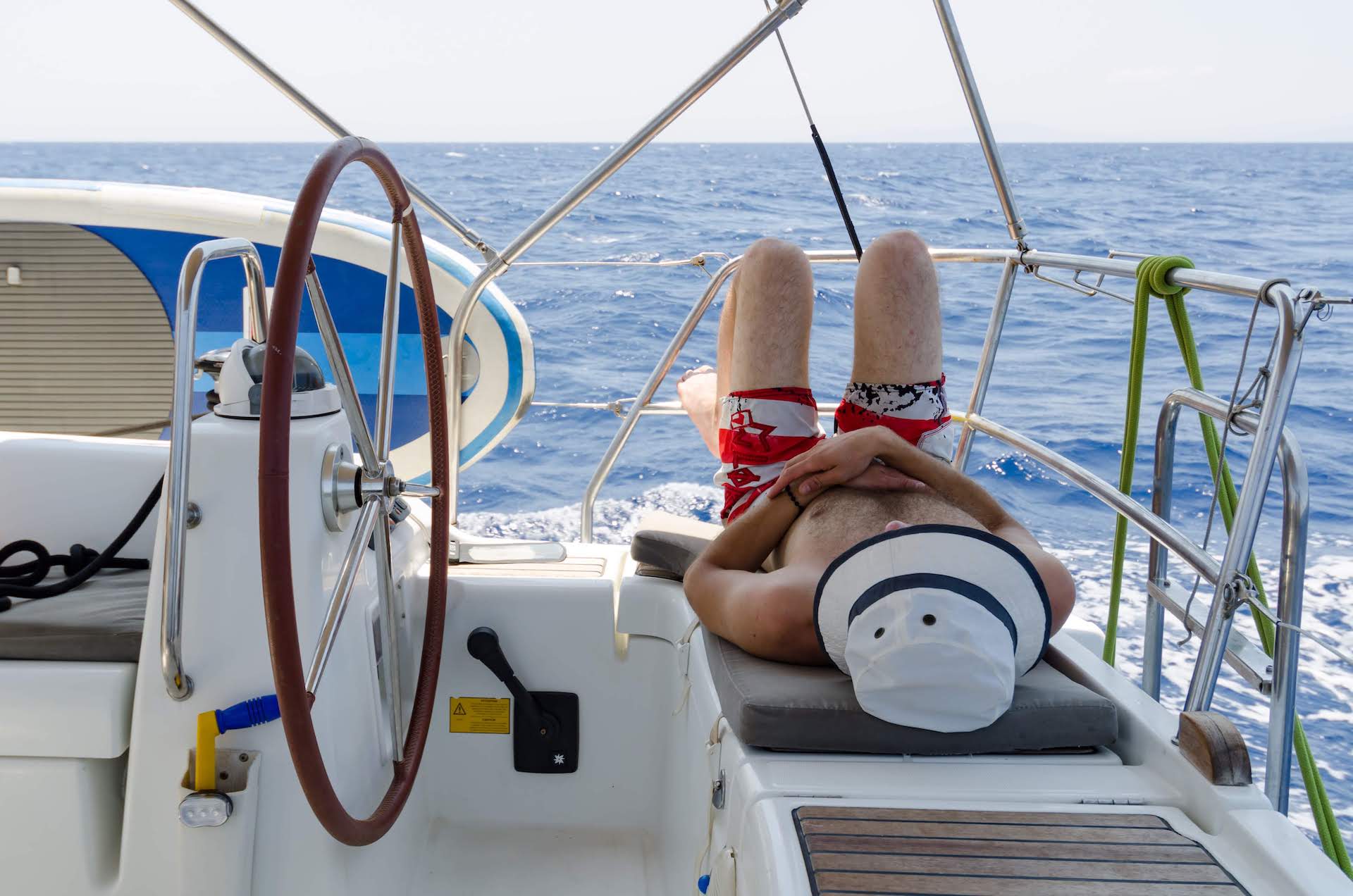 After breakfast, we are leaving our anchorage and heading to Siros. Next island on our route is 35 nm away and the sea is not kind to us today. Most of us get seasick that day. But it is important to remember that it is only a temporary inconvenience. After a day at sea, our body gets used to the motion and sea sickness vanish.  We arrive to Siros at around four in the evening. Bay is quiet and not crowded at all. We have plenty of time to swim, snorkel and chill. In the evening we have had a lot of guests, crew from other boats visit us for a drink.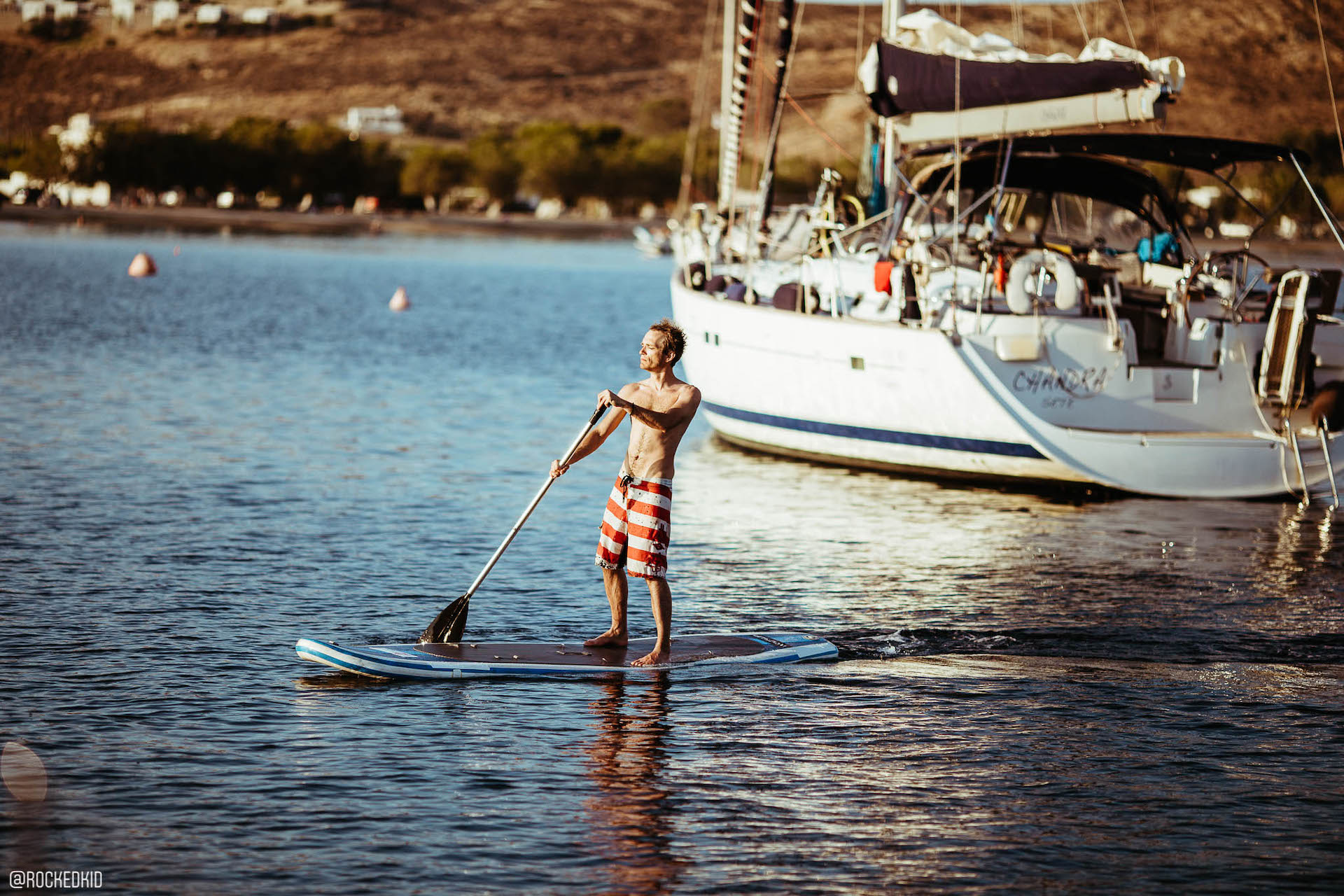 Monday
Usual morning routine: woking up, swimming, breakfast, raising the anchor and setting sails. Sea is completely different from the day before, almost no waves and no wind. With such safe conditions, we conduct an experiment, how comfortable is to travel on board of the yacht in a hammock attached to the boom?  Results match our expectations it's fun and comfortable.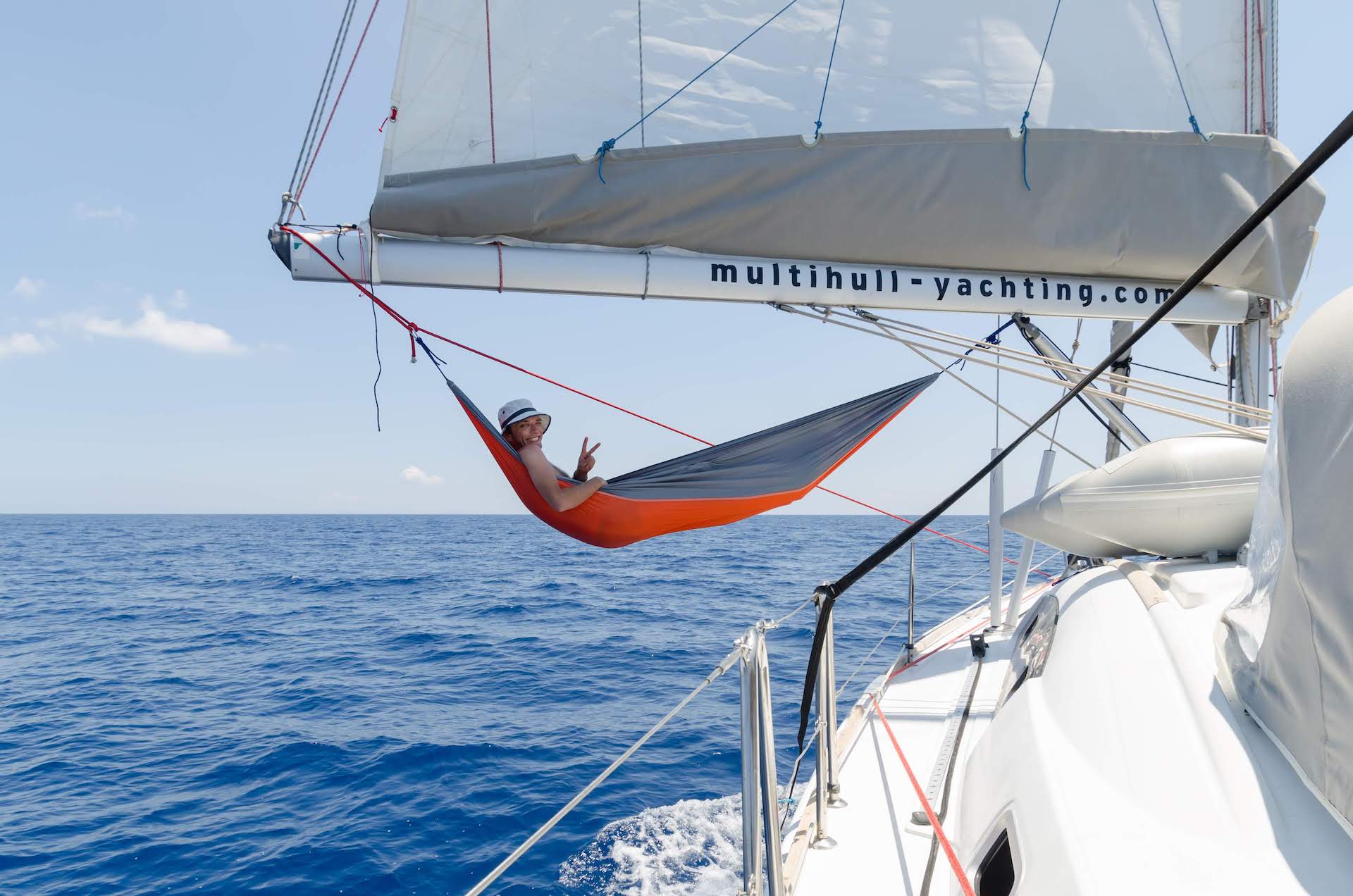 We motor-sailed to the biggest island on our route – Paros. Three yachts from our flotilla are already anchored on the spot. We drop an anchor nearby. Each team decides to spend evening ashore and the only way to get there is dinghies.  It's is 15 minutes ride to a charming city of Naousa.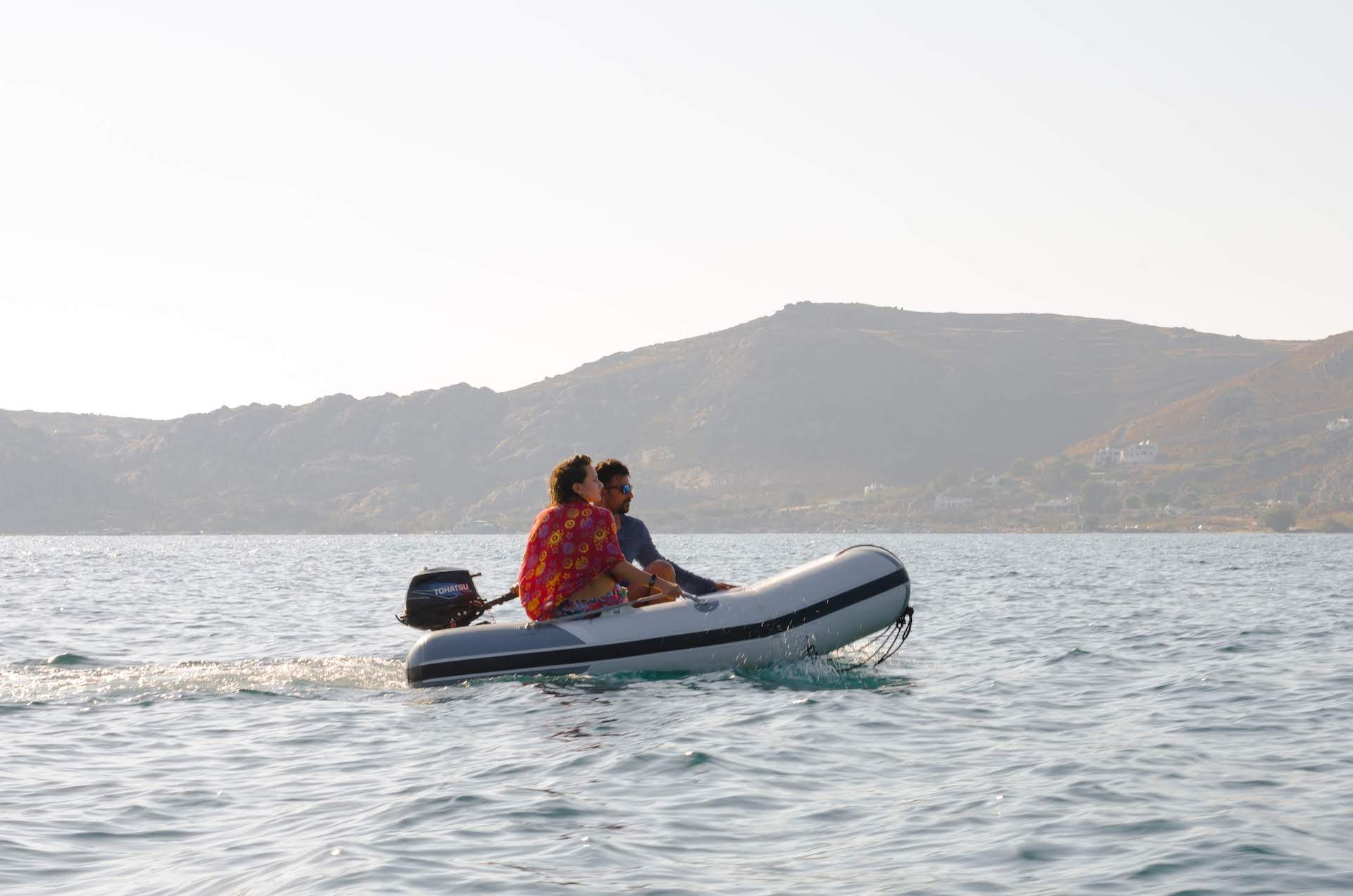 With a very colorful waterfront and tons of restaurants. It is a little bit touristic but it is ok. In a few hundred meters form pear we found a cozy bay with even more restaurants. Food in Greece is amazing, especially seafood especially in a fishing village.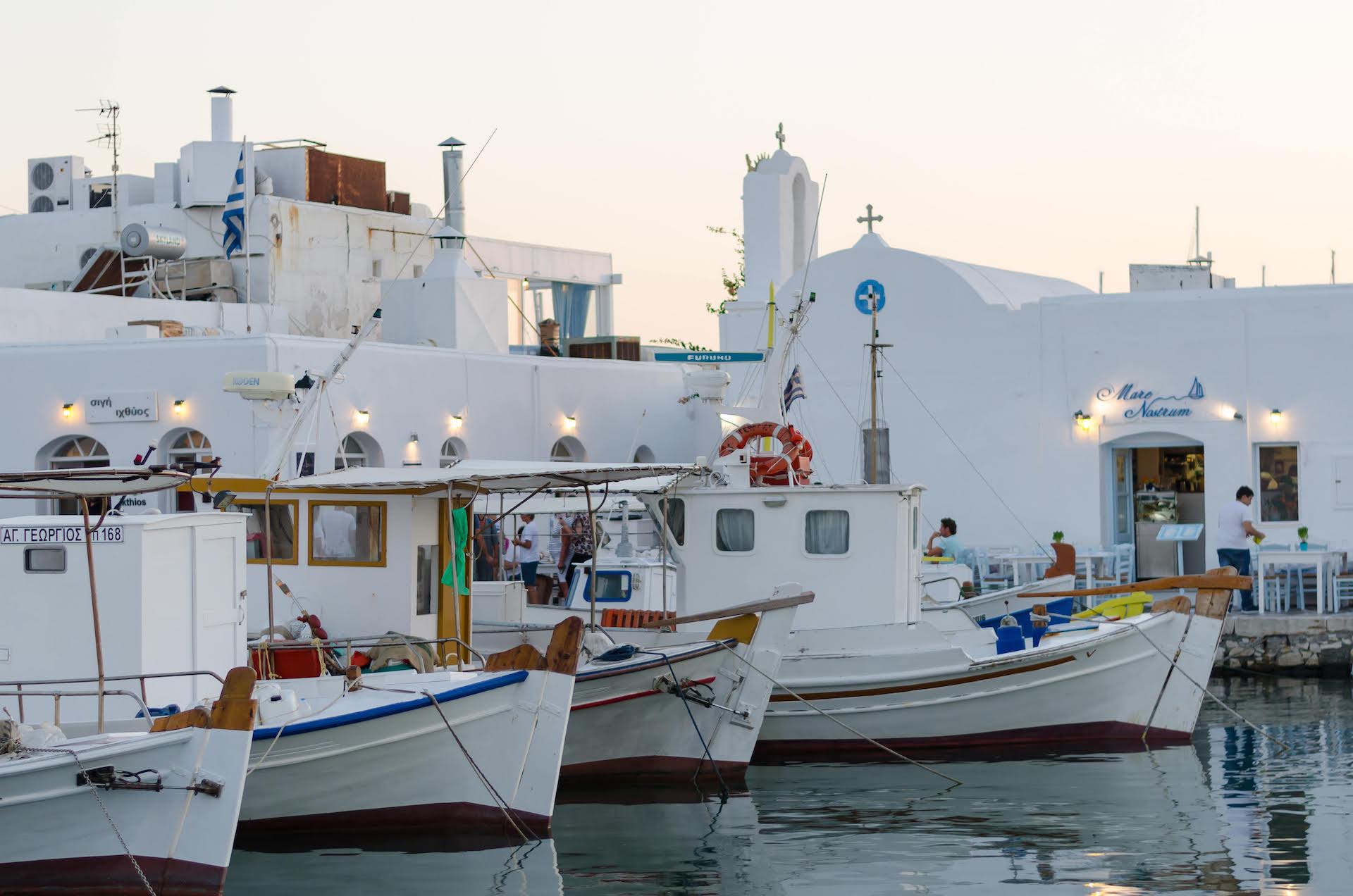 During the dinner, we discussed plans for the next day. We are going to spend two night on the island and have time to explore it sorely and the best way to see as much as possible in a day is to rent a car or cars in our particular case. We need at least five of them, one scooter and a motorcycle. We are going to pick them up the next morning and for today we can relax, enjoy wine, food and a good company. After dinner we went for a walk around the city. Before going home we drop by for a beer to one small shop-bar with a huge collection of beers from all over Greece.
Tuesday
We meet for a coffee and breakfast in one of the cafes on the pear. The first thing we need to pick up a motorcycle, it's the only one available on the island and we need it.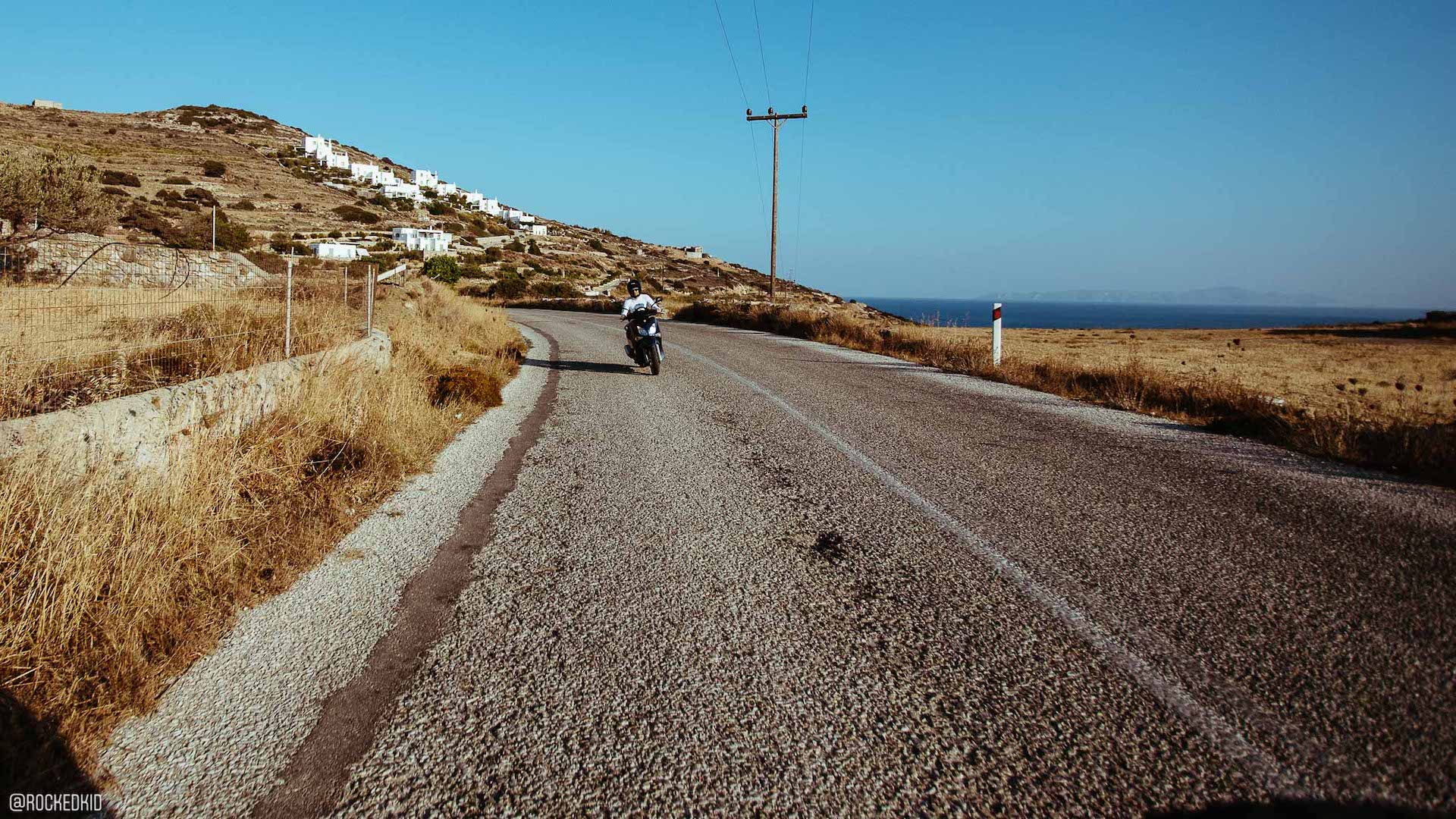 Next thing is to find our car rental, not such simple task as it sounds. Naousa street plan might be a bit confusing for visitors and Google maps are confused as much as we are. Only call to rental company save the situation, in a few minutes one of the employees find us near closes landmark and lead the way to the office. There we got keys from several Suzuki Jimini and a Fiat 500, all cars are convertibles and it is awesome.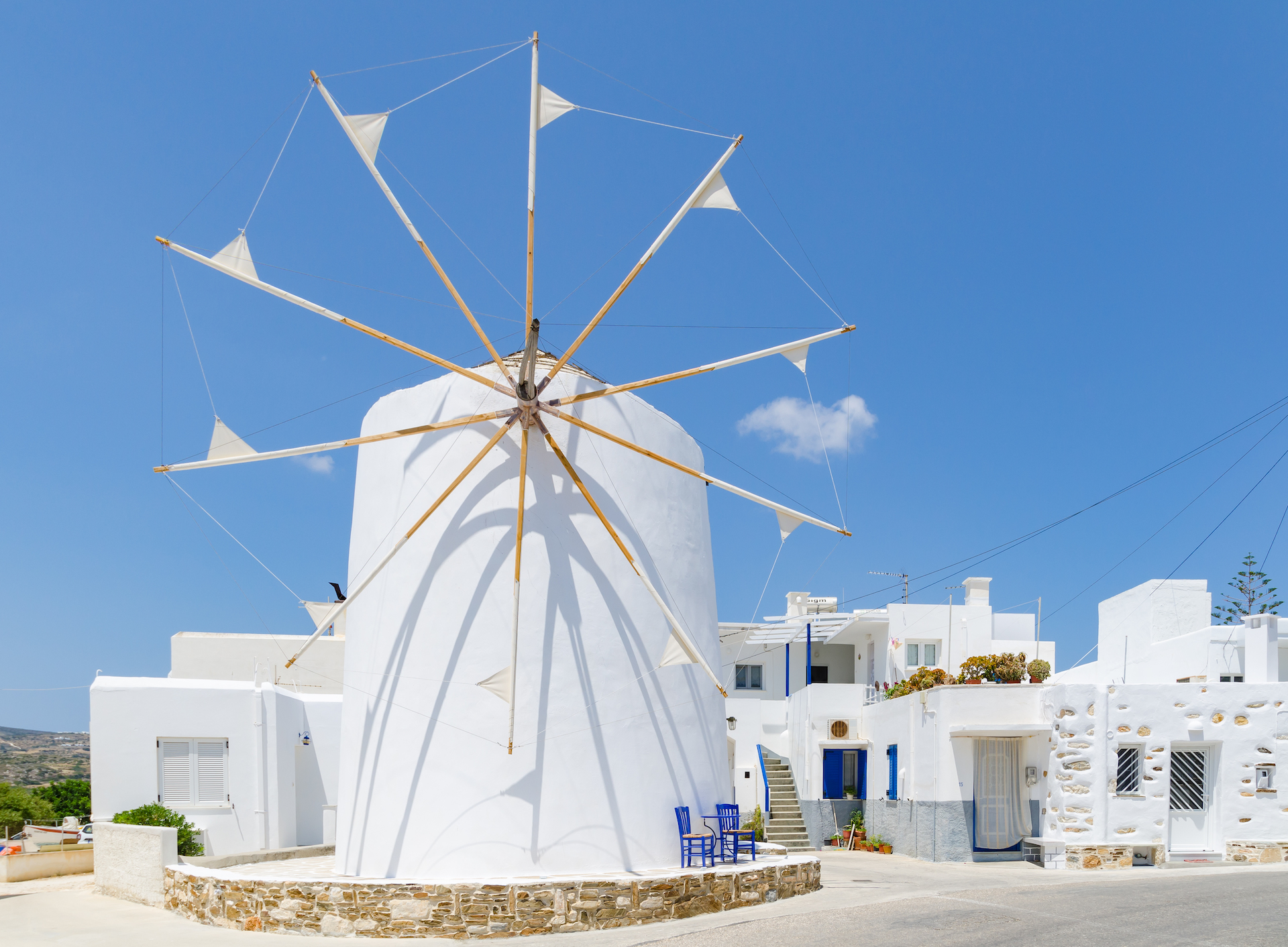 First, we are going to visit the city of Lefkes. It is closed for cars and only locals are allowed to drive here. After a short city walk, we meat the rest of the group in the restaurant for lunch. Food was not that impressive but the view is perfect. After lunch, we decided to check out how local beaches look like. And on the way there big trouble happens. Our friend on a scooter felt and injured his leg quite badly. Luckily couple on the bike was close by and help him out. After an hour or two in the hospital and a few stitches, our friend can continue the trip and even drive a scooter. And we still have a beach to visit. The first one we found was not that cool and very touristic. But the second one was a great discovery. Remote beach with a very scenic places and no people at all and with a beach bar where we spend some time.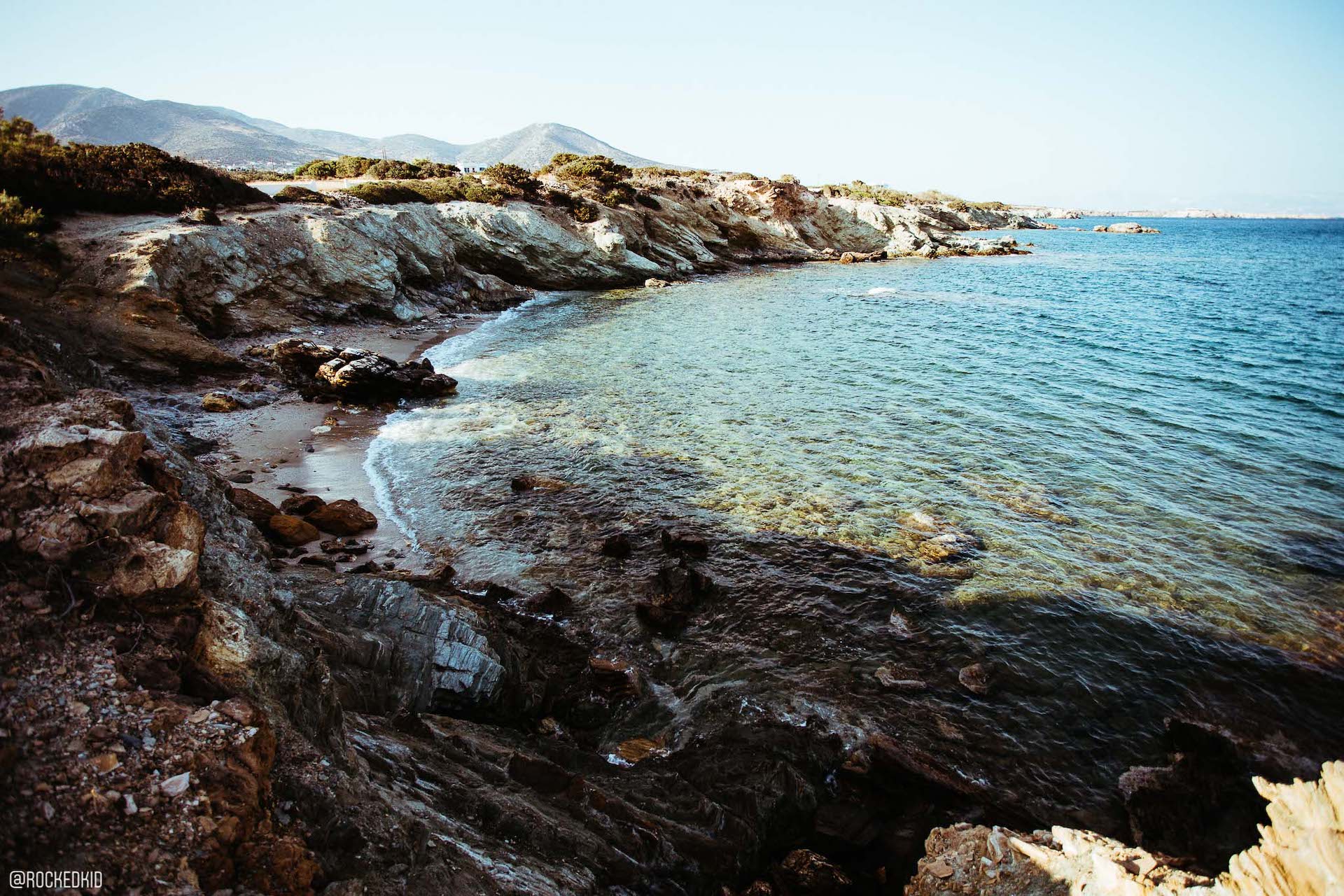 It's getting late and we are going back to Naousa. The plan is to find a good spot to see a sunset and then visit one of many bars to watch a World Cup – Semi Final. We reach our destination just before the sunset and realise that it is at least 20 minutes walk to the cliff we were heading to from a parking lot. Never mind, we have plenty sunsets coming, let's go to see the game.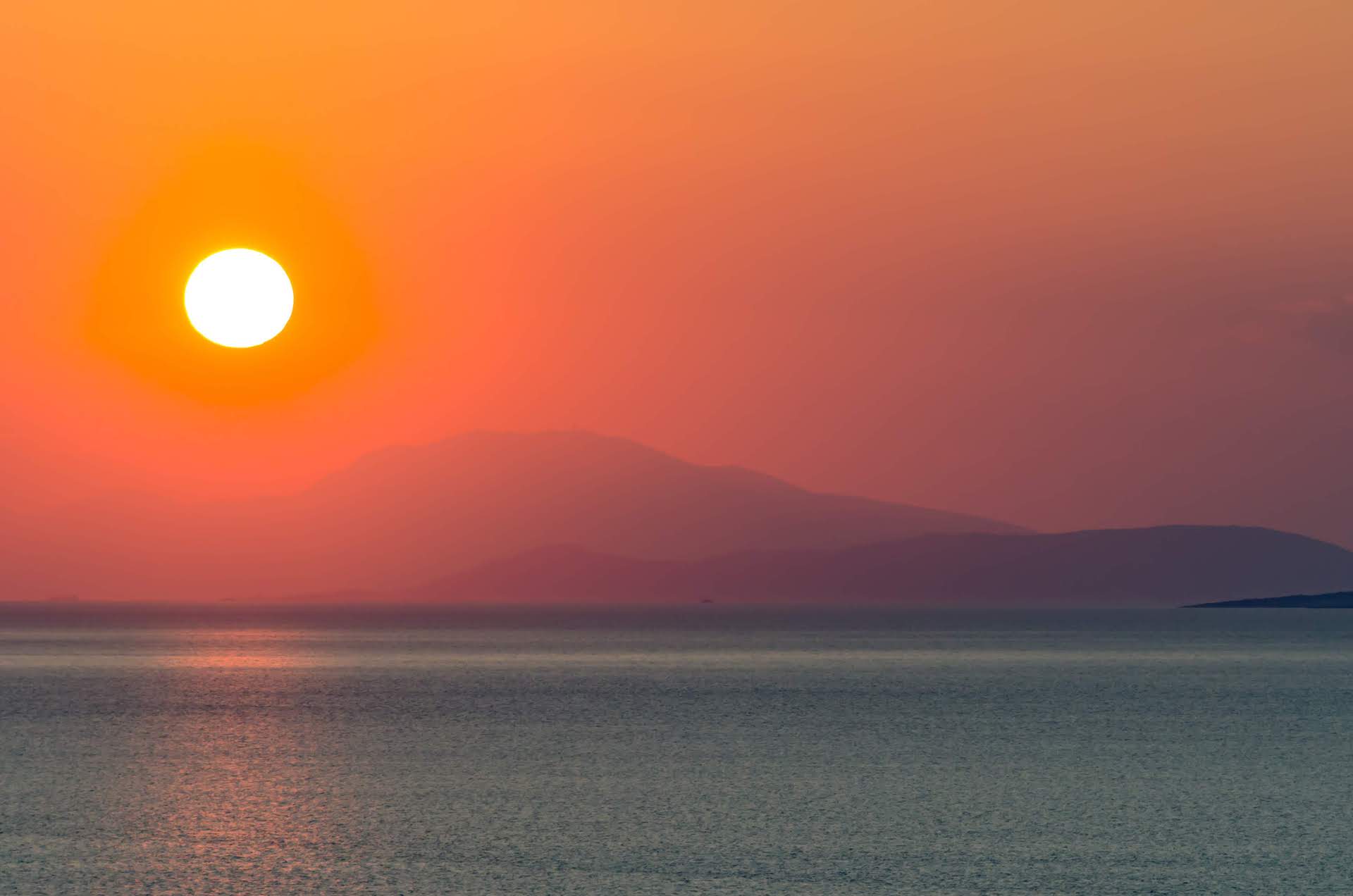 The town is completely crazy, all bars and restaurants and any place with TV are totally full. On the main square several big screens are installed. Everyone is drunk and happy, the atmosphere is just awesome. After a game, we head back to yachts to get some rest. We make an agreement with a crew of my yacht to drive around the island one more time before departure the next morning.
Wednesday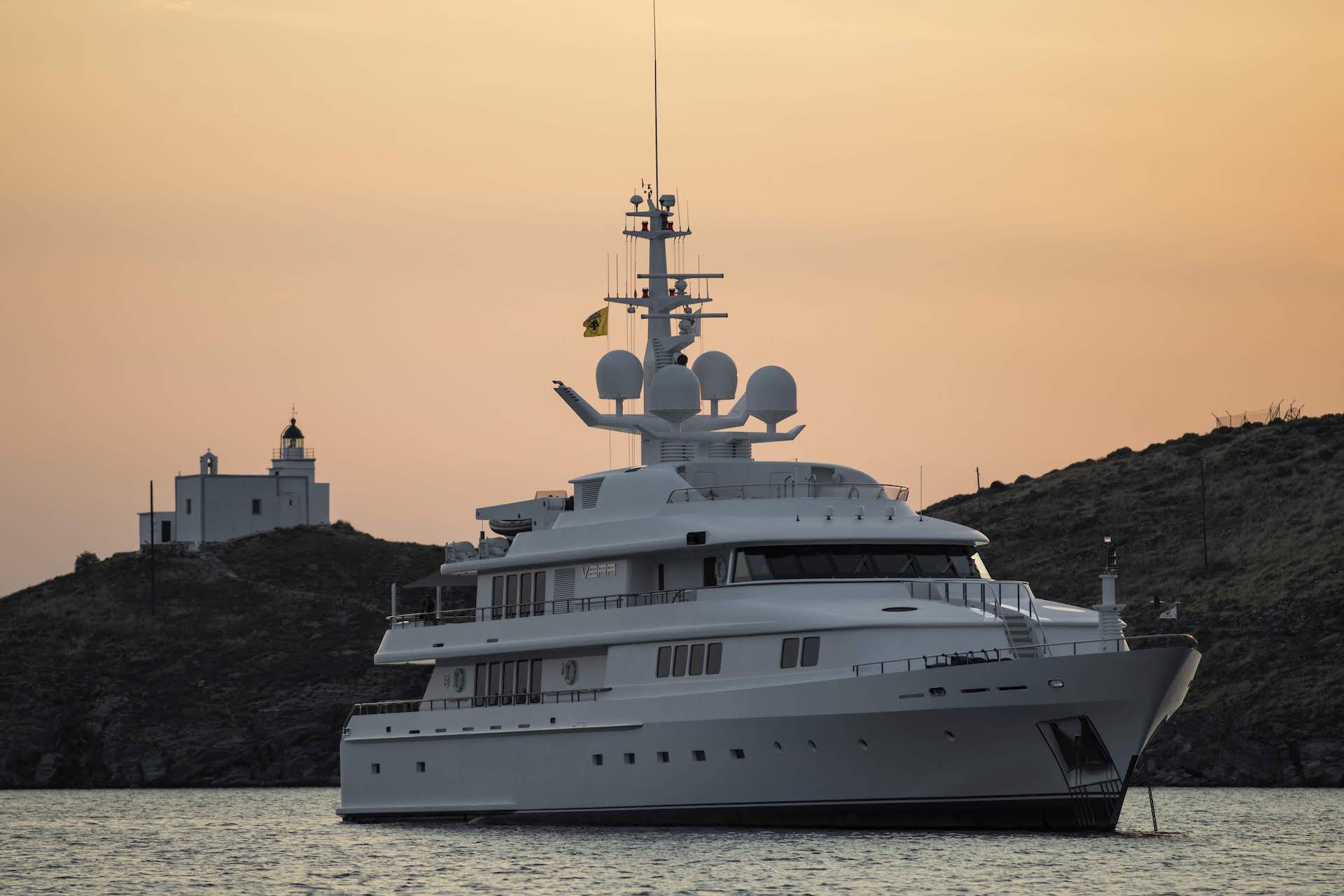 Everyone woke up at 06:00 as agreed. It's hard to find any open cafe at this time so we just hit the road and hope to grab a coffee somewhere later. We did not have much time to visit some more cool places so we just take the route around islands and enjoy morning sun and beautiful scenes.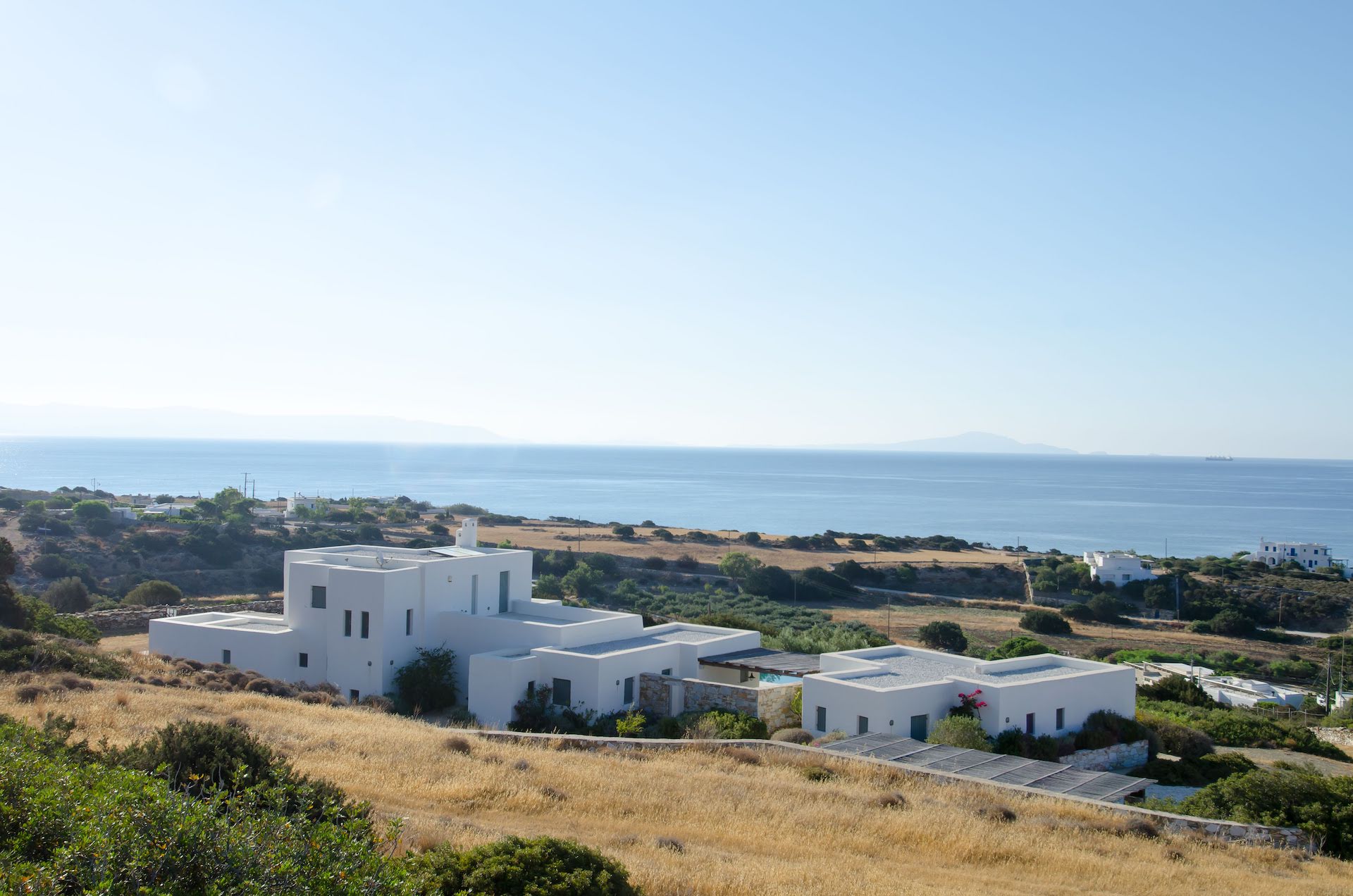 In two hours we were back to Naousa, returned car and motorcycle and rush to our yacht to leave anchorage as soon as possible. Wind is good today so we set sails and head to the next island – Syros. On the way there we get some quality sailing, the wind is steady and the boat is doing 8 knots.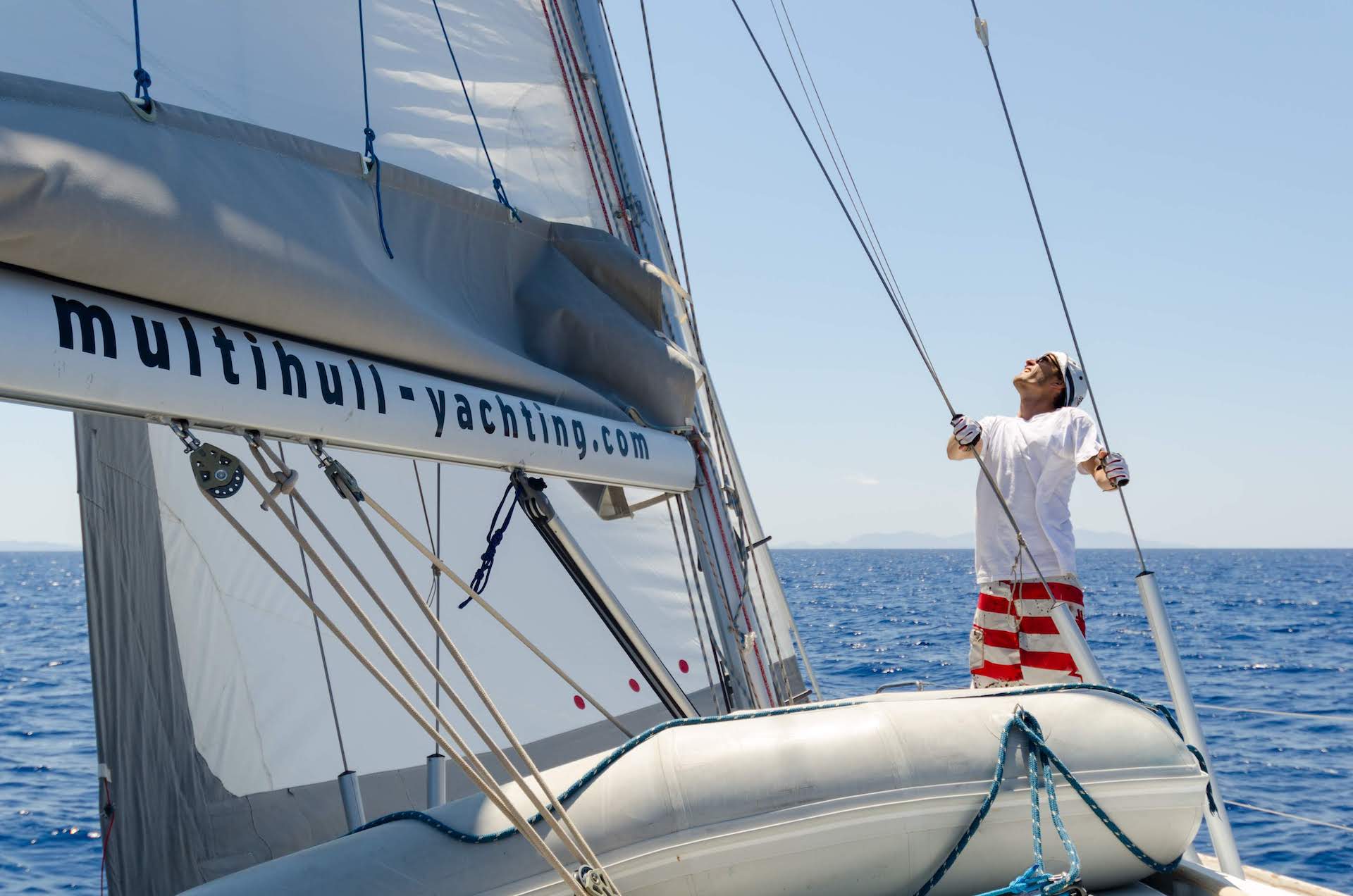 Most of the day we spent sailing and arrive at the anchorage around five in the evening. We chill a bit on board, swim, prepare some snacks and went ashore. The evening is full of events. First, we need to have a skipper briefing and discuss one crazy idea. Maybe it makes sense to have some friendly regatta tomorrow morning.  We need to cover some miles anyway why not to compete a bit. We start at the lighthouse nearby and the boat that first reaches the next island and confirms that with a picture of its lighthouse will get a nieces bottle of alcohol we can find on the island as a price. Everyone agreed on rules and conditions so we are good to go. At least is what we think.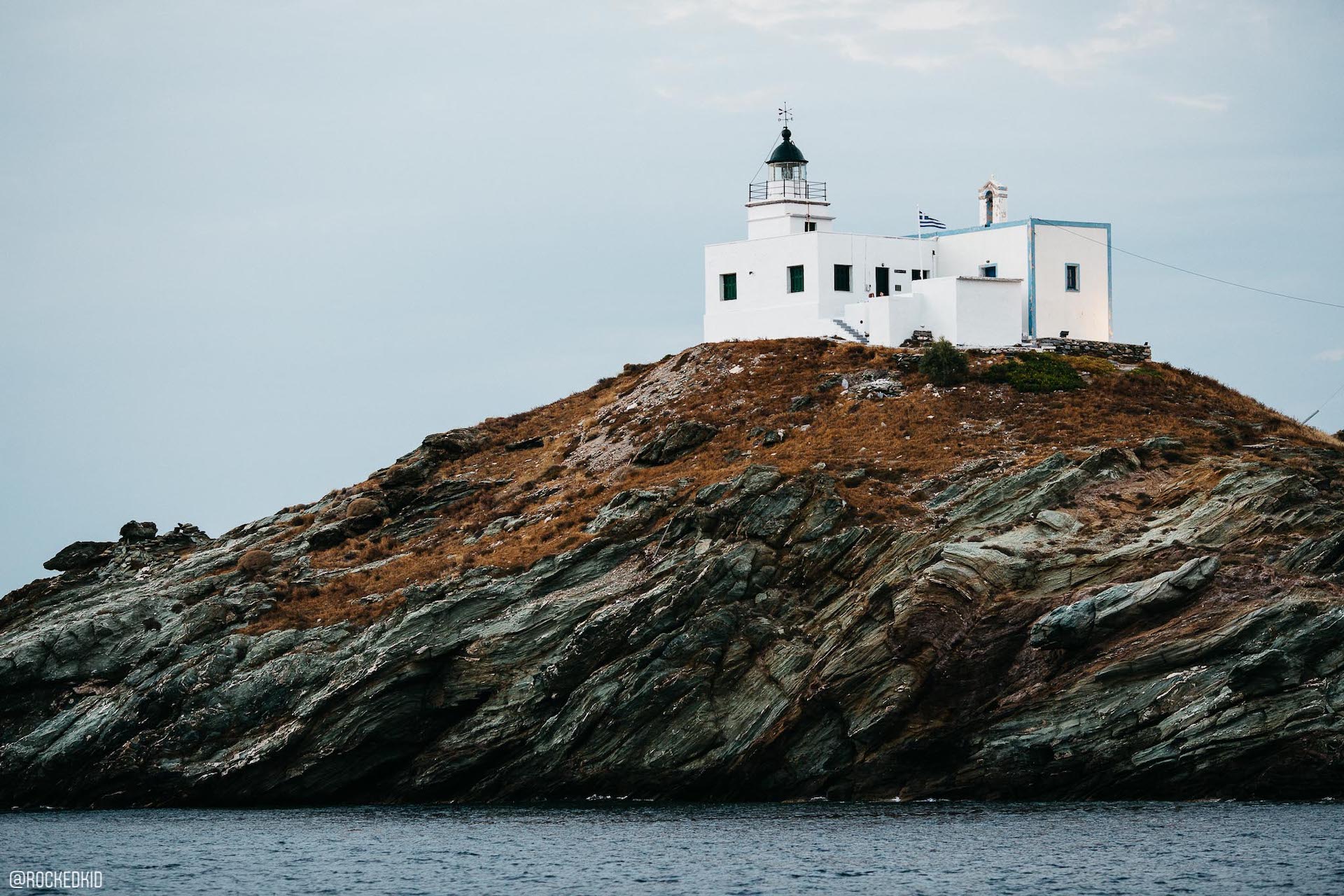 Second even more important thing this evening is to celebrate a birthday of one of our crew member. For this occasion, we book a very cool terrace just in front of our anchorage. Party is on, but we need to avoid a hangover the next day, we need to race. 
Thursday
Before the departure, my crew went ashore for a coffee and a morning hike to the top of the closest hill.  Meantime I can buy some ice and find a price for a winner of today's race.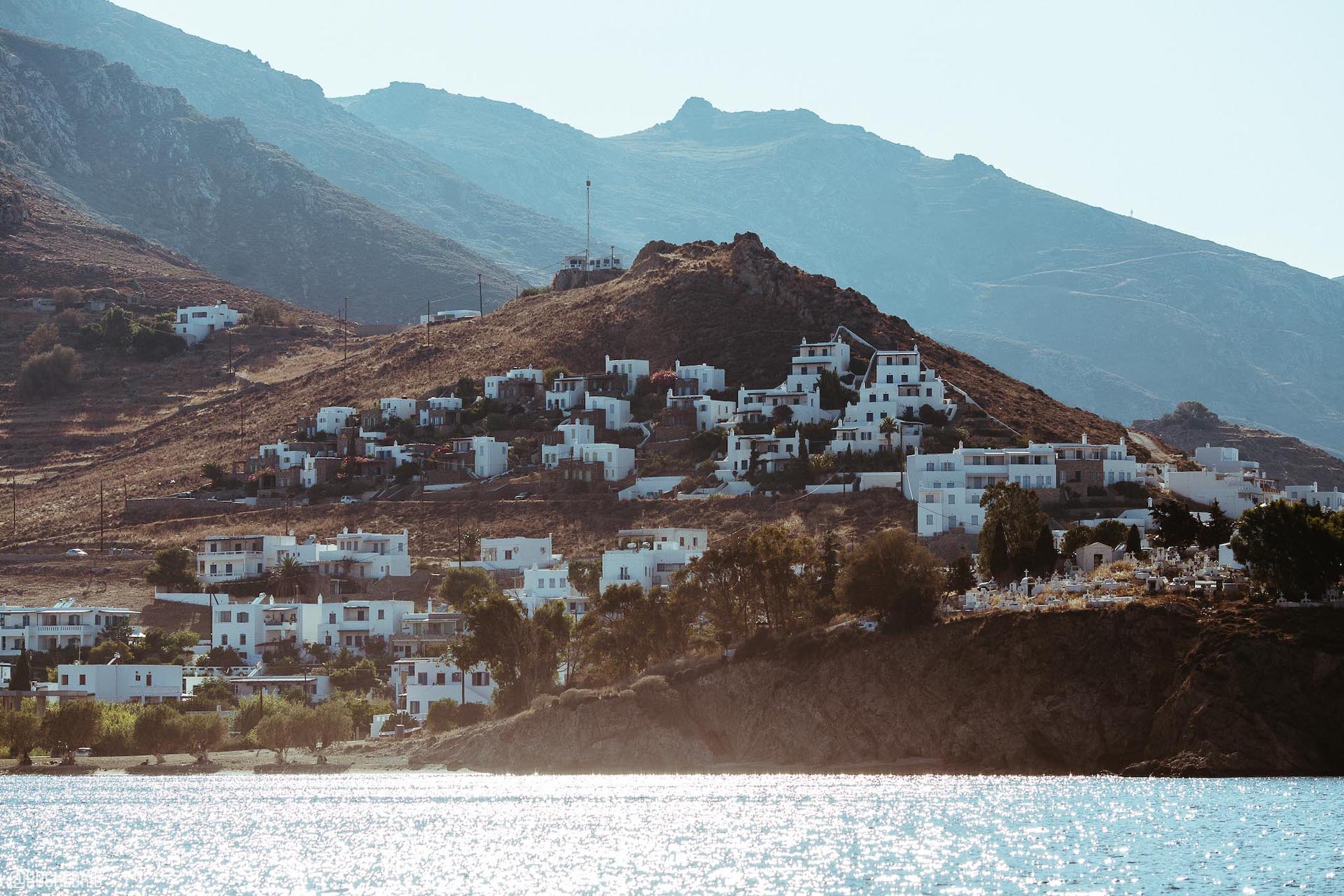 It is the first race for us, we did attend regattas in the past but newer organize one. I will be honest with you not everything went as planned, especially at the starting point.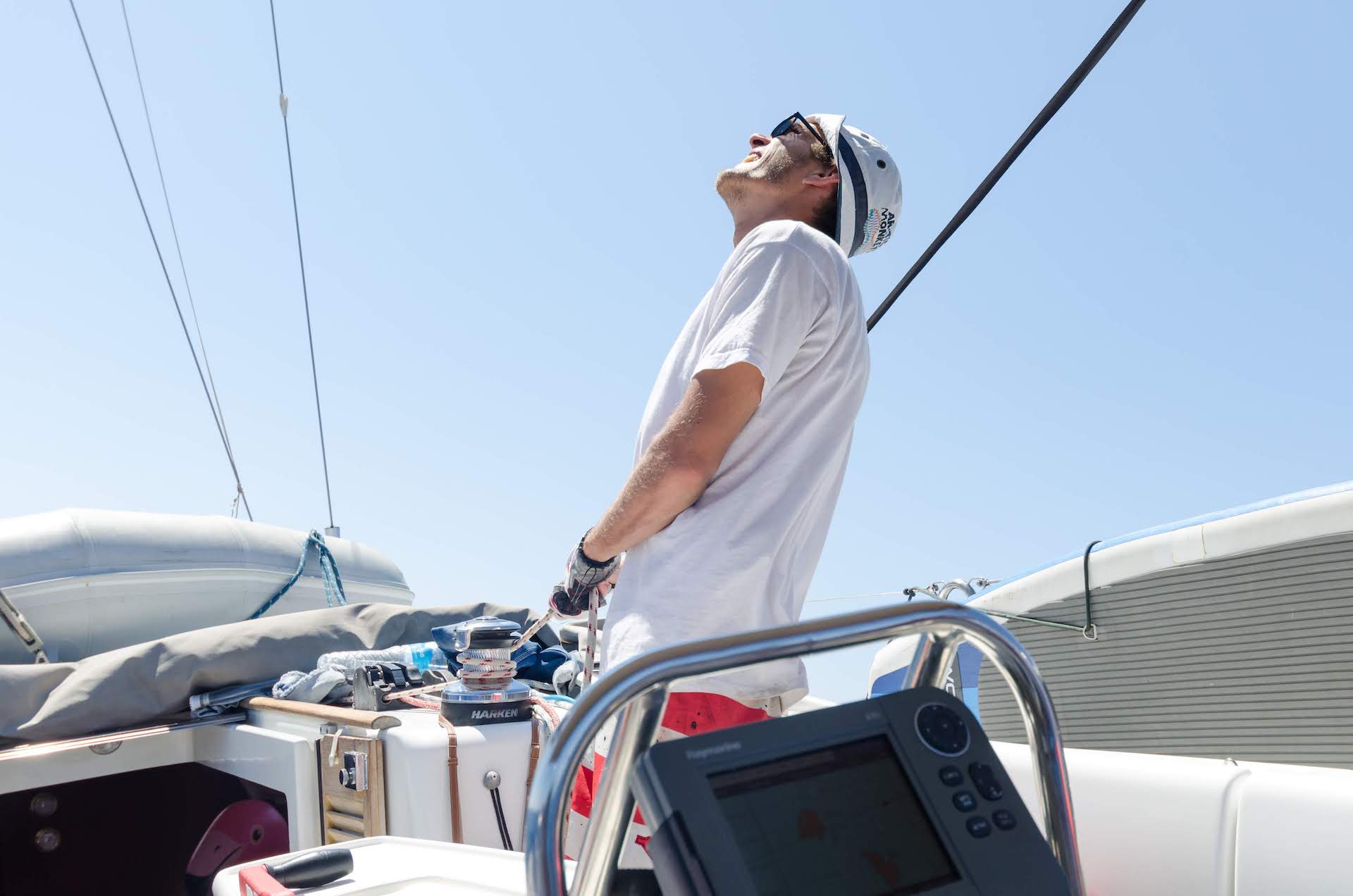 First at the finish line was the most expensive yacht with very experienced skipper but the price got the smallest yacht in the fleet. Yes, they get to the lighthouse last but they were only one who actually sent the picture of the lighthouse to the group chat, and that was a condition of winning.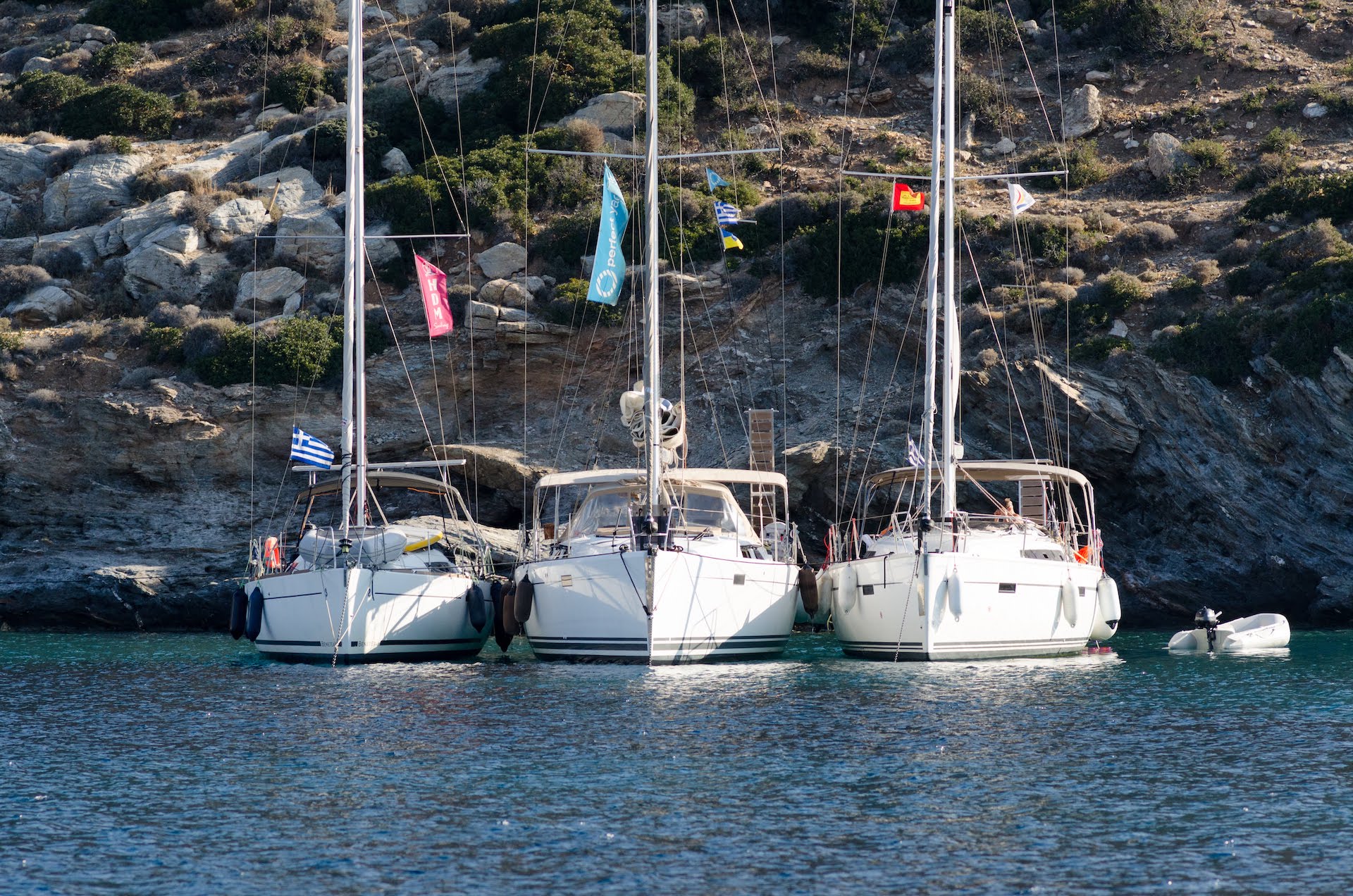 Another cool experience for today was forming a raft from three yachts. The main idea is that yachts anchored and attached to each other and to the shore at the same time. And today we have a big celebration.  It was challenging and interesting day with an awesome party afloat all together in the evening.
Friday
Morning is late and lazy after the race and party, everyone what to sleep a bit longer. And it's a great moment to shoot some video from the drone one of our crew members bring along.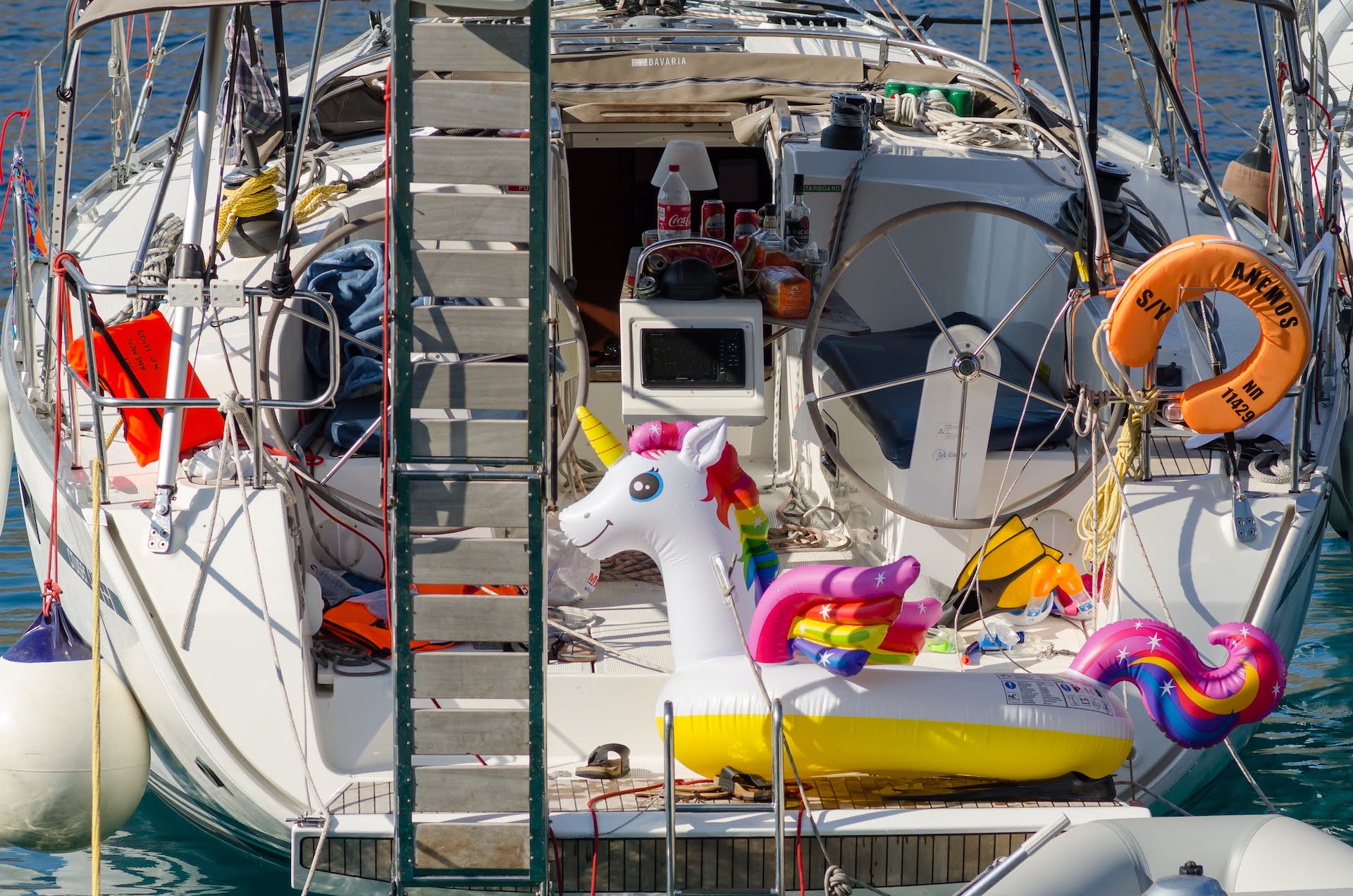 Afterward, we slowly leave raft one by one and head to the home base in Lavrion. Wind is doing at least 25 knots and we have a good day of sailing ahead. We need to be the base at 17:00 so let's enjoy the sailing in beautiful and some times rough Greek waters once again. God at wind was kind to us , Mealtime winds were not blowing in the full strength and we appreciate that.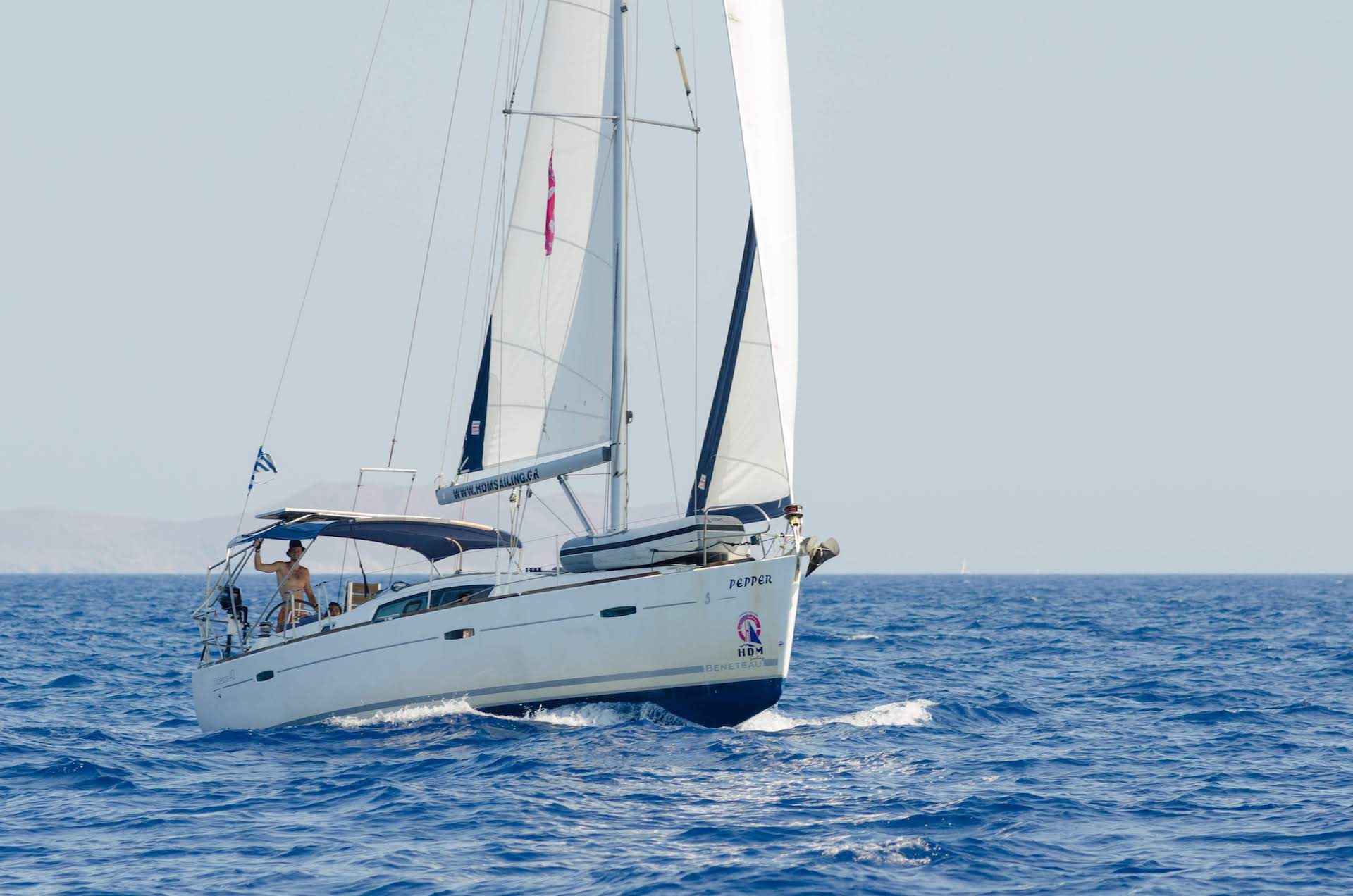 On the way home we decide that we still need to catch some scenic sunset, therefore, we look for a car rental close to our harbour and we found  one just next to the charter office, and they do have a convertible and a scooter for us. It's a deal.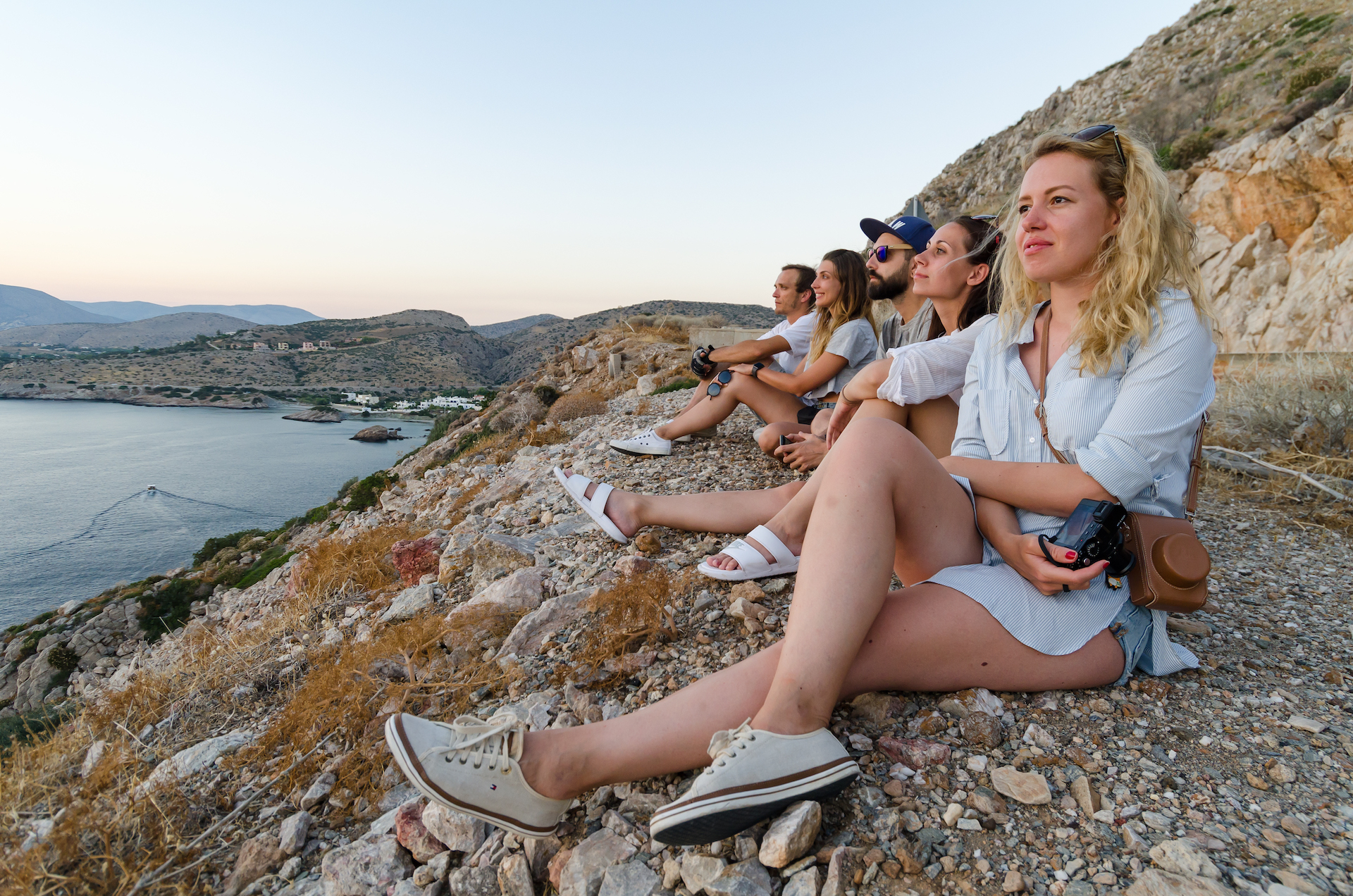 This time we are much more prepared we know the sunset time and the best spot to see it. Next and the last task for today is to have a nice dinner and have a drink all together to celebrate the end of our adventure.