Cuba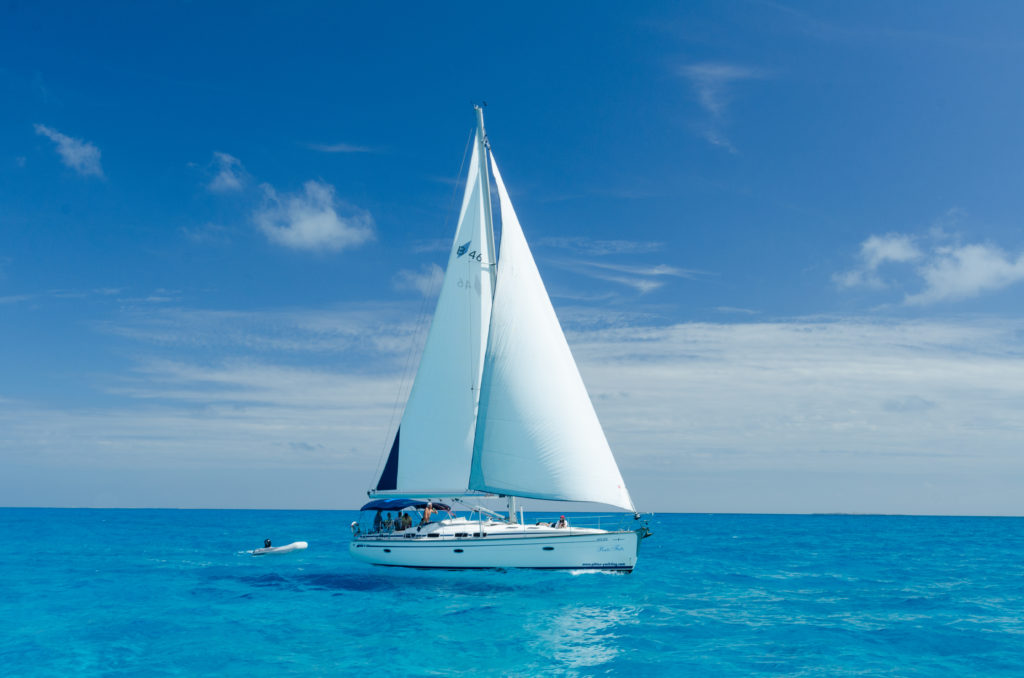 Cuba is an astonishing mix of Latin culture and music, Spanish architecture, American cars, and very cheerful locals. Sail through the storm in far away Cuban islands and explore the countryside and main cities by car. Smoke cigars, drink the best rum in the world and ride classic American cabriolet around Havana.
Day one
Flight to Havana from Amsterdam is relatively short, especially if you are lucky to get a seat in a first class instead of originally booked economy class. Thank you Air France. After eleven hours flight, we are landing in República de Cuba. The first thing to do is to exchange enough cash to local tourist currency – cuc.  Cuba has a dual currency system, whereby most wages and prices are set in Cuban pesos, while the tourist economy operates with  Convertible pesos or simply cuc. Prices in pesos are 20 times chipper than in cucs but tourists are only allowed to use them. It's late so we are taking a cab to the city. The first night we are staying Casas Particulares, basically, it is a local Airbnb. Fast growing market on Cuba but we will cover this subject later. With some guidance from friends and our driver, we found our casa.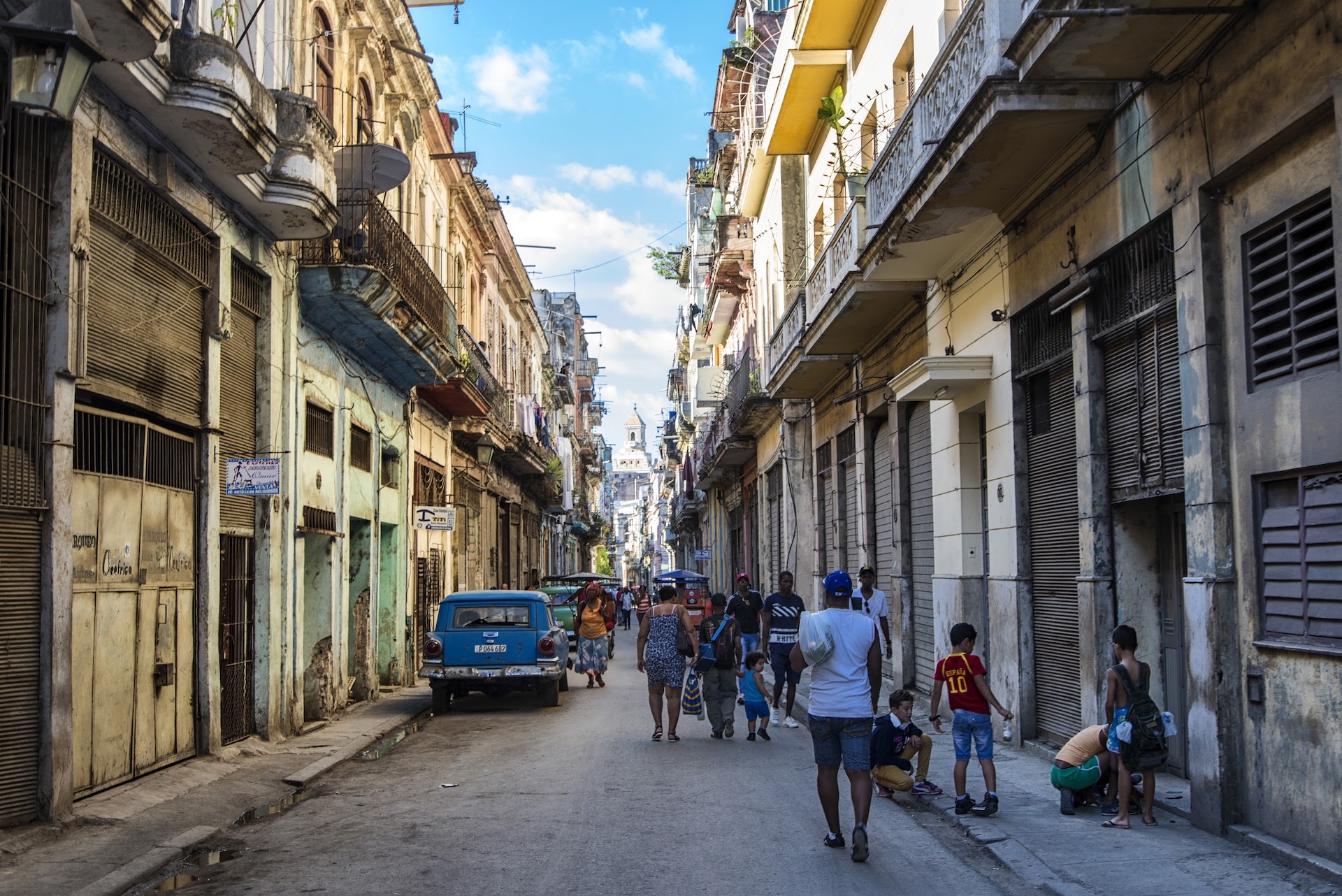 The whole team is already there. Perfect! Everyone get to Cuba without any troubles. And after finishing our first bottle of rum we are going to beds. Tomorrow we need to wake up early. Adventure awaits.
Day two
I woke up on with sunrise, jet lag helps a lot. Together with a couple of friends, we are going to h promenade along the famous waterfront Malecon. After one-hour walk charges as with energy and gives a chance to explore Havana a bit.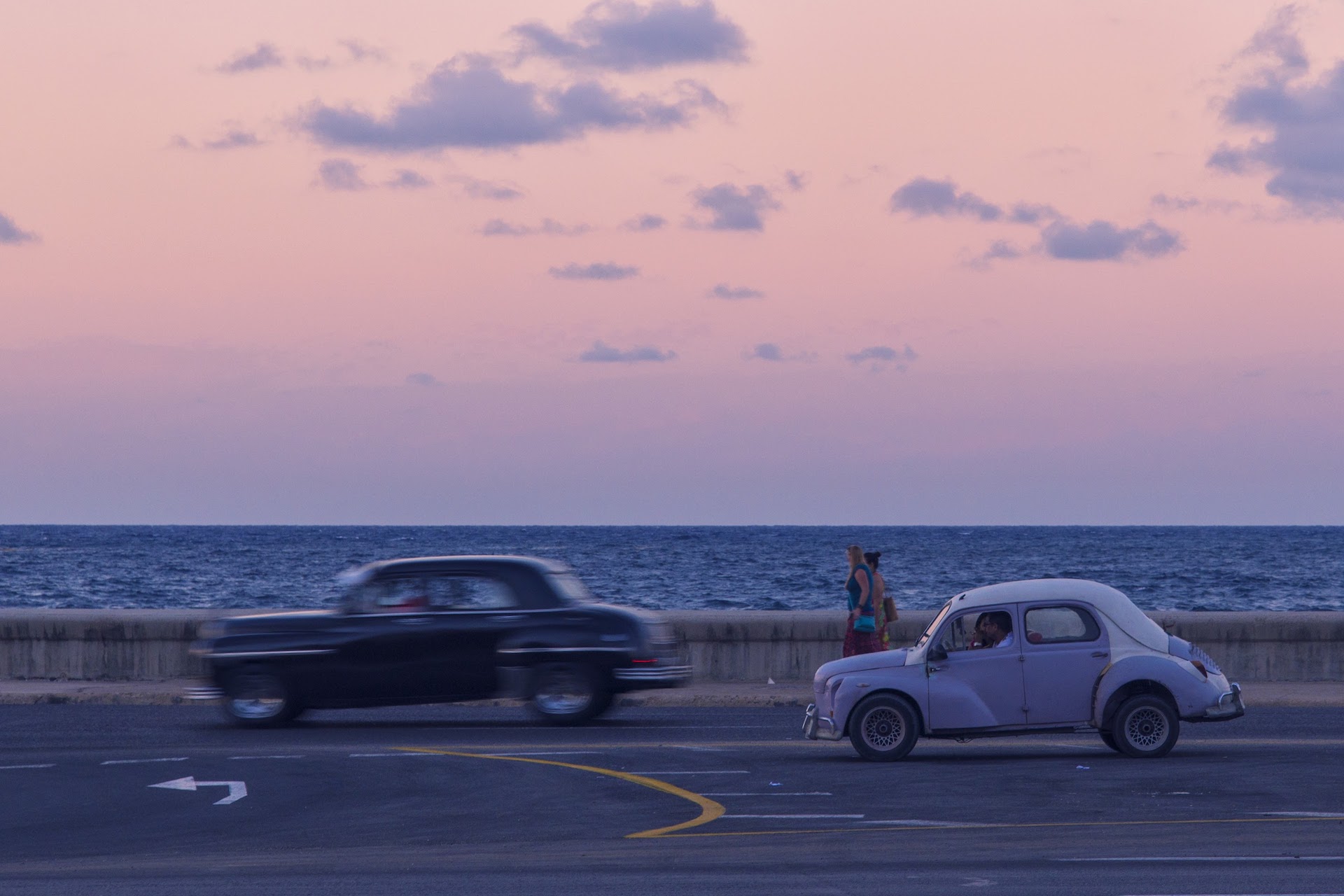 We have breakfast at our casa with the whole crew. It's time to board a bus that was sent to pick us up by the charter company.  In the first half of the day, we need to cross country from north to south. Our destination point is the city of Cienfuegos. In the local marina, two yachts are waiting for us. It took us five hours to get there. Upon arrival, we meet two more friends who are going to sail with us. They spend already a week traveling Cuba.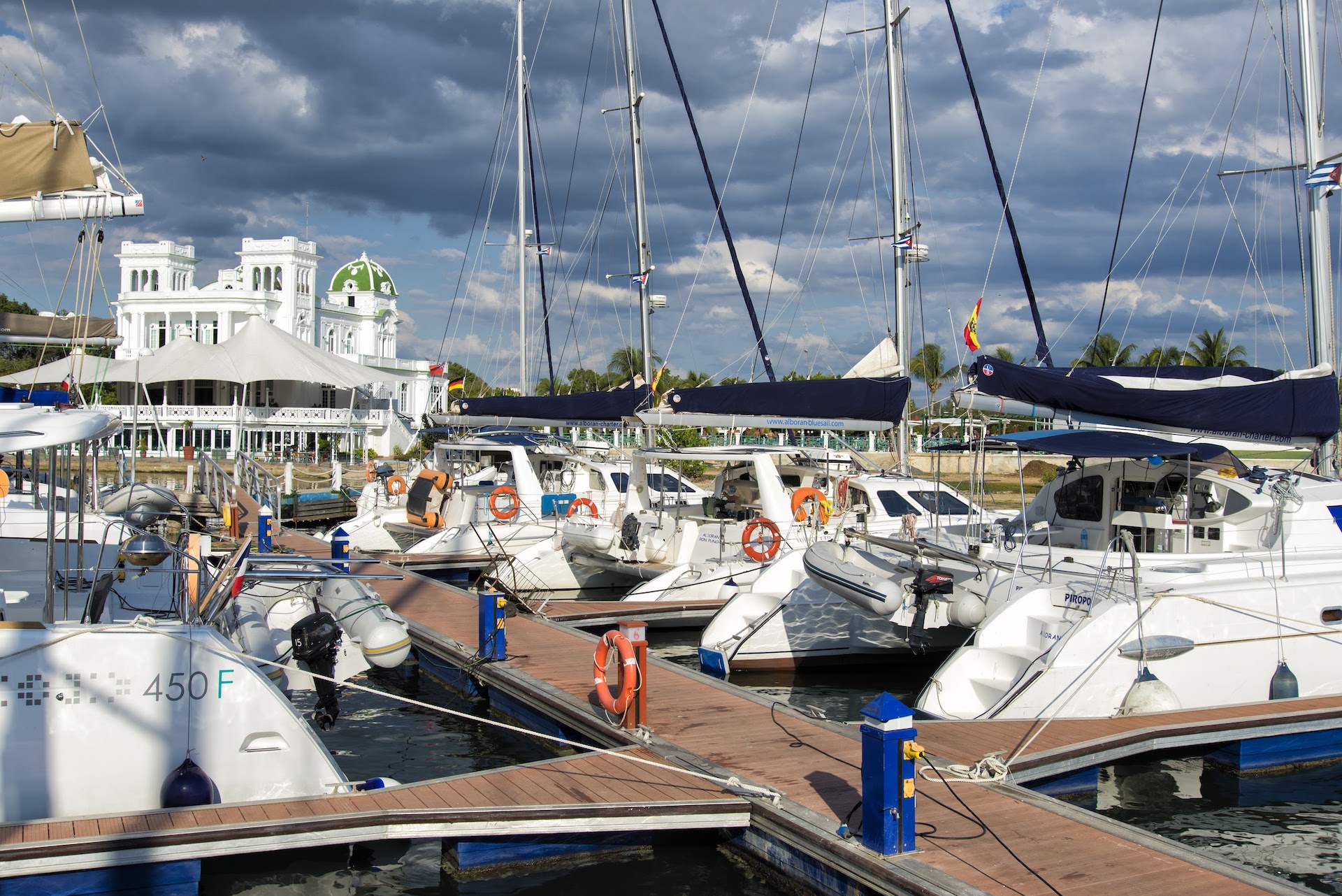 The second part of the day we spend checking in yachts and provisioning bought for us by the charter company. Our fleet contains two sailing yachts Oceanis 423 and Bavaria 46. The whole process takes a while. Everything in Cuba is happening very slowly. We were done with navigation briefing, checking yachts and loading our stuff and food on board at around seven in the evening. The decision was made to stay this night in the marina and depart early in the morning the next day. Rest of the day we spend exploring Cienfuegos. After dinner in a very cozy restaurant, we walk a bit through and enjoy a cocktail on a balcony of a casa on a central street. Back at the marina, we go to bed, tomorrow we have 60 miles to go.
Day three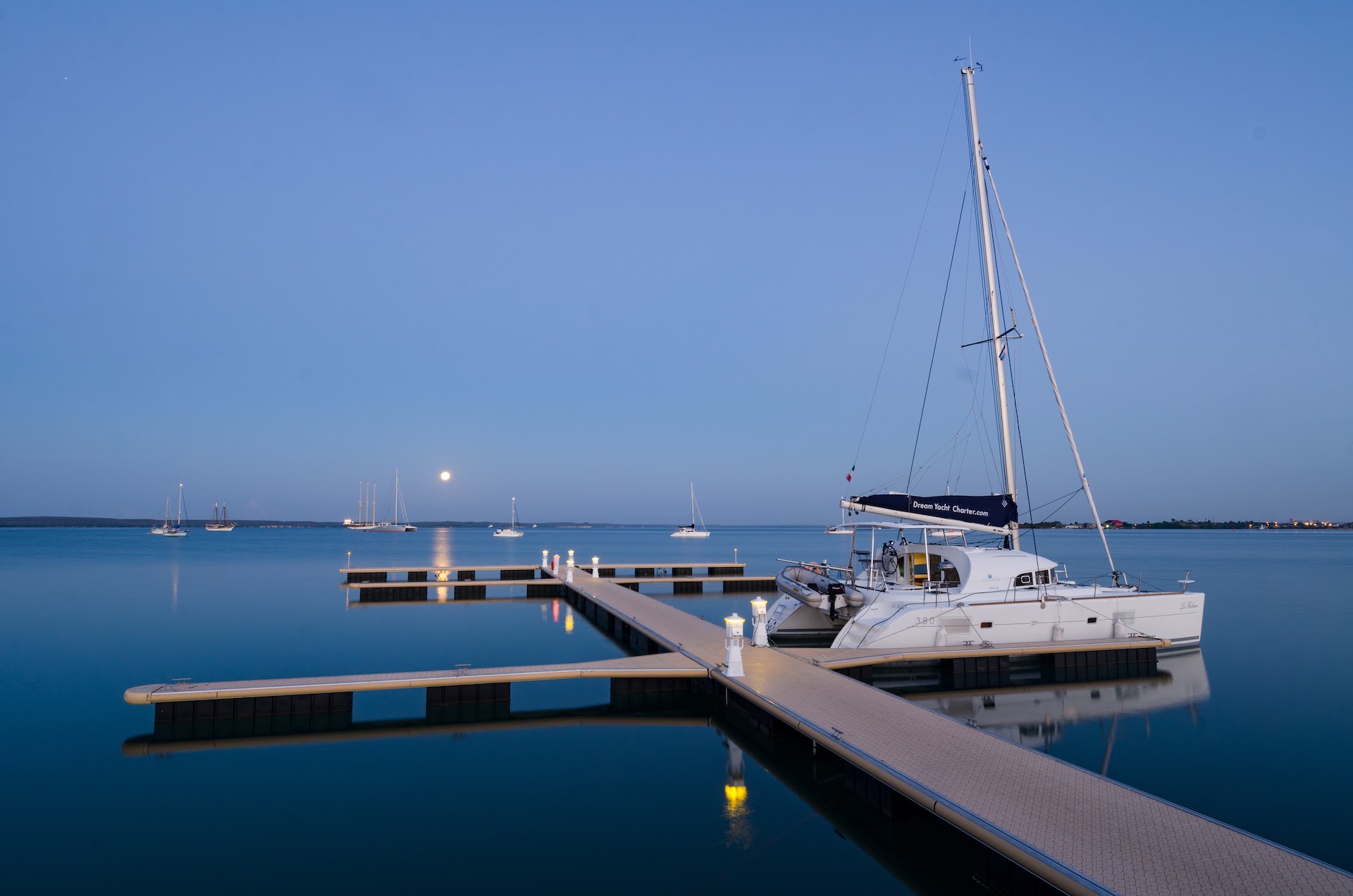 After the breakfast, we are leaving the marina Cienfuegos and set sails towards island Cayo Guano Del Este. First, we need to navigate through the narrow and winding channel. Traffic is quite intense, we give away to two tankers while passing the channel. And I was very surprised to see two swimmers in the middle of the shipping channel. Not the best place for snorkeling for sure. After reaching open water we decide to swim too. The first part of the route sea is restless with a strong swell and the yacht is swaying a lot. There are two types of sea motion: longitudinal and transverse. The second one is harder to deal with and of course, we get it.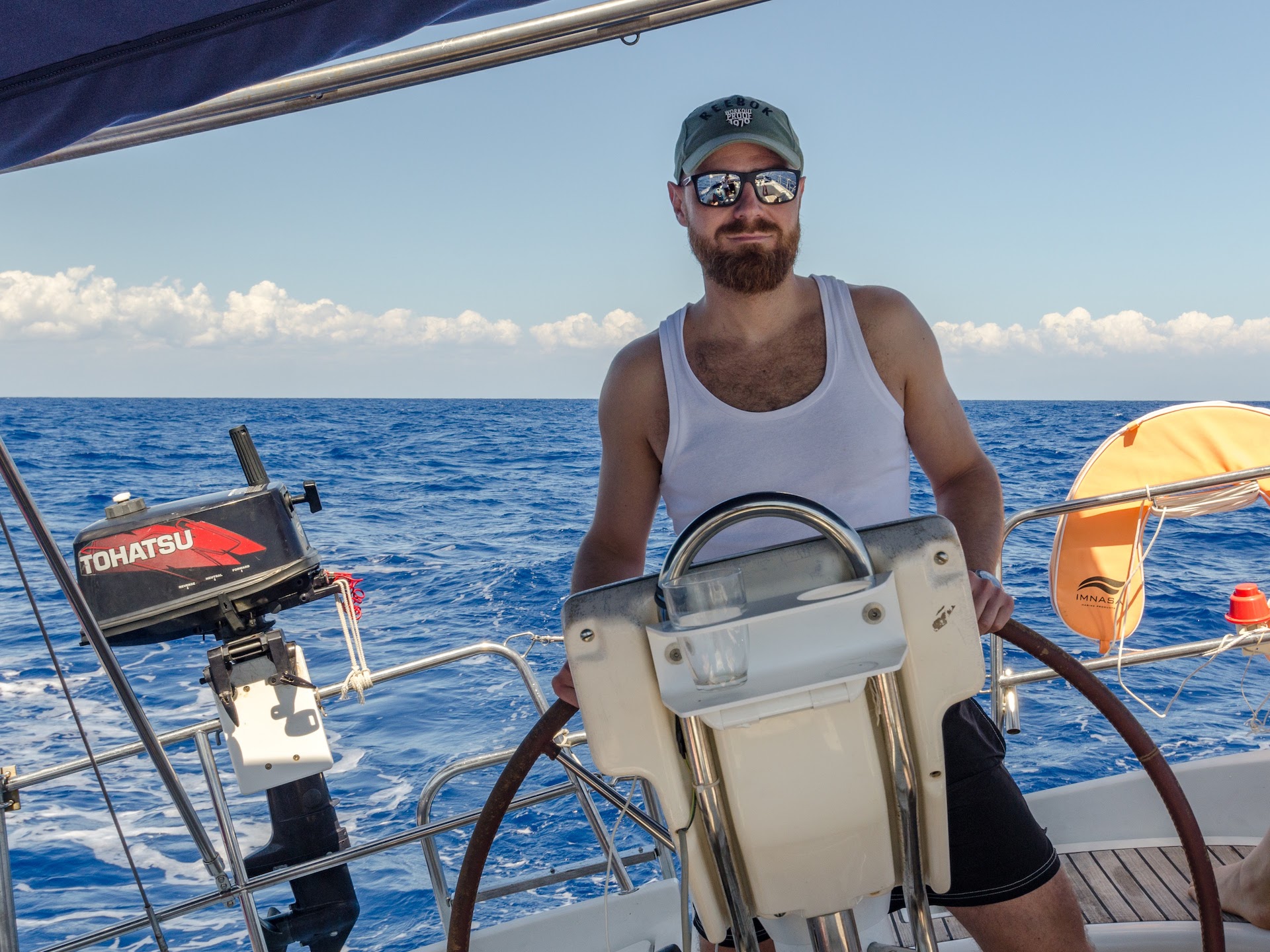 Luckily after four hours, everyone gets used to it and the sea became much calmer. The second part of the route we sail very comfortably. There are three main things about sailing in Cuba: a lot of wind, crystal clear water and a very pleasant climate.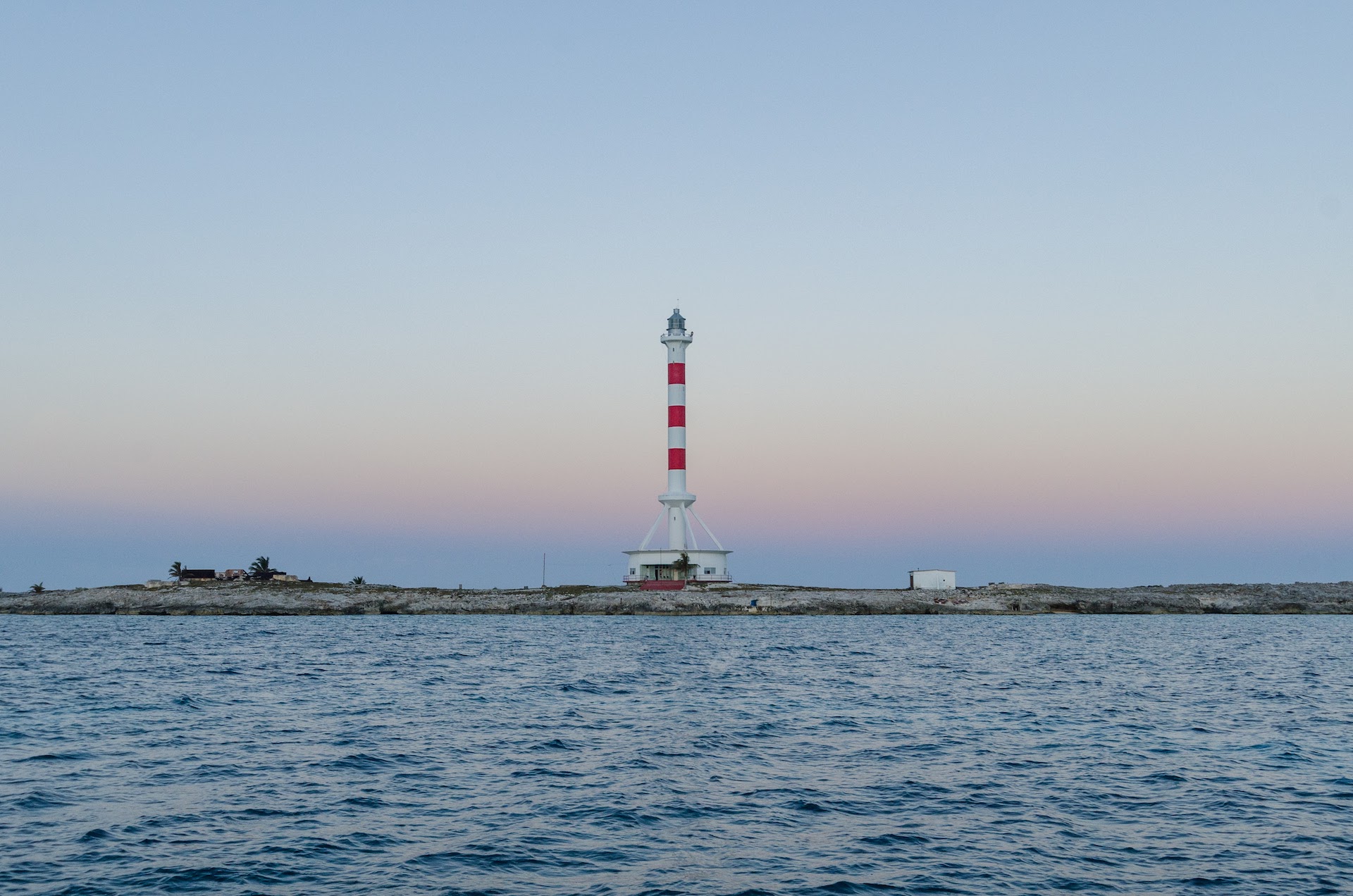 At the end of the day, we reach our destination point, tiny island Cayo Guano. Only one single man leaves there – lighthouse keeper. On one side of the island there are dangerous reefs and on the other side comfortable anchorage with the smooth sand seabed. After dropping the anchor we spend an evening swimming, cooking dinner and drinking rum.
Day four
We wake up with the first rays of the sun.  Waking up on a sunrise became a habit while sailing.  Walk around the deck, take few pictures and have a cup of coffee, amazing feeling.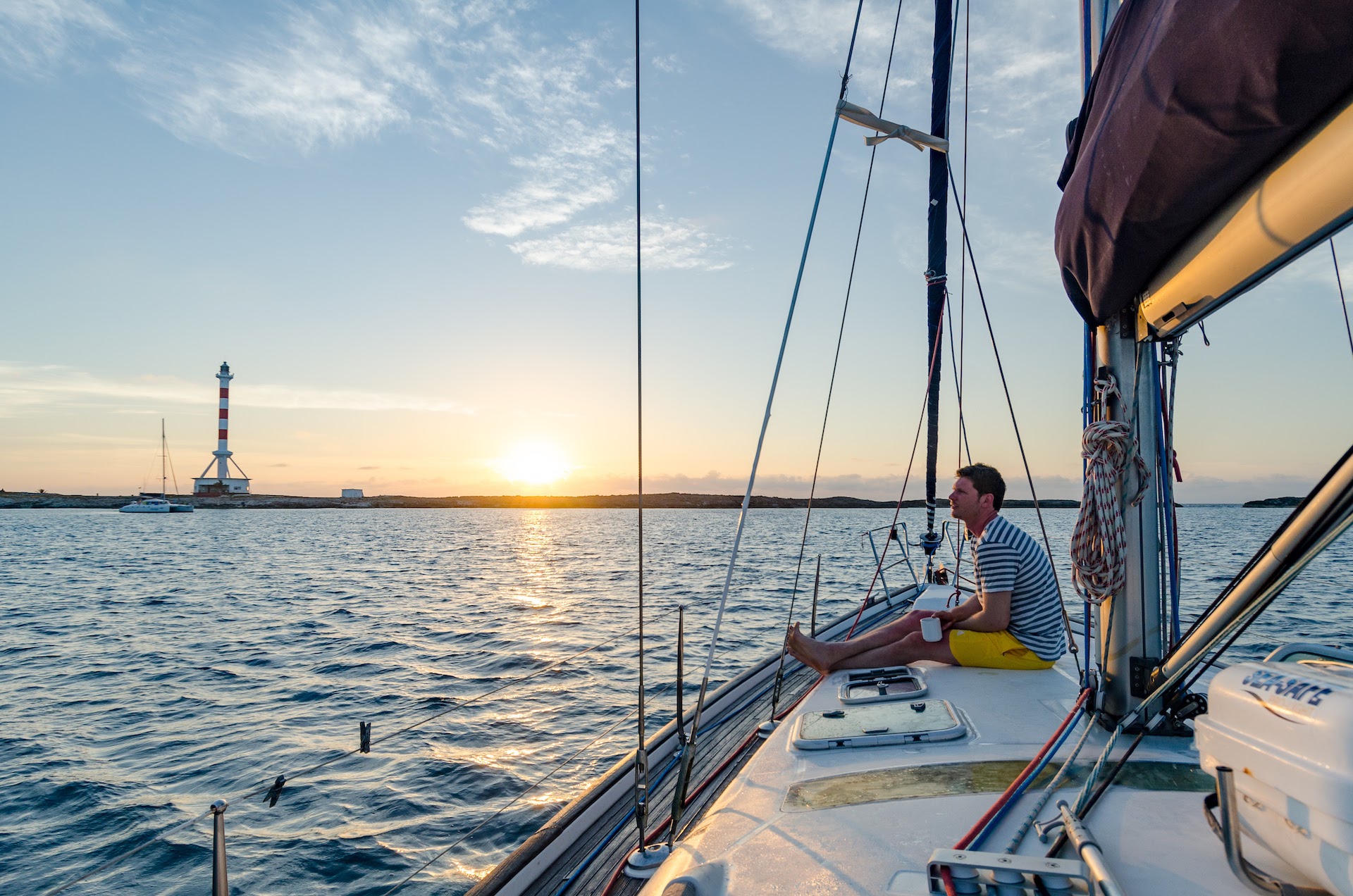 After the lunch, we are going to check out the island on a dinghy. Island is very narrow only 500m wide. Besides the lighthouse, there are no other buildings and on the north part of the island we found a sandy beach. Great place to chill with the whole crew.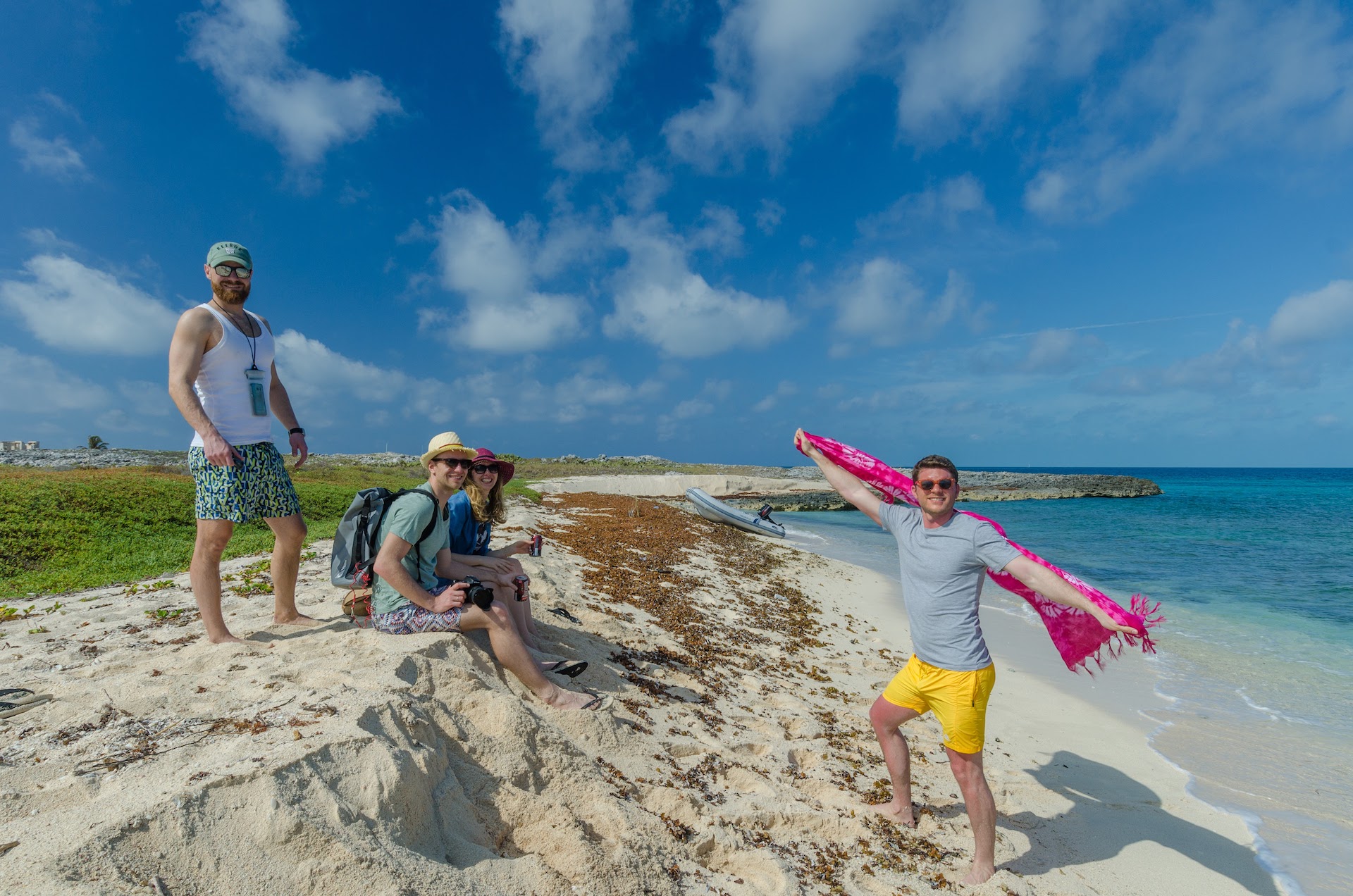 On the way back we drop by to Bavaria and agreed to meet on the beach a bit later. After loading beer, snorkeling and photo gear into the dinghy we are heading to the shore. Also, we decided to pay a visit to lighthouse keeper.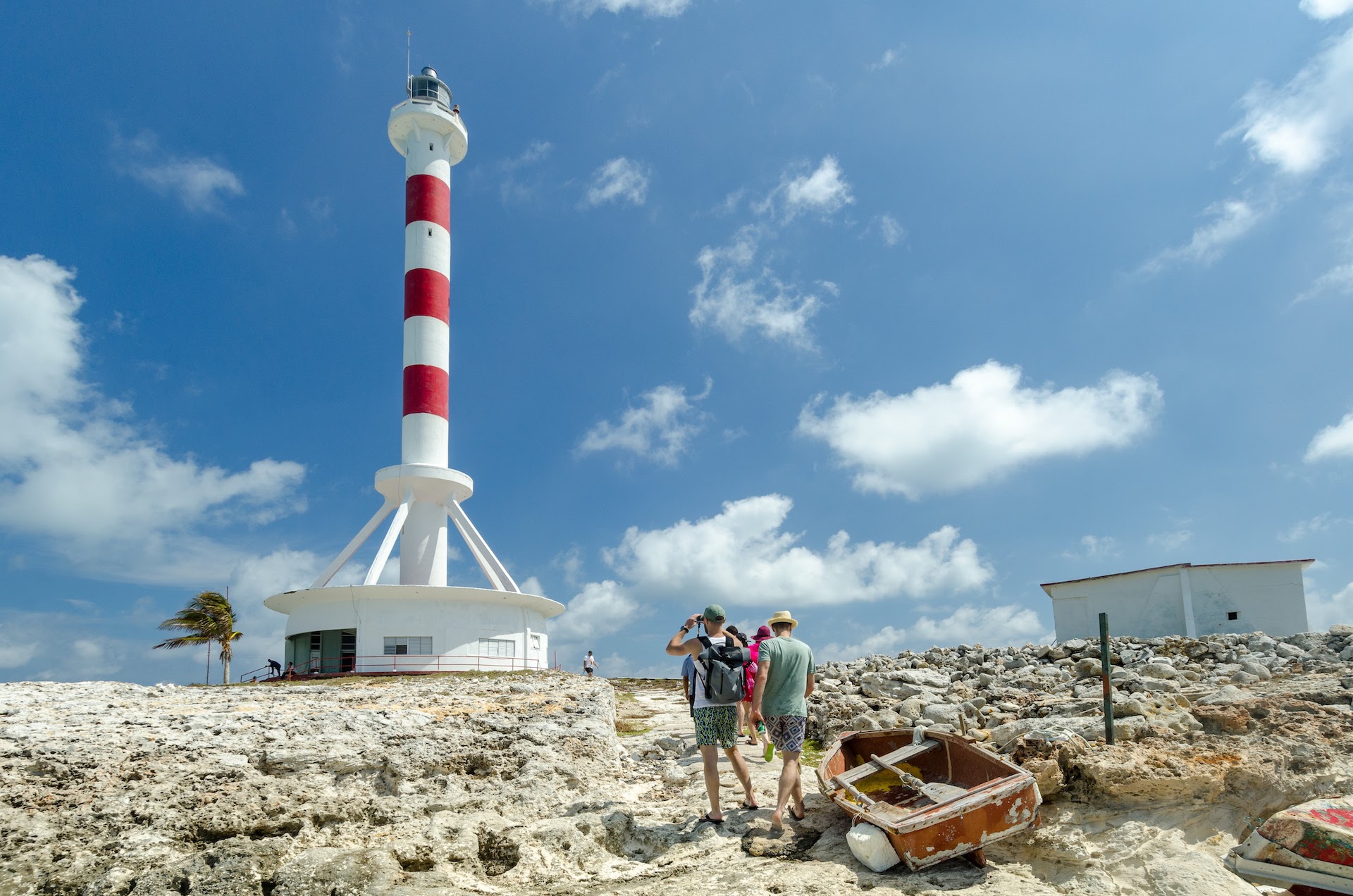 Very friendly and sociable guy meets us on the pear and help to more the dinghies. We bring him some beer and he happily accepts the gift.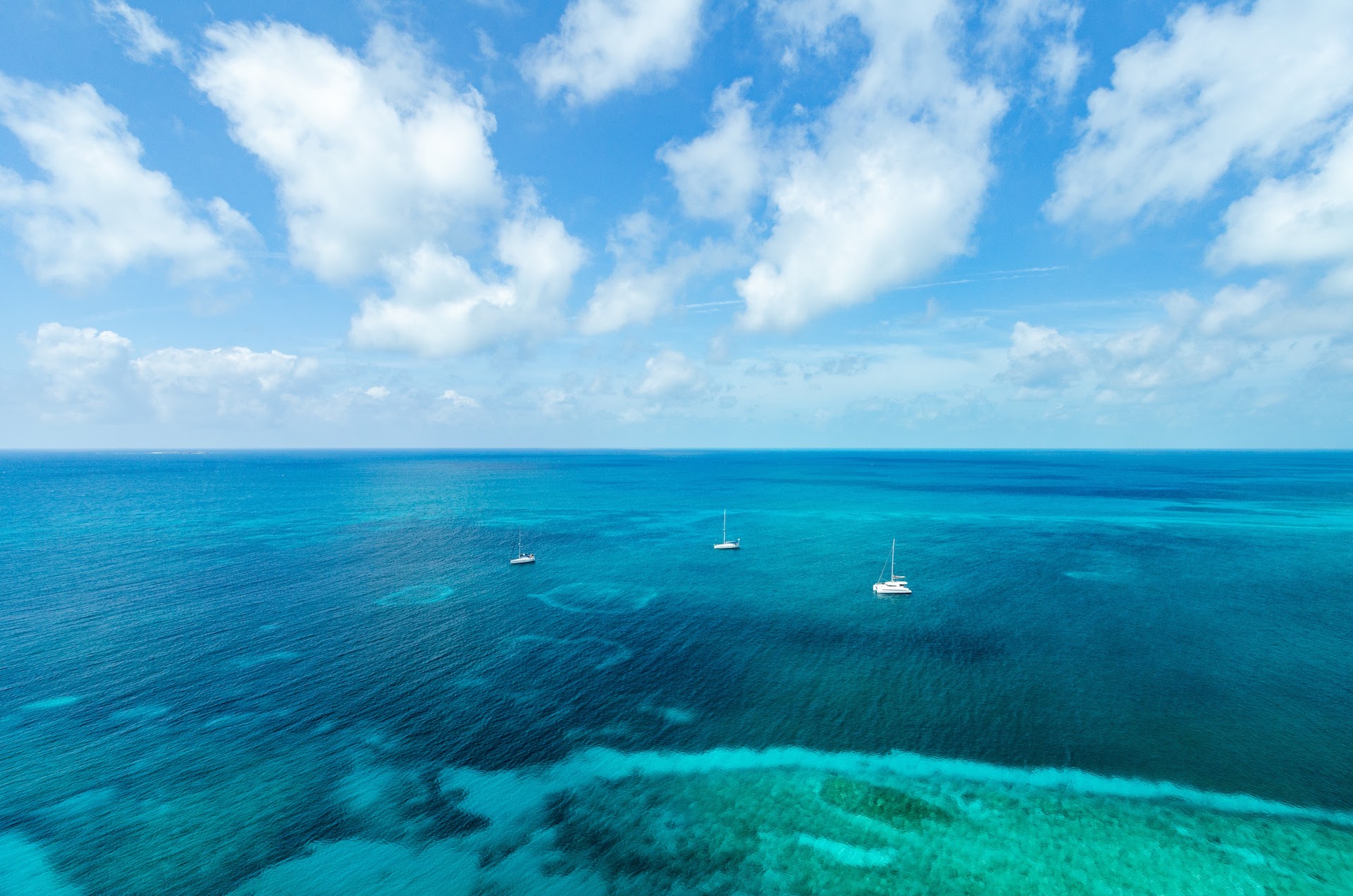 Few people in our group speak basic Spanish it helps a lot to communicate. We are invited to check out a view from the top of the lighthouse. A view is just amazing and also we can see our next destination point. After saying goodbye to our new friend we continue our journey.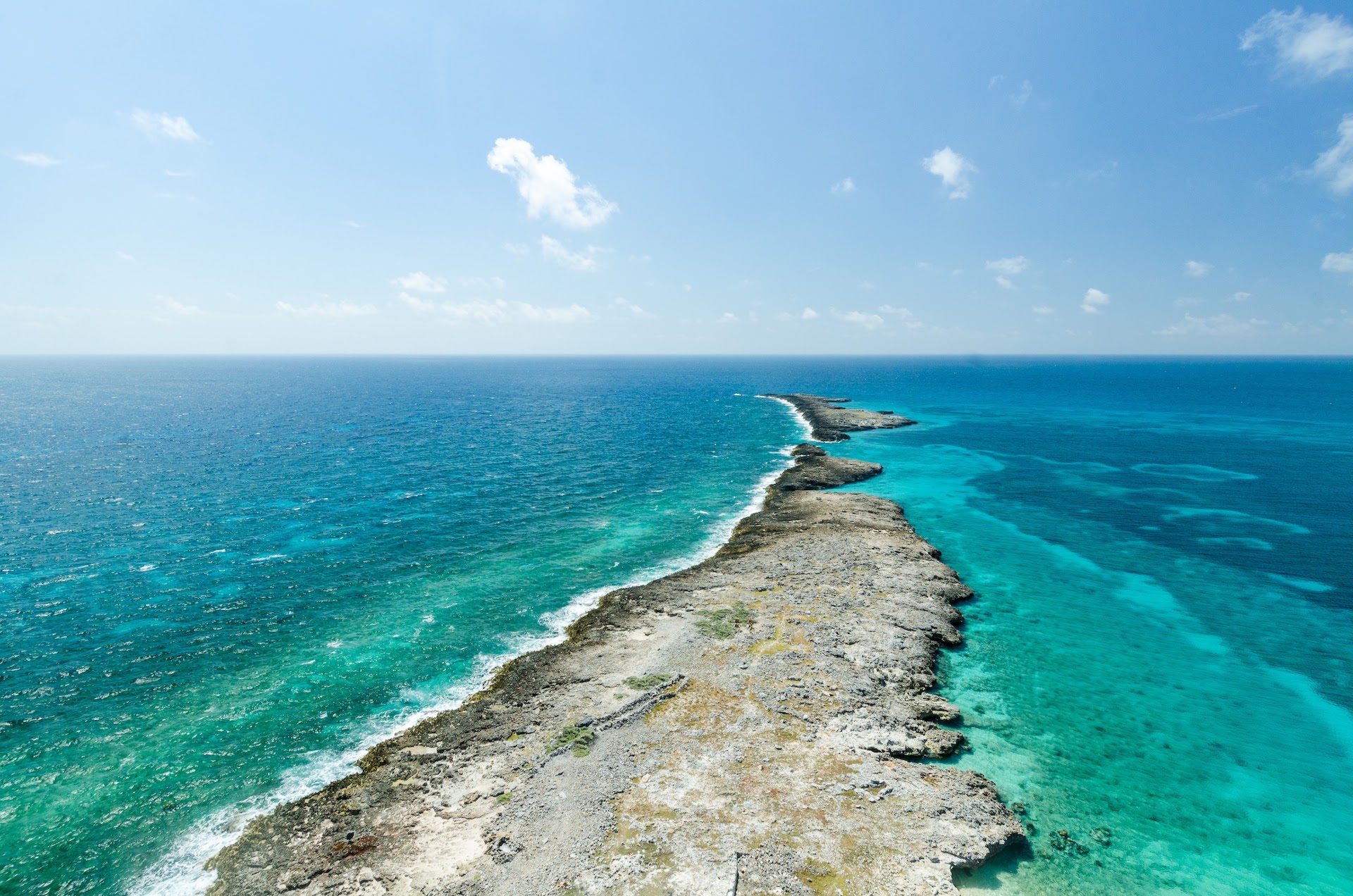 The passage is short, only 20nm. There are three vessels in the bay, two our yachts, and very familiar catamaran. We definitely have seen it somewhere. In approximately half an hour we spot a dingy going in our direction from catamaran with three people on board.  That is a crew from Poland, we have a navigational briefing in the port of Cienfuegos. After a few drinks, we decide to spend an evening together.  It is already late and the sun is low.  Agreed! today we stay here and going to hang out all together. Before the sundown, we want to check out the island. Moreover, guys from other boat told us that there is a wreck there.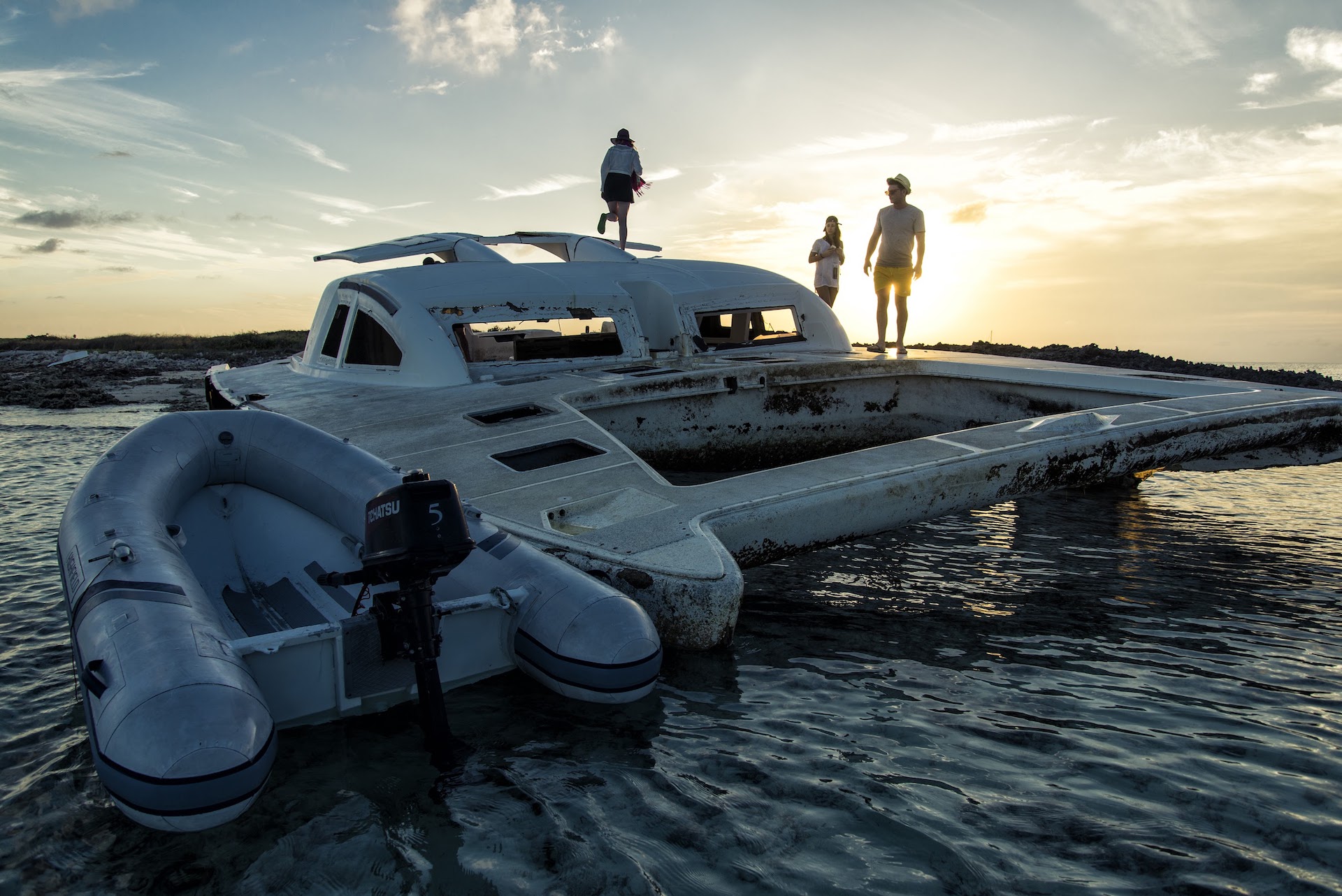 Island, the same as the previous one,  is inhabitable. The whole island is covered in very sharp stone, not the best place to walk barefoot.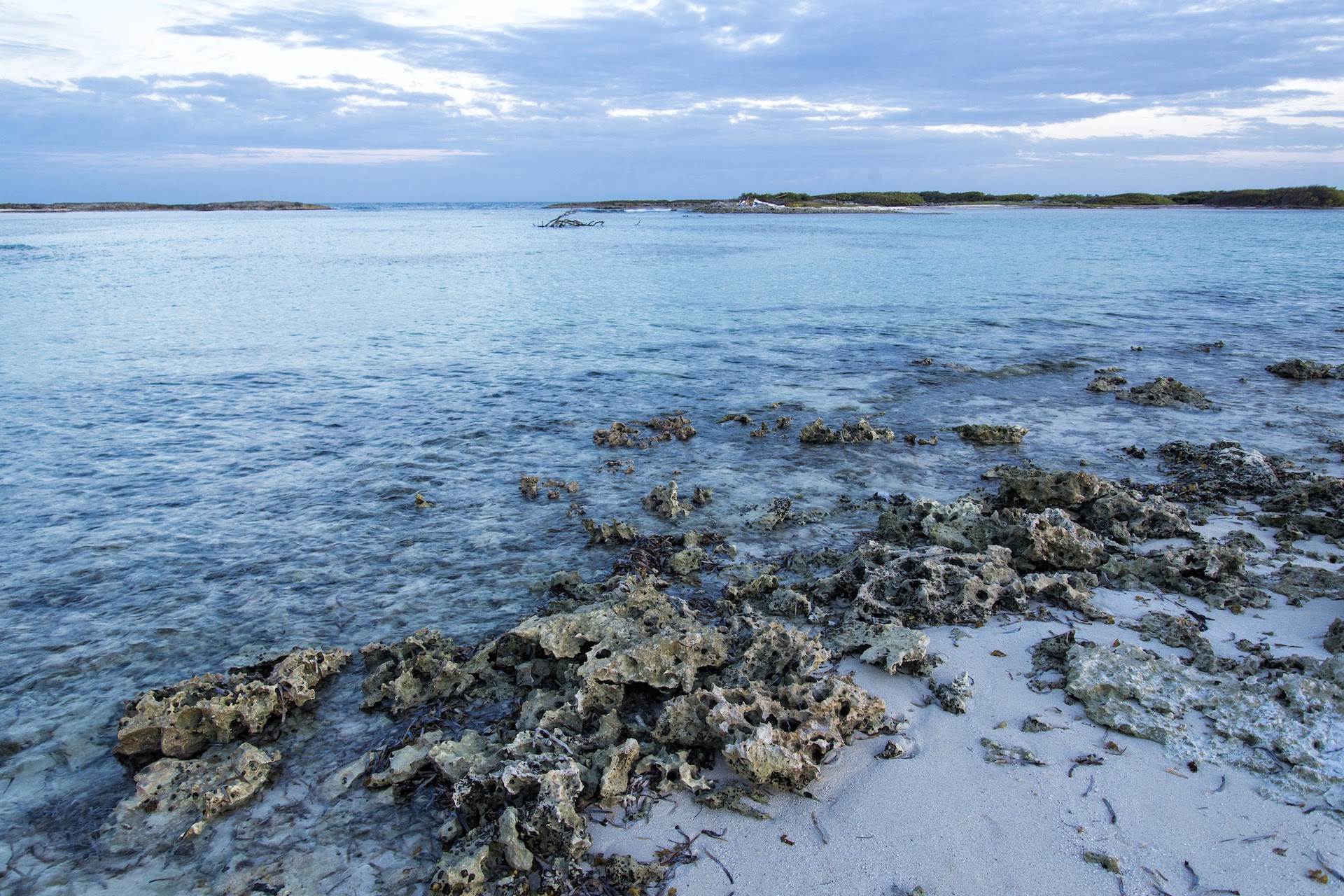 After checking catamaran wreak we head back to the boats and as planned spend the evening together with our new friend.
Day five
Traditionally we wake up on a sunrise. After discussing a plan for a day with a cup of coffee in a hand we are ready to go.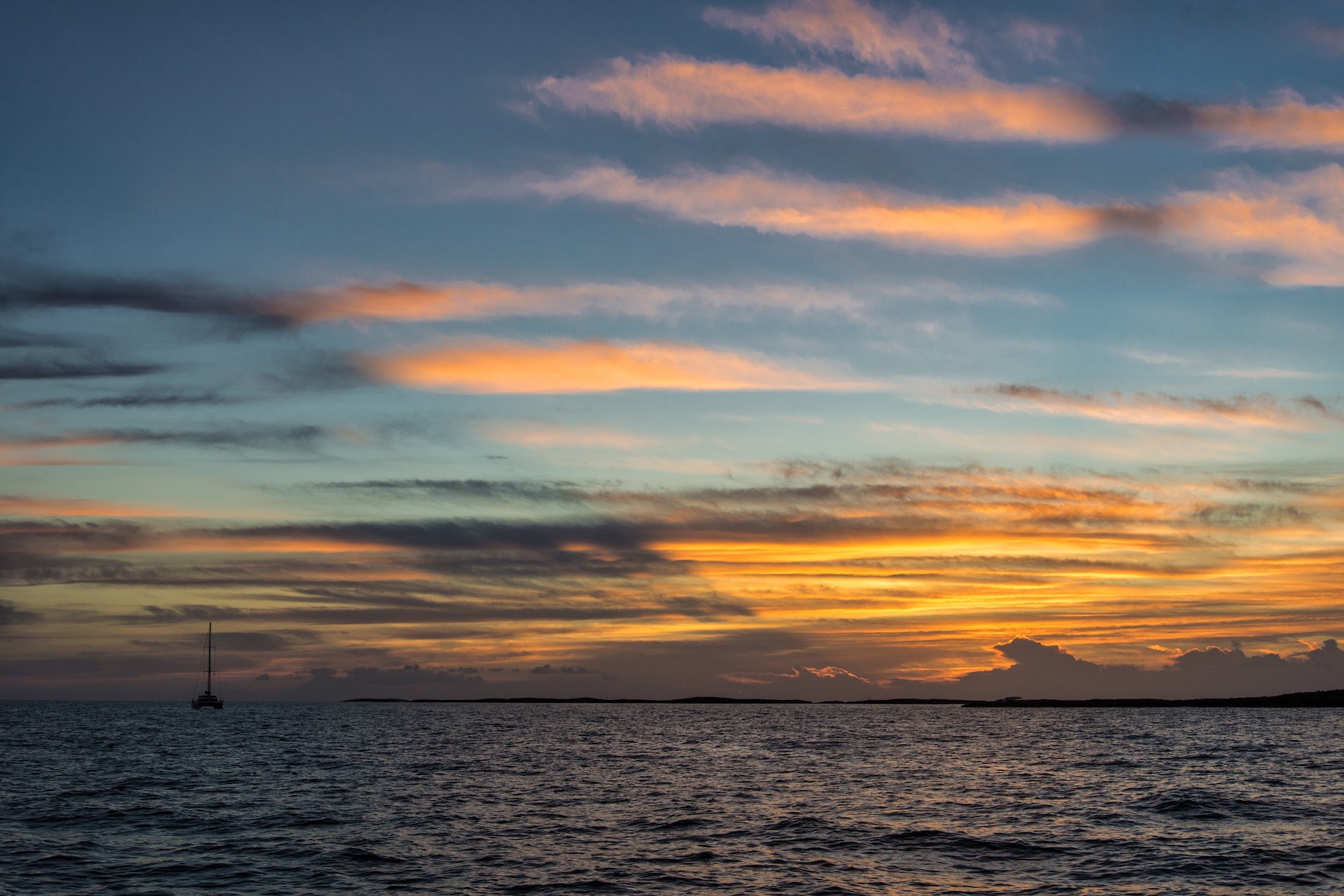 In today's agenda: day stop at Cayo Largo and mooring in the marina in the evening. We reach first stop quite fast and went ashore for a picnic, while Bavaria crew decide to chill on board.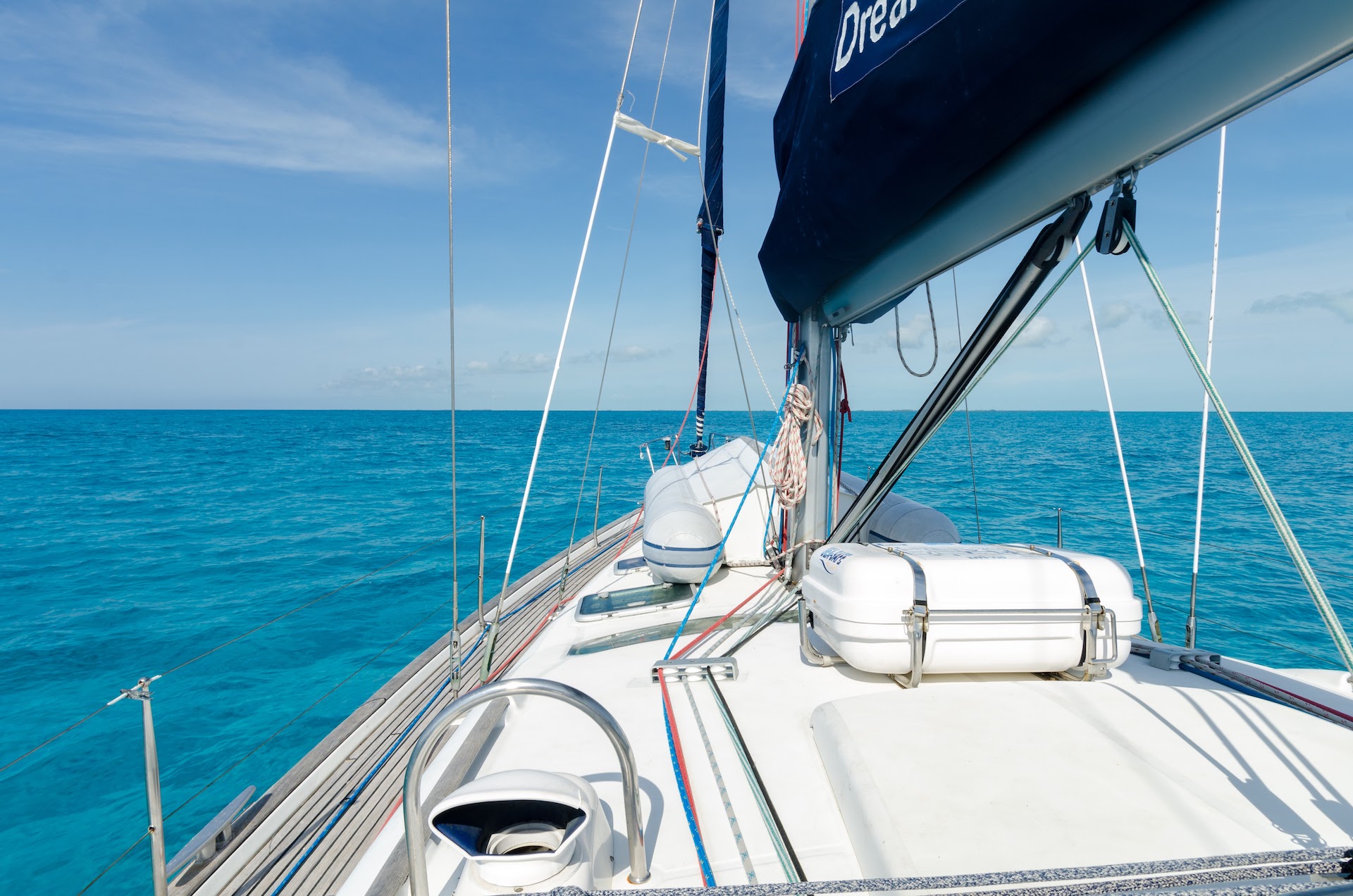 After few hours spent ashore and get back to the yacht, rise an anchor and head to a marina. To get there we need to go beyond the reef and go alongside the island to the west. During the passage, the wind builds up and Bavaria crew goes further into the sea for some quality sailing. Our crew decides to go straight to the harbor to reach it before the dark.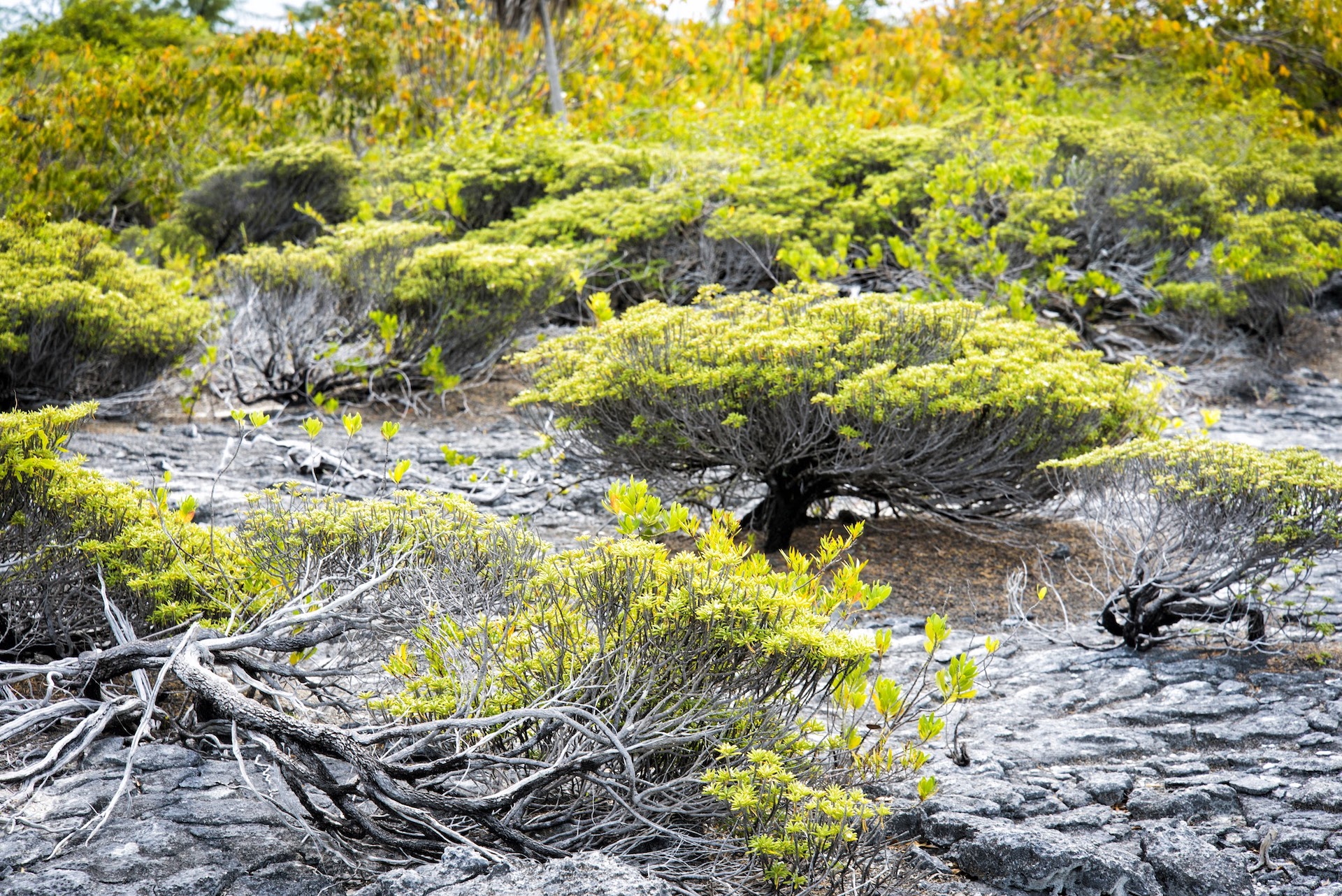 Wind brings some clouds and it starts raining, the rain became stronger and stronger. Storm build up. We find a suitable place to drop an anchor to wait until the storm passes by. After an hour of waiting for wind speed decreases and eventually the storm calm down completely. In 20 minutes we are safely moored in the marina. It's time to explore the biggest island on our route.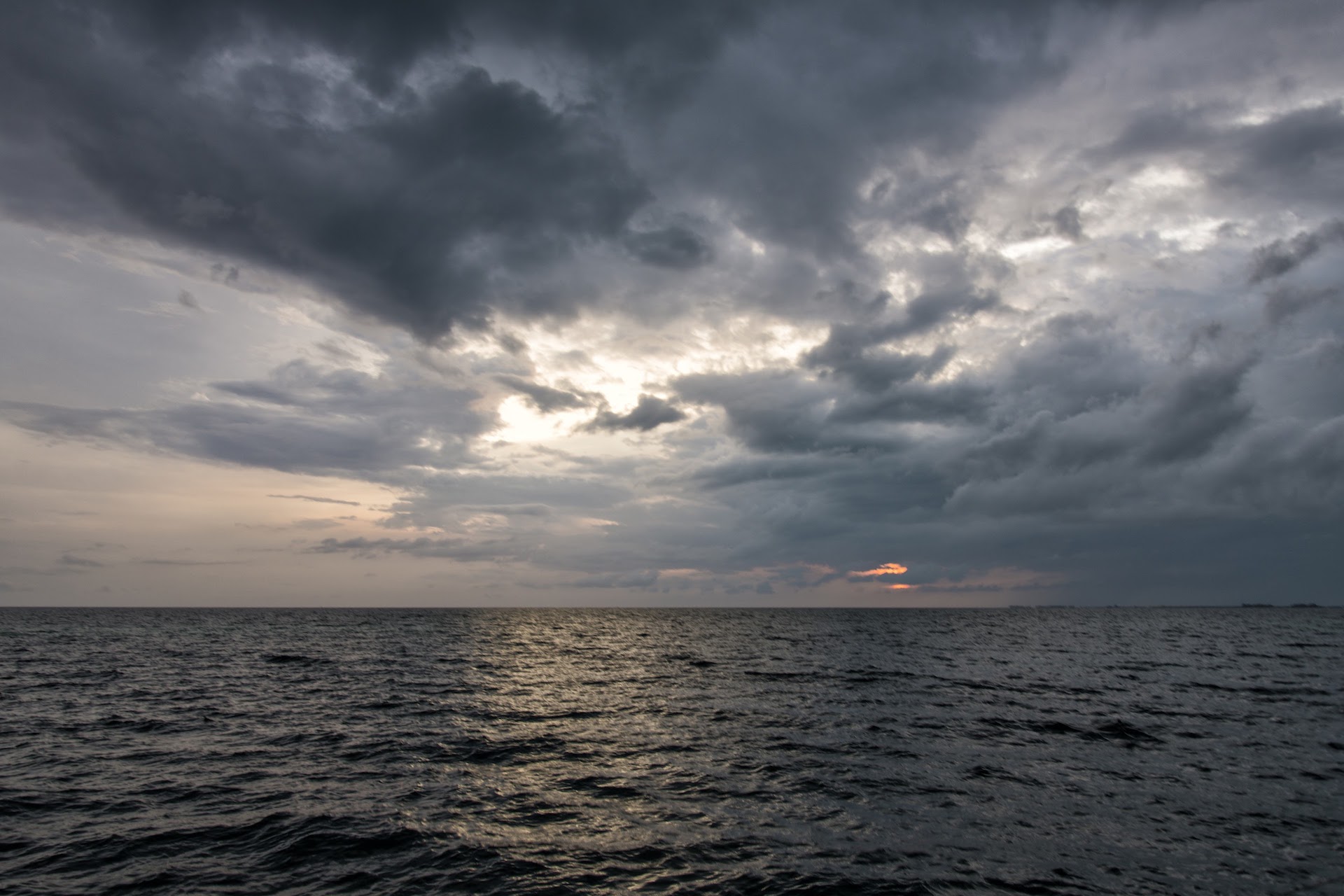 There is a bar and a restaurant, the marina has a lot of facilities too: showers, laundry, fishing, and dive center. The bar is full of people, very surprising taking into account that it's a remote island. Taking a closer look we noticed that there is no food or drinks on the tables and peal are just sitting there talking. As we figure out later it was refugees who try to escape Cuba and seek a better life in Miami but their vessel runs aground close by.
Day six
Today we are not going anywhere and will explore the island from inland. First thing in the morning skippers went to pay mooring fee. In the harbor office, we met Pier the harbormaster.  He was very busy with paperwork and swearing in three languages at the same time. He told us that he speaks five languages in total and was Fidel's personal translator. To prove that he has a photo of him together with Castro.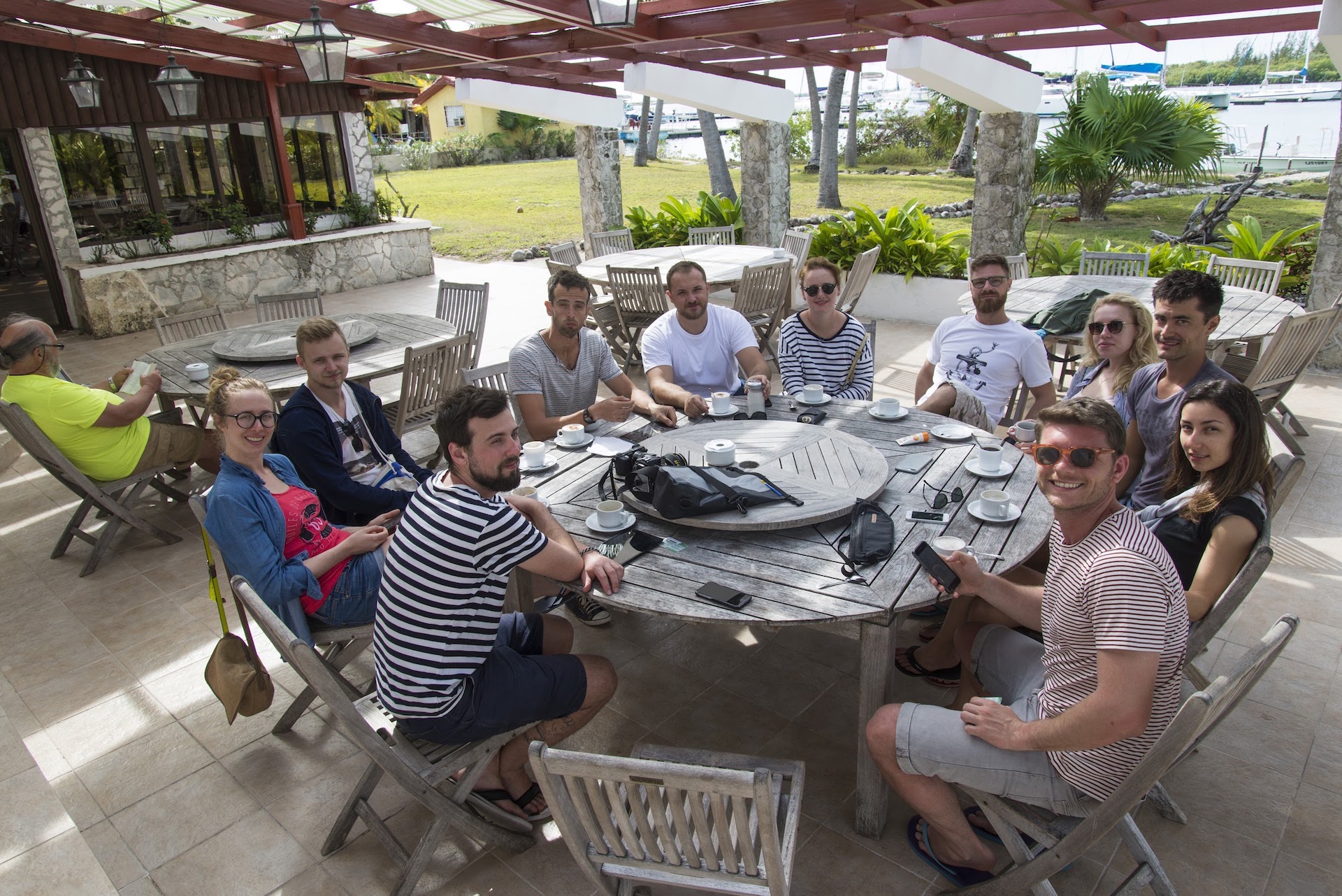 After everything is settled we go to the restaurant for a cup of coffee and. The restaurant even has wifi, a very rare thing in Cuba. Restaurant manager offers to cook fresh lobster for a dinner. You don't say no to such offers.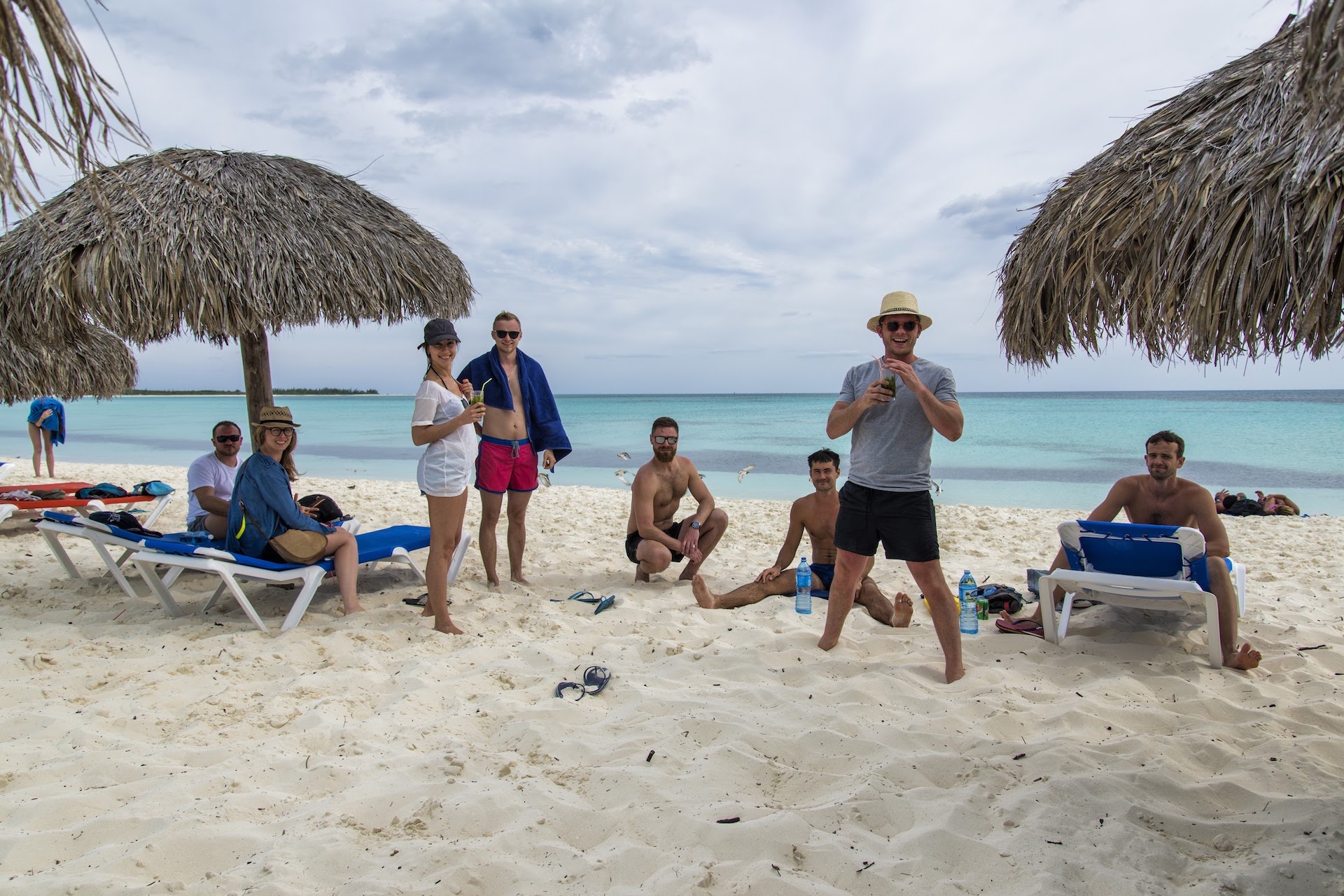 After breakfast, we decided to check the island river on our dingy. Just a few hundredths meters we found several sunken ships and a crashed airplane. Promising beginning. We navigate through a narrow channel and head to the Playa Sirena. This beach is perfect: whitest sand, amazingly beautiful water and no people at all. In the beach bar, we meet a Cuban guide who is stuck on the island for a month because their plane is broken and they are waiting from the mechanic from Kiev to fix it. Cuba is an unusual place for sure.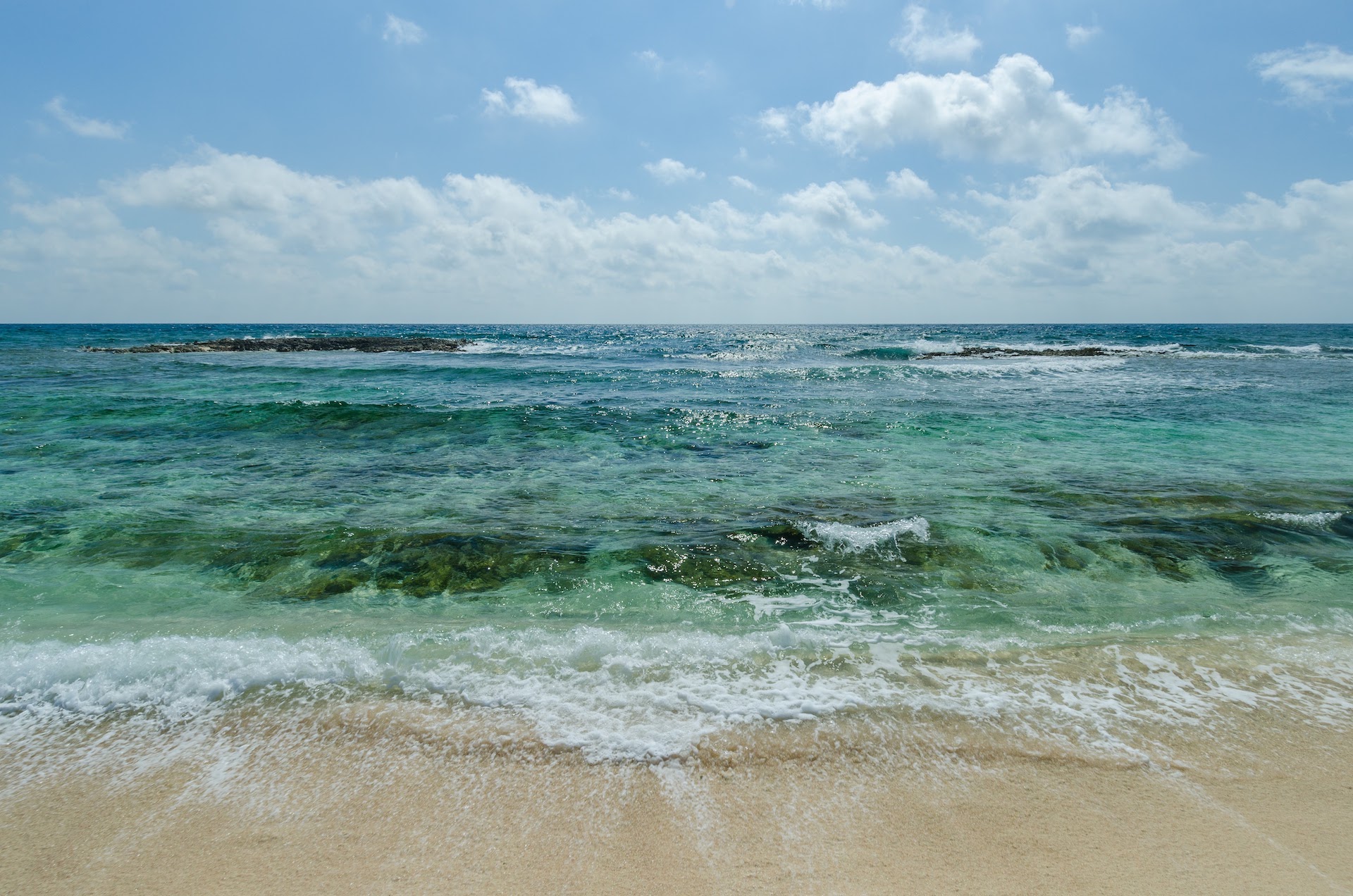 Next spot we decide to check is Iguana island. We found only one iguana though after a nice walk around the island we decided to get back to base, it is getting darker. The evening we spent in the restaurant to enjoy delicious lobsters and traditional Cuban cocktails.  Even Pier dropped by for a drink.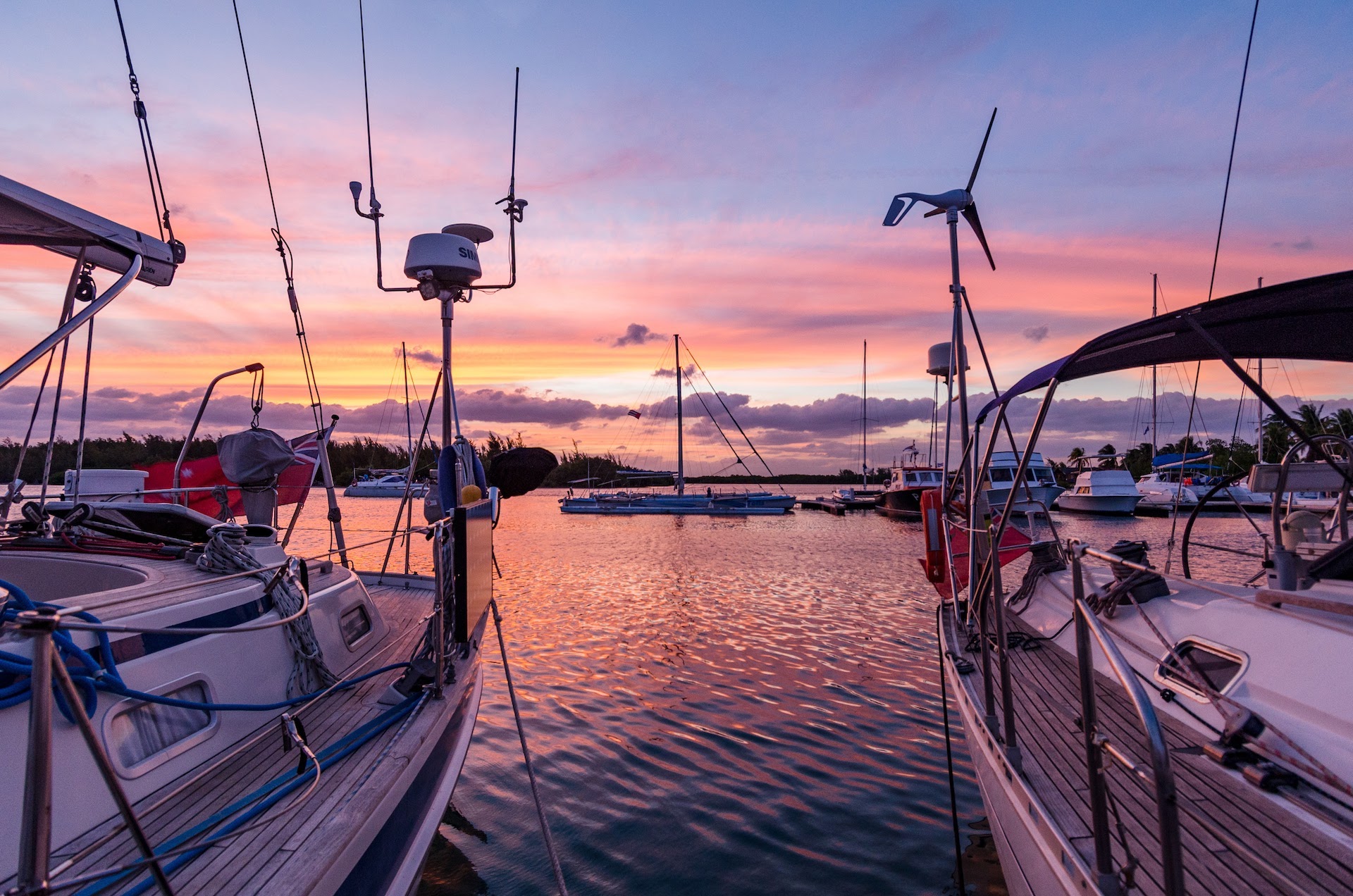 Day seven and eight. Going home
It is time to go home. In two days we need to cover 100 nm. Early in the morning we leave Cayo Largo marina and head towards the big seas. In an hour we pass a mark of three thousand meters under the keel.  Wind speed is 15 knots, perfect sailing condition.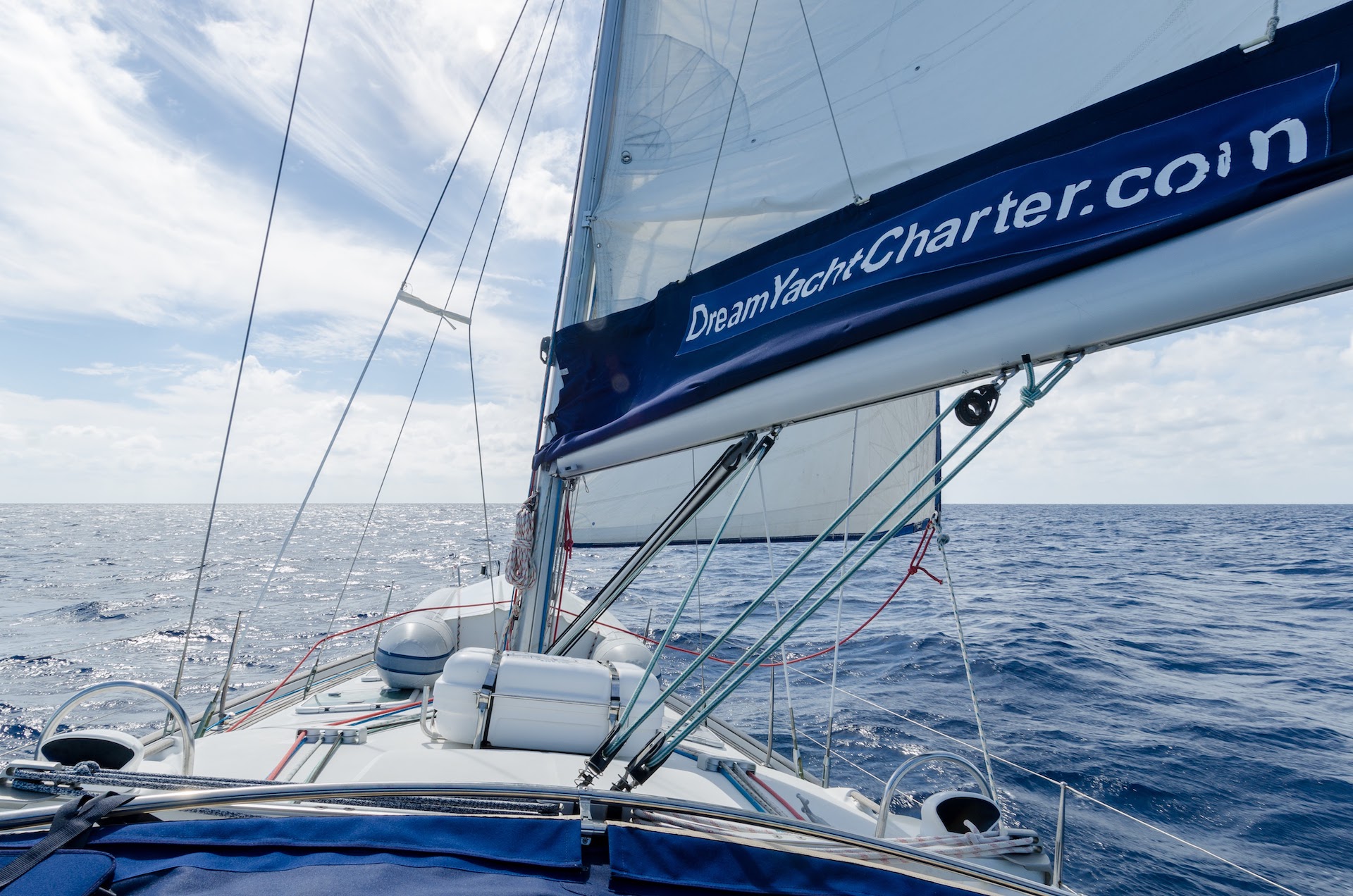 We navigate our vessels towards overnight stop near well familiar lighthouse at  Cayo Guano. We arrive there before the sunset. Drop an anchor and start cooking dinner. Sunset is especially beautiful today. More vessels appear on the horizon, all of them are heading to the same anchorage. It is the only one available in a radius of 50 nautical miles.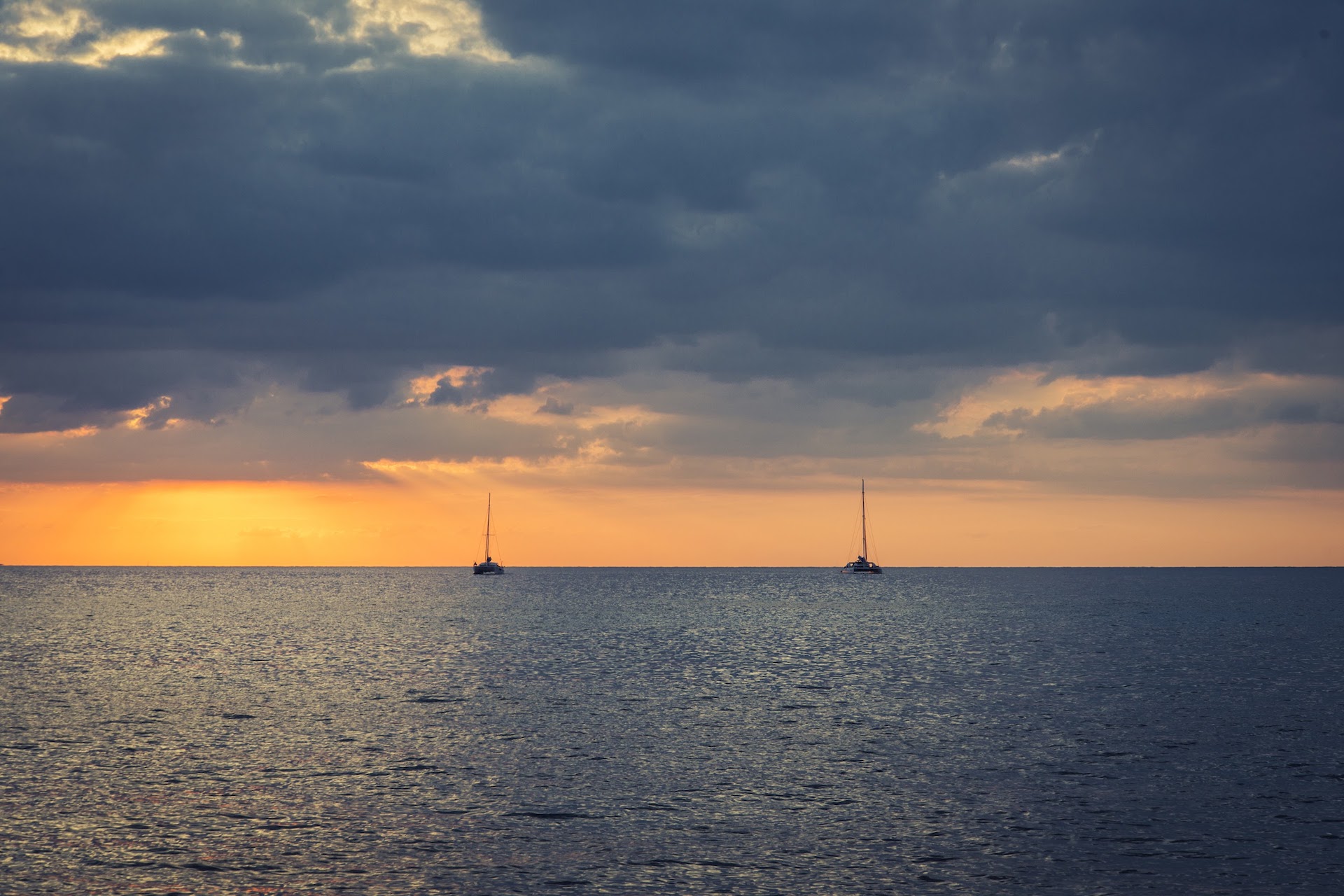 Slowly wind speed starts increasing. Wind meter shows a speed of 35 knots.  This night would not be easy.  We prepare our boat to the stormy night: secure sails, check snubber on anchor chain, prepare lifevest and lifelines.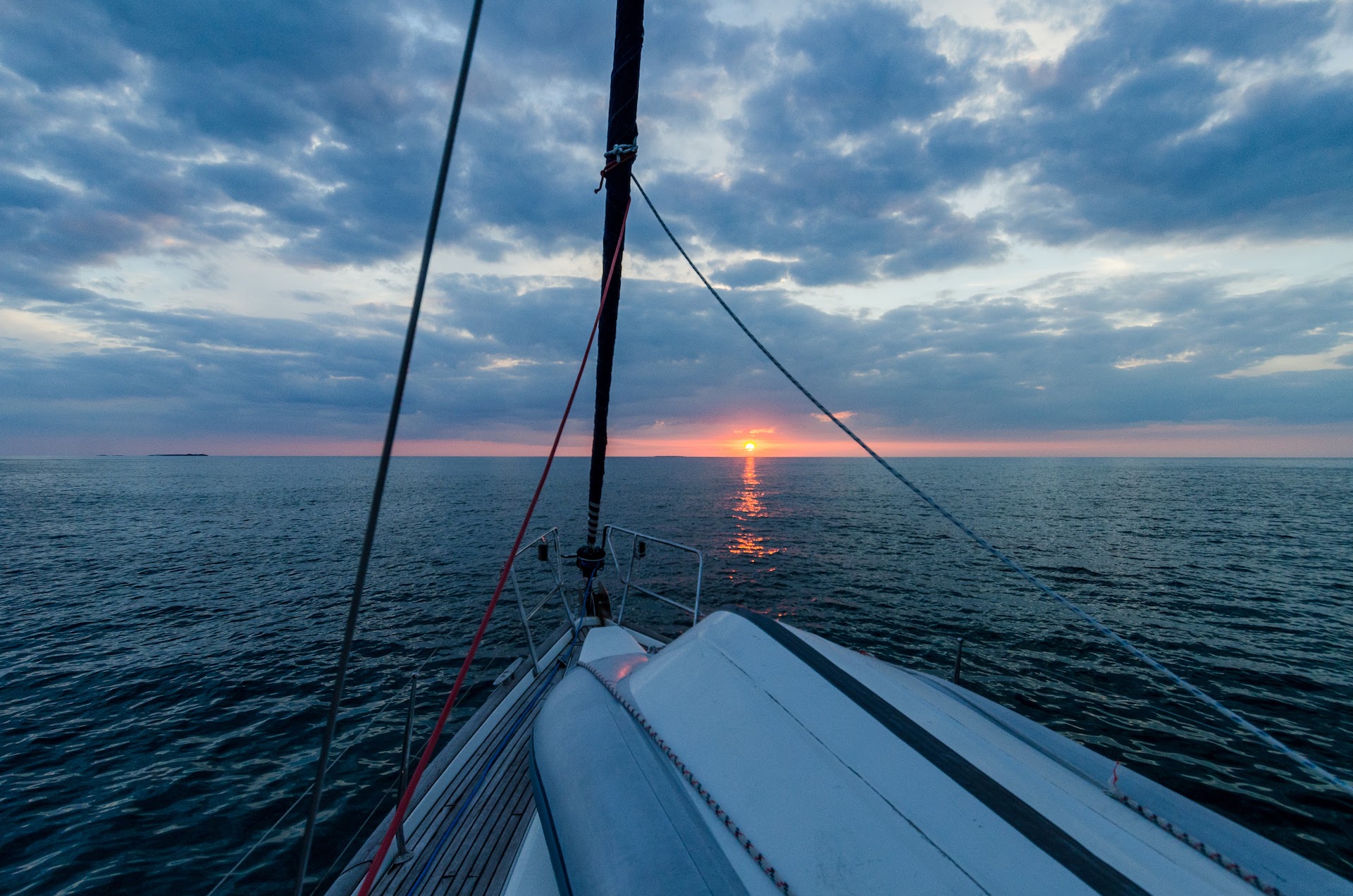 All done we are ready to take shifts. It's six of us on board, while two will be on the watch four can sleep. Wind meter shows 42 knots.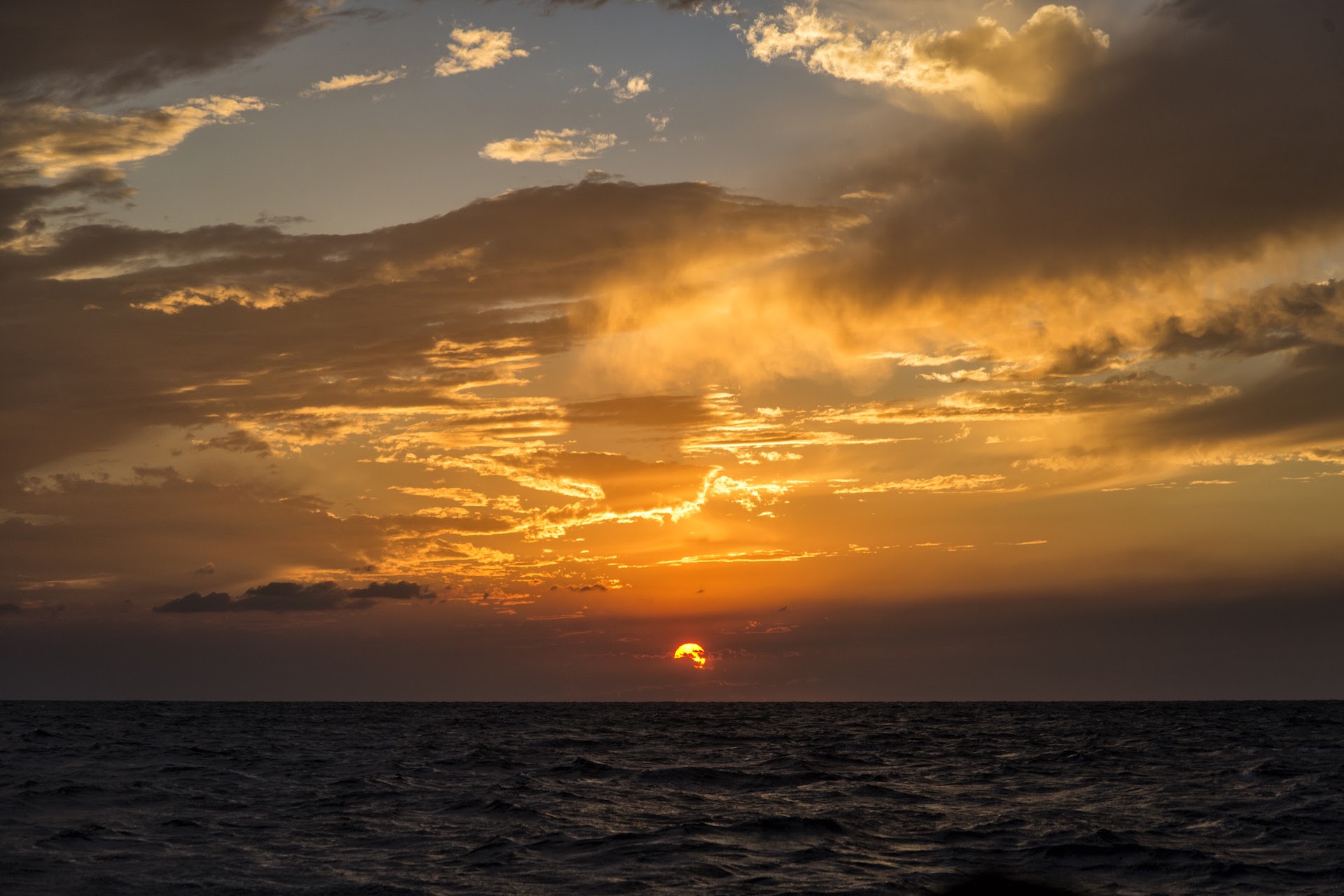 We survive the night pretty easy and storms calm town but the wind is still very strong. We still need to cover 50 nautical miles. And we need to go upwind. Not an easy but doable task. The whole passage took us 14 hours and we were really happy to see the light of lighthouse of Cienfuegos. When we were approaching channel wind speed was around 40 knots. But a good new arrive it is all nice and quiet in the channel and in the marina. In total darkness we approach the marina, Alex is waiting at the pear and helps us to more. We are going to get drunk tonight. We sailed through the storm and safely return to the base and moreover, today ends the first part of our Cuban adventure.  On three rented cars we are going to drive through the country to the heart of the island – city of  Havana.
Day nine
After checkout, we have lunch in the marina. It time to say goodbye to one of our skippers, together with a friend he is going to Mexico for one a week. We are twelve now. The task for today is to found casa and relax after a week at sea.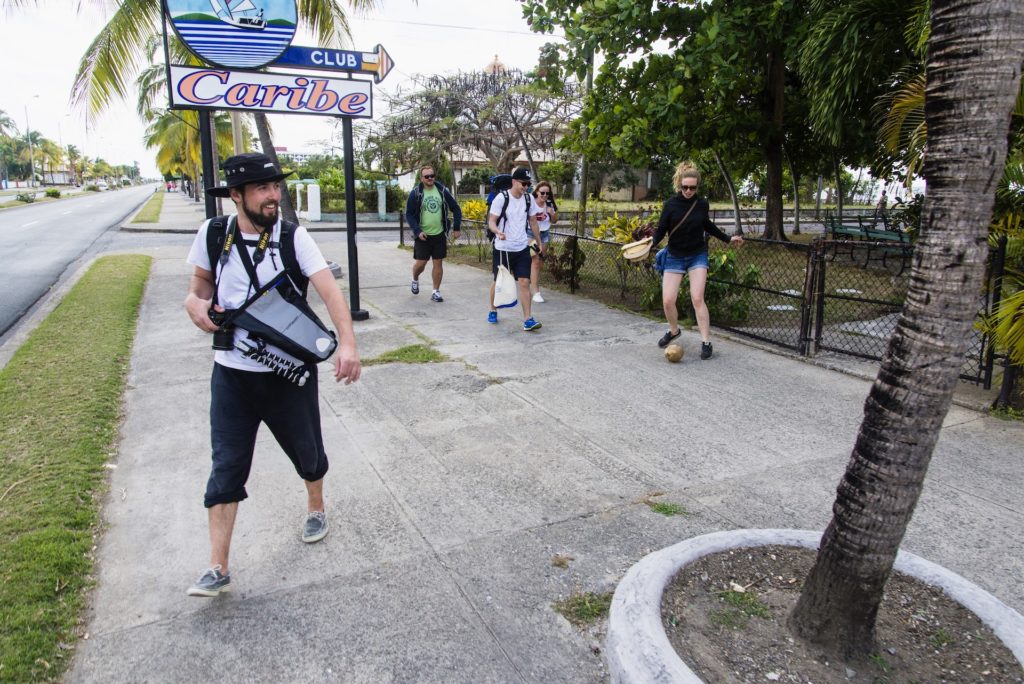 The casa we have booked is partially not available but owners found a place to stay for all of us in the same neighborhood in no time.  This was the last booked accommodation on this trip. From now on we are going to look for a place to stay on the spot. This way there are much more options and we have a lot of flexibility too. Moreover, it is a great way to see the real life of the Cuban people.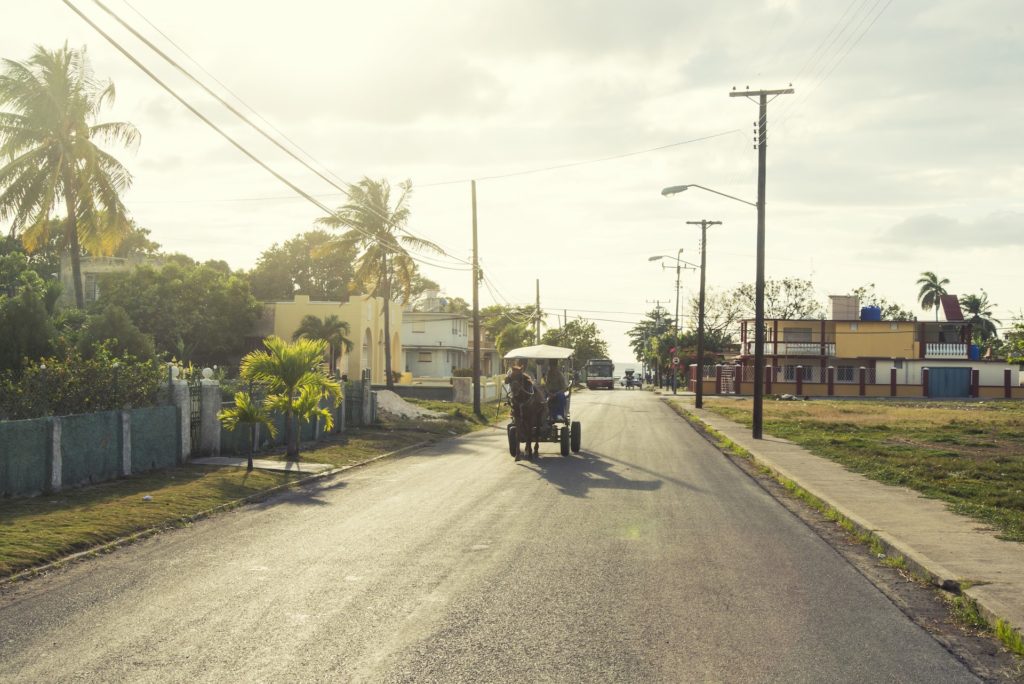 After a long daytime sleep, we are on the mission to explore our district. Nearby we found a baseball stadium. For a price of one CUC, we can have a tour inside. Baseball is one of the most popular sports in Cuba. It was popularized in Cuba by Nemesio Guillot, who founded the first major baseball club in the country. It became the most played sport in the country in the 1870s.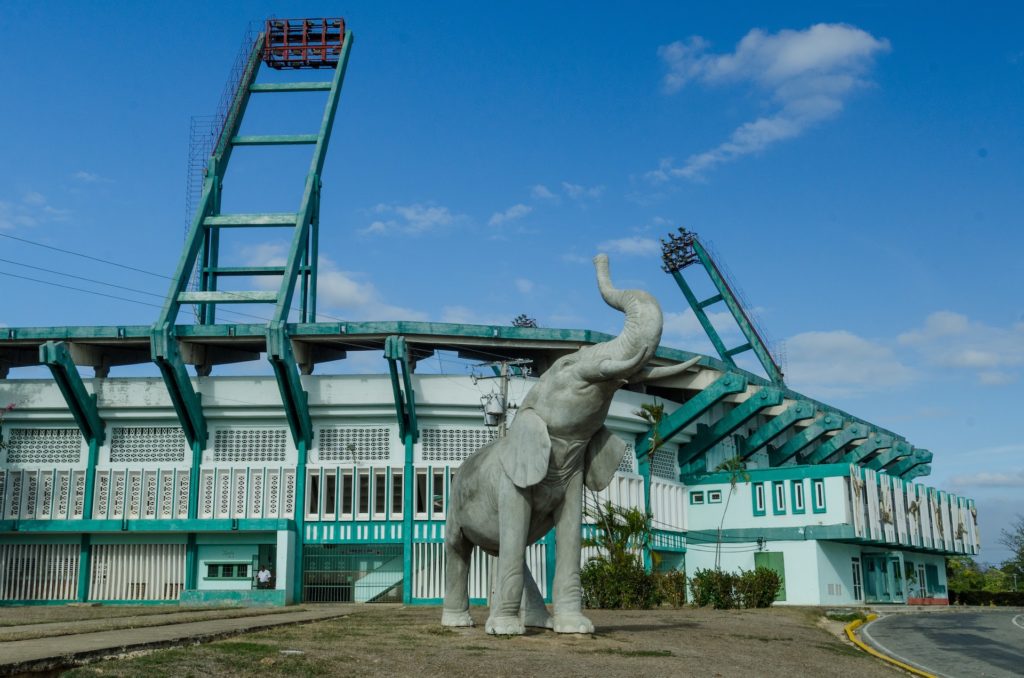 Owner of the casa we are staying in offers us to visit his friend's restaurant this evening and we decide to go. From a culinary perspective, it was a huge mistake but from the perspective of the cultural experience, it was awesome. Restaurant, in fact, is someone's back yard. We must pay tribute to the owners of the "restaurant", they sincerely tried. The host, on the occasion of our visit, put a bow tie on. Several tables were put together the audio system from early nineteenth was put outside. Rum flowed like water. But when after two hours of waiting, the cook decided to come outside and dance for us, we realized that we would go to bed hungry today. It was almost like that, we get our orders at the end of the day but the quality was debatable. But we were not offended, it was a very colorful and fun dinner, the price was not high at all and we were already quite drunk. And also we understand that Cuba is going through tough times and it is not fair to expect a feast in the country on the verge of famine.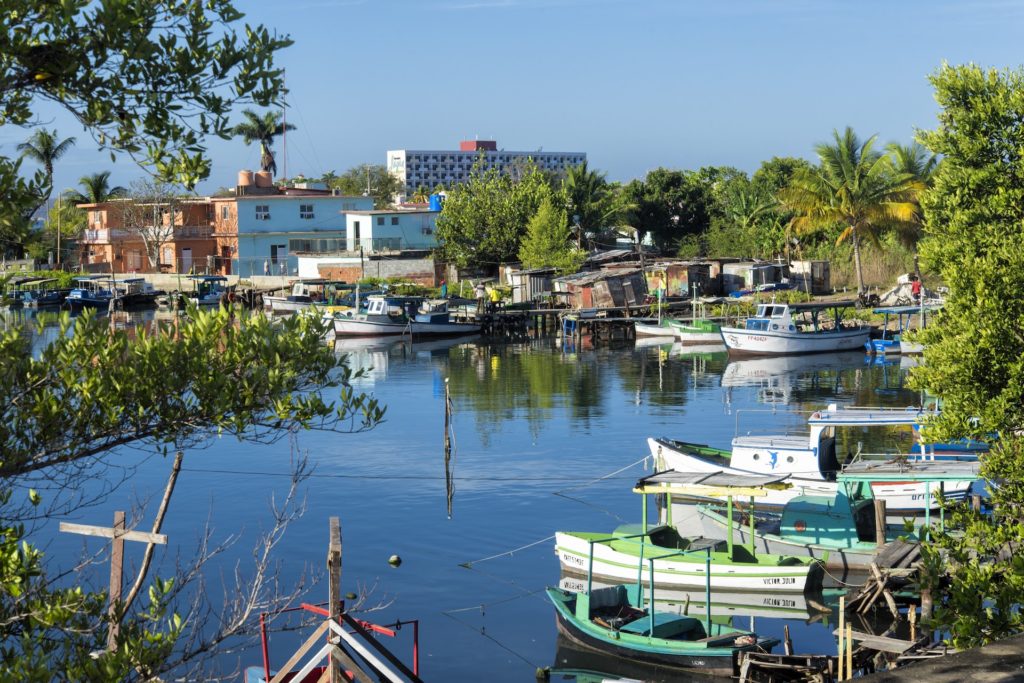 Day ten
After the late breakfast in our casa we are heading to car rental company office to pick up cars. We were lucky we managed to rent last available cars in the whole of Cuba. One Dutch travel agency helps us out. We got three Chinese cars – a Geely. Cars are rummy inside with a large trunk and not very powerful engine, not the best option but work for us. The first point on our route is El Nicho. The national park is famous for its waterfalls. The first impression of driving in Cuba – it is chaos. Cars, scooters, horses, bikes, and people move all mixed together without any visible order. Traffic code also seems to be optional to follow. But the roads are in great condition and the traffic is very low in the countryside. In general, I like to drive in Cuba After reaching El Nicho we went on a small hiking trip. It's is very pleasant to be surrounded by mountains, trees, and waterfalls after the week at sea.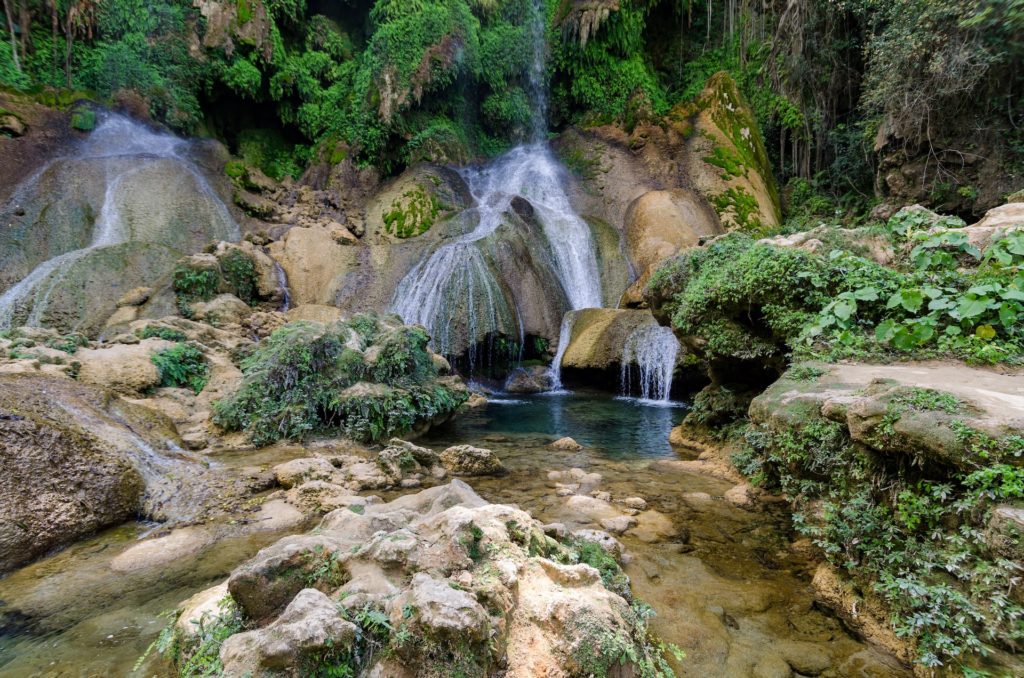 Our destination point for today is Trinidad, the city very close to the sea so we decided to take a more scenic route along the side of the cost.  Upon arrival we went to a restaurant recommended by our friend. The place looks beautiful inside and the food is good. So there are places for a nice dining experience but you need to know them.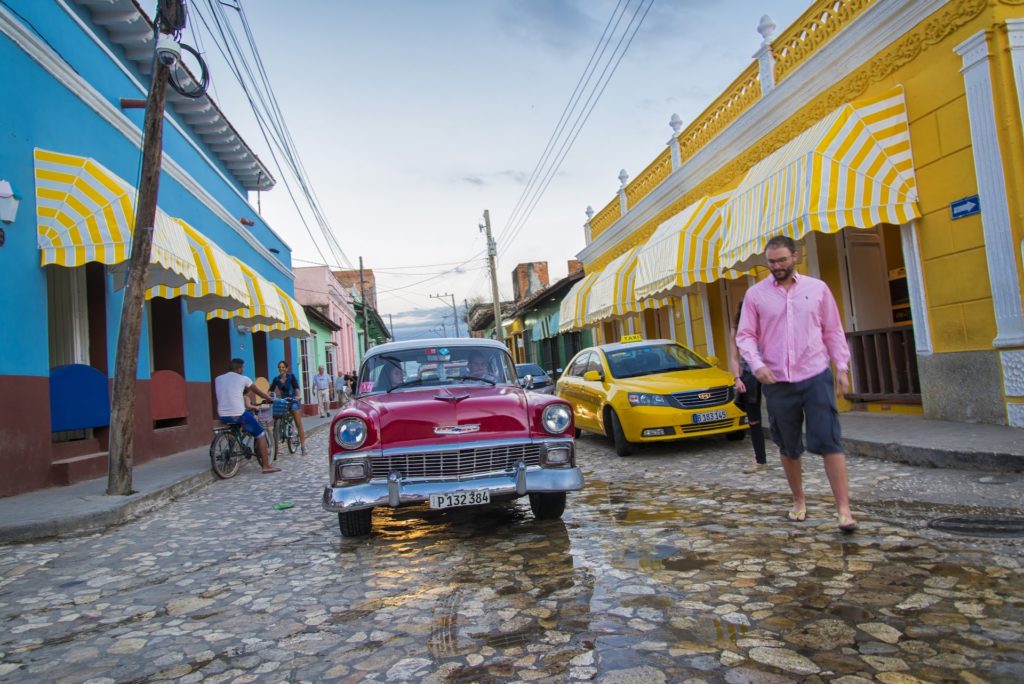 Now we need to find suitable accommodation for 12 people. The city is full of tourist and almost everything is already booked,  but we managed!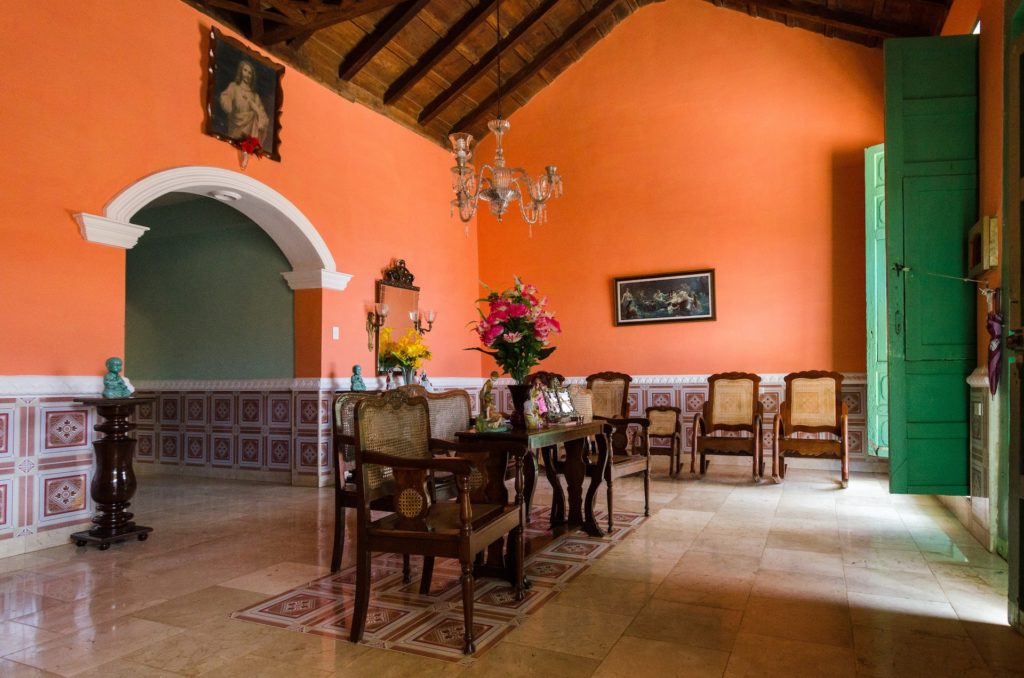 We were very lucky and found a great place in the city center with a terrace and a rooftop. Owner helps us to find a parking lot for the car and now we can go and explore the city.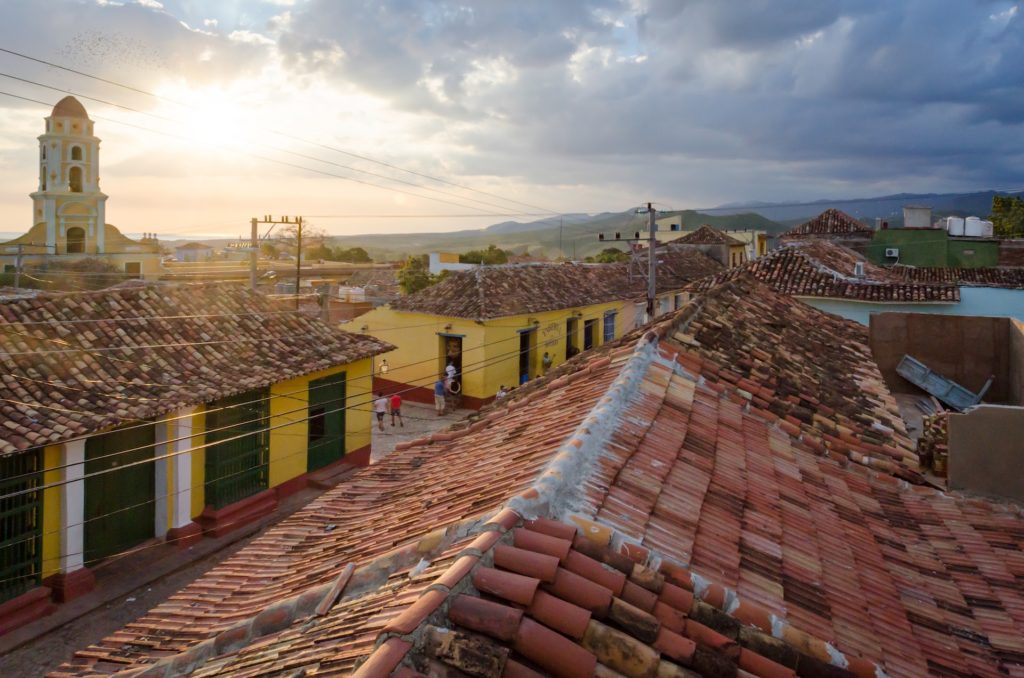 Lat thing on our to-do list for today is to check out a club located in a cave. The place is just unreal, located in a deep and very beautiful cave full of stalactites and stalagmites. We party till late at night there. On the way home, we got the most delicious Mojito on the whole trip from a street vendor.  Today was a very busy and cool day.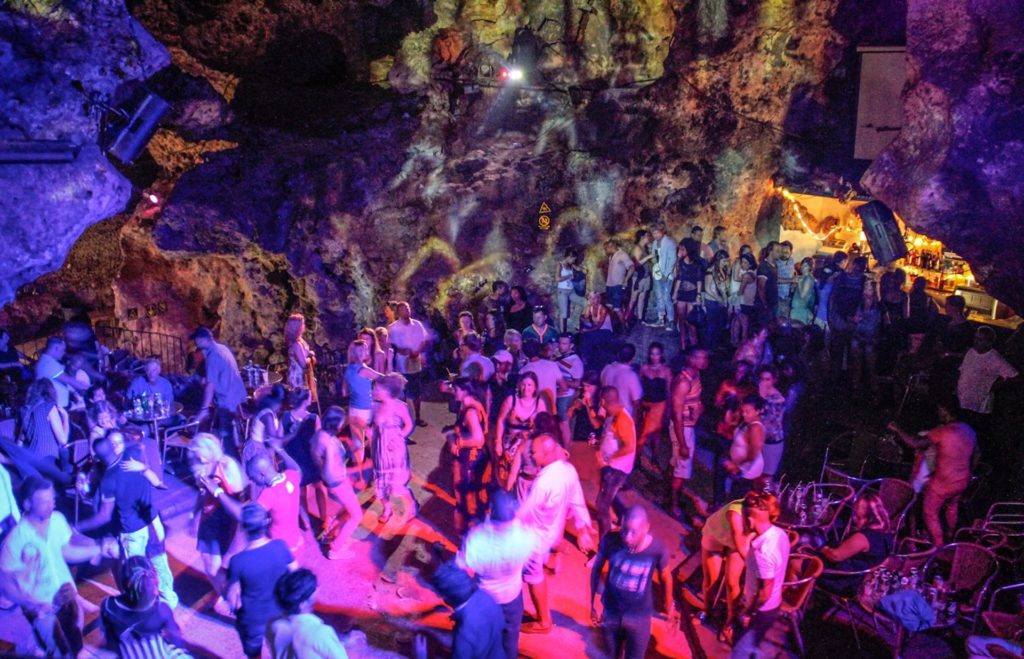 Day eleven 
The morning after such a busy night starts late for us. Today we are going to the beach. The only way to get there is by car. Obviously, we would like on a cool retro American car but none is available.  On another hand there are a lot of USSR cars, well let's try it out.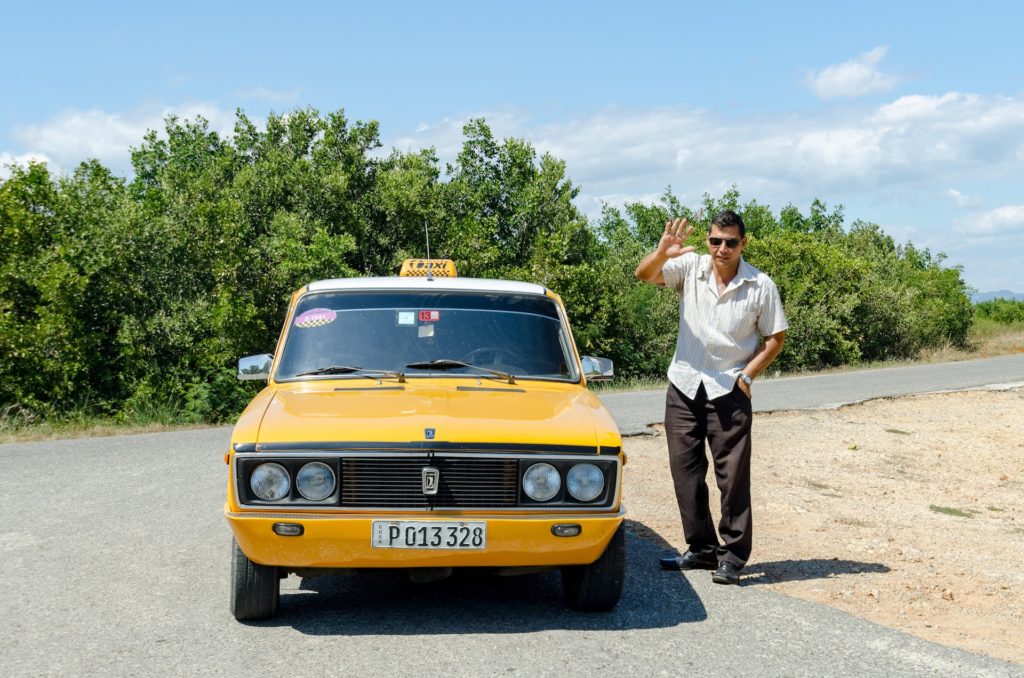 To my big surprise, the car is going smooth and accelerates super fast. It is not what you expect from 60 years old car from the soviet union.  We get curious and ask our driver how come? He was very proud to show us what is under the hood. The car has an engine from Toyota and a gearbox from Hyundai, that explains a lot. Cuban cars its a big separate subject, we are gonna get there soon.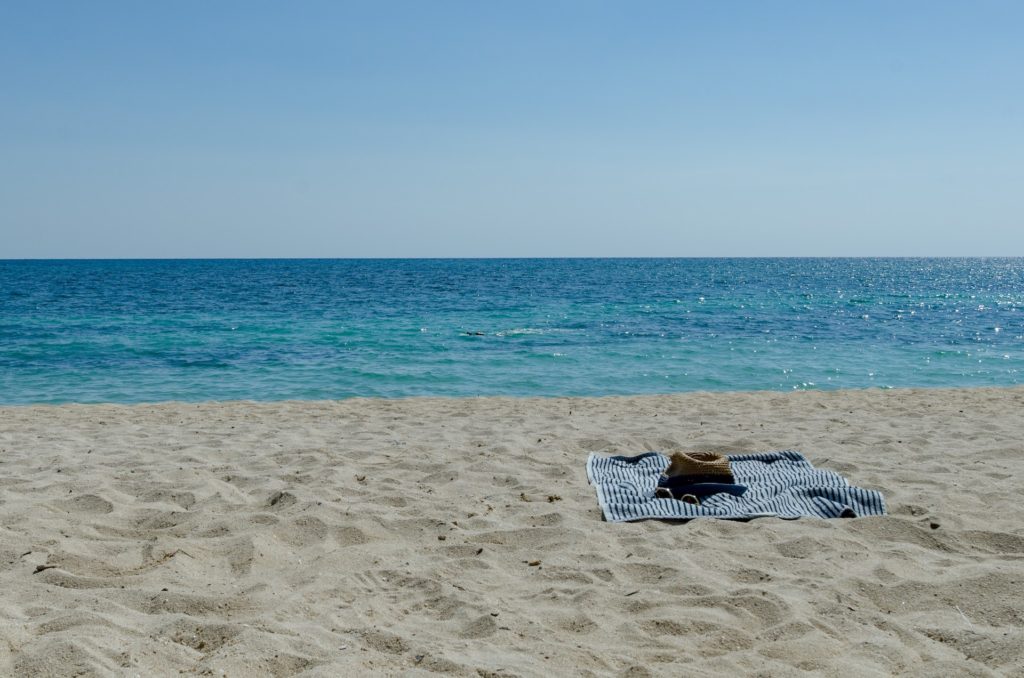 After a few hours spent on the beach we decided to go back home. Everyone besides me and Max decided to take a salsa lesson. Meeting point is the roof of our casa. Besides the great city view, we have rooftop bars on both sides of our roof. While we wait for our salsa teacher and enjoy the sunset we spot a group of people on the corner near our casa. Wow, this is a catamaran crew from Poland, what a cool coincidence. We invite them to join us for a drink and talk about sailing.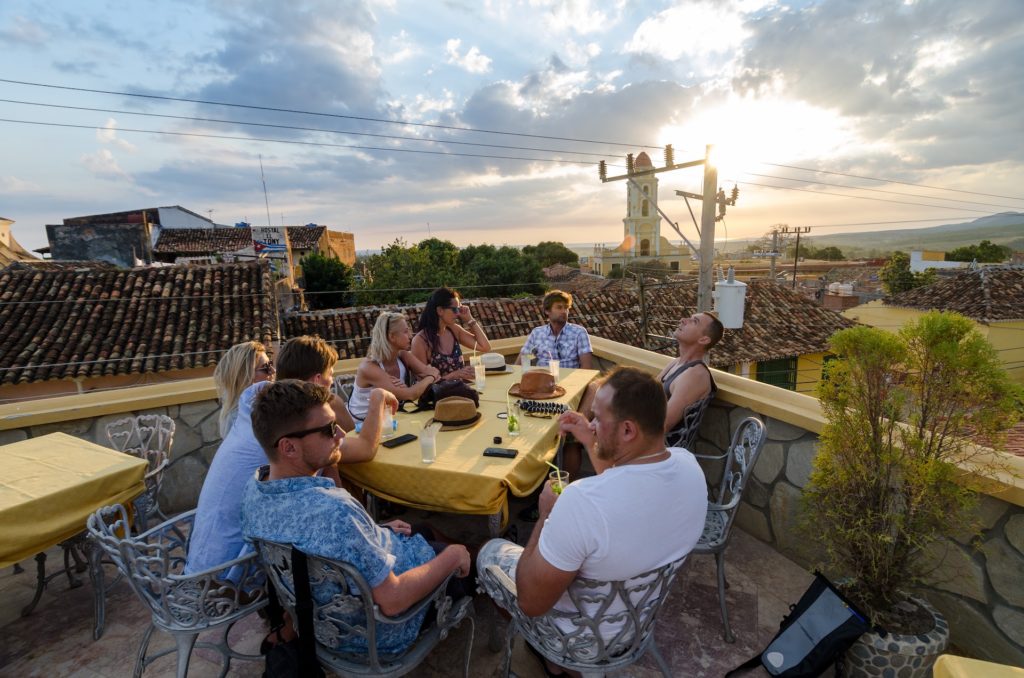 The rest of the evening we spent in the restaurant La Redaction, located in the building of a former printing house. On the way back we try to connect to the wifi on the city central square but without any success. We already used to live offline.
Day twelve
Today we leave Trinidad but we still have one unfinished business here.   We need to buy cigars. There are three different options to buy famous Cuban cigars. You can buy them in official state tobacco stores. Quality is the best and the prices are the highest. The same cigars can be bought from locals, they definitely "borrowed" these cigars from the factory, the quality is the same but prices are much lower.  And of course, there are tons of counterfeit stuff on the streets. There is always the chance to buy some cheap cigars in an expensive package.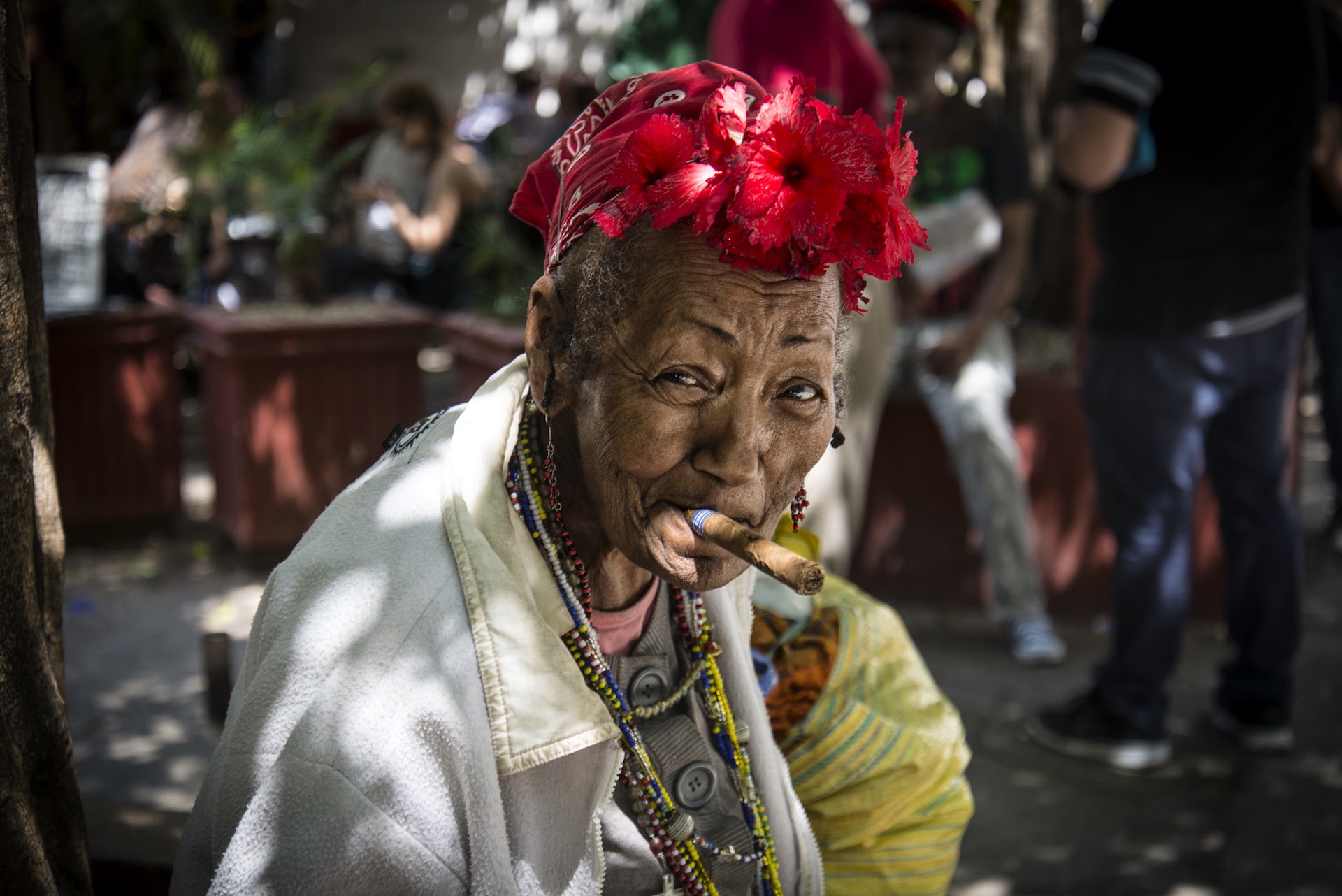 our plan for today is to visit Santa Clare. The city was taken first buy Che Guevara during the revolution. And in the evening we are going to arrive at the famous resort Varadero. Our route is going through the center of the island. Nature is much greener and here most of the tobacco plantations are located.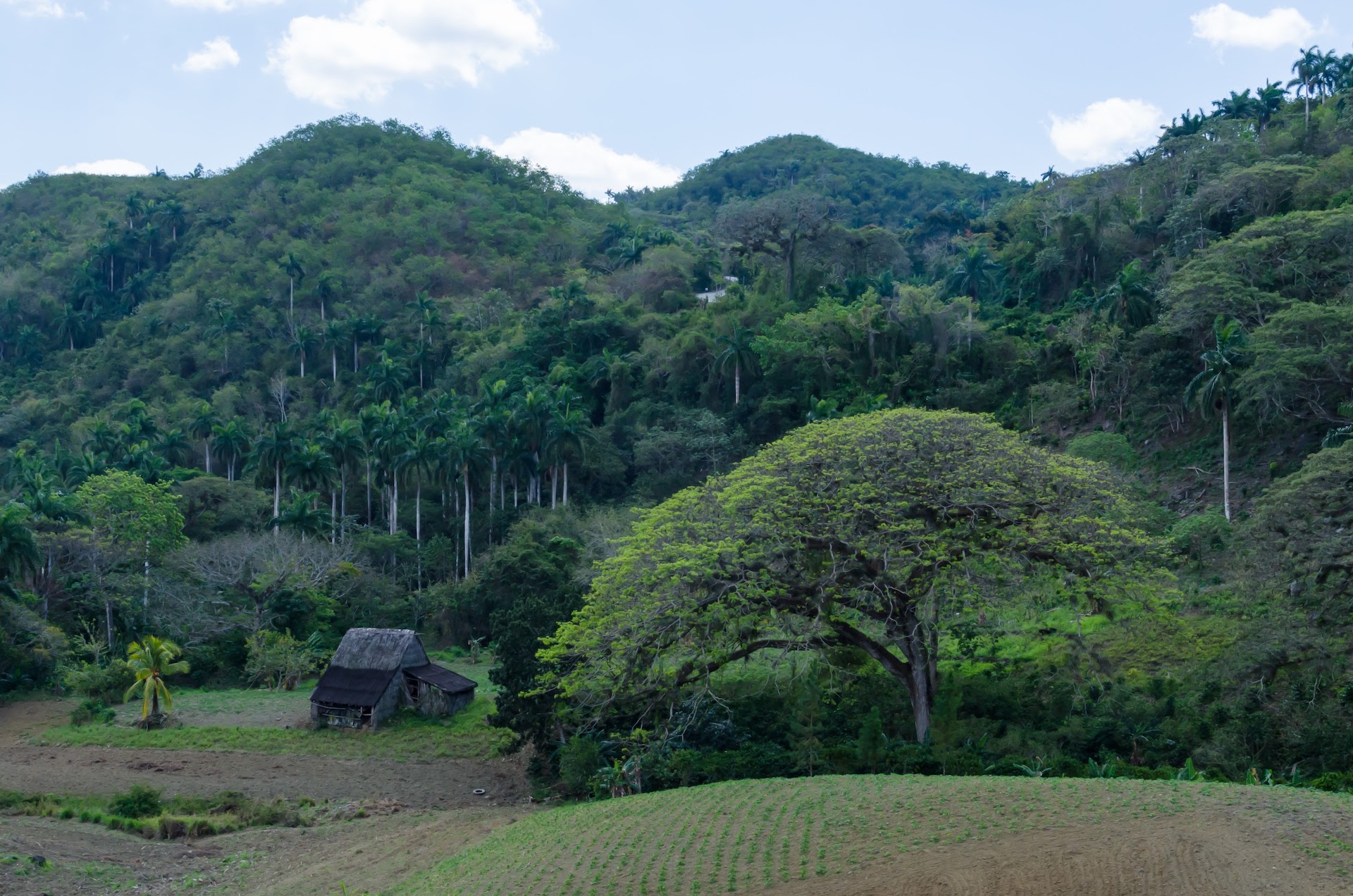 We agreed to meet near Che Guevara monument in city central square. We have got a recommendation from a friend to visit a place called El Mejunje. Nothing but the name was known to us. To our big surprise, it appears to be a punk rock bar with a cool design and big stage. There were no concerts during the daytime of course but we have a couple of beers with local punks. Santa Clara is not a touristic city but I recommend to visit it for sure.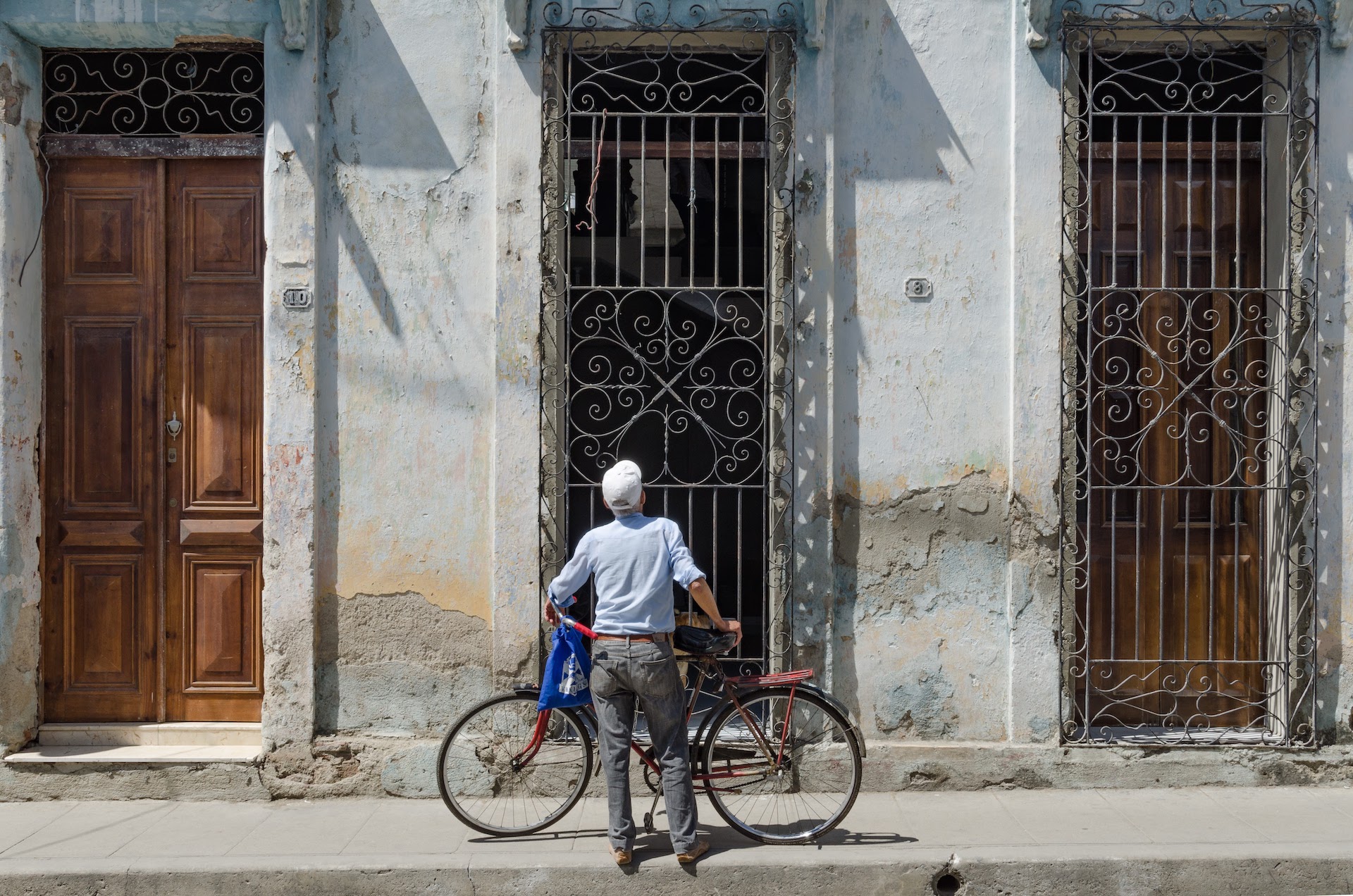 The first part of the route to Varadero we drive on a major highway but then navigator leads us to a country road. It goes through many tiny villages, they look extremely poor,  the most advanced vehicle we saw was a bicycle. Locals seem to be very surprised to see foreigners, this area is definitely not marked on tourist maps.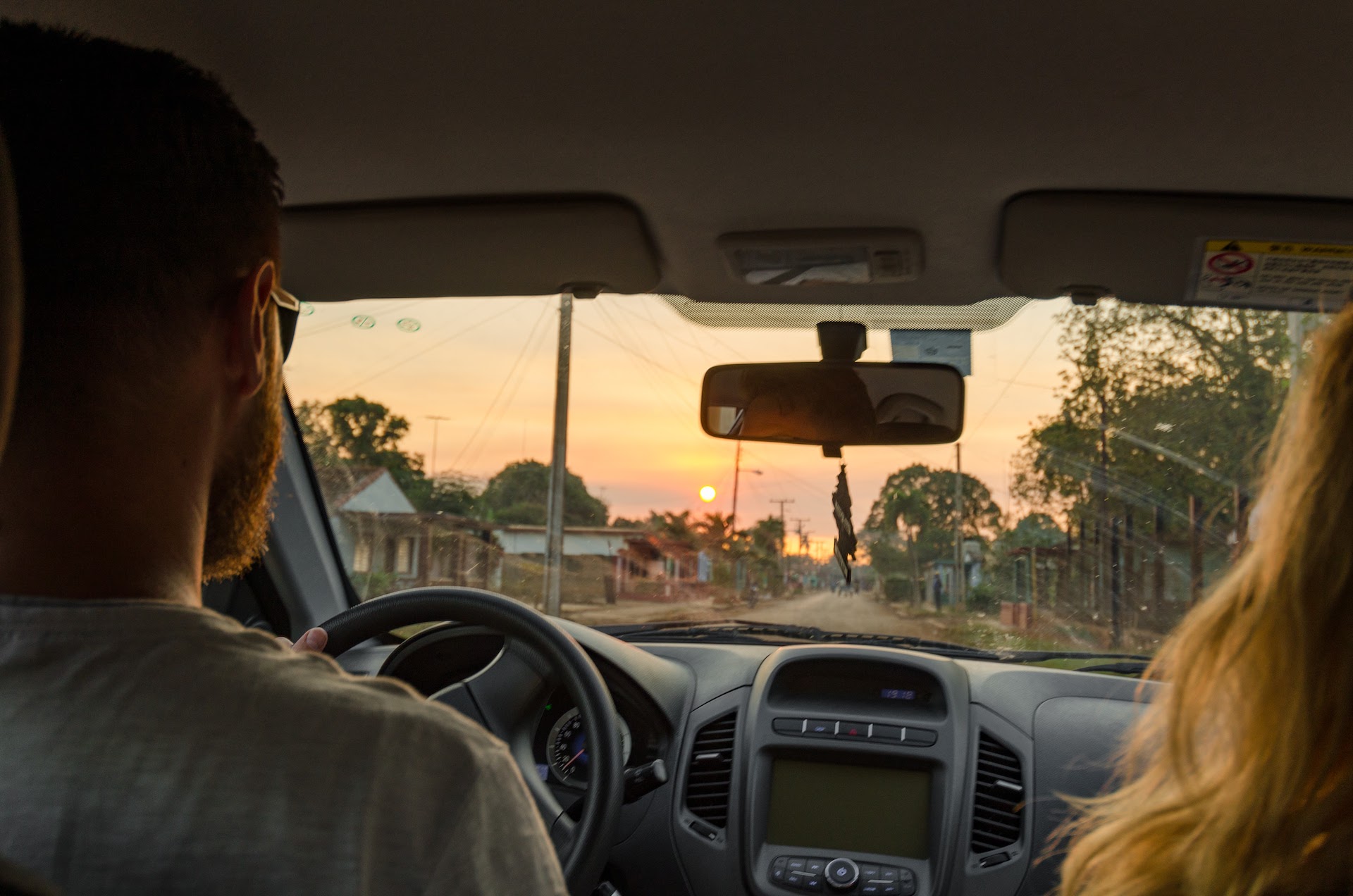 We reach  Varadero late in the evening. After finding suitable casa and a place to eat we went straight to beds, everyone is tired after a long day.
Day thirteen
We are going to visit the two most famous spots in Cuba. The day we are going to spend on the beach of  Varadero resort and in the evening we arrive in Havana.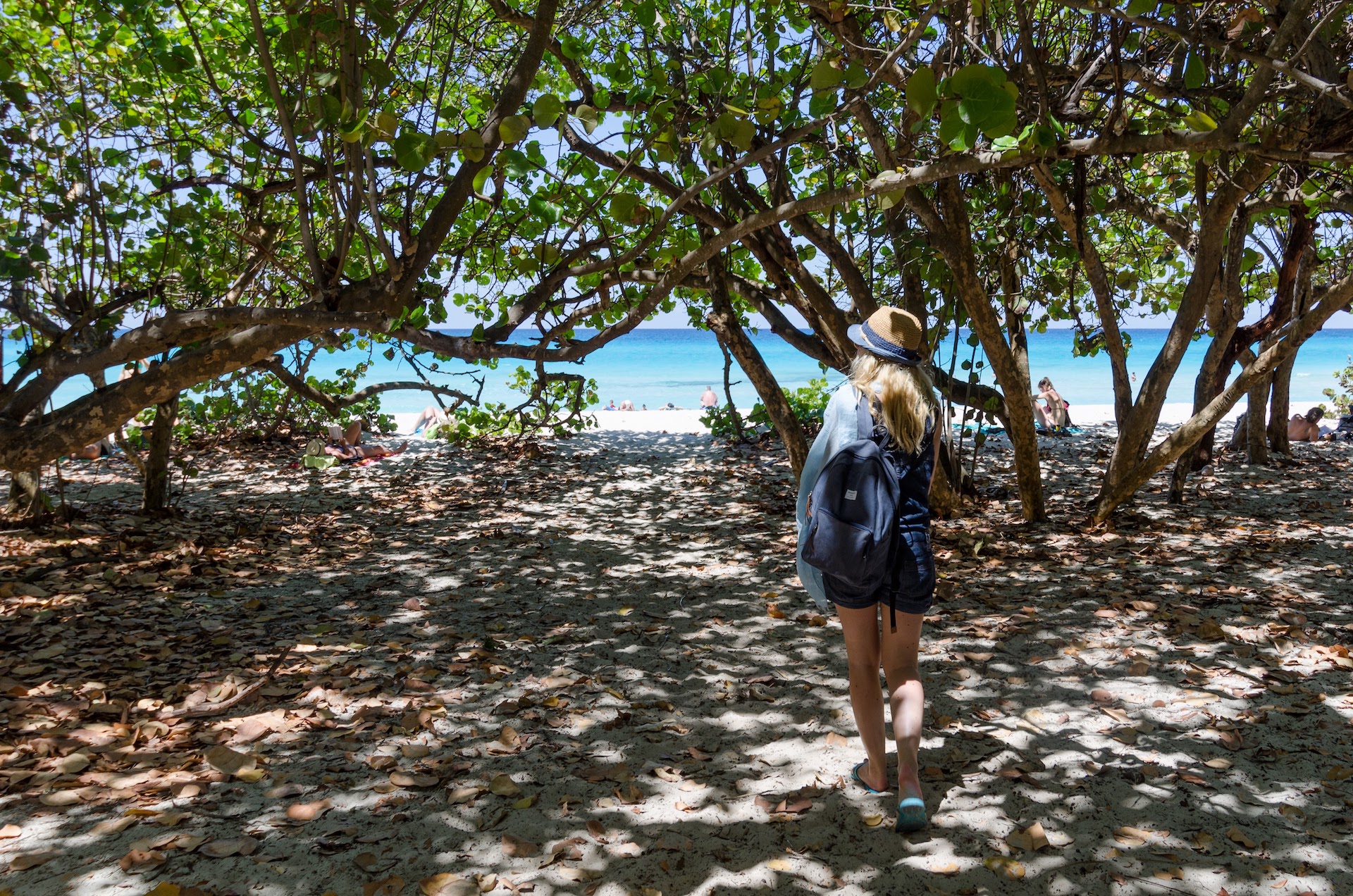 We start exploring Varadero from the most remote part on the south of the peninsula. All the luxury hotels are located there, private yachts are moored in the local marina, the place is tightly secured and personal in white closes are everywhere. Looks cool but it's not why we are here. The purpose of our visit is the famous local beaches. White sand, crystal blue water, bars, and different sports activity. Everyone can find something interesting.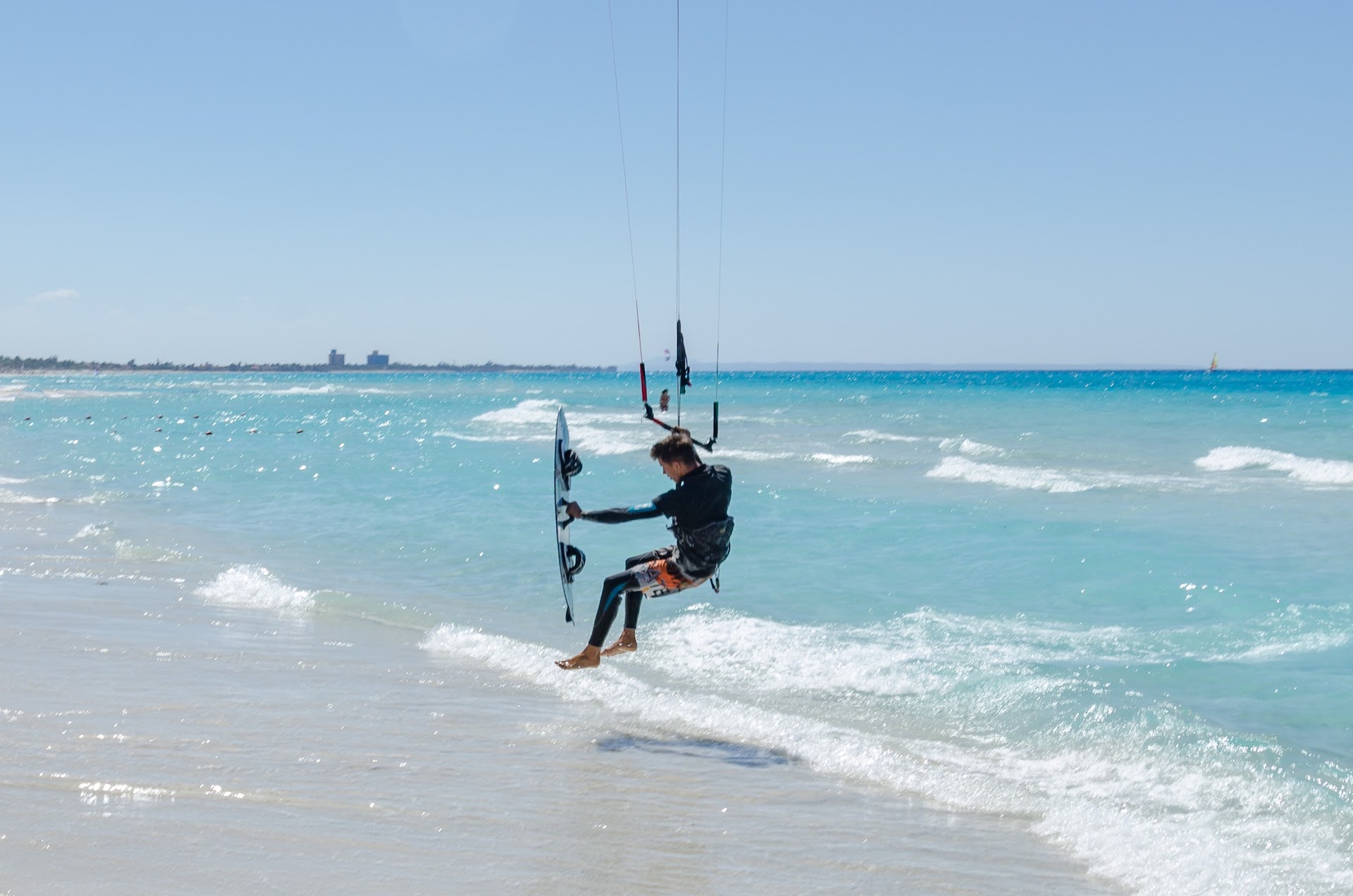 The day at the beach helps us to restore energy and relax before the last part of our adventure – Havana. It took us two hours to drive there. The road runs along the sea coast and the sunset looks spectacular.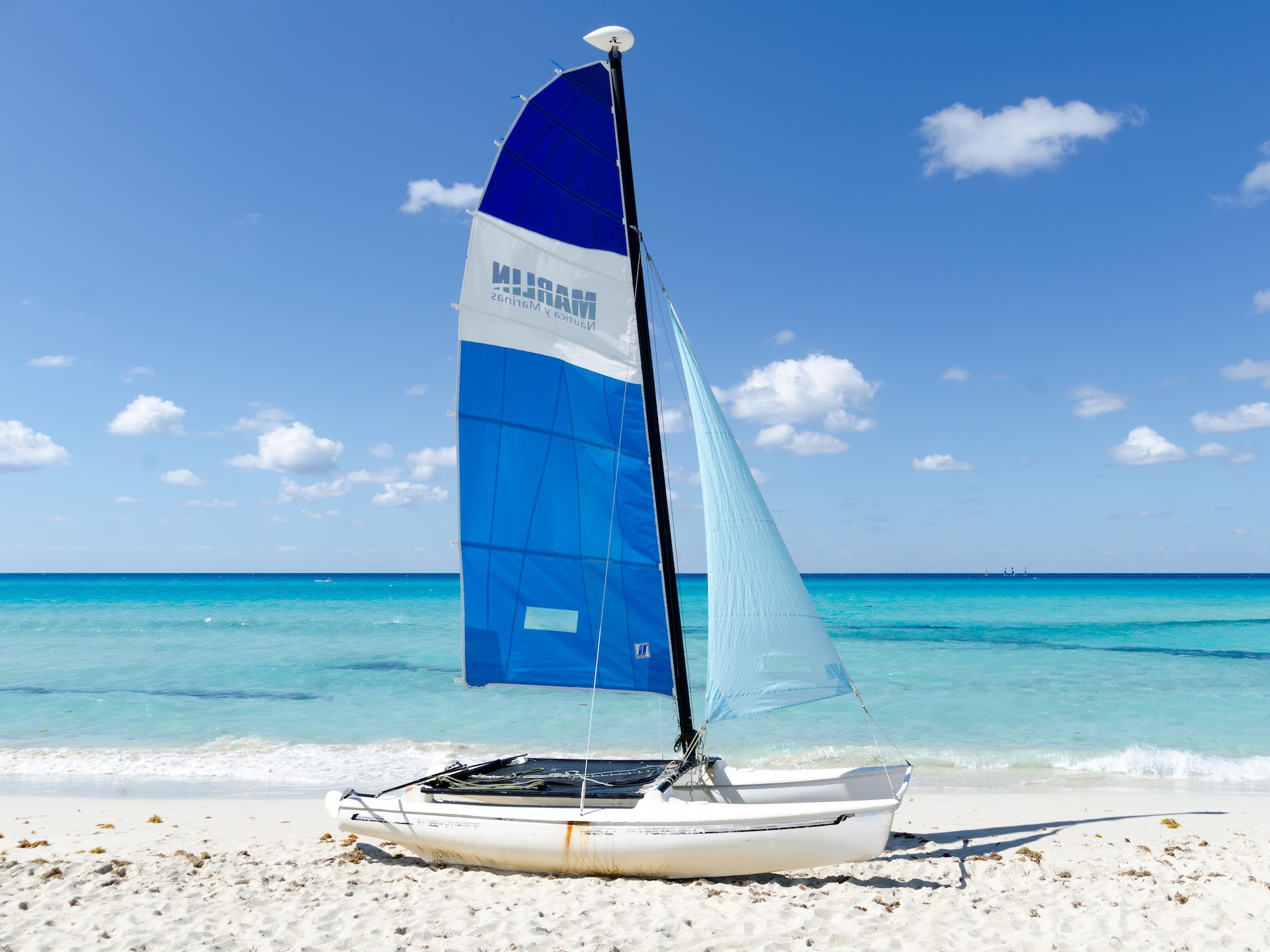 We are going to stay in Havana for 3 nights and we need to find a good casa. It's a challenging task to find something suitable and available for 12 people. All cases in the historical part of the city Habana Vieja are full. But we were lucky we find a perfect place. Just after renovation, spacious and perfectly located with a price tag 30 cucs for a room. It's a good deal.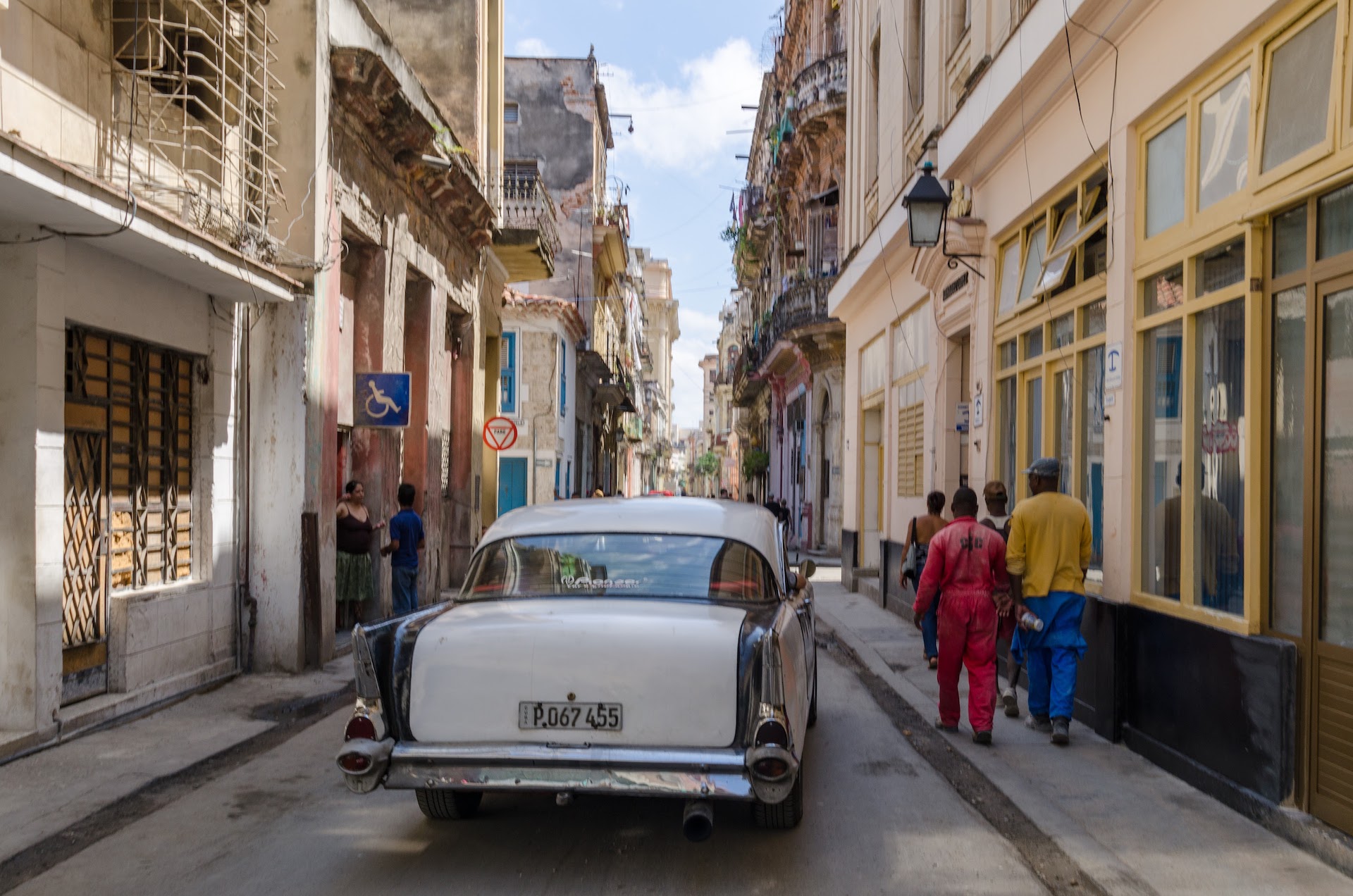 Everyone are very hungry and we went looking for a nice place to eat. Few districts away we found a great fish place. Another interesting thing about Havana that everything closes early. At 11 in the evening, it is hard to find an open bar and the streets are almost empty. But going to bed was not on our agenda and we decide to look for an open bar. It takes some efforts but we found it. There we met another guy from Poland with his girlfriend she is local but not living in Cuba for a while. They suggest continuing evening in a local night club. Clubs in Cuba are way different from Amsterdam but what a hell party is a party. We stay there till closing and finish our night at Malecon.
Day fourteen
The morning was late and chill. The best thing about Cuban rum is the complete absence of hangover. Around noon we went to find a nice place for lunch but we find something much cooler.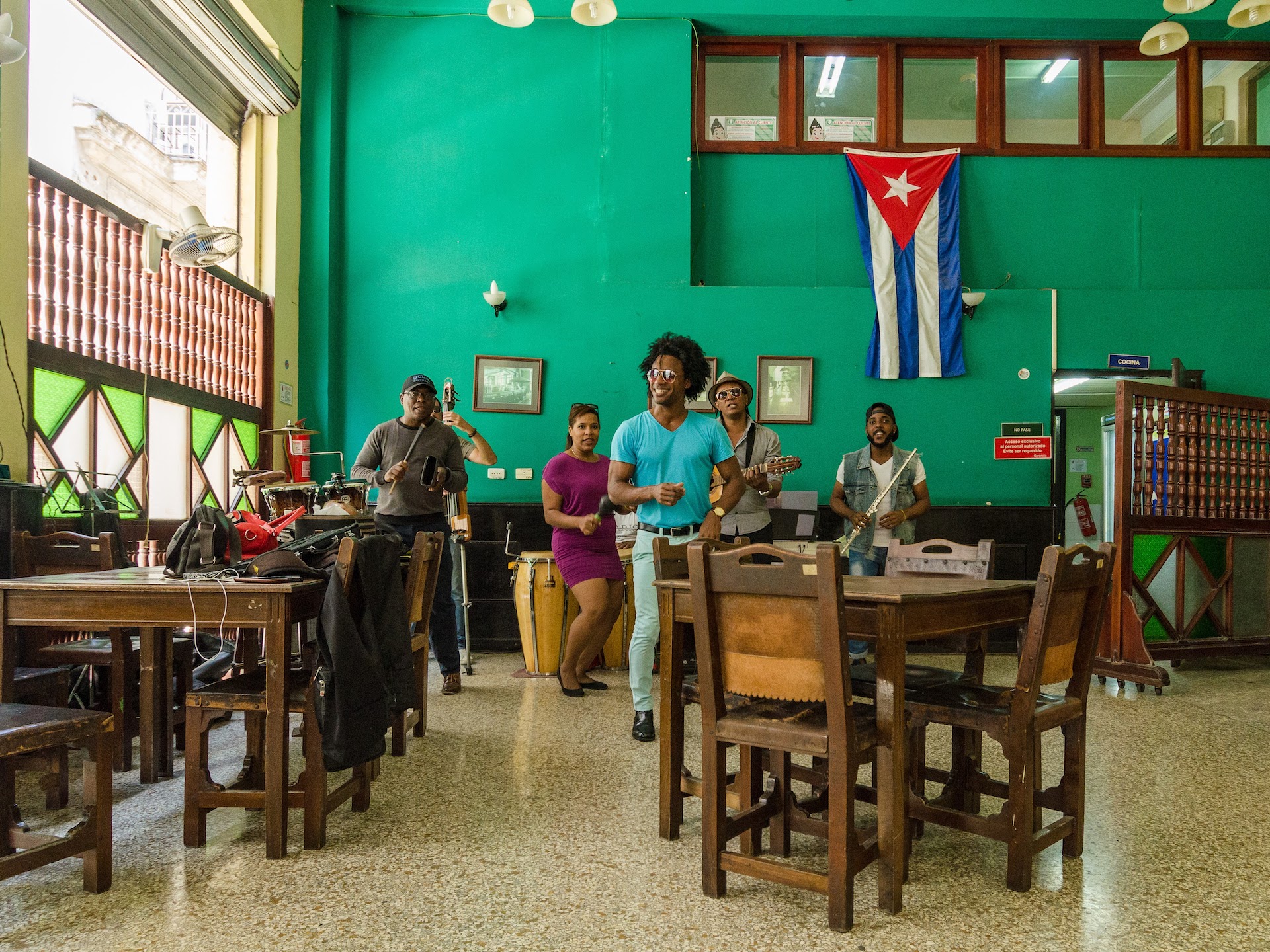 Few minutes after we made an order on the stage of the bar we chose band starts preparing for the performance. What an awesome begging of the day. Music has a special place to live in Cuba, it's everywhere.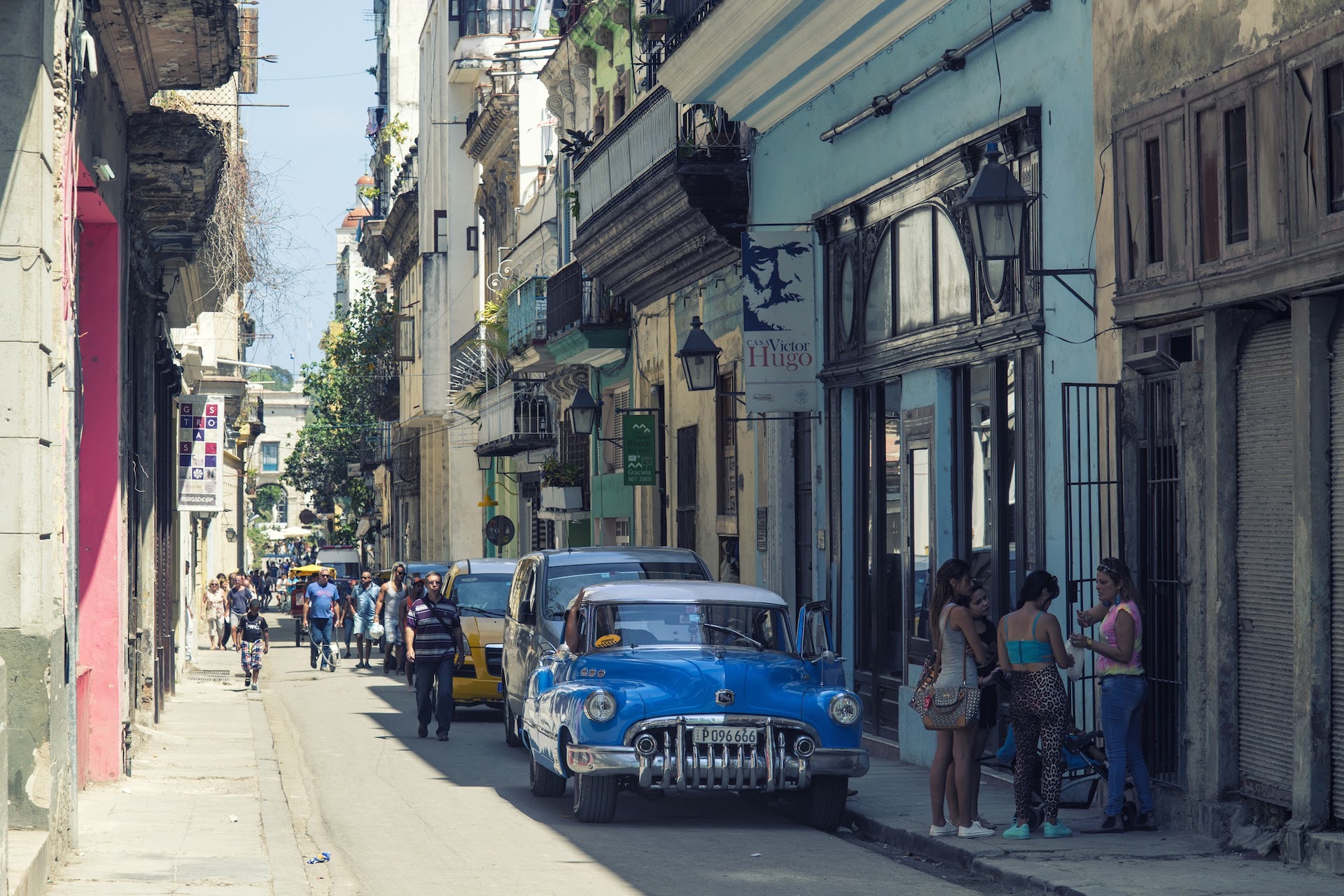 The second part of the day we spend getting ourselves familiar with other Cuban tradition – bureaucracy.  It appears much harder to return rented cars than we expected.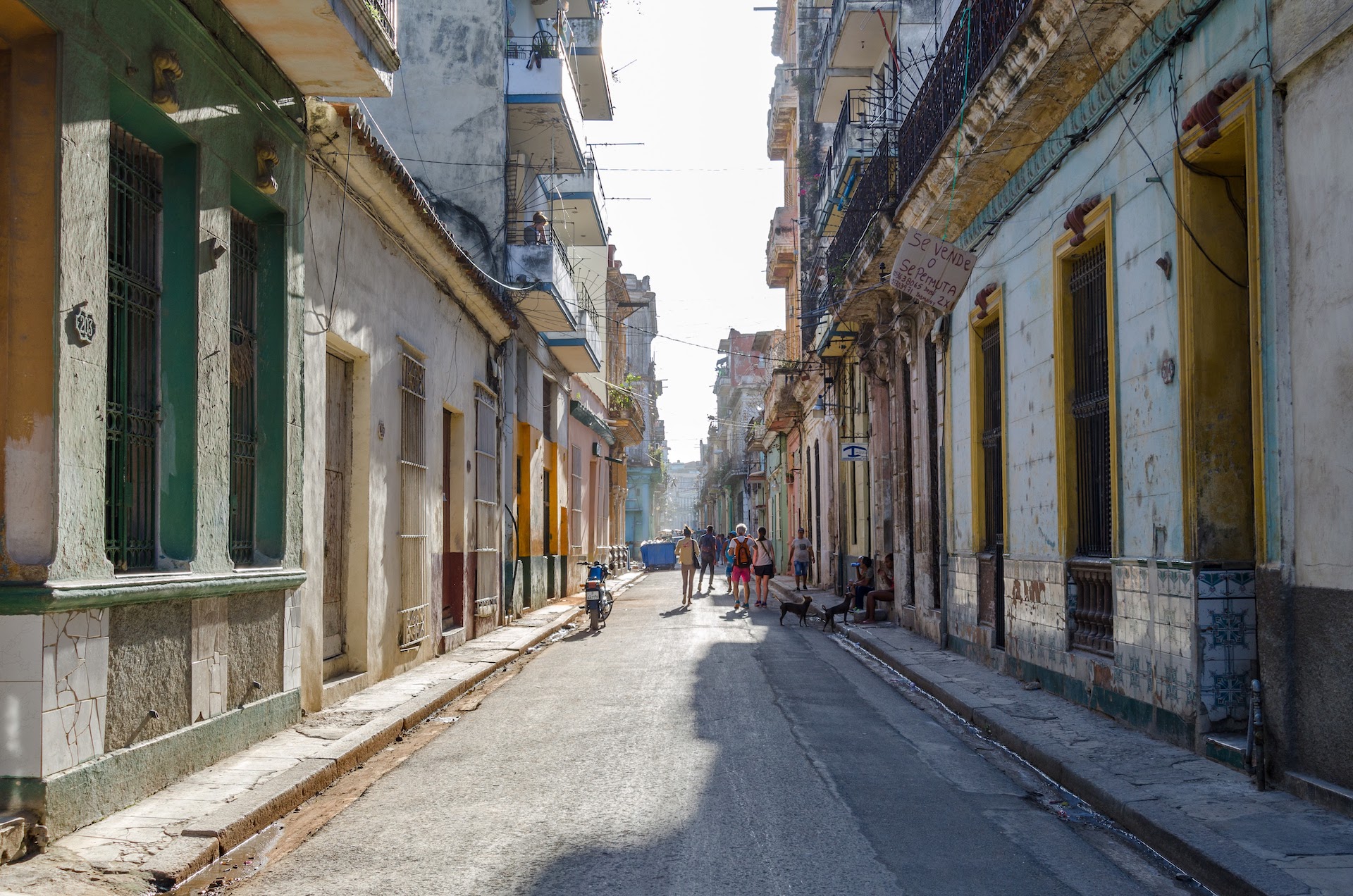 After all important business is settled we wandered off to explore the city.  In the evening we decide to have dinner all together and once again in a restaurant the was former printing house. The place is very cool, beautiful interior, live piano, and good food.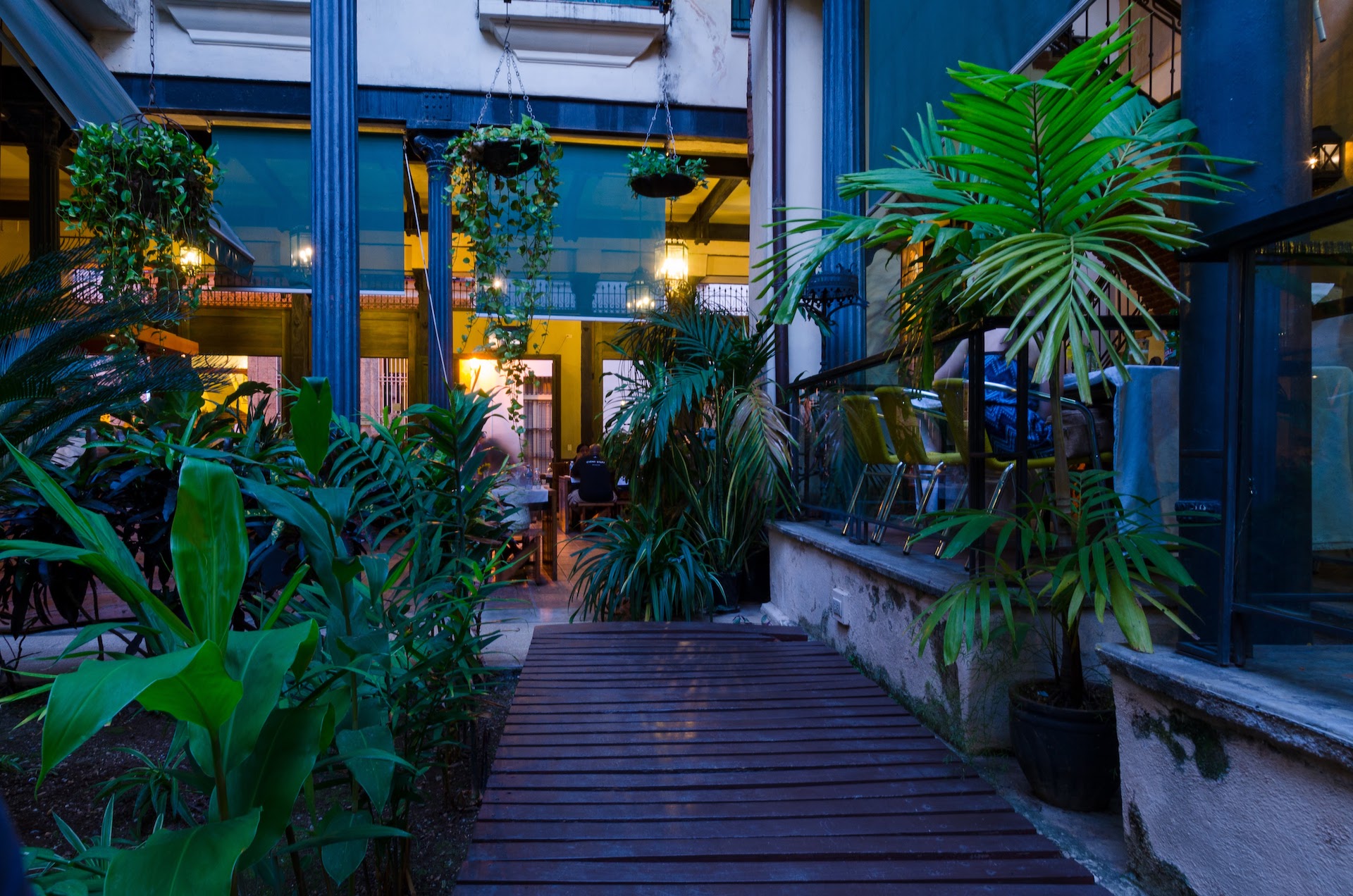 Day fifteen
Today we have a full day for proper city exploration. Havana is a special place, colonial architecture, salsa, old American cars, and cheerful Cuban people. First, we went to check out Capitol. Districts behind it are not popular among tourists and here you can see real Havana.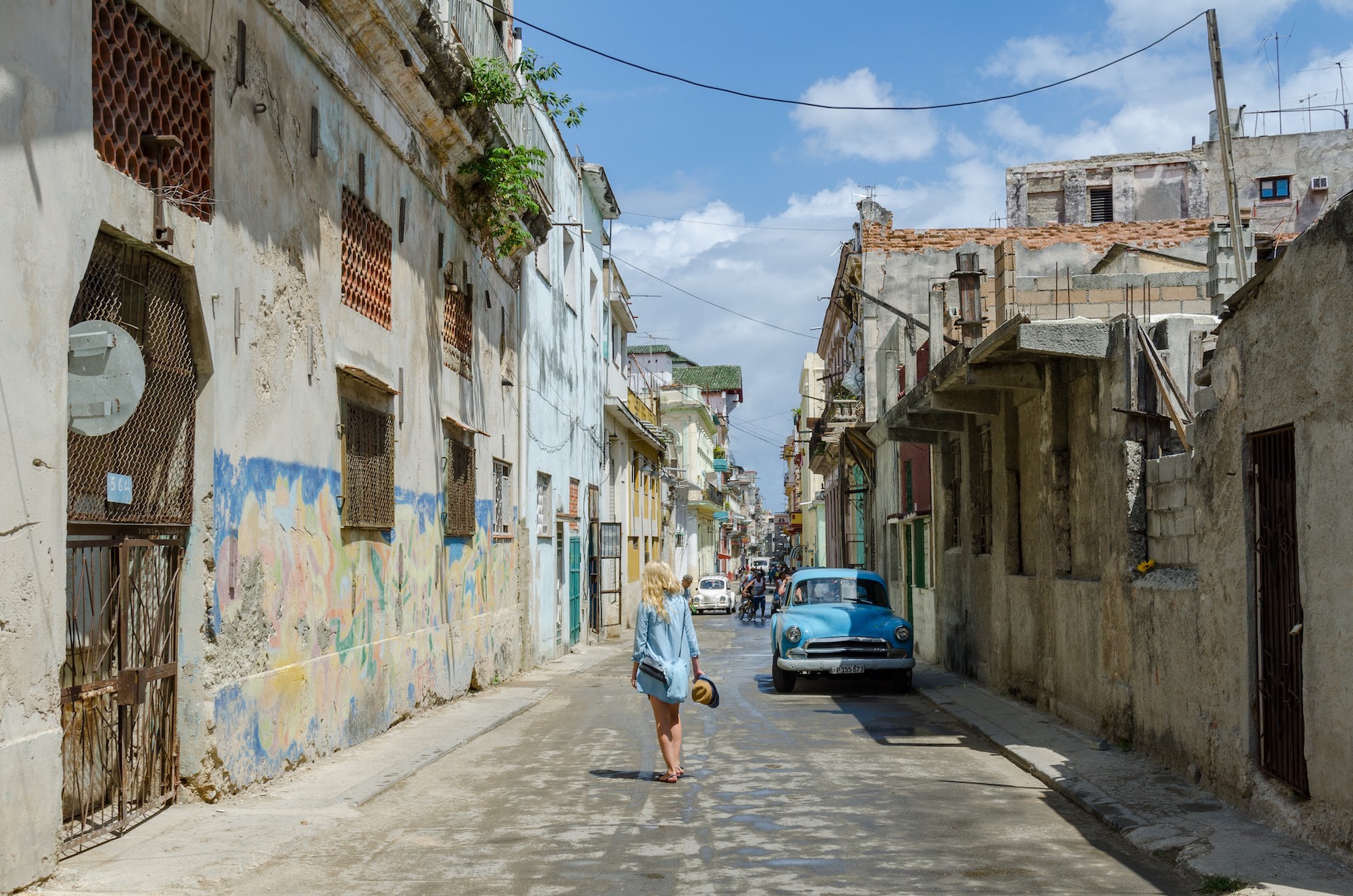 The city is in a bad shape, locals are living in quite harsh conditions. For example, there is no running water and water is supplied by tracks.  But seems like local people are not desponded and looks happy.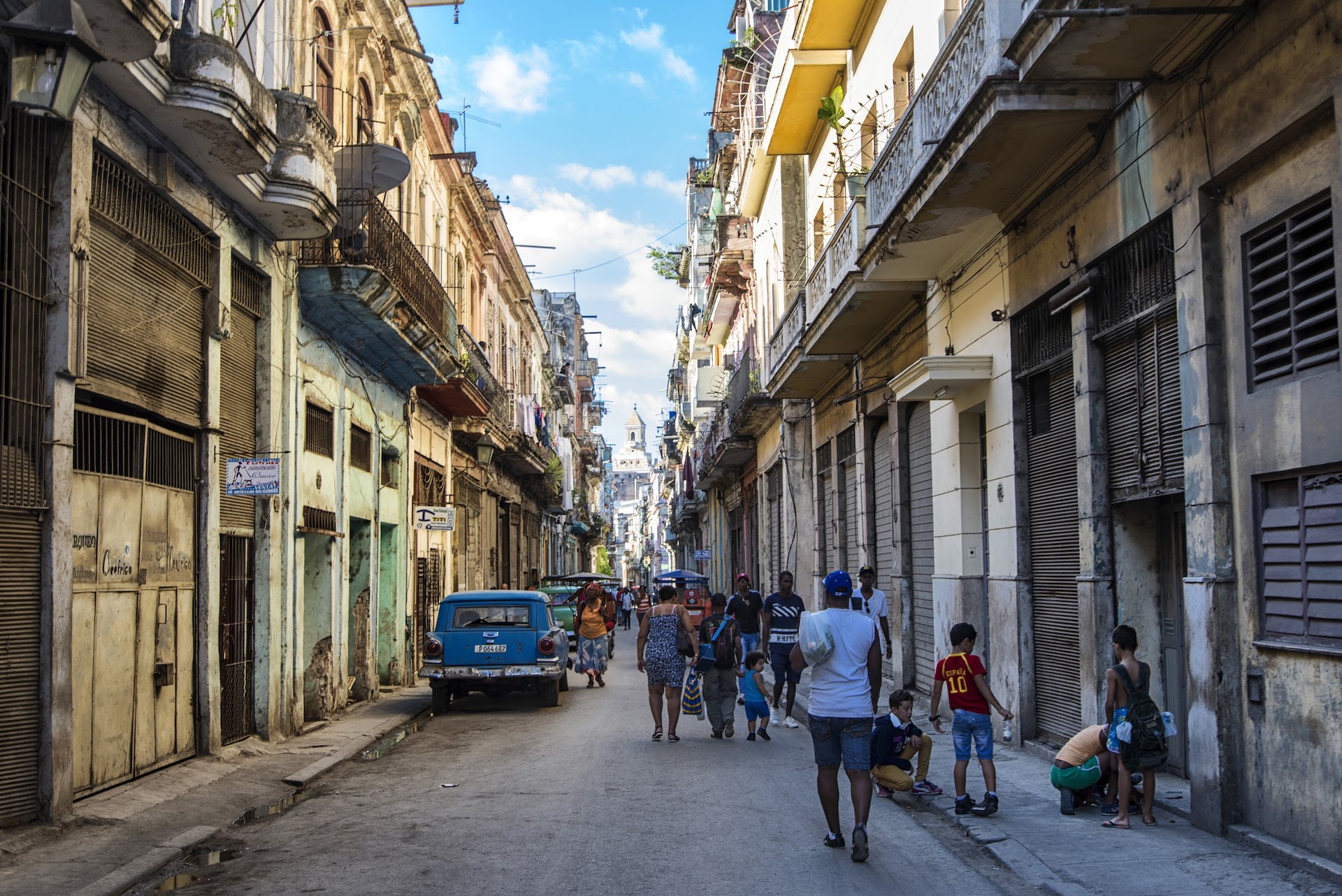 Besides unreal architecture, Havana is full of retro cars. It feels like an open-air museum, you can find almost any American car here produced between 1930 and 1960. Most popular are: Ford, Chevrolet, and Oldsmobiles.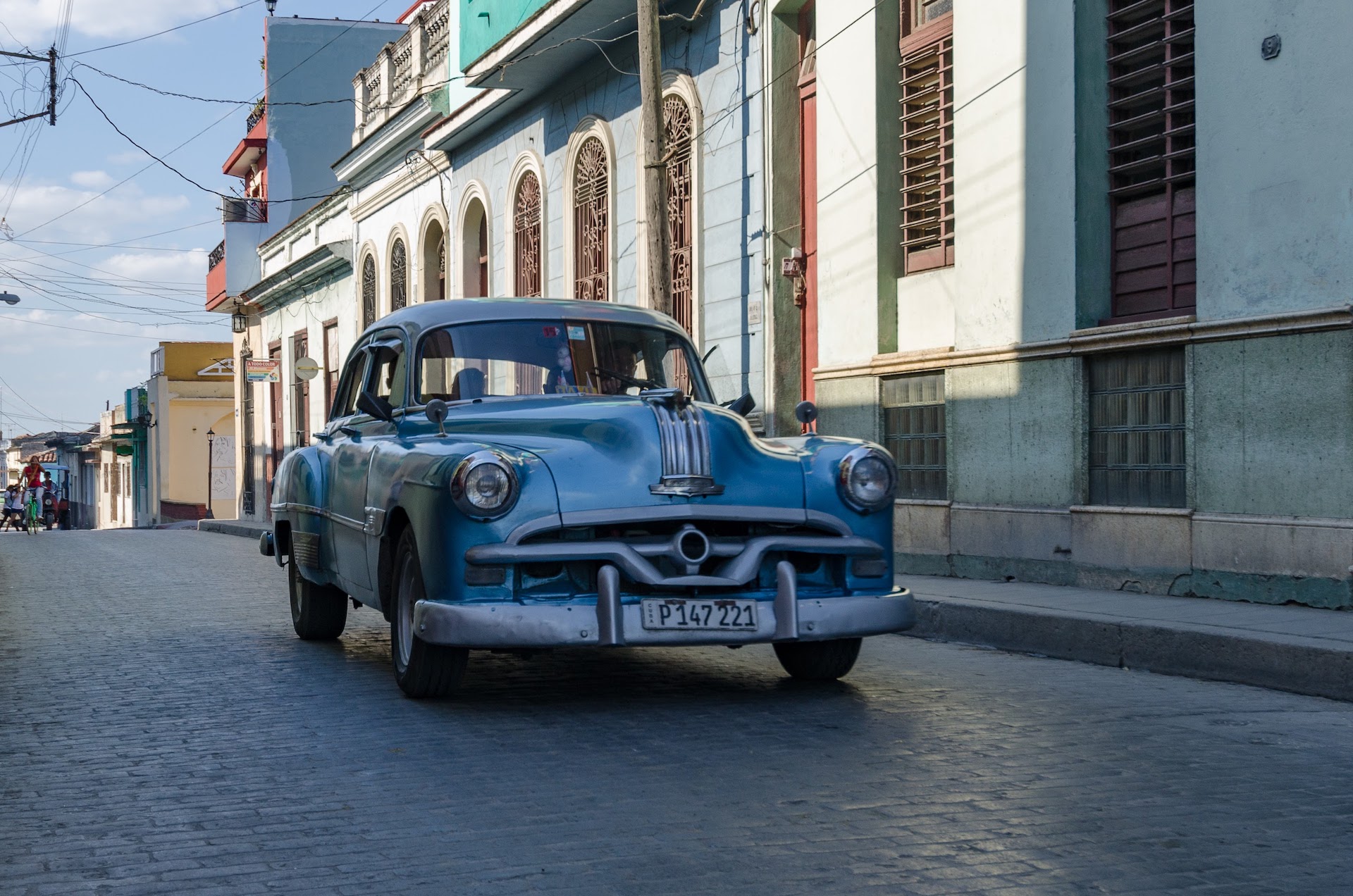 It would be a huge miss not to take on of these amazing cars for a ride. We are going to central square to look for a retro taxi.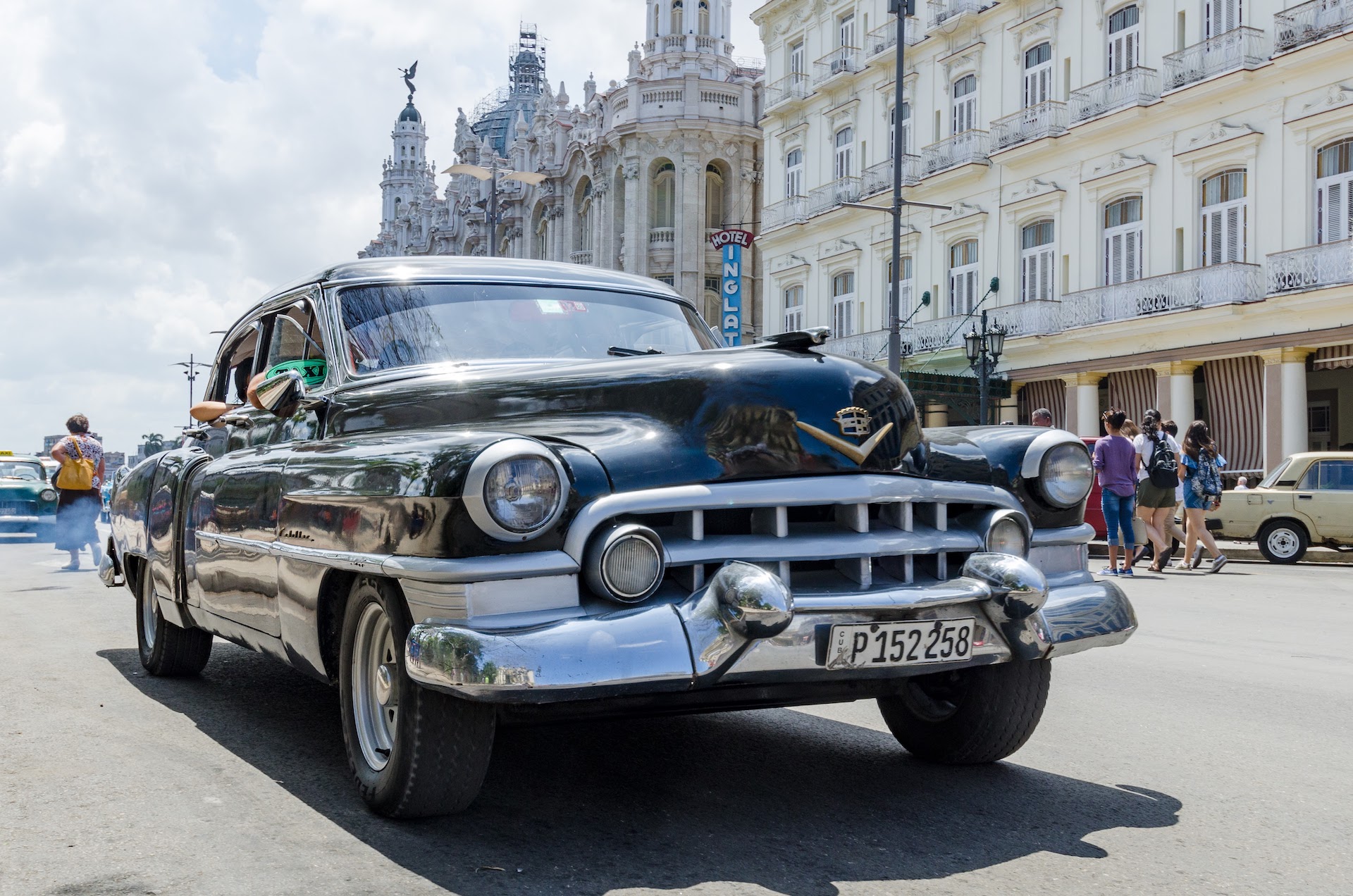 The choice is really huge. You feel like a visitor to the Fifties car show.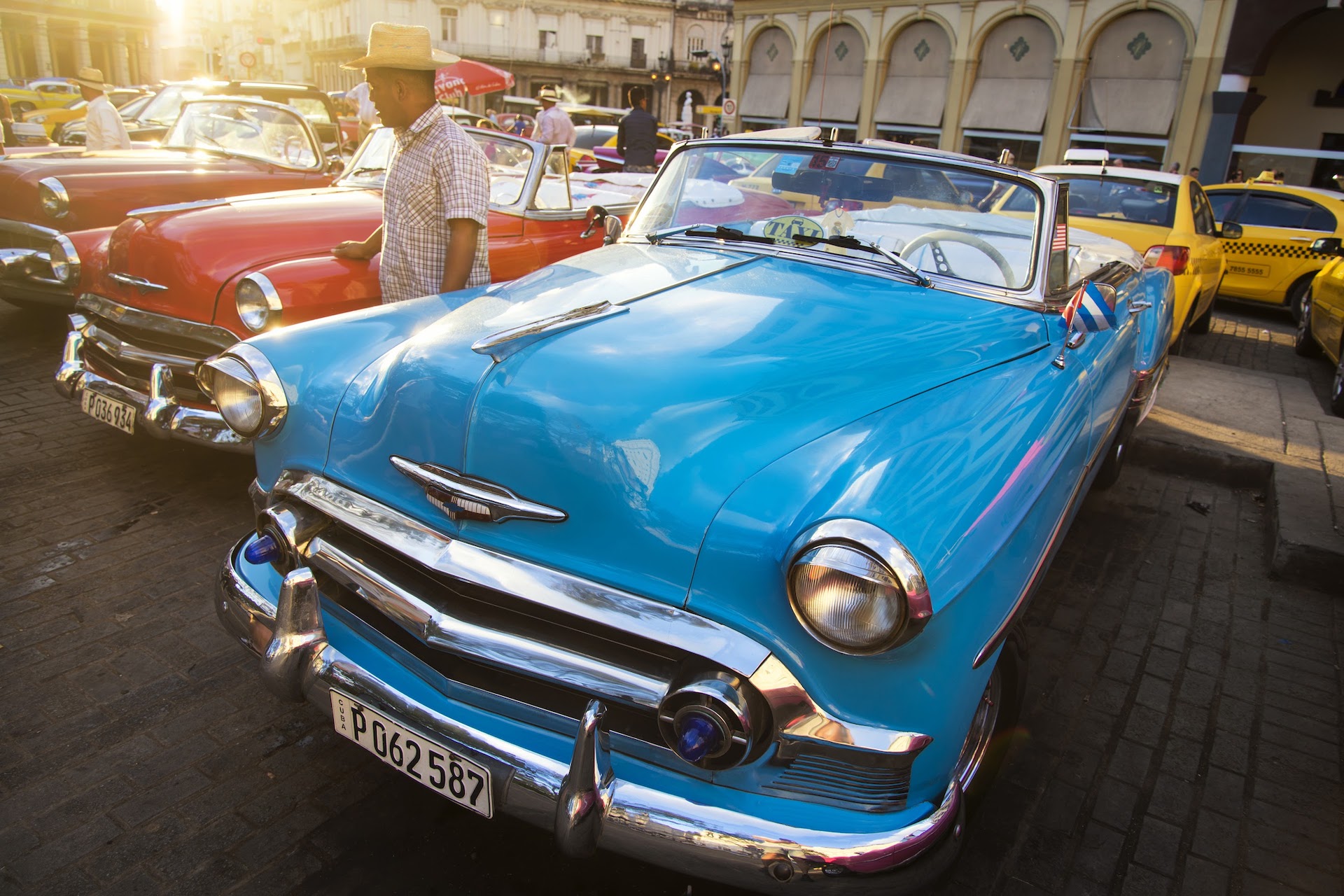 After finally choosing three cars we are going for a ride. For a 50 cucs, enterprising Cubans will take you for a two-hour tour of the most iconic places in Havana in a convertible. Awesome experience, definitely worth it.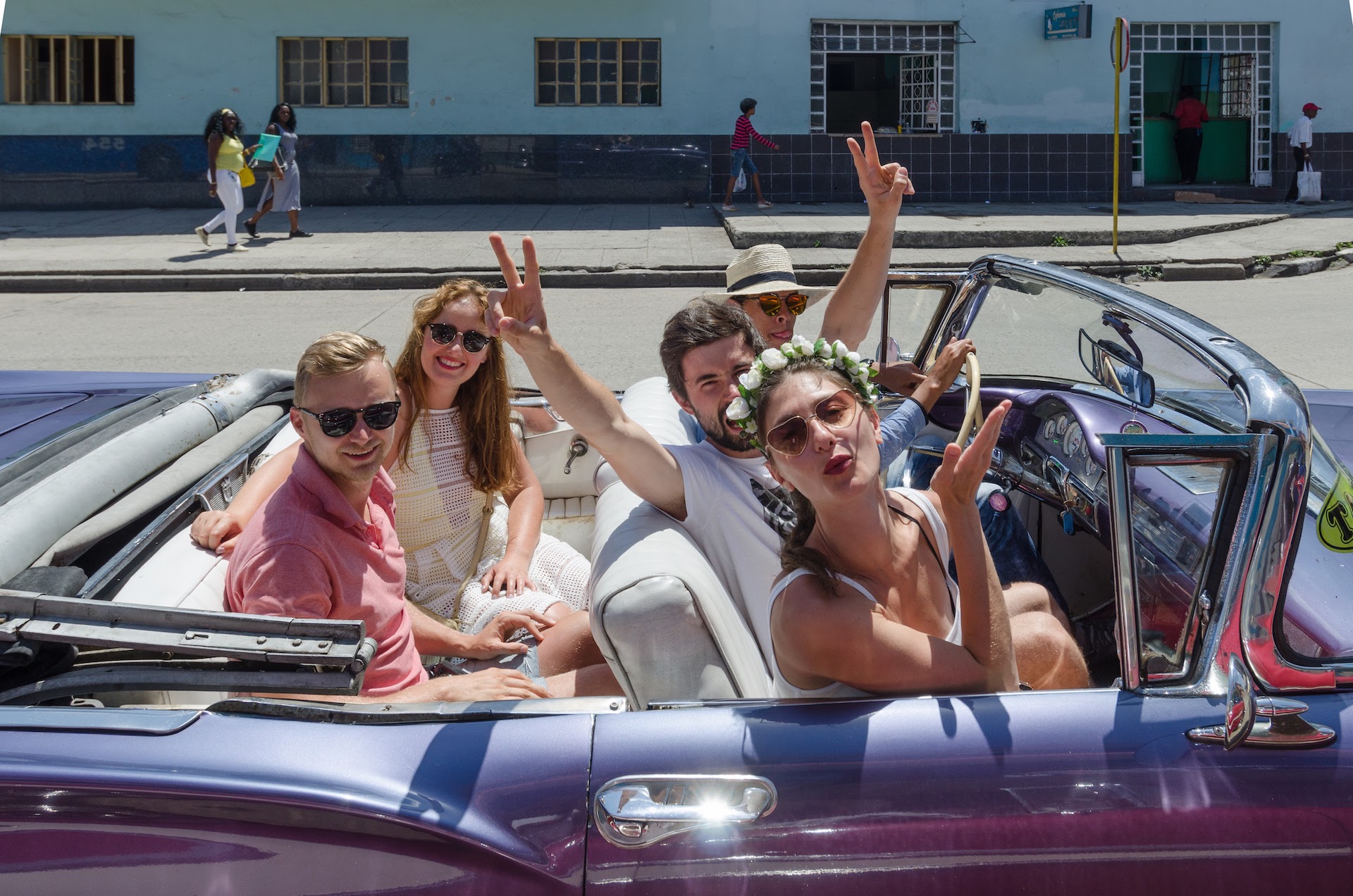 Now we need to buy some rum and cigars for our friends at home. And after we are done with the shopping we head to Malecon to see a sunset on a balcony with a sea view.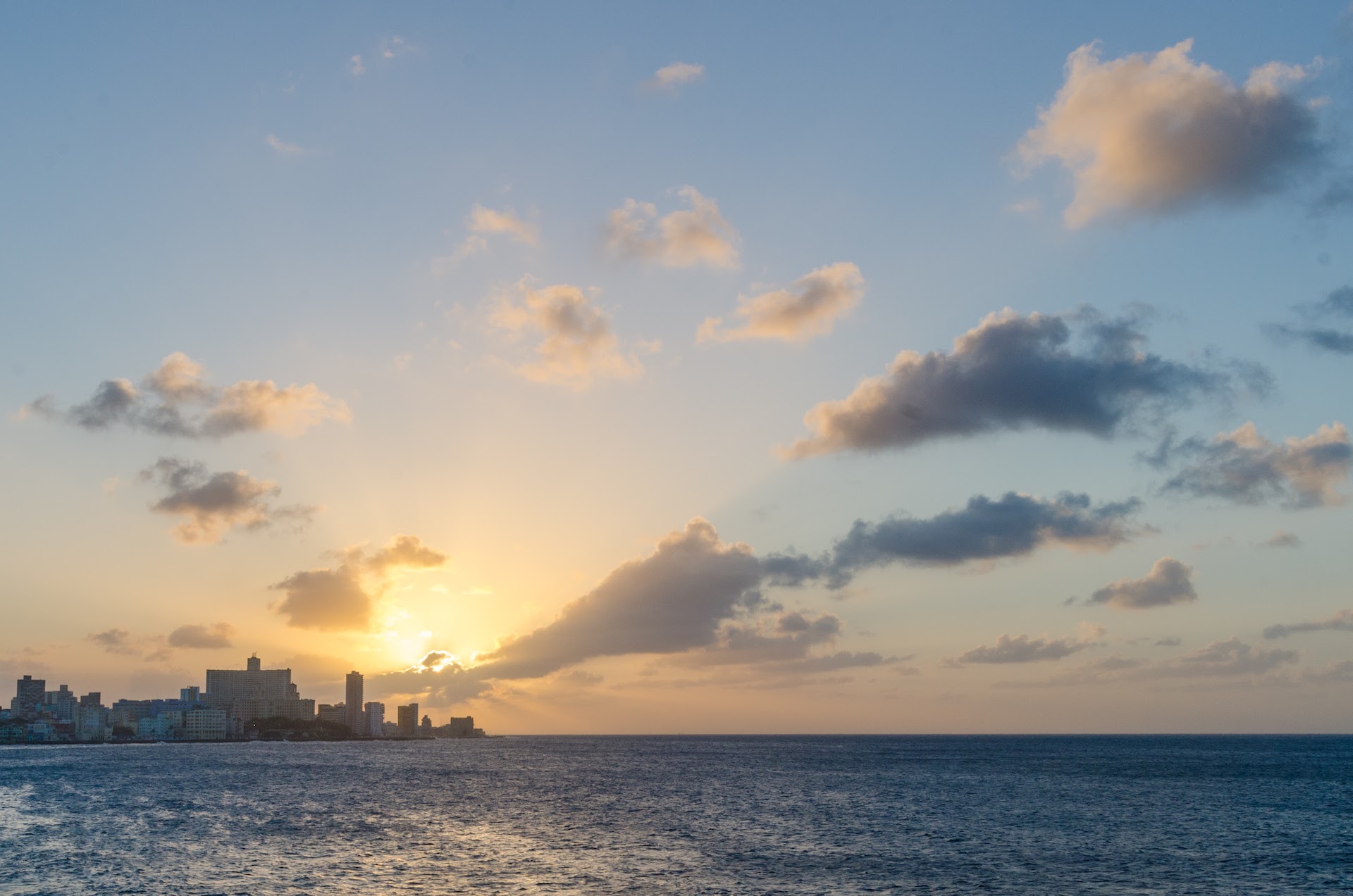 But it's only the beginning of the evening, we have a cultural program today. With the whole group, we are going to a place called Art Factory. This place is nothing like we see in Cuba before. It is a club and art gallery, such a concept would be a perfect fit for Amsterdam. Most of the visitors are Europeans but the bar is still Cuban everyone seems quite drunk and happy. This is our last evening in this beautiful and unusual island, we have a great two weeks and there is no desire to leave this place.
Day Sixteen
The owner of the casa woke us up and gently hinted that it was time to go, after all, it was already past eleven. After packing our bags we are going to look around Havana for the last time. Before the departure we decided to go to one of the previously noted bars – there I tried the best cocktail I had in Cuba. Mix pickle, rum and chili sauce and here you go – Cubita.  Best hangover cocktail ever. Yes, I forgot to tell that the bar is on the roof. Great final to our Cuban adventure. We don't want to leave, Cuba is beautiful, friends are around, what else is needed. Reluctantly, we call a taxi and headed to the airport.