British Virgin Islands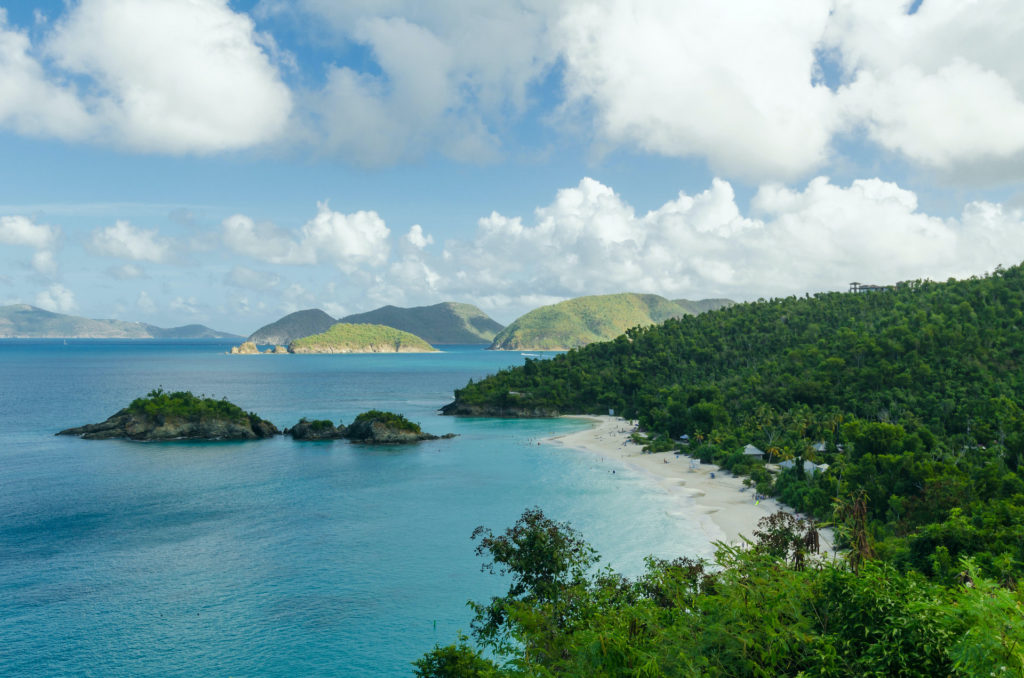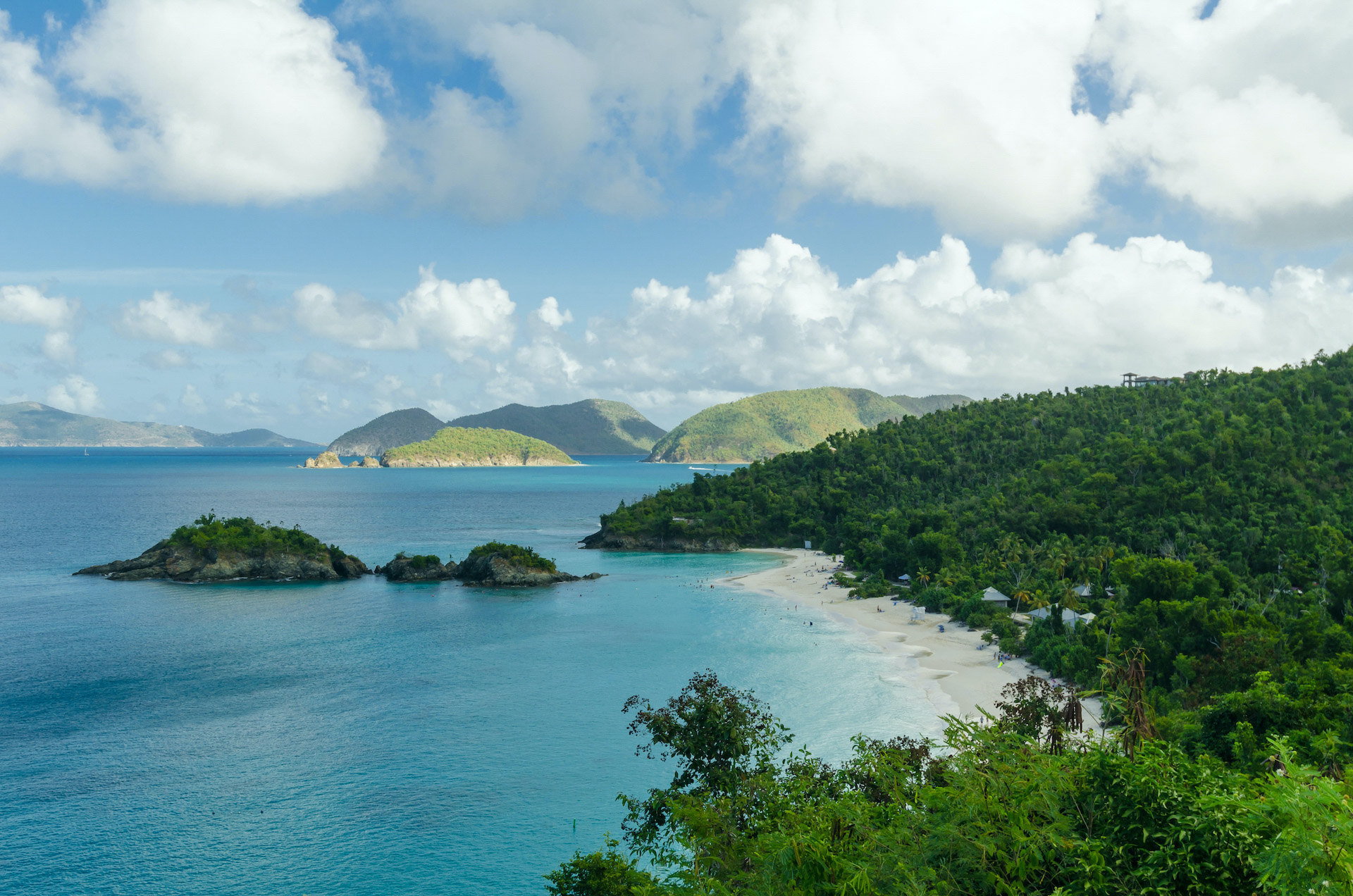 Day one 
To escape the cold and rainy autumn in Amsterdam we decide to pay a second visit to the Caribbean, this time we're going to British Virgin Island. Getting to Tortola, the main island of BVI is an adventure on its own. There are no major airports on the island and only a small aircraft can land at Lettsome Airport. So we take a connecting flight with an overnight stop at  Saint-Martin.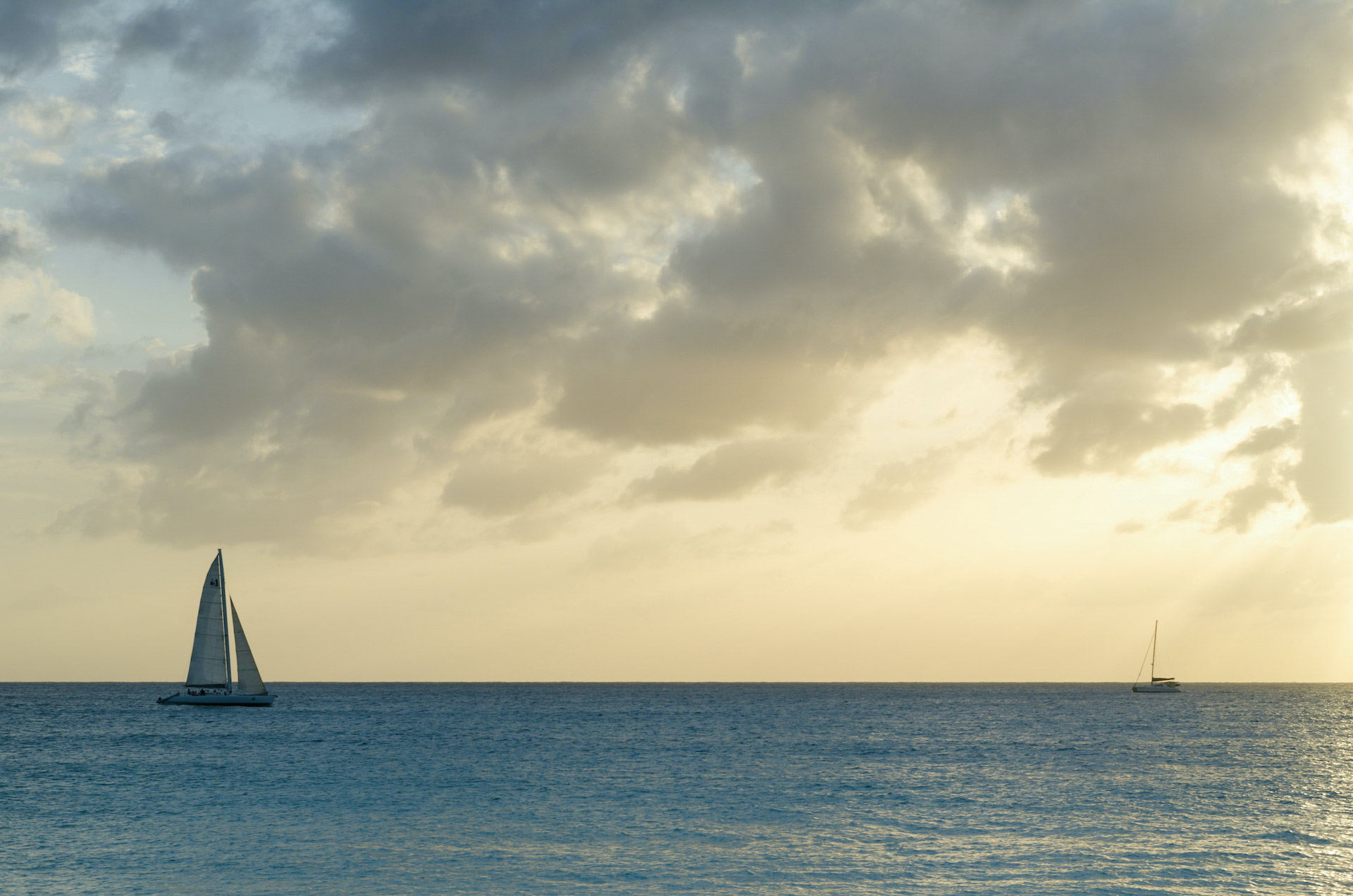 First thing upon arrival we notice several interesting aspects of the island, first of all, the region is heavily affected by its proximity to the US, it is easy to tell by the size of things, like hotel rooms, cars, portions in restaurants and so on. For example, our hotel room has not one but two jacuzzis, and the price per night is not that high. It's the beginning of the season at the hotel is almost empty, another interesting feature is Christmas decorations and carols among the palms. We decide to start our evening in the hotel bar, what's more, it's happy hour. For food, we choose a truly American BBQ place with a very friendly owner and a really cool vibe. 
Day two 
It's time to catch our flight to Tortola, BVI. On the way there we stop to get some cash, most of the businesses only accept US dollars around here. The flight is an adventure on its own, it takes 45 minutes by plane in which the cockpit does not have a door and I was able to touch opposite walls with my hands at the same time.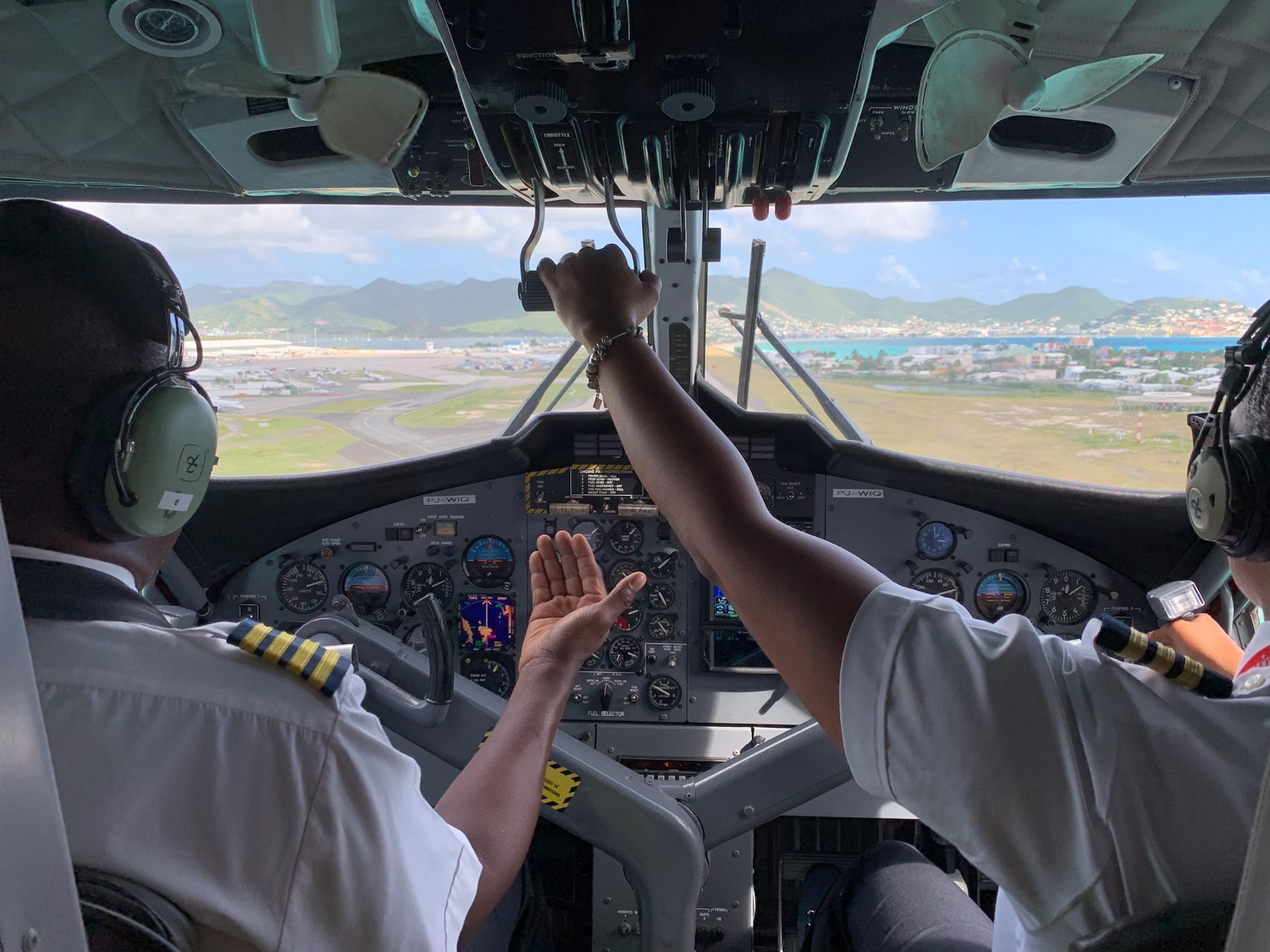 Upon arrival, we take a very expensive taxi straight to the marina in the middle of the island. During the ride, we witness the devastation caused by Hurricane Irma. There are still plenty of sunken boats in the bays and onshore, many buildings are in a very poor state.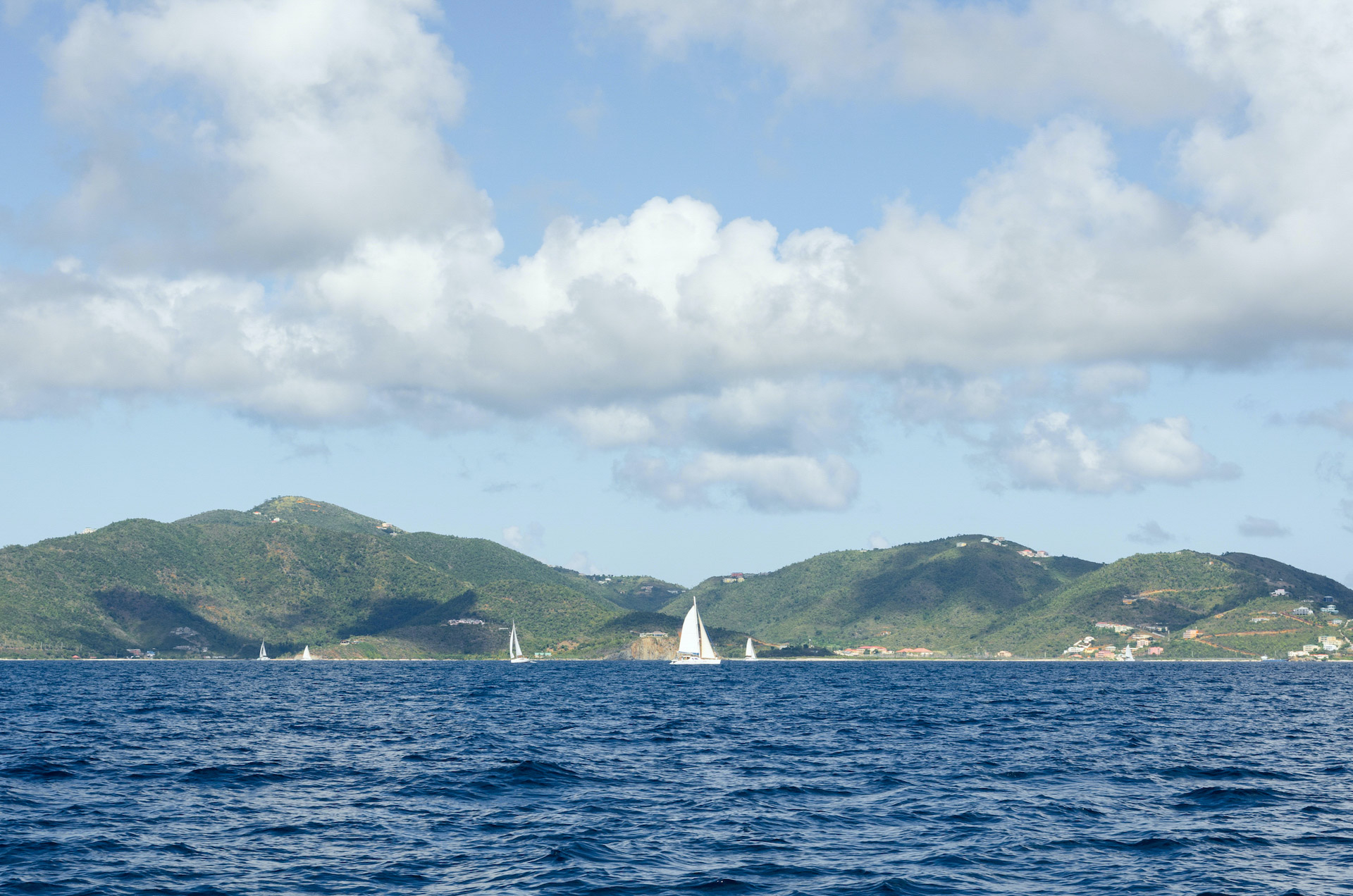 The check-in process is relevantly fast this time, provisioning and SUP is loaded onto the boat and we are ready to go. We get a well equipped Oceanis 42 with three cabins for only four of us, so we have plenty of room and storage.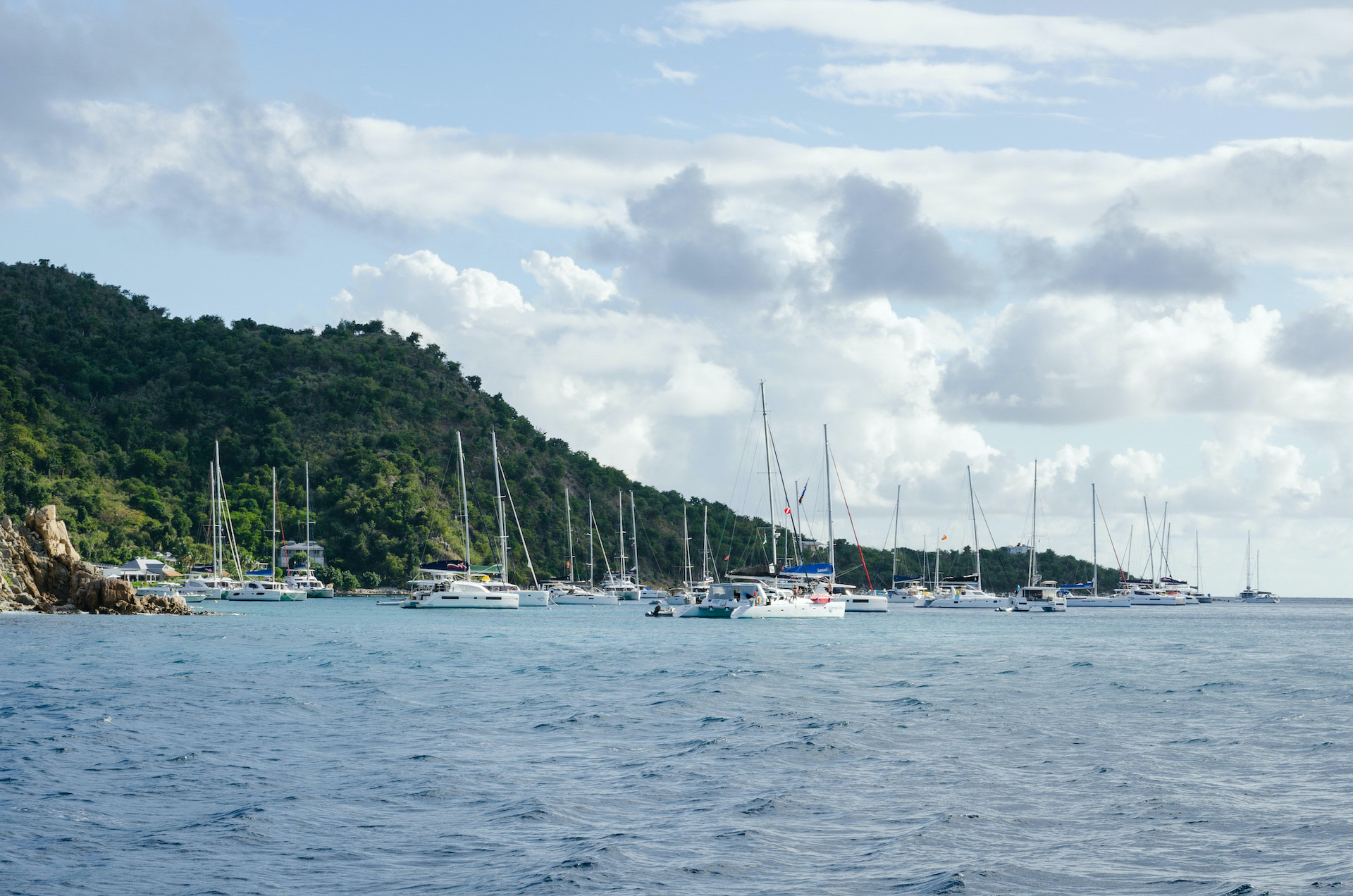 The destination for today is Norman island located only 10 miles away. We get there before sunset and drop anchor in a huge bay with hundreds of other boats. Sailing is one of the main activities at BVI besides diving and offshore banking. In the bay, there is a floating bar Willy T's,  very famous among sailors, with the signature drink Painkiller. The recipe is simple but the result is astonishing. Mix pineapple and orange juice, add rum and nutmeg and you have got yourself a Painkiller, I'm bringing this recipe home for sure. The evening is going great. We're having drinks and dancing, the crowd is super friendly and there's no sign of trouble. Unfortunately, the situation changes drastically upon returning to the yacht, one of the crew members breaks a finger on her hand. Now we have an emergency to handle. Looks like the safest option is to take a painkiller and wait till the morning. 
Day three
At sunrise, we lift an anchor and head to the main city on the island –  Road Town. We dock the yacht in the marina at Inner Harbor and head to the emergency room. The hospital looks very modern and up to US standards. After an x-ray the doctor confirms the diagnosis, the pinky is broken and requires immobilization. Luckily, it's possible to get a removable cast so our patient can swim and enjoy the vacation regardless. The bill for the whole thing is acceptable, we need to pay only 300 dollars and it is covered by insurance.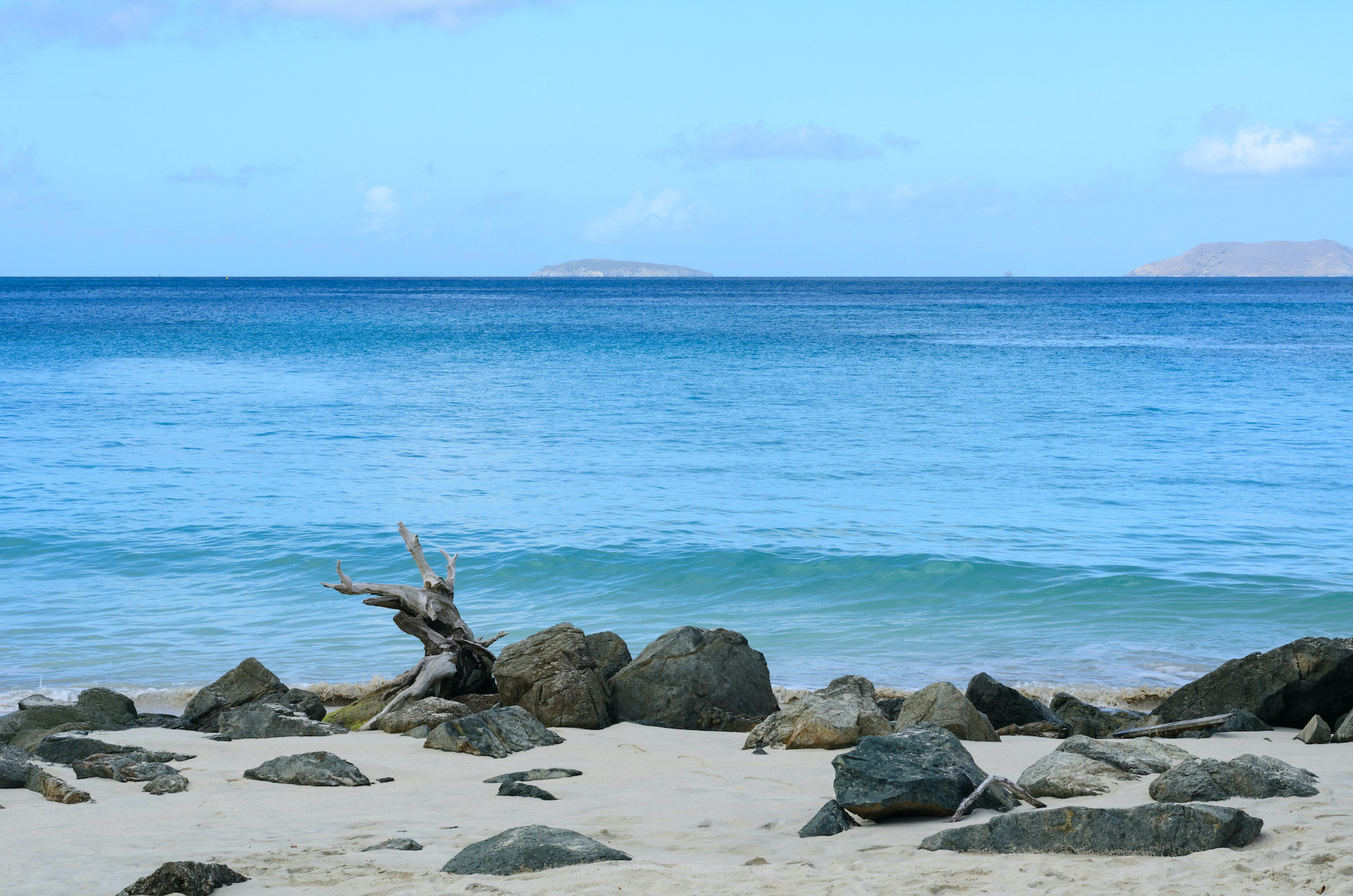 After such an adventure we really need some rest so we set a course on Peter Island. It's a private island with a luxury resort but all the beaches are public and open for boaters. And man is it a beautiful beach!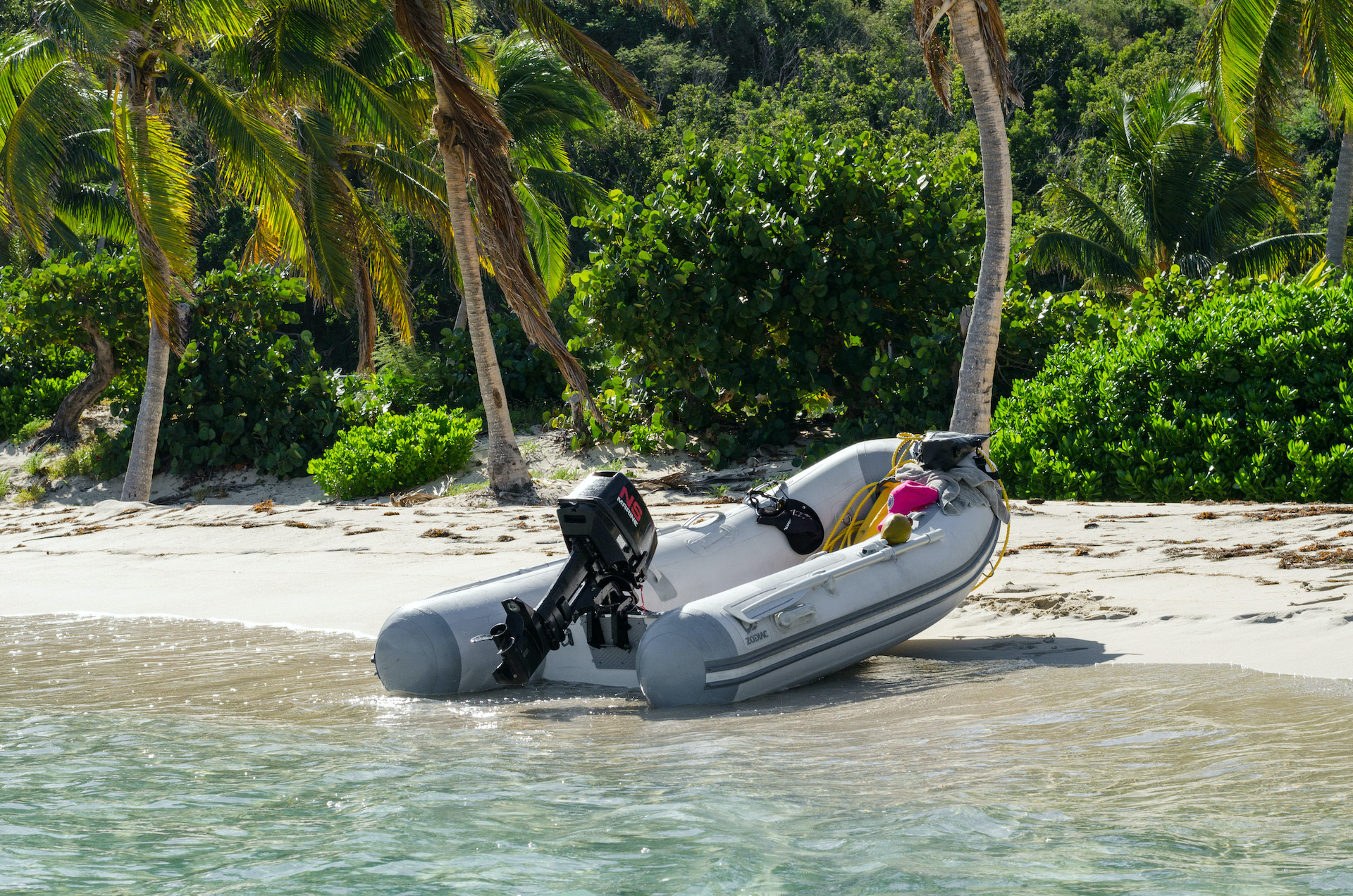 For dinner, a BBQ on board, this will become a habit and we are gonna use our BBQ almost every night. We have a simple coal BBQ attached to the railing but for four of us, it is more than enough.
Day four   
The destination for today is Copper Island, a lovely location by all means. For boaters buoys and safe anchorage are available and on the shore, you can find a cafe, restaurant, small shop, rum bar and even a brewery offering several kinds of delicious beer.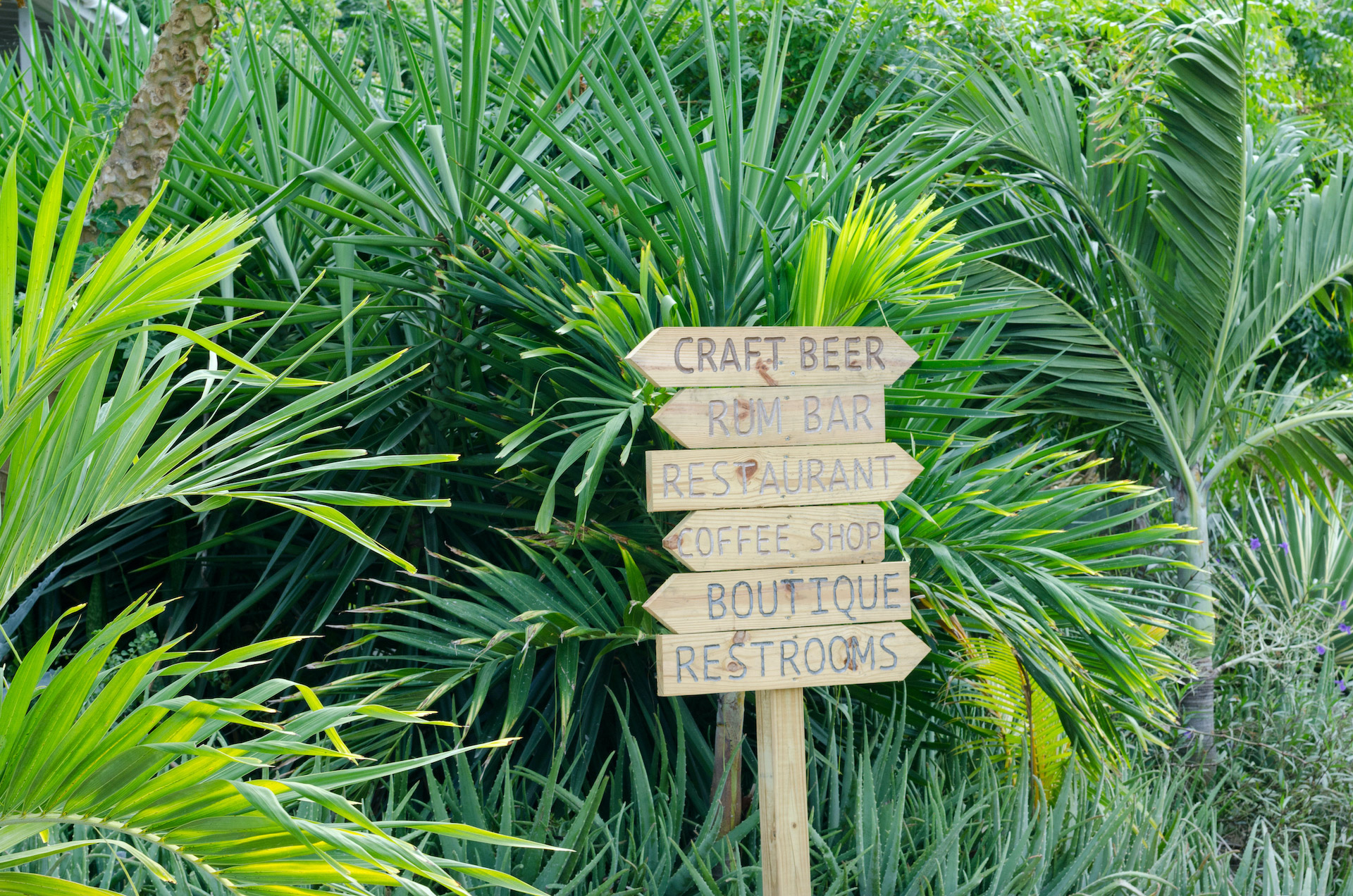 But most importantly there's a dive center so we decide to ask about diving tours. What we figured out changed the trip completely! We learned that for the price of two dives we can rent two scuba sets with four tanks and dive as much as we want, wherever we want. The decision is made and our yacht becomes a dive vessel. After all the gear is loaded and safely secured on board we set course to our overnight stop at The Bath, one of the BVI must-see places.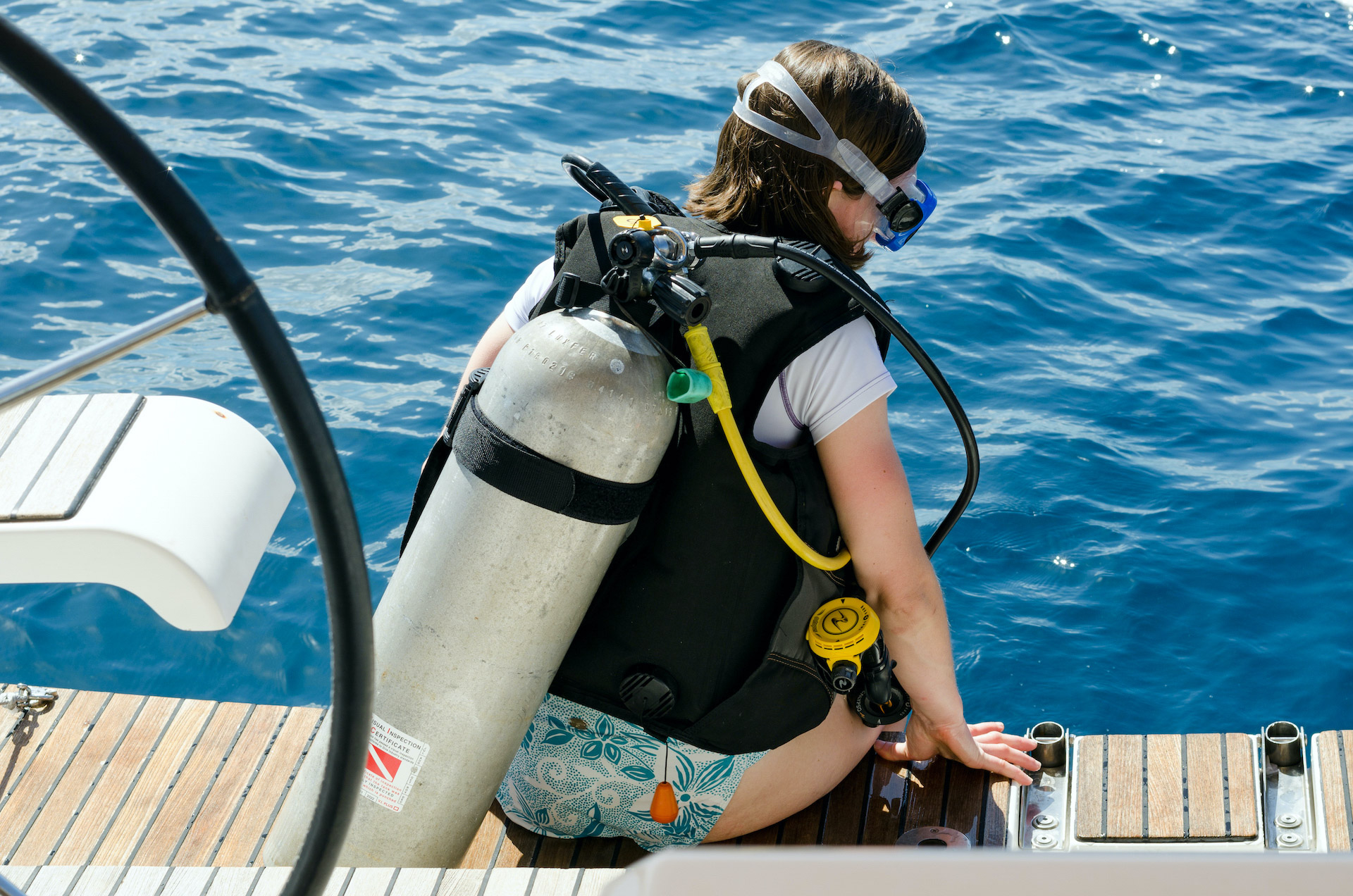 First thing upon arrival we set our scuba gear to the test and go for a short dive, everything is working as expected and we can explore The Bath, but how to get to the shore? With our dinghy, we try to get to the beach but can't find suitable access. It's getting darker so we abort the mission and go back to the yacht and grill ourselves a delicious dinner. 
Day five
First thing in the morning we repeat our attempt to visit The Bath, this time our neighbors explain to us how it works. We need to tie our dinghy in about 150 meters from shore to the provided buoys and swim to the shore. An easy task but one of our crew has a broken finger and a lot of movement does not help the case. With an inflated dry bag, as buoyancy support, we manage to get ashore.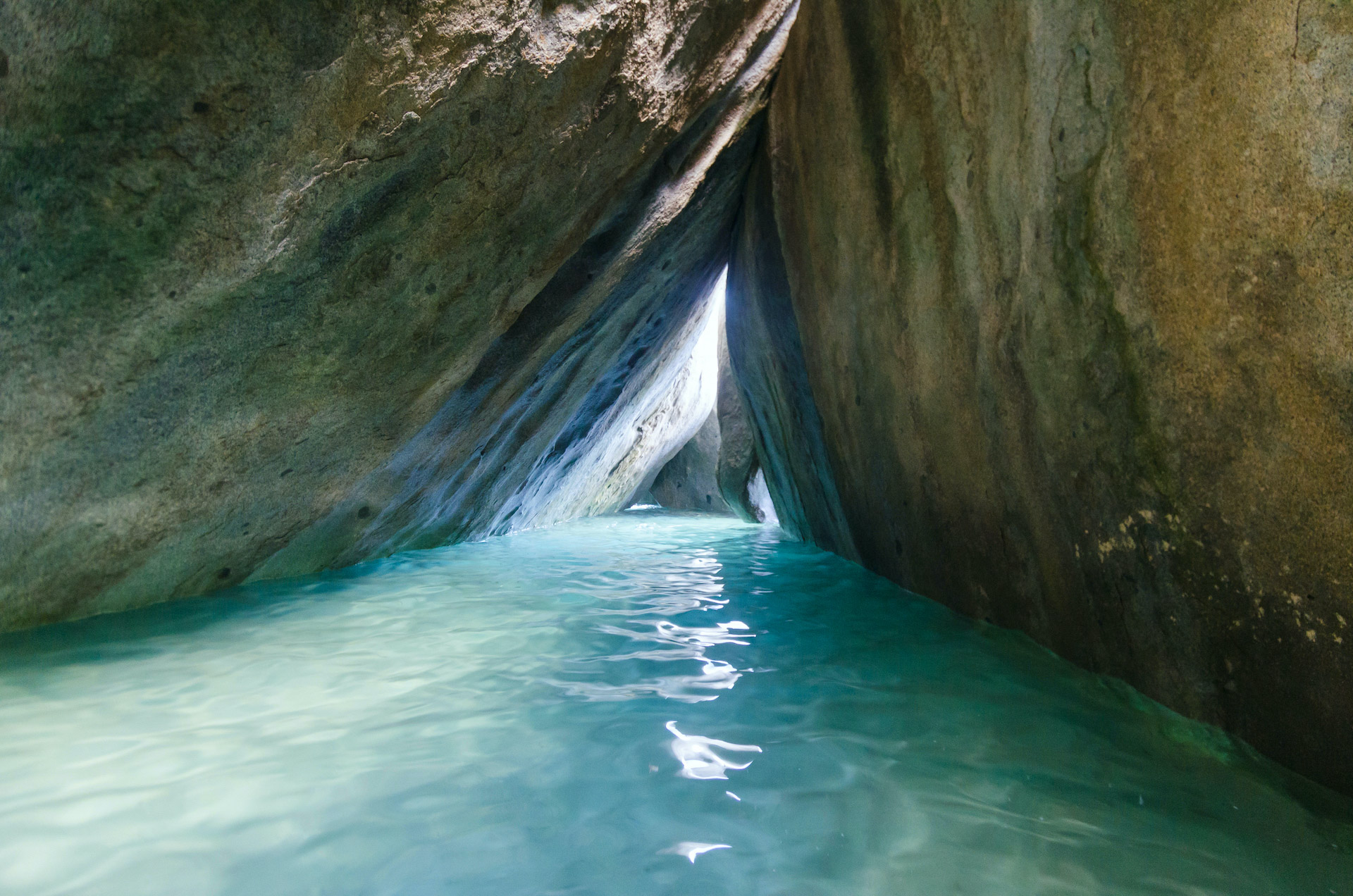 The location looks so nice in the morning sunlight, and after some exploration, we go back to the boat. We need to get going, we have two more stops to visit today. For lunch we decide to check Salt Dogs Island, there should be a plane on the bottom of the sea turned into a dive site. After some search, we dive up and for the better, as we learn, later on, the plane was swept away by the storm and a new one will be delivered and sunken soon.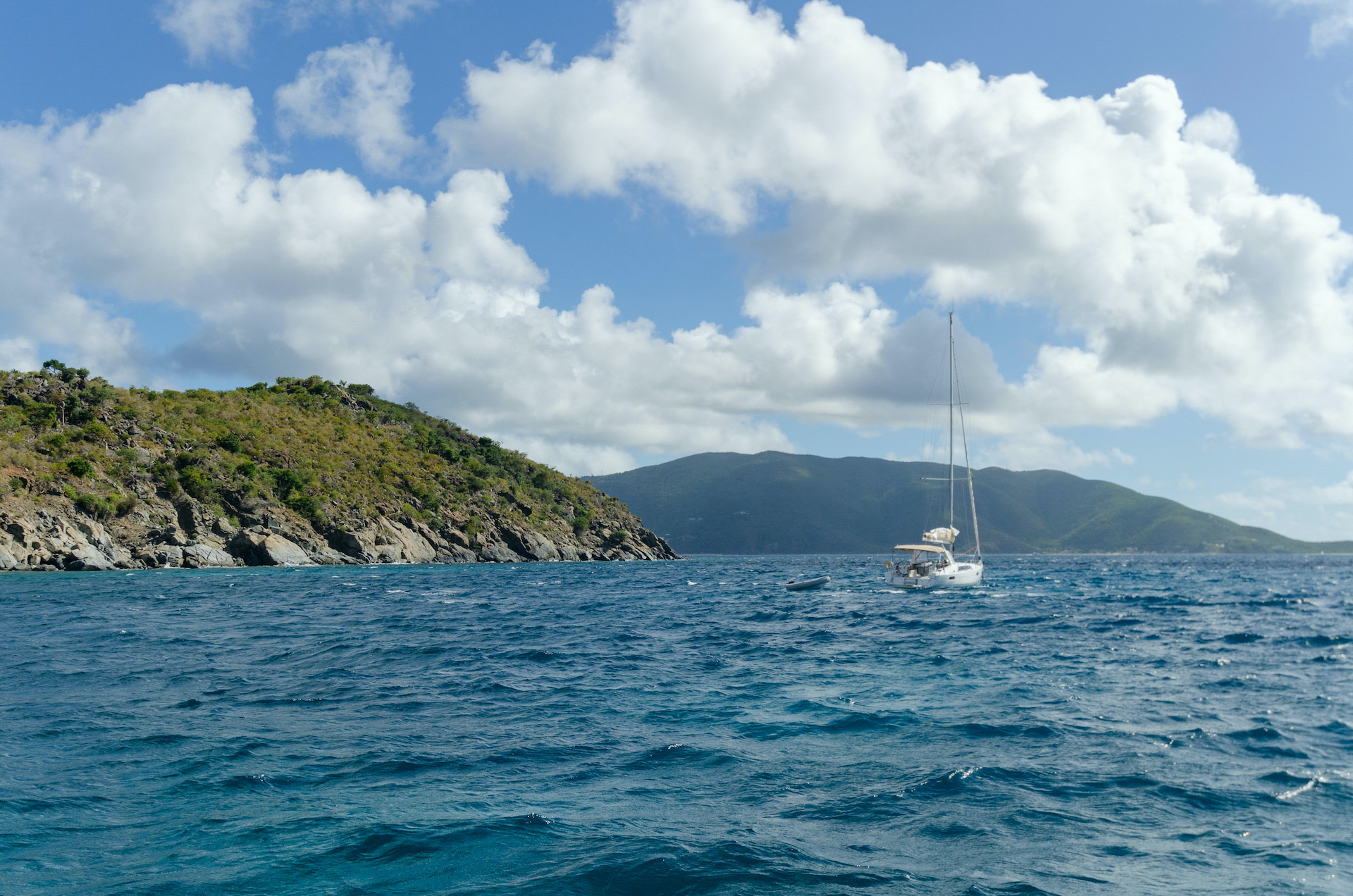 We reach our overnight stop at the North Sound fast and easy but getting a mooring buoy was not an easy task and after almost getting into a fight with some Italian sailors we finally get a place to spend a night. The North Sound is one of those places that looks good on the map but in reality, is quite boring. We grab a drink in a bar ashore and decide to leave early in the morning instead of spending two nights here as was planned before.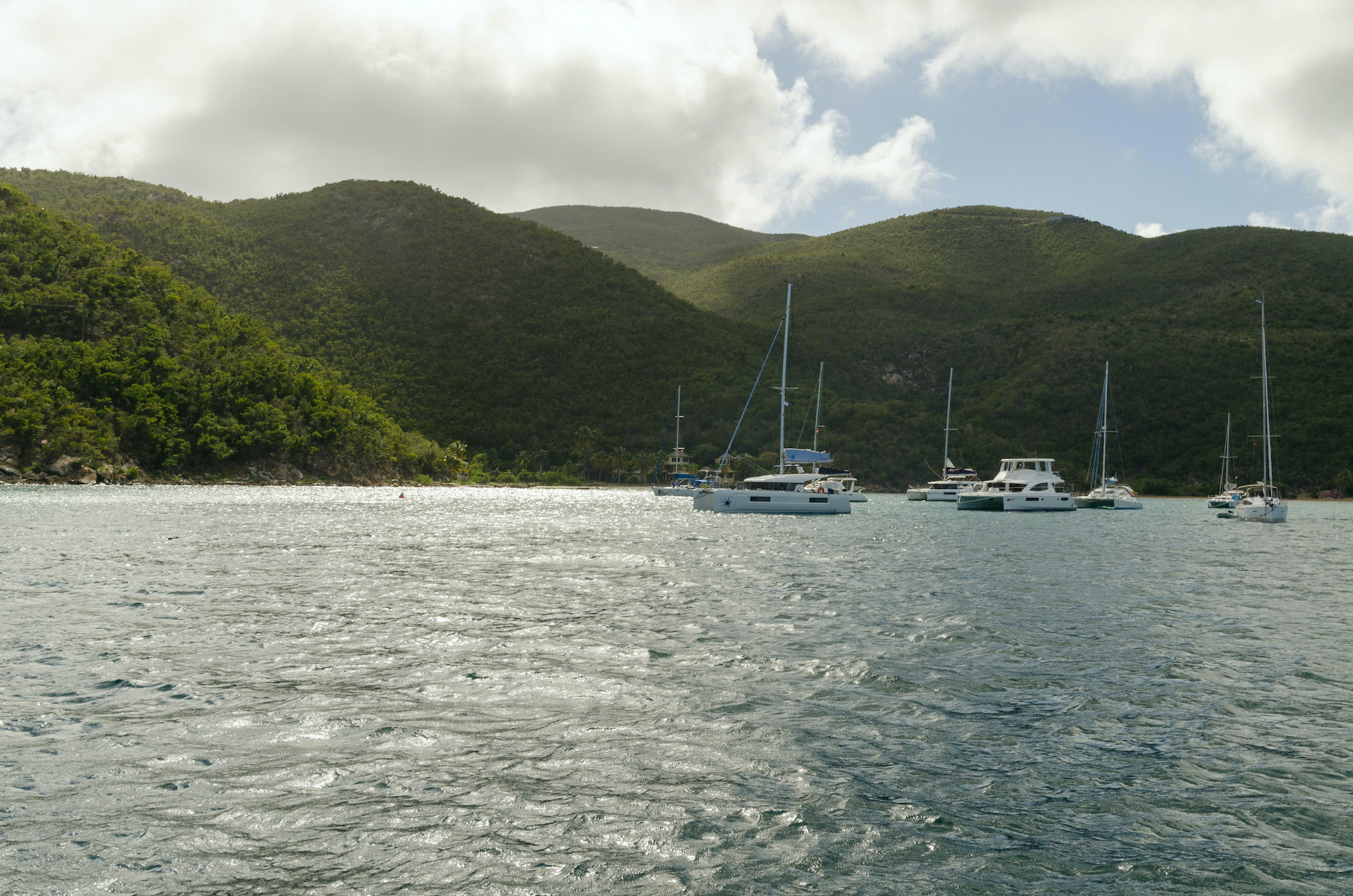 Day six
Our oxygen tanks are almost empty and we need to refill them before departure. In the dive shop, we get a few nice recommendations about nearby dive sites. We miss one of them near the Salt Dogs Islands and decide to check it out on our way to the overnight stop. Upon arrival, we put all our gear on and board the dinghy to get closer to the place we want to visit and also practice back roll entry. This time we have an amazing dinghy with only me on board. It can easily reach the speed of 15 knots so it's a lot of fun to navigate and on top of that the engine is extremely reliable.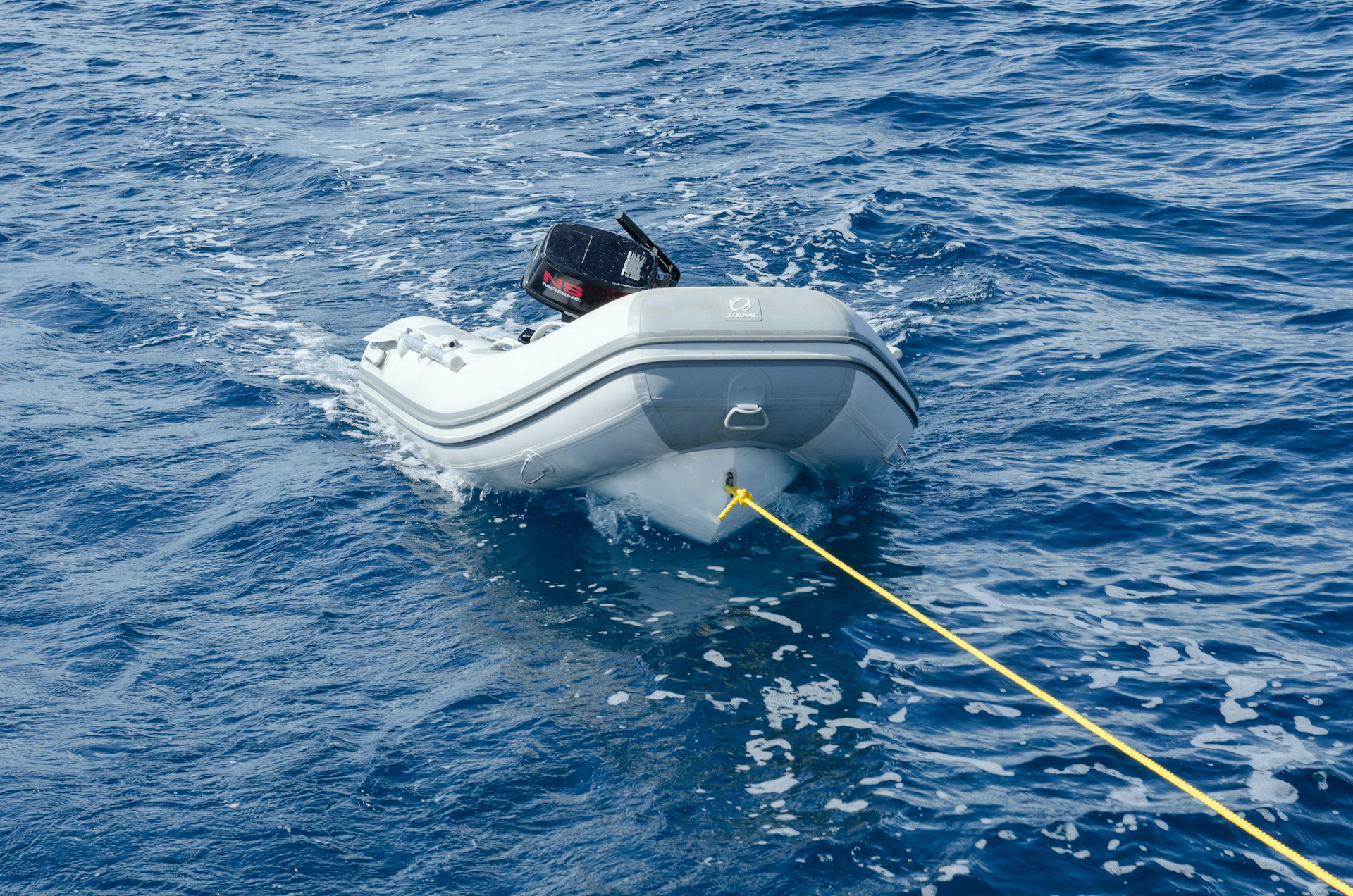 After all diving activity is over we head towards Marina Cay where we plan to spend a night. The funny thing about sailing at BVI is that you kind of avoid raising the mainsail in order to reduce the speed, distances are very short and the jib is all we need to bring us from point A to point B.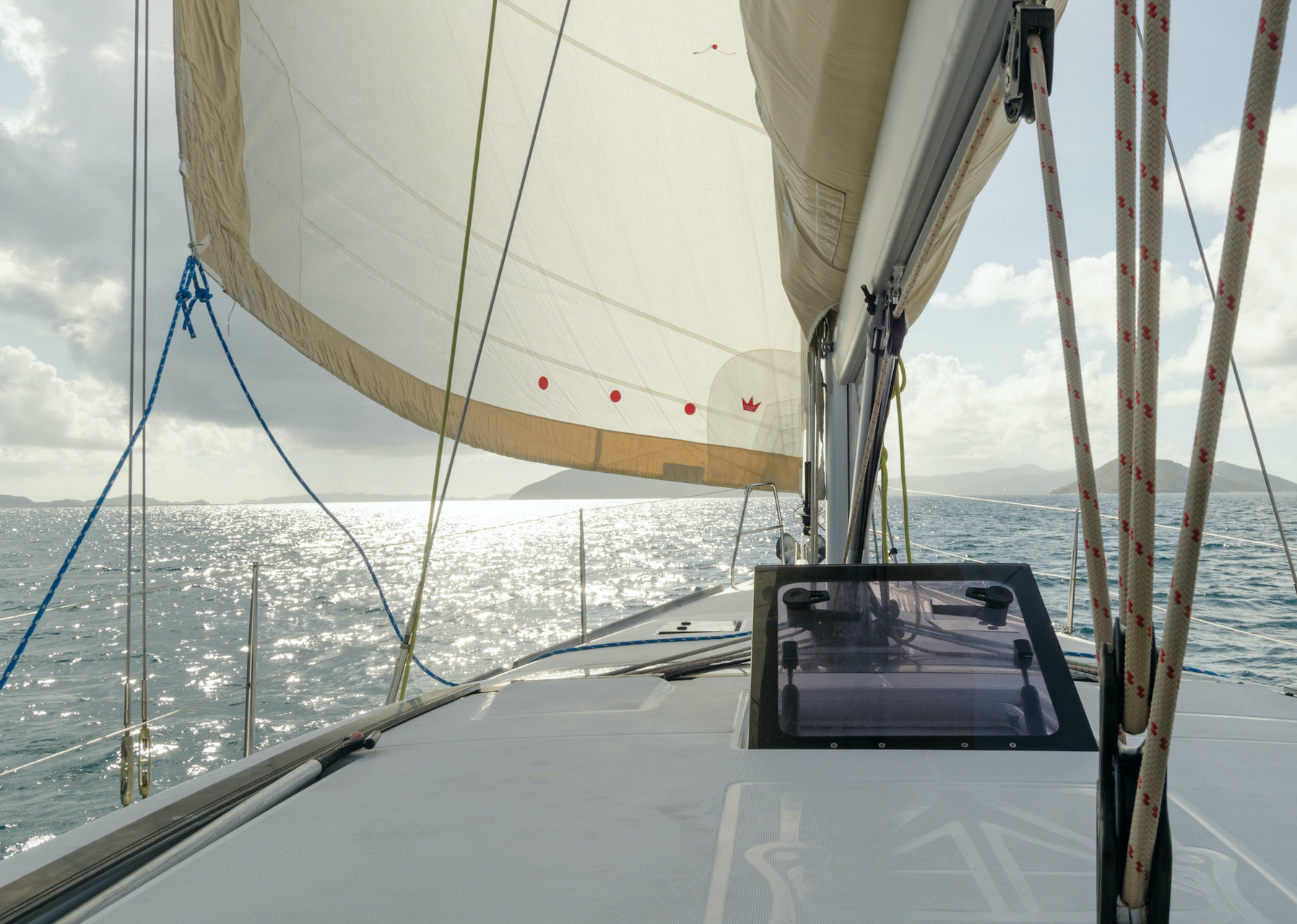 After dropping anchor at the point of the destination we have one more dive and head to the shore, near a very fancy marina we find a bar and restaurant. Despite the very luxurious look of the place, we can only find sandwiches and french fries on the menu. Well looks like it's grill time again. After a few cocktails, we head back to the boat to chill and cook a delicious dinner
Day seven
As usual, we start the day by refilling our oxygen tanks, this time we also have a chance to do provisioning on Scrub Island.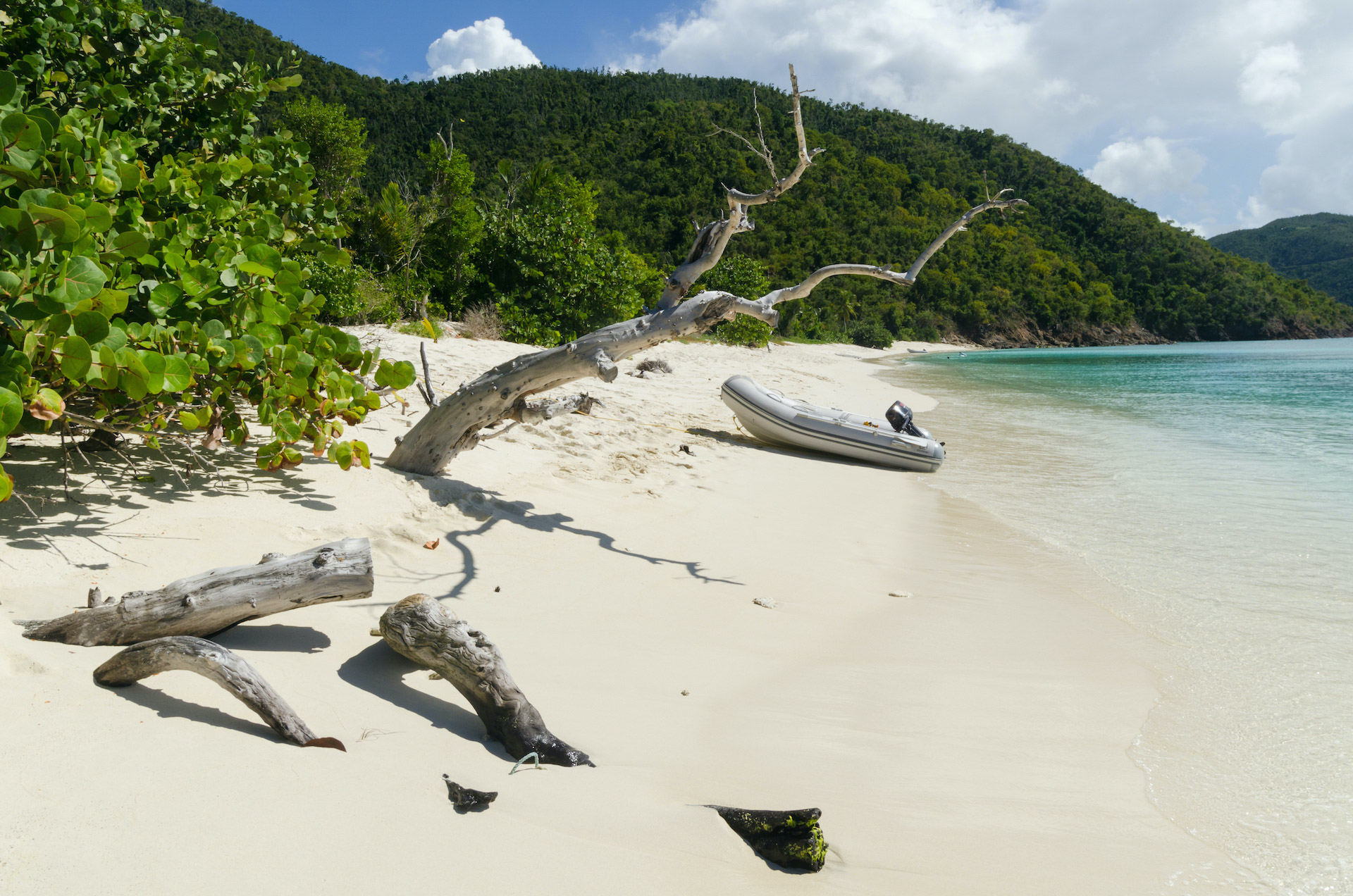 Today we have two interesting places to visit. Our lunch stop is close to the beach at a private island known as Monkey Point. This place is wonderful, the whitest sand and the cleanest water we have seen so far and all this beauty is surrounded by hills covered in jungles, it's a great place to take some photos.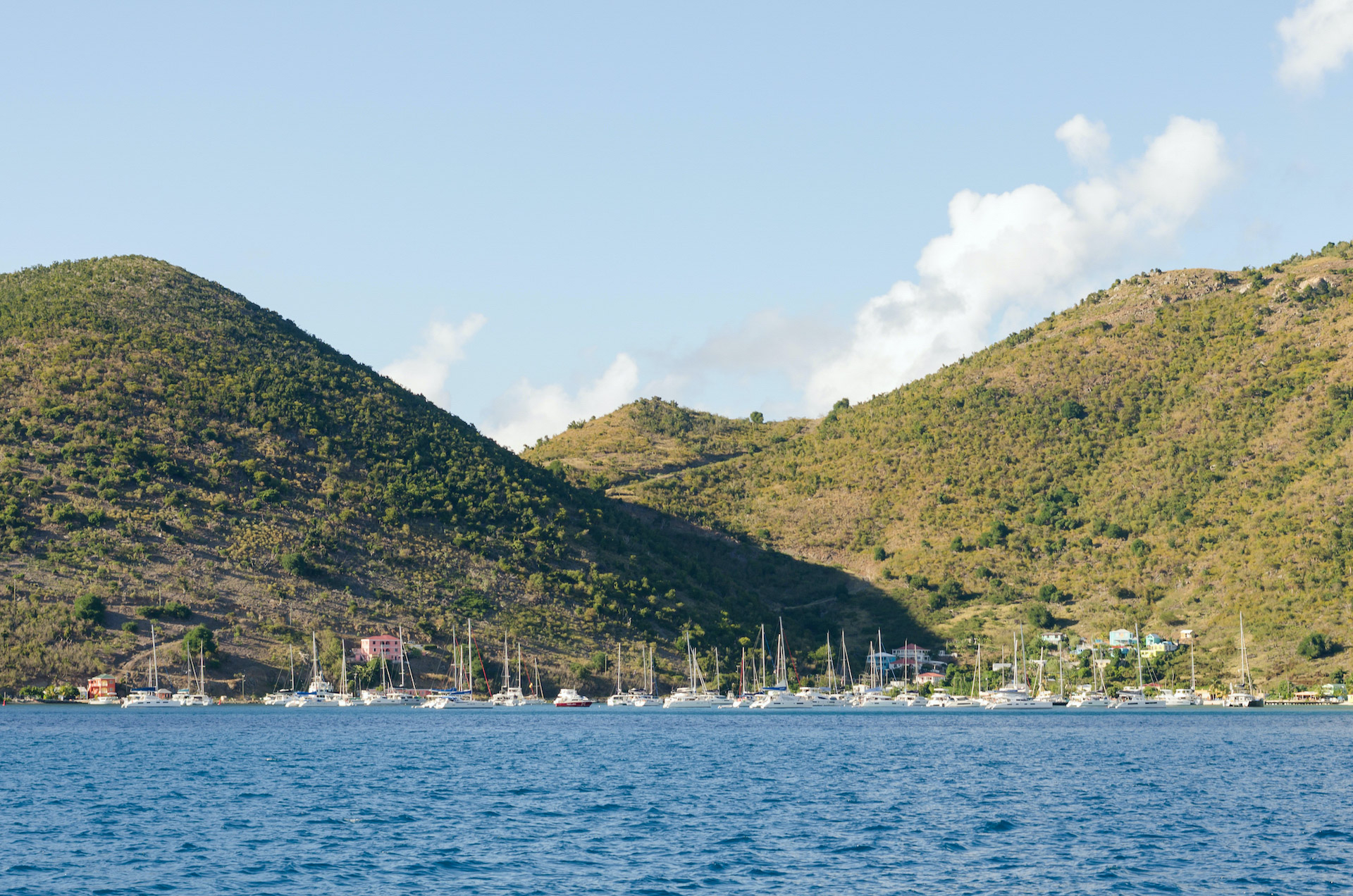 We are spending the night at the Jost Van Dyke island home off the famous Foxy's bar where we start our evening with a few painkillers. Moreover, today is Thanksgiving day so we spend the rest of the evening dining in the most American way!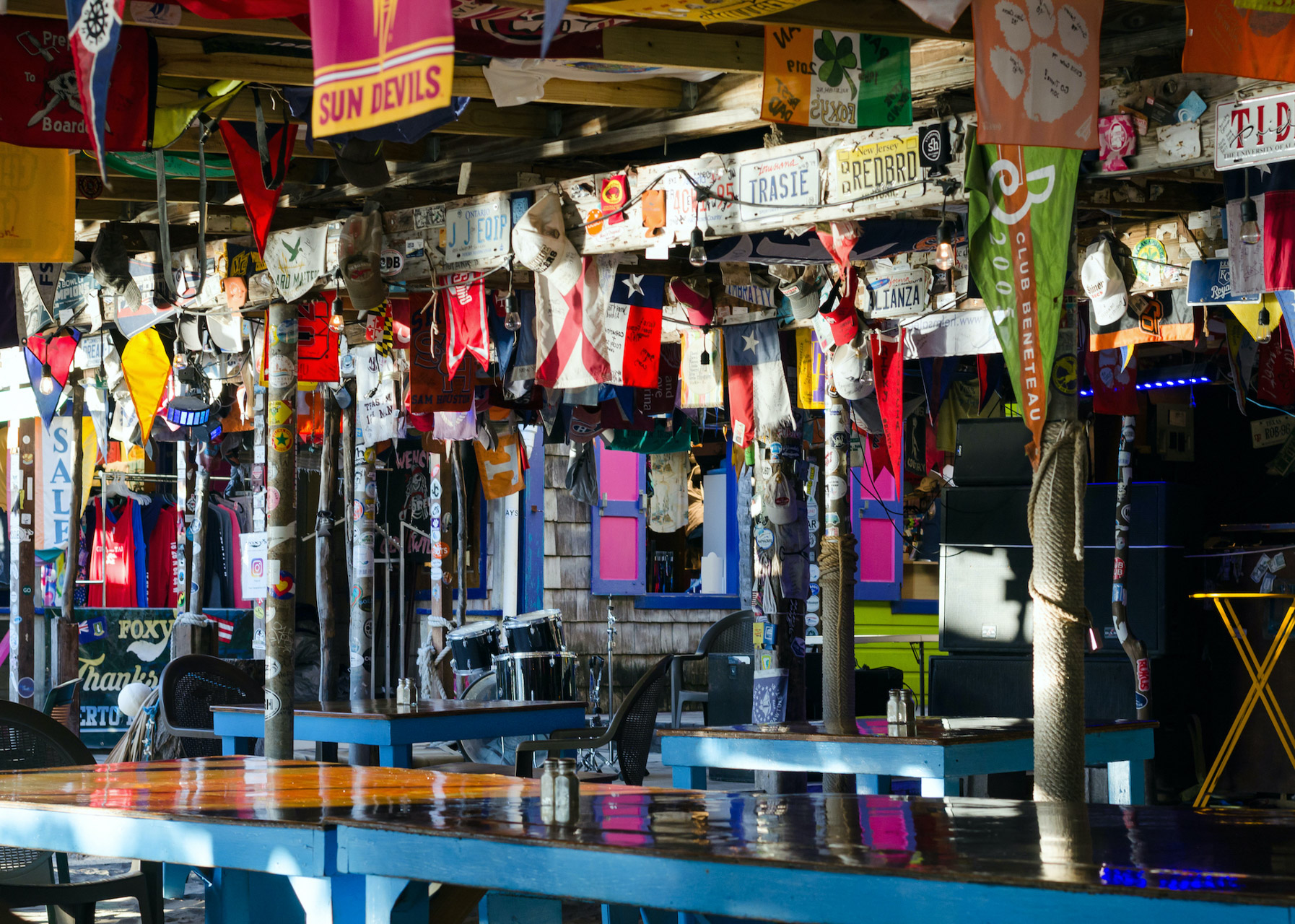 Day eight 
Besides overcoming a hangover we do not have any serious plans for today.  We start the day quite late and after visiting a local shop to restock our food supply we set sail towards Salt Island. This island is nothing special at all but it's the closest anchorage to the wreck of the RMS Rhone that crashed here on 29 October 1867. 
Day nine 
We wake up early to reach the diving site around nine in the morning. For me it's my first dive near the wreck, ever, I am excited. Water is clear and you can see the remains of the ship clearly and on top of that, we meet two very friendly sharks and a huge stingray. What a morning!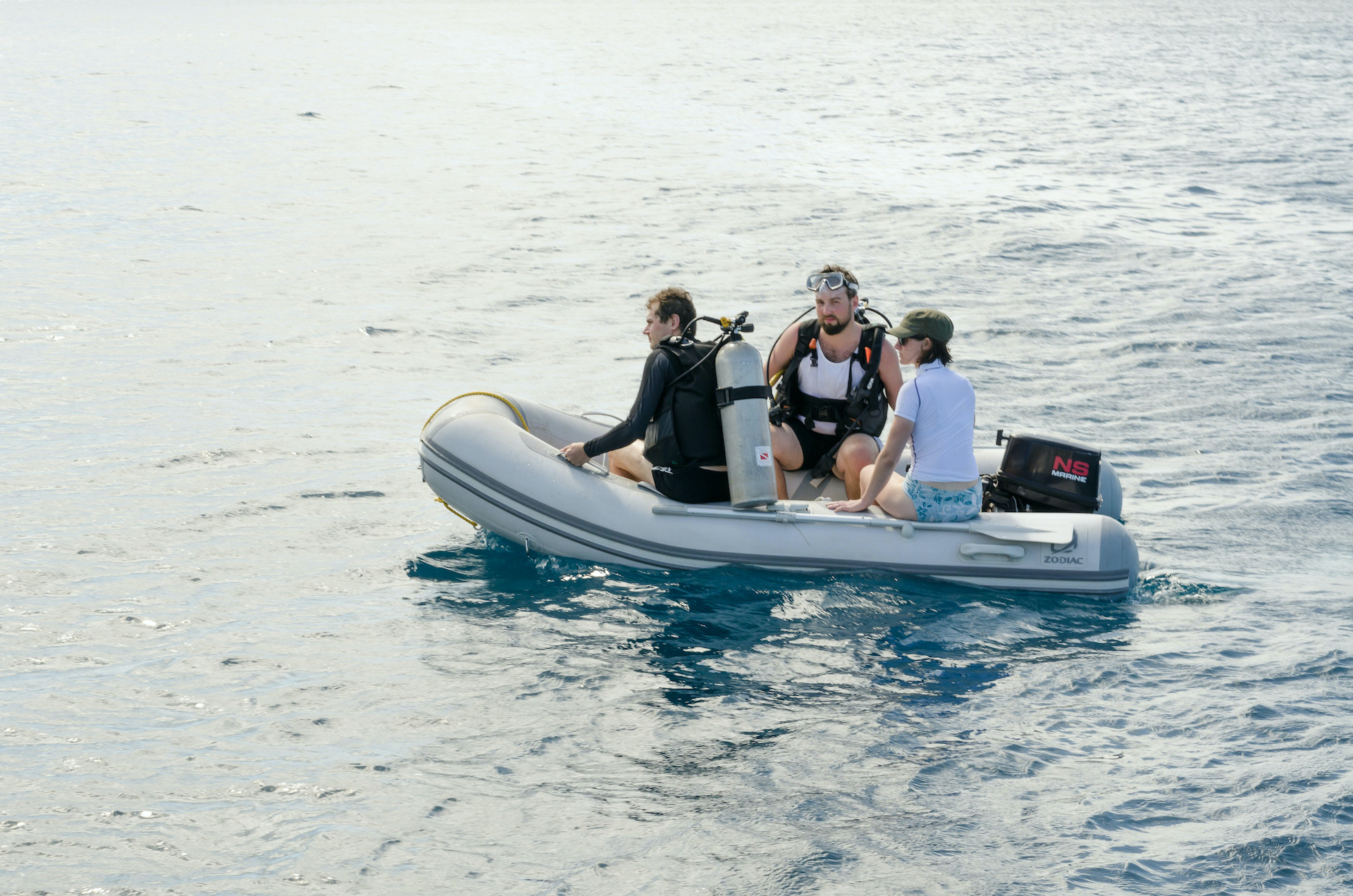 After we are done with the dive we have a new problem to solve. We are out of air. The closest island with a dive shop is already known to us Copper Island, the one with the brewery on it. Well, these are two good reasons two visit it again. The rest of the day we spend dining onshore and enjoying beers at sunset. 
Day ten 
In the dive shop besides full tanks we also get advice to check out another wreck really close by, we could even reach it on the dinghy but it's more convenient to go with the yacht. You have shade, fresh water and don't need to carry all the stuff to the dinghy and back. The site itself is even more interesting for me than the previous one. There are two relatively modern ships next to each other and they are much more preserved, obviously. After a diving session, we head to Normand Island to be closer to the base and also enjoy one more Painkiller at Willy'T.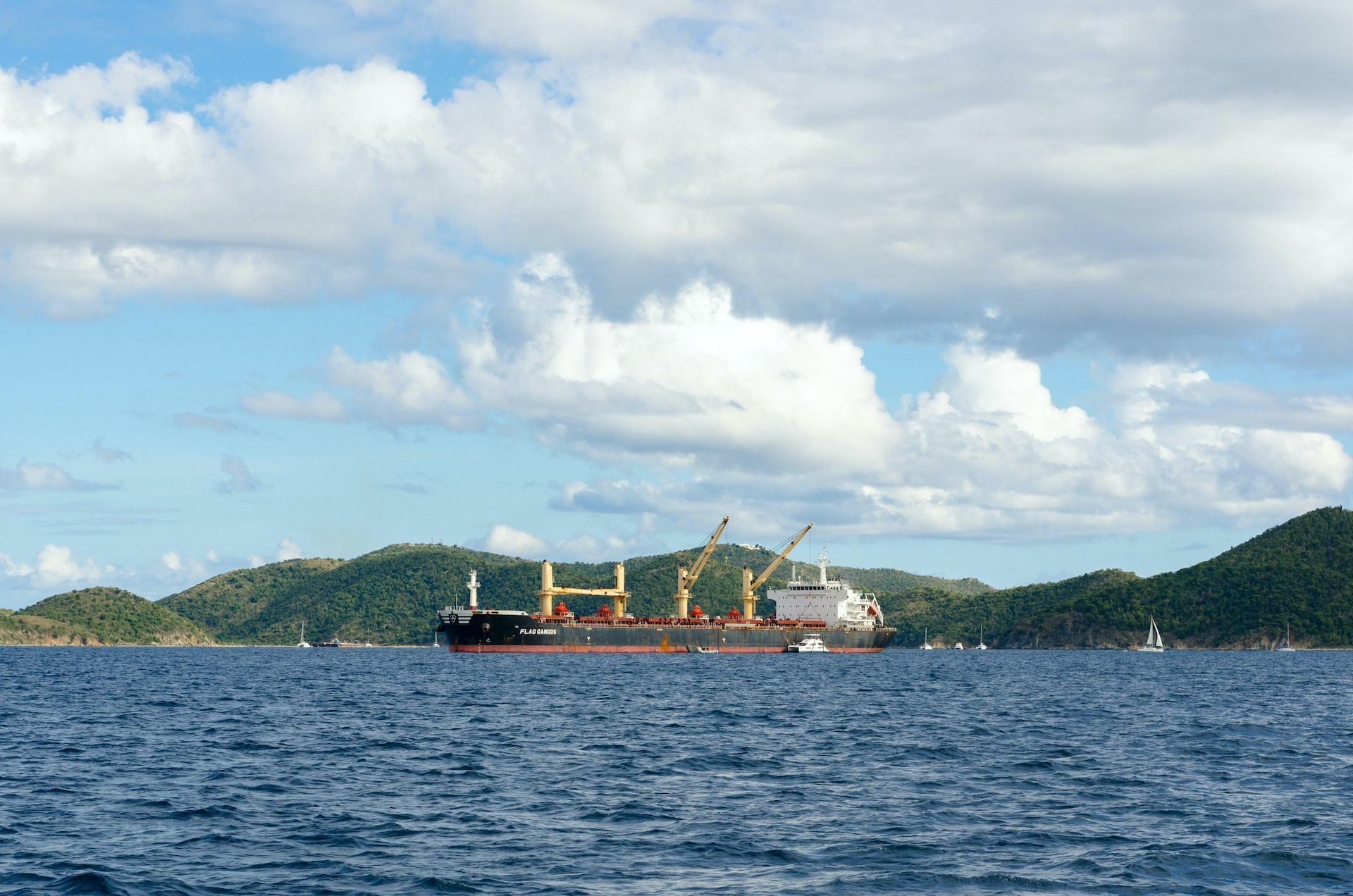 Day eleven
It's the last day afloat for us but we still have two cool spots to visit before going to the home harbor. First, we check out caves just around the corner from our anchorage and have some quality snorkeling time. And for the last dive of the trip, we head to The Indians Island. After we complete our to-do list it's time to go to get some fuel and return back to base. In the evening we spend time onboard and have a chance to chat with the charter company owner about the boats, running a business and BVI in general. 
Day twelve 
Today we need to cross the border and enter the United States territories known as USVI. To do so we need to take a ferry from Road Town to Charlotte Amalie at St. John. The trip that is supposed to take an hour takes us four hours instead. The whole experience is hectic and super unorganized. Nevertheless, after lunch, we find ourselves in the harbor of Charlotte Amalie.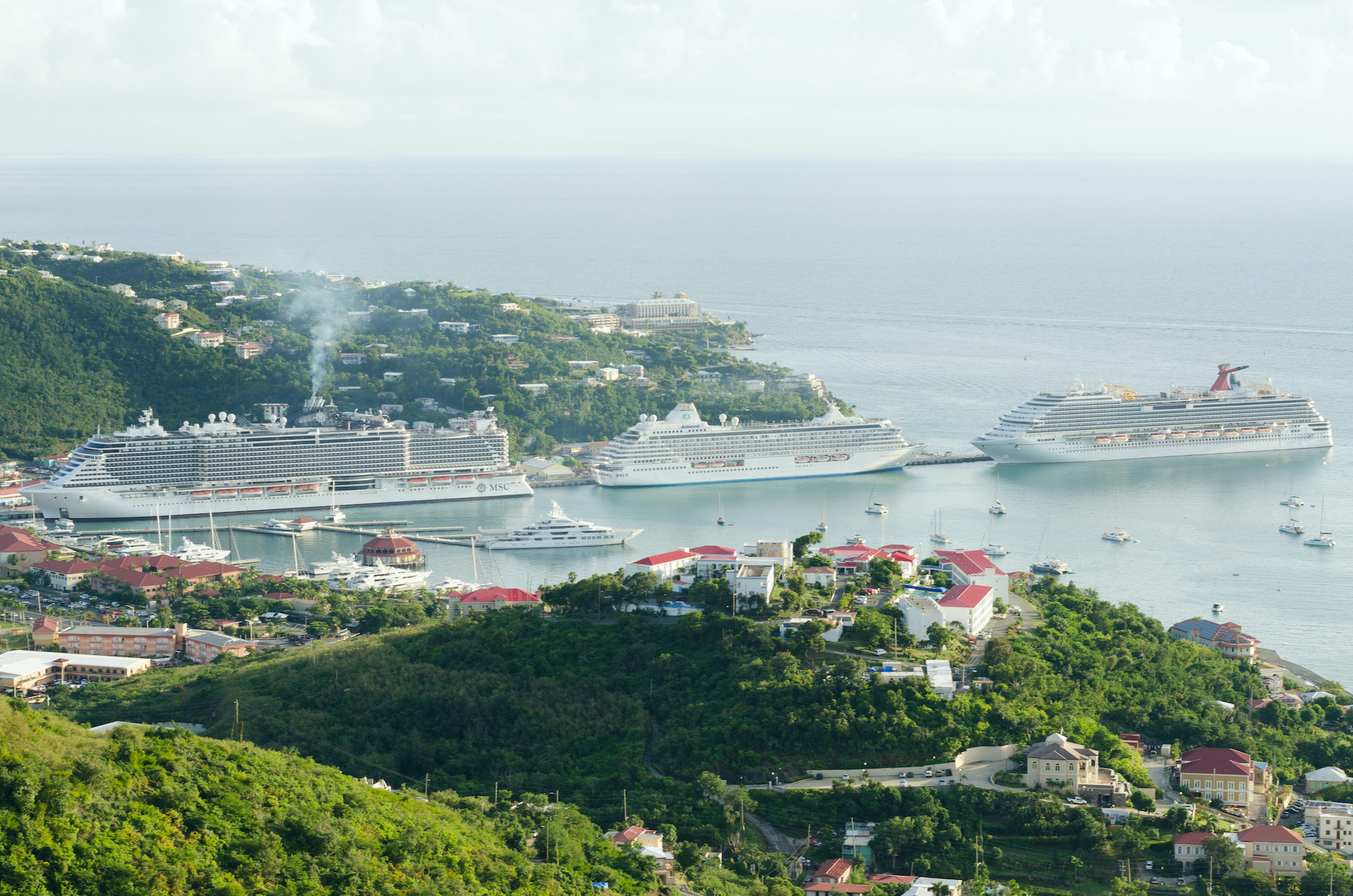 We have a few things to do today, first, we need to get a car, then check-in at our Airbnb. At first glance, you can clearly see a difference between USVI and BVI. The US territory is much more densely populated and developed in general and there is almost no trace of the hurricane.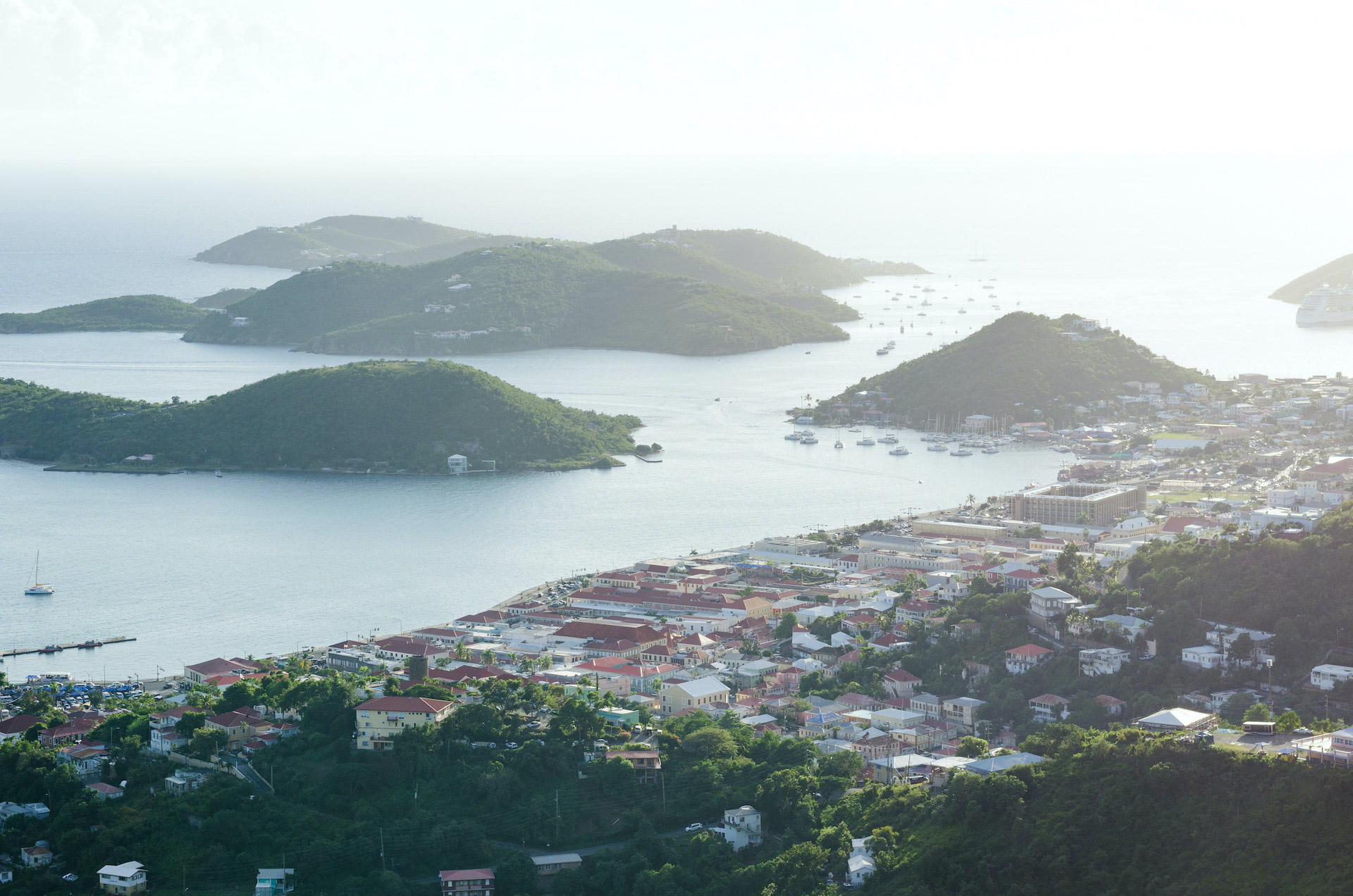 Getting a car is a piece of cake and we head to our home for the upcoming few days. The location is great. We are at the top of the mountain and have quite some attractions around us. We can't miss the chance and drop by to one of the viewpoints, definitely worth it. The evening we are spending at home chilling. 
Day thirteen 
St John is a big island and we decide to dedicate one day to drive around and visit some places of interest. The day started quite strange because we made a wrong turn and ended up in a very strange place, I would call it a "rum sanctuary". Basically it's a tribute to the local rum factory but it has a great view, so in the end, it was fun to visit.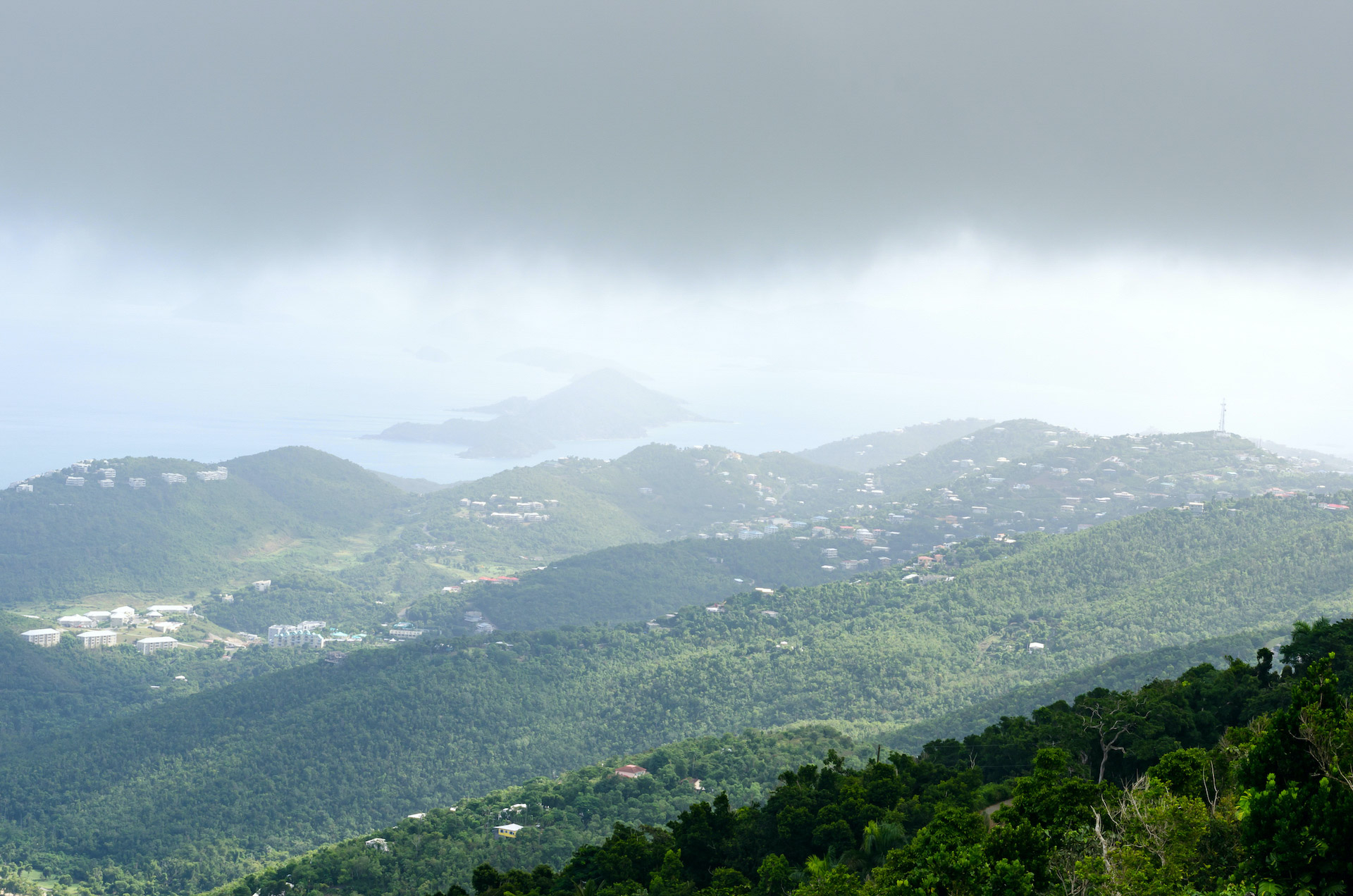 The next stop is the Botanical Garden and it's much more fun than we expected. It's a huge garden run by very sweet old ladies and the place is just so beautiful and peaceful. We spend quite some time there hiding in the shadows of the trees.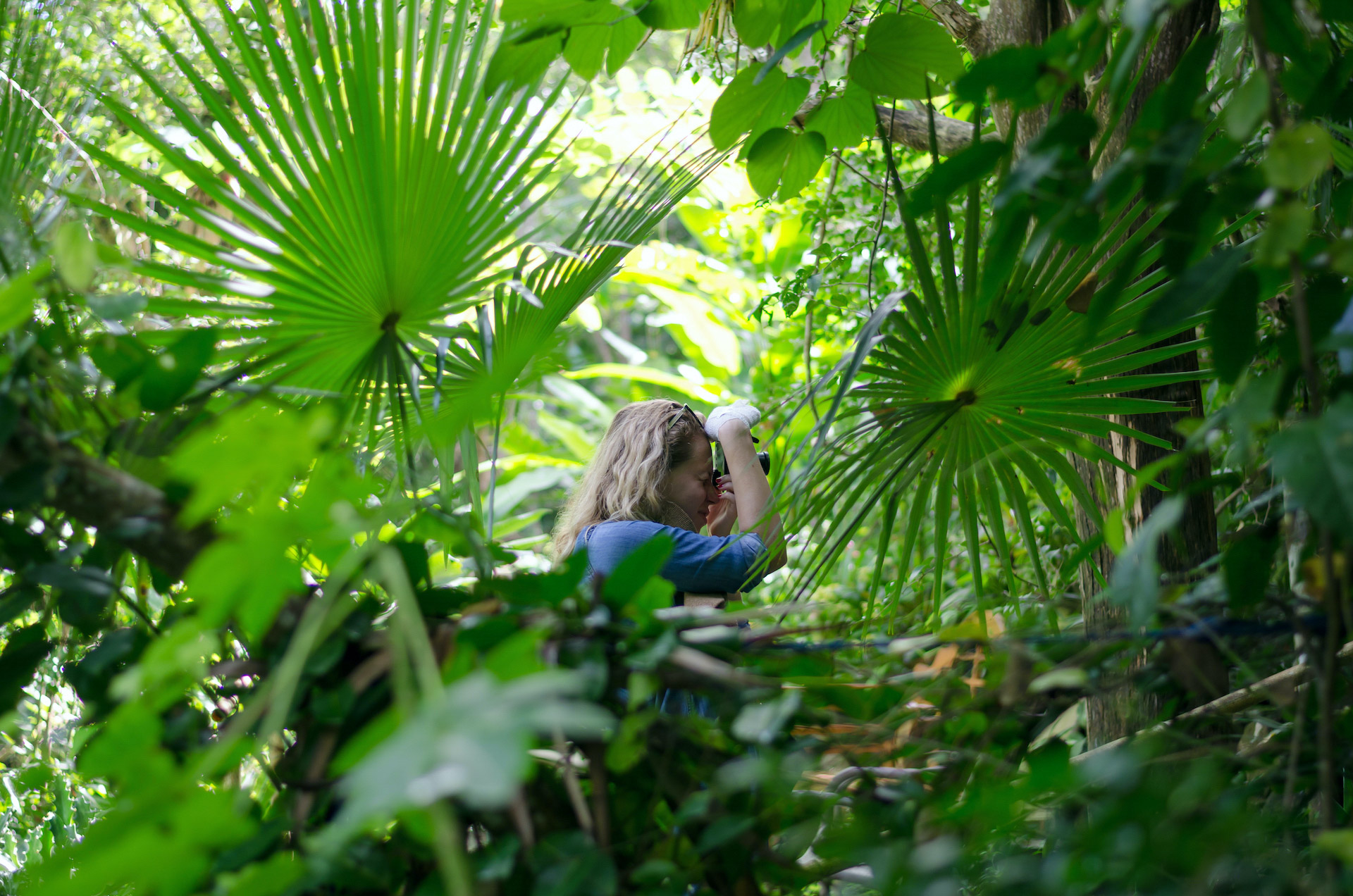 After lunch, we head to the local marina, and we find a very interesting charter company there. Long story short, now we're planning a sailing trip that starts from USVI and will also include our favorite spots in BVI. A few miles away we find a very American Yacht Harbor, it is located just next to the ferry terminal where we need to be tomorrow morning to check a neighboring island St. Thomas.  For the evening we have planned a BBQ, our host give us their Veber BBQ and it's a very nice one.  
Day fourteen 
We wake up very early to catch the first ferry to St Thomas. It's a huge one and pretty much fully packed. We were lucky to be one of the last to get on board. A huge queue is left ashore to wait for the next one. It's a bumpy ride and a good thing that you do not need to be inside a car and can enjoy some fresh air on the upper deck.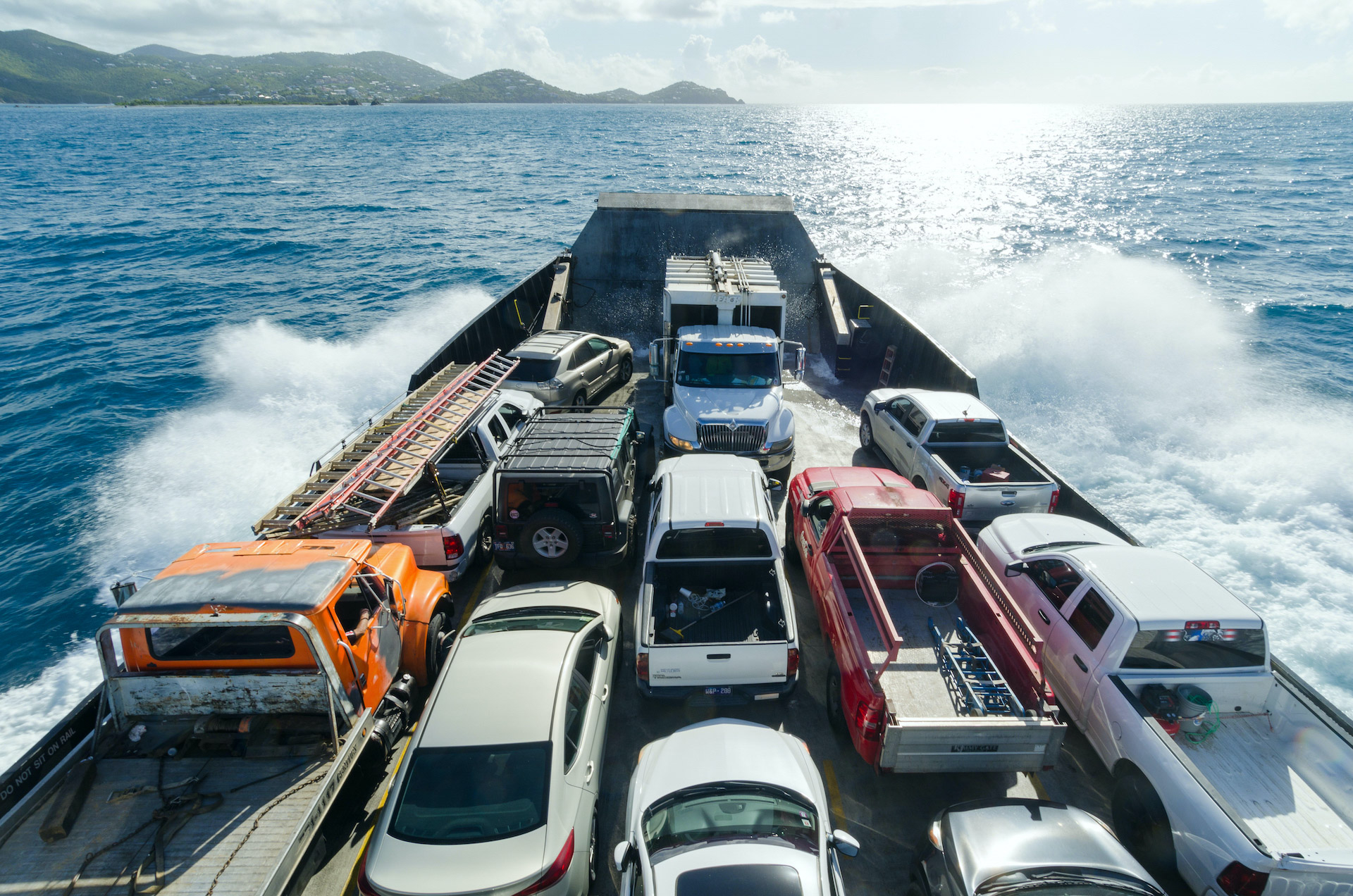 Upon arrival, we head to the Tourist office to ask about a hiking trail. Our plan is to drive around the island and check out some points of interest. Basically the whole island is a huge national park. In 1956, Laurance Rockefeller donated his extensive lands on the island to the United States' National Park Service, under the condition that the lands had to be protected from future development.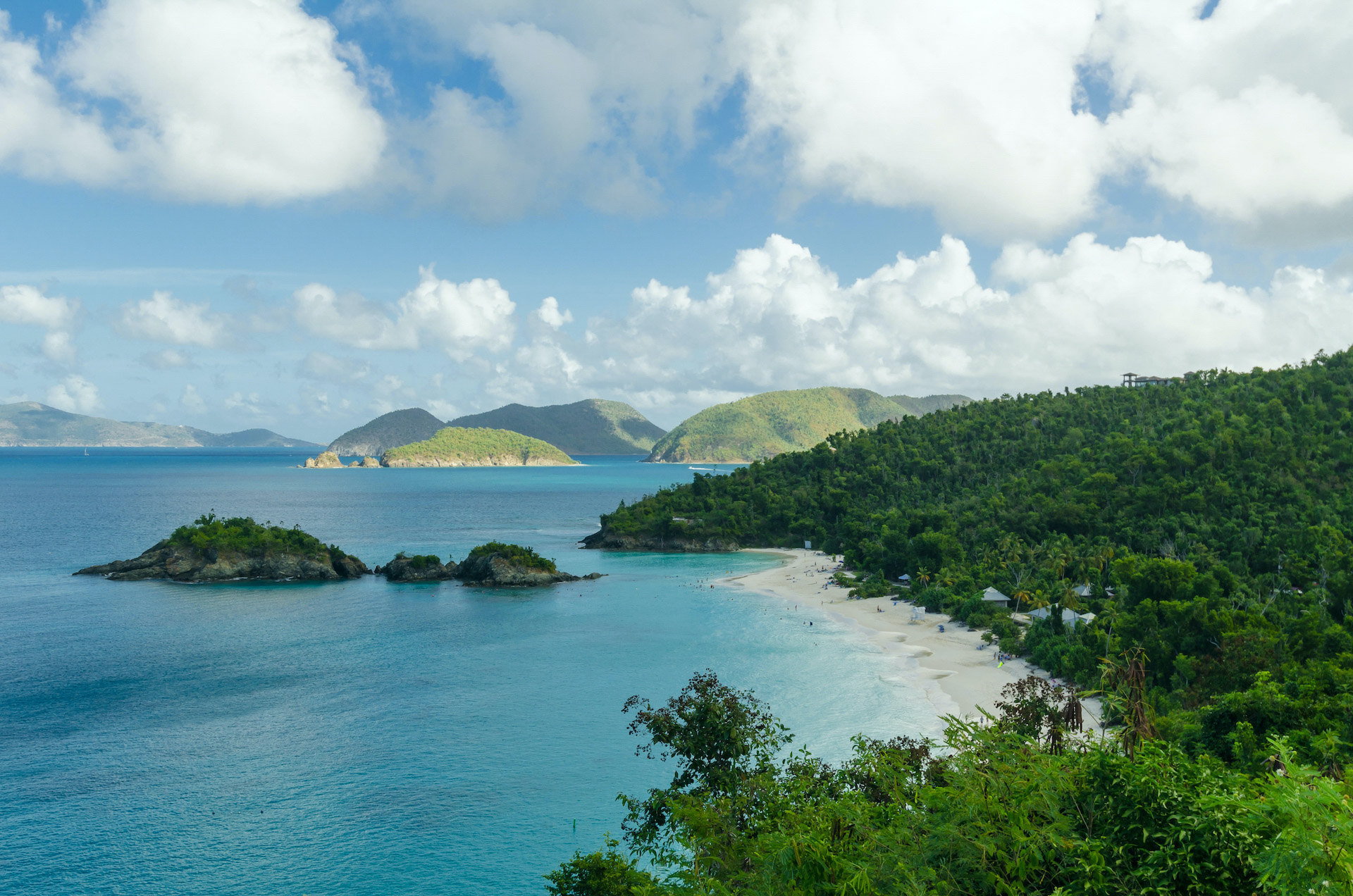 So the most interesting spots are insanely beautiful beaches on the coast and some historical sites like ruins of former sugar plantations. On the East side of the island at Coral Bay a completely different picture lies before our eyes. The bay is home to all the damaged boats and at the shore, the situation is not better, a lot of mess and destruction.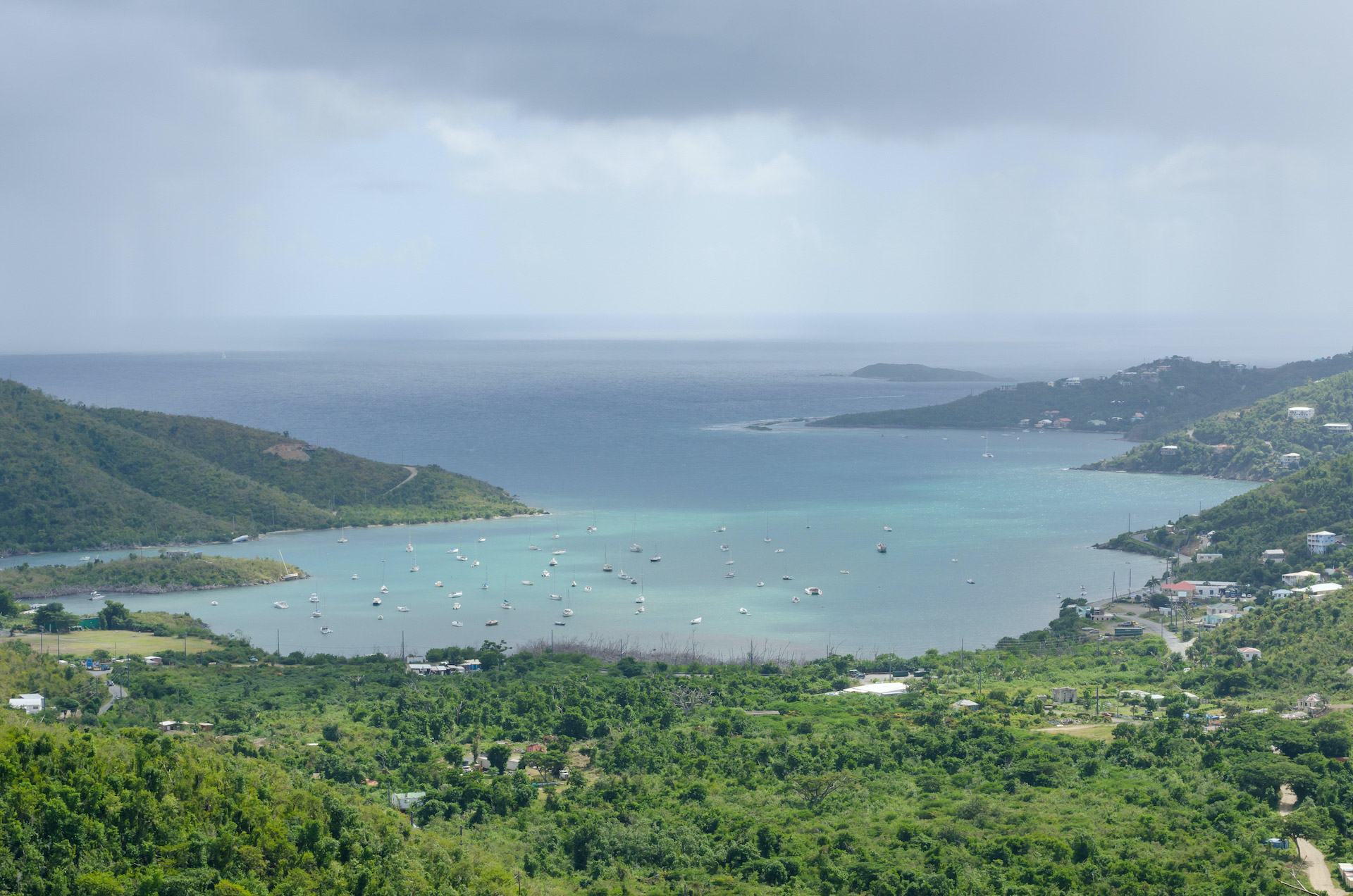 We head back to the ferry around four o'clock. We still need to get back home and pack before departure. The evening we spend in a lovely restaurant on top of the mountain next to our home. It's a perfect place to celebrate the last day of the trip. 
Day  fifteen 
We have a very long way to go home. First, we need to check out and drop off the rented car, then take the ferry to Tortola and grab a taxi to the airport. After a flight on a tiny plane to Saint Martin, we have a connected flight to Amsterdam. Besides tons of connections, we have three customs to go through. But all of this hassle is definitely worth it. This part of the Caribbean is amazing and now I'm dreaming of coming here again and sailing both USVI and BVI.