Andaman Sea, Thailand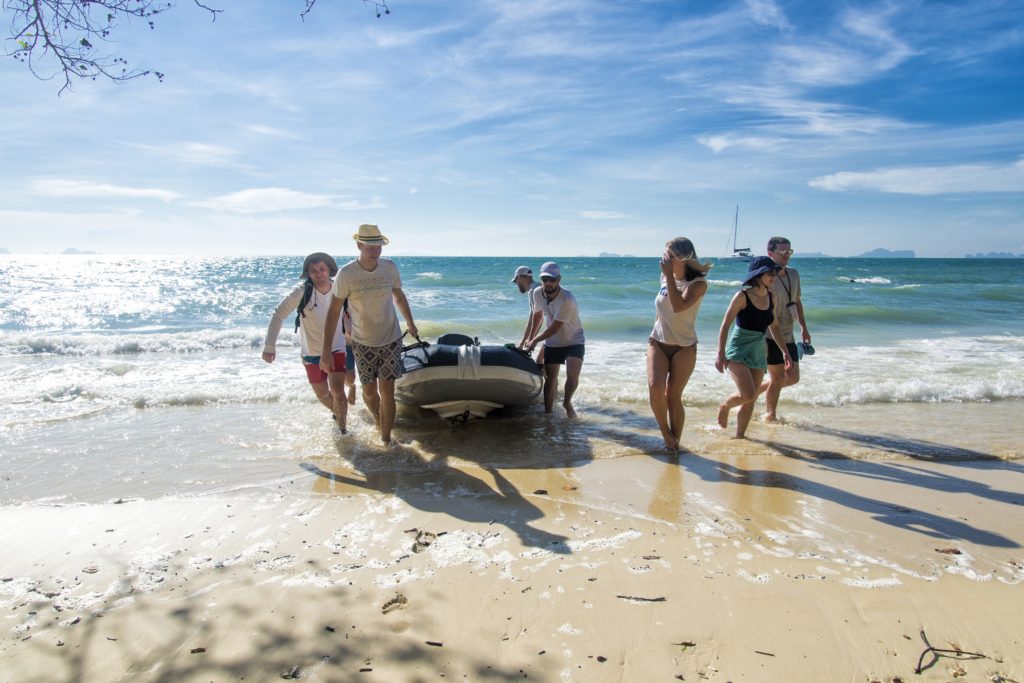 Travel log  27 April – 7 May 2016. Thailand,  Andaman Sea
Day minus one
In two days 19 friends will board three vessels and go on a sailing adventure in the Andaman Sea for 9 days.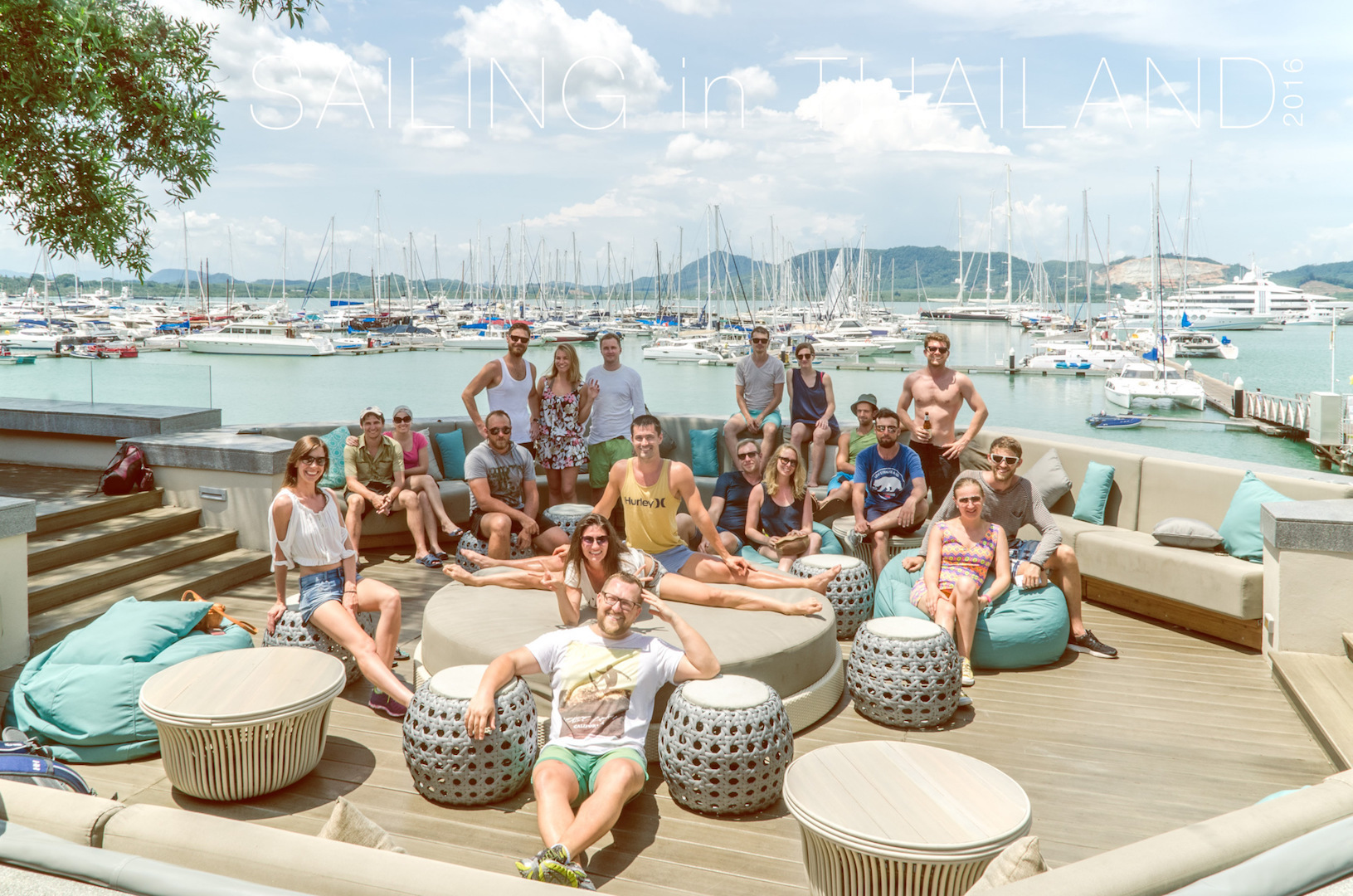 Catamaran Lagoon 380  "Hermiona",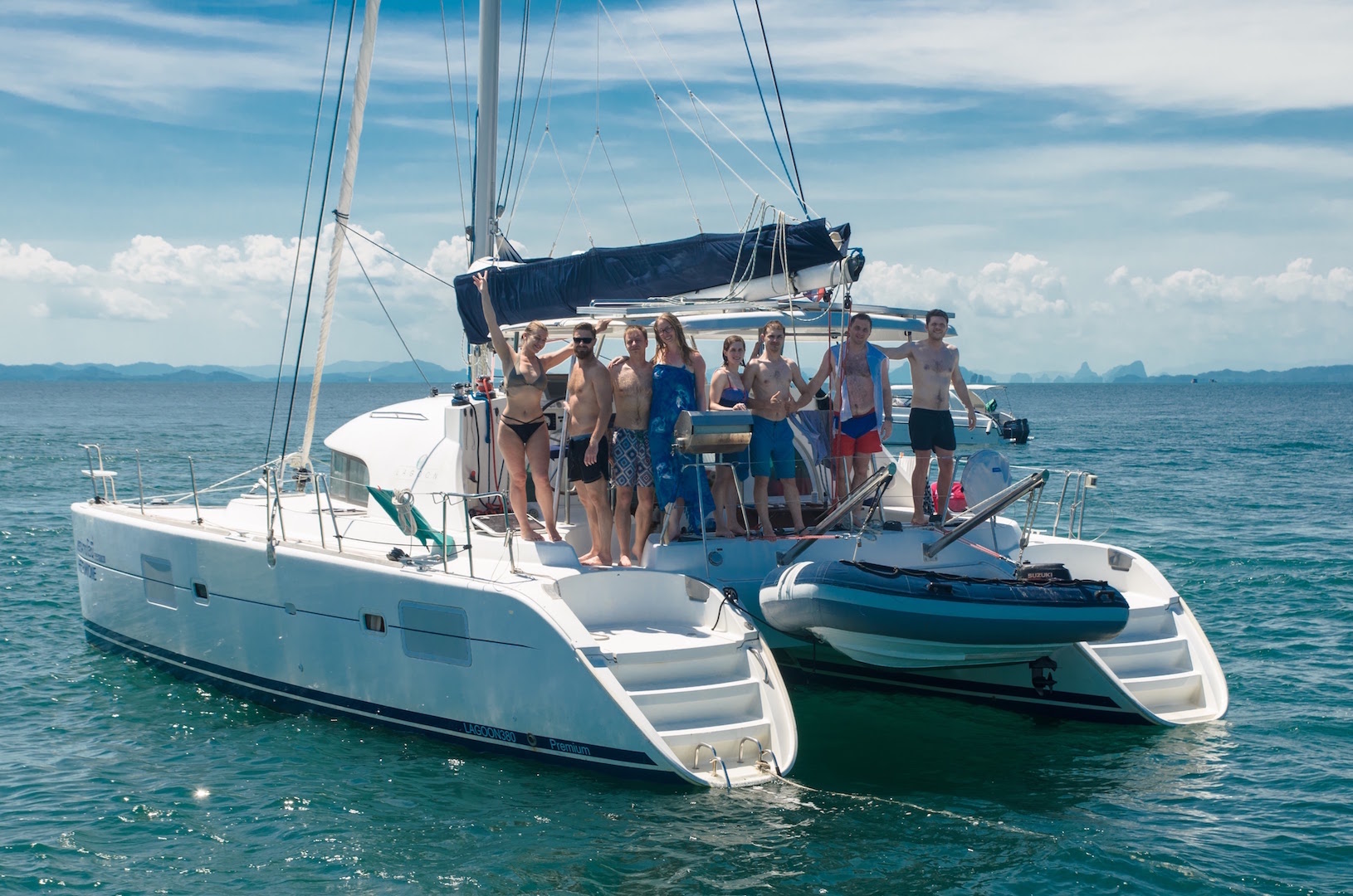 sailing yacht Bavaria 38 "Shiraz" and Beneteau Sun Odyssey 40 "Alexa" await us at Yacht Haven Phuket Marina.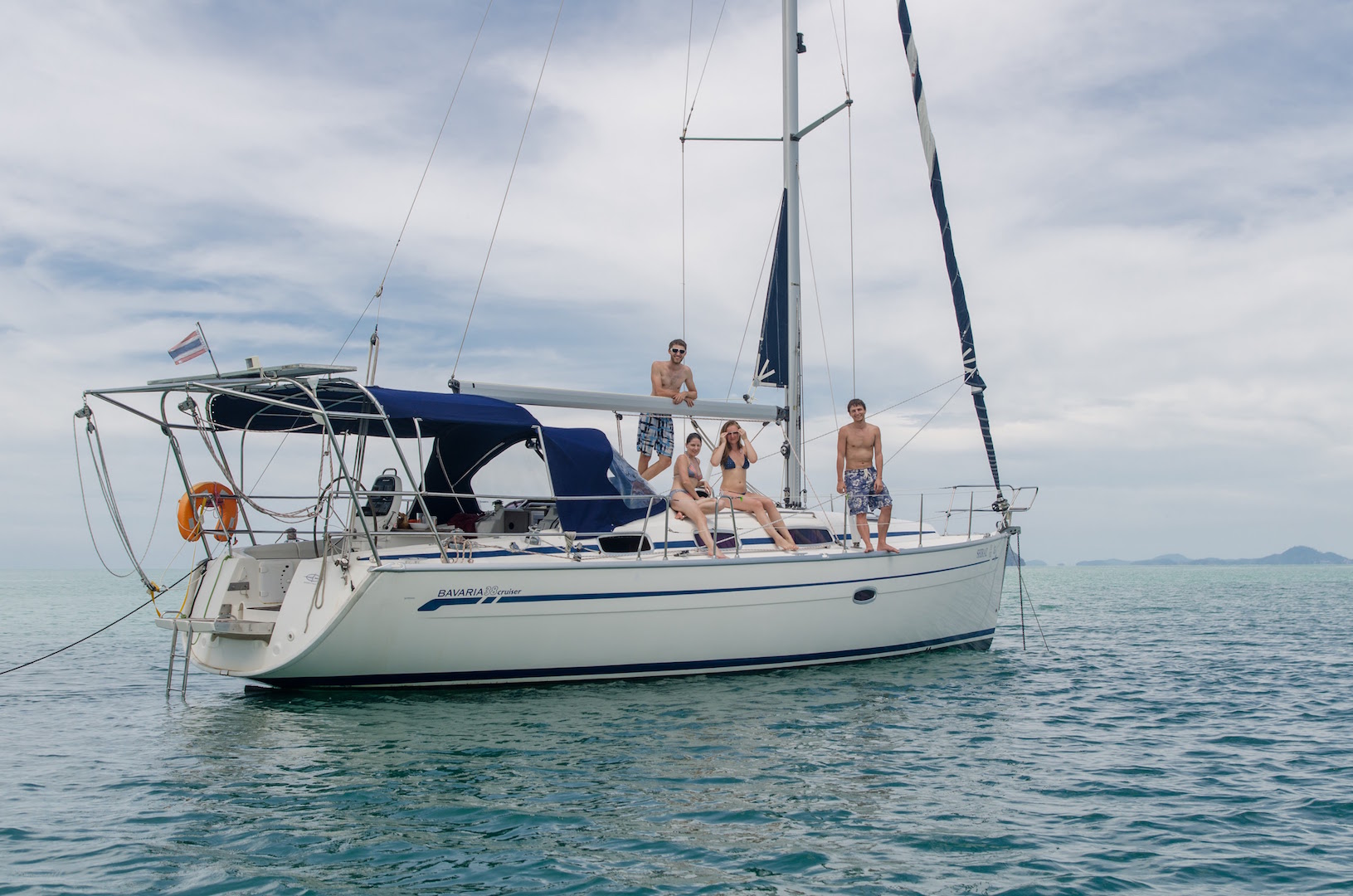 In two days we are going to have a lot of sun, sea, heat and adventures but before that, we have a 13-hour flight and a day of preparation onshore. Let's go!

Day zero
Upon arrival, we need to get a visa. This should not be a complicated task, right? in reality this process looks like the evacuation of a city. Chaos, panic, anarchy. Not everyone was lucky. I saw many people missing their flight because they did not get a visa on time. After arriving in Phuket and checking into the hotel I meet the majority of our crew. We are going to meet a few more people tomorrow. Meanwhile we can relax after long flights, eat, enjoy a massage, and of course, have a drink together.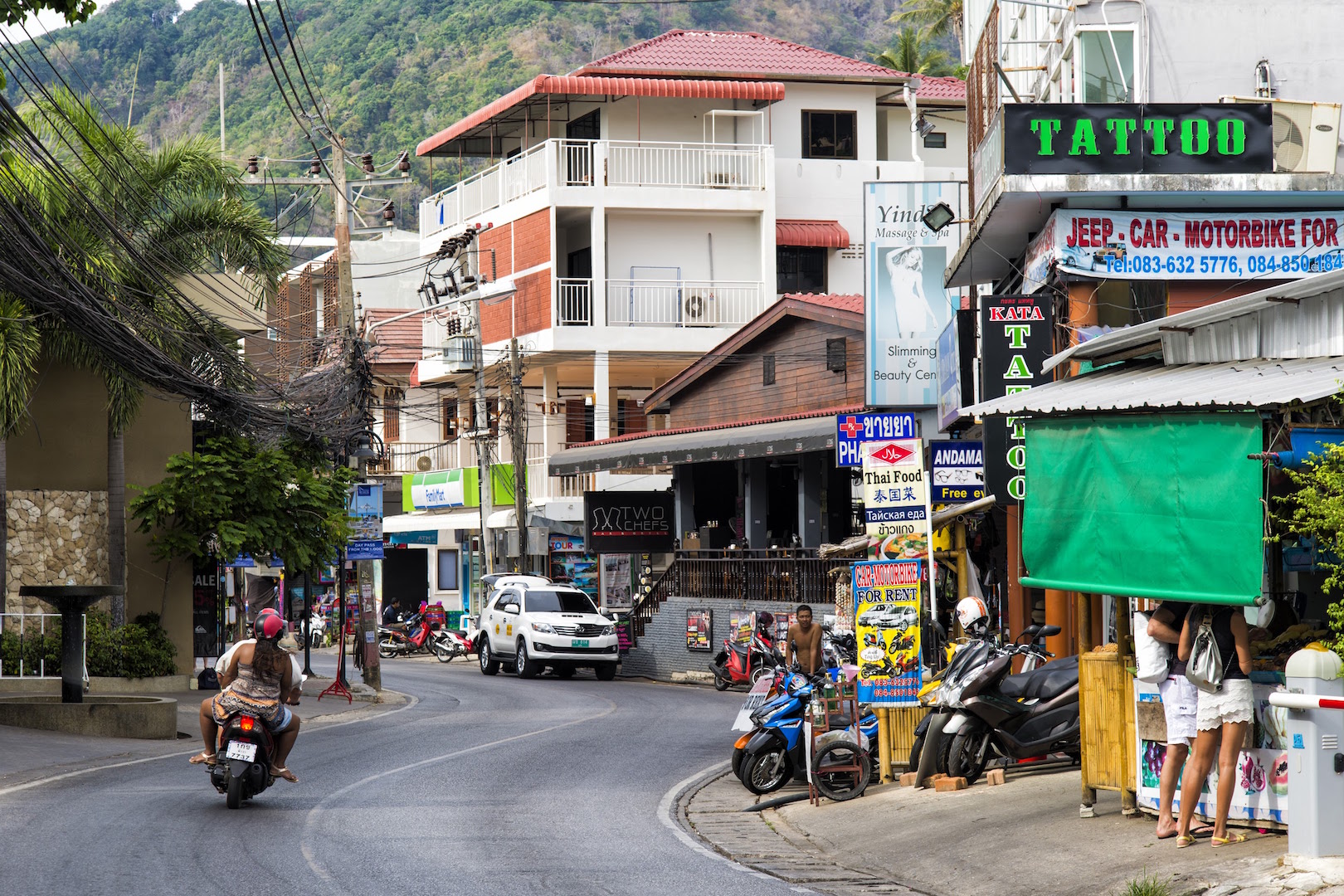 Day one
To do for today: provisioning, yacht check-in, get to our overnight stop. That's a lot, let's go.
For shopping we are going to the biggest supermarket on the island – Tesco Lotus. the rest of the crew are waiting for us there. It took three hours, 12 carts and 70 000 baths (2 000 USD) to buy enough food and alcohol for everyone for nine days of sailing. It takes a pickup and a minibus to deliver all our groceries to the marina.
The marina looks really fancy, especially in contrast to the city of Phuket. And it's huge as well. Several superyachts are moored to the pontoons, the territory around the harbor is guarded. The facility list is also impressive: a restaurant,  a bar, showers, shops, a gas station and even an ATM.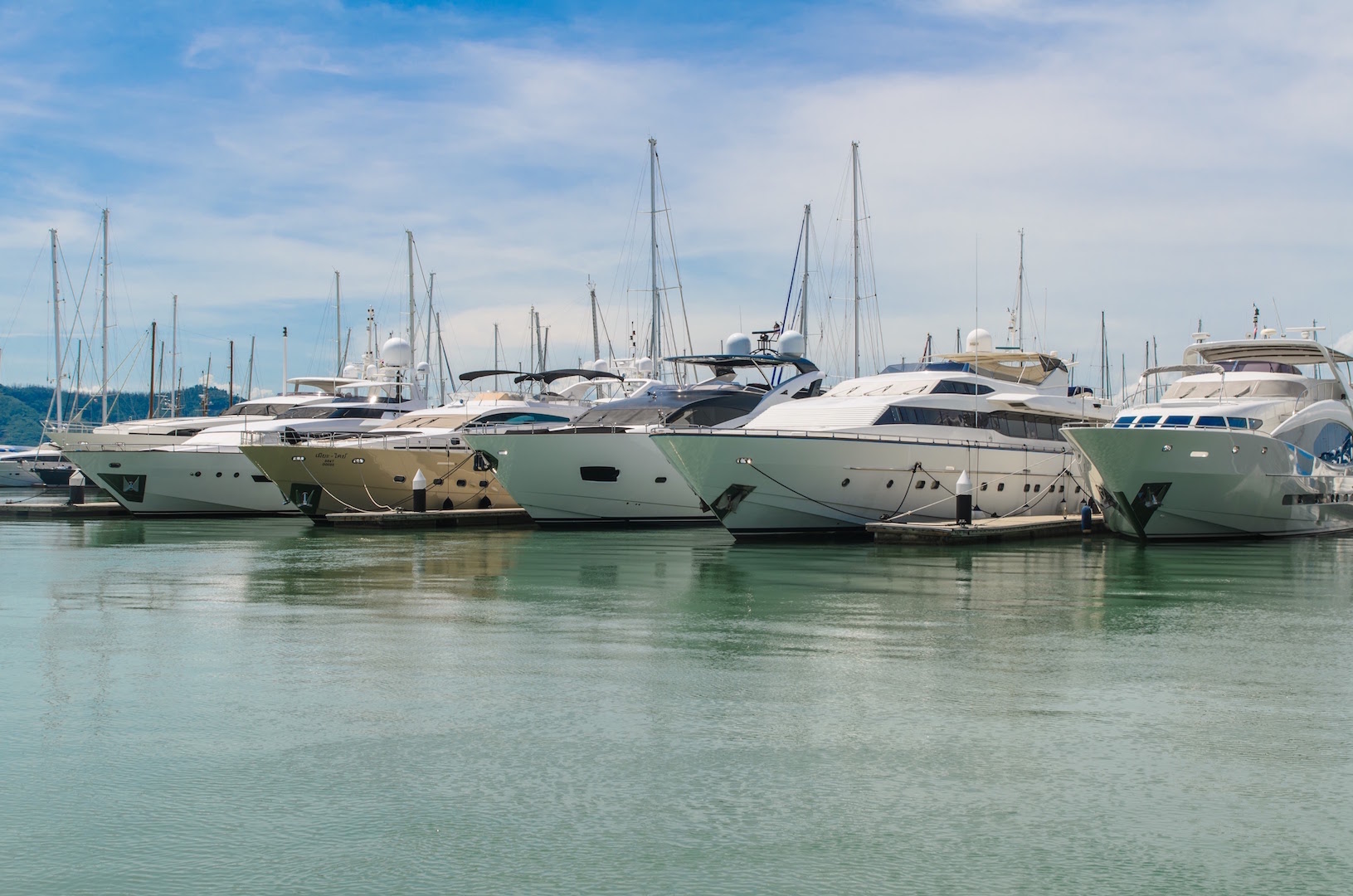 While skippers go to the navigation briefing, personal items, food, water, and alcohol are loaded into the yachts. After taking care of the paperwork we are ready to go. Nine months of preparation and here it is, this long-awaited moment – we leave the harbor and go to meet the unknown!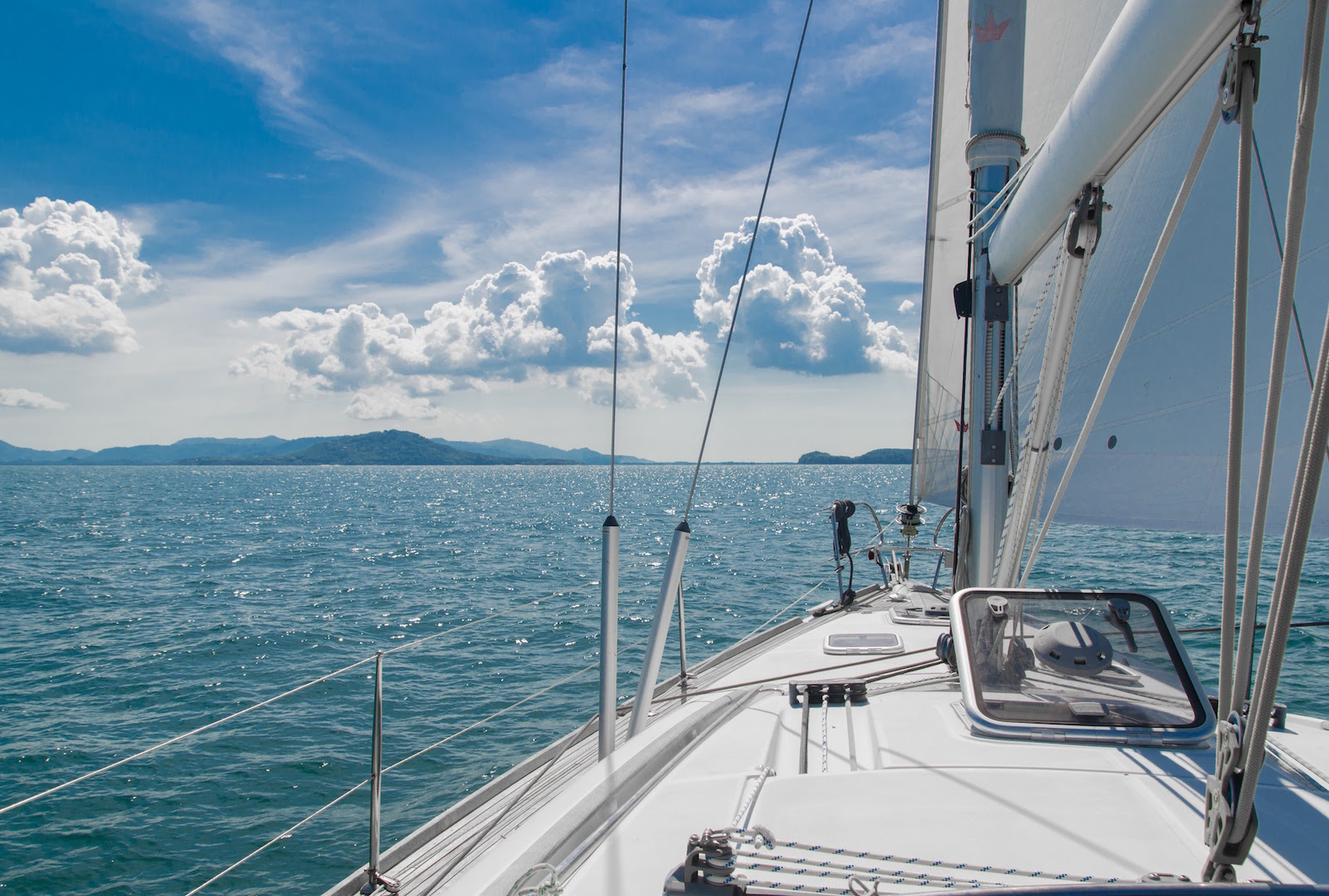 The unknown caught up with us in about an hour. On Shiraz the mainsail wedges so we reach our first overnight anchorage Ko Panak on the motor. The good thing is that the marina was not far away, only eighteen miles, and the charter promised to send a repair team the next morning. We tried to fix the sail on our own by climbing the mast and pulling it, unfortunately, unsuccessfully. We need to wait.
While we are busy with the sail, the crew have already prepared dinner. On the catamaran we have a grill, and that's absolutely awesome. Our dinner is meat cooked by Oliver, who later received the very deserved title of GrillMaster.
It's obligatory to celebrate the beginning of our voyage, cocktails will do. On Shiraz things are also going great – a delicious dinner and drinks. Part of the Alexa team go to the night freediving, a healthy alternative to the drinks on board.
Day two
This is our first morning afloat. After breakfast, we went to explore caves. There are several of them close to our anchorage. Through one of the caves, you can reach the center of the island. While we practice speleology, the repair crew reached Shiraz. Two smiling Thais climb up to the mast and fix the main in no time. We are ready to continue our voyage. Sailing through national park Ko Khlui we are heading to a settlement with an intriguing name – Sea Gypsy Village. It looks very colorful. The village is built on poles, the building is incredibly dense and a lot of motorboats are running around.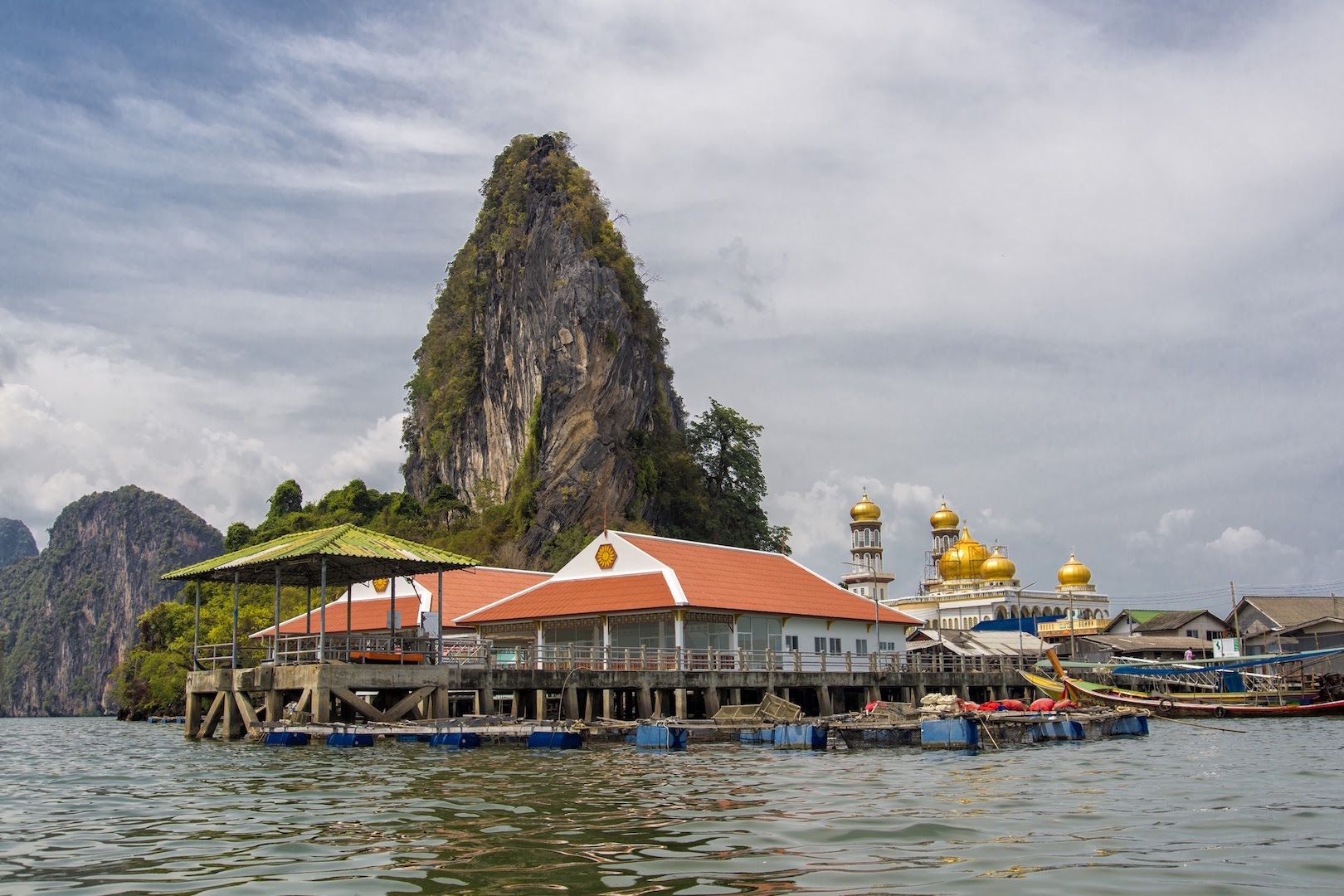 As soon as we drop anchor a local man approaches us on a traditional Thai boat and offers to take all three crews to the village for a reasonable price of 700 baths. But at the moment we all board his boat and he decides to take us on a tour around the island for a price of 3000 baths. It takes some effort to dissuade him to take us directly to the pontoon. The settlement itself looks a bit shocking at first sight. The locals are trading, sleeping, cooking food at the same spot. And today is the day when all local boys are getting circumcised. Here and there the children after the procedure are lying on cardboard.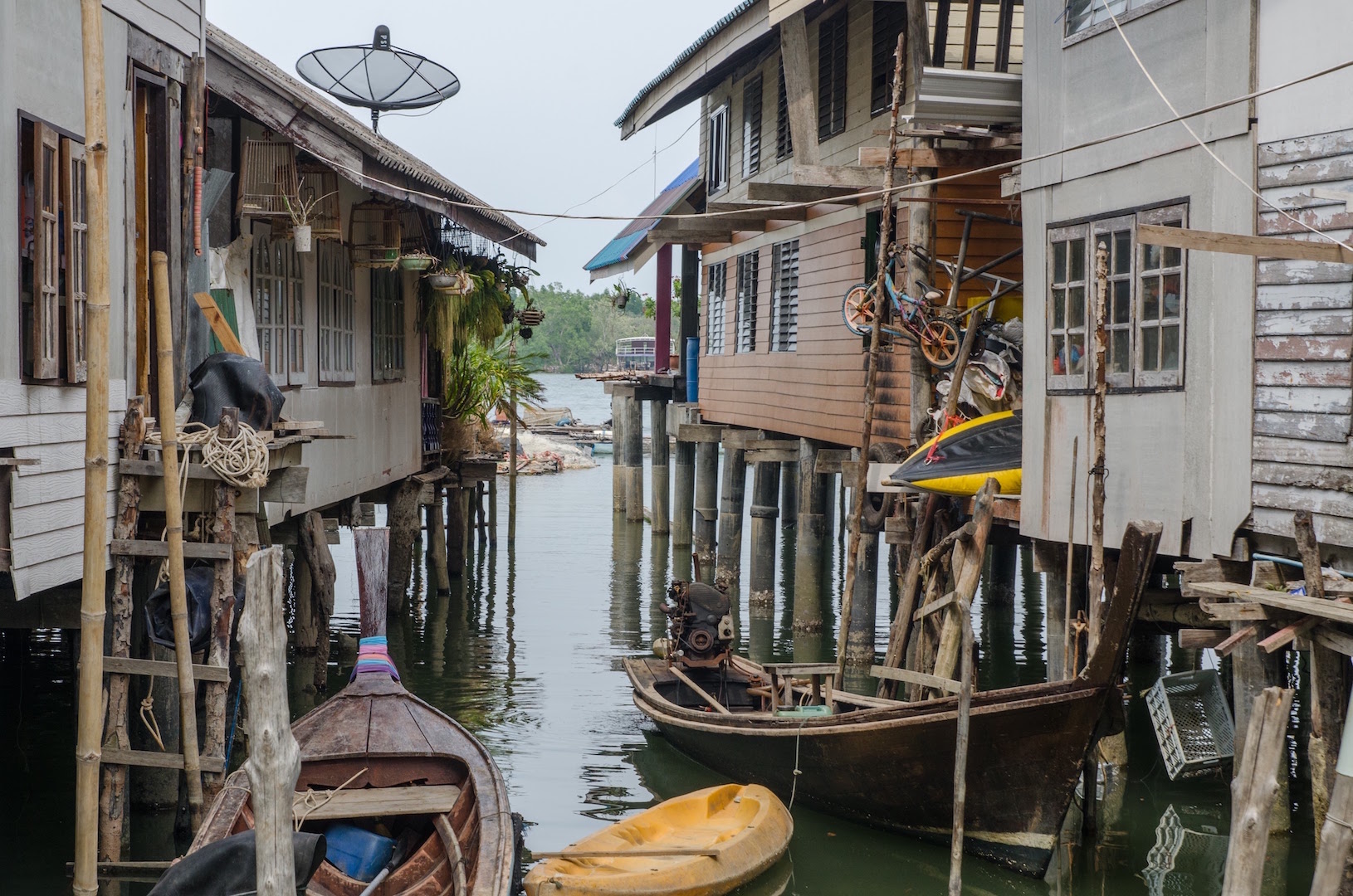 Slightly getting used to the situation, we find traces of a civilization clearly oriented towards tourists. There are a couple of restaurants, cafes and a lot of small shops selling textiles, souvenirs and dried fish. A very unusual place, definitely worth a visit.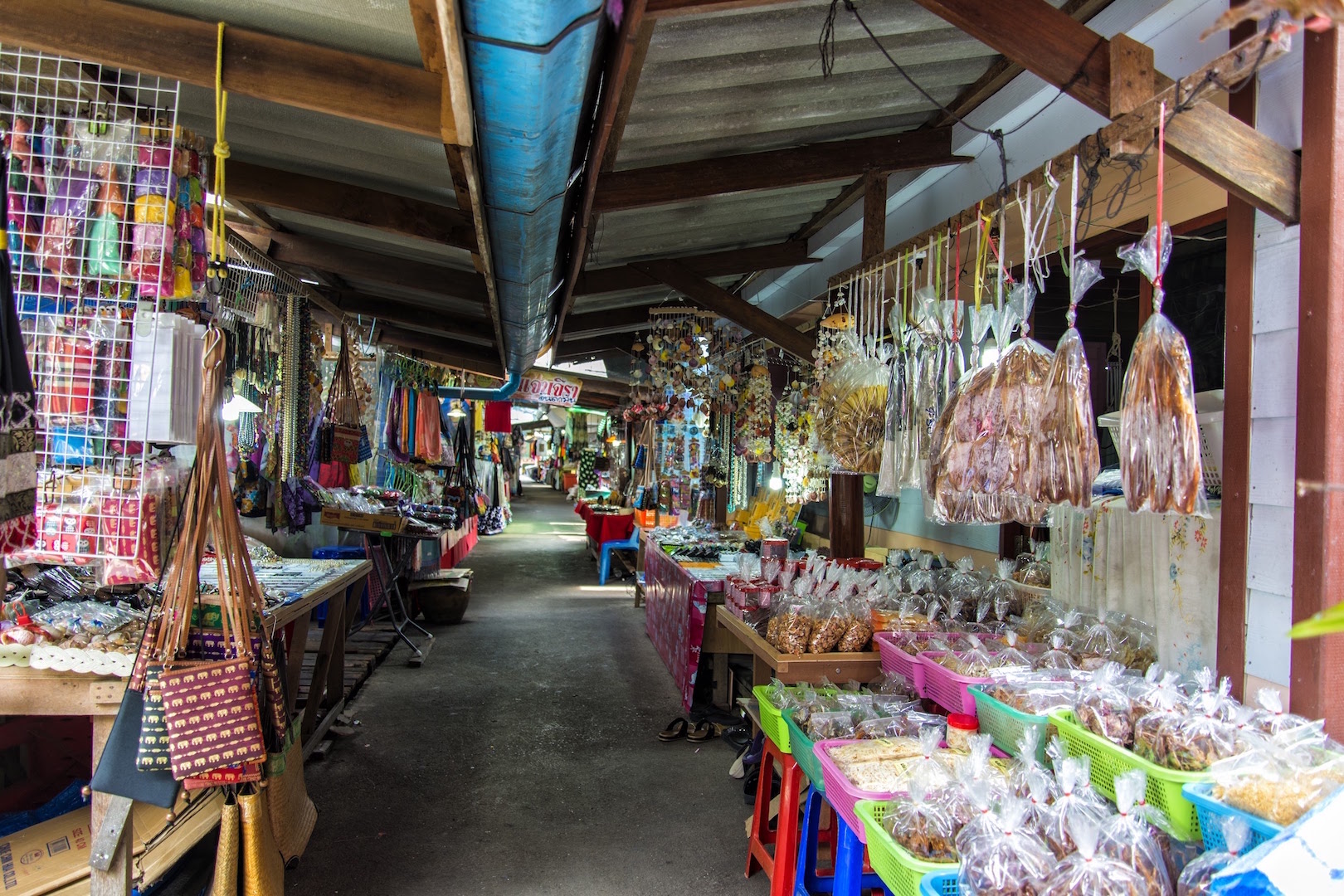 On the way to our night stop in the north of Ko Yai Noi, we pass close to the sheer cliffs standing in the middle of the sea, a really spectacular scene.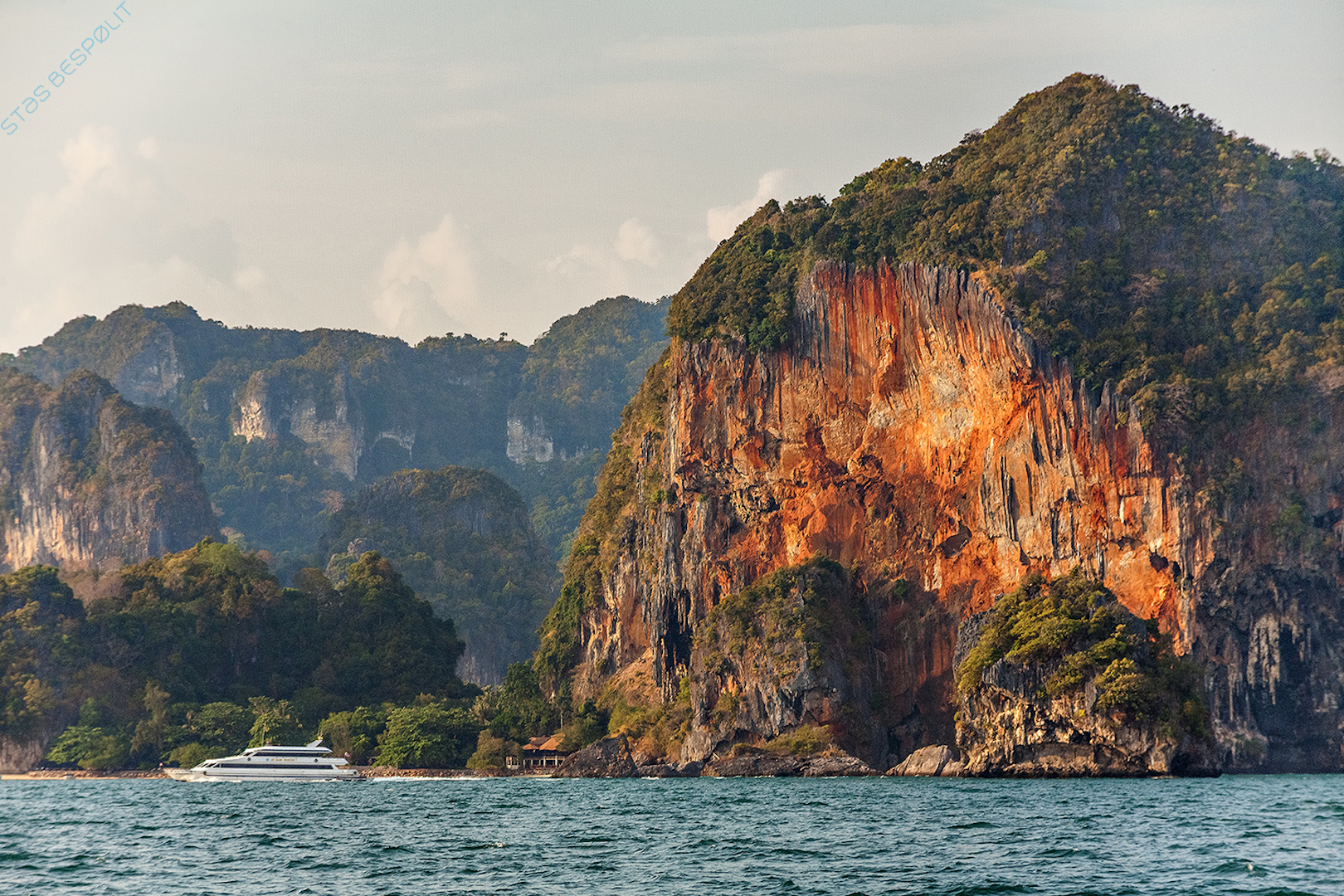 There is a luxurious hotel complex on the shore close to our anchorage. Melissa from the charter company advises us to ask the owner before going there with the whole crowd. So we went in the dinghy (inflatable motorboat) to negotiate a visit for the whole group.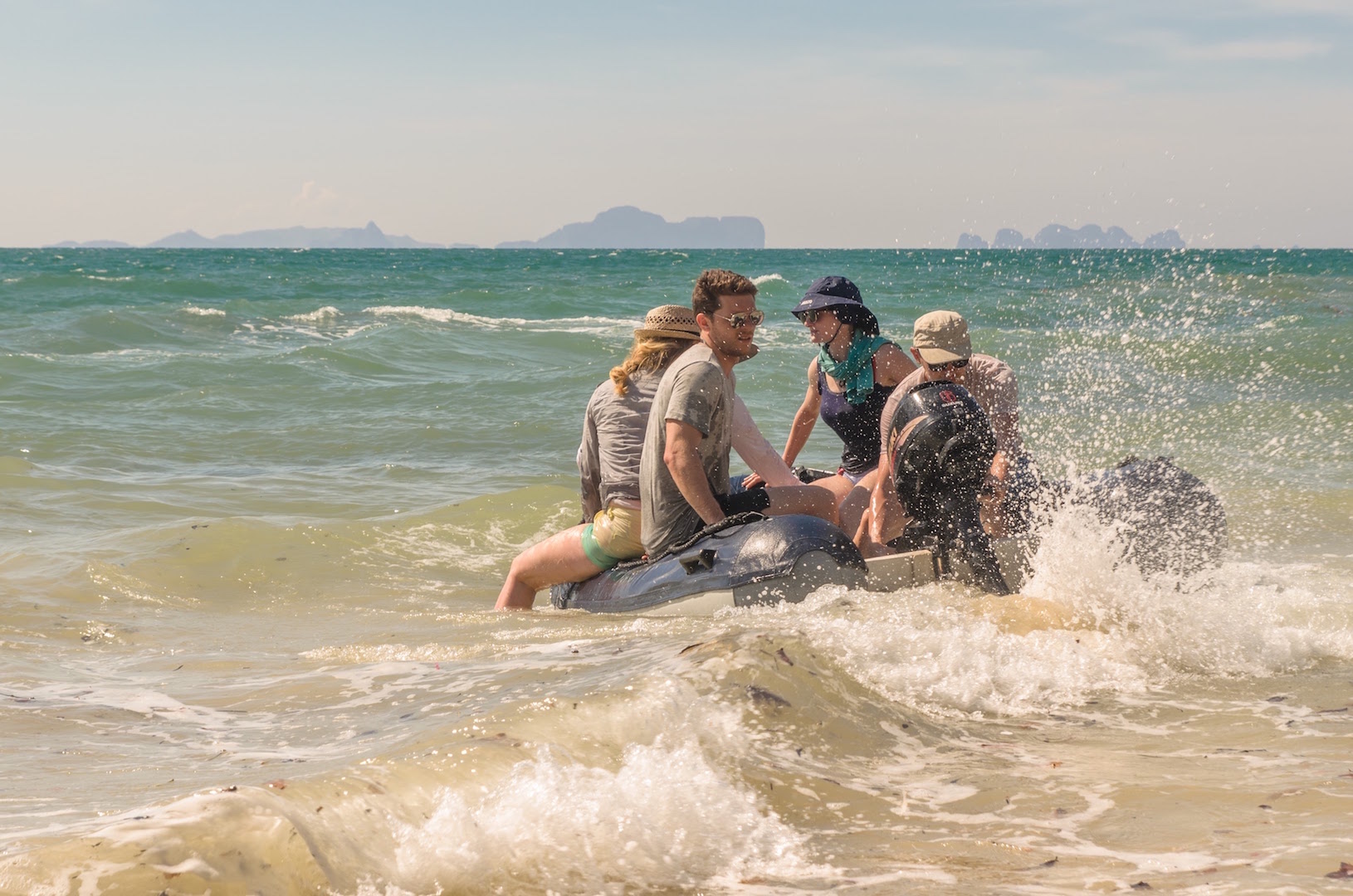 The hotel with a mouthful of a name "The Paradise Koh Yao Boutique Beach Resort and Spa" looks appropriate. Tables on the beach under palm trees, waiters in snow-white uniforms, etc. A couple of beers in the company of friends is what we need after a long day at sea. After spending a couple of hours on shore, and a short stroll through the night jungle we went back to the yachts.
It is worth mentioning how a regular evening on board goes. The four main components are delicious food, alcohol, music, and chatting. All modern yachts are equipped with very functional kitchens, so the choice of dishes is limited only by the imagination of the participants and the list of available products. The same goes for music – the speakers are displayed both in the saloon and in the cockpit. With alcohol everything is clear – it's in stock and the is an assortment.Chatting is a separate subject. There is always something to discuss – what happened during the day, plans for the next day, plans for life, literature, hobbies, the structure of the universe, the meaning of life, and so on.
While busy chatting and drinking, we are caught in a light tropical storm. First, a strong gusty wind rises, then the heavy rain begins. The catamaran drags the anchor, but we solve this problem quickly by moving it to a safer position and increasing the chain length. The Shiraz is moved away from the shore just in case.
After an hour the wind gusts drop and the rain stops completely. The situation is getting better. Making sure that everything is under control, we go to bed.

Third day
We wake up at 6 am, we are in a hurry to leave the anchorage associated with all the troubles from yesterday. The main problem of early departure is that most of the crew members miss the opportunity to swim.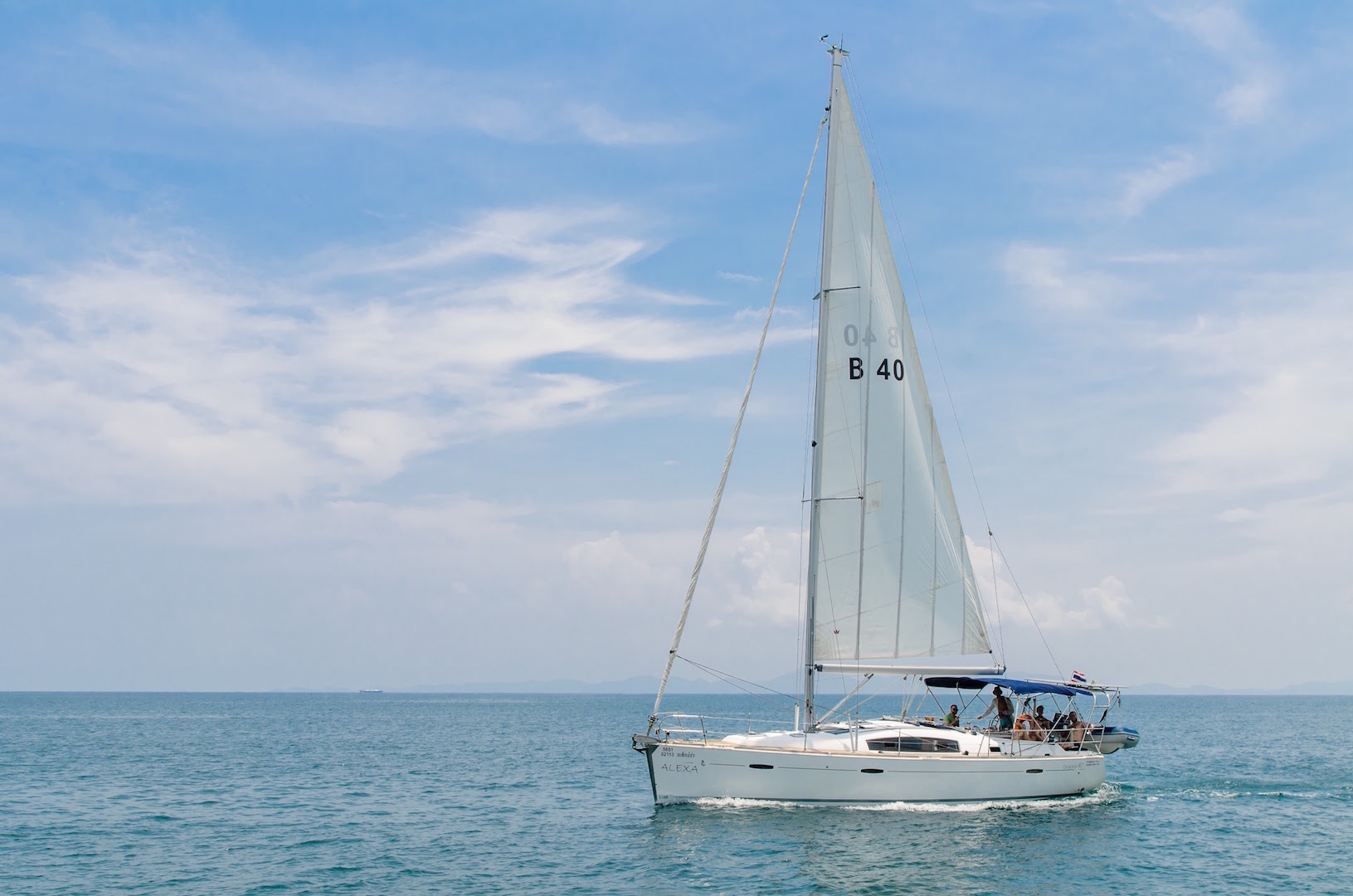 Therefore, we make an intermediate stop at Ko Bong Bong. And again the adventures on the Shiraz, the anchor chain is stuck. Apparently, while raising anchor we pulled the chain too hard and the winch got  jammed. Taras and Alexander come to help. Together, we manage to detach the anchor and release the anchor chain.
Today, our day anchorage is Ko Dam Hok. The group of islands near Krabi looks very cool. Two islands are located close to each other and on low water, you can walk between them on the sandy spit. One of the nicest places for the whole trip, in my opinion.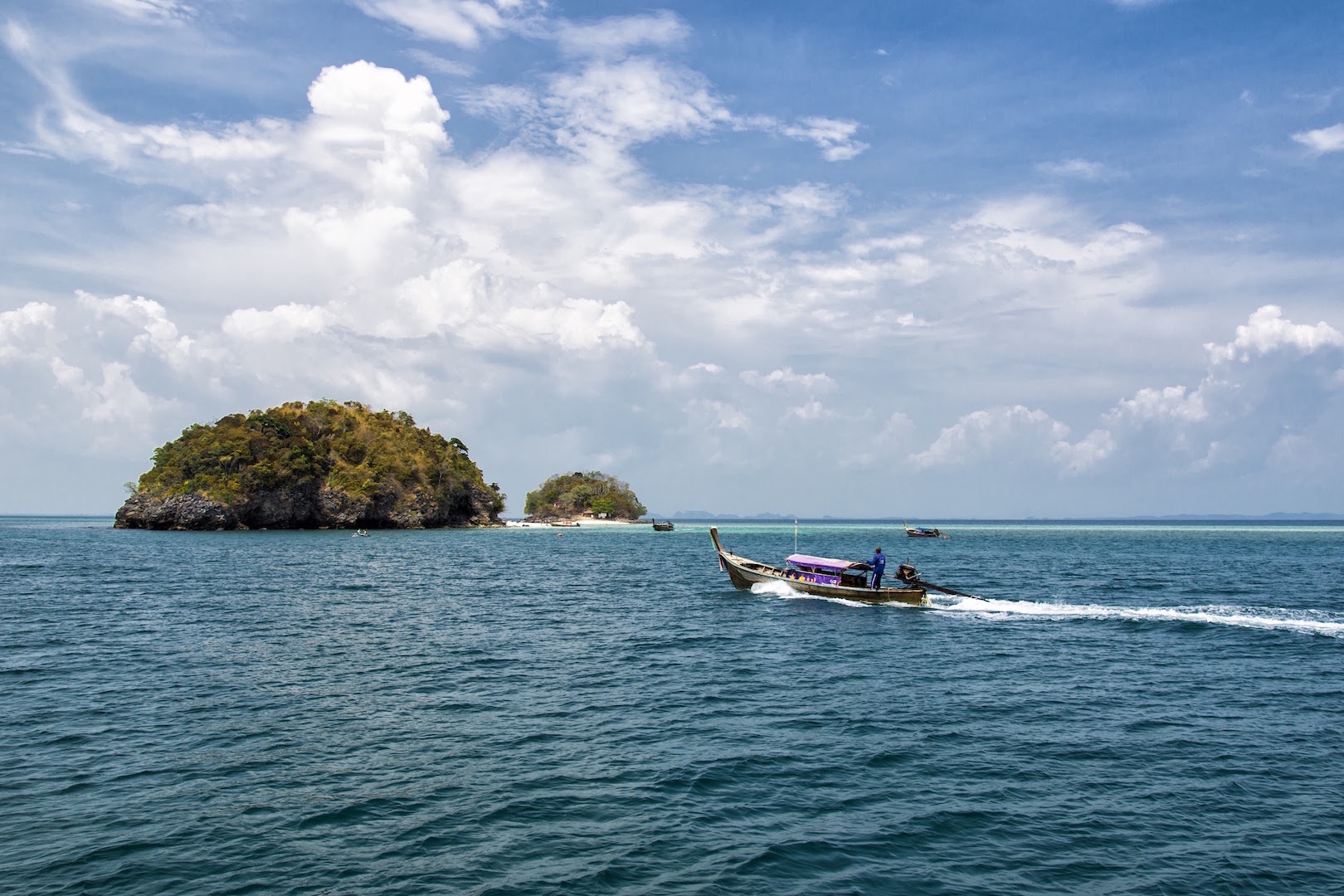 We have lunch today with the entire company aboard the catamaran. Grill, cocktails, music. For many, it is also the first opportunity to meet new friends. We are a group of nineteen people. Most people know me well, but not everyone knows each other.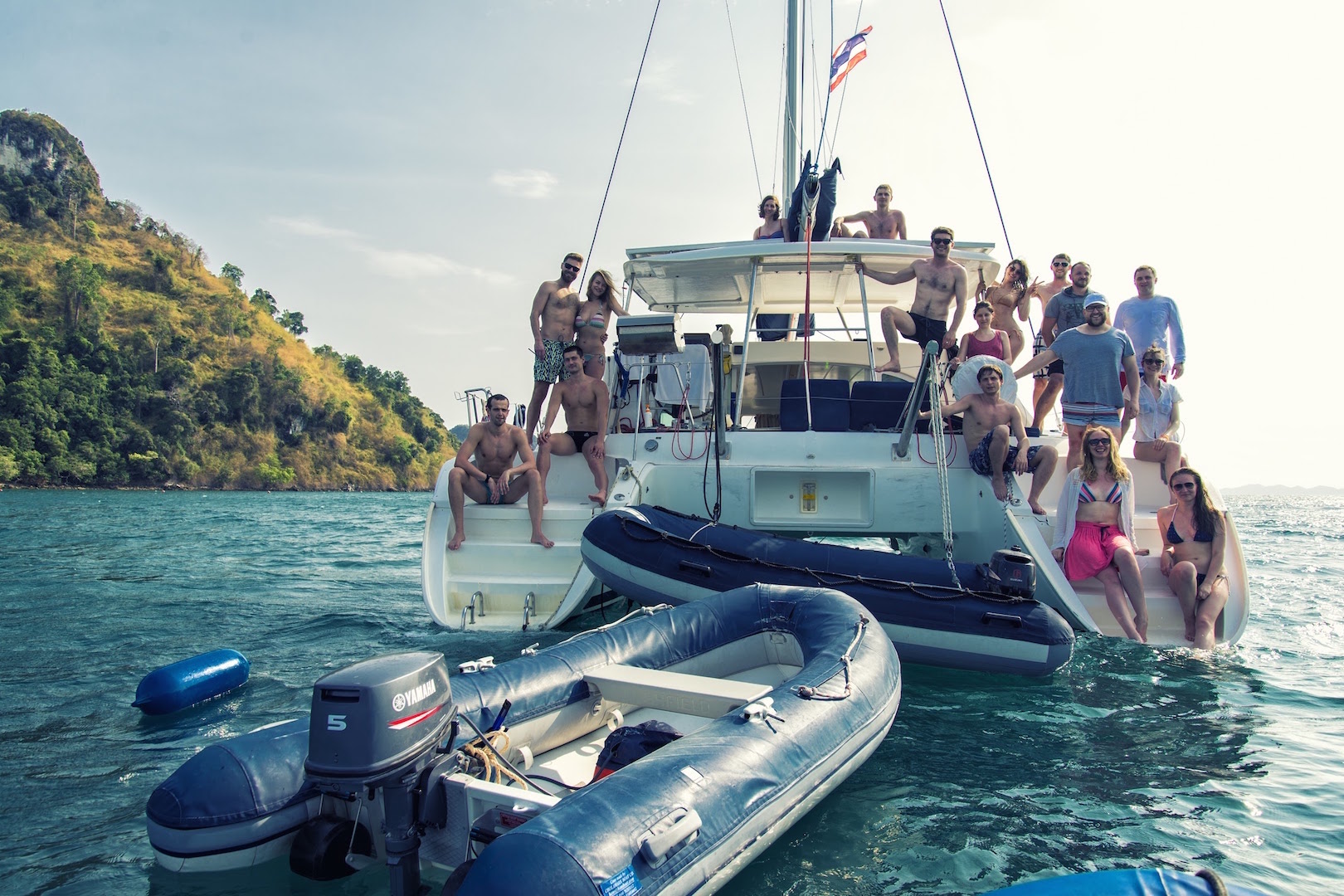 After getting some rest we are going to the last point for today – Krabi Ao Nang. The place is quite popular.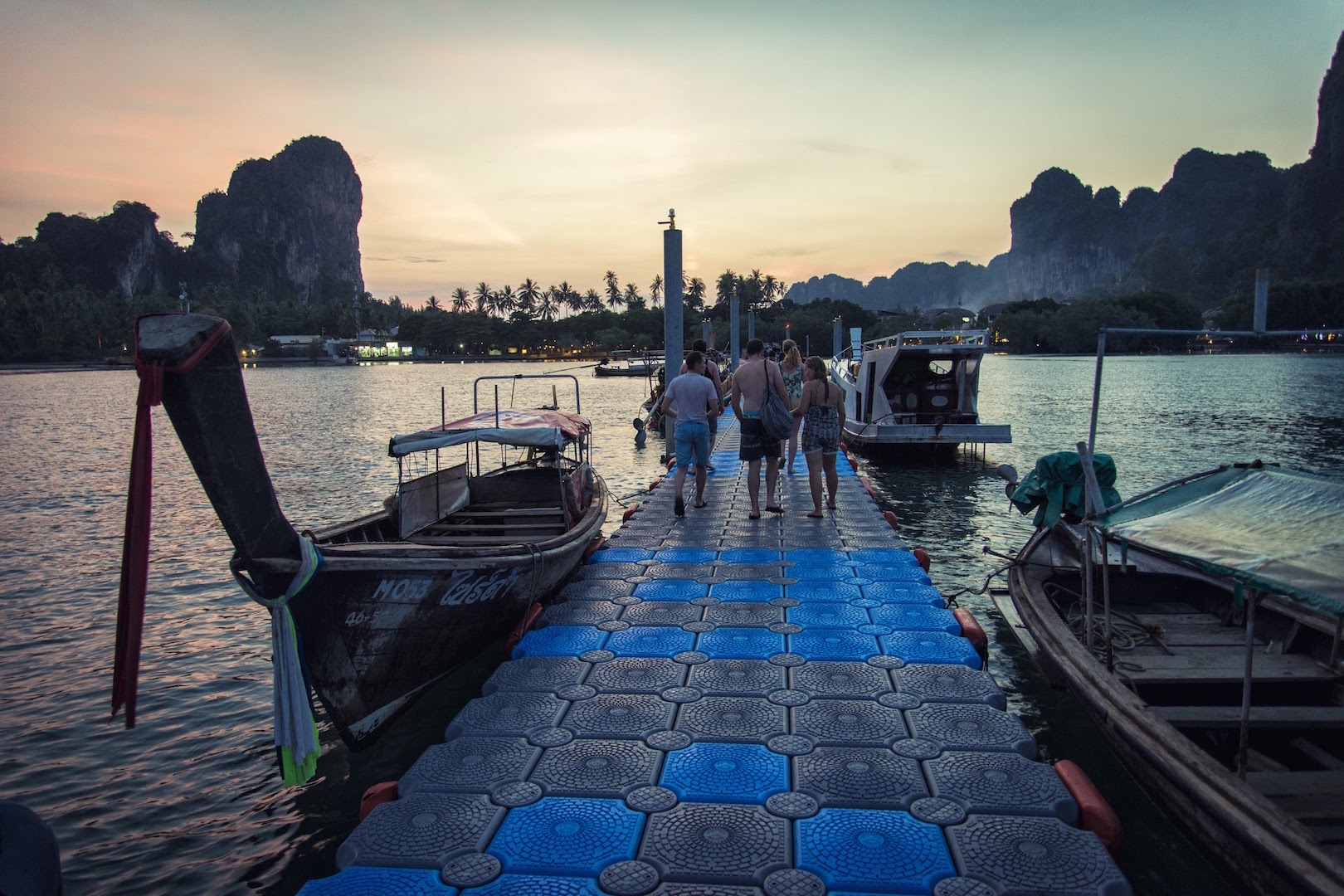 There are a lot of yachts anchored in the bay and a lot of small boats sneaking around. A comfortable pontoon goes to the shore, there are many cozy restaurants on land. Thai cuisine deserves special attention. Tom Yum, Tom Kha Kai, Pad Thai, Kao Phad, I will miss you in Amsterdam.The Thai make excellent seafood, meat, and chicken, and delicious fruit cocktails. The price of a dish is around 3-5 euros depending on the location. It's just food madness. Staying at one of the restaurants on the coast we begin to discuss the upcoming diving at Phi Phi. The overwhelming majority expresses a desire to plunge into the depths of the sea. It remains only to find a suitable diving center at Phi Phi. But this is tomorrow, and today – dinner, an evening walk and a beer on the beach.
Fourth day
This night we sleep well. Early in the morning, we leave the bay and head to the snorkeling spot near Ko Mai Phai. For many of us, it is a first snorkeling experience. The water is extremely clear and the visibility is just great. The reef is full of life, there are shoals of exotic fish, sea urchins, and coral. The crew from Alexa was lucky to see a shark, peacefully sleeping at the bottom surrounded by suckerfish. They manage to get as close as 2 meters but the shark spots them and decides to retreat. After a few hours of snorkeling, we get back to the yachts and set sail towards Ko PhiPhi. The wind builds up and we decide to practice sail handling. The wind helps a bit to survive the heat. For those of us who are sailing for the first time, it's a great chance to learn how to tack and steer the boat.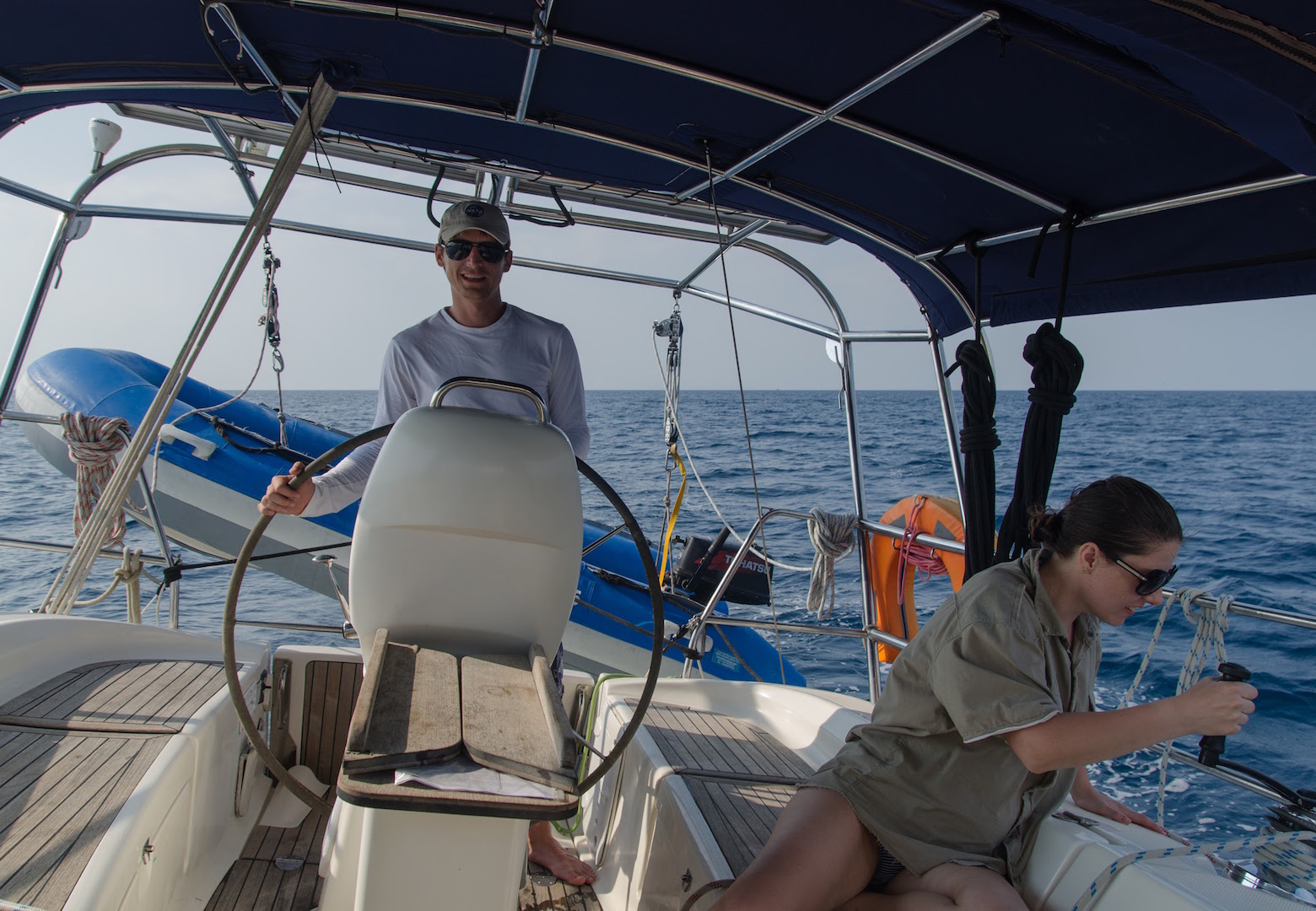 An hour before sunset we drop sail and start the engine to get to our anchoring spot faster. We still need to find a diving school.  The Phi Phi seafront looks really cozy and has a convenient pontoon for dinghies.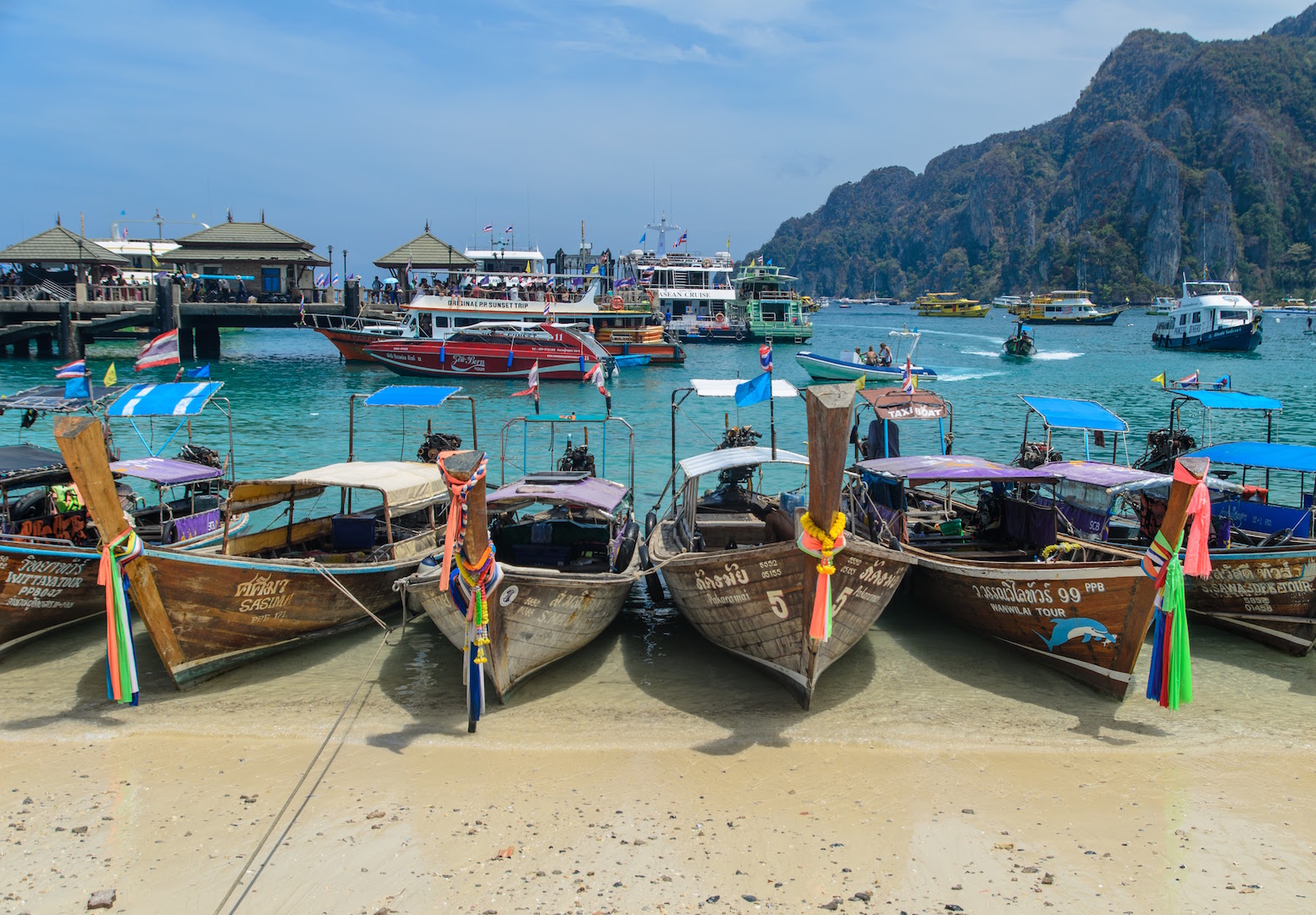 We find a dive center super fast and arrange a diving tour for the whole group in no time. Today we need to pick up equipment and do all the paperwork. Our lead instructor is a very cheerful guy, making jokes and entertaining our group while we fill in forms and try on wetsuits, flippers, masks and buoyancy compensators. Today we have a sober evening. Many of us are beginners and will dive for the first time tomorrow. Alex and Roman plan to finish their diving course and get PADI certificates. There is no place for a hangover. Our instructor recommends a nice a place nearby for dinner, the food is delicious and the prices are ridiculously low. It's  always nice to get some recommendations from locals.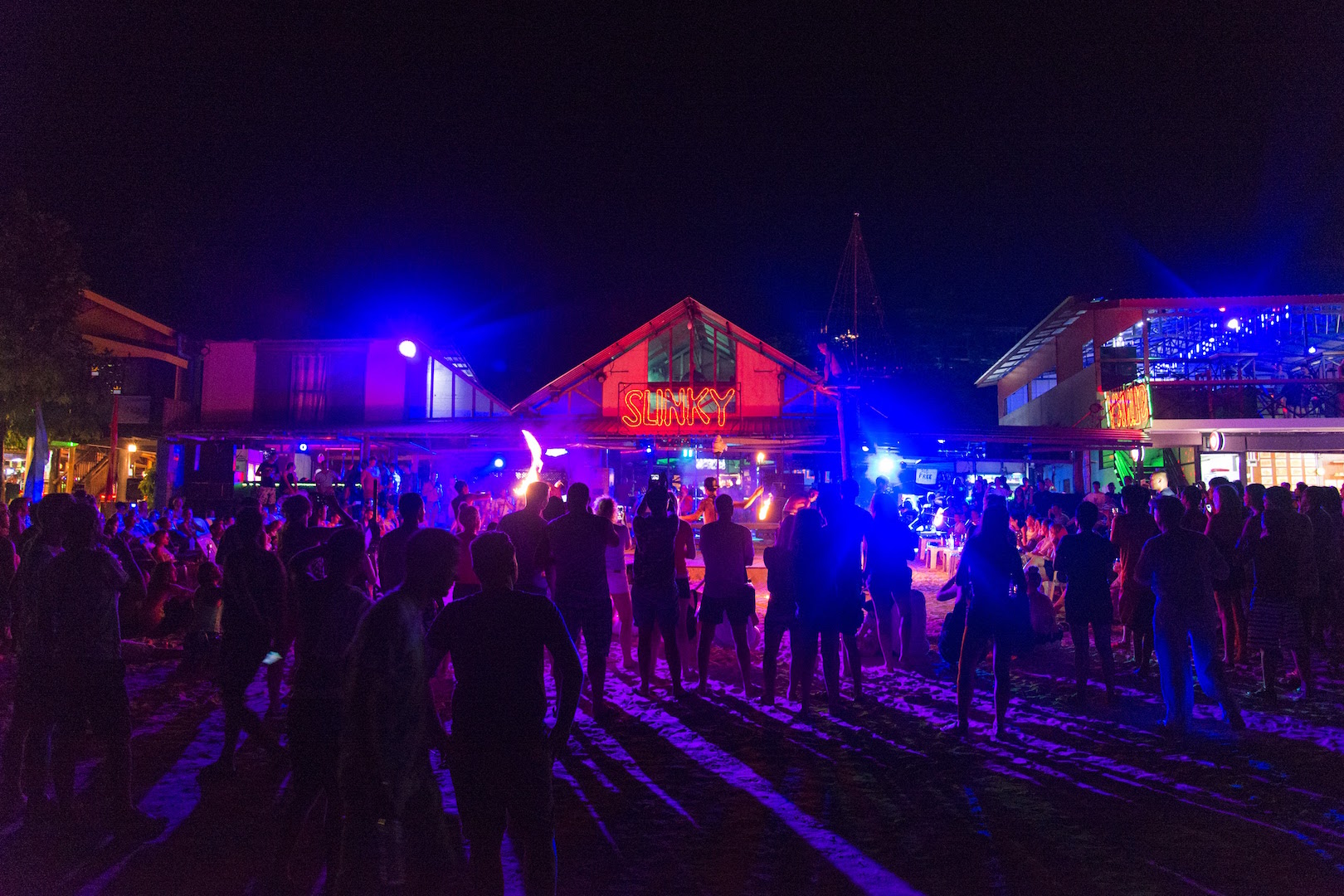 PhiPhi is a party place, there are dozens of bars, clubs, and restaurants. You can literally buy a bucket of alcohol with ice everywhere. This is a local thing together with fire shows. But today we behave, tomorrow is a busy day. After dinner, we return to the yachts and get some rest.
Day five
We wake up early and go to dive center. There we have a useful and hilarious briefing. We learn about equalization, scuba principles, decompression sickness and barotrauma.  Also, we learned the basics of sign language. At the pier a diving vessel awaits. It's a double-deck ship, around 60 feet long. All the diving equipment are stored on the first, we sit on the second deck. All crew members are locals including the captain. We are introduced to the diving instructors, they all are expats temporarily working in Thailand.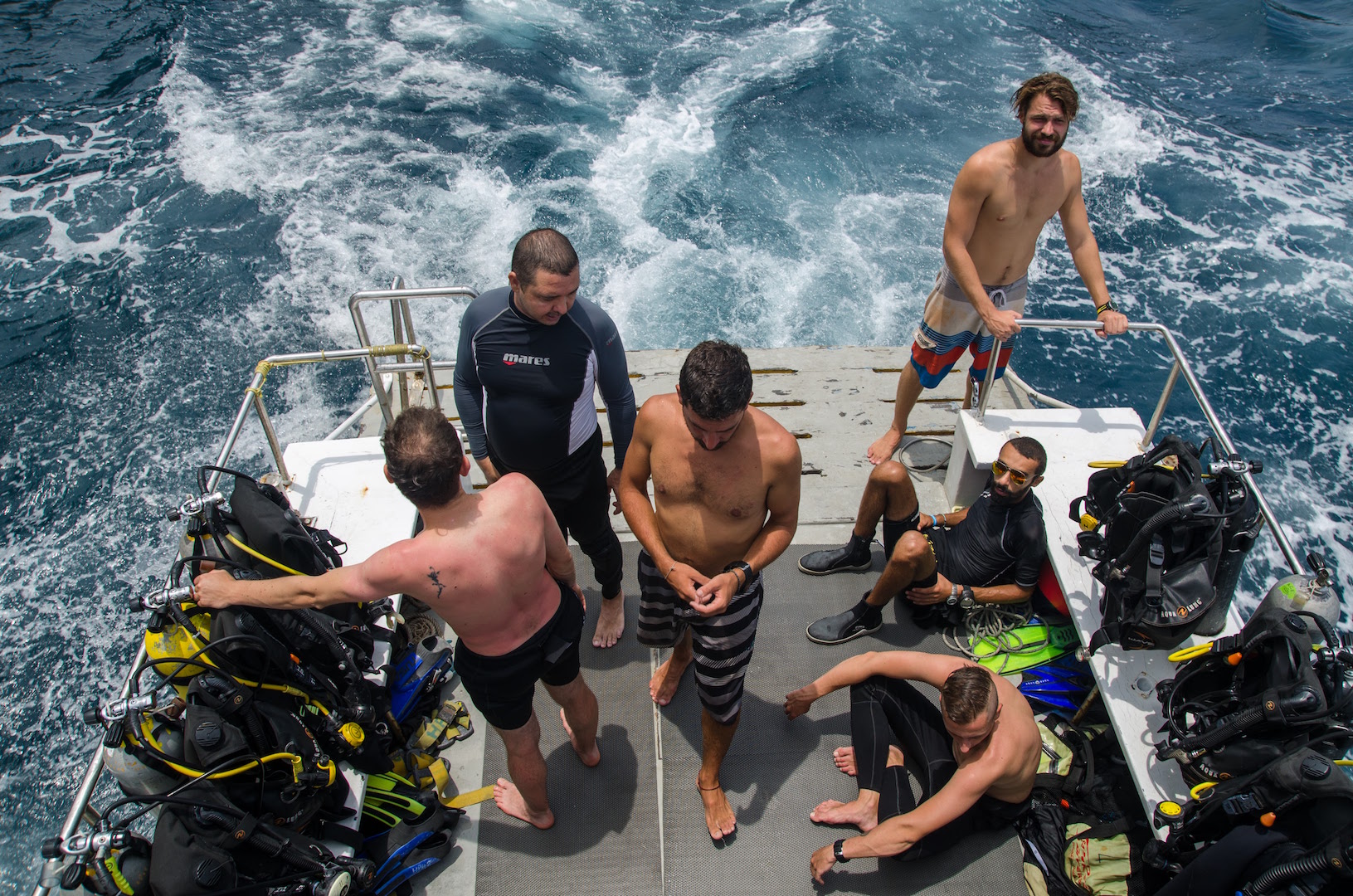 We are going to dive in threes, one instructor and two beginners.  Our diving vessel is quite fast, and goes up to 10 knots so we reach the first diving spot quite fast. We start preparing for the dive. First, we are going to do some exercises and only when everyone is ready are we going to dive. We put on wetsuits,  weight belts, flippers, masks and finally compensators with an oxygen tank. After the final briefing we approach the side of the boat, make a looong step forward and we are in the water. Vests are inflated and keep us afloat.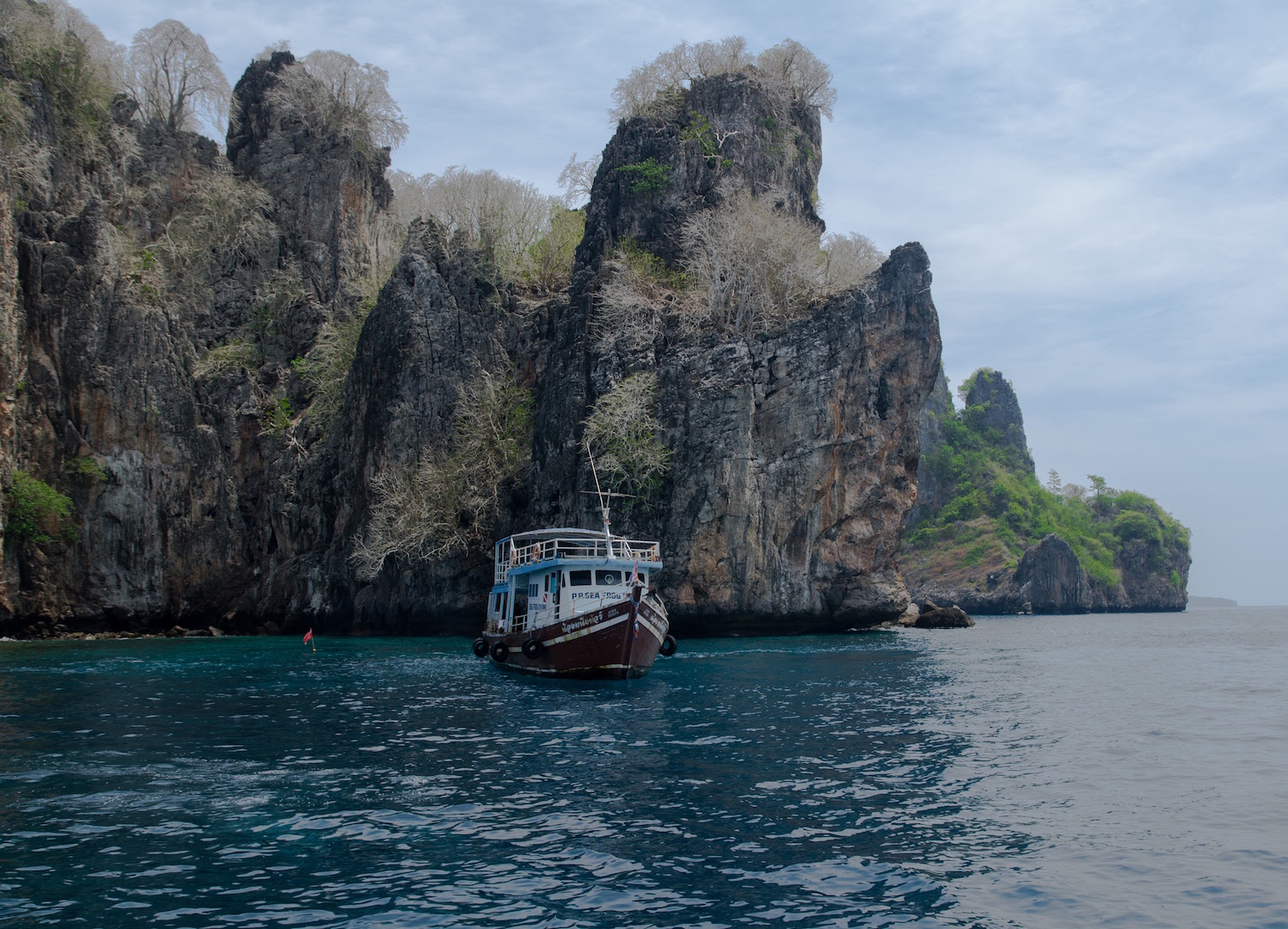 Quickly we go through three exercises: take out the mouthpiece under the water and blow oxygen from the through it, removing the water that came in the mask, "lose" the mouthpiece and find it. Repeat the exercises a couple of times and we are ready to dive. We spend around half an hour underwater, the maximum depth is 12 meters. On the surface we inflate the vests and wait for the diving vessel to pick us up. Diving is an exhausting activity and we are glad to have lunch on board. Rice with seafood, watermelon and pineapple is on the menu. We are happy! It takes us approximately an hour to get to the next diving spot. Same story:  wetsuits, weights, masks, the long step. This time we dive right away. Now we have time and confidence to look around. The underwater world is amazing, people in scuba gear look especially awesome. So out of this world!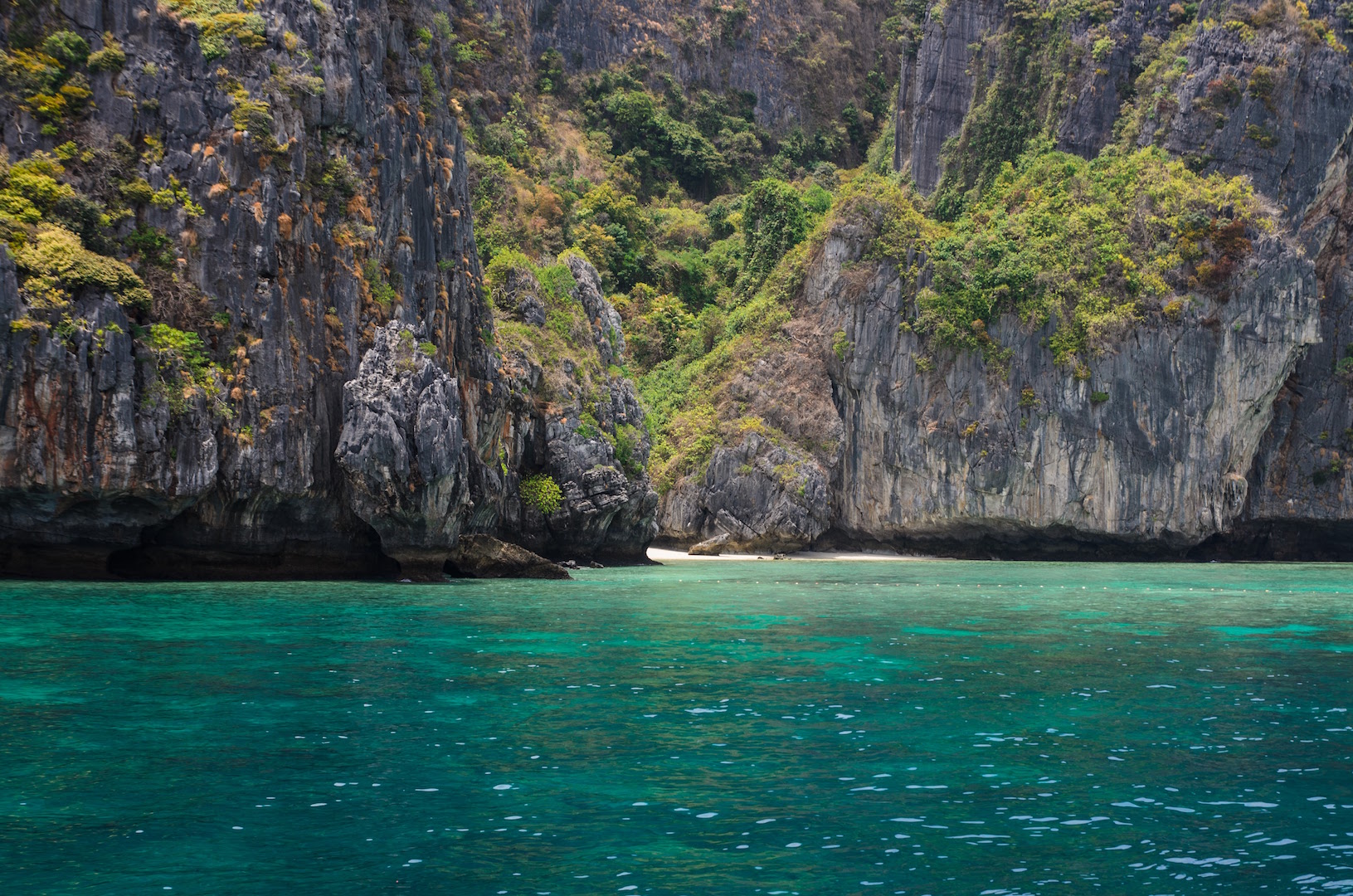 The second dive passes by much faster, it's time to go back to the surface. The lead diver calls the vessel to pick us up and return to the base. While mooring the vessel was damaged a bit but nothing serious. It is time to say goodbye and thanks to our instructors. At the base we return all the gear and get all the documents. The main plan for today is accomplished. The only thing left is to have a party in the evening. Before that it's free time for everyone and Phi Phi has a lot to offer for exhausted travelers.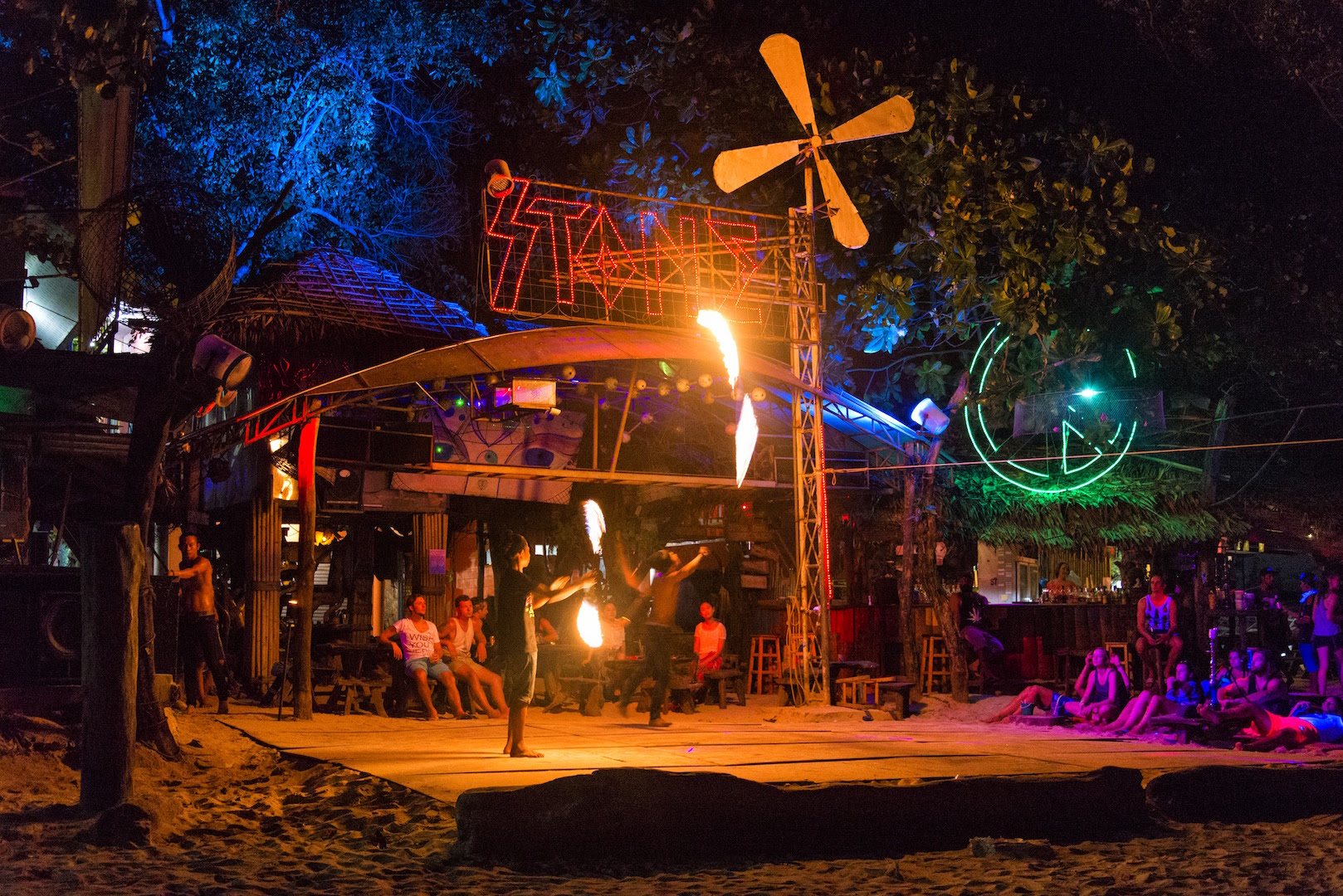 Today one of our crew members has a birthday, the party is on. The evening gets very busy, Thai boxing, cocktails in the rooftop bar, previously mentioned buckets of alcohol and walking through the city at night.  After a great time on shore, we are going back to yachts.  Part of the crew stays to continue the party. Late at night, we receive a request to pick them up on the dinghy.  On the way there the real tropical rain starts, we wait till its end under the roof of the closest bar. It was an awesome day.
Day six
It's our last day on Phi Phi. It's a great place, a well-protected harbor, tasty food and a lot of bars. What else does a sailor need? But it's time to move forward. Our to-do list for today is much shorter compared to the previous days. First thing in the morning we need to refill the water tanks on all our boats, they are almost dry.  Close to the shore, there is a pontoon specifically for this purpose. The guy in charge of it is living the good life. His boat stands out among other local boats, there is a lot of expensive fishing gear on board, and he behaves accordingly. The reason behind this is that he is in charge of the only refueling station in the 30 nautical mile radius. It's an amazing feeling after a week at sea to get access to unlimited fresh water. All the tanks are full and we also have a chance to spray the yachts and each other with cold freshwater. Just a reminder it's 35 degrees outside. We are having tons of fun.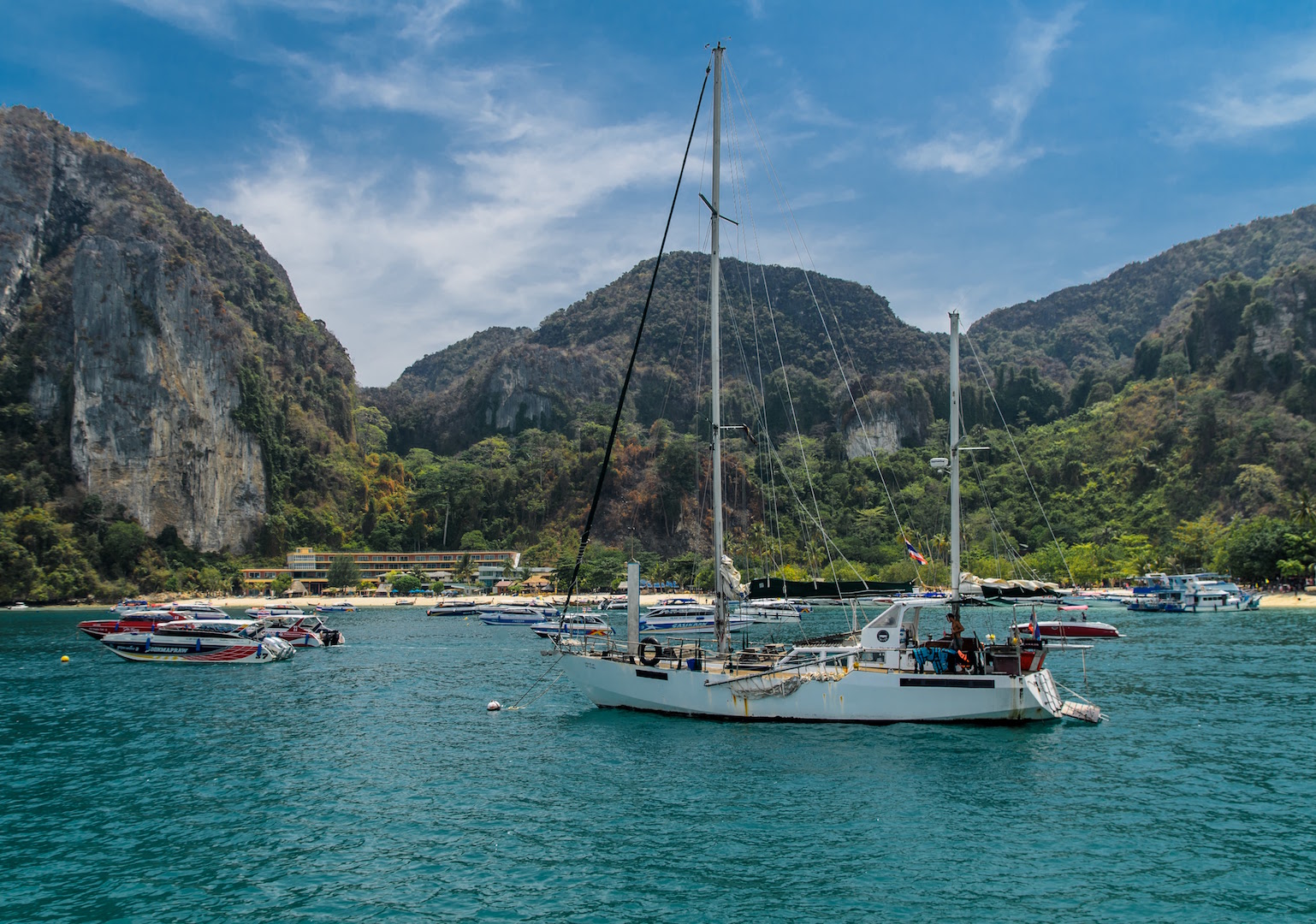 The second item on our to-do list is to visit a viewpoint on one of the hills above the city. Armed with cameras we are going up, it's not easy to climb stairs in such heat but the view is worth it! We still have a few hours before departure and everyone wanders around the island doing their own thing: buys some souvenirs, enjoys a Thai massage or just eats out and relaxes.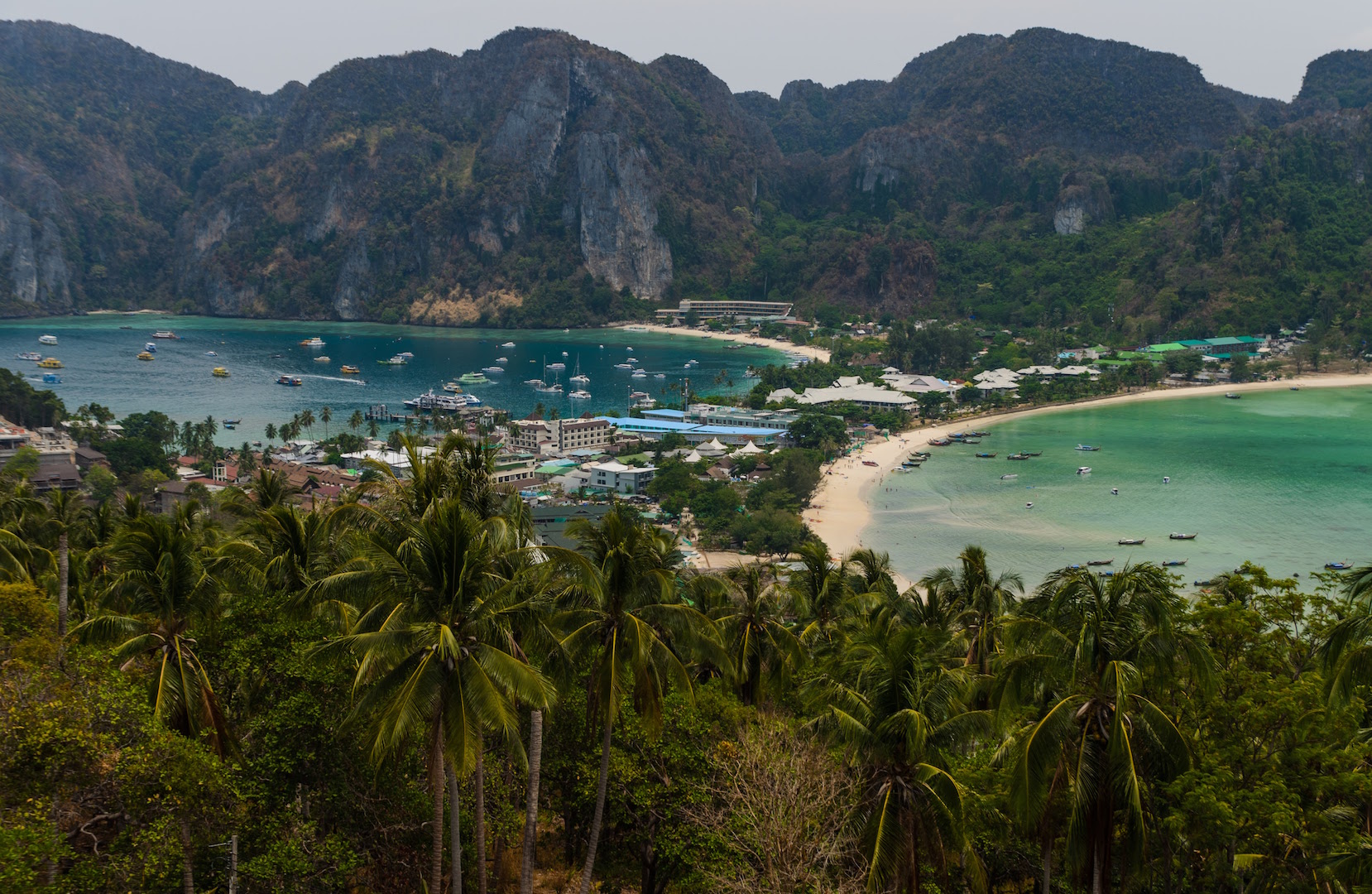 I always want to sail on a catamaran and today it's a great chance to do so. For 24 hours I am a crew member on catamaran Hermione.  We raise the sails and start gaining speed, 1.5 knots, 2 knots, 3.5 knots…and that's it. The catamaran is very comfortable and spacious but not that fast apparently. On the other hand, steering is a very pleasant experience, you have your own couch with a sunroof.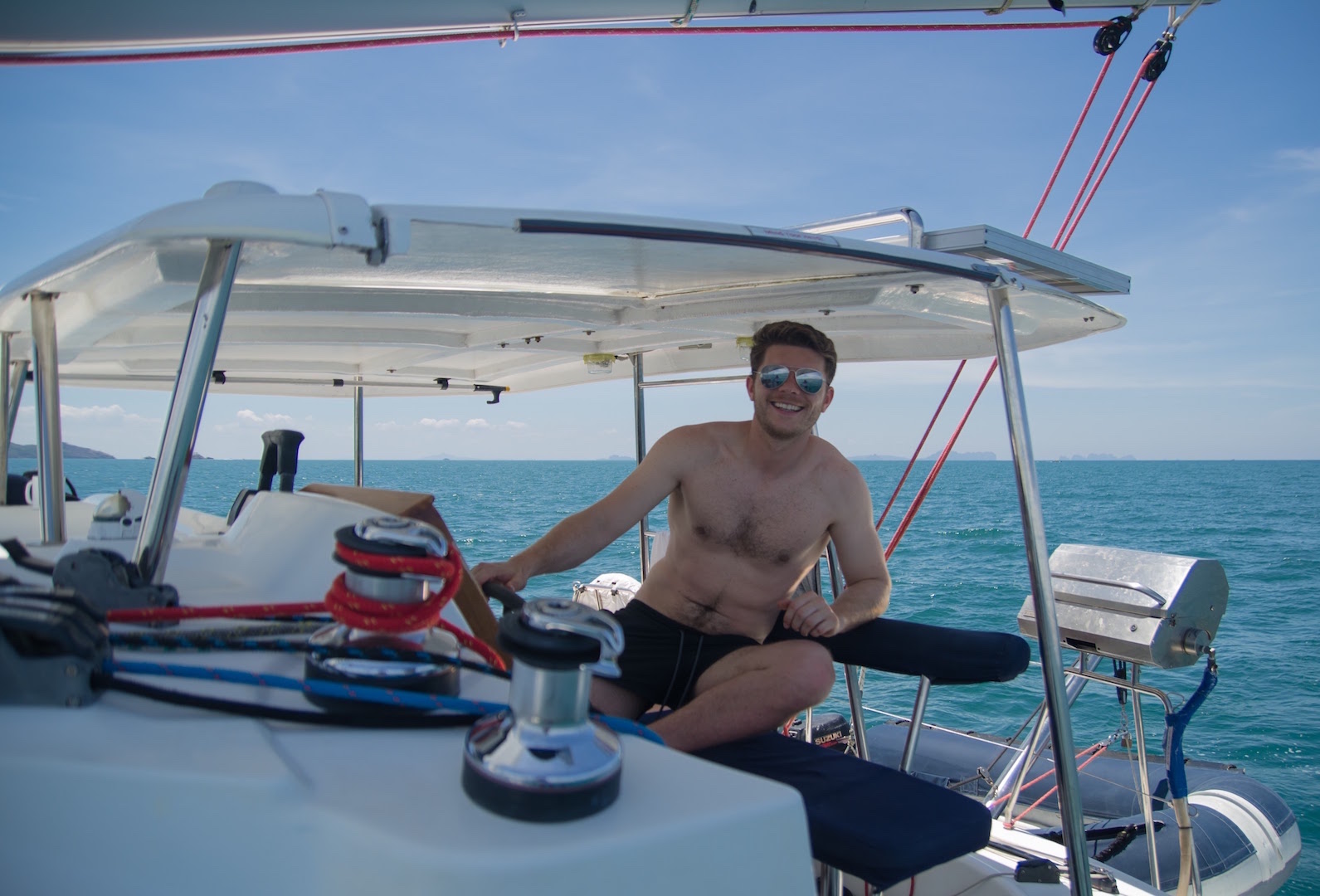 In other words, catamaran equals comfort. It takes some extra attention to maneuver among crab traps, that local fishermen put almost everywhere. Good fishermen mark their traps with colored plastic bottles and evil fishermen mark theirs with clear bottles. The last one is super hard to spot in the water. It's getting darker, we approach our overnight stop. Rainfall rages near but passes by. A mysterious green glow is visible on the horizon, later we will find out that these are fishing ships. It is not known why the green light attracts squid better, but it looks beautiful. After dinner, we chill in the front of the catamaran on the huge net stretched between two hulls. It's another big advantage of a multihull.
Day seven
The sea is choppy this morning. We reach the shore on dinghies and start exploring the island. After half an hour or so we found a small Muslim village. Very friendly people live here. They live a simple life and look happy. We are really surprised that almost everyone in the village speaks  English. We find a small and colorful local shop and buy some soft drinks to make cocktails in the evening. Our next stop is Khai Nai, a very touristy island. White sand beaches with deck chairs and umbrellas,there is also a restaurant and a bar there. A lot of speedboats are parked around. This time instead of anchoring we moor to one of the buoys available. Buoys are great, they provide secure holding and it's super easy to use.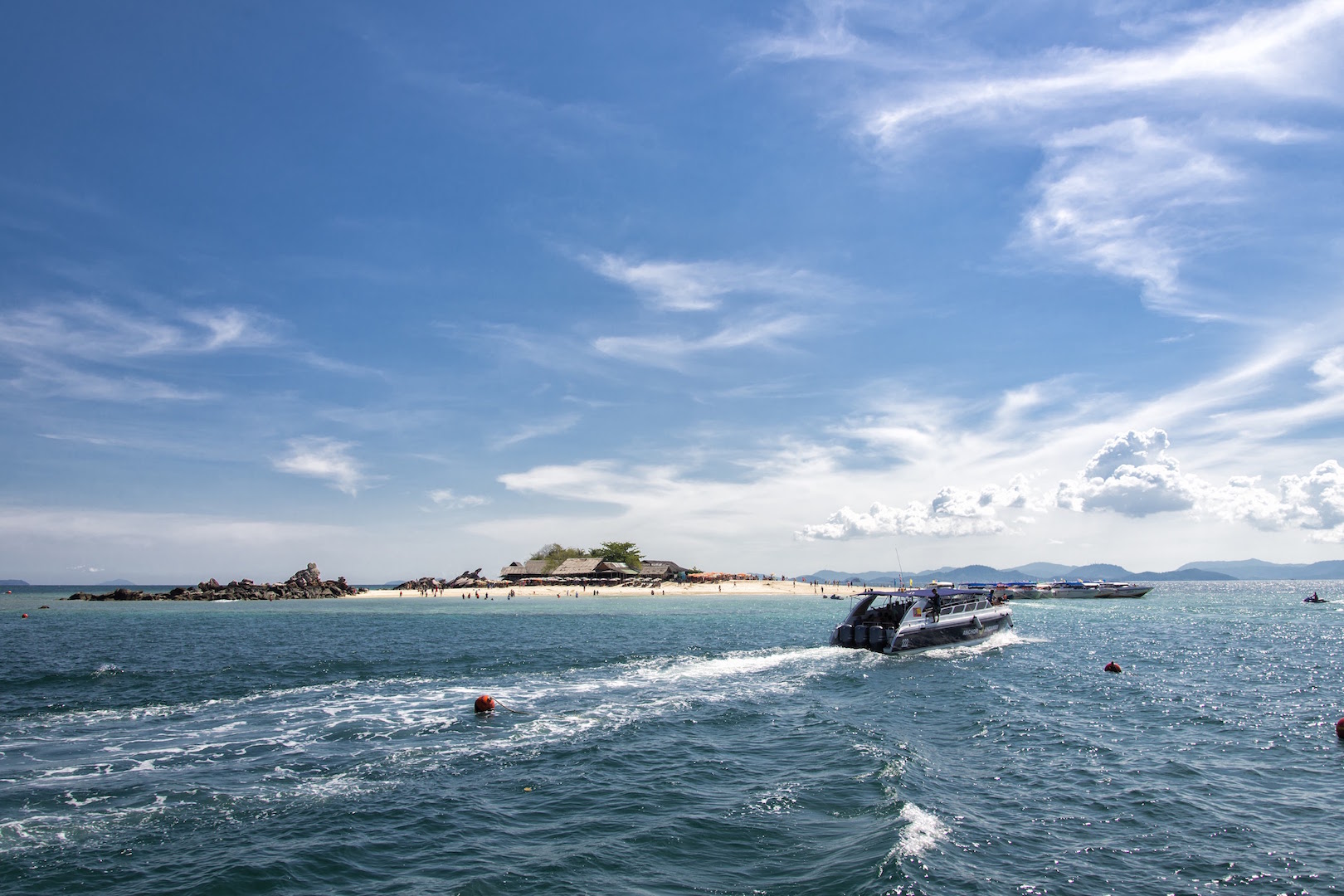 Today I am going to switch crew again. For a day I will sail onboard our second yacht Alexa. It is a new very stylish yacht featuring a powerful engine, double steering wheel, teak deck, electric winches, a huge galley, and many other cool features. It sails smooth and fast and already won several regattas.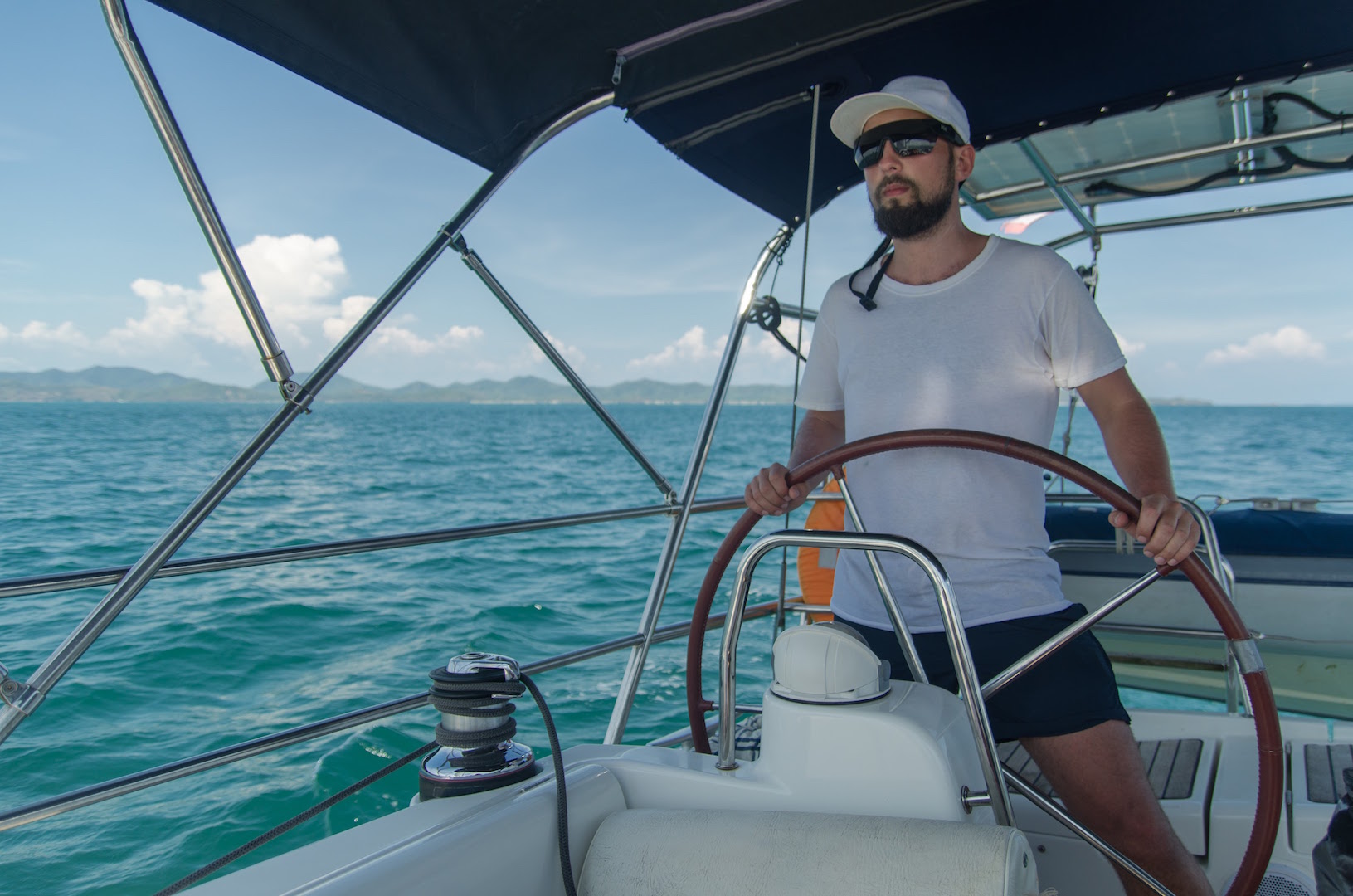 We are going to our overnight stop near Leam Hua Lan island. We only need to sail a couple of miles and we get to the spot in half an hour. The island looks promising, a beautiful beach and jungles in the center. It's possible to rent bikes and SUPs and there is a bar but all this is only available during the day. In the evening all tourists leave the island and only a few locals who work there stay overnight. We get into our dinghies and head to the shore. Finally, we find some jungles. It's getting darker but it does not stop us.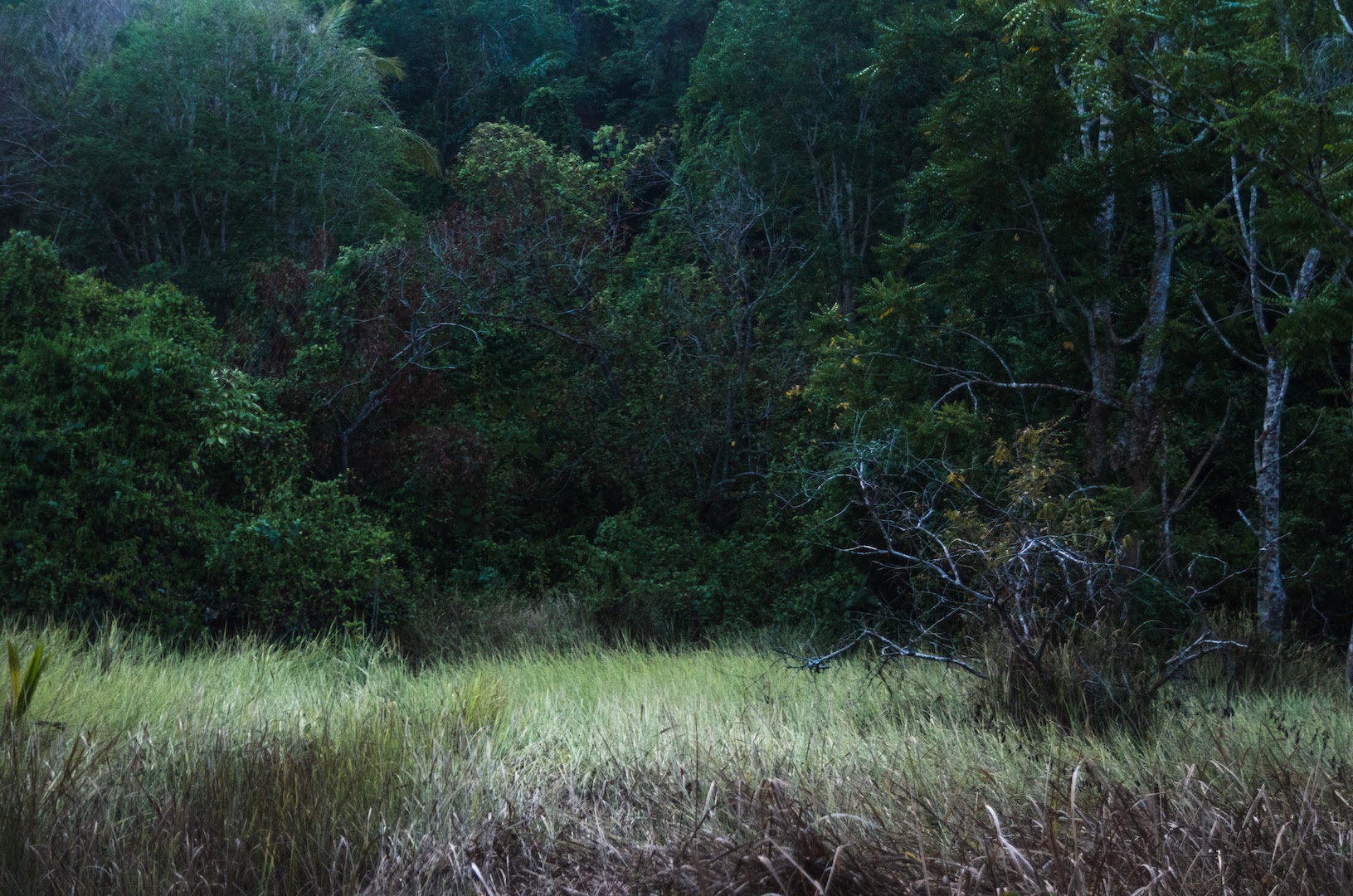 From the shore, we spot several fishing vessels. Looking closely we understand that it is not a fishing flotilla. It's a bunch of huge catamarans. We hear some voices, they sound nervous. All vessels start circling around like they are looking for something. It's time to get back to the yachts, just in case. We spend the evening onboard cooking dinner, making cocktails and chatting.
Day eight
We woke up quite late, everyone would like to sleep it off.The sea is nice and calm and both flotillas are swaying in the waves peacefully. After a slow breakfast, we leave our overnight stop and head to the next point – Ao Labu bay. Today the sky looks especially beautiful, blue with white clouds, nice.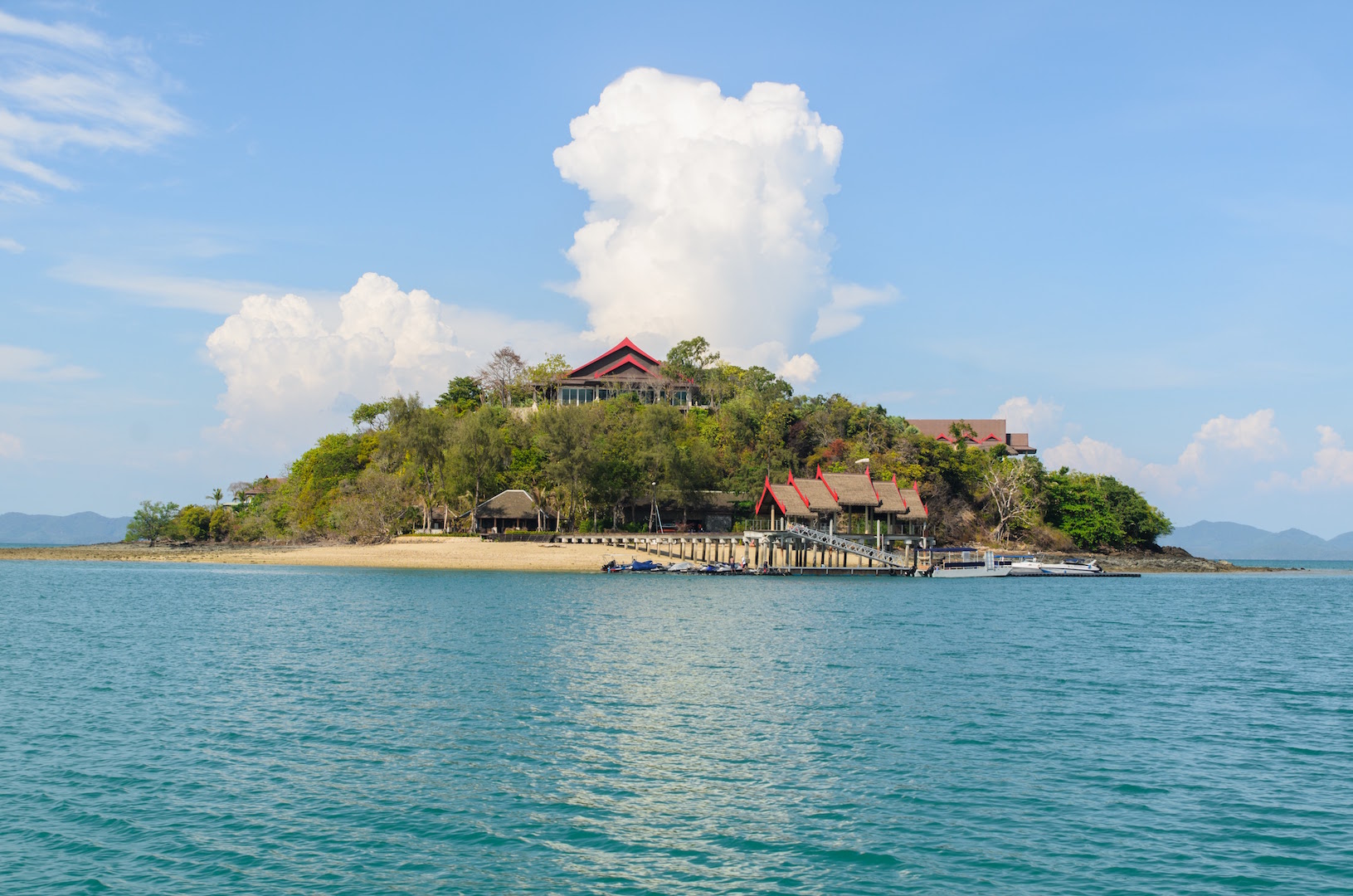 There is a small town near our anchorage but the water is too shallow for a yacht to come close and it would take some time to get there on the dingy under the noon sun, so we decide to spend time swimming, cooking lunch and chilling. When we get bored we decide to move towards our overnight stop Ko Nakha Yai.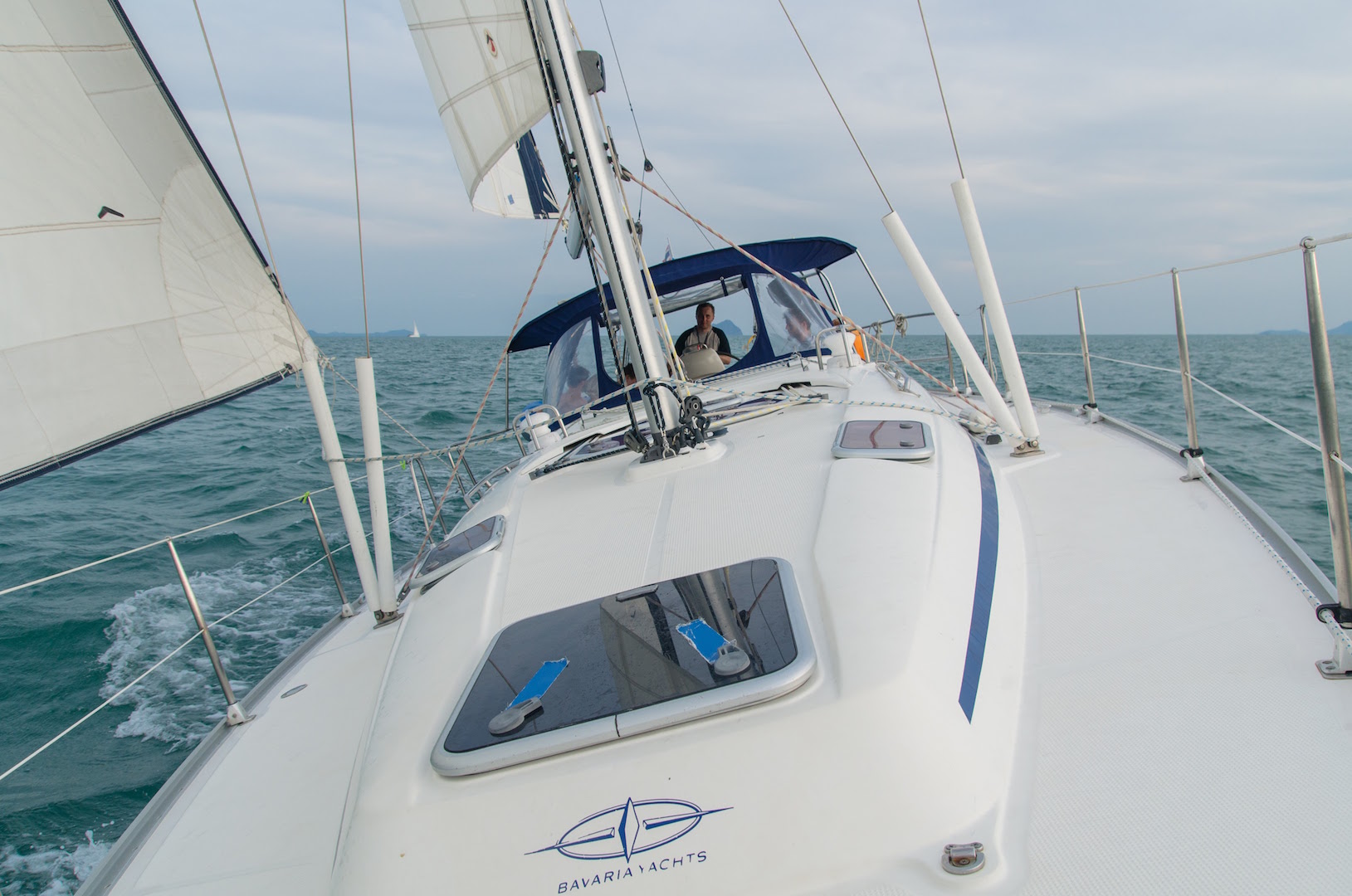 A catamaran crew member was curious how it feels to sail a yacht compared to a catamaran. He is lucky, the strong steady wind builds up and we raise the sails. The yacht is heeling and gaining speed up to 6.5 knots.  Shiraz is performing well, everyone is practicing steering, taking photos and having fun in general. We approach or destination point and drop the sails. After the dinner we decide to have drinks all together, it's our last night afloat. First we decide to have a party on the closest beach with a bonfire and cocktails but tropical rain changes our plans. We spend the evening onboard the catamaran. It has enough space for everyone.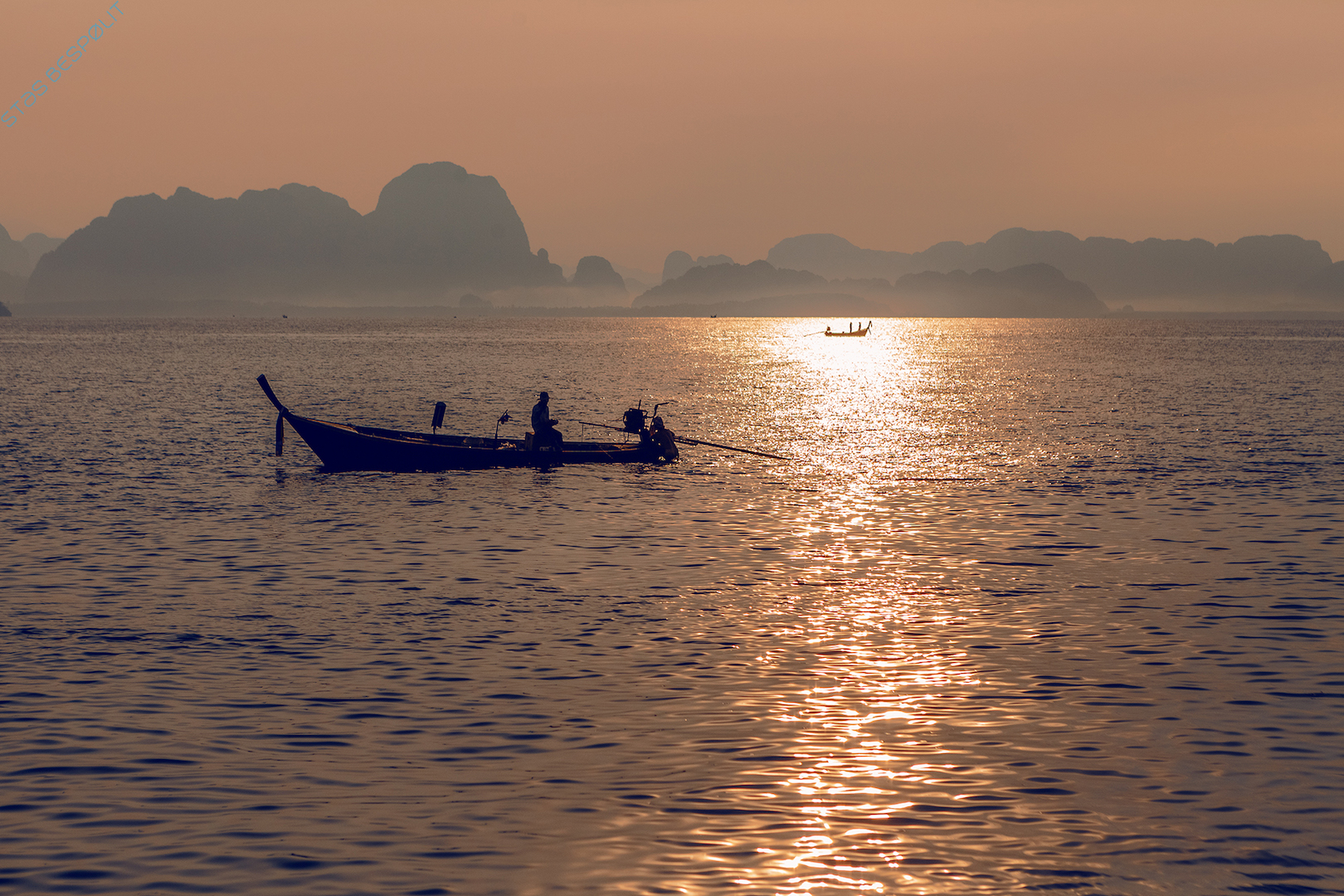 After the dinner we decide to have drinks all together, it's our last night afloat. First we decide to have a party on the closest beach with a bonfire and cocktails but tropical rain changes our plans. We spend the evening on board the catamaran. It has enough space for everyone.
Day nine.
Our day starts really early today. We need to be moored at the base at 11 in the morning. Before that, we need to have breakfast, pack all our things, refuel the yachts and clean them a bit. We enter a narrow channel leading to the harbor and  we are on the finish line. It's a bit sad that the trip is almost over. I would love to spend a few more weeks sailing or maybe even a year but this adventure is finished.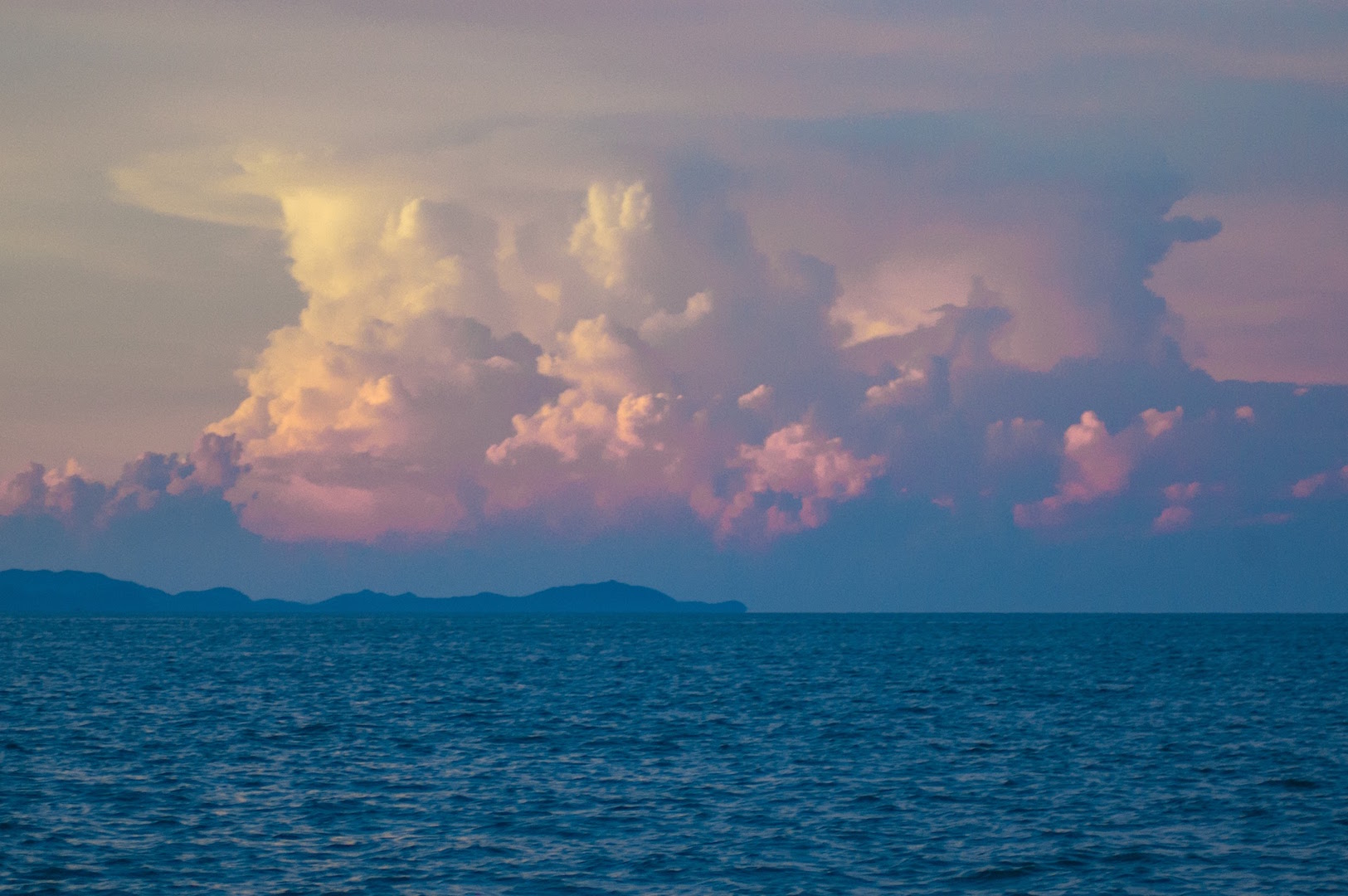 Refueling, mooring, check-out all go according to the plan. After a cool group picture is done it is time to say goodbye. Some of us will have a flight tomorrow and will spend the night on the island and the rest will stay to chill and relax after the trip.