Aeolian islands, Italy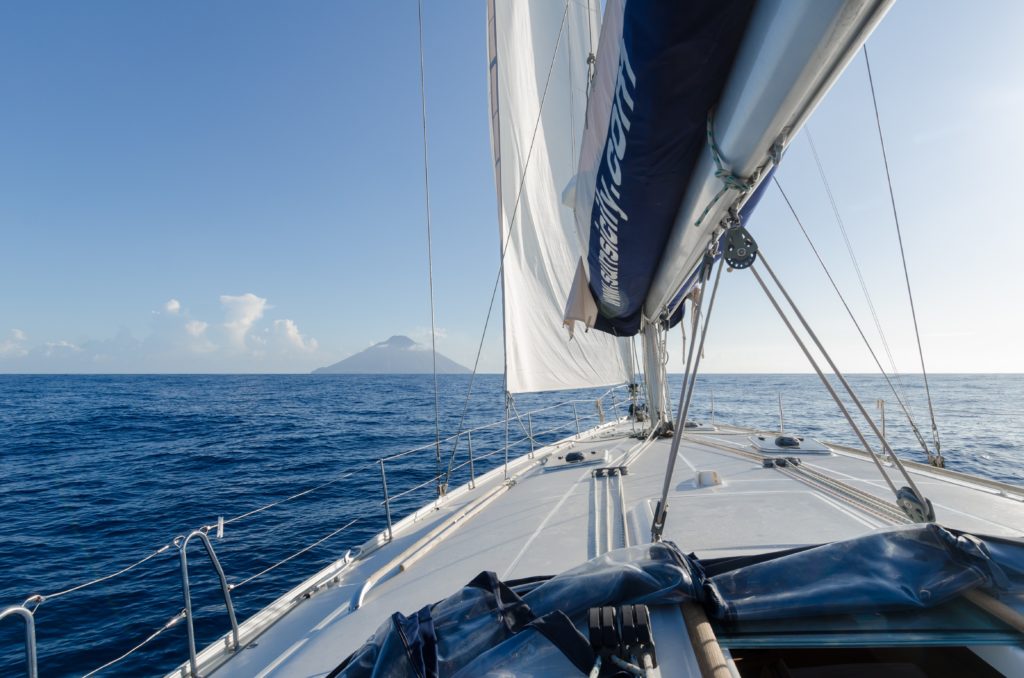 Our trip started with disturbing news, a storm was coming to the Lipari Islands. The forecast was not good at all, strong wind, up to 48 knots and big waves. Not the best conditions considering the lack of a protected anchorage or safe harbors.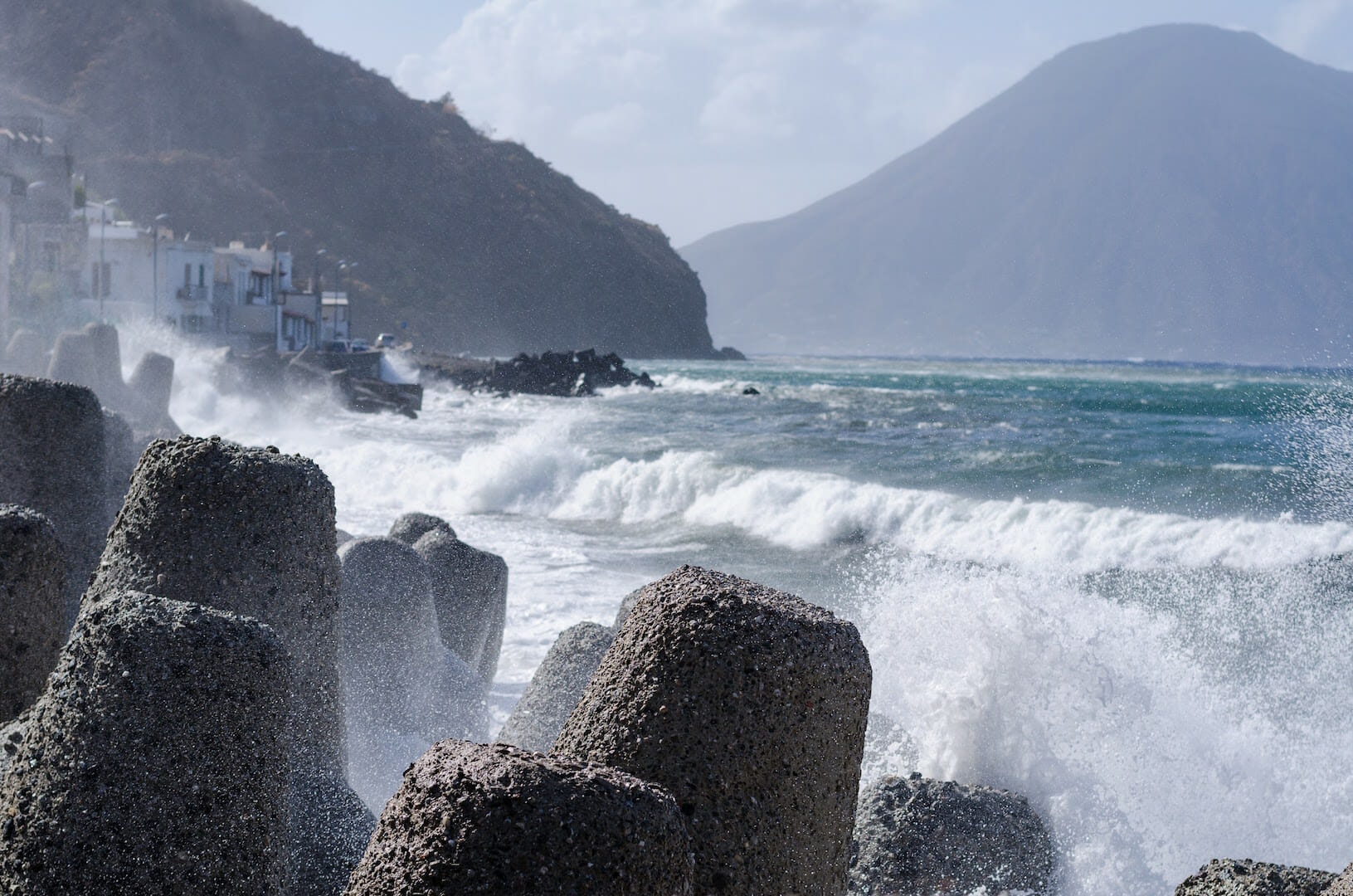 We took a flight from Amsterdam to Palermo on Friday evening. That is allowing us to get some rest before the trip, I prefer to avoid flying, doing provisioning and yacht check-in on the same day. Palermo is a beautiful city with an active nightlife. Part of the crew wasn't able to resist it and went out for some pizza and beer.
Saturday, Day 1
Early in the morning, the minibus arranged by a charter company was waiting for us and we left the city quite early. The driver took scenic route along the cost and brought us to the huge supermarket "Familia" for provisioning. Great place actually, close to charter Base – Marina Portorosa and it had everything we need. In two hours we had our car loaded and ready to go. This time we had outdone ourselves and managed to spend more money on alcohol than on the food. A huge supply of alcohol and a storm. What can go wrong, right?
Around noon we arrived at the base where our boat was already ready for check-in. This time we got pretty big yacht Cyclades 50.5.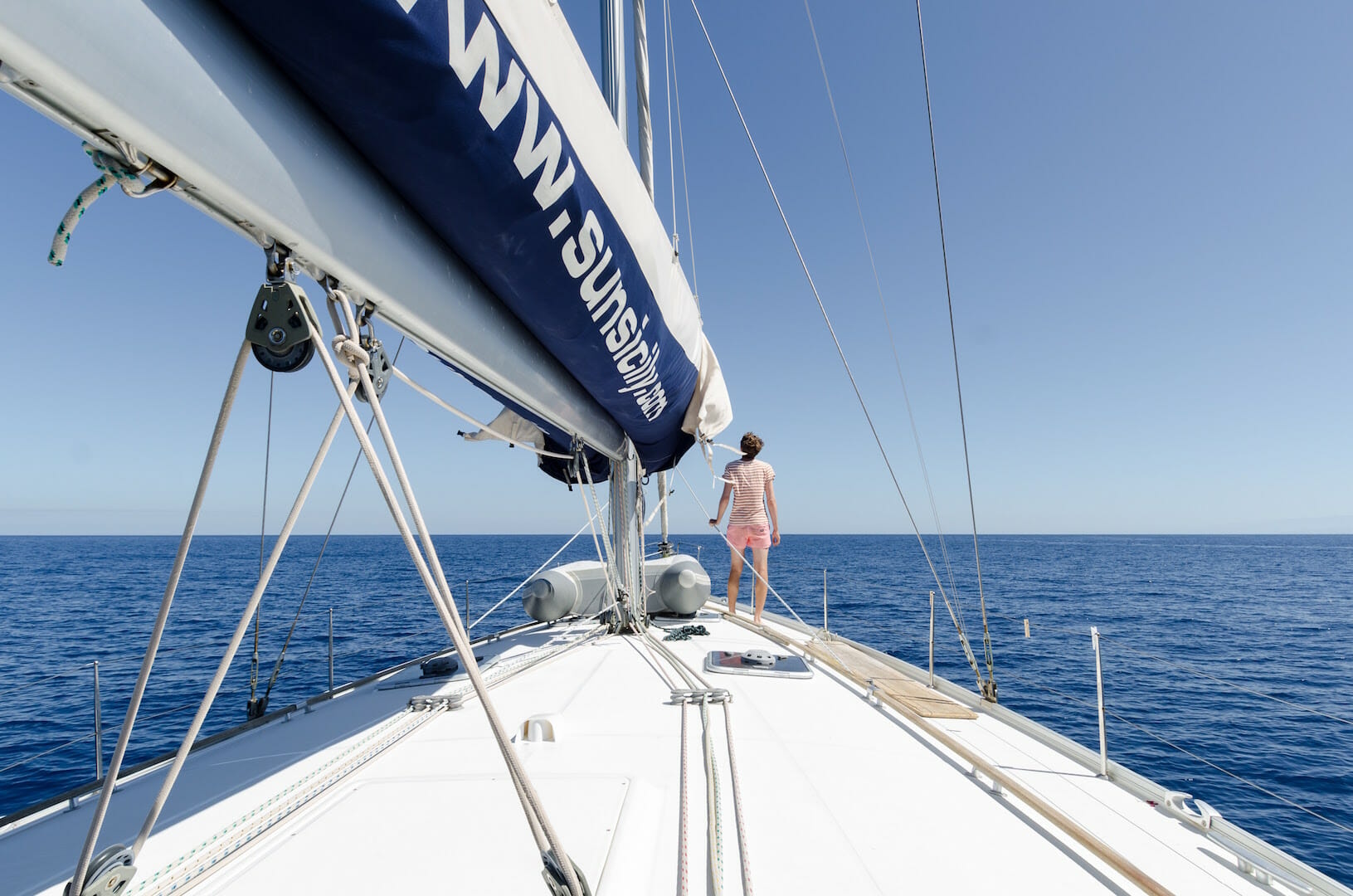 It could accommodate a crew of 10 and it was in good condition for the boat built in 2008. Only one thing bothered us – dingy. It was tiny and had an engine with only 2.3HP, seriously for the boat that has 10 people on board?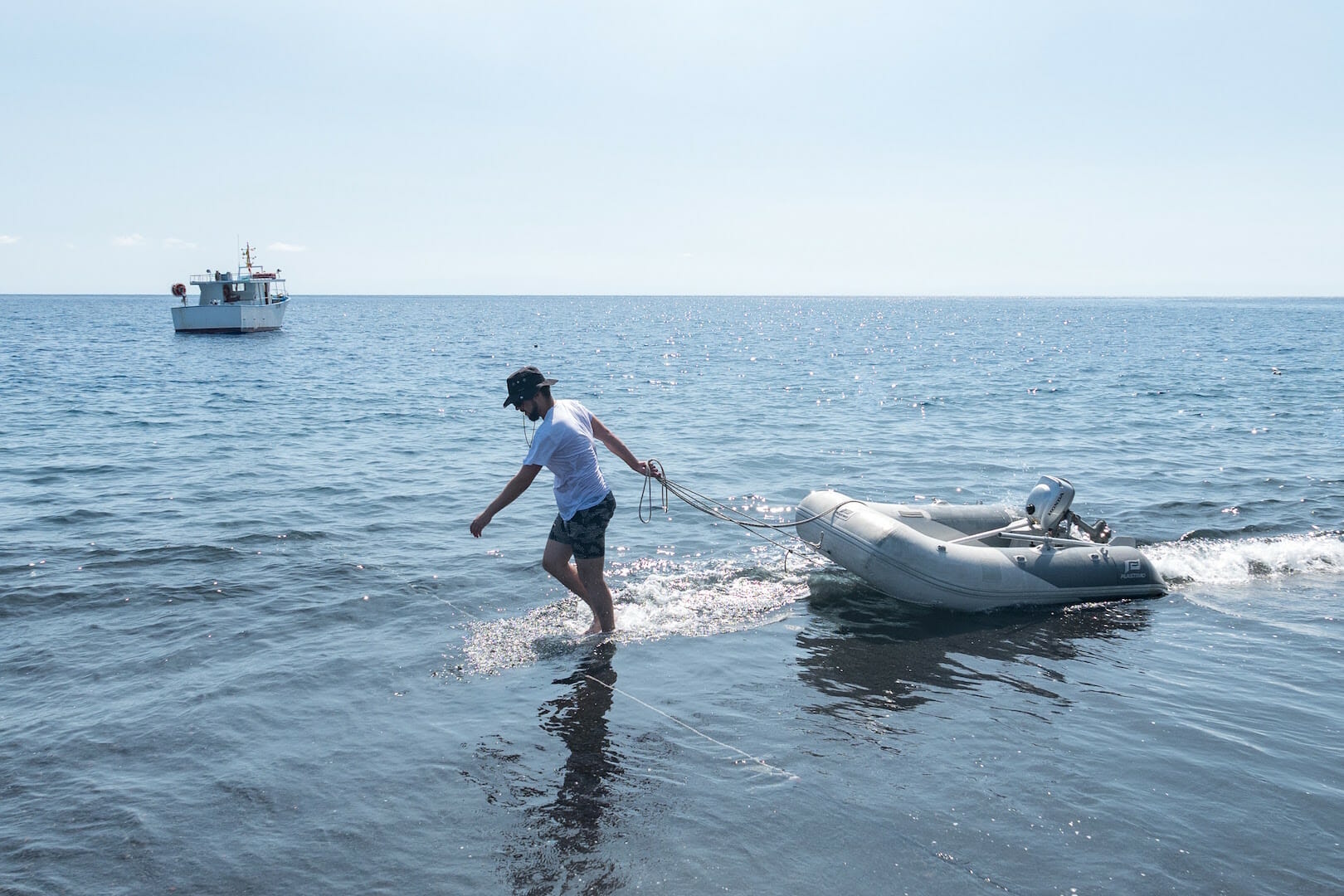 We tried to get a better one but it turned out that all other boats had the same tender and the same motor.
After all, paperwork is done, the yacht is checked and all our staff is loaded on board we are ready to go to our first waypoint and a first night stop in a small bay on Volcano island.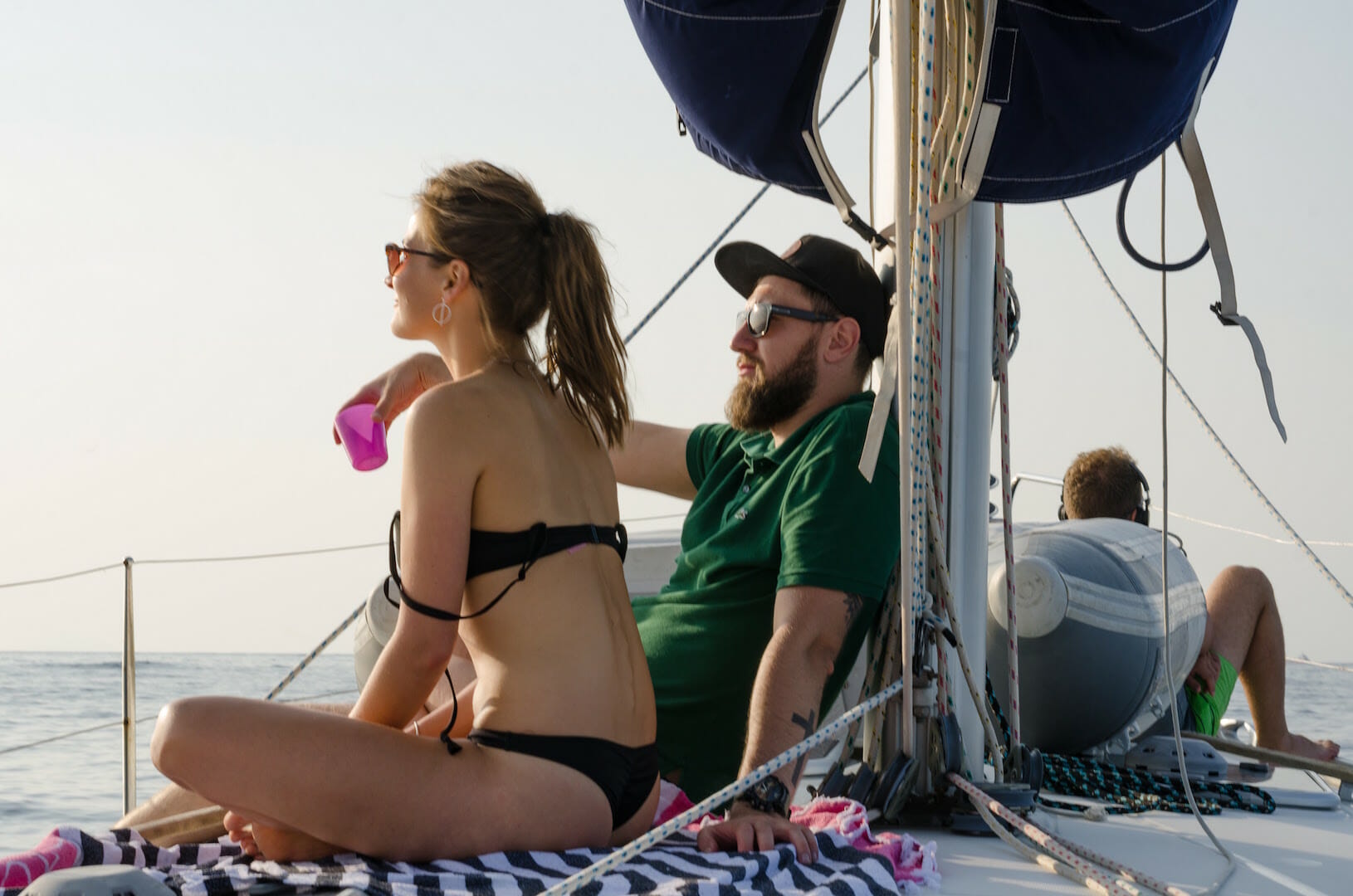 The best thing about Lipari archipelago is that is everything is close by. Our destination was only 20 nm away and we arrived just before the sunset.
We put the anchor a few hundred meters from the shore.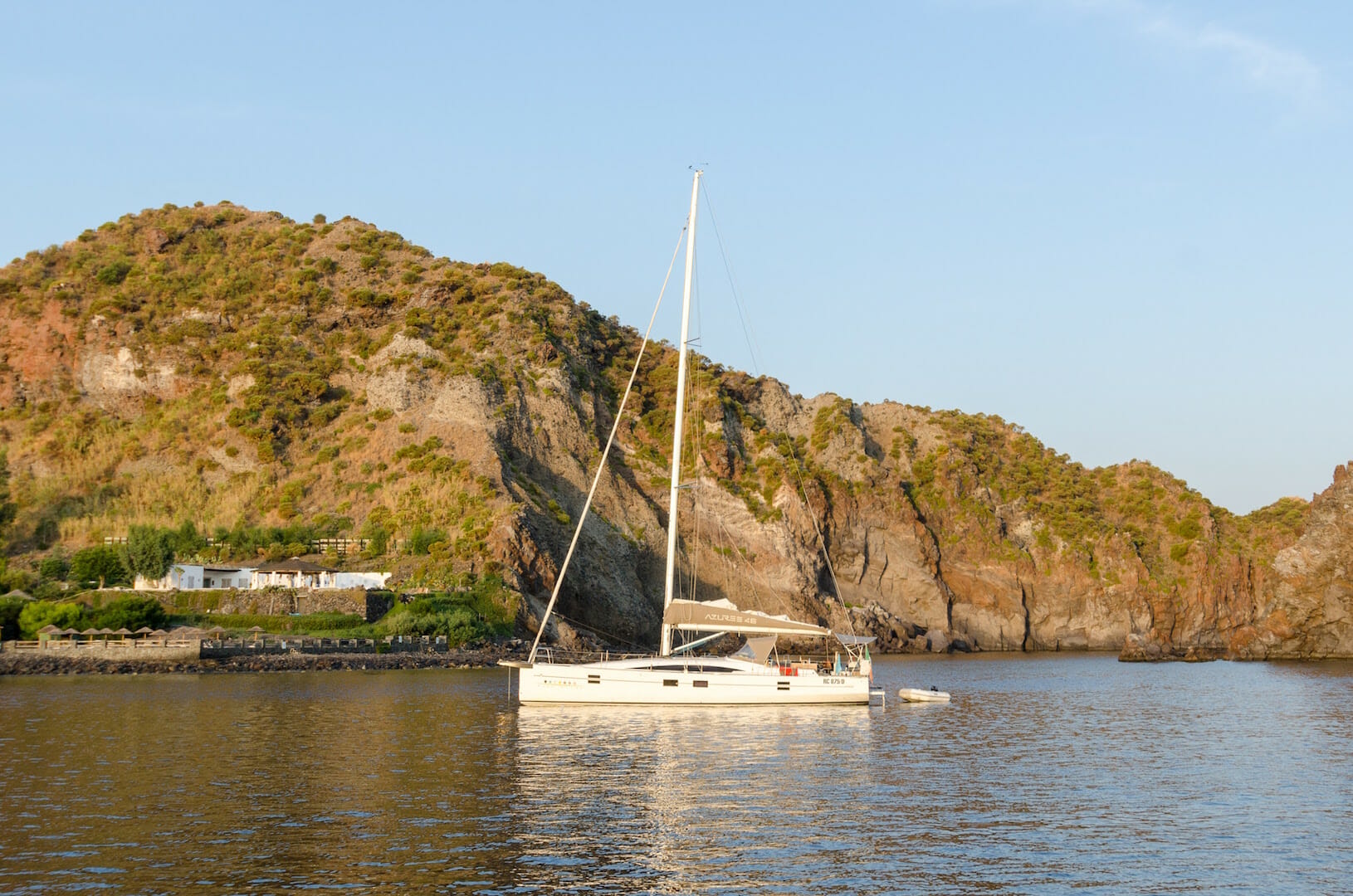 The spot is great we have an excellent view of the volcano, there is a bar on the shore and only one neighbor around. We have a nice dinner on board and go ashore to explore the island a bit.
Sunday, Day 2
We wake up early today we have time only till 17:00 to explore the Volcano island and get to the marina in the Lipari island where we manage to get a berth in Marina Pignataro, the only one well-protected harbor in the whole archipelago. We sailed around the island and more to the buoy at Marina di Vulcanelo whole marina is basically a bunch of buoys but it's much better then just leave the boat on anchor anyway. Buy the way stuff was very friendly there and even brought us to the city center by their own tender which saved us at least an hour. After breakfast, we went straight to quad renting company. The original idea was to rent quads for the whole crew and go to the top of the volcano. But we figured out that we could only ride quads on main roads and that was completely pointless. So we decided to rent scutters and a cabrio.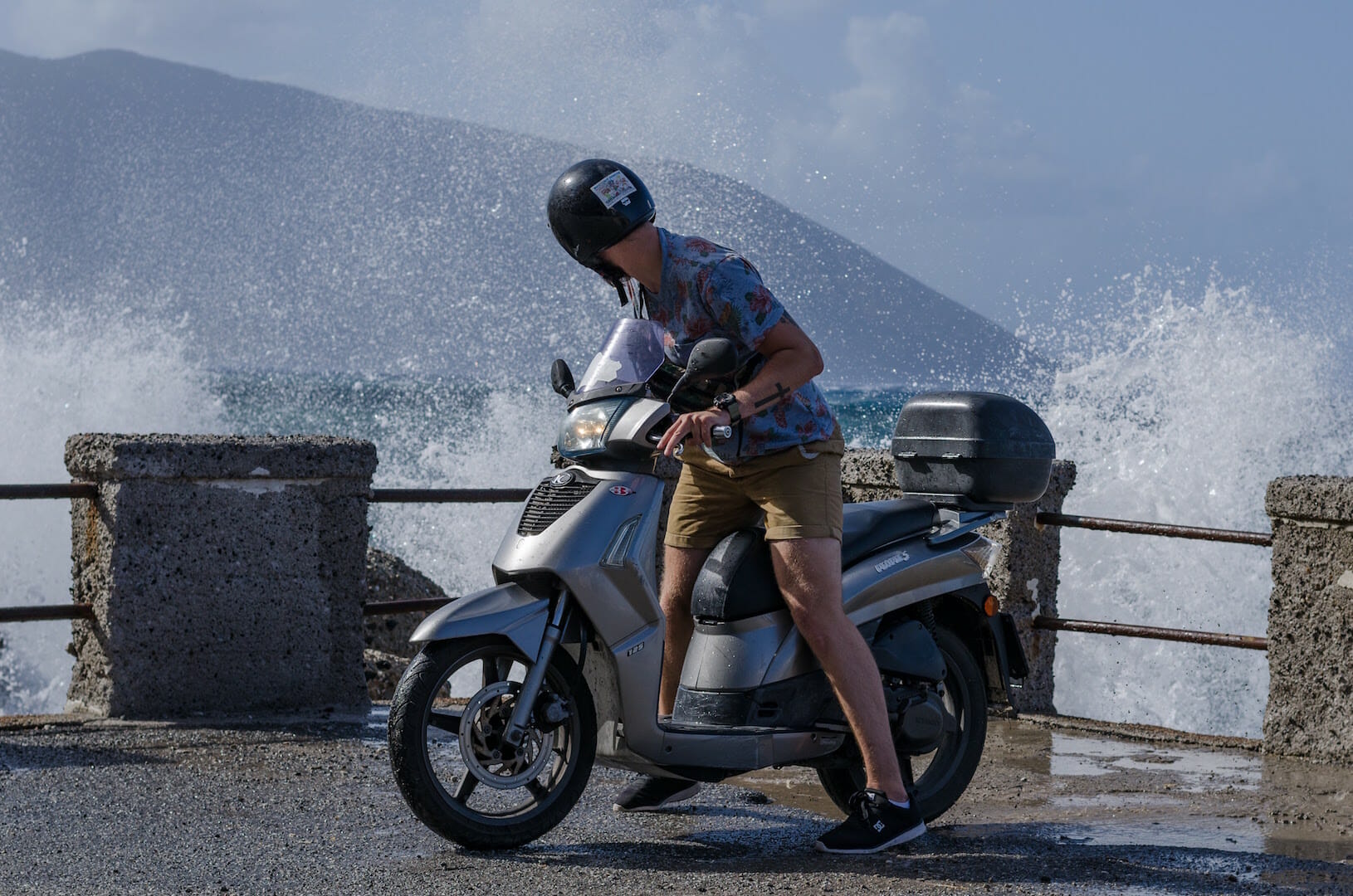 Part of our group decides to climb to the top of the volcano and rest just ride around and visit viewpoints. Our car Fiat Punto with 0.8L engine old but very fun to ride, renting one was a great decision, we manage to explore the whole island on it and be back to harbor on time.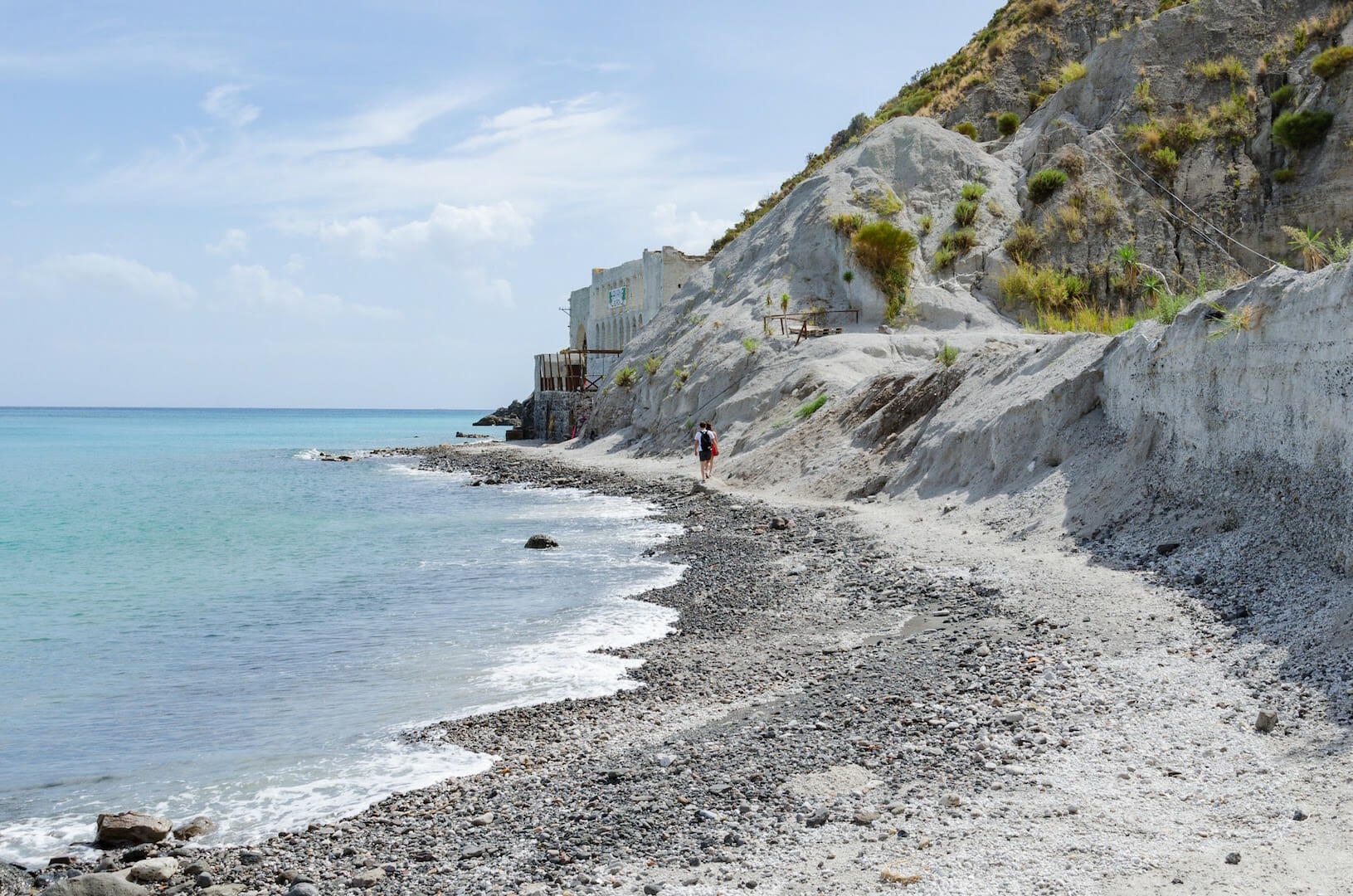 The storm started building up, the sky became darker and the wind got stronger, it was time to leave. The great thing about our yacht is the 100HP engine, we could easily do 7 knots on the engine and we get to the marina in no time.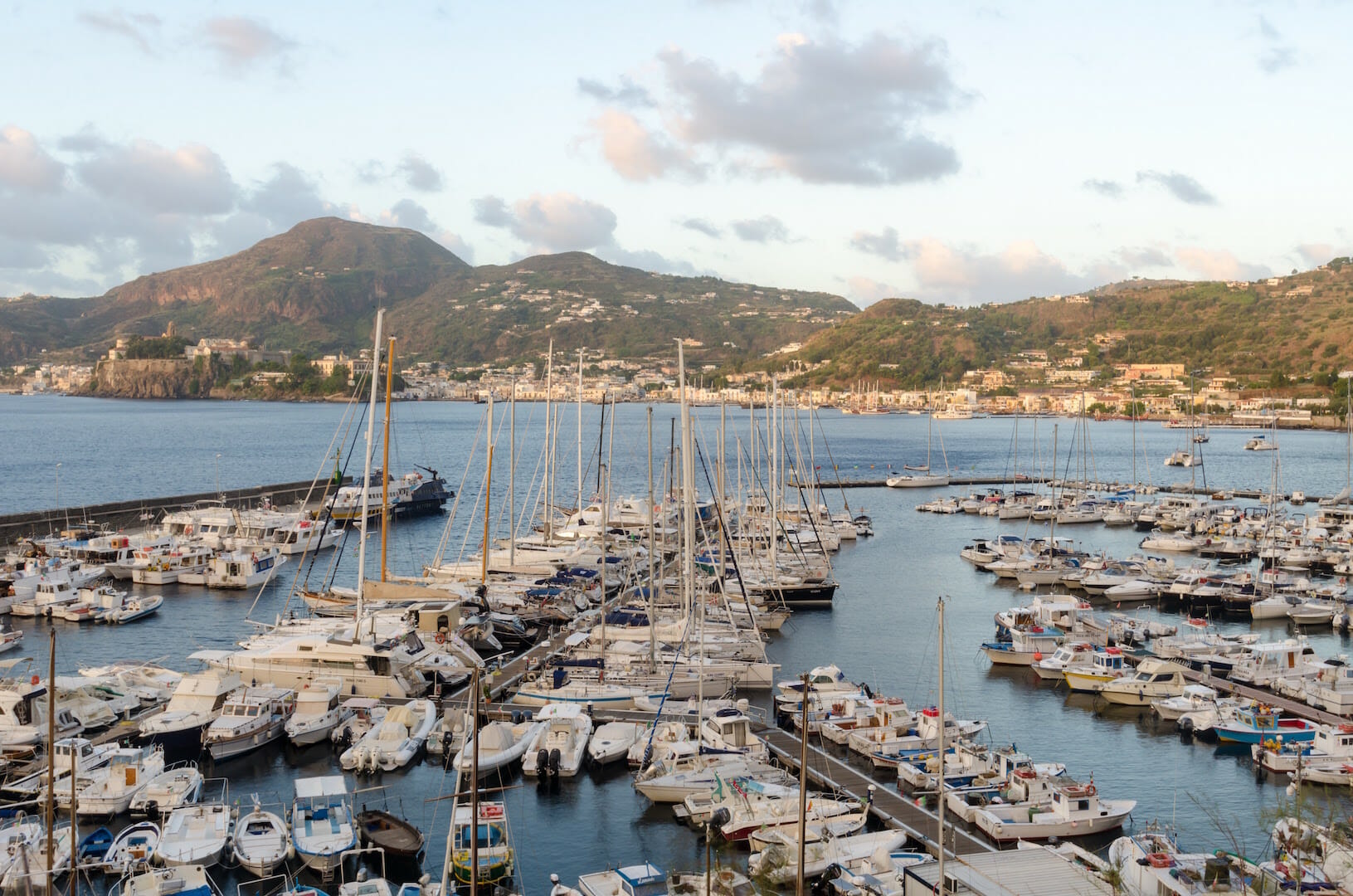 We were the last one who entered the harbor, with help of local stuff we moored safely and celebrated it with drinks. A downside is that we are stuck on Lipari until the end of the storm, a good thing is Lipari was the biggest island and had much to offer. After a long day, we spend an evening in the marina, chatting and drinking with our neighbors.
Monday, Day 3
During the night storm struck in a full power, wind and rain were just insane but we were safe nicely moored behind tall harbor wall.  Few boats were spending the night on the anchor close to the marina, that was one rough night for them. After breakfast and cleaning the boat, we went to the city center. On the way there we found scooter rental and a cabrio!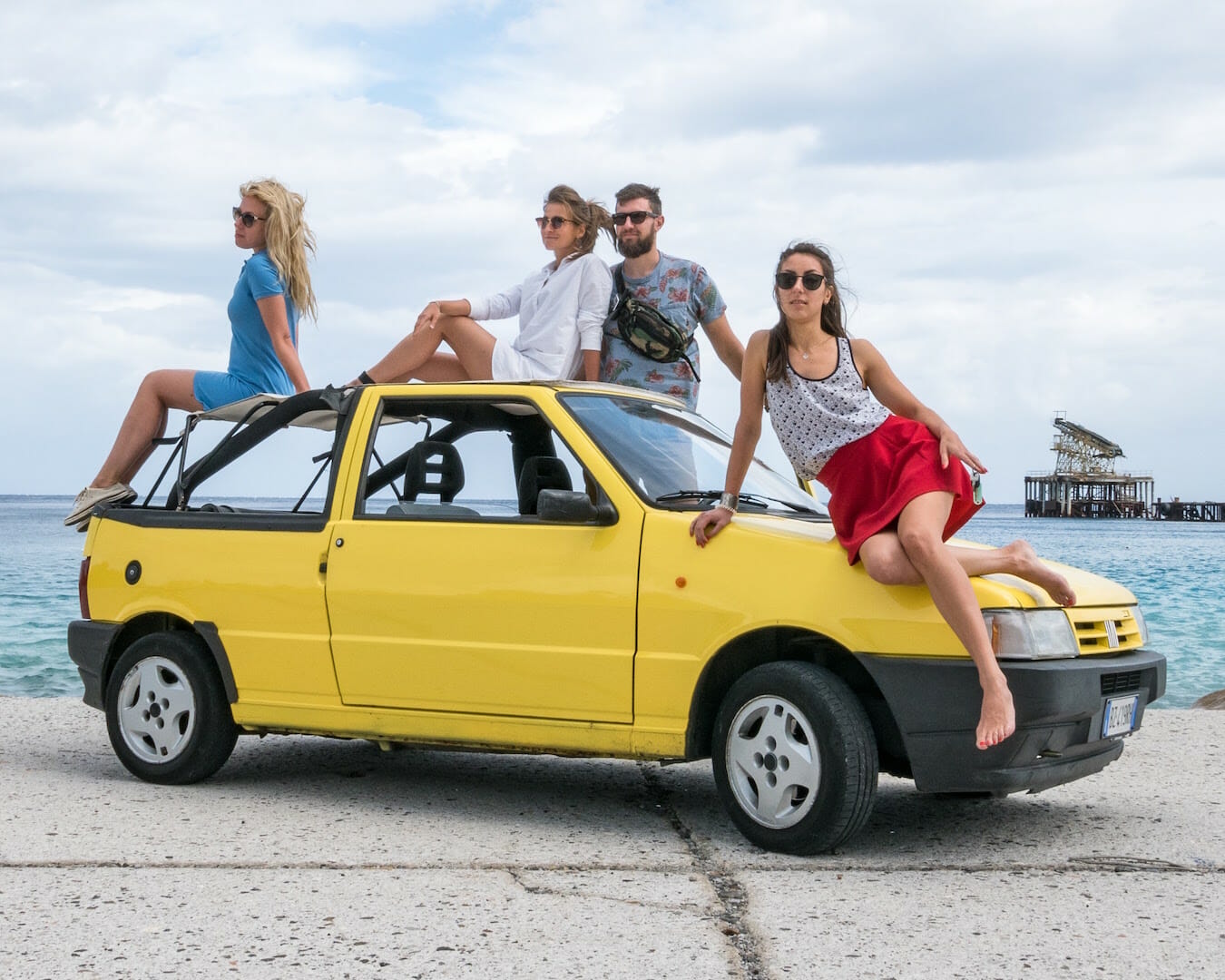 This time it was yellow Fiat Uno. I love this car even more. After a cup of coffee, we drive around the island visiting black beaches, local restaurants, and many viewpoints.  Wind on top of the island was crazy strong, especially rough it was for guys on the scooters.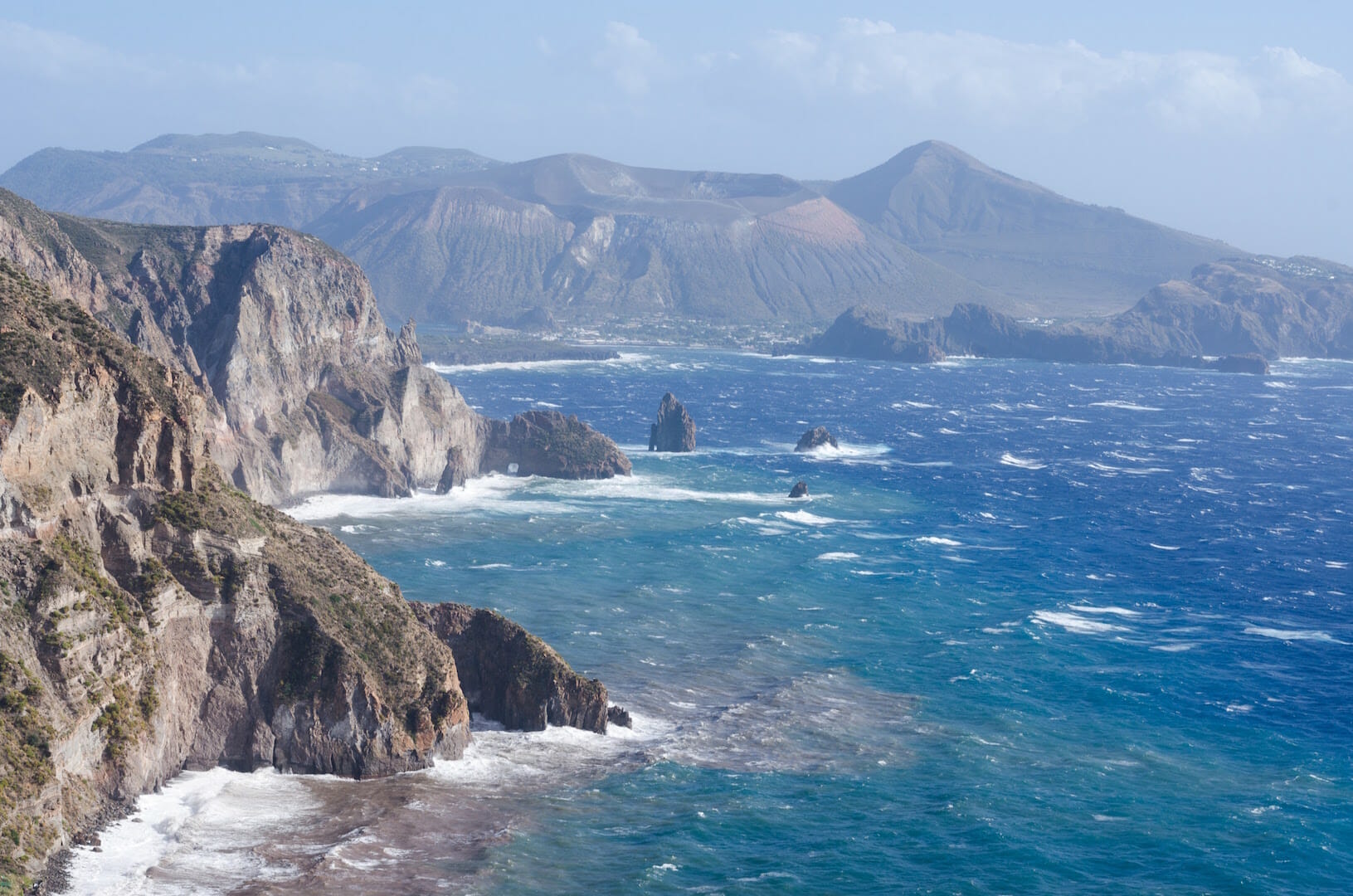 We end our exploration by visiting the fort and having extremely delicious dinner in one lovely wine restaurant. Rest of the evening we spend on the boat playing poker.
Tuesday, Day 4
The first half of the day we spent in marina waiting for a storm to calm down. The situation was controversial on one hand sea was not calm at all on another there wasn't much sings left to do on the island. Luckily one of our neighbors was experienced local skipper who pointed to one safe anchorage we could stay overnight even in given conditions. We left marina after lunch and set sails towards Panarea. We need to sail only 10 nm but we have a lot of fun, 3 meters waves and around 18 knots of wind.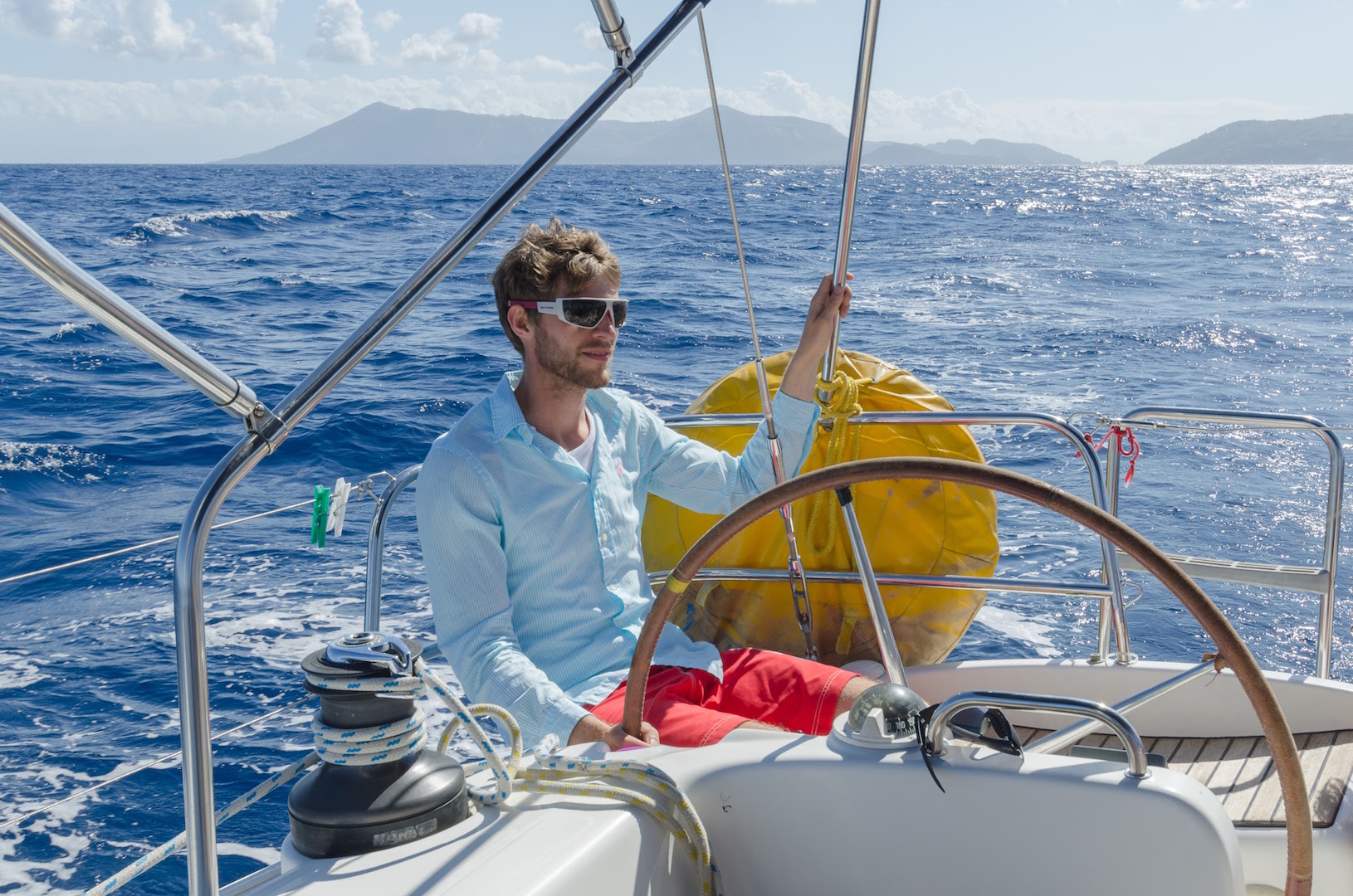 We set anchor this night in a relatively protected bay on the south part of Panarea. The place was crowded. Basically, Aeolian islands are 7 volcanos protruding from the sea and providing very limited shelter.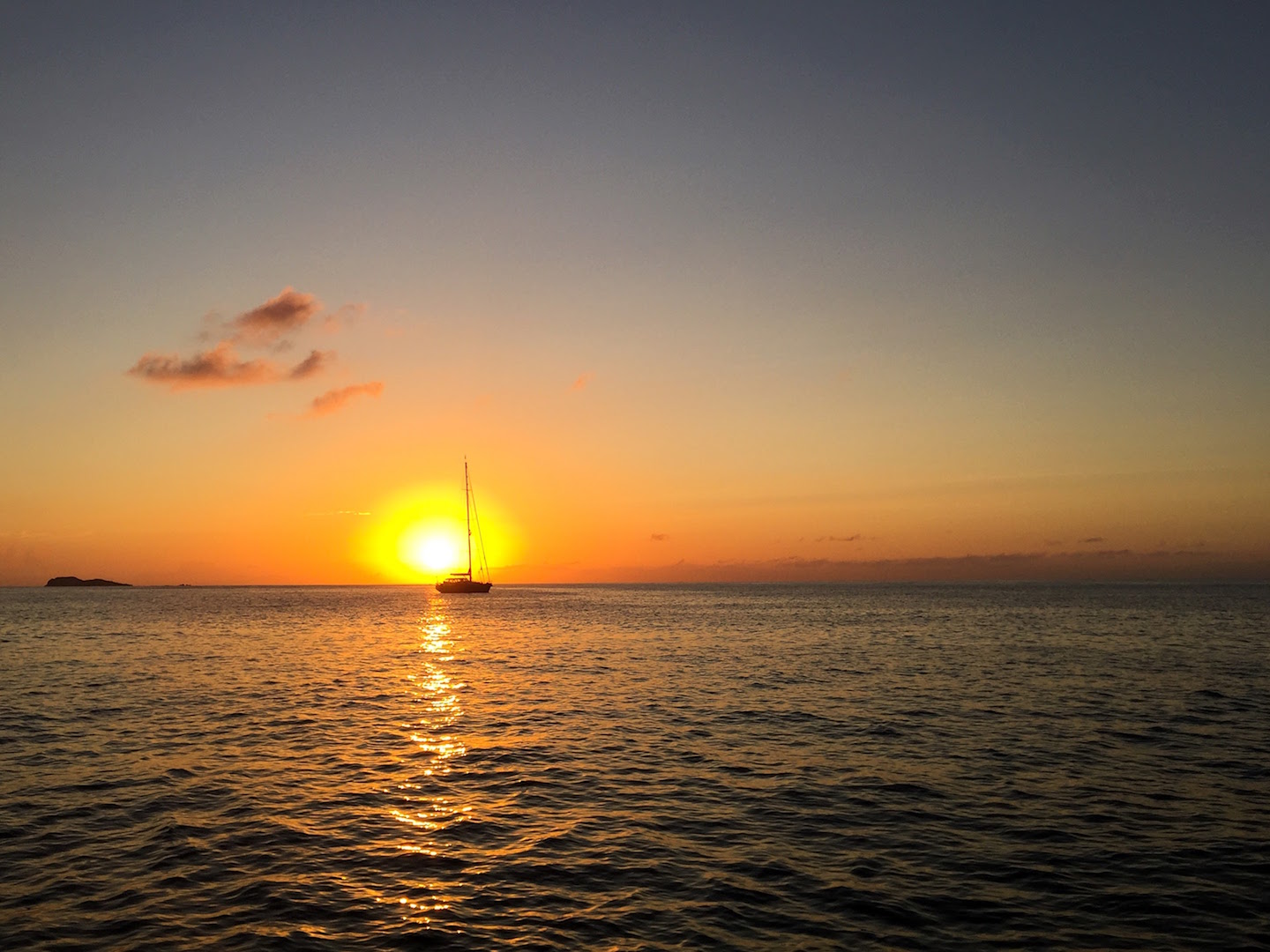 Rest of the day we spent on the boat cooking dinner and enjoying late night talks.
Wednesday, Day 5
We woke up to the sunrise and set course to one of the most distant and interesting islands – Stromboli.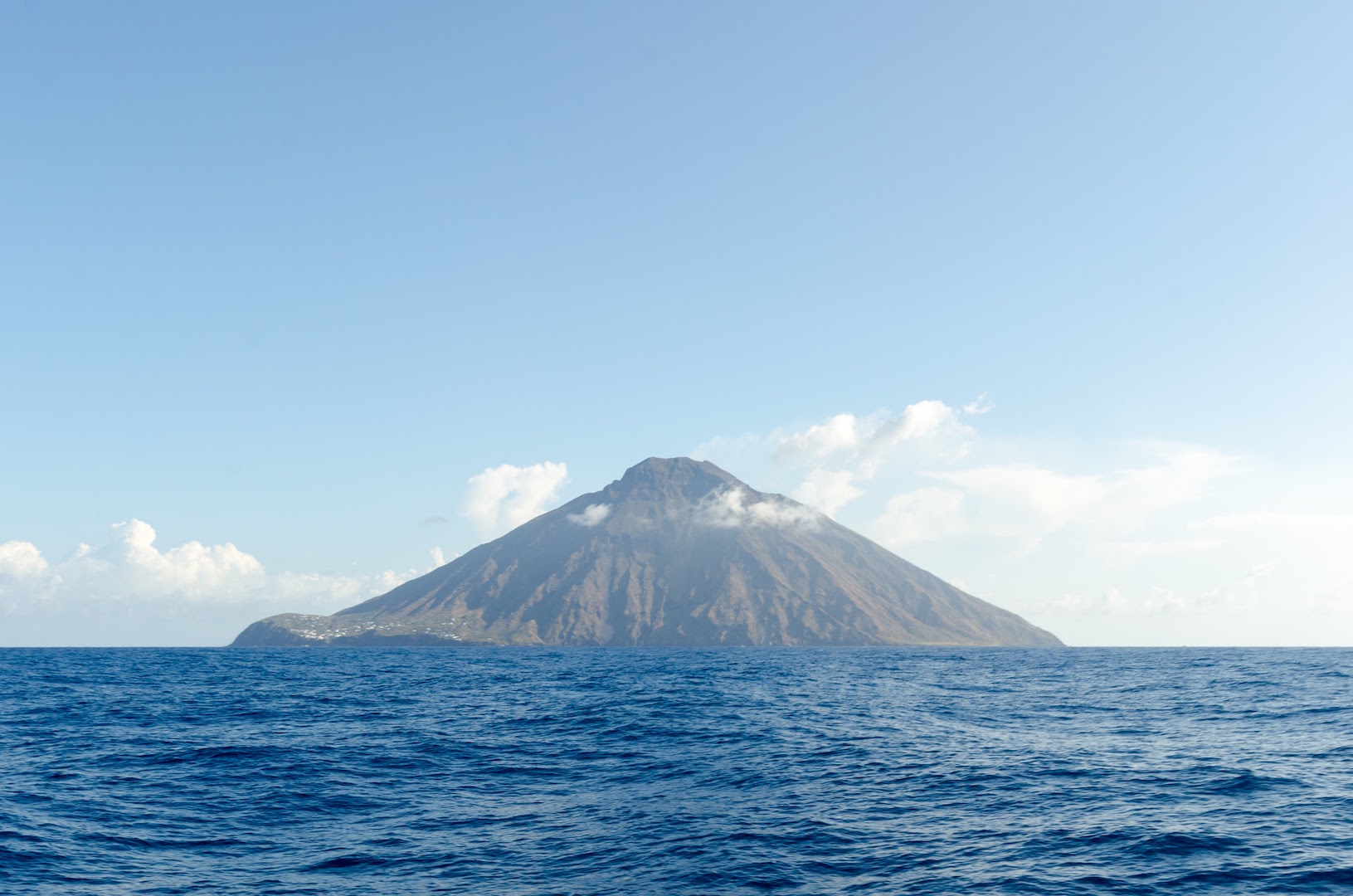 Stromboli is an active volcano that erupts on the daily basis. After mooring to some semi-legal buoy that we need to leave if cost guard shows on despite we paid for it.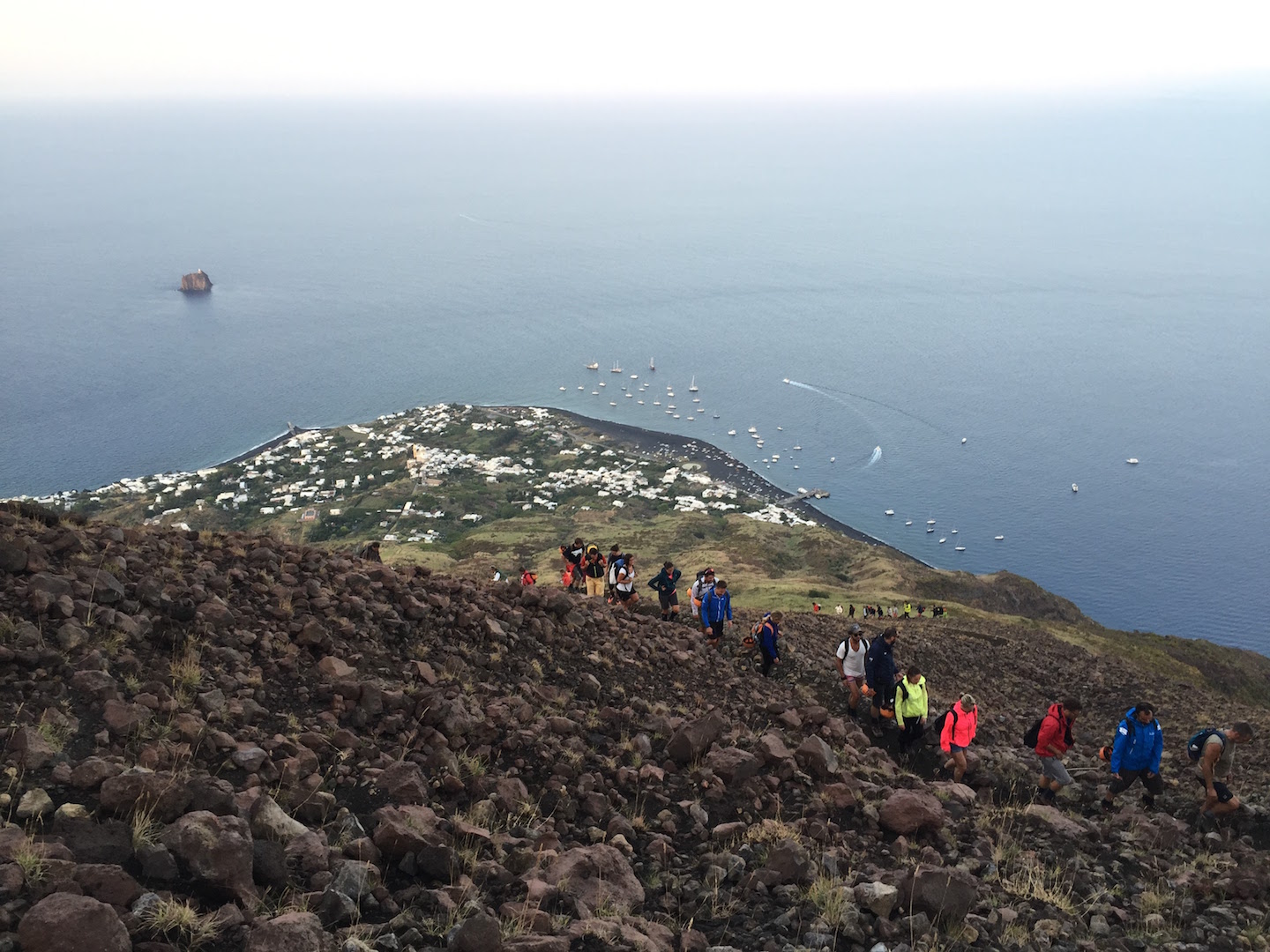 Part of the crew decides to climb to the volcano top at night to see an eruption in close.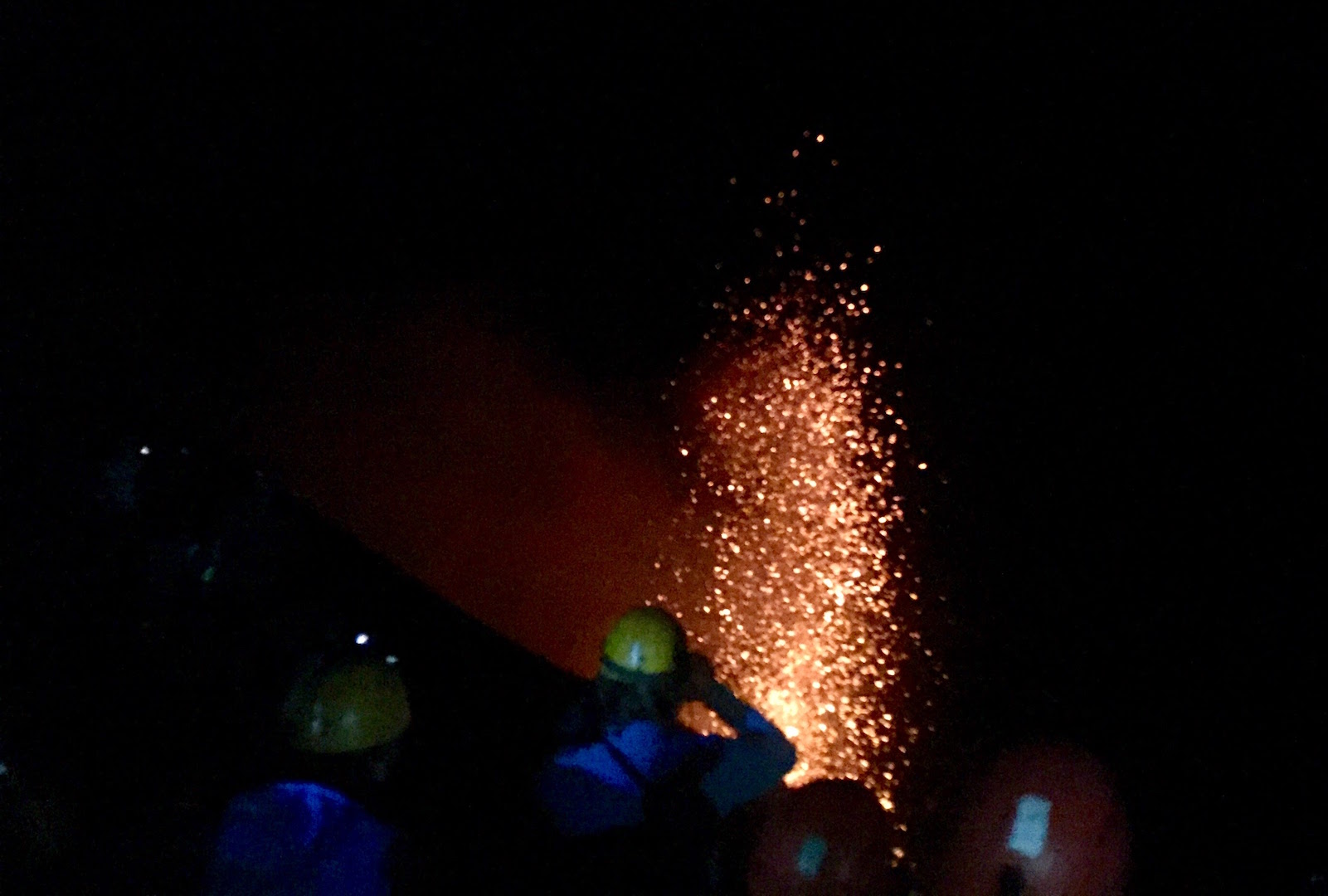 Rest of us had a free day on the island that we spent eating out in local restaurants and walking around. Instead of cooking dinner tonight we went ashore and bought delicious pizza and delivered it on board. First-time dingy pizza delivery! We went to bed early to wake up a few hours before sunrise and see the eruption from a board of our yacht.
Thursday, Day 6 
Strong waves build overnight so we didn't get much sleep but nevertheless, we leave our anchorage in the dark.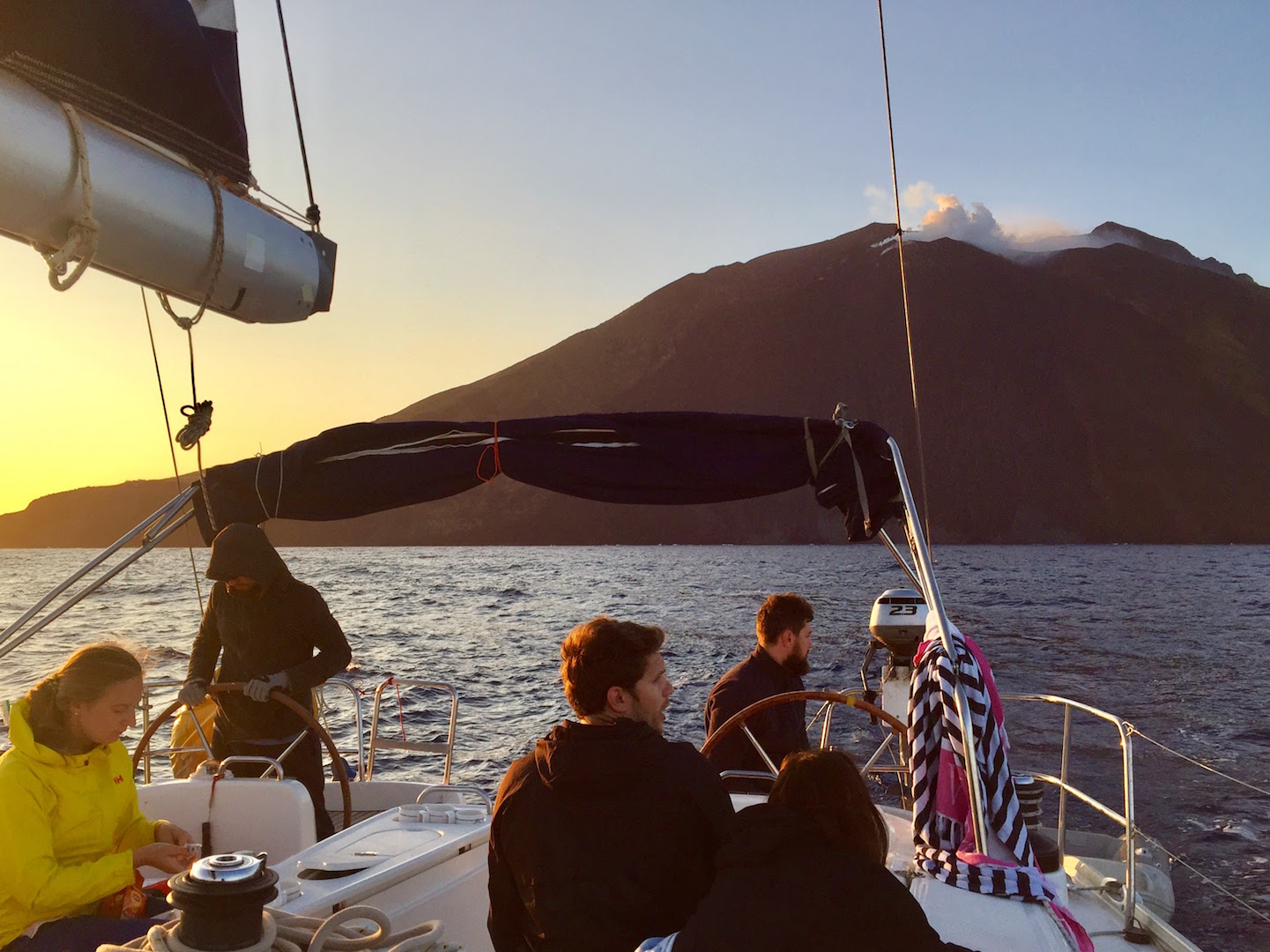 Unfortunately, we didn't see much. Only a few times we have seen small splashes of lava but anyway we have the whole day to explore another island. We sailed toward Salina where we stayed on the anchorage to get something for a branch. This time whole crew went ashore and I have got the whole boat to my disposal, 50 ft boat is huge if you are there on your own. The crew returned with the news: there was nothing to do at all on this island. So we decided to sail a bit and stay at Volcano overnight once again. The weather was great today and the fair wind was building up.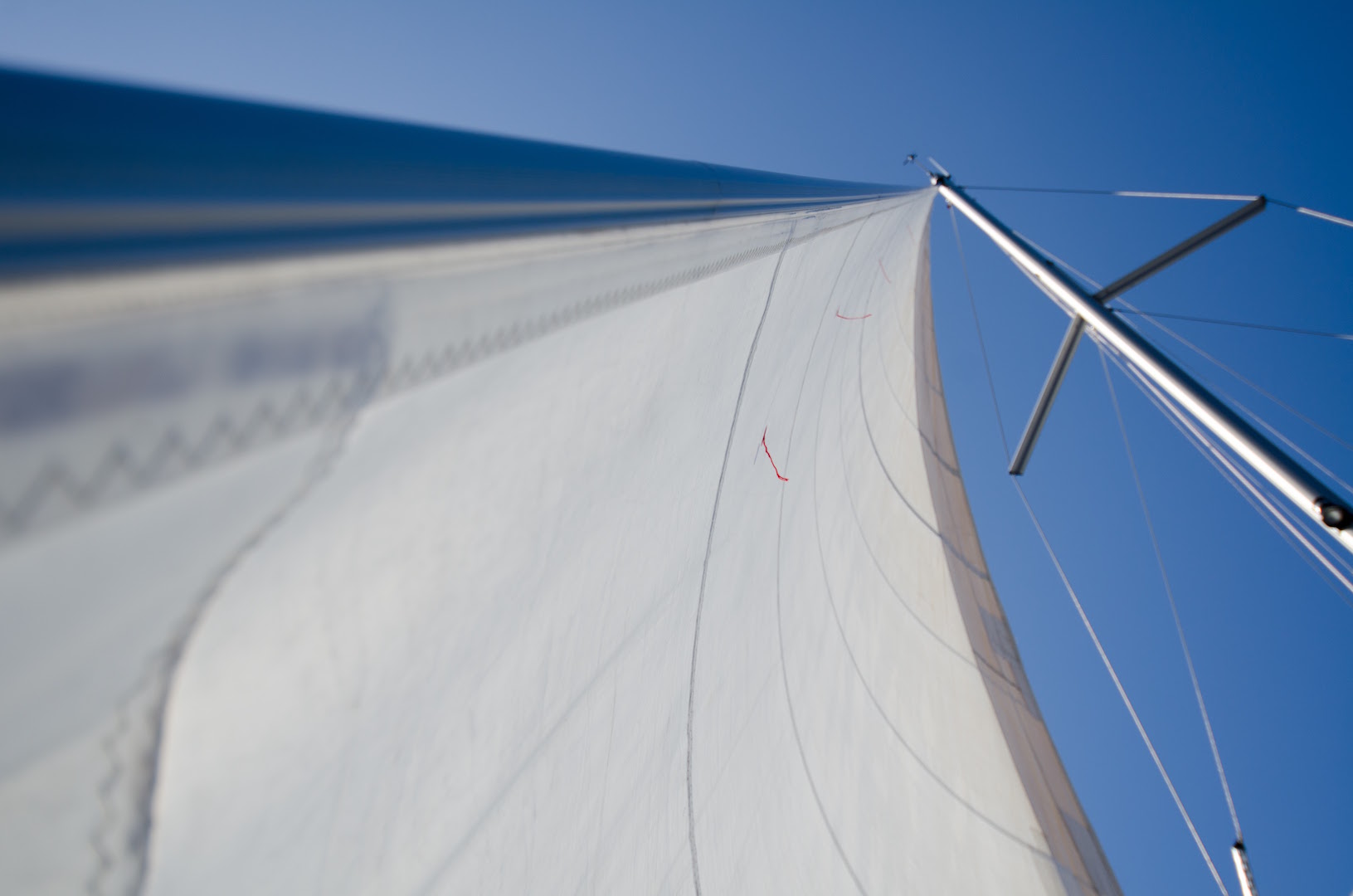 We decided to spend saved time to visit one cave we noticed on the first day. We put anchor near the Grotta del Cavallo and explore it on our mighty tender.
Few hours left to sunset and wind was good so we decided to practice some sailing skills. On the sunset, we set course to Marina di Vulcanelo. The evening we spent on the island enjoying dinner and wine.
Friday, Day 7 
After waking up late we have a breakfast on board and motored away from busy sailing routes and set sails, there was almost no wind so we end up motor sailing towards Sicily making stops on the way to swim and have some drinks.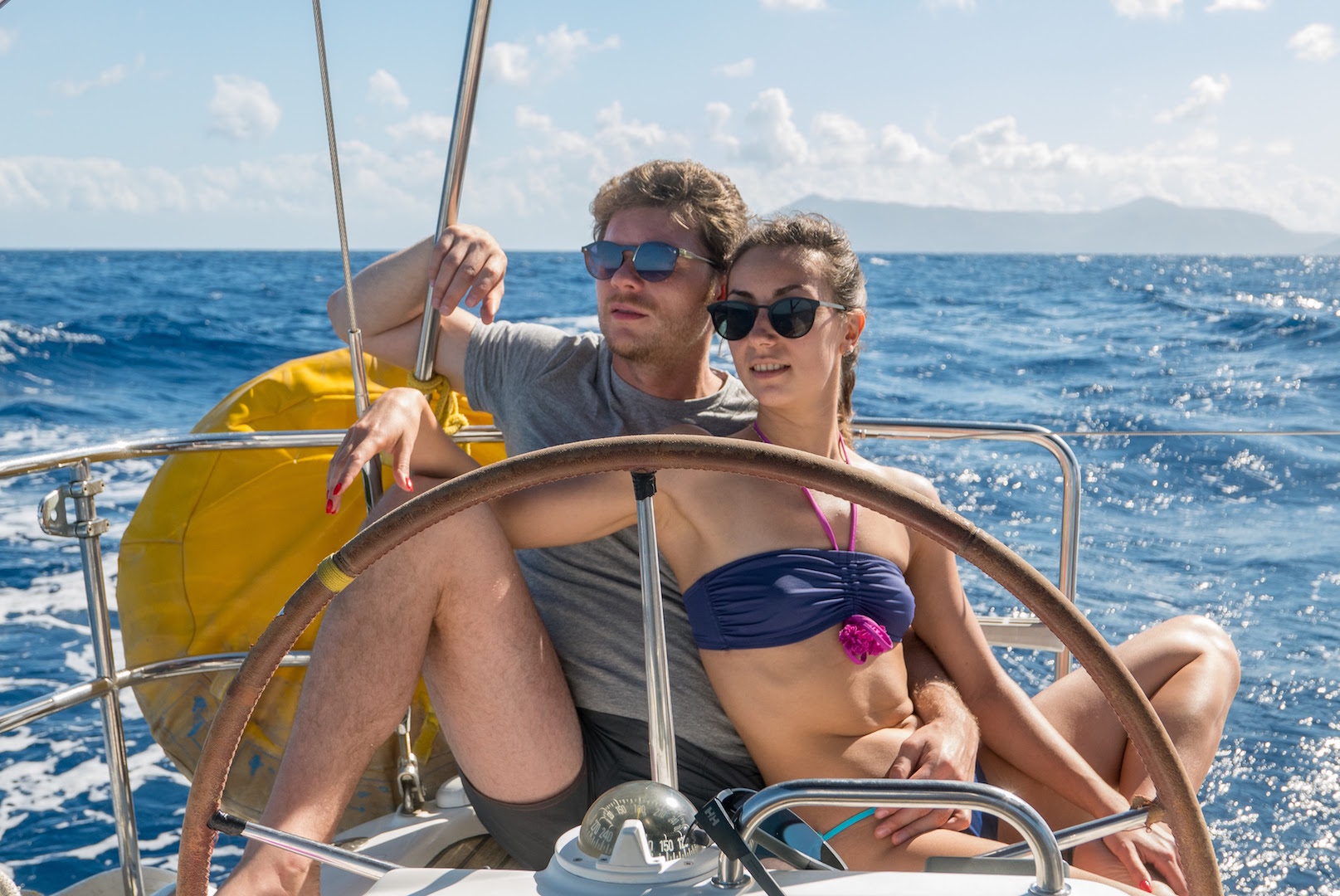 Around five we arrive at our home harbor. It was a nice day at sea. In the evening we walk around Portorosa village full of bars and restaurants.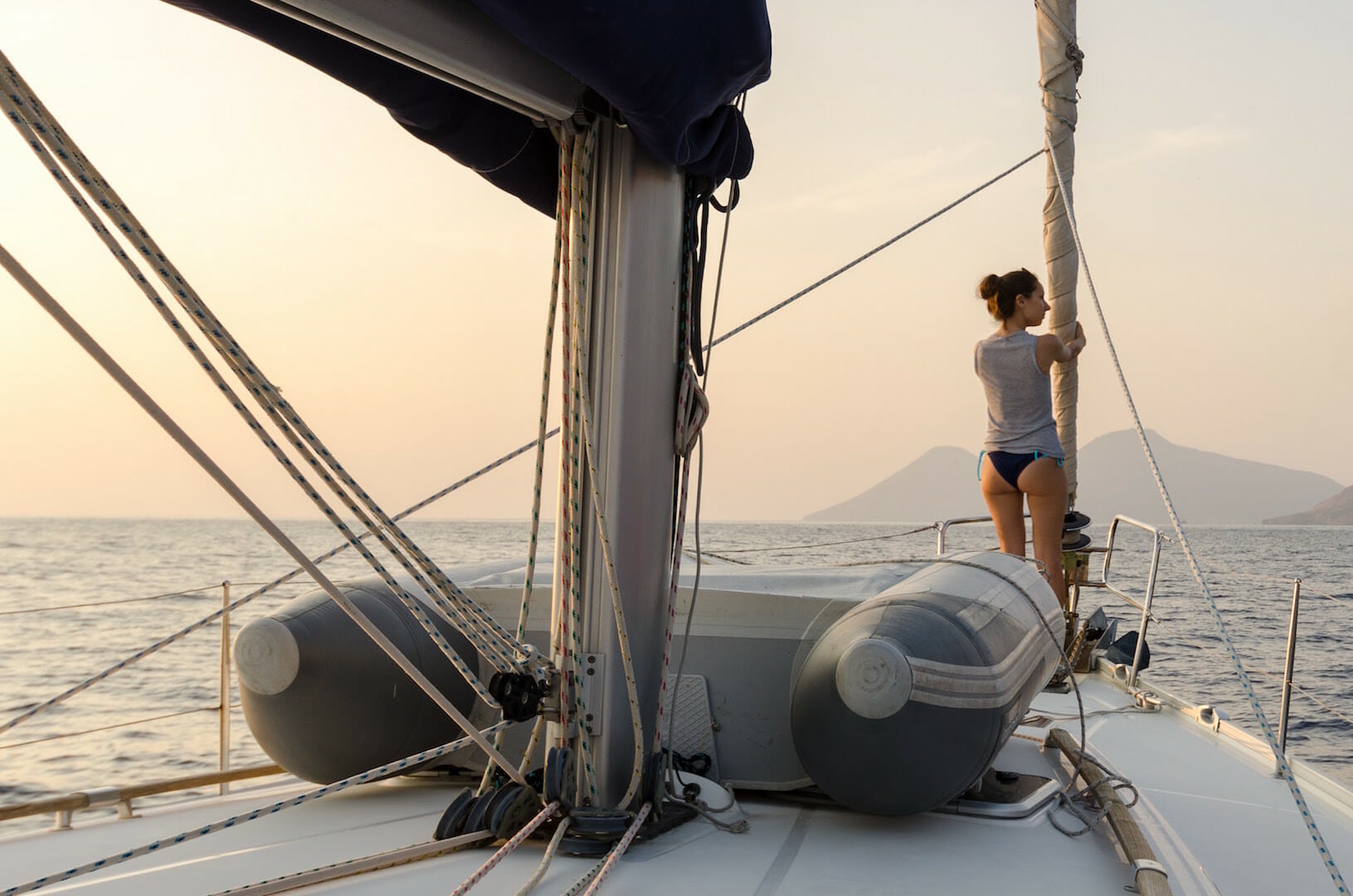 That was the last day of our sailing trip and the next morning we have a transfer to the beautiful city of Palermo.